Zoom Vs Google Meet – Side-By-Side Comparison
Zoom and Google Meet are two cloud-based video conferencing service providers. While both platforms deliver solid services, you still only need one. Read on to find out which is the better option for most scenarios and why.
Our Recommendation = Get Zoom
Zoom takes the lead over Google Meet for several reasons. First, Zoom is a dedicated video conferencing software. Google Meet, part of Google's software suite popularly known as G Suite or Google Workspace, is not. As such, Zoom has invested in a comprehensive platform that offers many supporting features such as a shared whiteboard, a gallery view for up to 49 people, and the ability to conduct polls.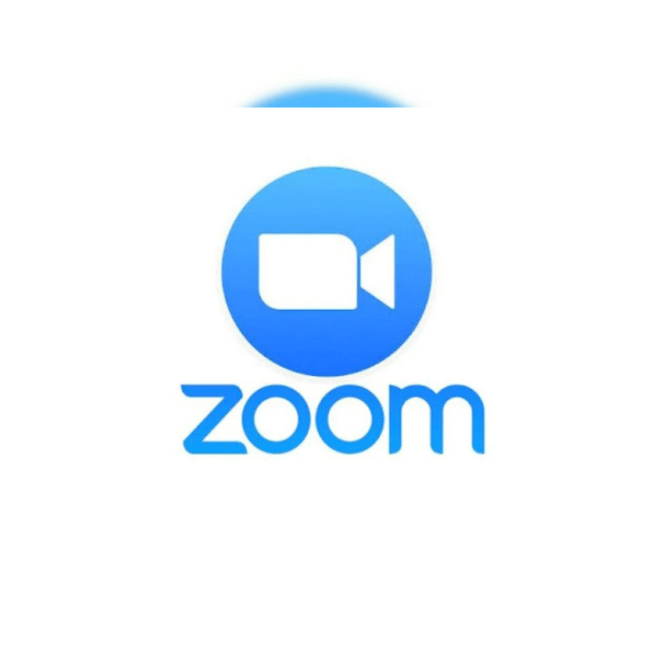 These little touches make all the difference when it comes to conducting productive virtual meetings. So, it's hard to beat Zoom if you are in the market for a dedicated video conferencing platform.
As you'll see in this comparison, Zoom basically dominates over Google Meet in the video conferencing space, which is to be expected when pitting a video call platform against an app that is not dedicated to video conferencing. Google Meet and Google Chat recently replaced the singular Google Hangouts app and do not have the same comprehensive features as Zoom (yet).
For now, Zoom is a better fit for large-scale video calling and is ideal for large companies and enterprises.
When To Get Google Meet Instead
There are some instances where it makes sense to choose Google Meet over Zoom. For example, if you're already paying for Google Workspace, paying extra for Zoom doesn't make sense. You already get Google Meet with your subscription. Meet still has much of the functionality of Zoom and can work equally well for your organization. So, consider giving it a try before you decide you want to switch over to Zoom.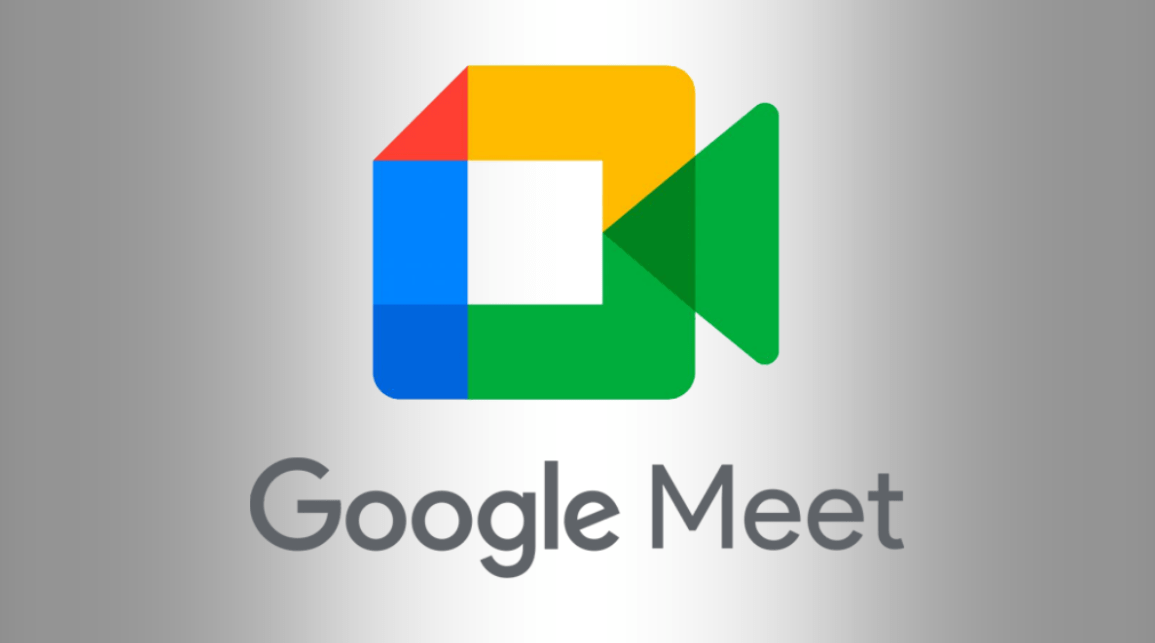 Similarly, Google Meet is the right choice if you are looking for a free video-conferencing platform for small, quick meetings. Both platforms work under a freemium model. But Google Meet gives you more screen time on its free plan. You get 60 minutes compared to Zoom's 40-minute limit for video calls on the free package.
Finally, Google Meet is great if you need to host or join a meeting quickly. You don't need to download any additional software. Instead, you can enjoy the platform's features right from your web browser or mobile phone.
Pricing – Is Zoom or Google Meet the Better Deal?
Generally speaking, Google Meet is cheaper than Zoom. This is hardly surprising since Zoom comes with additional features and capabilities, which we will explore later.
As noted, Google Meet's free plan offers a better deal. You can conduct group meetings for up to 60 minutes, compared to the 40-minute limit imposed on Zoom's free plan for calls with more than one other person. An hour is likely enough for most meetings.
Let's break down each platform's pricing.
Zoom Pricing

Zoom offers four plans, including:
Basic – The basic plan is free. It supports unlimited group meetings for up to 100 participants. But there's a 40-minute time limit for group meetings. Still, you can do one-on-one meetings as much as you want for up to 30 hours per meeting.
Pro – This plan costs $14.99 per month per license and lets you host group meetings with up to 100 participants. You can also host meetings for up to 30 hours and stream on social media. Additionally, this Zoom plan comes with up to 1GB of cloud recording.
Business – The Business plan comes with all the Pro features and add-ons for $19.99 per month per license. For example, you can host up to 300 participants for group meetings. You also get recording transcripts, can use your company's branding, and also manage domains.
Enterprise – Zoom's Enterprise plan also costs $19.99 per month per license. You can host up to 500 participants, get unlimited cloud storage, and record transcripts, in addition to all the benefits you get with the Business plan.
Google Meet Pricing

Google Meet comes with three pricing tiers:
Google Meet – This is free and lets you conduct one-on-one meetings for up to 24 hours. However, group meetings are limited to one hour. You can host up to 100 participants per meeting with the free plan.
Google Workspace Individual – This plan costs $7.99 per month. It lets you host meetings with up to 100 participants. The time limit for group meetings is also extended to 24 hours.
Google Workspace Enterprise – You'll have to contact sales to get this plan's pricing. The Enterprise plan lets you host meetings with up to 250 participants for up to 24 hours per meeting.
Ease of Use
Winner = Draw
There is no point in investing in top-of-the-line video conferencing software if you're going to have a hard time using it. Fortunately, both Zoom and Google Meet are easy to navigate.
Zoom Ease of Use
You can get access to Zoom's video conferencing in one of two ways. First, you can launch the platform directly from your web browser. Or you can use the app on virtually any device, including PC, laptop, tablet, iOS, and Android.
Either way, you'll need to register for a Zoom account to host meetings. But you can join a meeting without a Zoom account with an invitation link.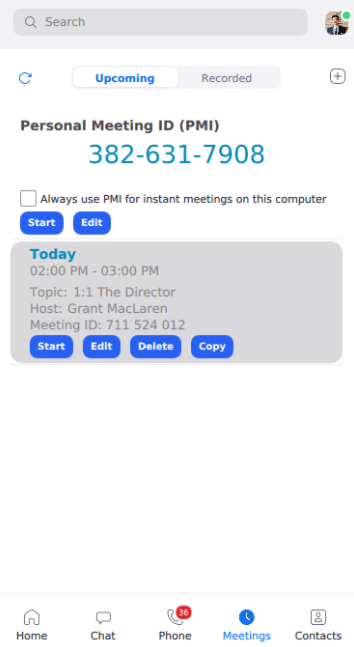 Setting up a Zoom account is also very easy. First, you'll need to quickly fill out your profile, including profile picture, date format, and time zone. Zoom assigns you a meeting ID number and meeting link. Then, you can get started hosting meetings. The platform is also easy to navigate, and you shouldn't have a problem hosting your first meeting.
Google Meet Ease of Use
Google Meet is even easier to get started if you already have a Google account. Most people already have a Gmail account, and you can use your credentials to get started with Google Meet.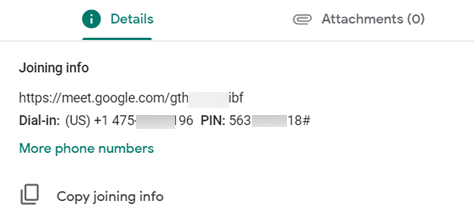 You can also join a meeting without a Google account. However, you won't be able to host a meeting until you create one. You can also attend meetings via Google Calendar, Gmail, and other Google services.
Finally, you'll be provided with a code, meeting link, PIN, and dial-in number to share with people you want to join the meeting.
Video Quality
Winner = Zoom
Video quality is another significant consideration when choosing a video conferencing platform. Virtual meetings can be incredibly frustrating if there's lag, poor video and audio, and other technical issues.
Zoom Video Quality
Zoom's popularity has skyrocketed mainly thanks to its stellar video quality. Zoom supports up to 1080p HD video if you meet the system requirements. However, Zoom support has to turn on full high-definition video for your use. Additionally, this capability is only available for Business and Enterprise plans.
By default, Zoom uses standard video for group meetings. But, you can upgrade to 720p (HD) for one-on-one sessions or group meetings using Room Connector or Zoom Room.
Still, it's nice to know that you can go up to 1080p if you need to. This capability is handy for large-format broadcast events.
Google Meet Video Quality
Google Meet's video quality isn't shabby either. The standard Google Meet video quality is 320p. But you can get up to 720p HD video calls and can switch to HD at any time from the settings. But you'll need to meet the specifications to enjoy this feature. 720p HD is still excellent quality for most cases, but Zoom opens up the possibilities further.
Participant Limits
Winner = Zoom
Some people only need to host one-on-one meetings or occasional group meetings with a handful of participants. Others must host regular cross-departmental or companywide meetings with hundreds of members. In any case, you need a platform that supports your ideal use case when hosting meetings.
Zoom Participant Limits
Zoom's participant limits depend on your plan. For example, the Pro, Business, and Enterprise plans let you host up to 100, 300, and 500 participants, respectively. But all paid plans come with an add-on that enables you to host up to 1000 people. This Large Meeting add-on starts at $50.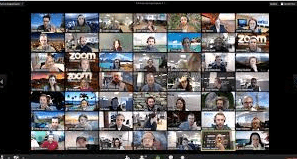 So, Zoom offers a lot of flexibility with its plans. For instance, the Pro plan is perfect for a small business with less than 100 employees. This way, you don't need to pay for capacity you don't need.
Google Meet Participant Limits
Google Meet also limits the number of participants you can have in a meeting, depending on your plan. For example, G Suite Basic users can host up to 100 people, while G Suite Business users can increase the limit to 150 participants.
However, you cannot host more than 250 participants with Google Meet, even with the highest plan. And you need the Enterprise-level plan to host that many. So, the cap on the number of people you can have in a meeting simultaneously is more limited than Zoom.
This limitation isn't a problem for most small to medium businesses. But large enterprises may need the kind of upper limits that Zoom has to offer.
Third-Party Integrations
Winner = Zoom
There is no such thing as a perfect video conferencing platform. That's why third-party integrations exist. Integrations help you host more productive, structured, collaborative, and secure meetings.
Zoom Integrations
Zoom offers more than 1,000 apps in the Zoom marketplace. This is a mind-boggling number of integrations to help you get more out of Zoom. There are apps for everything, including scheduling, collaboration, productivity, customer management, event management, and more.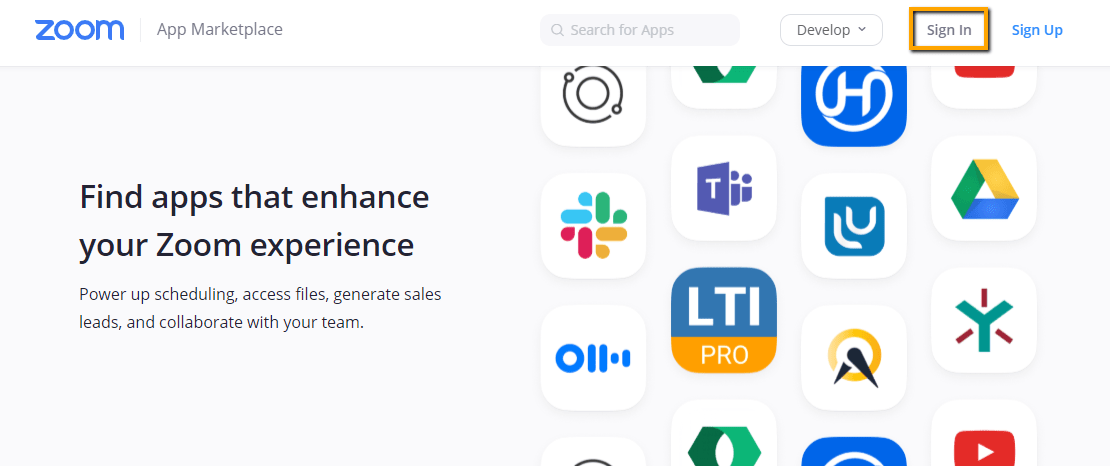 Zoom integrates with the most popular apps, including Zapier, Marketo, Facebook, Dropbox, Skype, Slack, and SalesForce. Zoom also natively integrates with popular Google apps, including Google Chrome, Google Drive, and Google Calendar. This way, you don't miss out on your favorite Google tools by choosing Zoom over Google Meet.
Google Meet Integrations
Naturally, Google Meet works seamlessly with other Google products like Google Drive and Google Calendar. In addition, Google Meet natively integrates with many popular platforms and services, including Skype, Cisco, Zapier, Nest, and HubSpot.
Google Meet offers a good range of integrations with popular apps. But the platform isn't nearly as versatile as Zoom in this regard.
Screen Sharing
Winner = Google Meet
Screen sharing is pretty much a standard feature with video conferencing platforms. But the feature can be more nuanced than simply sharing the contents of your screen.
Zoom Screen Sharing
Naturally, Zoom has a screen-sharing feature, and it is more robust than you might expect. For instance, you can share a specific portion of your screen or the entire device screen. You can also share content from a second camera, a whiteboard, audio, or particular apps.
Additionally, participants can easily share their screens.
Google Meet Screen Sharing
Google Meet's screen sharing has a lot you can do. For example, you can share a specific window or the entire screen. However, there are some privacy concerns since you can't limit it to sharing only a portion of your screen, as there's always the chance you could unwittingly share something inappropriate.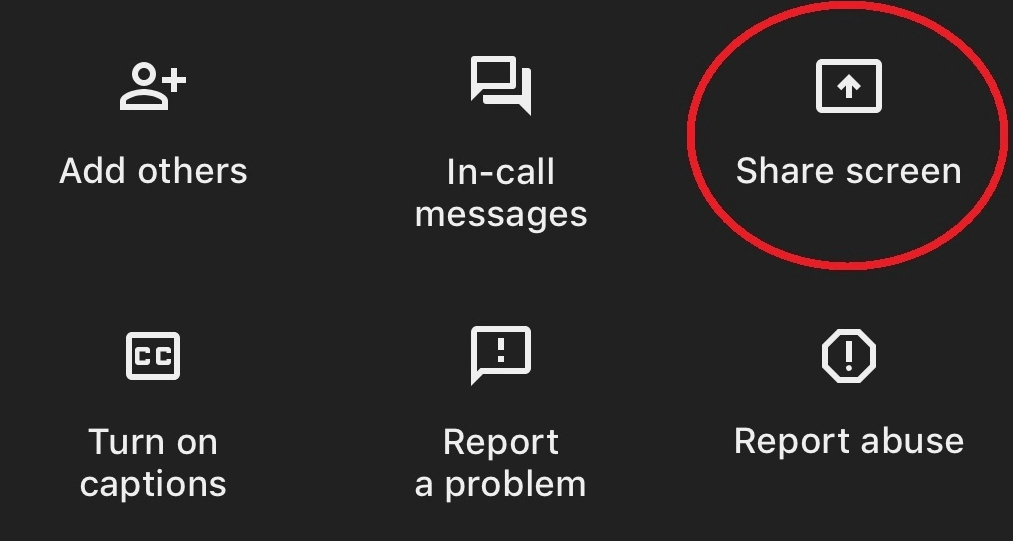 Other things you can do with this Google Meet's screen-sharing feature include sharing spreadsheets, presentations, and documents. You can even present your screen while someone else is already sharing theirs. The platform will simply pause the other person's screen while you present. Genius!
Google Meet also offers an excellent level of control for hosts. For example, hosts can prevent participants from sharing their screens. You can also join a meeting only to present. In this case, only the material you are presenting will show on the screen. There will be no audio or other video, whether received or sent.
Google Meet has a great screen-sharing feature with a lot of functionality. Zoom may have more flexibility overall, but Meet comes out on top in this category with additional features like simultaneous sharing.
Extra Features
Winner = Zoom
If you're just looking for video conferencing software to hop on quick meetings, both Zoom and Google Meet work just as well. But sometimes, you need additional features to make your meetings more productive.
Zoom Extra Features
Zoom offers a lot more than just video calling. The platform comes with a host of features to help you conduct successful meetings. For example, Zoom offers virtual backgrounds ranging from fun and quirky to more neutral.
Additionally, Zoom comes with a virtual whiteboard, which is handy for collaboration. You can even share the whiteboard and easily create and annotate ideas. Unfortunately, this feature isn't integrated into Google Meet. But you can still get a whiteboard using a tool like Google Jamboard.
Zoom also offers a feature where participants can raise their hands when muted. The presenter can then choose the participant to speak. This subtle but useful feature isn't available with Google Meet. Finally, Zoom has a waiting room where you can view a list of participants waiting to join any meeting.
In short, Zoom is jam-packed with features that you simply don't get with Google Meet.
However, one area Zoom falls behind is the live transcription feature. It is limited to English, and its accuracy is hit-or-miss. The transcription quality can vary depending on background noises, speaker's clarity and volume, and lexicon or dialect. Google Meet's live captioning is better.
Google Meet Extra Features
Google Meet also offers a good range of useful features. For example, you get the live captioning feature that Zoom doesn't provide. As a result, it's an excellent feature for the hearing impaired or people who find they learn better by reading than listening.
With Zoom, the host or an attendee would have to do the captioning manually. Alternatively, you can integrate with a third-party captioning service.
Google Meet is a perfect fit for business users since it natively integrates with the most common Google apps. For example, you can save your video recordings directly in Google Drive. This will come in handy for Google Workspace users.