What is Cloud Storage? Why is it Helpful?
Enjoying anytime, anywhere access to files and data has been a dream for every working individual. You can be on a trip to the Maldives or simply away from your desk, and you'll still be able to exchange data.
It's this convenience that has made the cloud one of the hottest computing growth markets today.
Cloud storage lets you save data online securely so that it can be accessed anytime from any location. Basically, you shift the responsibility of your data to a third-party storage cloud provider.
This may sound risky at first, but cloud storage is really one of the most secure, cost-effective, and scalable alternatives to storing files on hard disks and storage networks.
Today, we'll discuss cloud storage, its benefits, and the different types in more detail. By the end of this guide, you'll be a true expert in everything cloud storage.
Excited? Let's begin.
How Does Cloud Storage Work?
Cloud storage users can store and/or move data securely and safely. It lets individuals and businesses keep their files stored with the cloud storage provider for on-demand access on any compatible devices like mobile phones, computers, or tablets.
You can connect to the storage cloud either through the internet or a dedicated private connection using any compatible device like a web portal, mobile app, or website.
The server you connect with then forwards your data to a pool of servers located in one or more data centers, depending on the size of the cloud provider's operation. A few cloud providers store the same data on multiple machines for redundancy. This way, you can access your data even if a server gets taken down for maintenance or suffers an outage.
To understand the working of cloud storage in more detail, you have to know the different types of storage. At the moment, there are three: block, file, and object.
Block Storage
Block storage is very common in cloud storage environments and is traditionally employed in storage area networks (SANs).
Here, your data is organized into large volumes called – you guessed it – "blocks" with every block representing a separate hard drive. Cloud switch providers use blocks to spend large amounts of data between multiple storage notes. This, in turn, ensures better performance over a network thanks to low input-output (IO) latency, making it suitable for large databases and applications.
File Storage
In this case, your data is stored in the hierarchical file and folder structure. The stored data retains its original format, whether residing in the storage system or in the client where it originates while the hierarchy makes the whole process easier and more intuitive to find and retrieve files when needed.
File storage is generally used for development platforms, video and audio repositories, and home directories.
Object Storage
Object storage manages data as objects. Every object includes the data in a file, its metadata, and an identifier.
The objects store data in the same format it arrives in, which makes it possible to customize metadata in ways that make the data easy to access and analyze. The difference here is that the objects are kept in repositories instead of files and folder hierarchies, which are then delivered virtually for unlimited scalability.
5 Cloud Storage Benefits
We've briefly spoken about the benefits of cloud storage before, but now it's time to discuss them in more detail.
Affordable
Owners want to maximize profit and reduce expense, which is why the cost-saving benefit of cloud storage holes appeals to them.
Cloud storage is typically more affordable because storage providers distribute the infrastructure and service costs across many businesses. Adopting the cloud also eliminates the cost of hardware and maintenance, which, in turn, eliminates any capital expenditures and the associated service salaries.
Speaking of maintenance…
Zero Maintenance
Companies have traditionally preferred to store data inside in-house servers and data centers. Although reliable, this method comes with additional overhead, such as constant maintenance, hiring extra staff, and so on.
Because of cloud storage, businesses can save lots of money on maintenance as their servers are now under the control of third-party providers. They can instead use the money on the more important parts of the business, without having to worry about an IT staff or its massive budgets.
Improved Communication and Collaboration
With workforces going more and more remote, employees are increasingly collaborating and communicating with co-workers around the globe.
Luckily, cloud-based tools like Dropbox and Google Drive make collaboration and document management super easy and effective. They allow users to access the latest versions of any document, make comments and edits, and so on to optimize their workflow, irrespective of geographical locations or time zones.
For instance, Google Docs allows you to upload documents, spreadsheets, and presentations to Google's data servers.
Even for personal use, you can share files and folders easily and quickly. All you have to do is simply upload them and give your friends and family access to see/edit them.
Data Security
We've already discussed how cloud storage is housed in a data center to provide enterprise-level security. So in case of any server crashes, your data will remain safe despite being stored in other locations.
This minimizes the potential risk of hardware failure and malfunction as your data is safely stored in redundant locations instead of within your office. What's more, there's no single point of failure in the cloud because your data is backed up to multiple servers.
Extra Storage Space
You get tons of extra space when using cloud storage services, where you can move all your documents, images, and videos to the cloud. This way, you don't have to worry about spending too much money on computers with big hard drives.
In addition to being an economical alternative to buying external HDDs, online storage is also safer. For example, services like MediaMax and Strongspace offer tons of storage space for any kind of digital data.
3 Types of Cloud Storage
There are three kinds of cloud storage architecture, which give rise to different types of cloud solutions. These include Public, Private, and Hybrid clouds.
Read on as we discuss them in greater detail below.
Public Cloud
Ever heard of IBM Cloud, Google Cloud, and Amazon Web Services?
All three are shining examples of public cloud providers who are responsible for their own cloud architecture—hardware, software, and other infrastructure. In addition to owning and managing it, they also deliver the architecture as a cloud service over the internet.
Here, you connect over the internet to a storage cloud maintained by a cloud provider and used by other companies. Public storage providers make services accessible from nearly every device ranging from smartphones to desktops.
Advantages:
Highly scalable
No maintenance
Cost-effective
Reliable
Provides expert monitoring
Private Cloud
The private cloud is used by only one organization. Think large enterprises like government agencies, healthcare organizations, financial institutions, and so on, who deal with mission-critical data due to which they need additional security.
Interestingly, the private cloud infrastructure can work either on-premise or with a third-party vendor. That said, the hardware and services remain dedicated and exclusive to the organization.
Advantages:
Highly efficient and scalable
Customizable
Better security
Faster
Hybrid Cloud
As the name suggests, a hybrid cloud combines the features of public and private cloud solutions, which is creating a unique type that offers the advantages of both clouds.
Here, you can customize your features and insert the application that meets your needs, along with the resources that work for you. For instance, you can store the most important and sensitive data on a private cloud, while general data can be stored on a public cloud and accessed by people working remotely.
Advantages:
Greater control
Highly customizable
Cost-effective
Time-saving
5 Popular Cloud Storage Options
Now that we've discussed cloud storage in such detail, let's take a look at five leading cloud storage providers that you can consider using for personal or professional use.
pCloud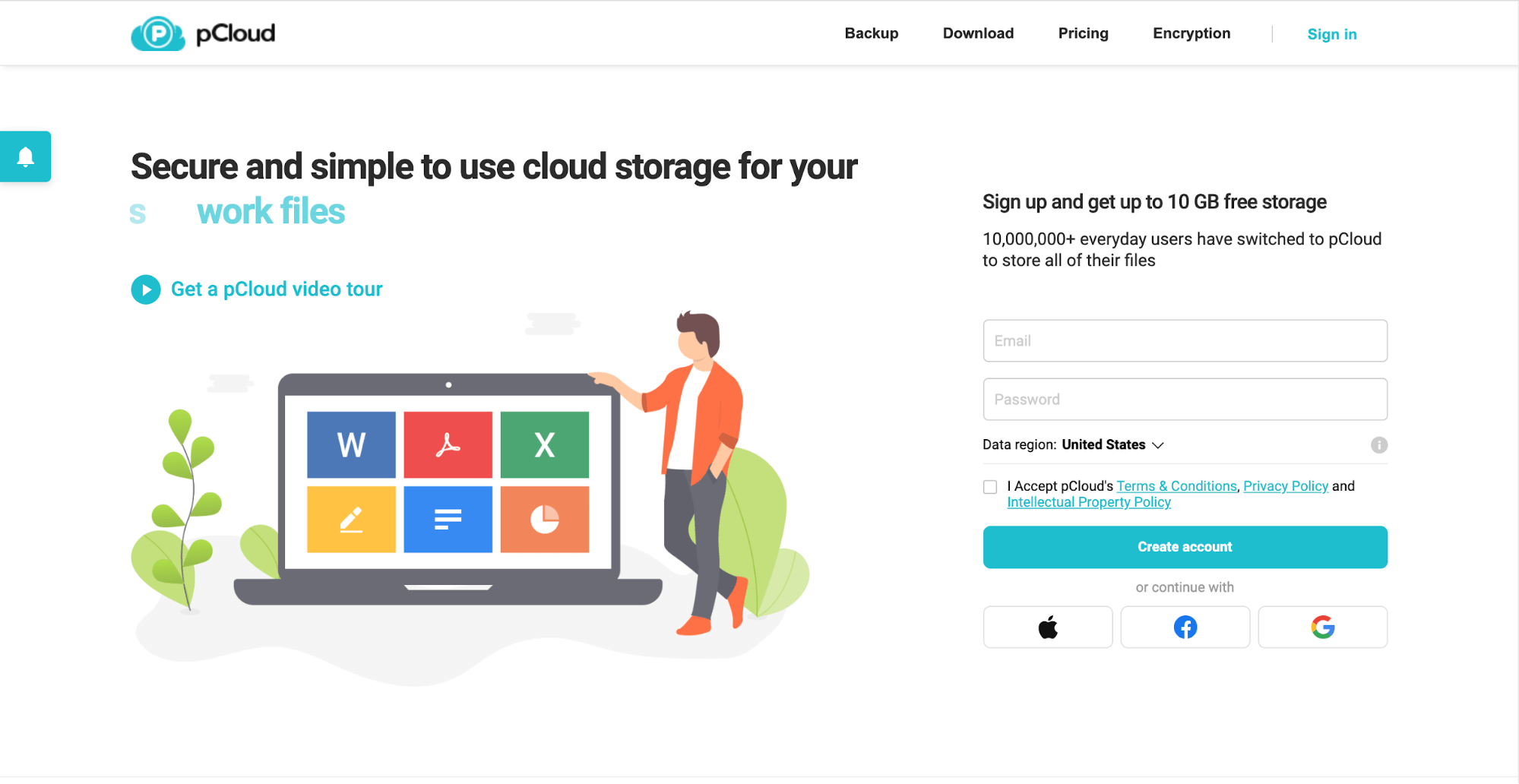 pCloud is one of the best cloud storage services that are perfect for personal storage and cloud storage. It also offers several collaboration tools for your team or automated device backups.
It's incredibly versatile and is compatible with virtually every device, allowing you anywhere-anytime access using its mobile, desktop, and browser applications. You can also revert files to older versions if something happens to your current files.
All pCloud plans come with standard 256-bit encryption, TLS/SSL tunnel protection, and five copies of every file saved on different servers. In short, security would never be something for you to worry about.
Dropbox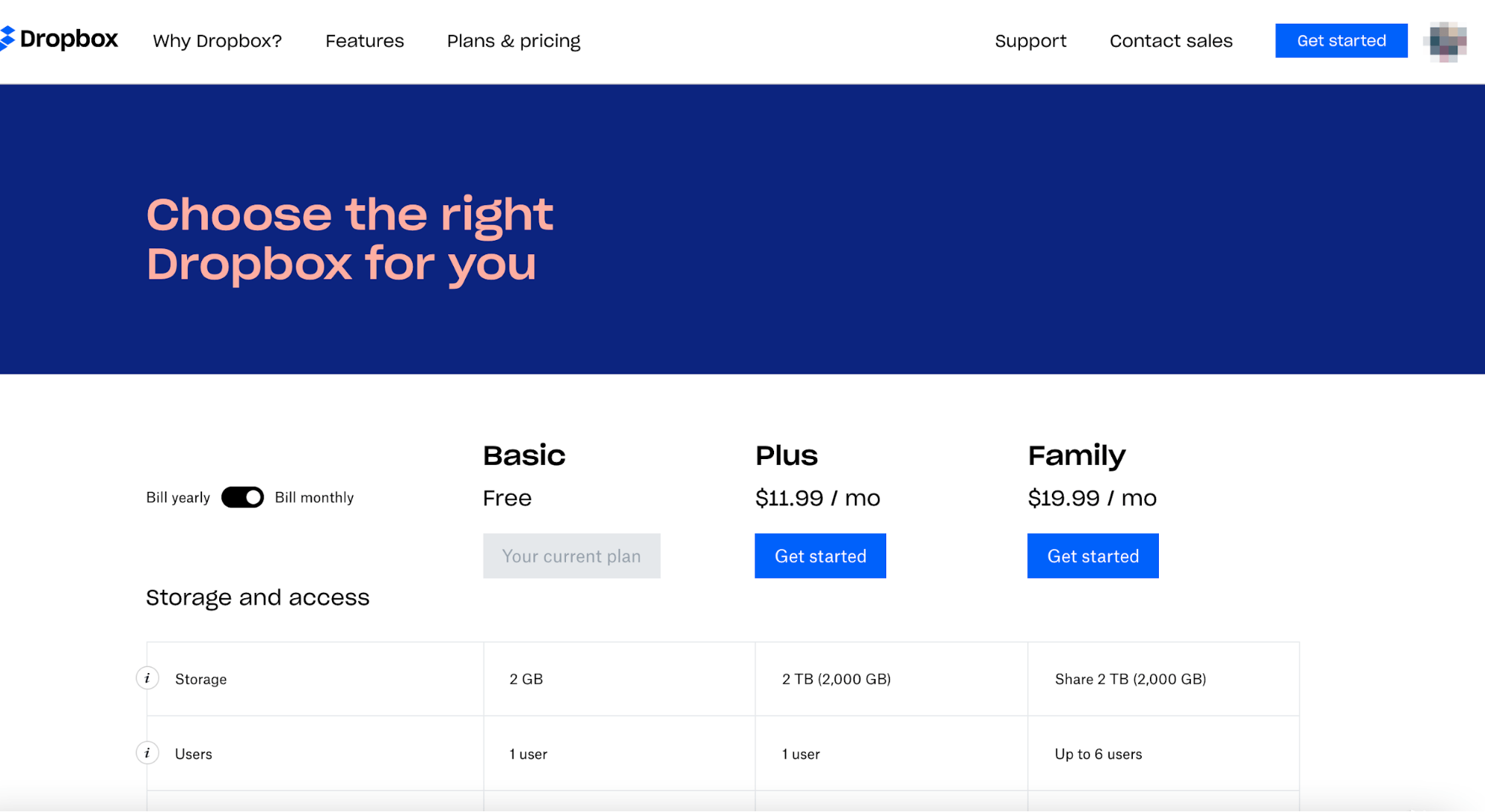 Dropbox is a popular cloud hosting service that allows you to store your files online and then synchronize them to your device. As such, you get to enjoy easy accessibility and security.
This is an excellent tool for promoting team collaboration as it lets members share files and folders without having to deal with the extra hassle of sending large attachments.
Once you download and install the Dropbox app across all your devices, you can store any files or folders locally, which will then get copied to the Dropbox server as well.
Icedrive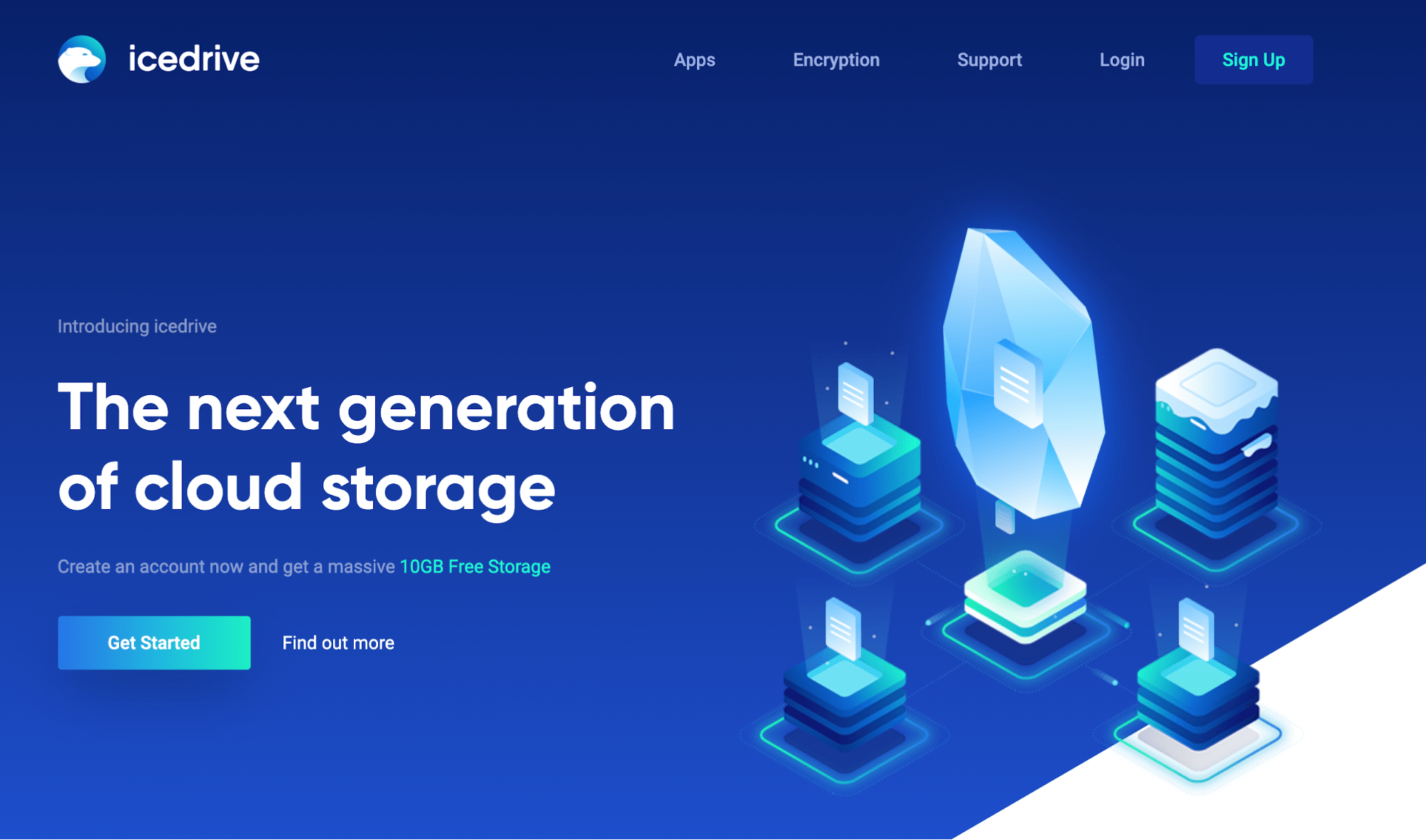 Icedrive can be an excellent option for those looking for an affordable cloud storage solution. It's compatible with nearly every operating system and comes with a desktop, web-based, and mobile app to make it easier for users to access the data across all the devices.
It has a user-friendly and minimal interface. You can also mount your Icedrive storage folder and use it as you would a USB drive. Yes, you can upload, delete, edit, and open any file stored in the cloud as you would a regular fine.
All these features make Icedrive a great solution for beginners as well as expert users.
Sync.com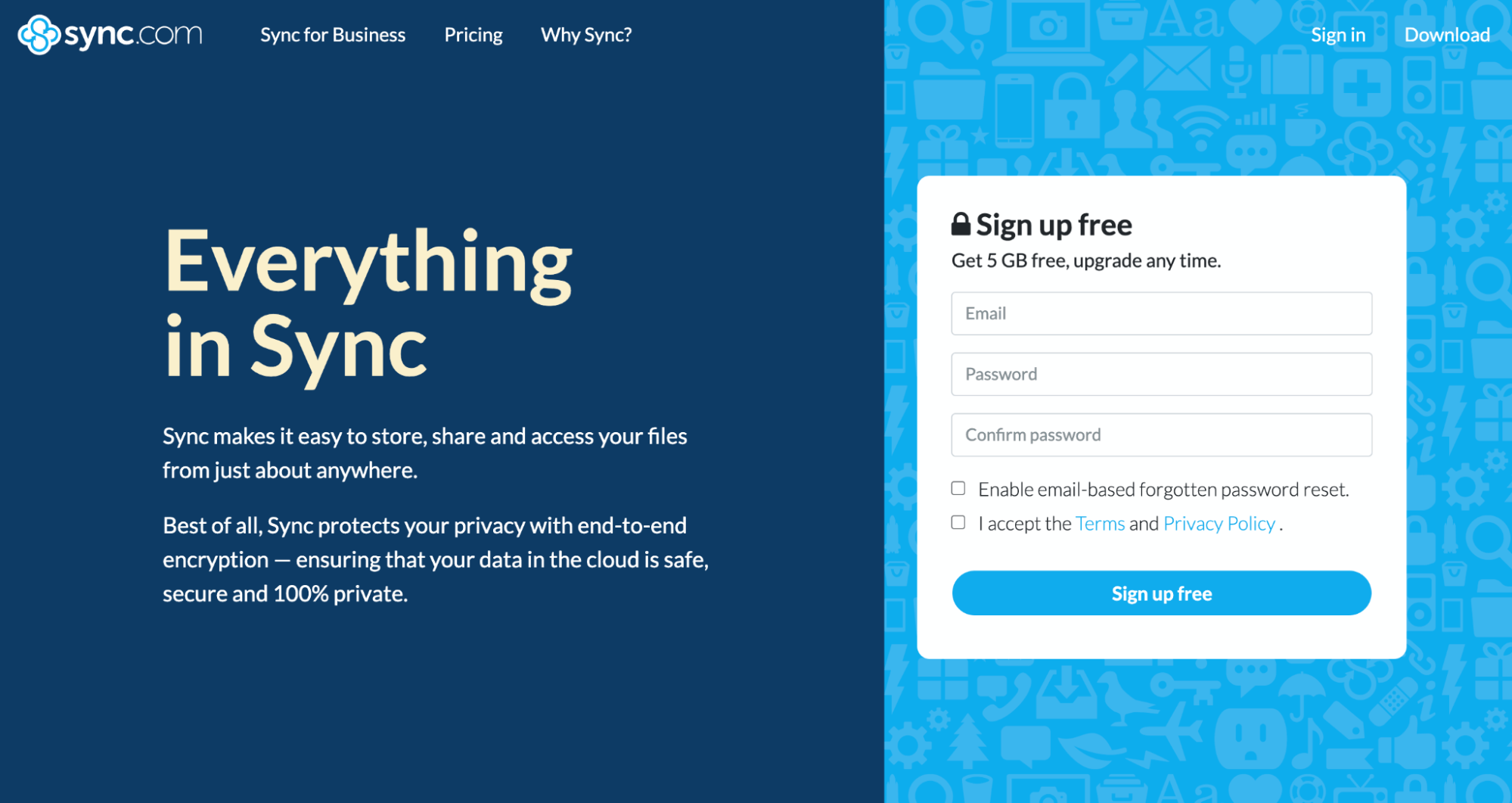 You should check out Sync.com if you're looking for an easy-to-use and secure cloud storage solution. It ensures encrypted storage and lets you send or share any file with anyone and access it from anywhere.
Sync.com provides unlimited share transfer limits, sharing and collaboration, real-time backup and sync, and any time anywhere access. You can also request files, preview documents, and upload images to optimize your workflows.
Other data protection features include a 365-day history, advanced share control, password-protected sharing, and restricting downloads.
Zoolz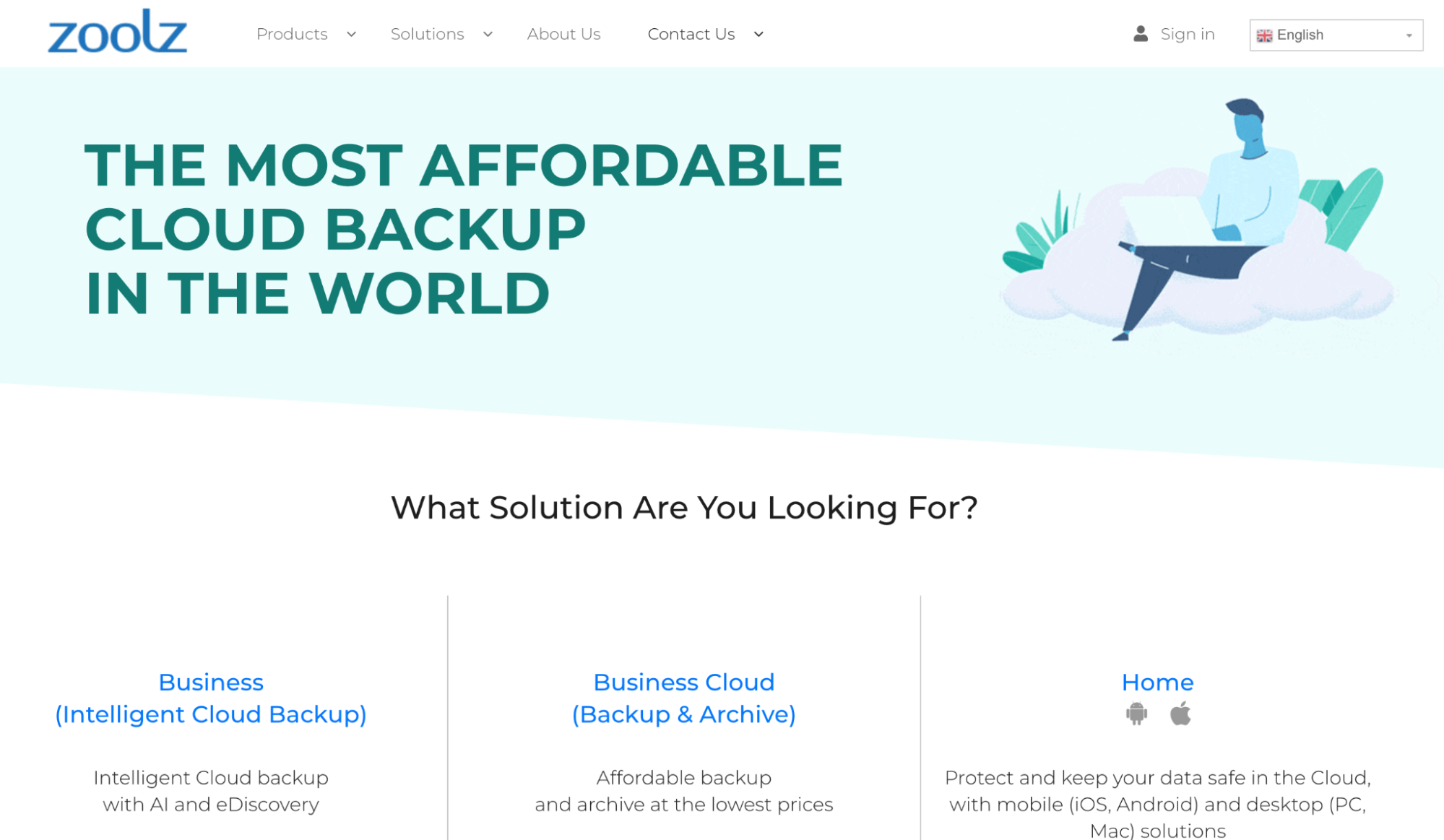 Zoolz lets you manage device backups thanks to its AI-powered software that leverages automation and cutting-edge technology to enhance user experience. While it offers standard backup solutions, its BigMIND solution ensures amazing functionality at an affordable price.
What's more, the tool is compatible with a wide range of devices, including mobiles, tablets, servers, computers, NAS devices, MSSQLs, social media profiles, and other cloud accounts. This also lets you create a backup of virtually anything in just a few clicks.