Atlassian offers two significant players in the project management software space with Jira and Trello. Although both software packages have a similar overall goal of helping users manage their projects from start to finish, they have different strengths. This means they'll appeal to different audiences.
For those organizations trying to decide on Trello vs. Jira, we'll break down the key aspects of each tool. We'll lay out the strengths and weaknesses of each one and help you determine whether you should get Trello or Jira.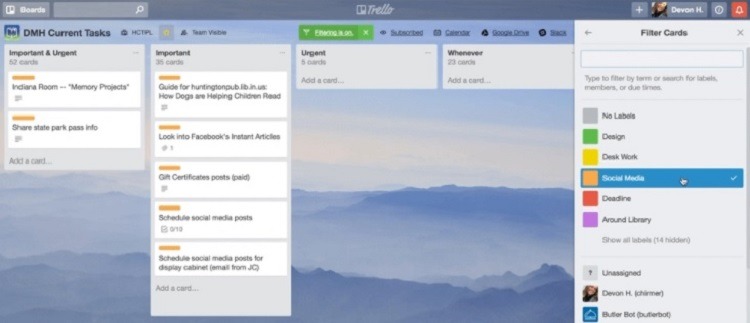 Our Recommendation: Get Trello
Although it's a close battle, Trello is the safer and more effective choice for most organizations and businesses. We named Trello one of the best project management tools, in large part because of its versatility and straightforward design.
Atlassian aims Trello at businesses that need a general-use project management software package. It works for various projects, such as marketing campaigns, product development, event planning, and editorial calendar planning.
One of Trello's biggest advantages over Jira is its ease of use. The majority of businesses will be able to begin using Trello immediately with little to no learning curve. Jira isn't overly difficult to use, but it does require more preparation and training than Trello.
Even though it's easy to use, Trello has plenty of great features for various users. In other words, Atlassian did not sacrifice features to achieve ease of use. Users can create tasks, assign tasks, leave personalized messages, create to-do lists on a card, add file attachments, and add due dates. Trello allows filtering to narrow the number of cards in view to make it easier to find a particular card.
Organizations that use software like Slack and Salesforce will appreciate having the ability to directly integrate the pay versions of Trello with those software packages.
Bottom line: Jira is a strong software package that has excellent features for organizations with advanced needs. However, unless an organization is growing quickly or primarily handles software development and similar complex processes, the general-purpose design in Trello should work a little better.
Trello Advantages
Easy to use
Provides the basic features clients want
Excellent versatility
Works equally well on a computer or mobile devices
Kanban boards make project tracking an easy process
Trello Disadvantages
Doesn't work well for agile teams or fast-growing teams
Doesn't use Atlassian Marketplace for add-on apps
Not as many advanced features as Jira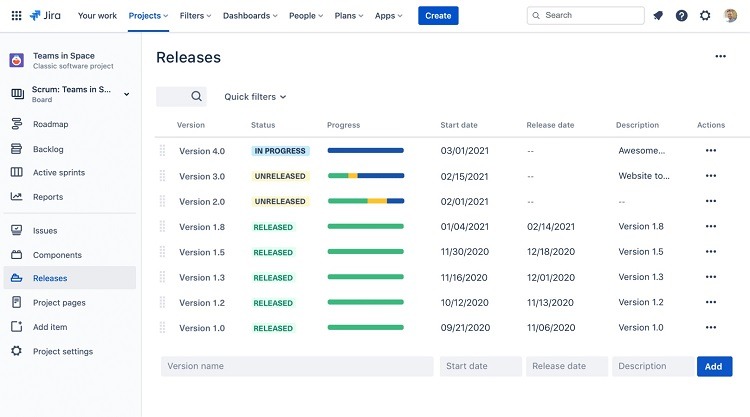 When to Get Jira Instead
Jira is another popular software from Atlassian. Jira's origins exist as a project management tool for software developers. It has multiple features that allow for bug tracking while delivering the ability to use scrum and sprint techniques for specific projects.
For organizations that do work similar to what software development teams do, Jira will be a strong choice. Teams that need to develop products that require testing and debugging will use Jira successfully to track everything related to the project.
Jira offers kanban, scrum, and sprint boards, while Trello only gives users kanban boards. Jira works better than Trello for teams relying on agile methodologies in project management. Because of this, we named Jira one of the best agile project management tools.
Another advantage of Jira involves the large number of integrations the software allows. Organizations that use other Atlassian software packages, such as Confluence, can integrate the two to use them effectively together.
Additionally, Jira can take full advantage of third-party plugins, apps, and extensions through the Atlassian Marketplace. These apps can create new features within Jira, helping organizations tailor the software to meet specific needs.
Although Trello is also part of the Atlassian family, it cannot use third-party apps in the Atlassian Marketplace the way Jira can. Trello does have some third-party apps and integrations available outside of the Marketplace, though.
Another potential advantage of Jira over Trello is that Jira offers an on-premises option along with a cloud option. Trello is only available as a cloud software package. However, Atlassian is in the process of migrating Jira (and all of its other software packages) to cloud-only software packages. This means new customers may be unable to purchase an on-premises package for Jira.
Jira Advantages
Plenty of high-end project management features for growing teams
Works well for scrum and sprint projects
Recently added a Free tier
Dozens of apps and add-ons in the Atlassian Marketplace
Built with software development teams in mind
Jira Disadvantages
Requires a learning curve to use it successfully
Doesn't have a general-use design like Trello
Slightly more expensive than Trello
Pricing: Is Trello or Jira the Better Deal?
Winner: Trello
Trello receives a slight nod in terms of pricing in the Trello vs. Jira comparison. Trello's free tier is highly beneficial for small teams, and they can use it indefinitely. Jira's free tier is also handy, but it has a 10-user limit, whereas Trello's free tier has no user limit.
The Business Class tier in Trello will meet the needs of most organizations that are too large to use the free level. It has a reasonable price while providing several advantageous features.
Jira's Standard tier is its most popular tier for smaller organizations, and it has a lower cost than the Trello Business Class tier. But it has a storage limit, whereas Trello's Business Class tier has no storage limit. Additionally, the majority of growing teams probably eventually will have to upgrade to the Jira Premium tier, which has a higher price point than Trello's Business Class tier.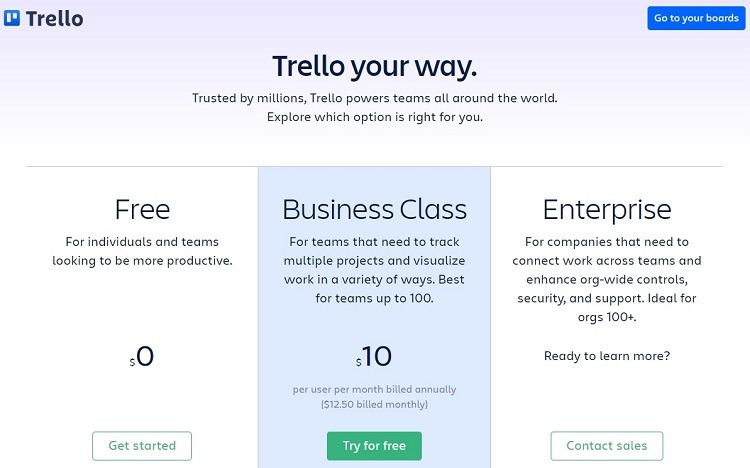 Trello Pricing
Trello has three pricing tiers, although the majority of users will select the Business Class tier.
Free: The free tier has no cost at any point, as this is not a free trial. It doesn't limit the number of users or the number of cards teams can create. Teams will have a limit of creating 10 boards, but most small organizations looking for a free version will not have to worry about this limit.
Business Class: The Business Class tier costs $10 per month per user when billed annually (or $12.50 per month per user when billed monthly). This tier includes everything in the free tier, and it also allows an unlimited number of boards. It delivers multiple interface options, allowing the team to find a view that matches its needs.
Enterprise: The Enterprise tier works best for organizations that will have 100 or more Trello users. It accommodates guests, which may be helpful for allowing clients to see the progress of projects. To receive a pricing quote for the Enterprise tier, customers must contact Atlassian directly.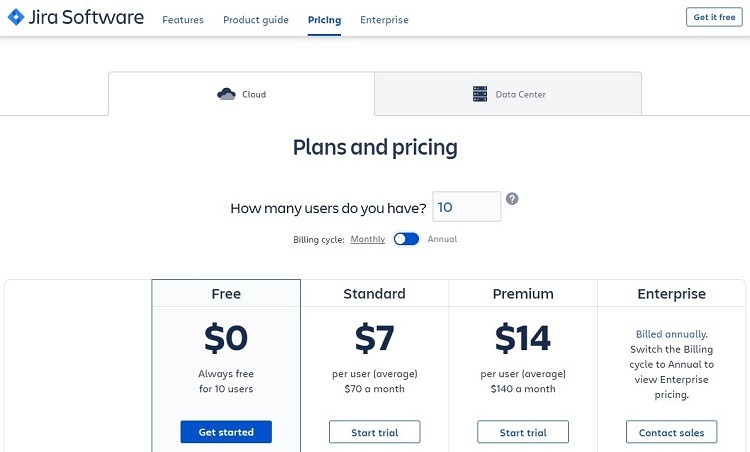 Jira Pricing
Customers can select from four different pricing tiers with Jira. Growing businesses may initially opt for the Standard tier, but they will probably eventually migrate to the Premium or Enterprise tiers.
Free: The free tier is not a free trial period. Instead, it is free forever for small organizations that have simple needs. It allows up to 10 users who can use scrum and kanban boards. It has 2 GB of file storage, but it doesn't have dedicated customer support. Jira introduced its Free tier late in 2019, so this is a relatively new offering. It applies to cloud users only.
Standard: The Standard tier costs $7 per month per user. It allows up to 10,000 users in a single site. It has all of the features found in the free tier and 250 GB of file storage. It allows for audit logs to track issues. Dedicated customer support is available during the user's local business hours.
Premium: The Premium tier costs $14 per month per user. It has all of the features of the Standard tier, including the 10,000-user limit at one site. It offers administrative insights, as well as multi-project automation features. It provides unlimited storage for files, as well as premium customer support at all hours.
Enterprise: The Enterprise tier contains all of the Premium tier features and an unlimited number of sites, which makes it ideal for enterprises that have a global scale. Each site has a 10,000-user limit. Customers will need to contact Atlassian directly for a pricing quote.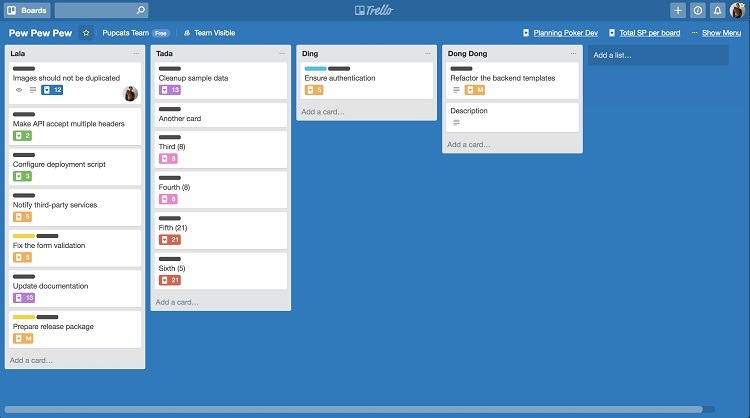 Task Management Features
Winner: Trello
Trello is so easy to use that most team members will be able to sit down and have success immediately. The kanban interface makes a lot of sense, which allows users to jump right into it.
If the primary reason for using project management software is to simplify the process of breaking down a large project into small tasks, Trello excels here.
Jira offers far more customization features to deal with complex situations. This complexity can make it a little tougher to take care of simple task management needs versus using Trello.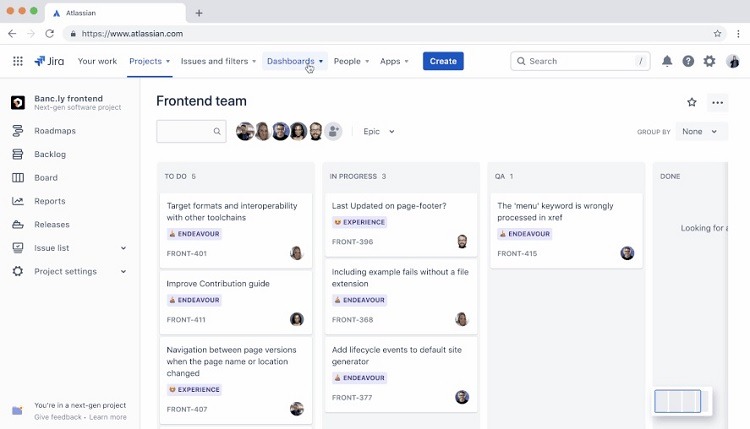 Agile Project Management Features
Winner: Jira
Jira excels in agile project management tracking, giving it the edge over Trello, which has features more suited for general project tracking.
Agile project management requires an iterative approach, where teams break down large projects into easily handled small tasks. When using agile management, teams can complete complex projects more quickly. They can successfully adjust on the fly, making changes in the scope of the project as needed.
Agile project management is a popular methodology to use with software development. Because Jira's strengths especially fit well with software development teams, its features aimed at agile projects are highly beneficial in this area. Jira's ability to use scrum boards is another big advantage for these types of users. Trello only has a kanban board interface available.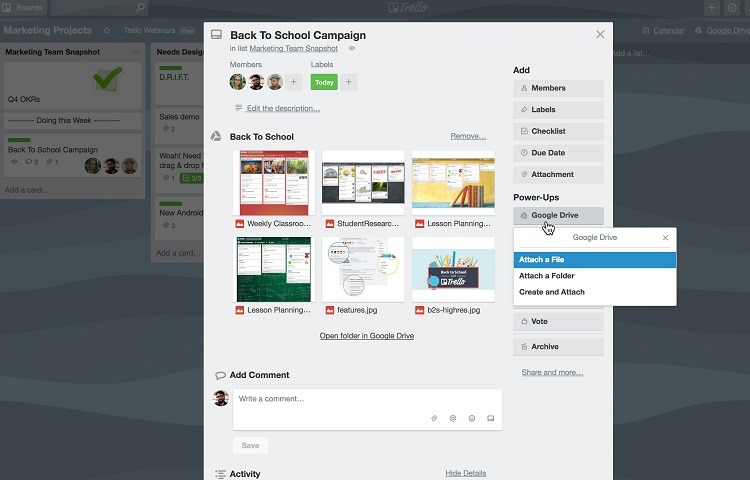 Collaboration With Team Members
Winner: Tie
An organization that chooses to use project management software seeks to improve collaboration and communication among team members. They don't have to meet face-to-face for collaboration when using Trello or Jira. They can communicate fully within the software's interface, making progress on tasks and fleshing out ideas.
Both Trello and Jira offer a number of ways to collaborate, including:
Comments to the entire team on a card
Direct comments for a team member using the @ symbol on a card
Adding file attachments to a card
Both packages give team members the ability to receive email messages or other notifications whenever they receive a mention on a card. These notifications provide real-time updates for team members, even when they don't have Jira or Trello actively open on the screen.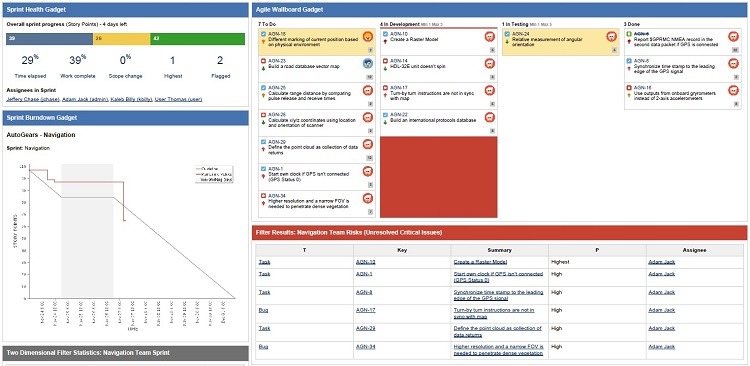 Report Functions
Winner: Jira
Organizations that rely on reports to track the progress related to a project will appreciate Jira's multiple chart and diagram templates built into the software. These functions greatly simplify the creation of valuable reports.
With the right report data in hand, administrators can make smarter choices about resources to use on a particular problem. They can determine whether deadlines need adjusting, too.
Trello doesn't contain built-in report generation features, although users can add this functionality through add-ons. Even with these add-ons, Jira's reporting functions provide far more useful data than what Trello can generate, though.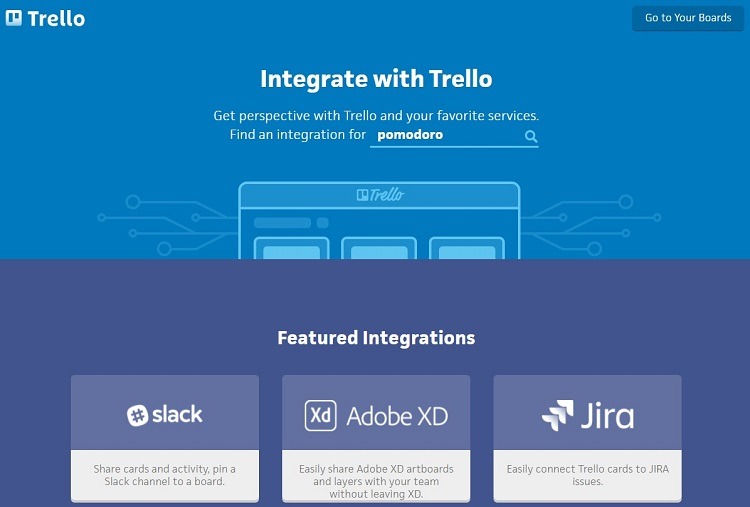 Integrations and Add-ons
Winner: Jira
Integrations provide extra features for both Trello and Jira. The integration allows the software to work closely with other types of software. Some integrations focus on meshing with other software from Atlassian, such as the Confluence and Jira integration. There's even an integration available for using Trello and Jira together, taking advantage of the key features of both.
Trello offers a highly popular integration with Slack and integrations with Dropbox, Google Drive, MailChimp, OneDrive, Salesforce, and Zendesk, among others.
Jira has dozens of integrations, including Slack, Google Drive, OneDrive, Dropbox, and Salesforce.
Adding Third-Party Apps
Another option for adding features to Jira and Trello involves using third-party apps and add-ons. The add-ons deliver a greater level of customization in the software.
Jira has far more add-on options than Trello. Through the Atlassian Marketplace, Jira has thousands of apps and other third-party options.
Even though Trello can't use the Marketplace, it still has several dozen apps and add-ons available. It takes a bit more time to search for them versus the simplicity of having them all in the Marketplace. (Trello does have many of its apps listed on its product page.)
Select add-ons for these two software packages carefully, though, as subscribers will have to pay extra for quite a few of them. Of course, some add-ons are free.
Although Jira has hundreds more add-on software options available, most organizations will only be interested in using a fraction of those. This diminishes Jira's sheer advantage in numbers in this area a little bit. Still, Jira receives the nod in this category, just by a far lesser margin than it may appear at first glance.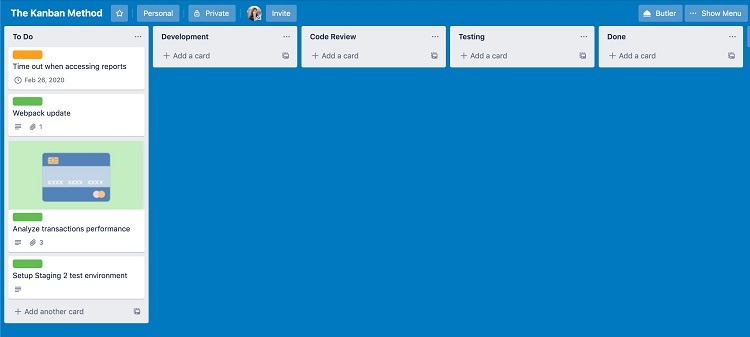 Versatility
Winner: Trello
Organizations that want project management software that can handle almost any project will want to go with Trello. Its easy-to-use interface and kanban boards work perfectly for organizations that don't necessarily focus on certain types of projects.
If the business needs its project management software to handle everything from simple event planning to complex product development, Trello is a better choice. When a product is nearing completion, creating and tracking a marketing campaign project in Trello is possible too.
Those who need Jira for software development and other complex project tracking needs could use it for general-use projects, too. However, team members may become frustrated with using Jira for such simple projects.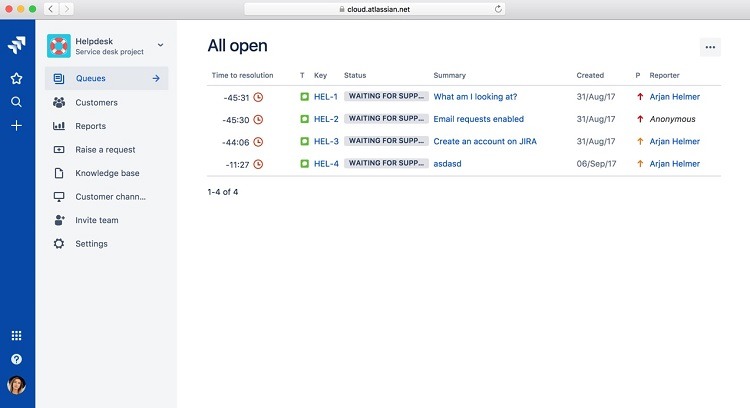 Team Size
Winner: Tie
Even though this category is a draw, paying close attention to team size can be a key differentiating factor in picking between these two packages.
Trello's free tier is great for small teams that don't need a ton of project management features. Should the small team have growth plans, it's easy to migrate from the Trello free tier into its paid ones.
For medium-sized and large teams that will be growing fast, though, Trello may not be the right answer. Jira is a better selection for teams that know they'll be growing quickly. As the growth occurs, managing huge teams that work on complex projects can be easier with Jira than with Trello.
Certainly, small teams with complex projects can use Jira successfully. And large teams can use Trello with minimal problems, especially if they need versatility in handling the types of projects they're managing.
As a general rule, though, Jira's complex features work better for larger teams, and Trello's lower pricing points and ease of use work better for smaller teams. Trello's simple design works nicely for teams that manage quite a few far-flung contract workers and freelancers too.