Slack Vs. Skype – Which is the best and why?
With millions of monthly active users, Skype and Slack are among the world's most popular communication apps.
They're both easy to use, offer a plethora of features, and generally make communication much more accessible and enjoyable.
Both Skype and Slack offer:
Audio and video calling
Direct and group conversations
Document and file sharing
Third-party app integrations
However, despite many similarities, they're not identical products and have their unique strengths and weaknesses.
But which one is better for your business?
That's the question I will answer in this detailed comparison between Skype and Slack, two premiere communication apps.
Let's get started.
Our Recommendation: Get Slack
Before I dive into the features, pricing, and general strengths and weaknesses of Skype and Slack, let me give you my overall verdict.
Get Slack.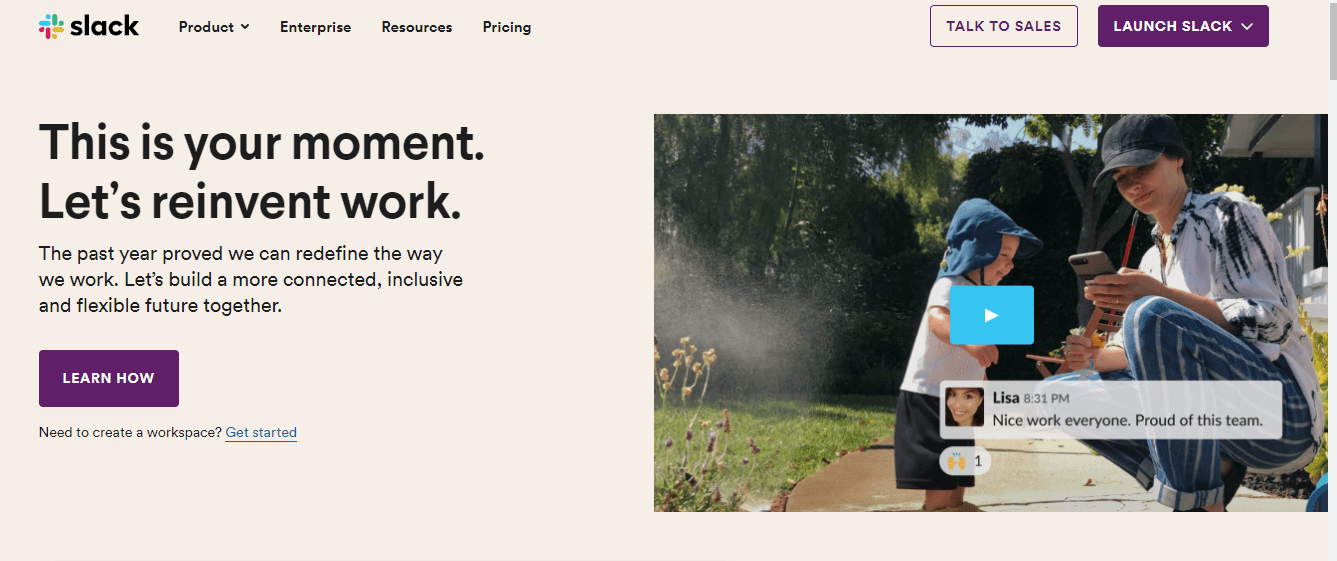 My opinion is based on personal experience, hard facts, data and research, and the overall customer feedback for Slack and Skype.
Here are four reasons I believe Slack is the better product.
Slack Is A Product On The Rise
Slack is one of the fastest-growing workplace communication apps that already has dozens of powerful features with many new ones in the pipeline.
Unlike Skype, it's not known for its video and audio calling capabilities only.
It currently has more than 12 million monthly active users, which include 142K paid customers.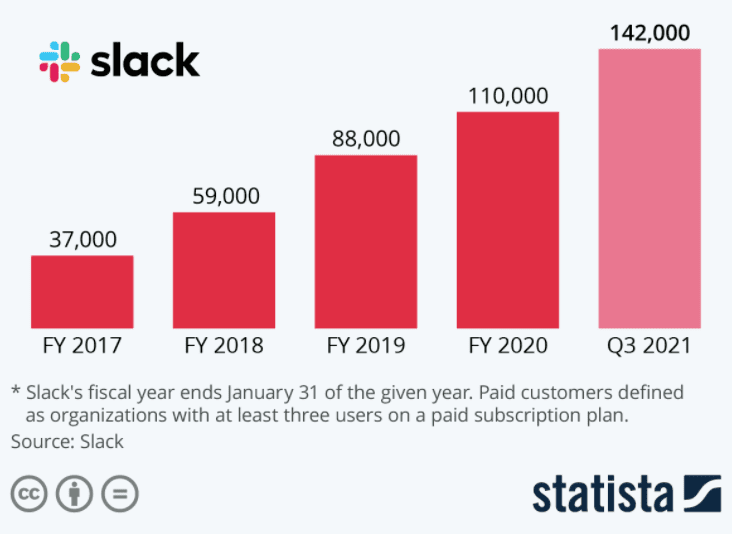 Source
Slack is still evolving as a product with an upward growth trajectory and an exciting future ahead.
Skype Is Past Its Prime
In contrast, Skype is on the way down and has lost its crown as the premier video calling app to Zoom over the last couple of years.
It's still one of the most popular communication apps, with more than 300 million monthly active users, but it's way down on Microsoft's priority list–in fact, I'm pretty sure Microsoft is slowly but surely sidelining Skype.
In 2017, Microsoft announced that Skype for Business would be completely retired by July 2021. Its features will be merged with Microsoft Teams to offers a comprehensive communication experience to Teams users.
While Skype for Business is a different product from regular Skype, it does give you hints on what Microsoft is thinking about Skype in the long run.
Another strong indicator of Skype's downfall is LinkedIn's announcement last year in which they unveiled their video messaging feature.
LinkedIn, a Microsoft product, preferred Zoom, Microsoft Teams, and Blue Jeans over Skype for its video calling capabilities.
Skype was also unable to capitalize on the surge in demand for communication apps, like Zoom and Slack, amid the Covid-19 pandemic.
Slack Is A Multi-Purpose Application
Declining popularity is just one reason for Skype's inferiority.
Overall, Slack is a more well-rounded and multi-purpose workplace communication platform. This is easy to understand, since Skype is literally only a video calling platform–every other feature it has is only there to support video calling.
By contrast, you can use Slack for project management, organizing your departmental communication, creating a knowledge base for your company, etc. And I've not even mentioned Slack's unlimited third-party integrations that make it an exceedingly better product than Skype for workplace communication.
If you're looking specifically for video calling, Skype is worth checking out, but if you want a communications platform that offers much of anything else, Slack just has way more to offer.
Users Rate Slack Much Higher Than Skype
This reason is the central one behind my verdict. People really like using Slack and really don't like using Skype. Specifically, Skype has a lower rating than Slack on TrustRadius, G2, and many other review user aggregator sites.
Not only does this mean more of your employees will be comfortable with Slack, but it also makes sure you're using the platform with the best reputation for reliability and ease of user experience.
Skype has gone through several design and UX changes over the last few years, but most of them seem to have backfired. Microsoft reversed many of those changes immediately or after a few months because of user backlash.
This is a primary reason why consumers find Skype much harder to use than Slack and many other communication apps.
Based on these factors, I believe Slack is a much better option for workplace communication.
When to Get Skype Instead Of Slack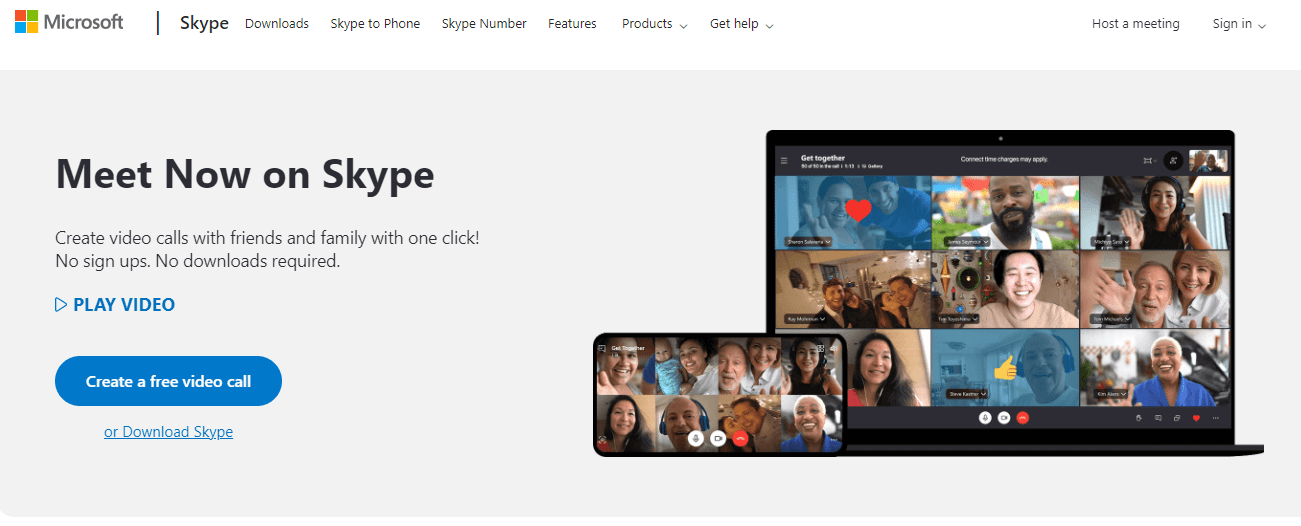 Slack is an overall better product than Skype for workplace communication.
But Skype is still a hugely popular application with numerous strengths and advantages.
In fact, in some cases, Skype is a better choice than Slack.
For example, if video calling in large groups is your number one consideration, Skype is a better option because of several reasons.
Skype offers better video quality.
Allows up to 100 participants in group video calls
Allows text messaging during video calls
Allows document and file sharing in video calls
Allows screen sharing in video calls
Allows call recording
It is completely free to use.
These are significant advantages compared with Slack, which only offers group video calls for premium users with a limit of 15 participants.
Skype is also a good option if you're on a tight budget and do not want to invest heavily in a communication platform.
Skype's individual and group video/audio calling and instant messaging features are free for everyone.
And even its paid text messaging and phone calling features are pretty affordable compared to expensive roaming plans when you're on a foreign trip or want to connect via phone with someone in another country.
In short, if you're mainly looking for high-quality video calling capabilities for a large group of people completely free, Skype is the better option for you.
Pricing: Is Slack or Skype the Better Deal?
We've discussed some general strengths and weaknesses of Slack and Skype so far.
To put things into perspective, let's analyze their pricing structures to understand the value they offer for your money.
Skype Pricing And Free Plan
Most of Skype's core features are entirely free.
You can host or join group/individual video calls, record calls, enable subtitles, share files, create moderated groups, and communicate with people for no charges.
Phone calling is the only paid feature in Skype that you can use with different billing options like monthly subscriptions or Skype Credit and Skype to Go (both pay-as-you-go options).
You also need to pay a monthly fee to keep a Skype number that others can call using Skype or a telephone/mobile device.
Here's how it works.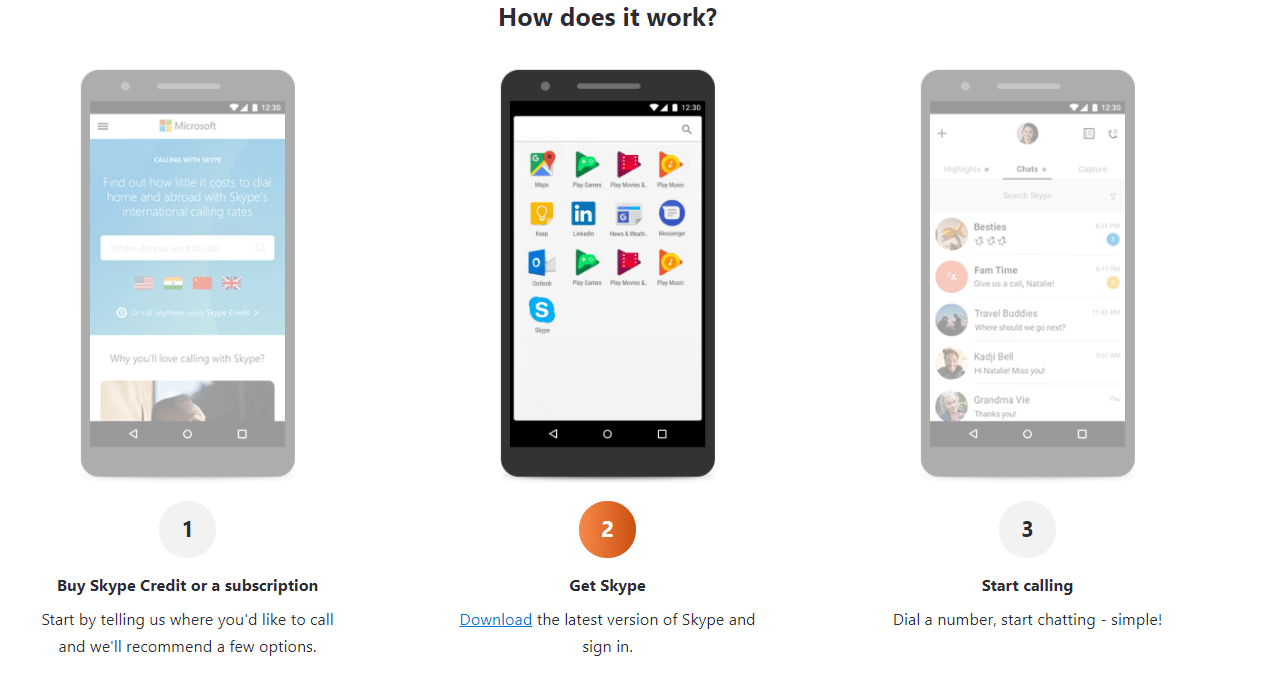 The calling rate varies with regions, but you can get subscription plans for the USA for $2.99/month and the rest of North America for $6.99/month.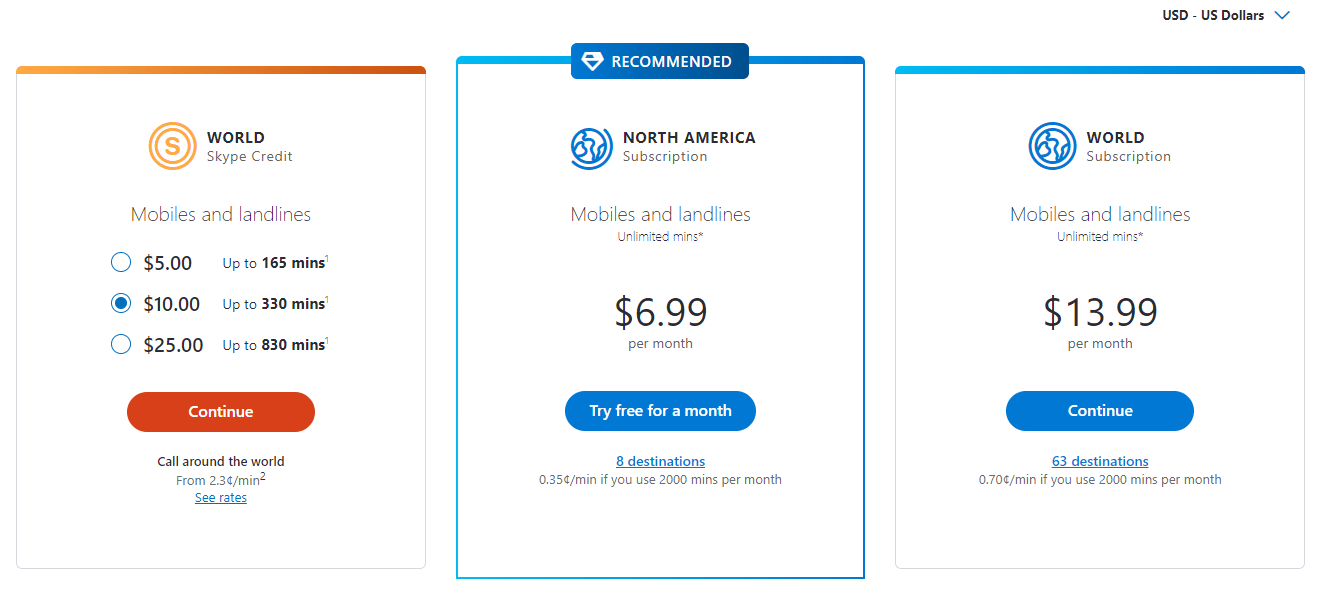 Other than this, all Skype features are free to use as long as you remain within their free usage policy.
Slack Pricing And Free Plan
Slack has three different pricing plans along with a free version for smaller teams with limited feature requirements.
Here's how its paid plans are priced.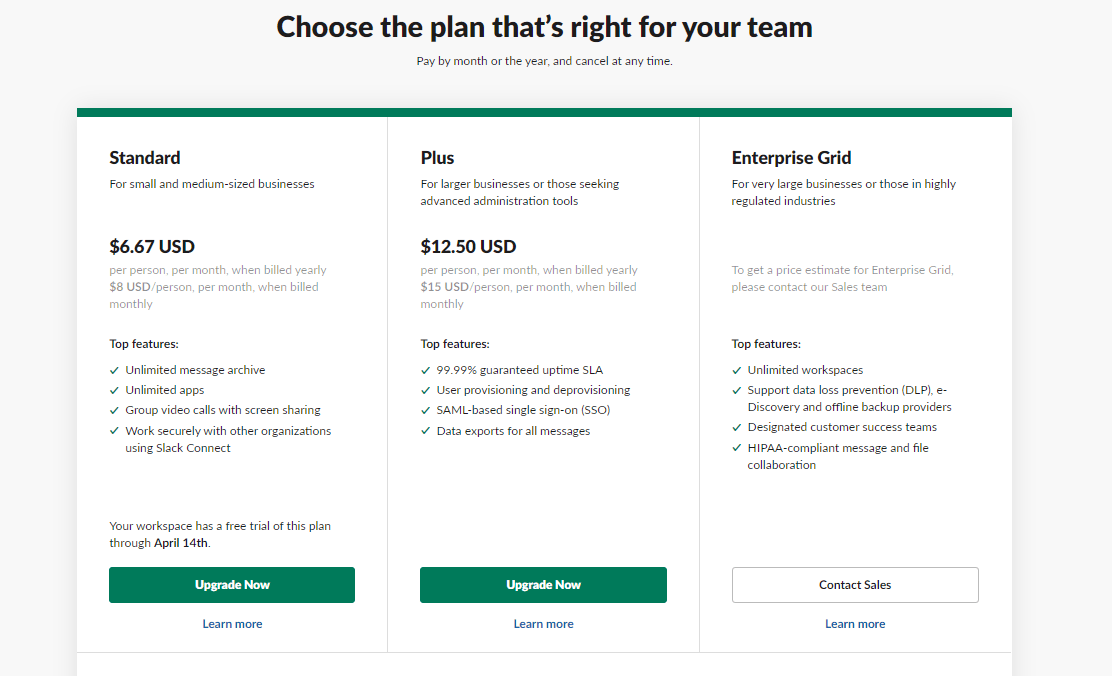 You can get started with the Standard plan for $6.67/month per user billed annually. At this price, you can get unlimited messaging features, group video calls for up to 15 users, unlimited channels, and unlimited app integrations.
Plus, there are many other benefits like up to 10 GB storage per user, unlimited message archive, and many more.
The Plus and Enterprise plans are upgrades to the Standard plan and offer plenty of other features like uptime guarantees, message export capabilities, and user provisioning/deprovisioning.
Which Product Offers More Value?
If you're looking for a comprehensive workplace communication tool, Slack offers immense value for money.
But if video calling is your only priority, Skype is the better choice.
Skype's Features vs. Slack's Features
Let's quickly analyze and compare some of Slack and Skype's core features to see how they stack up with each other.
Video Calling For Individuals and Groups
Winner: Skype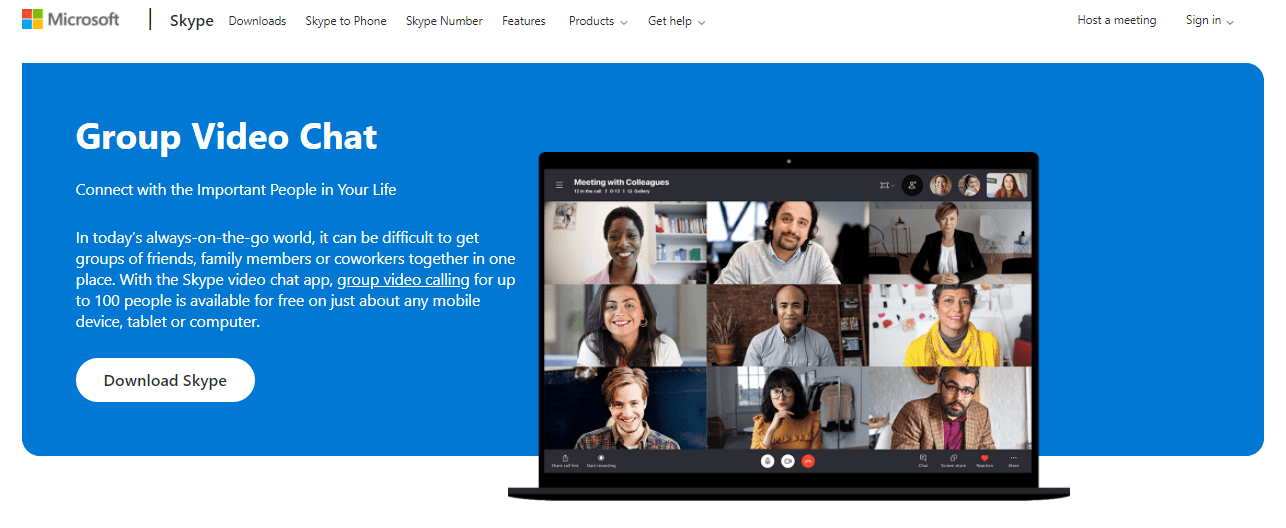 First of all, Skype has superior quality video calling features that offer crisp, uninterrupted, and secure video calls for individuals and teams.
You can add up to 100 participants to a video call with a 4 hour limit per call which is more than enough for most users.
Skype also offers advanced features like video call recording and subtitles for free. You can enable call recording from call settings without needing any third-party apps. Skype's subtitles aren't perfect, but still, a handy feature to have.
And of course, you can also share your screen with individuals or groups during a Skype video call.
In comparison, Slack offers limited video calling capabilities.

The free plan only offers one-to-one video calling, while group calls in the paid plans are limited to 15 users at a time.
Slack video calls' quality is also questionable, which is why a large percentage of their users prefer Zoom calling even when using Slack.
Slack also doesn't offer video recording or subtitles. You can, however, add these features with third-party apps.
Instant Messaging For Individuals and Groups
Winner: Slack
Slack has significantly better instant messaging options as compared to Skype.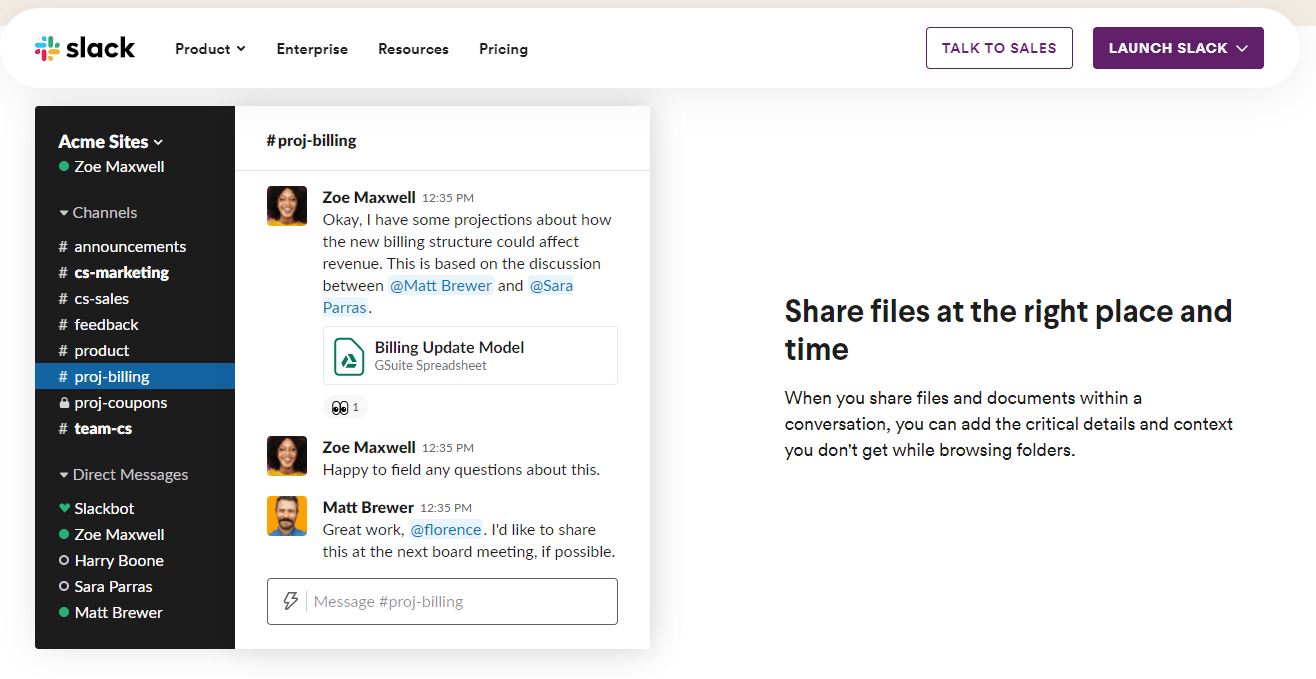 Slack is a trendsetter in workplace instant messaging apps, which is a big reason behind its growth and adoption across the corporate and startup world.
Slack's main advantage is how it allows you to manage communication through workspaces, channels, and threads.
Channels, in particular, are the foundation of all communication in Slack. You can use them to create dedicated chat groups for different projects/teams, start private or public channels, Or create channels for various discussion topics.
You can also make your conversations more engaging by using emojis, gifs, videos, and images. Plus, you can use hashtags for different topics or tag users within discussions for quicker responses.
Within channels, you can create unlimited message threads with their own topics. This stricture immensely helps in organizing your conversations and avoiding miscommunication in larger groups.
Slack's most significant advantage is its user interface that makes workplace communication look informal and easy to manage.
In comparison, Skype lacks the features to truly become an instant messaging app for larger groups.

Its user interface makes it hard to differentiate between individual and group conversations.
Skype messaging also doesn't have threads like Slack. You can respond to messages by quoting them, but the responses don't appear as part of a thread, making it hard to follow discussions.
Message Archives and Searching
Winner: Slack
Slack offers basic and advanced search features that can help you turn it into a complete knowledge base for your team in the long run.
For free accounts, the search limit is up to 10,000 messages in a single workspace. But for premium plans, there's no limit to your message archive.

You can search group and direct chats by entering a keyword or applying filters to find specific messages.
For example, in the Messages filter, you get the option to apply additionally to and from filters. This helps you find exactly the messages you're looking for.
You can use these filters to find specific files and users as well.
In comparison, Skype offers basic message searching inside groups. Your voice messages, videos, and call recordings are available for up to 30 days, while your message history is available for two years.
Third-Party App Sharing
Winner: Slack
Integrating with third-party apps is among Slack's biggest strengths.
It integrates with more than 2400 different applications and allows Slack users to add extra features to their workspace.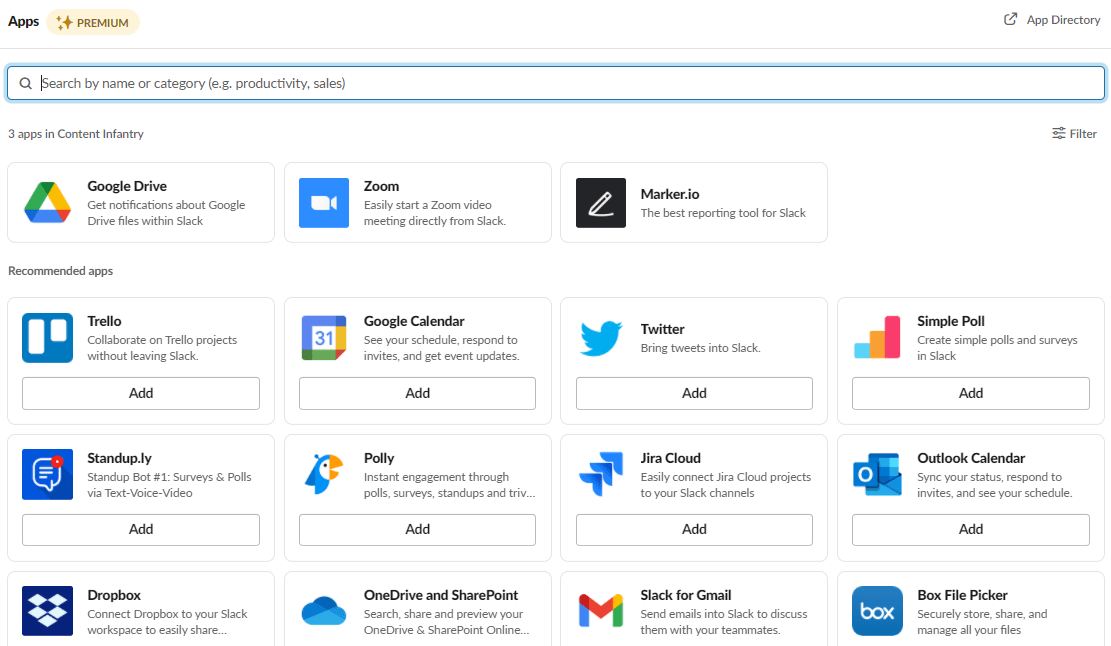 For example, you can integrate your Trello boards with Slack to manage your projects directly from your chat window.
Or you can integrate Slack with Zoom to allow much superior video calling capabilities and avoid the user limits in Slack video calls.
On the other hand, Skype doesn't have app integrations to enhance its features or user experience.
File Sharing
Winner: Slack
Slack's premium accounts come with 10GB and 20GB of cloud storage with individual file uploads of up to 1GB.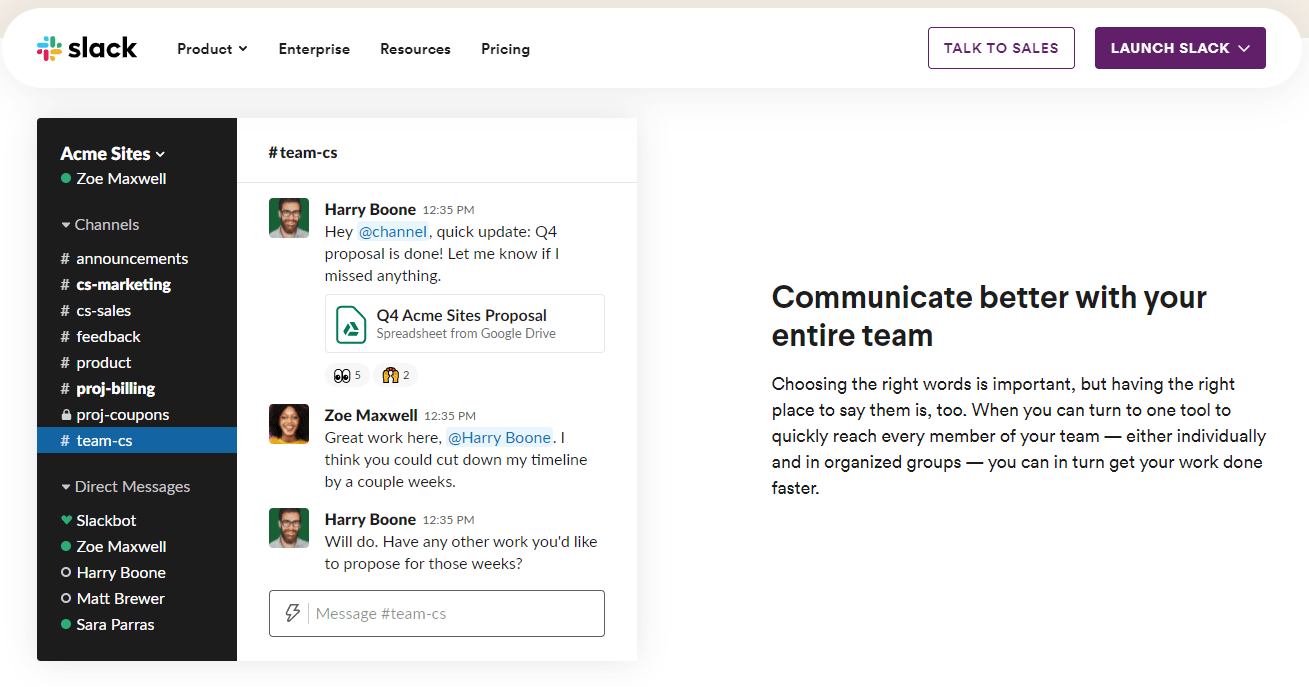 Standard file formats like PDF, DOCx, etc., come with previews, and you can play videos and MP3 files directly from your chat window.
You can also add captions and necessary details about different files and tag specific users when sharing a file.
Skype, in comparison, allows files up to 300MB in size with unlimited storage space. However, videos and documents are automatically deleted after 30 days.
Slack vs. Skype: Wrapping Up The Comparison
If you're looking for a well-rounded workplace communication app that's reliable and covers all kinds of communication, Slack is the obvious choice.
Skype is free and does a great job with video and audio calls. But that's where its benefits end when you compare it with Slack.