Slack Vs. Microsoft Teams – Which is the best and why?
The ongoing pandemic has resulted in a significant shift towards remote work. This, in turn, has caused collaboration and chat tools to become more critical than ever.
Slack and Microsoft Teams are two of the most prominent web-based collaboration software tools that let you chat, share workspaces, and automate notifications for easy and more effective communication.
The stakes are high. Microsoft has been touting Team's growing user numbers, citing 20 million active daily users in November compared to Slack's 12 million. Slack, in return, has questioned Microsoft's figures, claiming its own users are more actively engaged.
Well, the ultimate winner is the user, as you get two excellent collaboration platforms constantly trying to beat each other by offering more features.
However, choosing between the two isn't easy. To make it easier for you, we've compared Slack and Microsoft Teams to help you make the right decision.
Our Recommendation: Microsoft Teams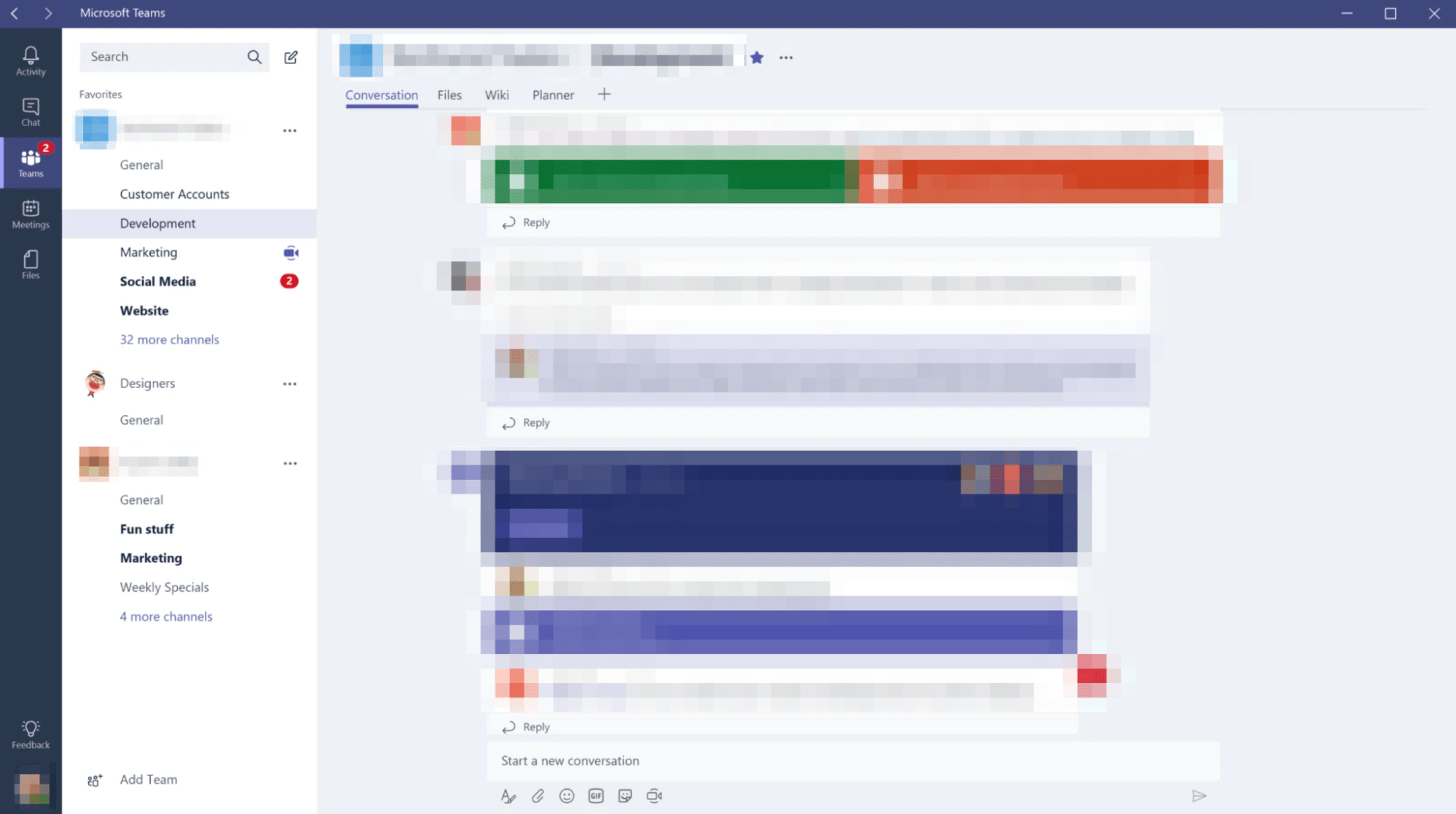 Microsoft Teams offers immediate office 365 integration, a software that many businesses—big and small—already used to carry on their business. In addition, you get sophisticated video conferencing capabilities, state-of-the-art security, and attractive compliance features.
It has made instant messaging the central focus, which is far more corporate and streamlined when compared to Slack. Moreover, you get free customization options for the sidebar, including light, dark, and high contrast themes to accommodate the visually impaired.
Organized conversations are another advantage, with the platform allowing you to create channels to focus discussions, audio and video calls with members, and chatting with internal and external users. You get a more word processing-like experience with Microsoft Teams, where you can choose the font size and color, apply paragraph styles, and insert a table wherever necessary—something Slack lacks.
More companies are migrating from Slack to Teams because of its superior voice calling and video conferencing capabilities. Teams let you enjoy one-on-one internal voice calls with team members, along with adding up to 250 people to join in a single video call. Integrating with several apps to create a true workspace is another feather in Microsoft Teams' cap.
Sharing screen from desktop and mobile versions of Microsoft Teams through either a third-party app or Microsoft Whiteboard is also possible.
When to Get Slack Instead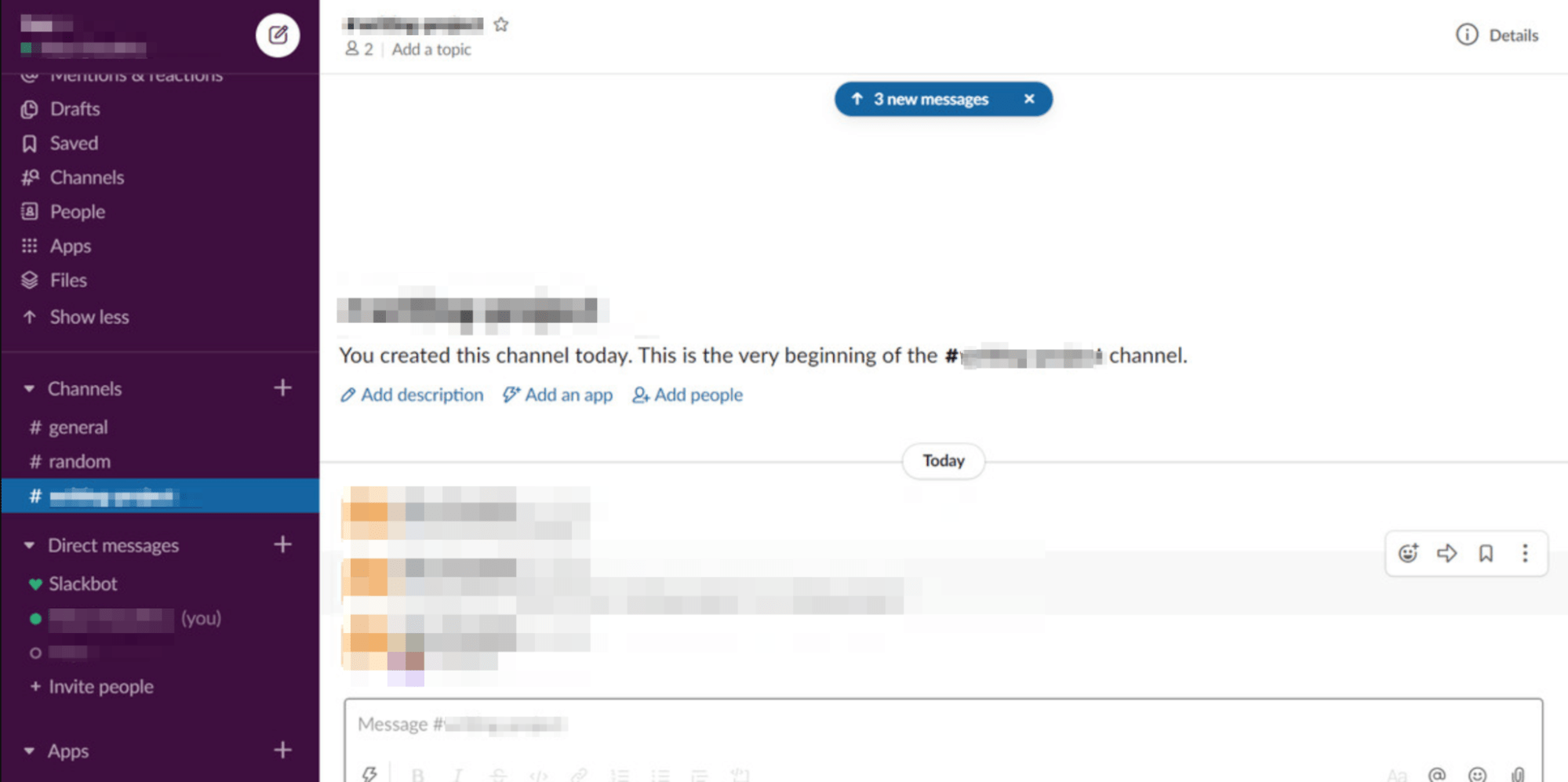 Slack has many things going for it, making it a solid Teams competitor. It's an intuitive chat tool with excellent productivity features and integration capabilities.
Here are a few situations where Slack makes a better bet when compared to Microsoft Teams.
Situation 1: When You Want Simplified Onboarding
Getting started with Microsoft Teams involves (lots of!) time and patience. It's why the onboarding process is more daunting, especially when you don't have Microsoft Office 365 set up.
On the other hand, getting started with Slack is faster and much more straightforward. You don't need to fill in any personal information (You do have to share personal information upon signing up with Teams), and neither do you have to provide a credit card unless you want to buy a paid plan.
To put things into more perspective, it hardly takes less than 10 minutes to sign up with Slack, which is considerably shorter when compared to 40 to 60 minutes spent on Microsoft Teams.
Situation 2: When You Want More Customization
Both the platforms have a similar look in terms of design and layout, but Slack definitely offers more options for customization where you can change the color of the app based on your personal preference. On the other hand, Microsoft Teams' three themes greatly restrict your styling options.
Also, Microsoft Teams tends to look a bit crowded with far too many tabs. Slack's layout is a sharp contrast to themes as the user interface looks incredibly simple when you first open the platform, giving you time to adjust to the platform.
Situation 3: When You Want More (and Flexible) Integrations
Considering Teams is a Microsoft product, it's natural that the software tool integrates well with Office 365. This can be beneficial for business people already working with tools like Power BI and SharePoint. However, there are under 300 possible integrations at the moment.
Slack, on the contrary, boasts over 1000 integration. It clearly highlights Slack's popularity, with more and more companies trying hard to integrate with the platform. Moreover, the number of apps is only growing every day, which can again be helpful for you.
Pricing: Is Slack or Microsoft Teams the Better Deal?
Slack and Microsoft Teams offer a variety of different price points to suit businesses of various sizes.
Microsoft Teams is available to all Office 365 account holders and is offered as a free plan. The freemium version supports up to 300 users and provides 2GB of file storage and 10GB of cloud storage per user. You can also integrate with other Microsoft Office applications like Word, Excel, and PowerPoint.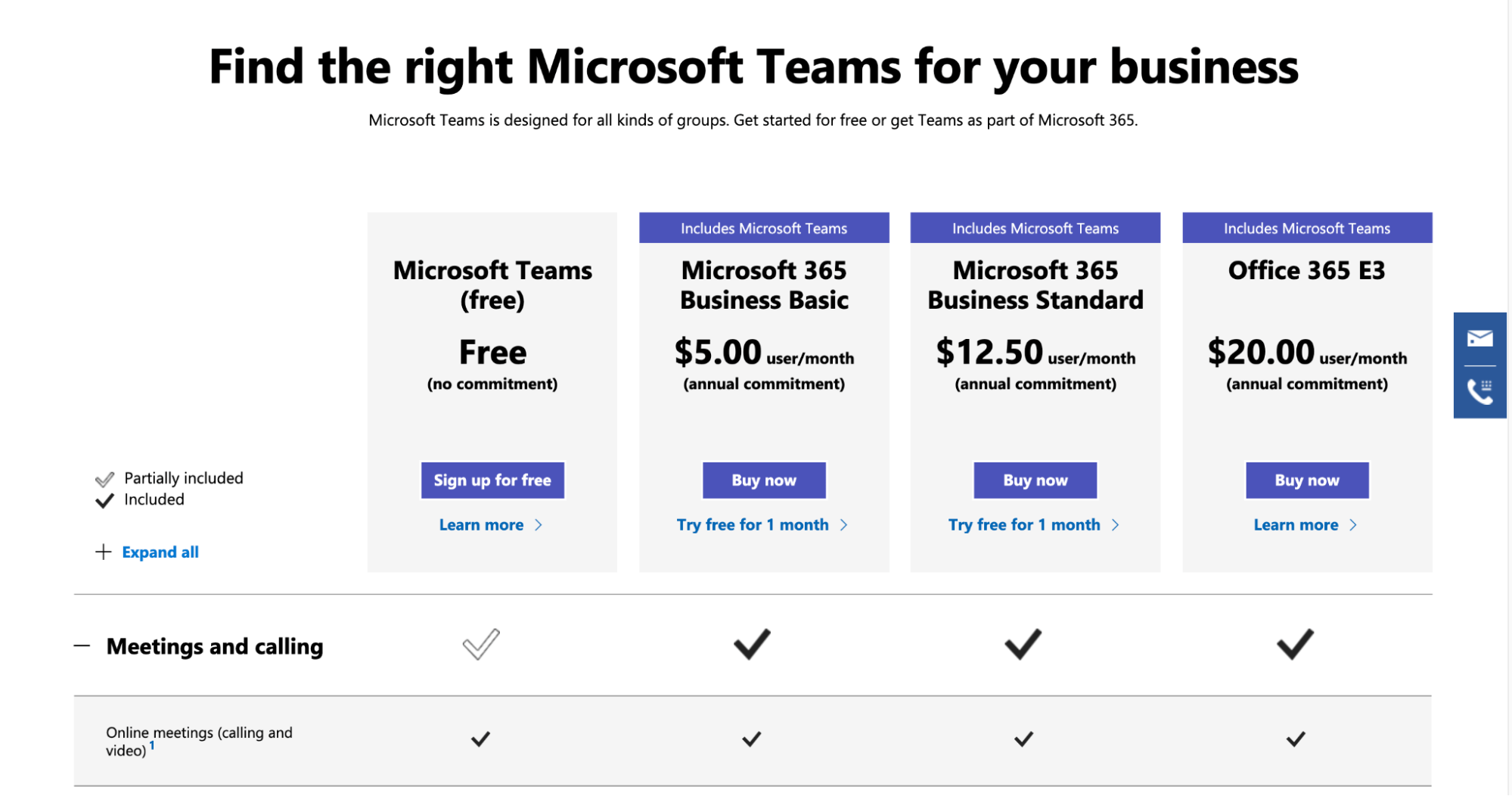 Microsoft Teams Pricing Plans:
Microsoft Team Plan — Free
Office 365 Business Essentials Plan — $5 per user per month
Office 365 Business Premium Plan — $12.5 per user per month
Office 365 E3 Plan — $20 per user per month
Slack also has a free version, but it's more constrained. For instance, while you do get unlimited chat, the storage is restricted to 5GB, with 10 app integrations.
That said, you can always bump up these restrictions by opting for premium plans that include screen sharing, unlimited app integrations, guest access, unlimited chat history, and so on.
Slack Pricing Plans:
Freemium Plan
Standard Plan — $6.67 per user per month
Plus Plan — $12.50 per user per month
Enterprise Grid — Contact the sales team for a customized quote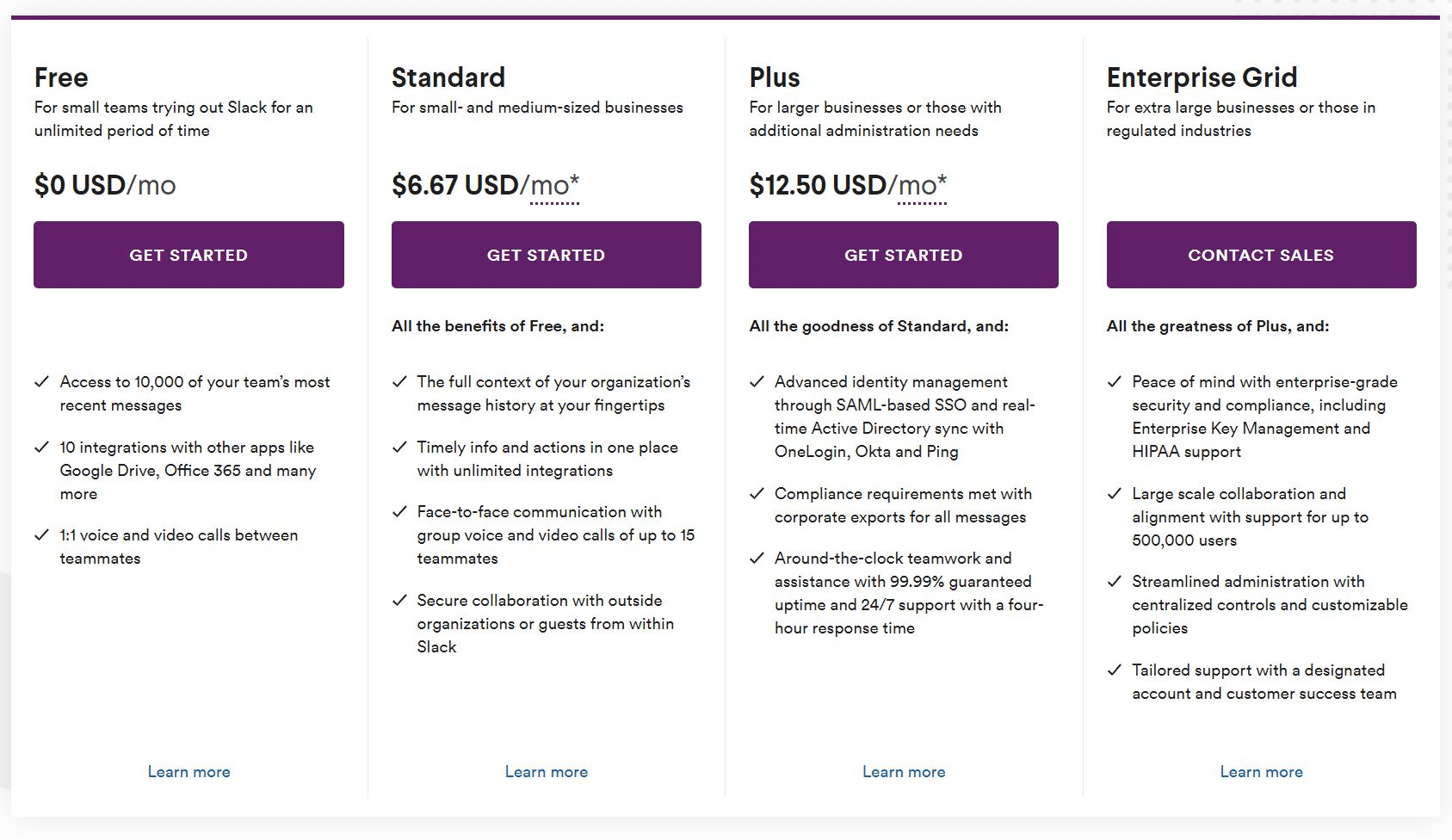 So which software gives you more value for your money?
When it comes to pricing, Teams is the cheaper option, even after taking into account Slack's annual pricing discount. Case in point: The most affordable Teams' paid plan ($5 per user per month) is still less expensive than Slack's cheapest plan ($6.67 per user per month). Furthermore, you can't beat the free version of Teams.
Keep in mind that businesses with over 300 users are forced to use the most expensive pricing package for Microsoft, making Slack more affordable for organizations of that size.
Despite that, Microsoft Teams still has a better pricing strategy, making it a suitable option for people with limited budgets.
User Interface
Winner = Slack
When discussing user interface, it all boils down to your personal preference. It's why having a considerable number of options is preferable.
Slack has an impressive 10-color theme offering for its sidebar interface, while Teams only offers three. And if that wasn't enough, Slack even lets users create their custom theme!
Other than this, both products have a similar look and feel. You'll find channels, DMs, and group chats on the left column, with a centralized and detailed view of the selected chat or channel. The right channel opens up when you need more details about something.
File Storage
Winner = Microsoft Teams
Microsoft Teams users get 2GB of storage each, with 10 GB total shared storage for the entire team. The capacity is even greater across the paid plans with 1TB per organization plus 10GB per license purchased.
On the other hand, the free Slack plan offers 5GB of total file storage across a single workspace. You get 10 GB per user with the Standard plan, while the higher-end Plus plan comes with 20GB per user.
As you can see, Teams is a clear winner for organizations that deal with large files regularly, thanks to its higher storage capabilities. Enterprise-grade companies with multiple products can opt for Slack's Enterprise Grid plan that offers 1TB of storage per user, but its price is way steeper than Teams.
Web Conferencing Facility
Winner = Microsoft Teams
The new working situation where workforces are going remote has made web conferencing an everyday necessity. Both Microsoft Teams and Slack offer web conferencing features where you can call your colleagues and team members directly to set up an audio or video conference.
Teams allows you to call users immediately after typing in their phone number even when they are not near their computers or don't use the platform themselves. Slack users can only call people who are in their organization, which can be slightly restrictive.
Other than this, Slack has a few other limitations when it comes to video calling—ones that aren't present in Teams' web conferencing offering. Firstly, web conferencing isn't a part of Slack's free offering and can only be accessed through the desktop version of the application. Also, Slack has a meeting cap of 25, which seems rather small compared to Teams' maximum limit of 300.
Also, Microsoft Teams' video calling feature is built from Skype, which gives them an edge considering the tool has been in development for the longest time, making the video quality and user participation more consistent.
We aren't saying that Slack's web conferencing feature isn't good because it is, especially for internal communication. However, it isn't a replacement for a dedicated web conferencing tool, while Teams is.
Security
Winner = Microsoft Teams
With businesses going online and remote, there's also a corresponding increase in the number of security risks and data leaks. So everyone should make a point to use shoes that offer the best possible security.
Luckily, security and compliance is a feature that both Slack and Microsoft Teams take seriously. Microsoft Teams, in particular, shines bright in their administration controls and data security.
Both platforms offer data interaction and compliance certification like two-factor authentication, ISO/IEC 27001, among others. Teams, however, is more transparent, showing us how they prioritize data security with their four tiers of compliance framework. It's categorized as Tier D-compliant, meaning you get the highest level of compliance commitment, with all its services enabled by default when you use the platform.
What's more, Teams users also get more extensive admin controls, such as modifying member, owner and file, and SharePoint permissions. DLP and data governance controls are also available.
Integrations
Winner = Slack
Multiple app compatibility is essential in today's time. After all, why use multiple platforms when you can integrate them into one to make things more convenient?
Microsoft Teams offers more native features, while Slack heavily relies on third-party applications. But the fact that the latter platform integrates with over 1000 popular SaaS applications makes it a true stand out, especially when you consider that Teams' integration is limited to just 270 applications.
In other words, it's highly likely that the productivity or collaboration tool you're already using to integrate with Slack and not Microsoft Teams. You can get integrations with Zendesk, Freshdesk, Salesforce, Jira, Asana, Trello, HubSpot, and several other apps.
That said, Slack does have one caveat in the integration aspect. The free Slack plan limits the number of integrations to just 10. So if you want to lift this restriction, you'll have to upgrade to the premium plans.
Effective Task Management and Message Search
Winner = Tie
While you don't get built-in task management options in either of the platforms, there are other ways to manage your tasks efficiently.
For instance, there are Actions in Slack where you can create tasks and finish them without getting out of the app. Even Teams offers the same function, but instead of Actions, you use Planner to manage your tasks.
And while we're discussing effective task management, you should also ensure to use team communication tools that let you easily search through messages, files, and contacts—even if they are months old.
In Slack, looking through old messages is super simple. All you have to do is search the content within the files using the Slack search. Microsoft Teams is no different. You can scroll through your previous conversations by using its search bar without any extra effort.