Slack Vs. Basecamp – Which is the best and why?
Are you losing track of projects? Does your team need better communication? Do you want to avoid long, unproductive meetings?
Slack and Basecamp are both top-tier project management software systems with similar goals to help your team. But the two tools have different capabilities, and how they serve your team depends on where you're struggling.
With such a vast market, it can be hard to decide what to get. Let's look at the features Slack and Basecamp offer to help you choose the one that works best for your business.
Our Recommendation = Get Slack
Overall, Slack lets you do more with its platform. What it lacks in built-in features it makes up for with plenty of integrations that help you keep your team running like a well-oiled machine.
Slack gives you a cohesive, streamlined way to connect everyone on your team, both within your business and outside of it. You can give vendors, clients, and anyone else access to the platform and ensure everyone has access to relevant conversations.
With channels, you can keep track of different projects and tasks to maintain organization. When chat isn't enough, Slack has a video and audio call option to let you talk face to face with anyone on your team.
Slack is a much more communication-oriented platform than Basecamp. If you want a system that lets your team collaborate rather than simply keep track of tasks, Slack has you covered. Plus, it has a free version, which you won't find with Basecamp.
When to Get Basecamp Instead
If you need task-focused project management software, Basecamp is it. It comes with message boards, direct messaging, to-do lists, and other built-in features to keep your team on track.
Basecamp's reports feature tells you how your team uses the platform and gives you project updates on a set schedule. It also has plenty of integrations through Zapier—though not as many as Slack. While Basecamp doesn't have as much communication capability, it has enough to let your team interact on specific tasks.
If you need a system with plenty of storage, Basecamp will serve you better than Slack. It has several times the storage Slack gives you, except at Slack's highest tier, and you can send much larger files. When your team already has communication down, Basecamp gives you a place to reach maximum productivity.
Pricing—Is Slack or Basecamp the Better Deal?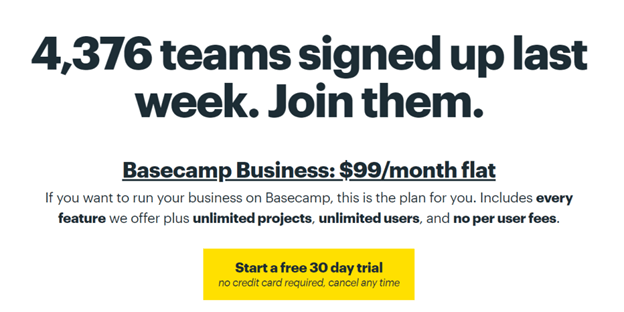 Slack and Basecamp price their products differently, making it hard to say whether one is a better deal than the other. Slack has three tiers of packages, while Basecamp uses a flat fee. The flat fee can be advantageous, especially when you have a large team, but it doesn't automatically make it a better value. Slack also has a much better free option for its software.
You can choose from four packages with Slack:
Free
Standard: $6.67 per user per month
Plus: $12.50 per user per month
Enterprise Grid: Custom pricing
The free option comes with 10,000 messages, along with 10 apps and integrations. It also includes Slack's basic features, like one-on-one video calling and two-factor authentication.
The Standard plan upgrades you to unlimited messages and apps with group video calls and screen sharing. With Plus, you get more security features, like SAML-based single sign-on. Enterprise lets you customize your package while offering premium features like a designated customer success team, offline backup, and HIPAA-compliant messaging and file sharing.
Basecamp, on the other hand, offers one package at a $99 per month flat rate. For that, you get unlimited projects and users, advanced client access, team projects, and a company headquarters to keep everything together. Technically, the software does have a free version, but as it only allows three projects with 20 users and far fewer features, you won't find it useful for most business purposes.
Whether Slack or Basecamp has the better price for you depends mainly on the size of your team. If you run a large corporation, $99 per month could be a steal. However, if all you need are Slack's Standard package features for a team of five, you'd be wasting money going with Basecamp.
Communication Channels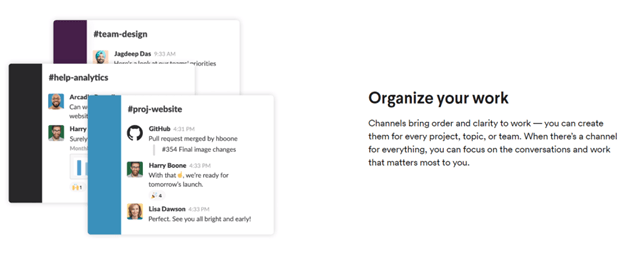 Winner: Slack
Slack's platform is more communication-focused, giving you more options than you have with Basecamp. With Slack, you have one platform with several channels separated by project, team, department, client, or any organizational system you prefer to use.
Through these channels, you can share files or chat in real-time with teammates both publicly and privately. Threads let you respond directly to a specific message to help you keep relevant messages together and condense everything related to that topic in one area.
Basecamp still has an efficient communication system, but it works much differently than Slack. While Slack works mainly through chat, Basecamp lets you comment on message boards and to-do lists. It also has Campfire chat, which is less advanced than Slack but still allows real-time messaging.
Instead of channels, Basecamp has discussion threads. Message boards allow for updates and feedback on tasks, while to-do commenting lets you discuss projects. You can also direct message team members to talk privately.
When it comes to communication, Basecamp may have a few more methods to do it, but Slack has better organization. It also streamlines your communication into fewer, less confusing locations, putting it on top.
Reporting

Winner: Basecamp
Whether you want progress updates or information about your team's software use, it matters which platform you choose. Slack offers basic reports that center around whether your team uses Slack or not. It offers less information about how they use it, making it weaker when it comes to reports.
Slack's paid tiers give you more access to in-depth information, but it doesn't provide you with anything comprehensive. At most, you'll find out which features they use most frequently.
Basecamp offers more detail in its reports. With it, you can run reports based on team members, tasks and projects, specific dates, and more. Everyone on your team can access these reports to get an update on project status. You also have the option to receive daily productivity reports, so you know how productive your team has been with a project and how team members use their time.
If reporting matters to you and your business, we recommend Basecamp over Slack. It goes into more detail without charging more for the feature.
Integrations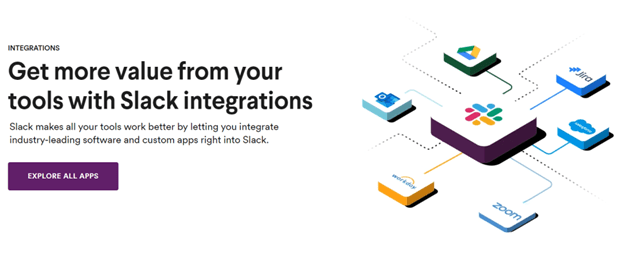 Winner: Slack
Integrations increase the capabilities of your project management software. Whether you need to share data or improve workflow processes, integrations can streamline and upgrade your team's experience.
Slack offers ten integrations in its free version. Once you upgrade, you have access to over 1,000 integrations, making it one of the main features that draws people to Slack's platform. These integrations offer plenty of ways to make your work more efficient with integrations like:
Google Drive
Asana
Salesforce
HubSpot
Zoom
Basecamp only has 53 integrations. It doesn't have a free business version of the software, so if you want to use any, you'll have to pay the $99 fee. However, it does connect with Zapier to give you access to 750 more integrations. Still, it doesn't match Slack when it comes to its selection overall.
Basecamp is built to be functionally different from Slack. It's more of a project management system than a communication system, so it comes with a few built-in features you can integrate with Slack, like to-do lists and scheduling. Overall, Slack still gives you more options for what you can do and how you can do it.
File Sharing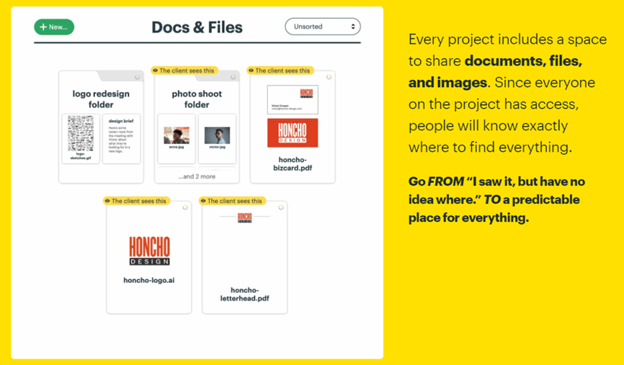 Winner: Basecamp
Basecamp makes it easier to drop files, as well as keep them for easy access later. You can add attachments up to 2GB to share with team members.
Basecamp's "Docs & Files" section allows you to create different areas for various files, whether you want to make them accessible to clients, vendors, or others within your company. Color-coding and ordering let you put files where you want them and help you remember what you saved and where you put it. You can also sort files by date and time.
With Slack, you share files through chat, so you might find that it gets disorganized more quickly without a specific system beyond the channel where you shared them. However, because of the chat-based file sharing feature, you can get more immediate details attached to your files than with Basecamp.
Slack lets you share files from cloud storage, local computer files, and anywhere else you want to send them from. However, the size limit is only half of Basecamp's at 1GB.
Sharing files is easy on both platforms, but you might want to go with Basecamp for its larger size limit and superior organization if you do a lot of document sharing.
Storage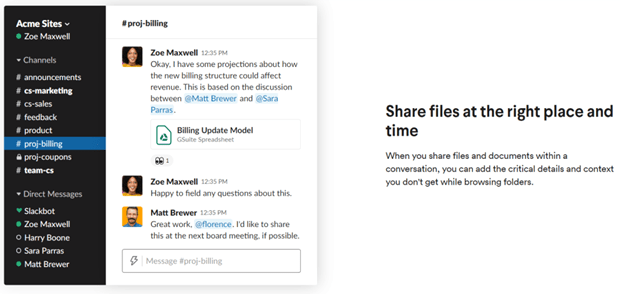 Winner: Basecamp
When you're sharing files and information within your team, you need a place to keep them. Slack gives you 5GB of storage with its free version. Once you purchase a paid tier, you double your storage to 10GB in the Standard package and 20GB with Plus.
Once you reach Enterprise level, you get 1TB, but you won't know how much you'll have to pay for it by looking at the Slack website. Regardless, if you need a lot of storage, you'll have to spend more.
Basecamp offers 500GB storage with its flat-rate pricing. Since you can also share larger files, it becomes an advantage to have so much more storage.
This is one area where Basecamp is the clear winner unless you're getting the Slack Enterprise package with 1TB. The only downside to Basecamp is that it has no upgrades. You get 500GB storage without the option to expand, thanks to its single package option.
Video and Audio Calling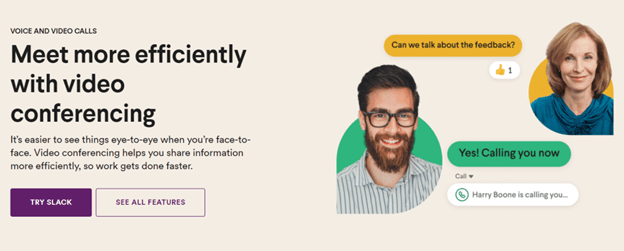 Winner: Slack
Whether video and audio calling matters to you depends on why you're getting a project management system. If interpersonal collaboration is important on your team, this feature can enhance workplace productivity.
We mentioned already that Slack is a more communication-based system, whereas Basecamp sticks to a more project- and task-focused approach. In this case, that means that Slack has video and audio calling, but Basecamp lacks the feature altogether.
Where Basecamp only lets you use text-based communication, Slack gives you more comprehensive options. Even with its free version, you can do one-on-one video calls. When you upgrade to a paid tier, you can include up to 15 people on a video call.
Slack's video calling is a one-click system, so you can easily move a chat to a call. You can also integrate other video and audio systems, like Zoom and Google Hangouts.
Slack might win this category, but if you don't need video calling, it doesn't put Basecamp at much of a disadvantage. Still, when it comes to communication, Basecamp limits your options for collaboration.
Task Management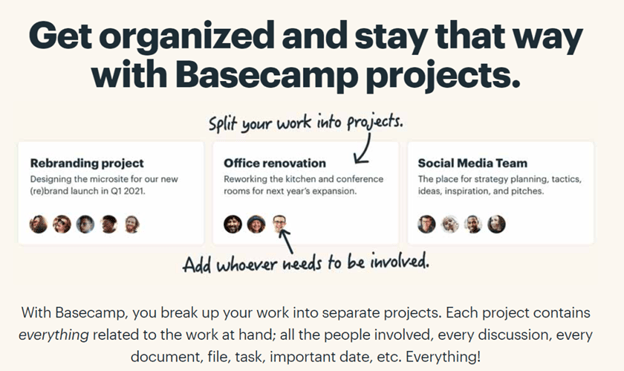 Winner: Basecamp
Both Slack and Basecamp have solid systems for task management. However, they have very different approaches to how they help you manage your projects.
It comes down to whether you need to organize people or tasks. If you need to bring your team together with communication, you need Slack. If you want to-do lists and visual boards for your projects, Basecamp works better.
Because it's more communication-based, Slack doesn't have all the features you might need to store files and check your project status. However, it does come with channels that help you keep your projects organized by team, client, and more.
Basecamp takes a more task-oriented route. Zapier means that Basecamp can give you lists and boards where team members can interact directly with specific tasks. It also offers message boards and schedules, so you can keep track of everything in one place and make sure it gets done on time. In other words, it gives you space to organize items within a project rather than managing projects within teams.
Slack's integrations can add many of the features it lacks. You can integrate more task-based project management software like Asana to make up for the absence of built-in features. But for a simple, already accessible tool, go with Basecamp.
Customer Support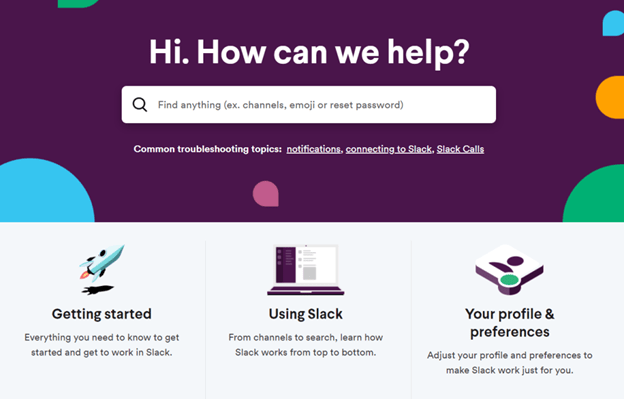 Winner: Slack
Both Slack and Basecamp have high-quality customer support with friendly, helpful, knowledgeable representatives.
With Slack, once you pay for the software, you get priority customer support. Plus and Enterprise users also get 24/7 support with a guaranteed response within four hours. Basecamp says that their representatives will respond within 30 minutes if you contact them, and they also have 24/7 support.
But it's not just the direct support that matters. Slack has a ton of resources in their Help Center, giving you self-service ways to look for solutions, including video tutorials. These resources provide you with plenty of information, including how to connect tools and integrations and set up your Slack platform. It even has shortcut tips to show you how to make commands more efficient.
Basecamp has some resources like these, but they're not as comprehensive as Slack's system. It's also more difficult to find what you need on the website, which puts Slack a step ahead.
Summary
Slack and Basecamp come close with their project management capabilities. It's hard to say which is better since each one has a different focus.
Slack works better if you need a place for your team to collaborate and communicate in real-time. It has channels, plenty of integrations, and what it lacks in built-in task features it makes up for with integrations. Basecamp is more task-oriented, but it lacks some integrations and communication features, like video and audio.
Overall, we recommend Slack when you need project management software. It has the broader capability and a solidly capable free version, which you won't find with Basecamp unless you don't want any of its more useful features. The platform you choose should serve your team and your business, so account for your specific needs first.