Imagine if you didn't have to scroll through endless email threads to find a discussion, wait for hours to get project updates, follow up unlimited times to schedule a meeting, and dread managing cross-functional projects.
Now imagine solving all those (and countless other) problems with a single tool.
That's Slack for you.
It's a multi-purpose and feature-rich channel-based messaging platform that has transformed business communication.
In this detailed review, I'll tell you everything about Slack, why 750K+ companies rely on it for better communication, and why it might just be the collaboration tool your business needs.
Keep reading.
Overview – What Is Slack?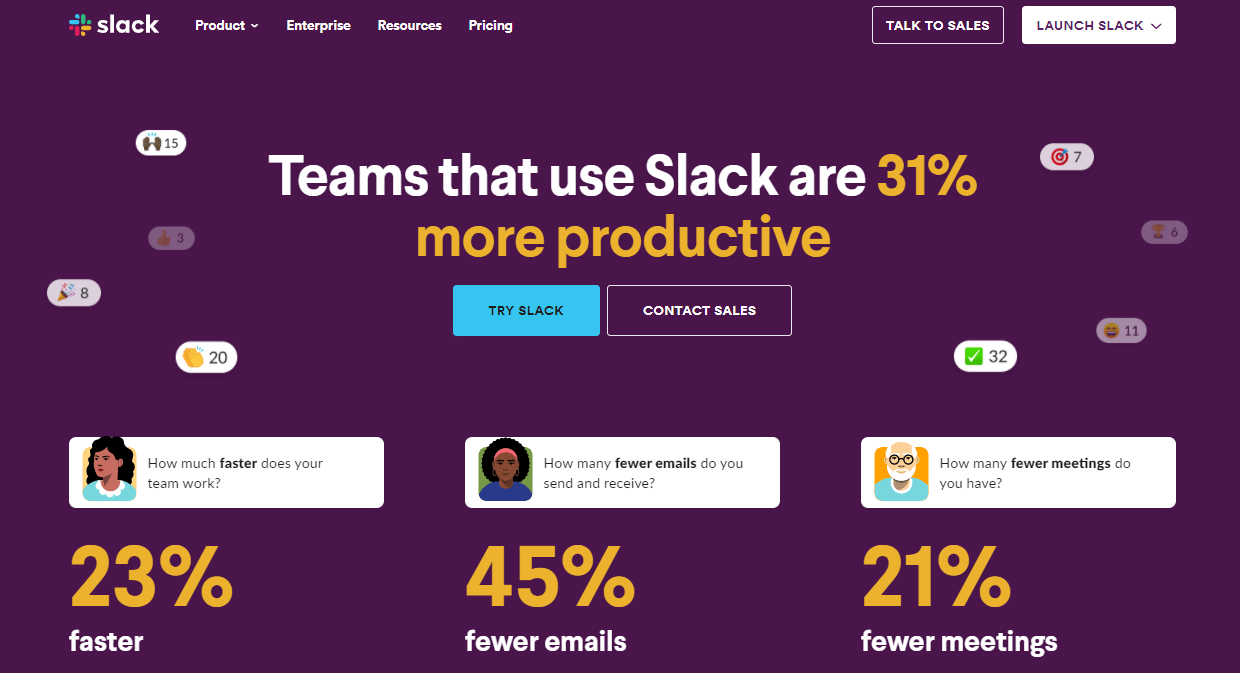 Slack is among the world's leading communication platforms, equally useful for startups, small teams, and enterprises.
Businesses and individuals worldwide use it to kick-off projects, onboard employees, plan events, review contracts, and create better team bonding.
Freelancers, consultants, and course creators use it to manage client communication and grow communities around their brand. You can find dozens of Slack communities for freelancers, digital marketers, and software developers with Google Search.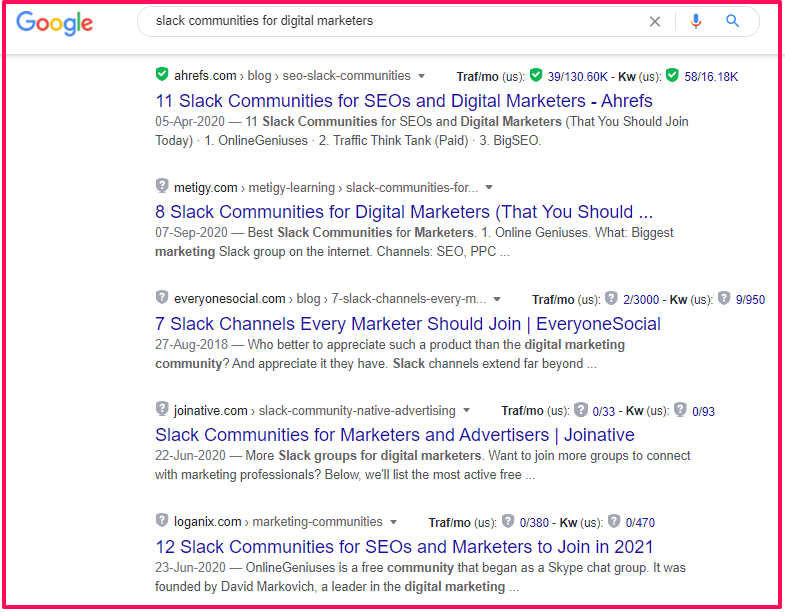 At its core, Slack is an instant messaging app that makes corporate communication simpler and faster. It accelerates business growth and improves productivity by helping you reduce email conversations and cut down on unnecessary meetings.
It comes with a simple user interface that allows you to manage and organize thousands of messages and group conversations by using topic-specific channels.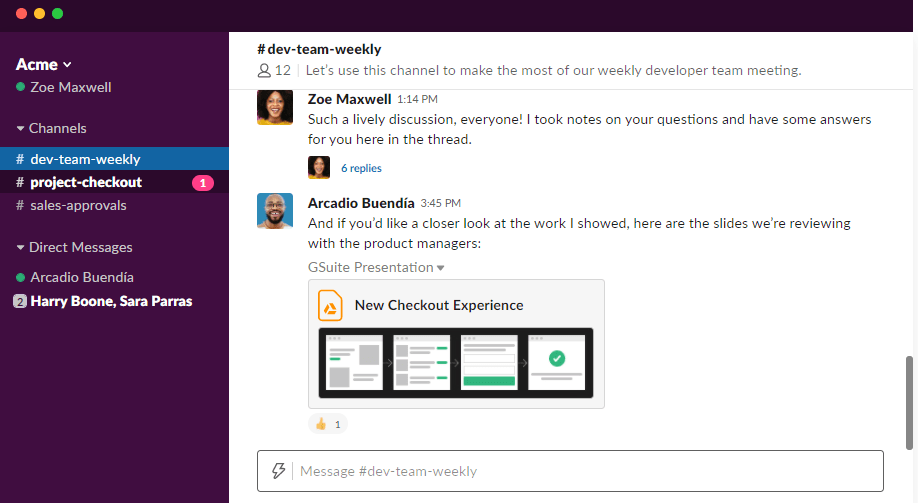 You can also use Direct Messages if you want to communicate with a specific person in your team without involving other participants.
You can use Slack to share files, make video calls, and track project growth without leaving your chat window since it integrates with more than 2000 apps.
This, plus many other features that I'll shortly discuss, has made Slack one of the corporate communication industry leaders with more than 12 million daily active users (DAU) and 142K+ are paying customers (growing fast.)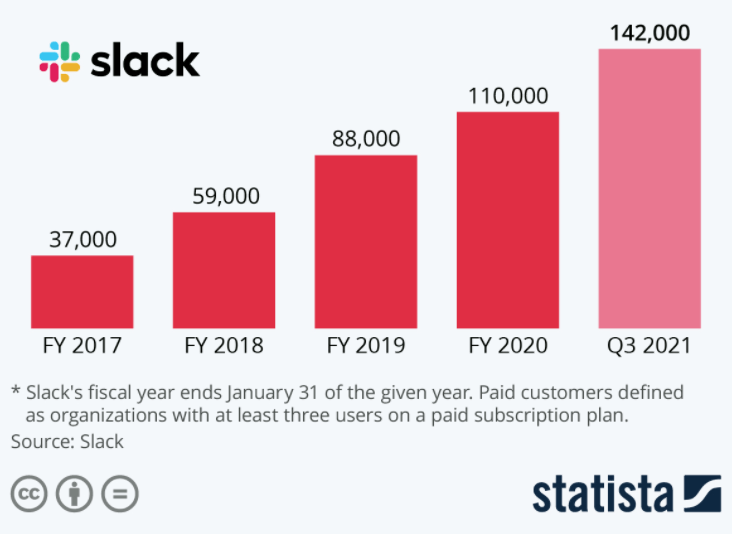 Source
Let's look at some of Slack's key features that have made it one of the most popular workplace messaging platforms.
Key Features Of Slack
Slack offers different communication, collaboration, and project management features to help businesses get things done faster and more efficiently.
Here are some of its most useful features.
Organize Conversations With Channels
In Slack, a channel is a dedicated space where you and your team members can share messages and files related to a specific project or a topic of interest.
Channels are the primary way Slack users organize communication and collaborate with different team members on a specific topic.
Your channels appear on the left of your screen in Sclak's desktop version and on the Home screen in its mobile app.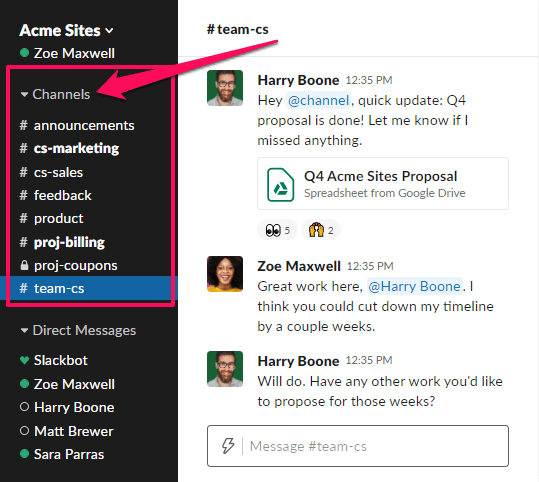 Think of channels as different departments of a company.
For example, your marketing agency can have Slack channels like Design, Content, Development, WordPress, General Discussion, Email Marketing, Social Media, SEO, etc.
Whenever a team member has a question or communication about SEO, they'll post it in the relevant channel. The same goes for files, pools, project updates, etc.
Slack channels can be public or private.
Anyone in your Slack member list can join a public channel. To join a private channel, users need the approval of the channel moderator.
Advanced Slack users can also use Shared and Multi-Workspace channels that allow different organizations to collaborate in the same channels.
The messages in every Slack channel are organized in threads and allows the participants to tag each other and use emojis to make their messages more engaging.
Make Voice And Video Calls
With remote work on the rise, the demand for video conferencing and online voice calls has surged over the past couple of years.
Slack users can use both these features within their channels and direct chats by clicking on the calling icon on the screen's top-right.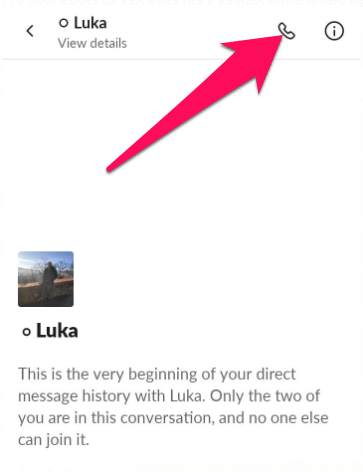 Video calls also allow screen sharing for both the caller and the receiver.
Video and voice calls in Direct Messages are available for all Slack plans. However, group calls for up to 15 participants are available to premium Slack users only.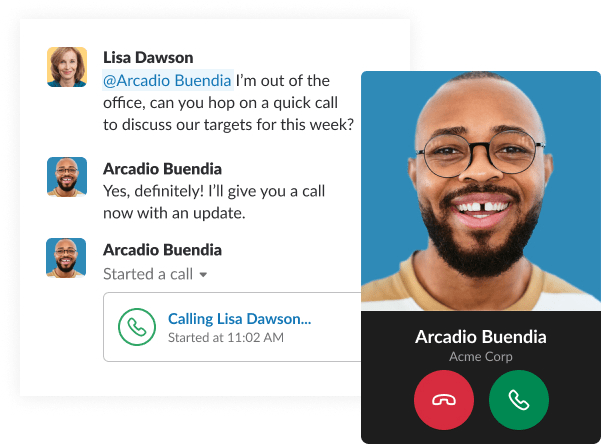 Suppose you prefer using other video calling solutions like Zoom, Google Hangouts, etc. In that case, you can simply integrate them with your Slack app and make video calls without leaving your Slack interface.
Slack doesn't offer call recording or transcribing features for now, but you can add them to your calls by integrating third-party apps.
Build Workflows To Automate Tasks
Slack's Workflow Builder allows you to automate routine multi-step tasks and processes without any coding so that you can free up your time for more important work.
These workflows are executed right in your Slack channels or through third-party app integrations.
Using the Workflow Builder, you can automate information requests, data entry, initial sign-up for administrative tasks, and other routine activities.
You can also enable and use pre-built workflows built using third-party apps supported by Slack.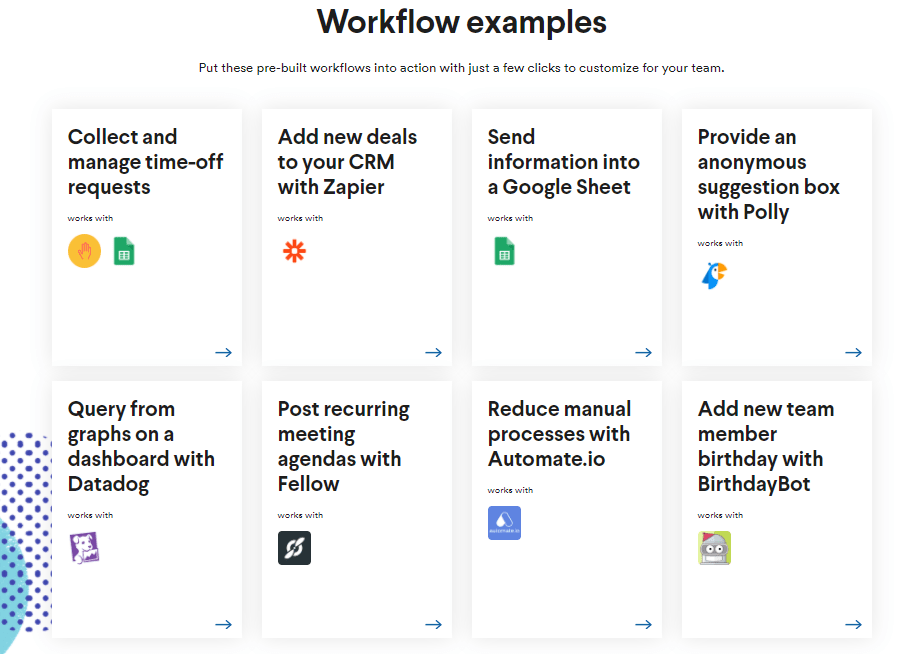 Workflow Builder is available to all premium Slack users, but owners/admins can restrict access for specific users.
Create A Searchable Knowledgebase
If all of your company communication takes place on different Slack channels, you're likely to have thousands of messages in them.
Thankfully, your chats are searchable, which means that once you or a colleague has answered a question in Slack, the other participants can simply search for it the next time they have the same query.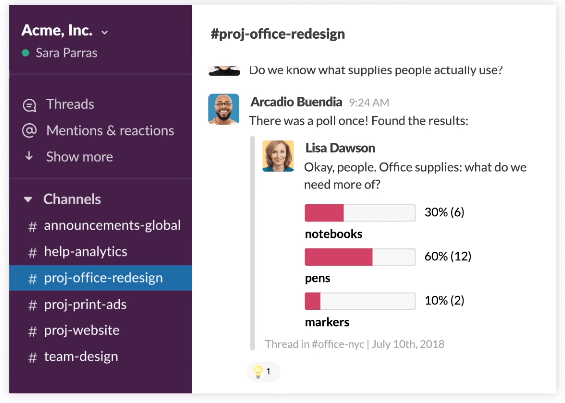 The search function works across channels, but you can search within specific channels as well.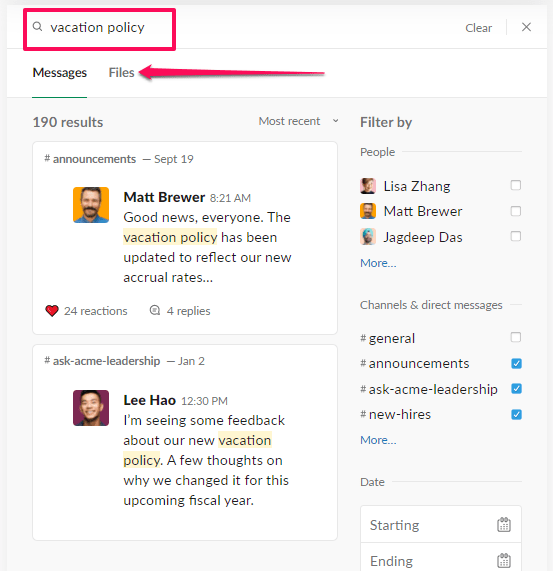 If you're specifically looking for a file in a channel, go to the Files tab to search for it.
Free Slack members can search the last 10,000 messages in a workspace, which isn't a lot if your team regularly uses Slack.
Premium members can search through all the archives without any limits.
This effectively turns Slack into a knowledgebase for your team members and
Share Large Files Easily
You can host files up to 1GB in size in your Slack conversations. You can upload them directly to Slack or using a third-party app such as Google Drive, Box, DropBox, etc.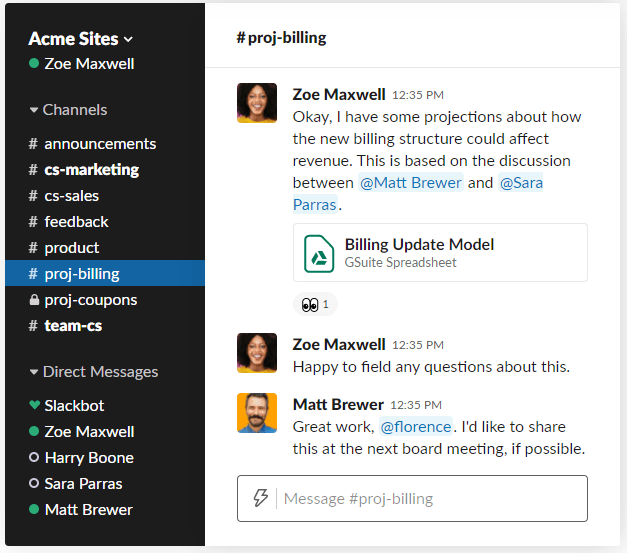 To add more context, you can add descriptions and titles to your files and tag the relevant users.
Adding a description also makes it easier to search for your files across Slack channels.
Slack Pricing And Free Plan
Slack offers a free plan with limited features and three different premium plans.
The free plan has several limitations like
Message archives limited to 10K most recent messages.
No group video calls, only one-to-one
Total workspace storage (all channels) limited to 5GB.
Up to 10 external app integrations only.
No automation with Workflow Builder
In short, if you want to experience the real benefits of Slack, you'll need to choose from one of its paid plans.
You have three choices – Standard, Plus, Enterprise Grid.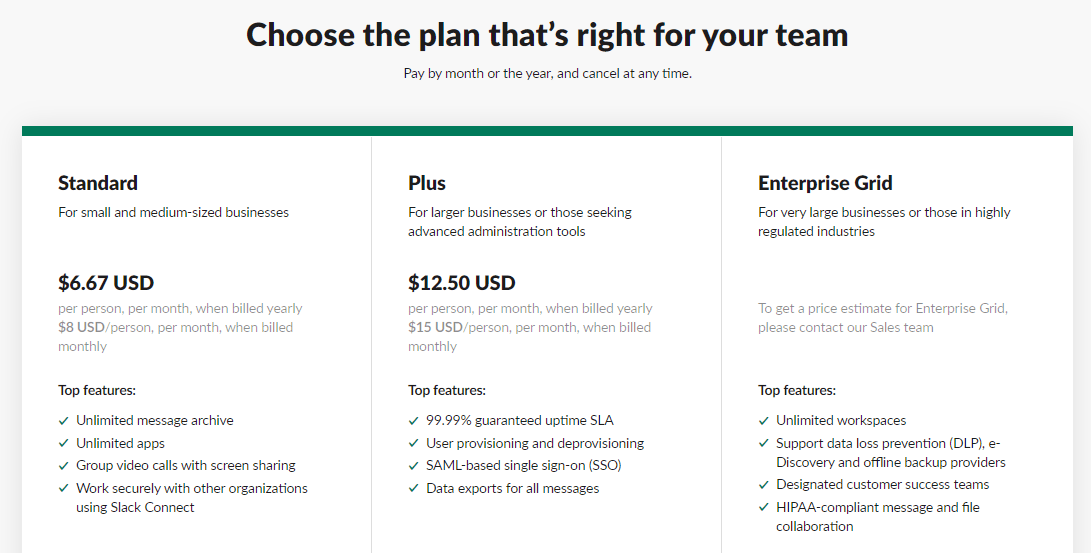 For most small and medium (and even big) companies, the choice is between the Standard and Plus plans.
Both are very similar in the core Slack functions.
But the Plus plan offers great flexibility in handling your data. For example, it gives you up to 20GB of storage per user, the option to export all your data messages, and also allows you to choose your preferred region for data residency.
If this is a priority for your company then Plus is the right package for you.
Otherwise, the Standard package also covers most bases with a complete message archive, group video calls, 10GB of storage per user, detailed analytics, and many other core features.
Whether you choose to pay monthly or annually will also have a big impact on your pricing.
For example, the Standard plan will cost you $6.67/user if you pay annually. But if you go for monthly billing, you'll have to pay $8/month. That's a difference of $15.6 for every user per year.
Slack has a Fair Billing Policy, which means they'll only charge you for your Slack workspace's active users. They will even add a prorated credit to your Slack account for any users who become inactive after you've paid for them.
Still, Slack is certainly not a cheap option irrespective of the plan you choose. So it's important to consider the overall ROI of using it for your business before signing up for a paid plan.
Pros Of Using Slack
Let's have a quick look at some of the major pros of using Slack.
Pro#1: Simplicity And UX
Slack's biggest strength is its simplicity and no-nonsense user interface. Despite being a feature-rich application, it appears as a simple chat tool that anyone can start using immediately without any complications. The most important features are a click away from users, and the overall learning curve is very reasonable.
Pro#2: Auto-Sync Across Devices
Whether you're using Slack on PC, Mac, Android, or iPhone, all your channels, conversations, messages, notifications, and files are automatically synced across devices. You don't have to worry about losing data if your system suddenly goes down, you accidentally close your browser, or your mobile app crashes. Your data is secure in the cloud.
Pro#3: Numerous Integrations
Third-party app integration is amongst the biggest reason behind Slack's success. It seamlessly integrates with more than 2000 popular apps, which means users rarely need to go outside their Slack environment to perform an action. And because of Slack's popularity, more apps are actively working towards building Slack support.
Pro#4: Roles And Permissions
Slack gives channel owners and admins complete chat moderation and user access rights. A user cannot join a channel without admin approval, and the owner/admin always has the right to remove a user from a channel or even a workspace. Similarly, owners can limit user access to different Slack features depending on their roles and needs.
Pro#5: Catchup On All Conversations
One of the things I like about Slack is that it's hard to miss a message in Slack even if you're signing in after days.
The moment you open Slack's mobile or desktop app, it highlights the channels with new messages.
When you go to a channel, Slack shows you exactly how many messages you've missed since you last visited and allows you to go back to your last conversation.
Plus, it also separately highlights any responses to your messages and if anyone tags you in a conversation.
Cons Of Using Slack
There's a lot to like about Slack but it still has some weaknesses.
Con#1: Addictive In Nature
Slack's intuitive design and user experience are also its biggest drawbacks. Since users rely on Slack for so many different tasks, it becomes a part of their everyday lives. There's nothing wrong with that, but a significant percentage of Slack users complain about the tool being too addictive and not being able to switch off from work because of it. In an increasingly remote working environment, Slack has further blurred the boundaries between personal and work life.
Con#2: Limited Features In The Free Version
Slack's free version offers minimal features, which never allows its free users to experience its true worth. Many Slack users don't need its premium features and can get things done with the free version if only Slack had been a little more generous.
Con#3: Heavy Resource Requirement
Don't let Slack's simple and easy-to-use design interface fool you. It's a very heavy application that can easily eat up your system's resources and prevent you from using other applications. This is especially when you have dozens of Slack channels with thousands of messages with GIFs, videos, and images.
Con#4: Expensive for Larger Teams
Slack isn't cheap, even for large organizations. Its pricing plans aren't very flexible, which means there's a huge difference in the per-user monthly subscription fee without much difference in the actual features of the different paid plans.
Our Recommendation – Is Slack Worth Buying?
Slack is undoubtedly a world-class application, and it will make a huge difference to your organization's connectivity and growth.
But it's not ideal for every type of business.
Companies with a fast-paced environment, growth-focused organizations, and startups with distributed teams will find Slack the ideal platform for a unified communication experience. It will allow them to move quickly without unnecessary delays and bureaucratic hurdles.
However, conventional organizations and companies that work at a slower pace might find Slack a distraction for their employees.
Such companies should look for Slack alternatives like Microsoft Teams or conventional project management applications to keep their teams on the same page.