The Ultimate Manual to Project Management Resumes
According to Ladders Inc, recruiters spend an average of 7.4 seconds reviewing each individual resume. That's about a second more than what they did in 2012…but it's still not much time.
Having an excellent project management resume—one that highlights your skills, experience, credentials, and potential—is the only way to leave a lasting impression in such a tight timeframe.
But creating a good resume is easier said than done. You need to emphasize the right parts of your project management resume to set yourself apart from other candidates.
In this Nira guide, we'll show you how to create effective project management resumes, along with relevant examples, to help you catch the hiring manager's attention and score that interview.
What Is A Project Management Resume Anyway?
A project management resume is a formal document that gives the hiring manager a brief overview of your professional qualifications and accomplishments as a project manager.
A resume and a CV (curriculum vitae) are different. In the US and Canada, resumes are the expected document. In the UK, Ireland, and New Zealand, resumes are not used at all, and CVs are the required document. However, in places like Australia, India, and South Africa, the two terms are used basically interchangeably, and job descriptions will let you know which to provide if there is a difference.
Curriculum vitae is Latin for "the course of your life," and is much more in-depth and longer than a resume. It typically includes a full recounting of your career path, achievements, education, certifications, research interests, and more. It also contains some personal information. CV length varies depending on your experience level and career but can go up to eight pages.
A resume is generally a much shorter document that highlights specific skills and experience relevant to the position you are applying for. Resumes are usually less than two pages long and are generally paired with a cover letter building on the information in your resume.
Contrary to popular belief, the goal behind creating a resume isn't to communicate your professional qualifications and credentials. Instead, it's to convince the project manager or the employers reviewing your resume that you're worth interviewing.
Think of it as a crucial tool that can help you make a positive impression on prospective employers. If you can present a concise summary of all your relevant qualifications and skills in a format that successfully establishes you're capable of handling the work, you'll get more interviews.
How Project Management Resumes Work
A good resume should reflect your ability to organize things and handle challenges related to effective project management. The whole idea behind these documents is to outline why the employer should choose you over other candidates.
Below are some of the ways a great project management resume can help secure your place at the table.
Catches the Employer's Attention
Hiring managers have to go through hundreds of candidates to find a handful of good candidates for any given position.
Naturally, candidate screening can get tedious after a while. What makes matters worse is that one in five recruiters reject a candidate before they even finish reading their resume.
You need to make a great first impression when applying for a job. Luckily, there is a way to help you increase your appeal.
The best way to grab the hiring manager's attention is by utilizing the top quarter of the page to do something unique. While it's necessary to include your name and contact information, you can spice things up by adding a personal logo, quote, or summary that will make the recruiter pause and give your resume more time.
Outlines Your Experience, Expertise, and Skillset
Employers will only hire you if they think you have the experience and skills needed to get the job done.
Naturally, the level of your experience and skills will go hand-in-hand with the position. If you're applying for the post of project manager, the employer will want to know how you performed in the past in similar roles and your achievements. After all, managing a project is different from being an intern.
One way to ensure you include the correct information is to review the job description and use the information in it to tailor your resume to the specific job you're applying for. You can use similar terminology and look through the outlined responsibilities to showcase your experience doing them in other roles.
Highlights How You Will Be an Asset to the Company
Logically speaking, employers have a need and want candidates that can fill that need.
A potential employer should be able to envision you being a part of the company, helping it achieve predetermined organizational and business goals. That's why your resume should show exactly what you can bring to the company.
An excellent way to make a mark is through metrics. Make a point to mention the number of projects completed, people managed, and money saved. Employers love talking about benefits in numbers, so using this in your resume will instantly make you stand out.
Additionally, you should research the company and include information in your cover letter about why you will be a good fit for their business and culture and how you'll help them reach their goals. Doing so will help set you apart from other candidates and prove you want this particular position, not just and project management role.
Lays Out Your Project Management-Specific Strengths
Many candidates use a general resume for all job postings. This is absolutely wrong for multiple reasons.
First, these resumes are hardly impressionable. Second, they don't tell the hiring manager anything about why they should hire you. Third, they don't play to your strengths, making it more likely for the hiring manager to lose interest.
It's why anything run-of-the-mill or basic is a strict no-no. Instead, you should tailor your resume to highlight how your skills, experience, and goals align with the specific open job.
In the case of project management, your resume must be project management-focused and include relevant points that display your expertise in managing projects. For example, you can mention the previous projects you were a part of, a degree or certificate in a project management course, and so on.
Helps You Score An Interview
Your resume is the very first impression you make on the hiring manager—your first step in the hiring process.
Based on it, potential employers determine whether you're worthy of an interview. If they think you don't have the right skills, you won't make it past the resume review, meaning you won't get the job.
Therefore, you should prioritize creating a relevant and attention-grabbing resume. This will put you on the fast track to hiring success.
Example 1: Entry-Level Project Manager Resume Sample
Applying for any entry-level projects can be tricky. You have to convince the hiring manager you're capable of managing a project even when you have no prior professional experience. We like this Resume Worded resume sample that manages to do this well: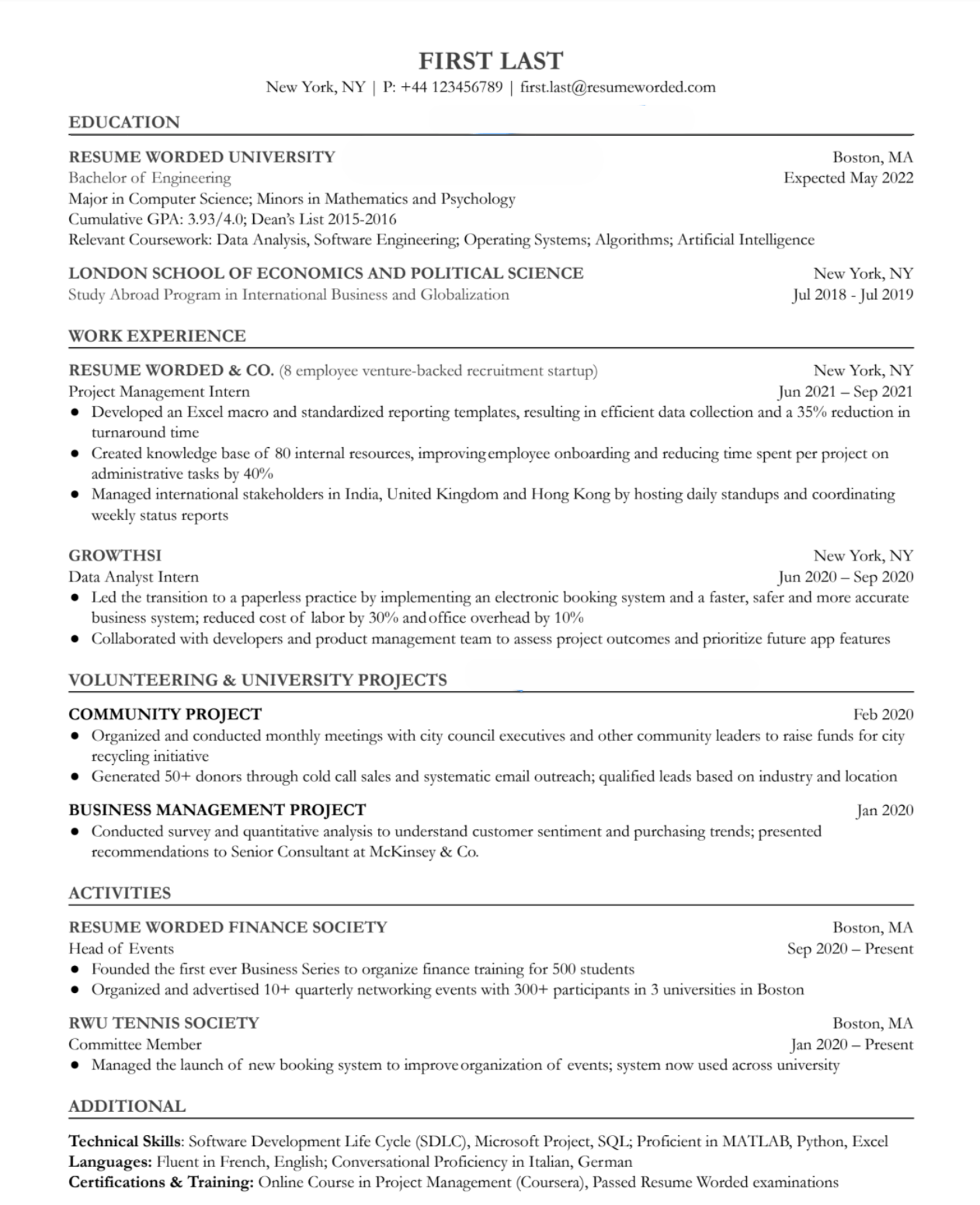 It emphasizes the candidate's education, academic background, volunteering, and internships to show project management skills that may be the right fit for an organization. Despite the limited work experience, it still manages to highlight the candidate's strengths.
Example 2: Senior Project Manager Resume Sample
When applying for the role of a senior project manager—or any senior-level position—you must ensure you have the minimum required work experience.
For senior-level positions, hiring managers will be most interested in your expertise and experience. Your resume should be tailored to highlight both these aspects, along with any other achievements you have had when managing projects.
Take a look at this Beam Jobs resume example: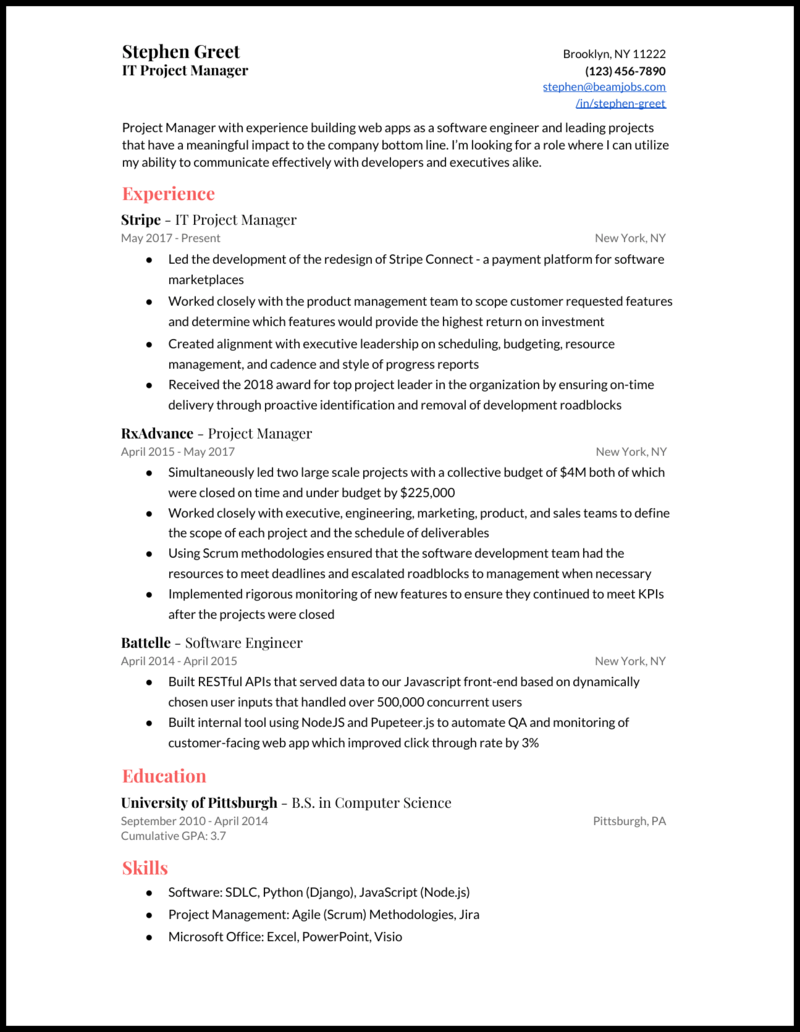 It leads with the candidate's five years of experience across two companies before going into his education and skills. It also specifically notes his experiences managing sizable budgets for both a startup and a large company.
How to Create a Great Project Management Resume
This section will discuss how to create effective project management resumes that tick all the right boxes and help you make a memorable impression on recruiters.
Step 1: Add the Right Keywords
Most companies today use an applicant tracking system (ATS) to weed out unqualified or unsuitable resumes. The tool scans all resumes to determine whether a candidate's listed skills match the job by searching for specific keywords that indicate their relevant project management experience.
While this software does help to boost efficiency and save time, it also means you need to make your resume more "tech-friendly." In other words, your resume should have enough of the right terms to ensure the ATS passes on your resume to the recruiter.
An excellent tip to identify keywords is to read the job posting carefully before applying. As every role, company, and industry is unique, keywords will vary from one application to another. Nevertheless, here's a list of some of the most commonly used project management keywords and terms that can help you get the go-ahead:
Financial Analysis
Impact Assessment
KPIs
Milestones
Monitoring
Analysis
Budgeting
Change Management
Client Communication
Data Analysis
Data Modeling
Deadlines
Deployment Management
Development & Testing
Due Diligence
Outcomes
Timeline
Transformation
Procedures
Process Development
Process Improvement
Project Life Cycle
Quality Control
Resource Allocation
Risk Management
Roadmap
Scheduling & Planning
Scope Management
Stakeholder Management
Nira Quick Tip: If a job description mentions a particular proficiency or skill, make sure you add that proficiency or skill on your resume (if you have it). Don't assume that the recruiter will just know that you have the skill.
Step 2: Highlight Metrics and Achievements
Being in the project management industry, you may probably be comfortable with measuring outcomes. Use those metrics—timeline, budget, and key milestones—when writing your resumes.
We highly recommend assigning an outcome or metric to your job duties whenever possible. Think about the number of people you managed, whether you completed the project within the deadline, project outcomes, and if you stayed within a budget, and incorporate your answers in your resume.
Instead of a bland phrase like "Managed a million-dollar project," use something more powerful like "Managed a $1 million corporate headquarters relocation project delivering targeted outcomes on time and within budget."
Here's a simple formula to get this right: Compelling verb + Job duty + Outcome or accomplishment.
Step 3: Highlight Your Technical Skills and Methodologies
Project management methodologies like waterfall, agile, scrum, or kanban are essential aspects of your job. Recruiters know this, too, which is why they pay close attention to sections that mention your technical skillset. Go into explicit details regarding your level of expertise or familiarity with each project management methodology.
Mention popular project management programs and software like Asana, Trello, Jira, Microsoft Project, etc. More importantly, if a job posting calls for a specific technology, be sure to include it—provided you have experience using the program.
Specialized training or certifications like Project Management Professional (PMP) or Agile Certified Professional (PMI-ACP) can also help you earn brownie points.
Step 4: Select the Right Resume Layout
A chronological resume layout is the go-to for candidates, and it's easy to see why: all sections are clearly defined, and work history is orderly presented, making the resume easy to follow.
But there might be times when an alternative format would make a better option. For example, freelance project managers can use a combination resume to feature their most relevant projects more prominently, without compromising on the real estate.
Try to choose a resume layout that works best for the job you're applying for.
Here are a few additional tried-and-tested rules to craft effective resumes:
Opt for single-page resumes, keeping your credentials and accomplishments clear and concise (if you have over 10 years of experience, two pages is fine)
Add plenty of section headings to make the overall resume easy to understand
Consider adding a summary for a more personalized effect
Always proofread and spell-check your resume to ensure there are no errors or grammatical mistakes
Following the above pointers will help you craft quality project management resumes that can help you catch the hiring manager's attention and secure an interview.