How to Get a Project Management Certification
Are you looking to get a project management certification and not sure where to start? This article has the answers you're looking for.
Project management is the art of getting work done efficiently based on a plan outlined before the work starts.
In this guide, we will take a quick look at the history of project management and how the field evolved into what it is today. Then we will talk about the different types of project management certifications available and their prerequisites.
Finally, we discuss the potential problems you may face in your journey toward becoming certified in project management.
Without further ado, let's begin.
A Brief History of Project Management
Project management as a formal business practice only started to emerge in the 1950s for large-scale projects. Before that, projects in various fields such as construction and engineering were often executed on an ad-hoc basis by engineers or builders themselves using informal techniques and methodologies.
Project management took off as a distinct discipline of management due to advances in defense, engineering, construction, etc. The two men credited with being the forefathers of project management are Henry Gantt and Henri Fayol.
If you have used Gantt charts to plan your projects, you have benefited from Henry Gantt's work. He was a pioneer in planning and control techniques. Henri Fayol, on the other hand, created the five management functions–planning, organizing, commanding, coordinating, and controlling–that form the foundation of project management.
With gradual advances in the field over the years, The Project Management Institute was formed in the US in 1969 to set international standards for the body of knowledge that constitutes project management. The organization does this by running certified education programs, conducting research, and organizing professional conferences.
Why is a Project Management Certification Important?
Having a recognized project management certification not only verifies you as a practitioner of globally recognized project management best practices and brings several tangible benefits.
First, it increases your earning potential by leaps and bounds. According to Earning Power's Project Management Salary Survey, Ninth Edition, certified project managers earn 20% more than their non-certified peers.
Having a formal certification in project management also gives you better access to lucrative employment opportunities worldwide.
In today's competitive job market, certifications open new doors for professionals. As a result, many employers ask for project management certifications as a prerequisite for jobs.
This essential filter for employers becomes a key advantage and differentiating factor for certificate holders to rise above the competition.
According to a 2015 study by PMI's Pulse of Profession, more projects were completed on time, within budget, and within the scope in organizations where at least one-third of the project managers had a formal certification.
Types of Project Management Certifications
Now that you understand the importance of getting a formal project management certification, let's look at five of the top options available to you. The important factors we look at for each certification are:
Pre-requisites
Earning Potential
Cost
Certified Associate in Project Management (CAPM)
CAPM is one of the most popular project management certifications offered by the PMI. It's best suited for students and fresh grads to show commitment to a career in project management because its pre-requisites are relatively easy to fulfill.
The exam is 150 questions, and you have three hours to complete it. Once you pass the exam, you need to earn 15 professional development credits (PDUs) every three years.
Pre-requisites:
High school diploma, associate degree, or equivalent
1,500 hours of project experience
OR
23 hours of project management education completed by the time of the exam. This requirement can be met online without the need for students to pause their formal education.
Earning Potential
CAPM-certified professionals can expect to earn an average annual salary of $88,000 or 25% more than a non-certified project manager.
Cost
PMI Members: $225
Non-PMI Members: $300
How to Apply?
You can apply for the CAPM Certification through the PMI website.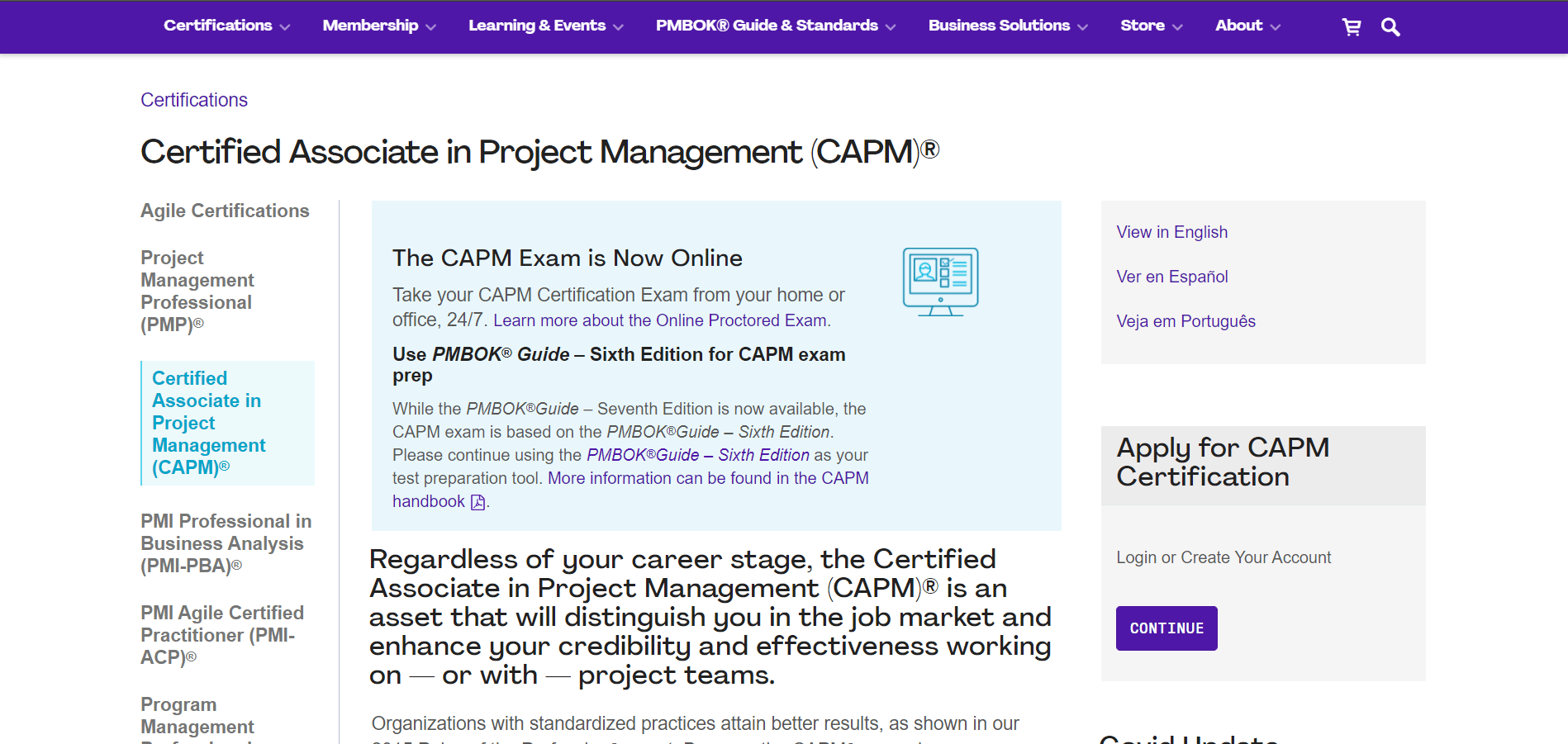 You will be required to create an account to access any of the features on the website. You can sign up with your email address or use Facebook, Google, or LinkedIn to create your account.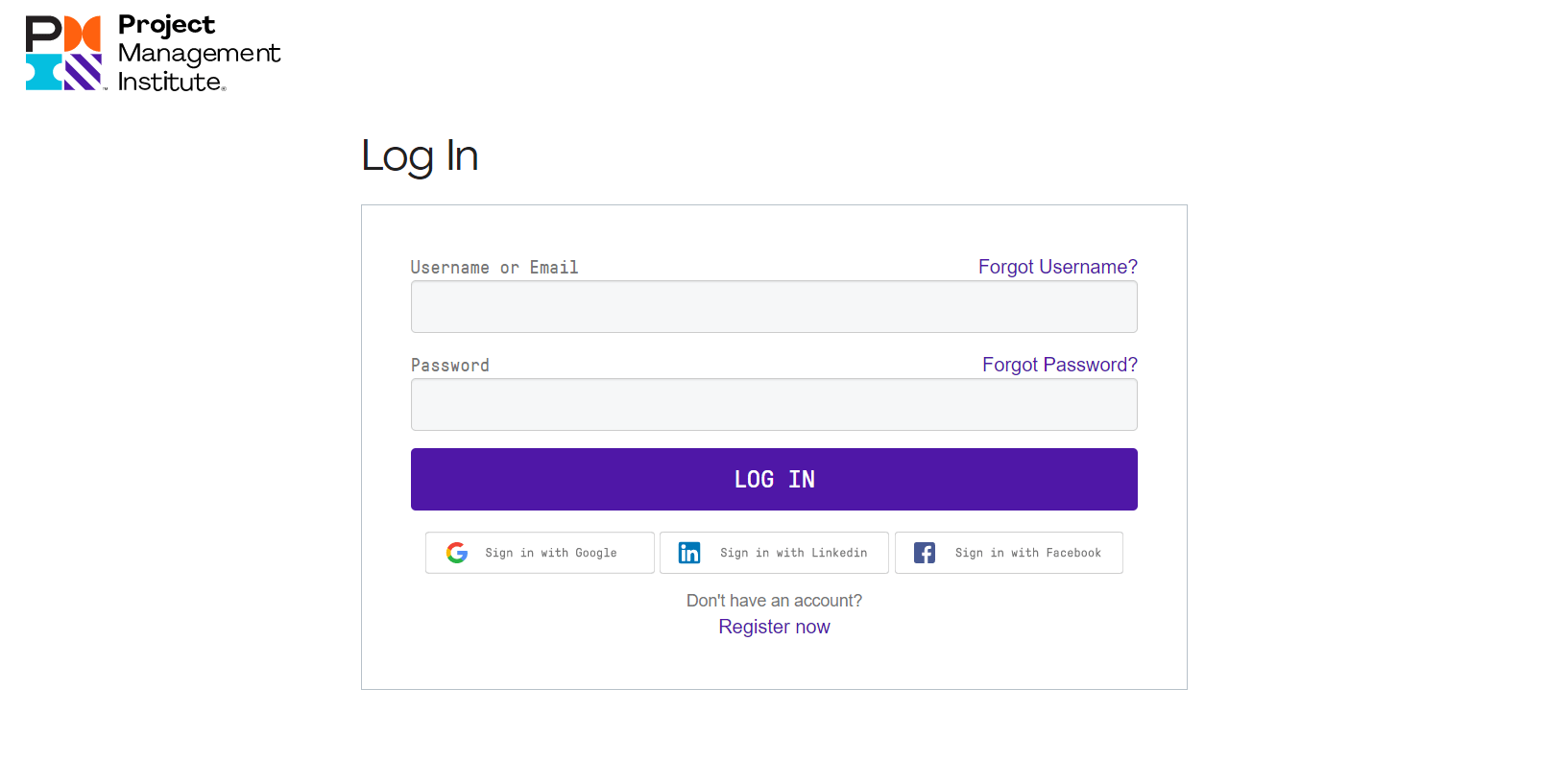 After you choose your sign-up method, you'll be taken to another form for more details to complete the registration process.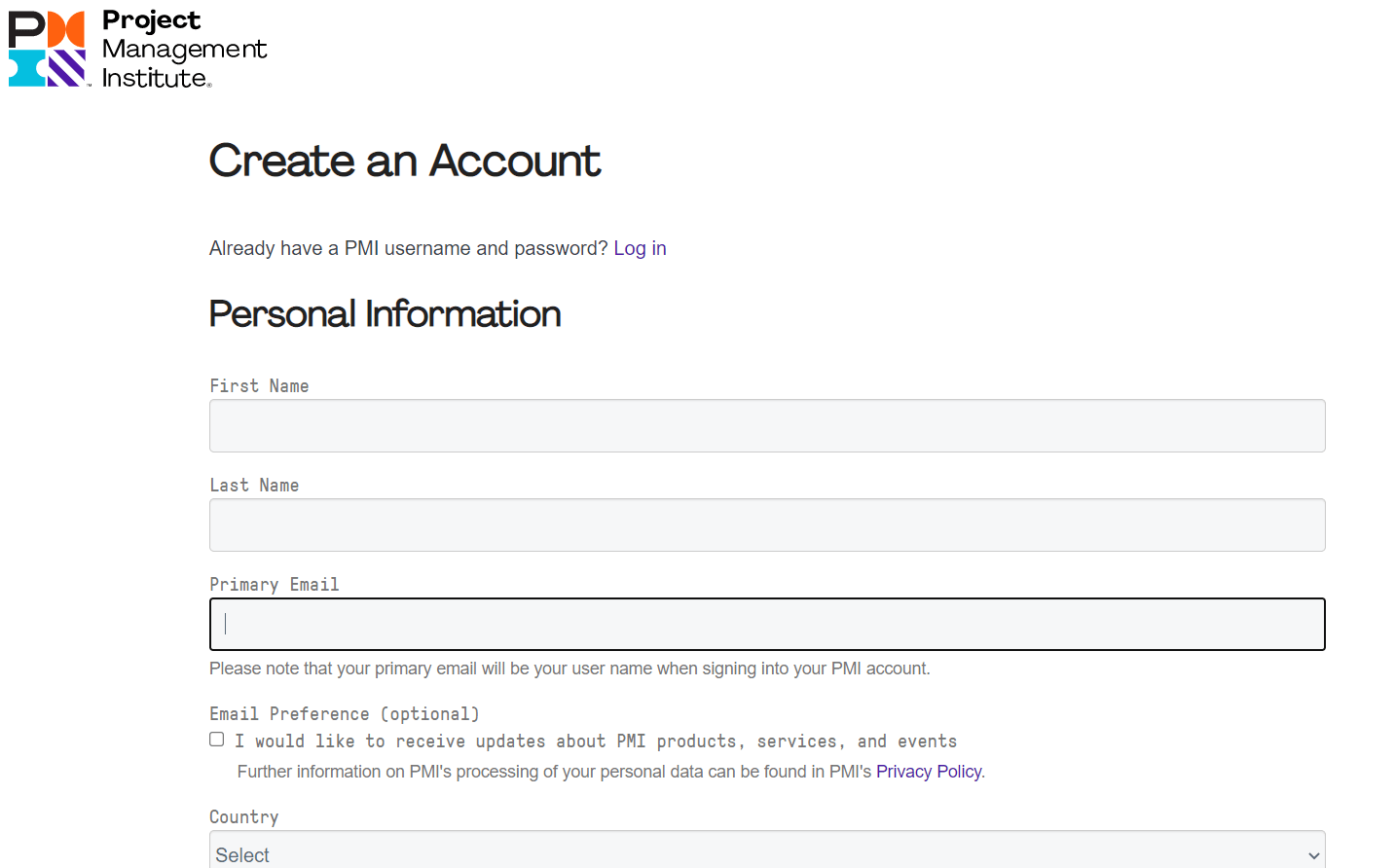 Upon the submission of this information, the account creation process is complete. From there, you should be redirected back to the CAPM application page. If that doesn't happen, you can go to the page manually via this link.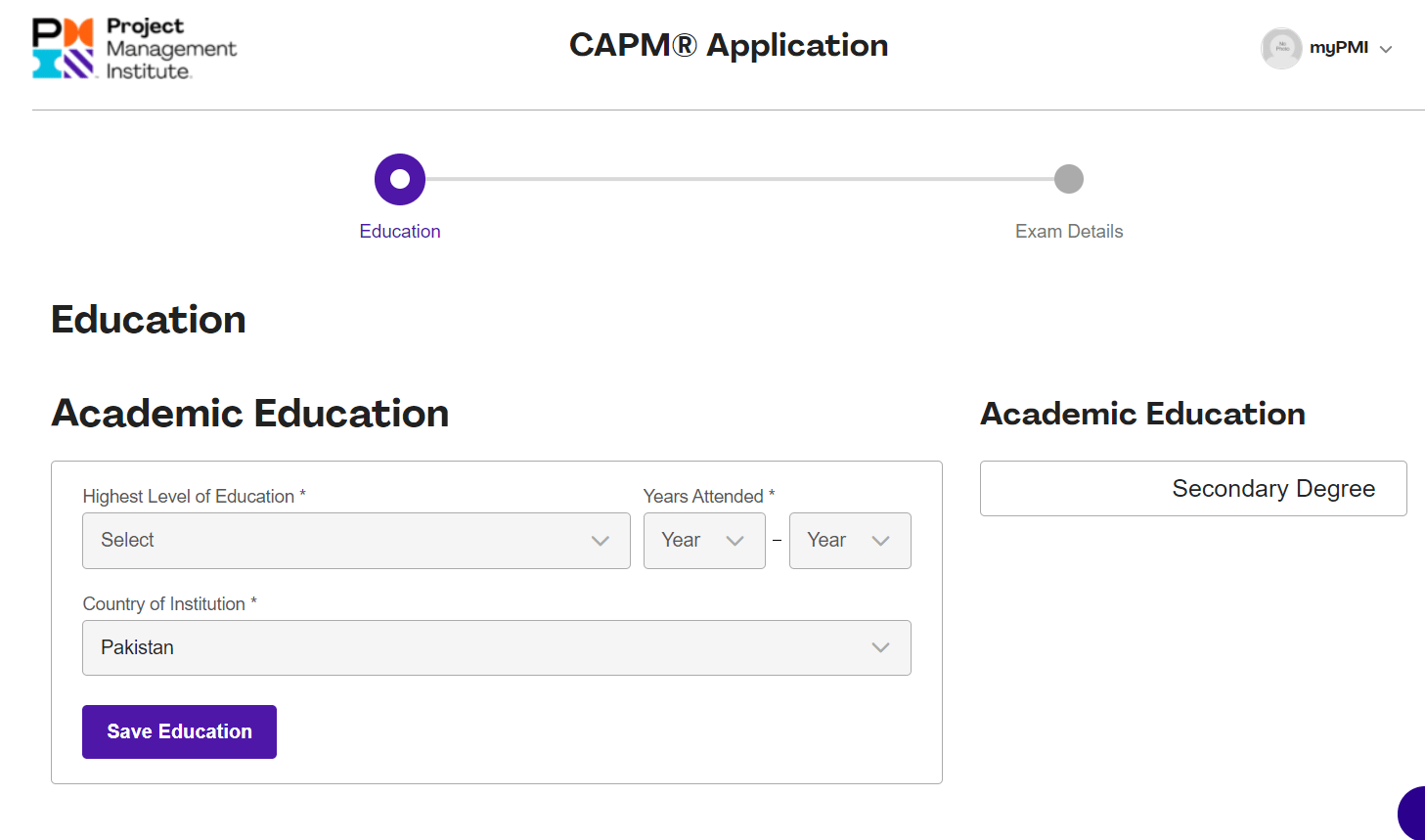 This will take you to the application form for the CAPM certification. Fill in the required information, select your preferred exam date, wait for PMI's approval of your application, and then pay the fee to lock in your exam schedule. Upon passing the exam, you'll receive your CAPM certification from PMI.
Certified Scrum Master (CSM)
The Certified Scrum Master Certification is administered by the Scrum Alliance and trains professionals to execute projects using the Agile and Lean methodologies. With an increasing number of organizations focusing on forming Agile and Scrum teams, the CSM certification has gained popularity.
The CSM exam is 50 questions with a one-hour time limit. You need to answer 37 questions correctly to pass. Once you complete this certification, it will remain valid for two years, after which you'll have to pay $200 for renewal every two years.
Pre-requisites:
Familiarity with Scrum
Complete a live or in-person 14-hour CSM course
Earning Potential
CSM certified professionals can expect to earn upwards of $135,000 per year.
Cost
Depending on your geographic location, the certification and training can cost you anywhere between $995 to $1395.
How to Apply
The process for the CSM Certification application begins on their website. Click on Get Certified to launch the registration process.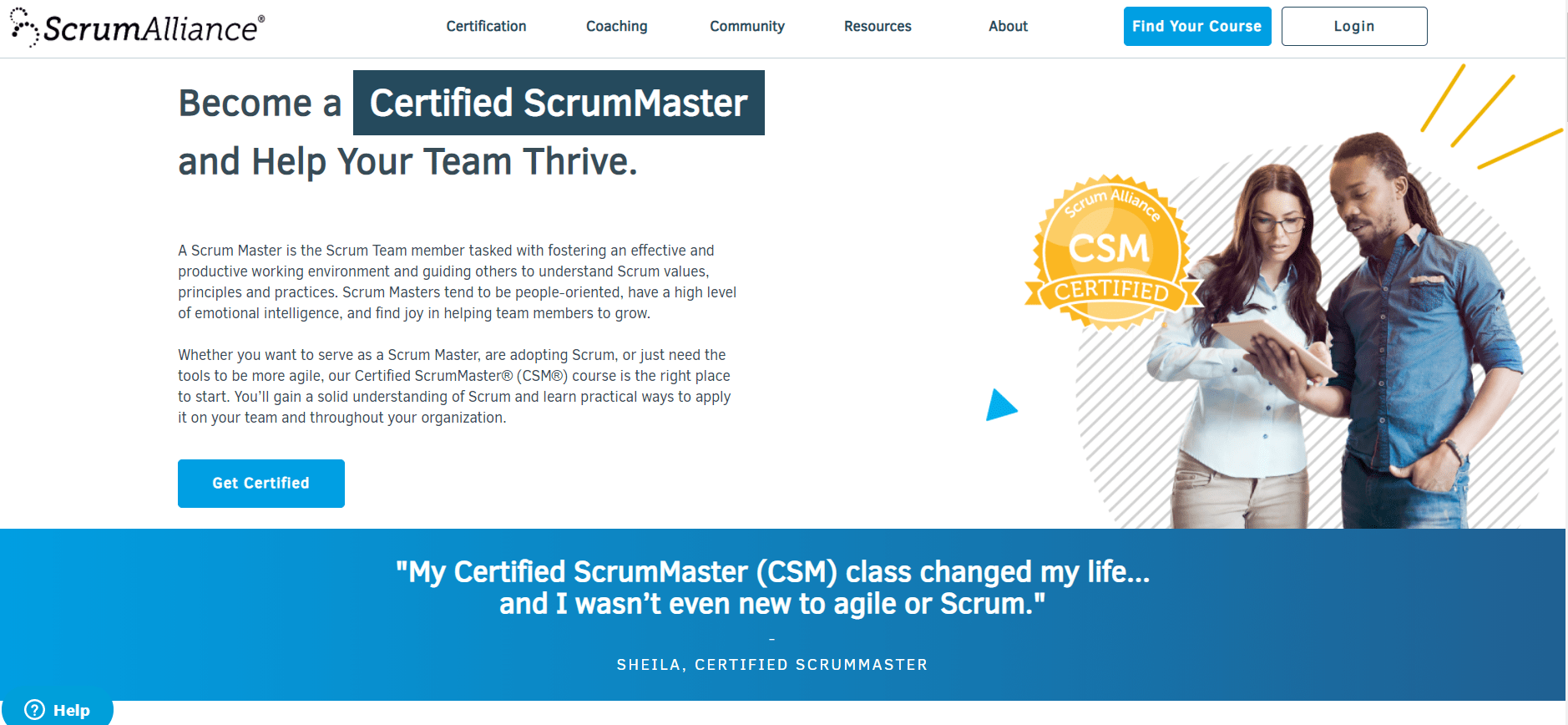 This takes you to a page where you can search for the types of courses you're looking for and see a list of results below. From the list, you can select a two-day course that will prepare you for the certification exam.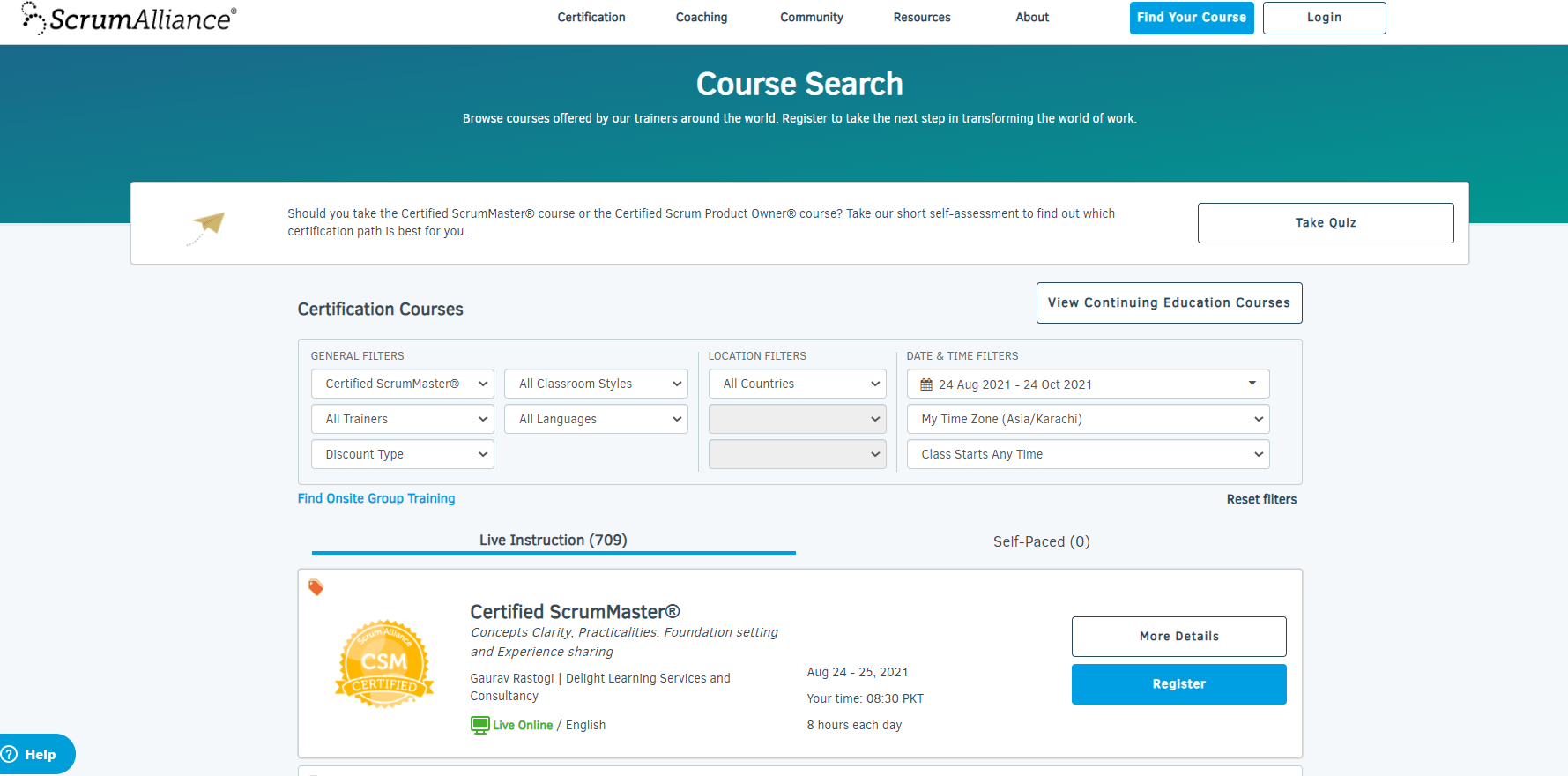 Once you enroll in a course, you will get an email from the Scrum Alliance program with two chances to take your CSM exam for free within 90 days. To become a Certified ScrumMaster, simply pass the CSM exam. However, for some reason, if you're unable to pass, there's a $25 charge per additional attempt.
Prince2 Certification
Prince2 stands for PRojects IN Controlled Environments and is offered by Axelos. This world-renowned structured project management practitioner program focuses on dividing projects into manageable phases or stages.
The entry-level Prince2 certification is called Foundation, whereas the advanced certification is called Practitioner. The entry-level certification is a prerequisite for the advanced-level certification. The certificate's validity is three years, after which you'd either have to re-appear for the certification exam or maintain your certification through a subscription to My Prince2, an online resource for the latest Prince2 content.
The Prince2 Foundation exam is closed book with 60 multiple-choice questions in a 60-minute time limit. You must get at least 33 questions correct to pass. The Practitioner exam is open book with 68 questions and a 150-minute time limit. You must get 38 or more questions correct to pass the exam.
Pre-requisites:
The only pre-requisite for the Prince2 Foundation certification is undergoing formal training for the Prince2 exam.
For the Prince2 Practitioner Certification, you'd either need the Prince2 Foundation certification, PMP certification, CAPM certification, or the IPMA certification.
Earning Potential
If you have the Prince2 Foundation certification, you can be looking at an average annual salary of over $46,000. However, for professionals with a Prince2 Practioner certification, the average annual salary is close to the $70,000 mark.
Cost
Prince2 Foundation: $200
Prince2 Practitioner: $340
How to Apply
To apply for the Prince2 certification, go to the Axelos Prince2 page and scroll down to the bottom: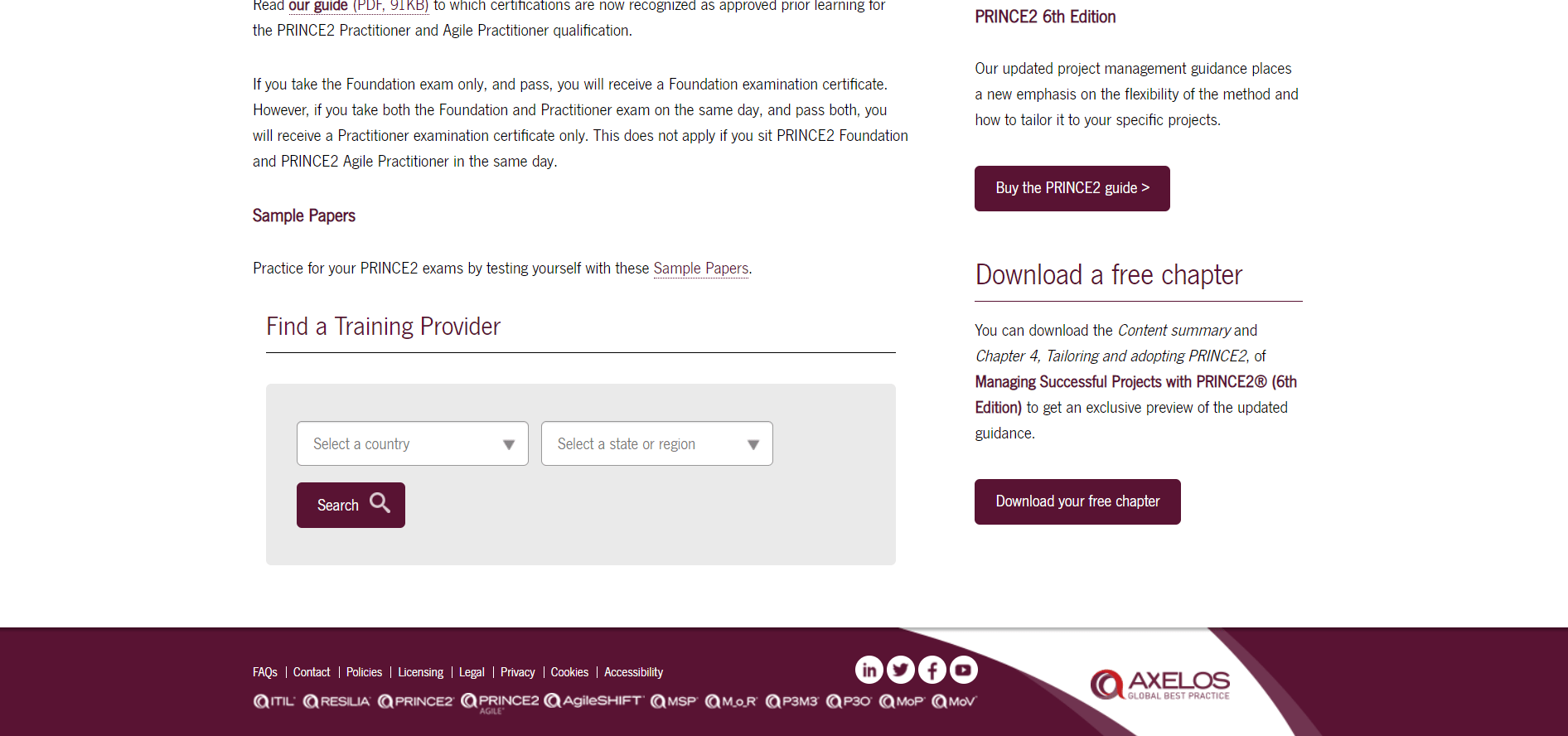 Under the "Find a Training Provider" heading, use the search feature to find a training provider near you by selecting your country and state.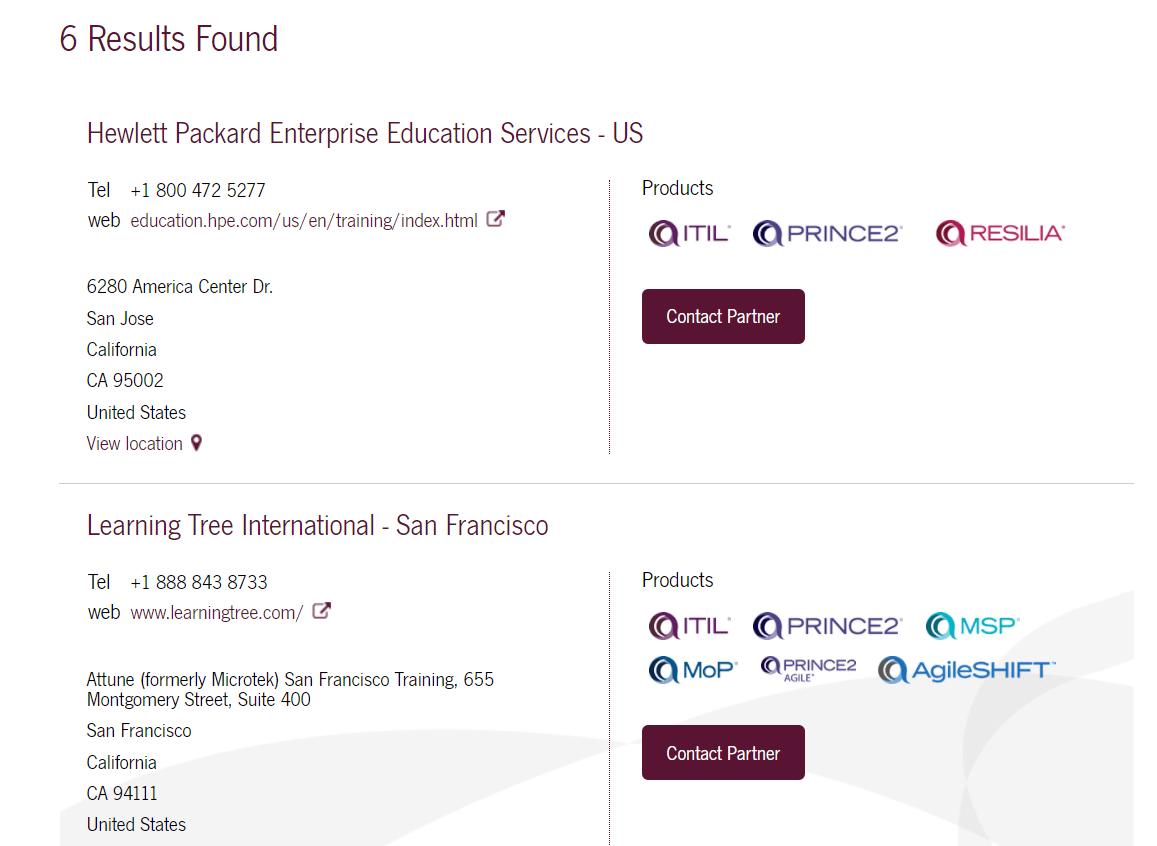 This will take you to the results page, where training providers are listed. Select a training provider that suits you by clicking Contact Partner.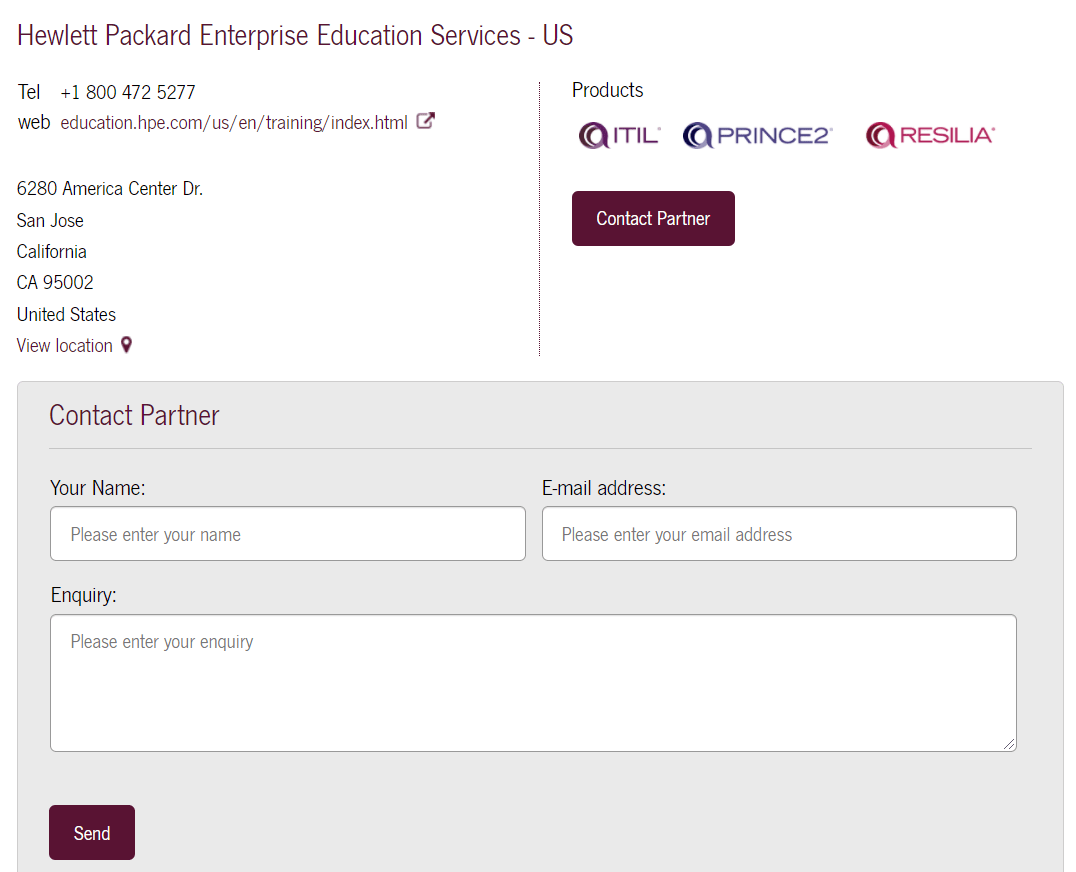 A contact form opens up, allowing you to initiate a conversation with the training provider, who will send you instructions for the next steps via email.
Project Management Institute-Agile Certified Practitioner (PMI-ACP)
The Project Management Institute-Agile Certified Practitioner Certification (PMI-ACP) certification is one of the fastest-growing certification programs offered by the PMI. The main reason for its popularity is the mainstreaming of the Agile methodology and its worldwide adoption. The certification prepares professionals in KANBAN, Lean, SCRUM, Extreme Programming, Test-driven Development, and more.
The PMI-ACP exam is 120 multiple-choice questions with a three-hour time limit. It requires you to complete 30 PDUs every three years to remain active.
Pre-requisites
Secondary degree
12 months of general PM experience in the last five years
21 contact hours of training in Agile practices
Eight months of specific Agile PM experience in the previous three years
Earning Potential
A certified PMI-ACP professional can expect to make an annual average salary of around $123,000.
Cost
PMI Members: $435
Non-PMI Members: $495
How to Apply
To apply for the PMI-ACP certification, visit the registration page on the PMI website. If you don't have an account on the PMI website, you're going to have to create one before proceeding with the registration process for the PMI-ACP certification. If you already have an account, go ahead and click the "Apply Now for Your PMI-ACP" button. You can also sign-up to become a member of PMI. This is optional and costs $139 but will save you $60 on exam fees.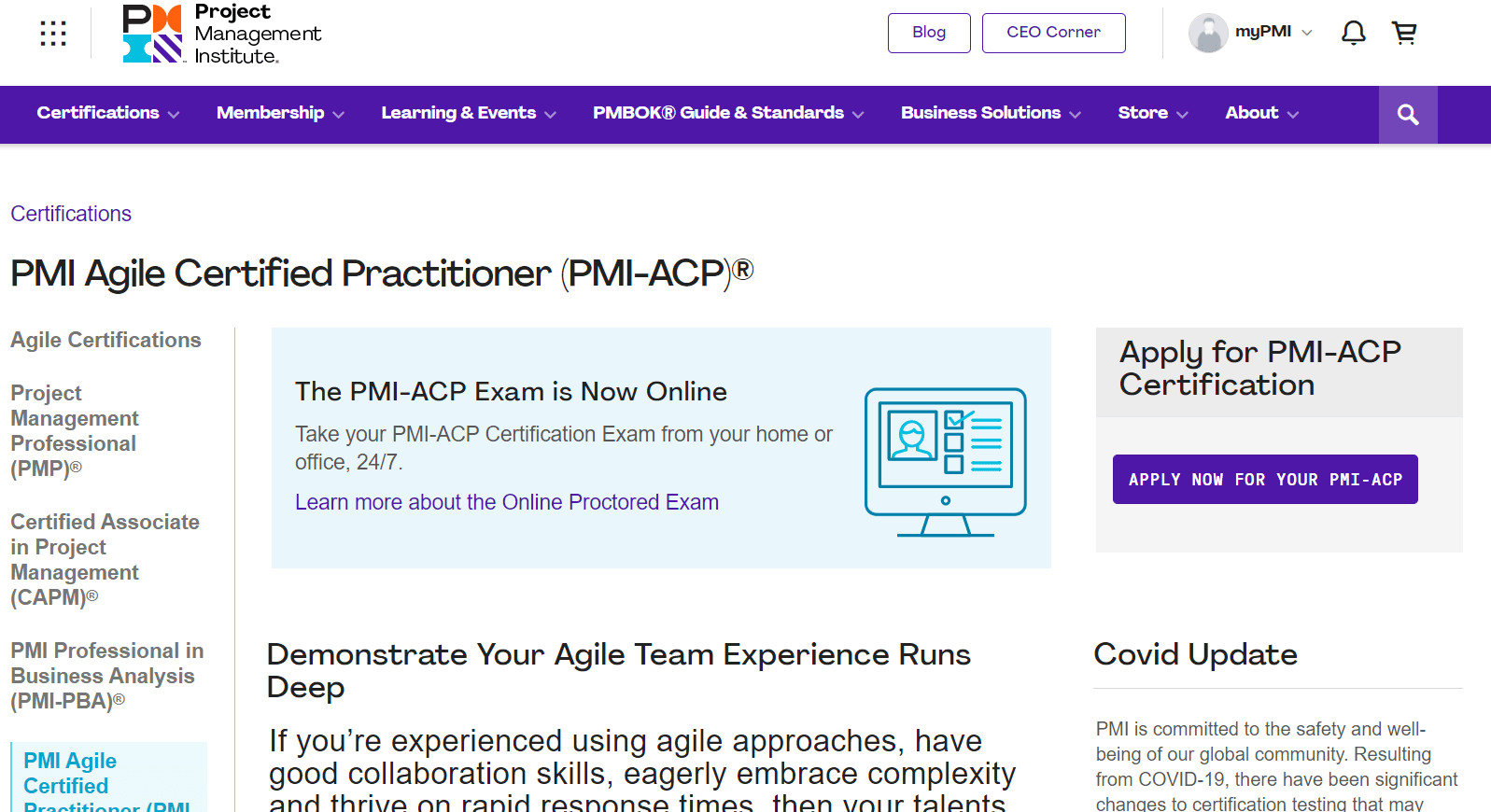 Next is the registration page, where you'll be asked to enter your education and work experience information. Here, you'll find out if you satisfy the 21 contact hour requirement for taking the exam. If not, you'll be required to take the PMI-ACP Exam Prep Course to meet the requirement.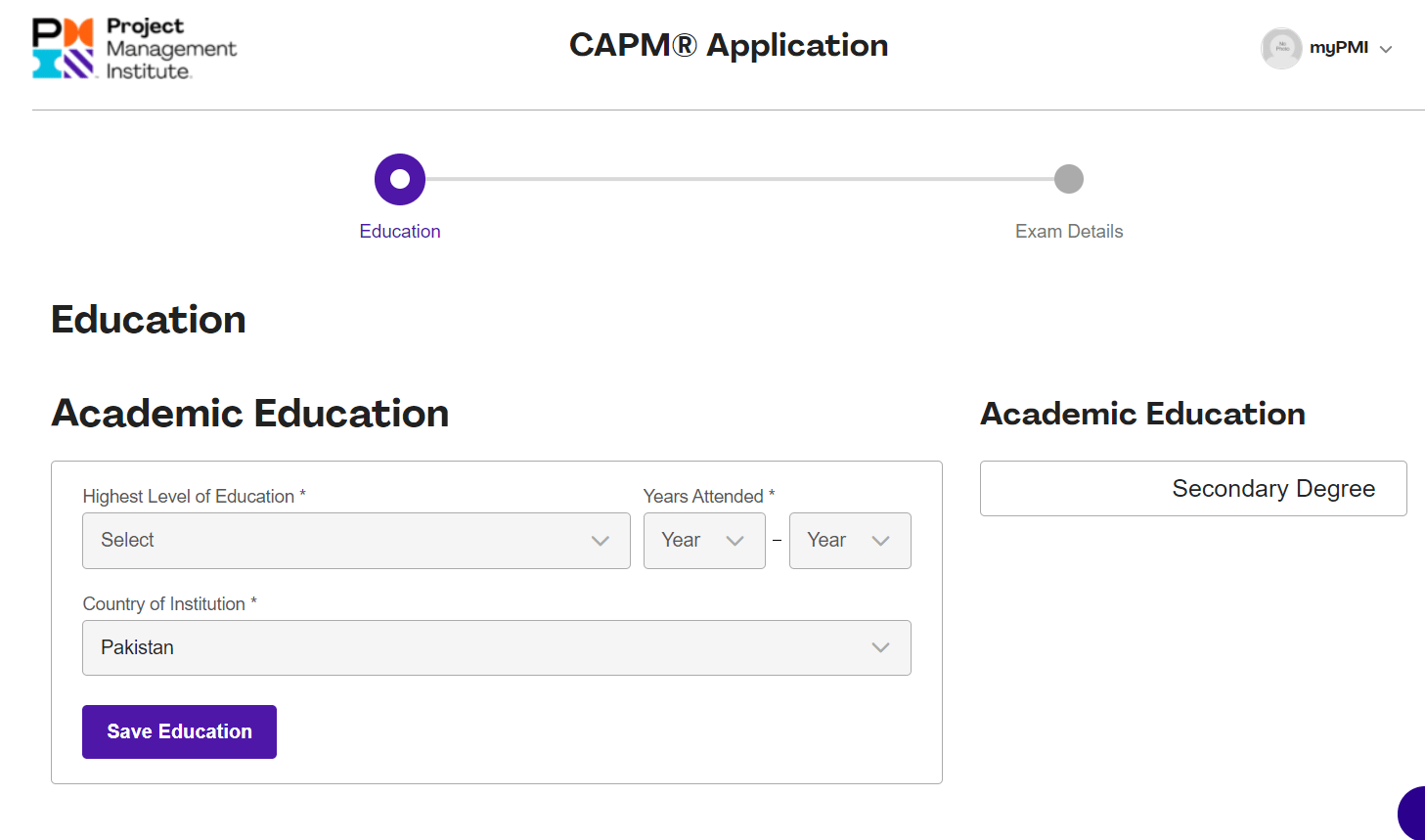 After this, submit your PMI-ACP application through the PMI website and pay the fee. The PMI will review your submitted application and get back to you within three to five working days. Then you'll receive the invitation to pay for your exam. You have a year to attempt the exam after your application is approved.
Project Management Professional (PMP)
The Project Management Professional (PMP) certification is considered the gold standard in project management worldwide.
The certification is administered by the Project Management Institute and is one of the most sought-after certifications you can get to take your career to the next level.
The PMP Certification exam tests candidates thoroughly on their understanding of Time, Cost, and Scope in the context of project management. The exam is 180 questions, and test-takers have 230 minutes to complete it. The questions are a combination of multiple-choice, matching, hotspot, and fill-in-the-blank.
Pre-requisites
A high school diploma and 60 months of leading projects OR a four-year degree and 36 months leading projects
35 hours of project management education (waived if you are CAPM certified)
Earning Potential
PMP-certified project managers should expect to make an average of $115,000 per year in the US.
Cost
PMI Members: $405
Non-PMI Members: $555
How to Apply
To begin the application process for your PMP certification, visit the PMP registration page on the PMI website. Then, click on the "Apply for the PMP" button to begin the process.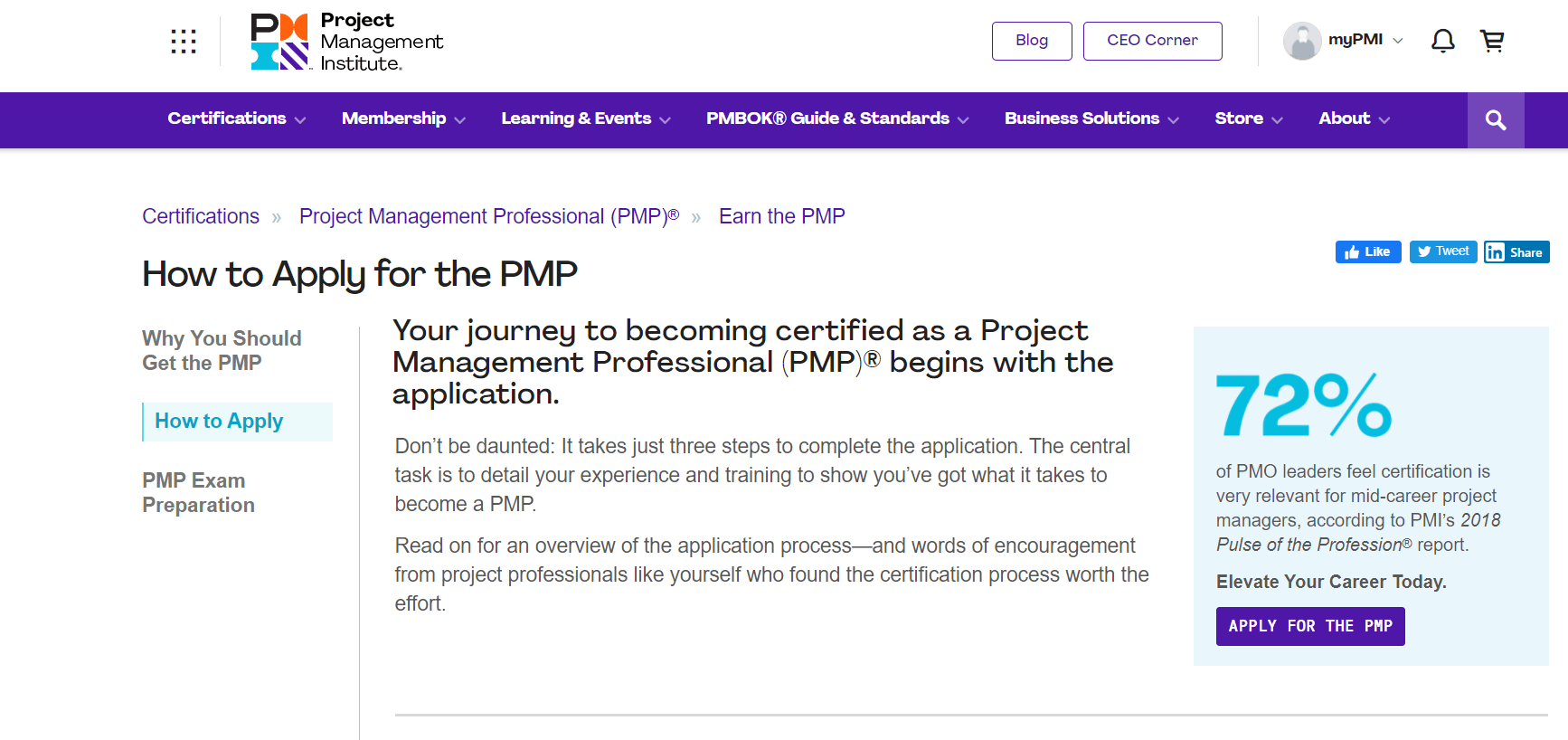 The next page will ask you to confirm your eligibility for the certification. Enter your details into the form. You'll be asked about your academic and work experience.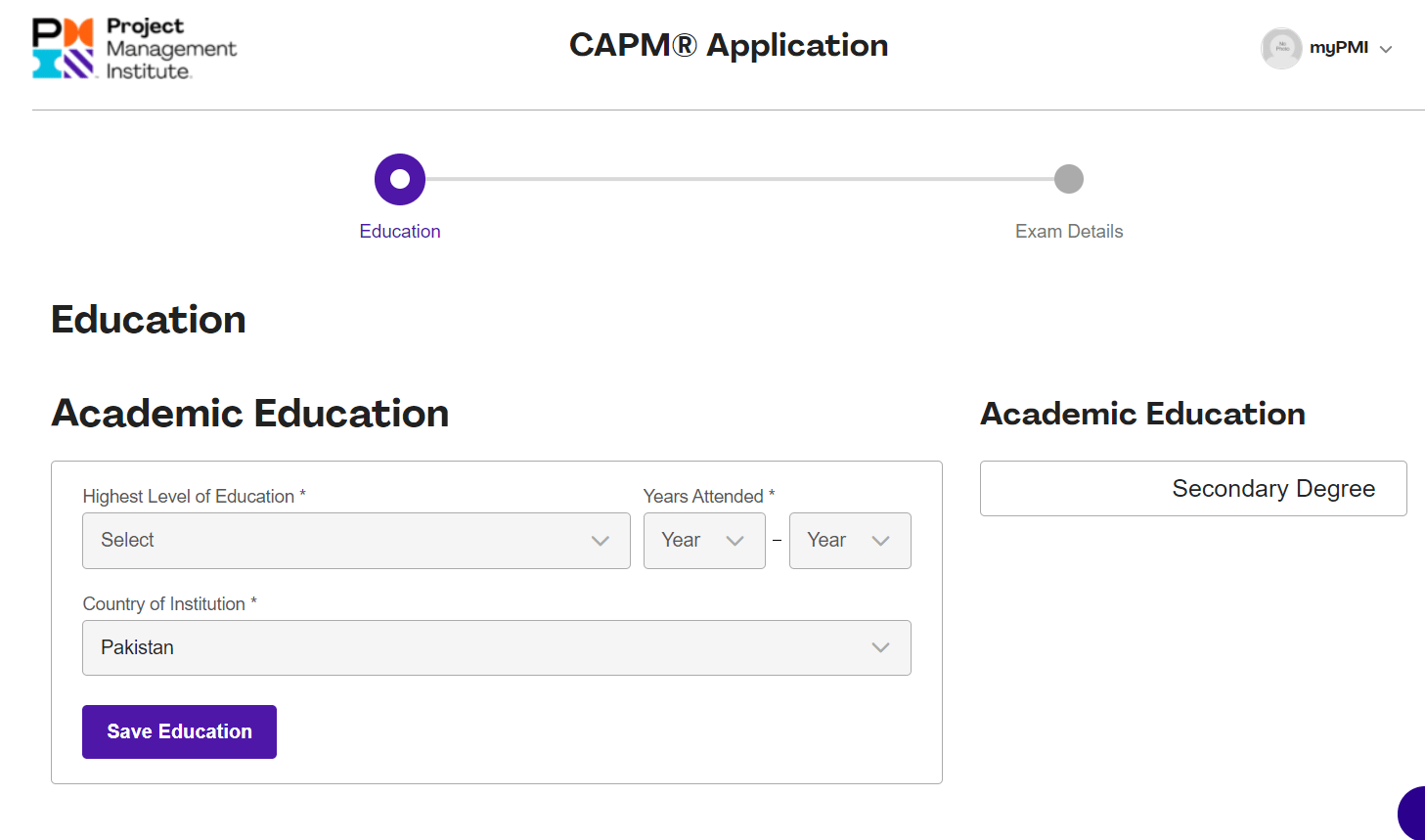 After that, submit your application to PMI for review. You will get a response with an invitation to pay for your PMP exam and lock in the date. You can take the test at a testing site near you or online. Pass the test, and the PMP certification, with all its perks, is yours.
Common Problems in Getting a Project Management Certification
The following are some of the most common challenges faced by candidates considering a project management certification.
Finding Time to Prepare for the Exams
Most professionals pursuing a project management certification are mid-career and often have hectic schedules with long working hours and family commitments after work. As a result, finding the required energy, time, and motivation to prepare for a certification exam can be difficult.
If you want to earn one of these certifications, you must create study time in your schedule. Even if you have to change your schedule temporarily, it is crucial to prepare for the exams adequately. After all, if you don't pass the first time, you'll have to start the process over to study and re-sit.
Choosing the Right Training Materials
Earning a PMP certification requires a sizeable investment. This investment is made in terms of time and effort and requires money spent on training materials to prepare for the exam. Given the money you're spending and the effort needed to prepare for the rigorous exam, you should choose your training provider carefully.
The most important factors to consider are:
Quality of instructors and materials provided
Assistance provided by the training center if PMI decides to audit a candidate and verify their credentials and past project management experience
A pass guarantee, which reflects a training center's confidence in its track record of high-quality teaching that results in high success rates among its students
Review the websites and reviews of any trainer you are considering before making your choice.
Deciding If Getting a PM Certification is Worth it
The prospect of spending large amounts of time and money may present candidates with a set of questions about whether it's all even worth it. You may wonder:
Is this going to improve my job prospects?
Is this going to get me that raise I deserve?
Is this going to bring credibility to my CV/resume and help me stand out?
Based on evidence collected so far, the answer to all these questions is an overwhelming YES. A project management certification significantly improves your career trajectory, boosts your lifetime earnings, and ensures your skillset stays in demand for years to come.