The 5 Best Personal Cloud Storage Tools and How to Decide
Having a cloud storage tool has become a requirement today, and the fact that there are endless options to choose from makes the whole deal even more attractive.
These solutions work well with other apps and services, making sure your data is for your eyes only. A wide range of advanced features and capabilities is another plus.
When it comes to choosing the best cloud storage service, you have to make a choice based on whether you want the service for personal or business use.
Choosing a business storage solution can be pretty complex. When picking an option for personal use, though, you only have to consider your list of demands, budget, and preferences, and you're done.
In this guide, we'll present a list of the five best personal cloud storage tools, along with how you can find the perfect match for yourself.
Ready? Let's begin!
Microsoft OneDrive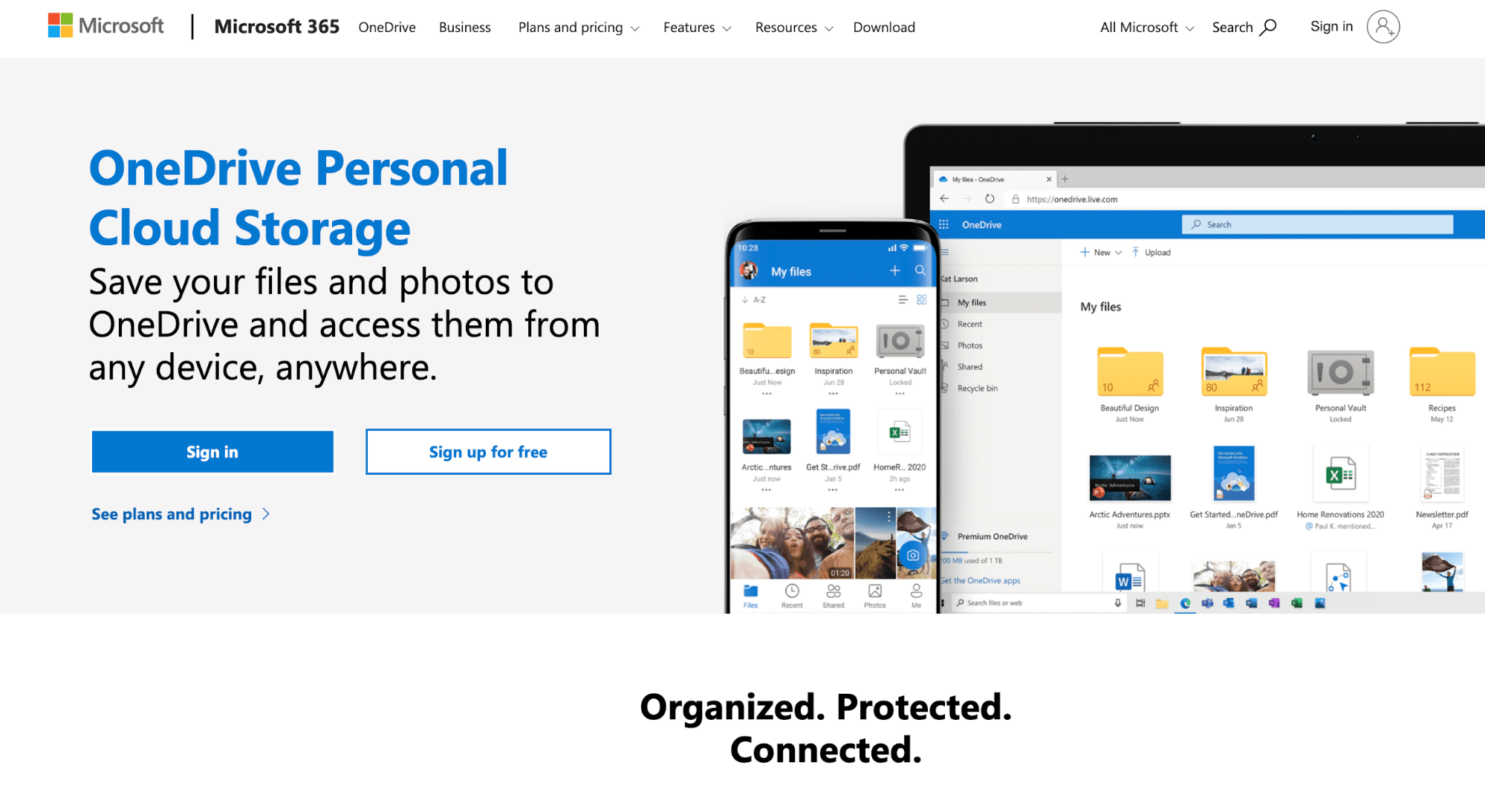 Microsoft OneDrive is one of the best personal cloud storage solutions.
While not many people prefer the platform for business use because it's solely a Windows product and it has some functionality limits, it's a great solution for personal use.
You get a highly intuitive platform that is already available on most Windows devices. Plus, it includes several standout features like file-sharing, off-line access, automated backups, and document scanning with mobile devices.
That said, it's the Personal Vault feature of Microsoft OneDrive that's its biggest feature.
The personal vault is designed to give you identity verification and a higher level of security. As a result, you don't have to worry about any unauthorized access to your personal data, photos, and videos that you store on the platform.
You can also access your store files anytime, anywhere with a mobile phone in addition to your computer.
Pricing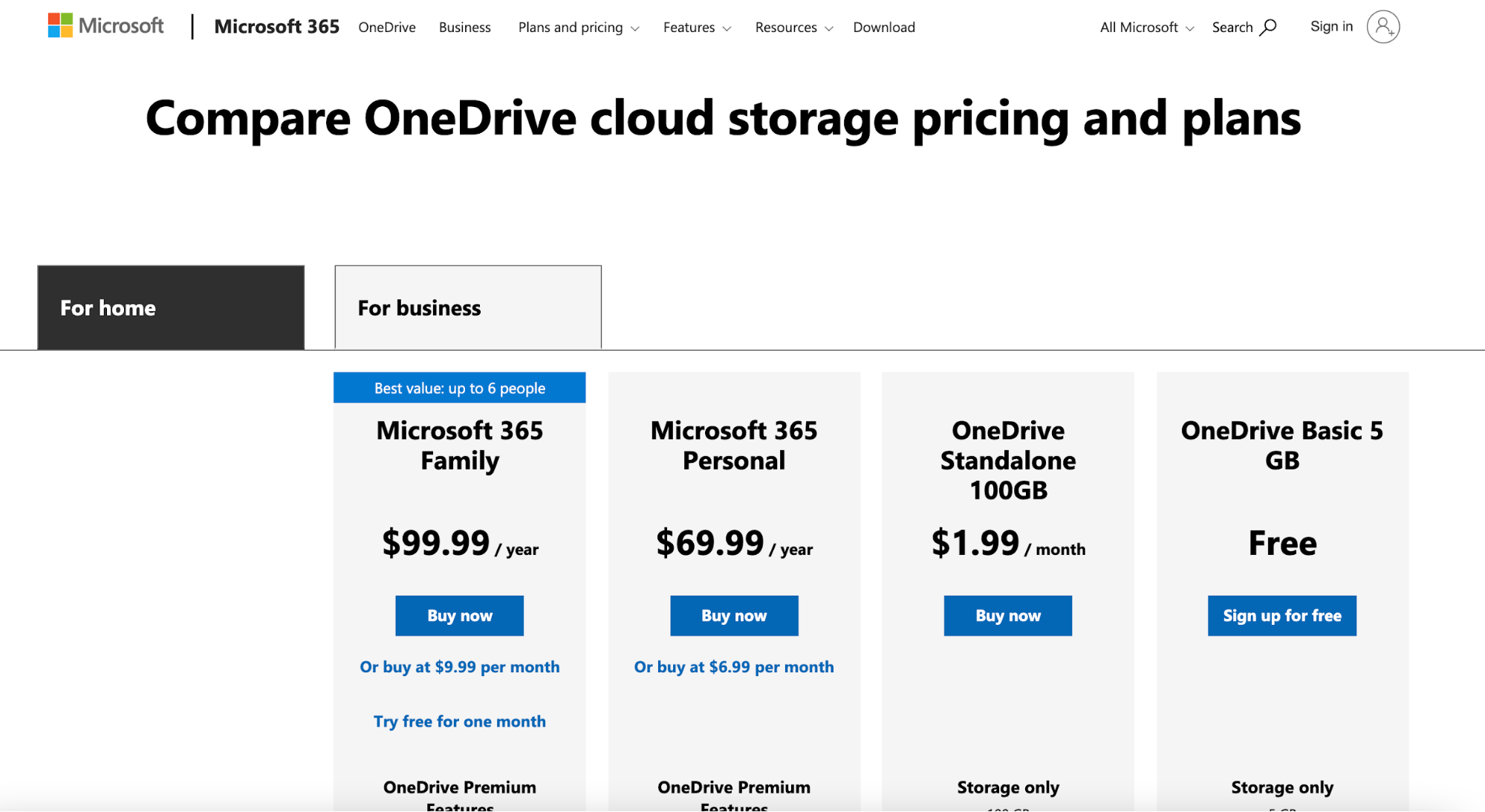 Microsoft OneDrive offers four plans as a part of its "For home" pricing. They are as follows:
Microsoft 365 Family – $99.99 per year
Microsoft 365 Personal – $69.99 per year
OneDrive Standalone 100GB – $1.99 per month
OneDrive Basic 5GB – Free
iDrive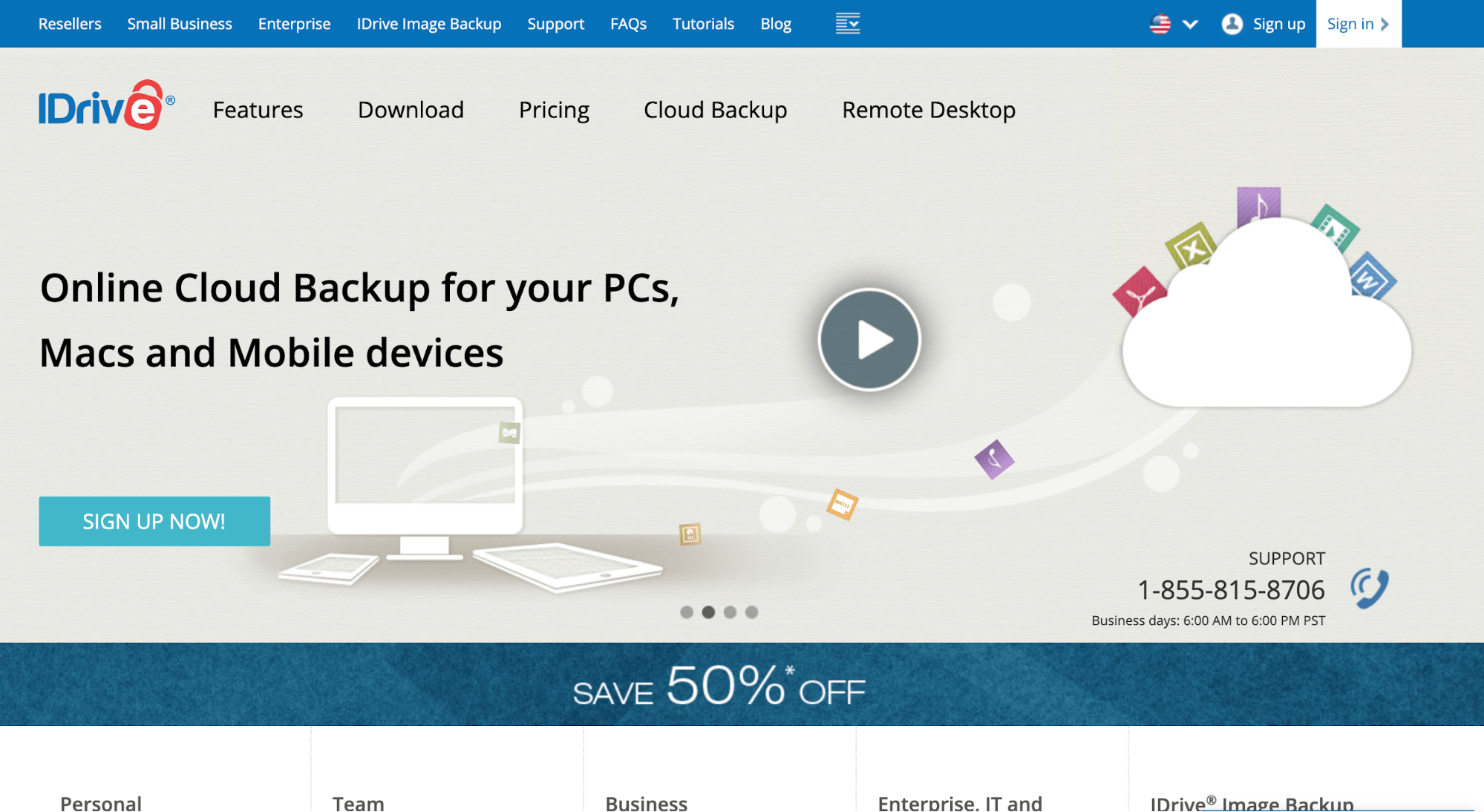 No, this isn't the Apple product that we are talking about. Instead, this is one of the most affordable cloud storage services you can find. More so for personal use.
iDrive offers automatic file and device backups, which is its strongest selling point. In fact, many have hailed this platform as the best for backups.
Data loss is heartbreaking. Whether it's losing a file containing your personal information or a screenshot of your late Nana's grainy photo, nobody wants to happen. But unfortunately, one cannot predict data loss as it can happen any time for any reason, making it completely beyond your control.
What you need here is a solid backup, and iDrive provides you with just that.
iDrive lets you back up all the contents on your desktop and mobile devices to NAS, SQLs, and servers. Plus, you can also use the Express tool to retrieve tons of data – we're talking a couple of gigabytes here – within a week. Yep, you read that right.
The other advantage of using this service is that you can manage remote computers and other devices in one place. This way, you can revert devices to backup settings in near real-time, even when you're not in front of it.
And if that wasn't enough, this cloud storage service scans your files to detect any changes made, after which it automatically starts creating a new backup. In other words, you never have to worry about a long file or device backup period or any kind of missing file.
So not only is iDrive affordable, but it can also save you tons of time and effort.
Pricing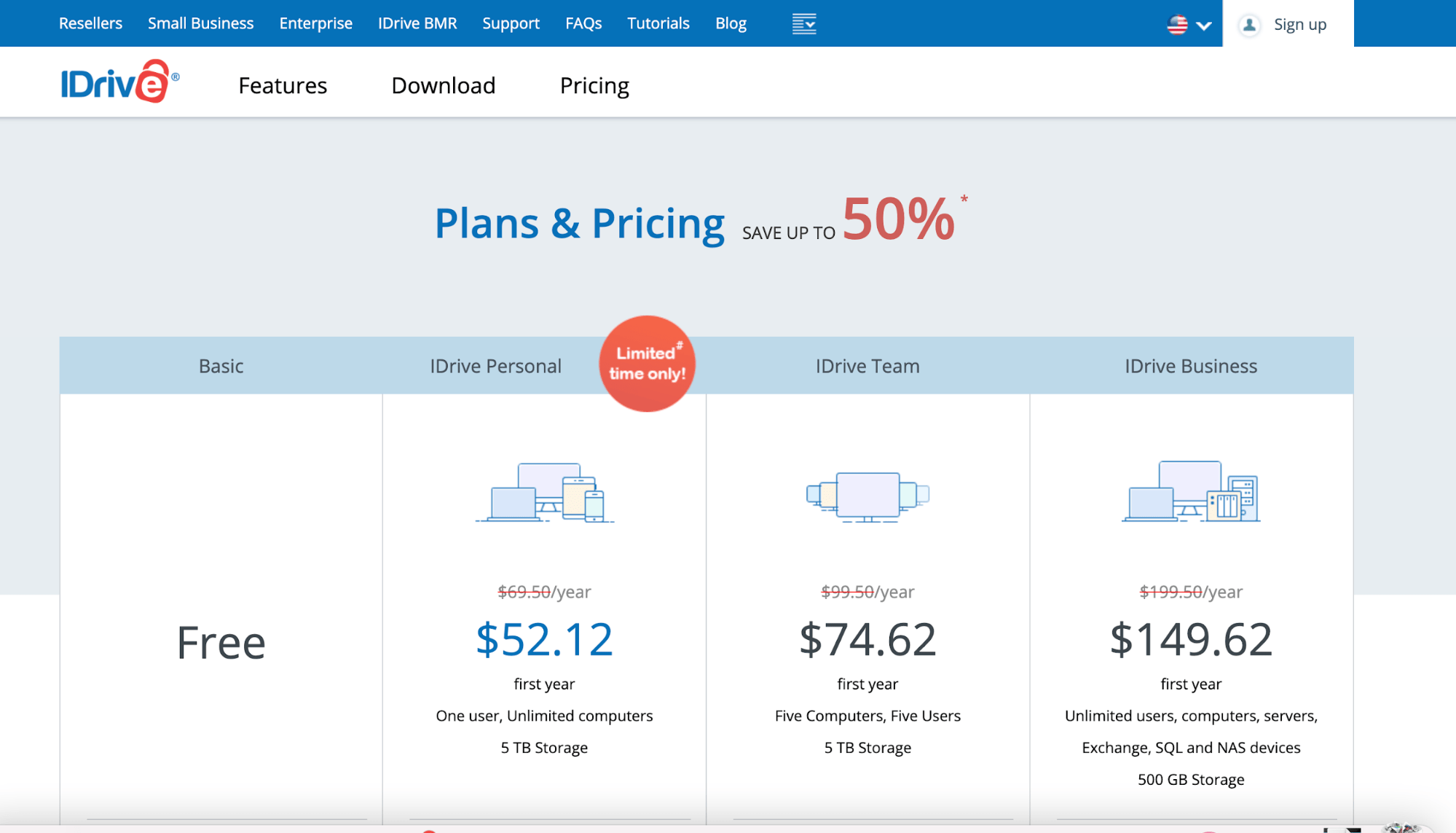 iDrive's personal plan, iDrive Personal, offers 1TB storage for one user and unlimited computers. It was originally priced at $69.50 per year, but currently, you can get it for $52.12 for the first year.
If you prefer testing out the features before making any commitment, you can use it for free when you get 5GB of free storage. Plus, there is no need to feed in your credit card information!
Dropbox
Many consider Dropbox as the OG of cloud storage solutions.
It's hands down the most popular cloud-based storage system on the market that's working dedicatedly to improve its features.
You can use Dropbox to move your personal files, images, and videos of your computers and mobile devices and store them on to a secure database in the cloud. Not only will this help you save some serious time, but you'll also be able to share files quickly.
It's compatible with Windows, Linux, OSX, iOS, Android, and Windows Phone devices, which makes it genuinely versatile. What's more, you get tons of official and third-party Dropbox add-ons and integrations that help extend the capabilities of the service, making it even more user-friendly and useful.
You mediately get 2GB of cloud storage upon signing up with this cloud storage service. We aren't big fans here since Dropbox offers the lowest amount of free storage offered by a major service.
Nevertheless, once you opt for the more premium plans, you'll gain access to far more (and better!) features.
Think of Dropbox as an all-rounder. You get great integrations; you can store and share files, documents, videos, and photos, which when coupled with automatic syncing, makes it the ultimate lifesaver.
Pricing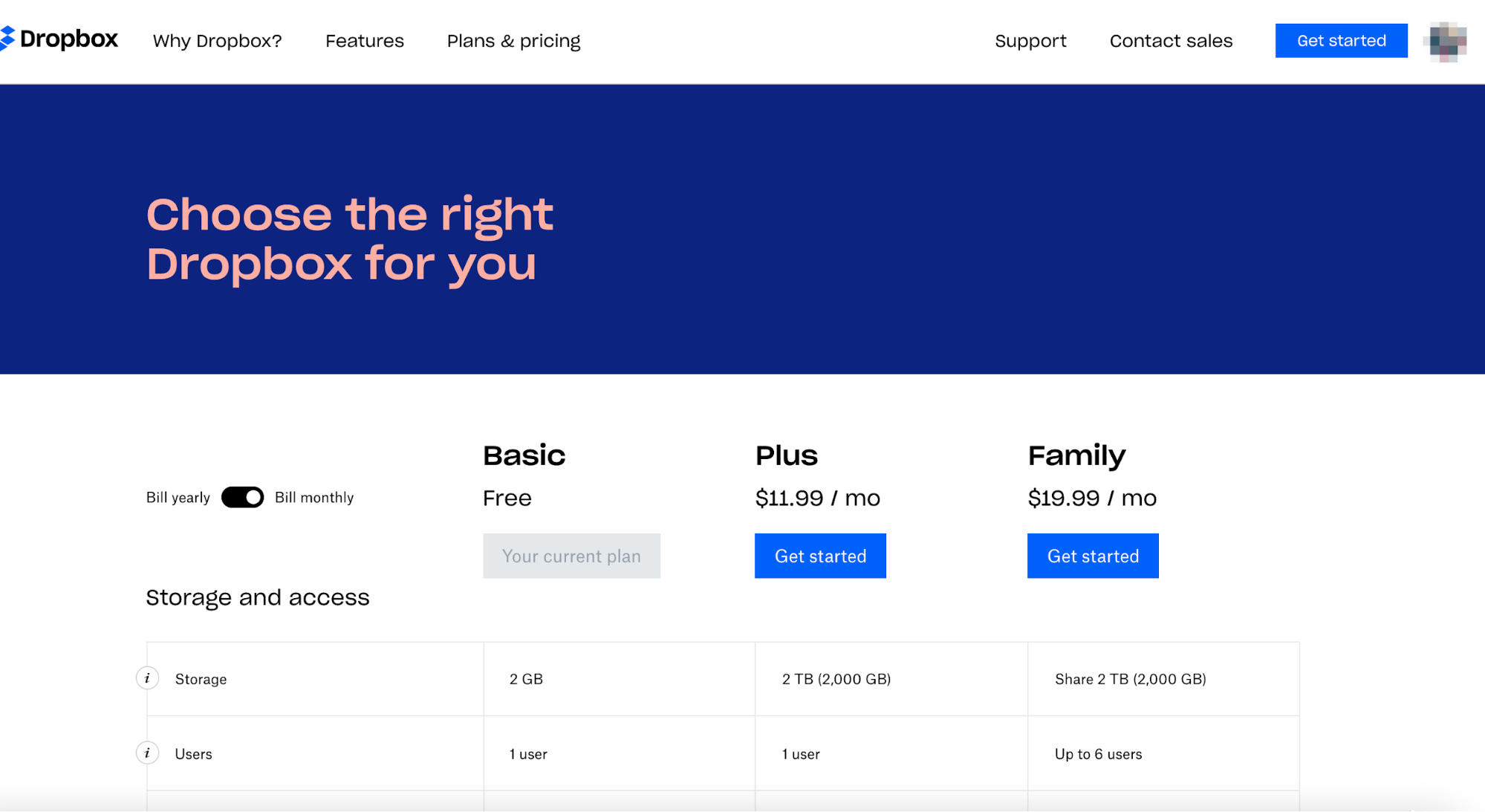 As mentioned before, when you sign up for a Dropbox, you get the basic plan which is free of cost and comes with 2GB storage valid for one user.
However, if you upgrade, you can choose between the Plus and Family plans which cost $11.99 per month and $19.99 per month, respectively. Both plans give you 2TB storage, but the main difference is while Plus is limited to one user, the Family plan can be used by up to 6 users.
pCloud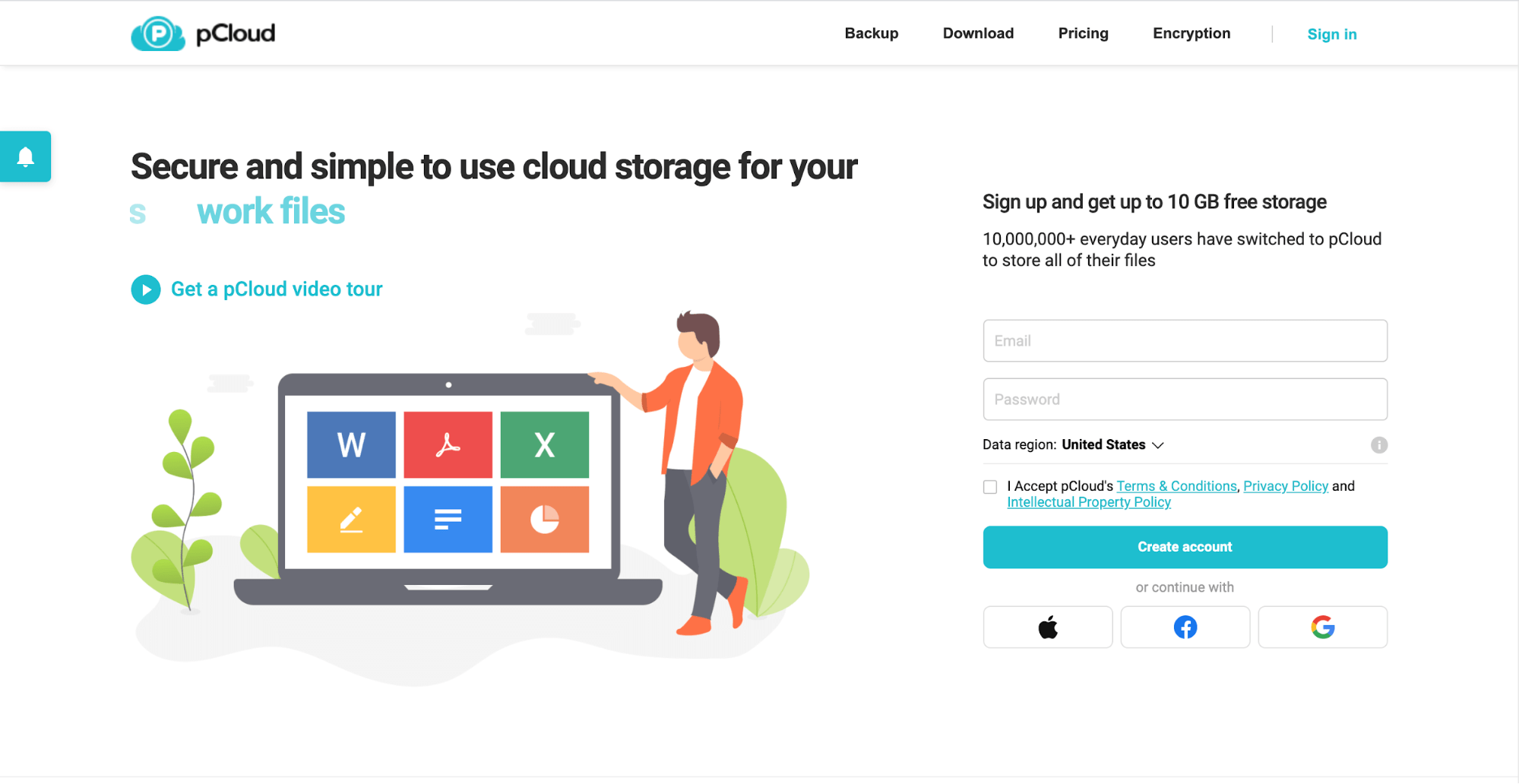 pCloud is another one of our top recommendations for personal use.
This cloud storage tool lets you store your files and other data and keep them accessible on all supported devices. As a result, sharing your files with your friends and family becomes much easier.
The security is also unparalleled. All your private files are encrypted and kept totally confidential, thanks to the TLS/SSL interruption. The platform also has several unique features that allow pCloud to stand out in a market primarily dominated by bigshots like Google and Microsoft.
It has a 30-day trash history and unlimited remote upload traffic. The service is also available for all mobile platforms and desktops – plus, the option to log in by the website is also available.
pCloud also offers a lifetime account for those who want to pay a one-off fee. So basically, your online storage remains yours forever.
Music lovers will be happy to know that pCloud has an embedded audio player that lets users play music files within the pCloud web or smartphone app. You can create playlists, loop albums, shuffle songs… Everything you would usually do to enjoy your music.
What's not to love, right? Well, the fact that you don't get zero-knowledge encryption out of the box.
To make sure your security remains uncompromised, you'll have to pay an additional $3.99 per month for protection called pCloud Crypto. This feature is otherwise free for business plans.
Pricing
Other than the Business plan, you have three options in pCloud: Premium 500 GB, Premium Plus 2TB, and pCloud for Family.
While Premium 500 GB will cost you $65, the Premium Plus 2TB is $350. Keep in mind that these figures are after applying a 65% discount that's currently on offer.
As per the Family plan, you'll have to contact the pCloud support team for more information.
Icedrive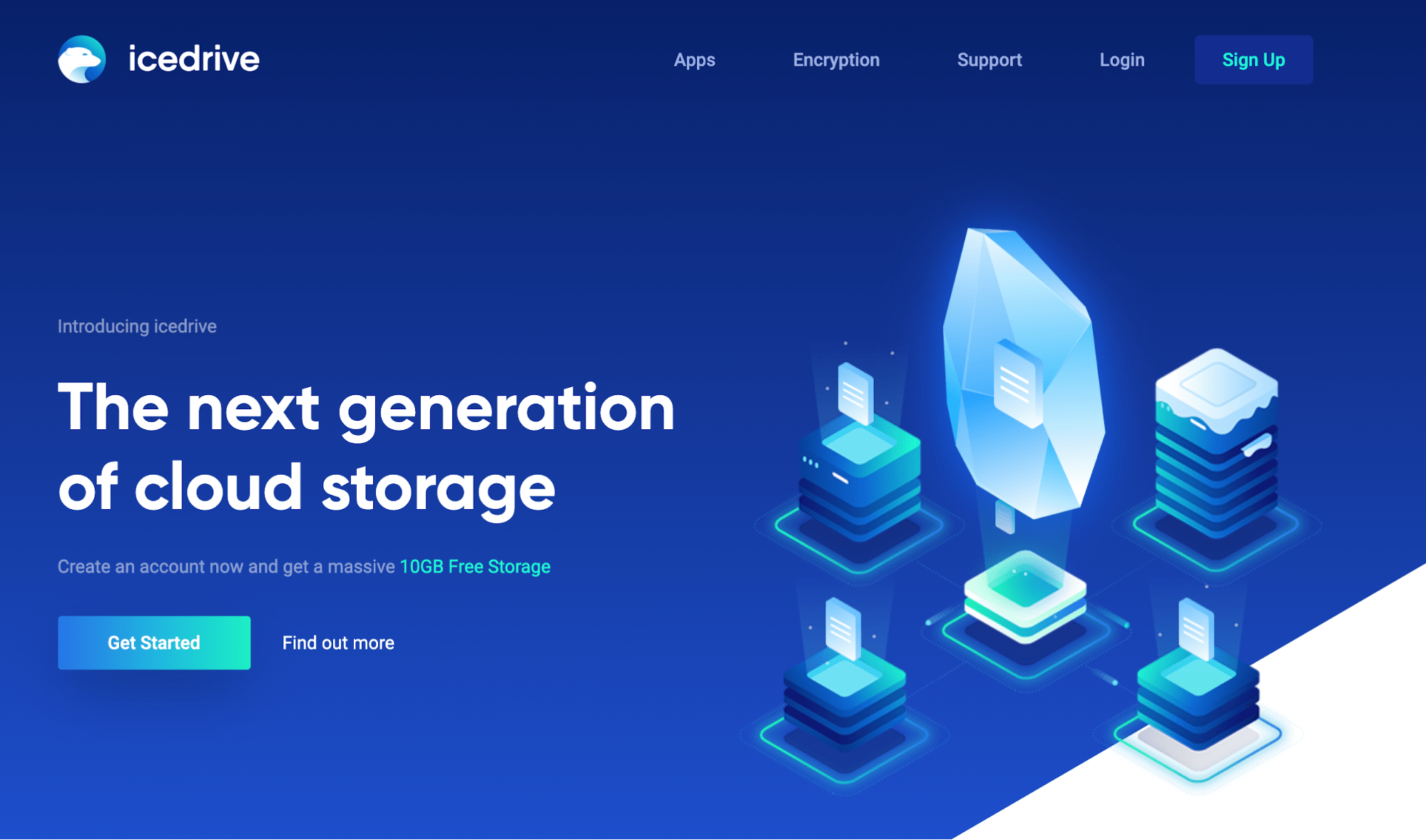 Icedrive has web-based, desktop, and mobile app solutions for taking complete care of your cloud storage needs. We particularly like its clean and user-friendly interface that's purposely designed to be straightforward and simple to flatten the learning curve.
In their own words, Icedrive is the "strongest encrypted cloud storage" service, with its bulletproof TwoFish encryption system that assures you complete privacy of your confidential data.
To give you more insight, TwoFish was one of the final contenders for the Advanced Encryption Standard contest, so you know TwoFish isn't messing around when it comes to your data security. Moreover, the premium accounts include zero-knowledge encryption as standard, so all your files are safe from unauthorized eyes.
You can access and manage your cloud storage space directly in your operating system, which includes opening, uploading, and editing files.
It also has plenty of amazing features like stored file versioning, several file-sharing options, and file editing using native applications, among others. It's just a shame that such a brilliant platform lacks two-factor authentication or 2FA, but we don't mind the loss much.
Pricing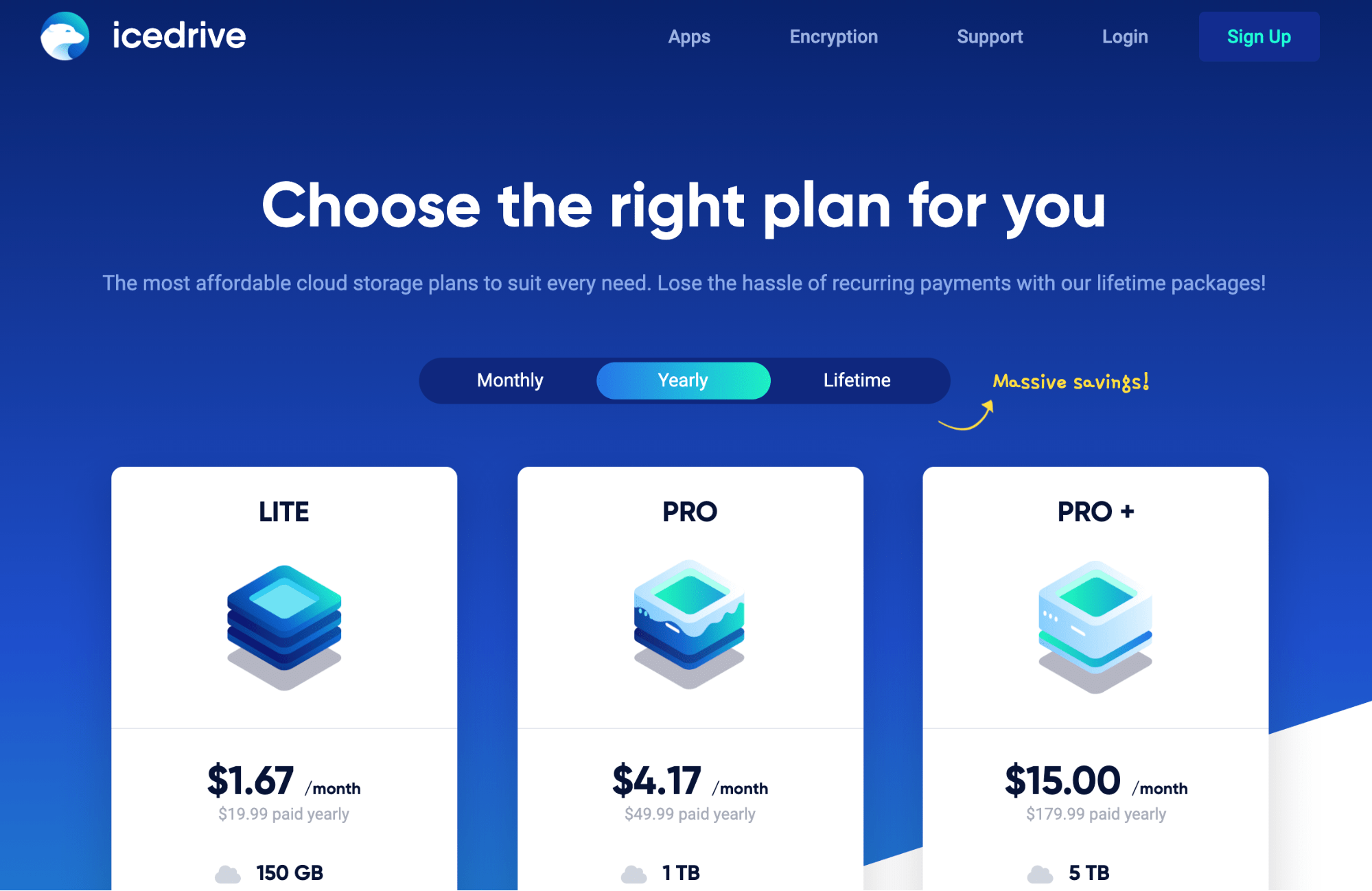 You can choose from three subscription plans from Icedrive:
Lite – $1.67 per month for 150GB storage
Pro – $4.17 per month for 1TB storage
Pro + – $15 per month for 5TB storage
You also have the option to choose from the monthly and lifetime plans.
How to Pick Your Personal Cloud Storage Tool
Choosing the best personal cloud storage tool depends on a host of factors which depends on the space you need, the devices you own, and the features you require.
There are so many options available, understanding the differences and how they should affect your decision can get a bit difficult. To help you out, here's a step-by-step walkthrough of how to decide the right option for you.
Step 1: Check for Device Compatibility
The whole narrative of using cloud storage service is to enjoy anywhere anytime access to files and data. But this is only possible if your prospective software is compatible with all of your devices. In other words, the service should work on your mobile phone, laptop, and tablet.
Think about it: How are you supposed to view, manage, and edit your data if the service is only compatible with your laptop and not your mobile phone, and you step out of your home? You'll always have to carry your laptop to do this.
While most cloud storage services are compatible with Windows and iOS, they aren't with Linux. As such, Linux users have to be particularly careful when looking for options.
It's not that there aren't any options at all – Dropbox supports Linux – it's just that they're limited. Users can also opt for Icedrive and pCloud.
Step 2: Find Out the Security and Encryption Offered
Even when looking for services for personal use, security measures should be your top priority.
Most of our listed options use AES encryption, but if you want a truly unparalleled cloud storage service, Icedrive really shines. It offers bulletproof TwoFish encryption for every plan. So the encryption keys are 16 characters long instead of 10, 12, or 14 with AES.
pCloud charges a one-time fee for users that want clients in groups and zero-knowledge privacy. So if you don't want anyone to access your data – even your town storage service – pCloud would be a good place to check.
Step 3: Check the Recovery Window and Backup Services
Accidentally deleting files and images is a nightmare for most. Luckily, cloud storage services make it easier to recover these files, restore old functions, or undo changes more than ever.
For instance, pCloud has its Rewind feature, iDrive with 30 versions of every file, and so on. Rewind lets you restore files to specific versions of the past, while the 30 day versions of every file allow you to quickly revert to any version at any time, along with restoring deleted files for up to 30 days.
Regular backups are also a good future to look for. You'll find services that offer automatic backup when you make any changes to your device. Plus, you can schedule these backups – either make it daily, weekly, or monthly – to suit your needs.
Step 4: Don't Forget the Sync Speed
Sync speed is the total time taken for files to sync across all connected devices. Many people don't consider it important when looking for personal cloud storage plans, but this would be a handy feature if you store your files separately in your respective businesses.
The synchronization doesn't function at the same level, so it's best to test out this feature by using the free plan of every prospective service before committing.