OneDrive vs. Google Drive
Google Drive and OneDrive are two of the leading players in the cloud storage market. They allow individuals and businesses to get reliable cloud storage, share files and collaborate with others, and use a robust suite of document tools. In addition to cloud storage, these services also offer email and document management.
Why should you care about investing in these tools? Because procuring and managing reliable cloud storage, a secure email setup, and a host of document management apps individually is expensive and time-consuming. 
Google Drive and OneDrive are both fantastic products that combine all those features in one place. The question is, which one is right for you?
Let's find out.
Our Recommendation = Get Google Drive
Based on our analysis, Google Drive beats OneDrive on most fronts.
Google Drive is easy to sign up for, competitively priced, offers robust security, and is super easy to use on all your devices. The desktop app continuously syncs any updates to the file structure you make locally on your devices with the cloud. In addition, the powerful mobile app allows you to access all your files on the go.
When comparing Google Drive with OneDrive, both solutions provide robust cloud storage services. The deal-breaker here is the set of supporting tools and apps they bring with them and your preference for one or the other. 
With Google Drive, you get:
Gmail – Google's world-class email service, way ahead of the competition due to its customization features and addons

Google Docs – A powerful word processing web app that works like MS Word

Google Sheets – Google's spreadsheet web app that works like MS Excel

Google Slides – A tool that lets you create presentations just like in MS PowerPoint
Some of the other apps you get with Google Drive include Google Calendar, Forms, Keep, Hangouts, Currents, and Vault.
Although Google Drive is a great cloud storage solution, a fair comparison with OneDrive merits a more nuanced approach. In fact, OneDrive may be the better choice for you, depending on your needs and the industry you work in.
When to Get OneDrive Instead
OneDrive may be the right choice if you prefer working on and are used to the Microsoft Office suite. MS Office has been around for a long time, and not only individuals but entire industries rely on its powerful features to manage their documents, spreadsheets, presentations, etc.
According to statista.com, the number of Office 365 business users stands at nearly 900,000 as of February 2022.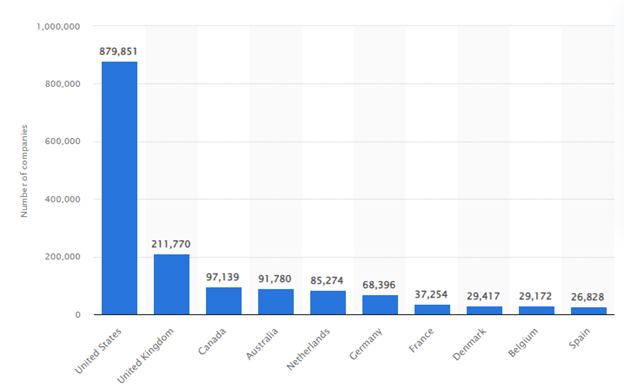 And based on a survey by Enlyft, the top five industries where Office 365 is most dominant are:
Construction

IT Services

Retail

Healthcare

Financial Services
If you work in these industries, getting OneDrive might be the better option for you.
Getting OneDrive means your documents would be managed online and offline in Office 365. In OneDrive's web interface, you can simply double-click a document to open the relevant Office 365 web app.
Even though these apps don't have the full functionality offered by the desktop apps, they're good enough for simple document creation, editing, and collaboration.
OneDrive also syncs the Office 365 desktop apps with the cloud in real-time. Simply enable AutoSave from the top left corner of your desktop apps. OneDrive automatically updates your documents in the cloud as you work on them on your desktop apps.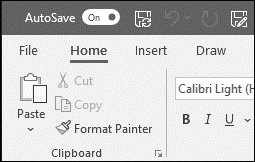 Pricing – Is Google Drive or OneDrive the Better Deal?
Winner = Draw
We're calling it a draw on the pricing front. Let's have a closer look at the free and paid plans for individuals and businesses to understand why.
For Individuals
Free:
Google Drive: 15 GB

OneDrive: 5 GB
GoogleDrive's individual plans come under the umbrella of Google One. The free individual plan by Google One comes out as a clear winner here in terms of primary storage space, which is three times as much as OneDrive.
However, if you're an Outlook user you'll almost certainly want to go with OneDrive. This is because Microsoft's email services give you 15 GB of separate storage for email, whereas the 15 GB capacity on Google Drive is shared among all Google apps such as Gmail and Photos.
Therefore, if you're a fan of Outlook, go for OneDrive. Otherwise, the 15 GB free plan on Google Drive is a no-brainer.
Paid Plans
Google Drive
Basic: 100 GB, access to Google Experts, share with up to five people, extra member benefits such as advanced photo editing tools for Google Photos and store credits for the Google Store.- $1.99/month

Standard: 200 GB, other features remain the same as Basic. – $2.99/month

Premium: 2 TB, other features remain the same as Basic. – $9.99/month
OneDrive
Microsoft 365 Family: Share cloud storage with up to six people, 6 TB, 1 TB/person. – $9.99/month

Microsofit 365 Personal: 1 TB. – $6.99/month

OneDrive Standalone: 100 GB. – $1.99/month
All plans can be purchased for a discount on annual billing and come with advanced security, productivity tools, and a bigger Personal Vault where users can keep their sensitive data.
For Business
Google Drive
Business Starter: 30 GB/user – $6/user/month

Business Standard: 2 TB/user – $12/user/month

Business Plus: 5 TB/user – $18/user/month

Enterprise: Custom pricing
OneDrive
OneDrive for Business (Plan 1): 1 TB/user – $5/user/month – Office apps not included

OneDrive for Business (Plan 2): Unlimited storage – $10/user/month – Office apps not included

Microsoft Office 365 Business Basic: 1 TB/user – $6/user/month – Includes Web and Mobile versions of Word, Excel, and PowerPoint

Microsoft Office 365 Business Standard: 1 TB/user – $12.5/user/month – Includes Web, Mobile, and Desktop versions of Word, Excel, PowerPoint, Outlook, and OneNote. It also includes Access and Publisher for PC.
OneDrive offers a greater variety of plans to cater to a broader audience. But a clear point of difference from Google Drive plans is the exclusion of Microsoft Office apps. The apps are either not included or are offered in their weaker, web-only formats. The only exception is the Business Standard plan at $12.50/user/month.
Therefore, if you're looking for just storage space, OneDrive seems to offer more value for money. But if your needs include a comprehensive set of productivity apps with world-class collaboration features, Google Drive is the way to go.
Customer Satisfaction
Winner = Google Drive
To measure user satisfaction, we looked at net promoter scores (NPS) for OneDrive and Google Drive. NPS measures customer willingness to make repeat purchases of a product and to recommend it to friends and family. The scores can range from -100 to 100, indicating how happy customers are with a given product. 
According to Customer Guru, OneDrive has a score of 45, whereas Google Drive's NPS score is 50.
Given the similar nature of both the products, the scores aren't too far apart. People seem to like both the services, but Google Drive has a slight edge, making it the winner for this round.
Collaboration
Winner = Google Drive
Google Drive is the gold standard when it comes to collaboration. Because it comes with Google's productivity apps integrated, the performance of other cloud storage solutions pales in comparison.
Let's take a closer look at some critical collaboration features in both apps.
File sharing
Winner = Google Drive
Google Drive File Sharing
Sharing files is super easy in Google Drive. The share option can be reached by right-clicking a file or using the Share button located on the top right when inside a document.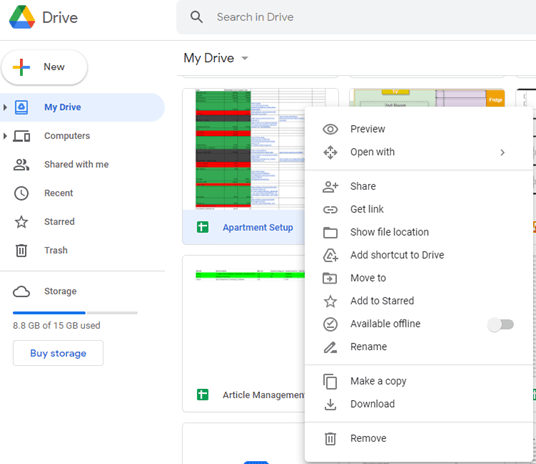 The Details tab in the right panel also shows who has access to a file. The file owner can also use this panel to stop access or change the access level of each user. The access levels are:
Admins can also check the history of changes made to the file through the Activity tab in the right panel.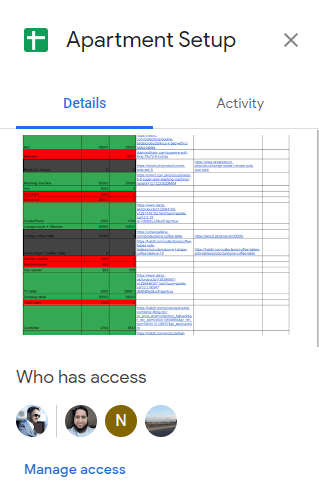 For specific collaborators, share files by typing in their emails. Otherwise, create a sharing link that anyone with a Google Account can use to access the file.
OneDrive File Sharing
File-sharing in OneDrive is quite similar to Google Drive. You can right-click a file and use the Share option or the Share button from inside a document. 
Just like Google Drive, you can type in the email addresses of your collaborators or create a link that anyone can use. In addition, you can assign user access levels by choosing from Commenter, Viewer, and Editor.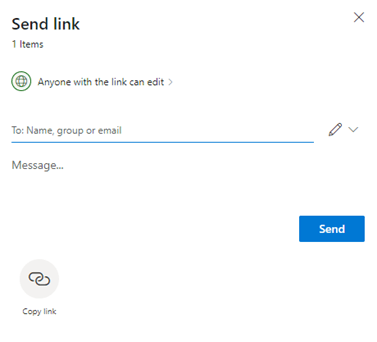 Additional features in OneDrive are that you can prevent users from downloading your document if you want and maintain view-only access. You can also set an expiration date and a password to limit access to your files.
Despite both the products offering similar features, Google Drive takes this round due to its ease of use. The Google Drive interface simply feels more sharing-friendly. The Share buttons are larger and more clearly marked, the process is straightforward, and the entire workflow of sharing and editing takes place in a single window, your web browser.
Co-authoring
Winner = Google Drive
Google Drive Co-authoring
Google is a pioneer in real-time co-authoring, where multiple users can work on the same file in the cloud, and their edits can be seen as they happen. With the help of Google Workspace apps, Google Drive enables users to simply double click a file to begin the editing process in collaboration with other users.
OneDrive Co-authoring
Following in the footsteps of Google, OneDrive has also developed similar collaboration features, allowing users to edit documents together in real-time. This feature works on Office 365's web as well as desktop apps.
This round goes to Google Drive as well. The co-authoring features in OneDrive are almost equally as good. But the apps in Google Workspace are easier to use. Working together on documents is a fluid and natural experience in Google Drive. You can easily see who's online, track activity and changes, have discussions in the chat area, or talk about specific sections of a document using the comments feature.
Commenting
Winner = Draw
Google Drive Commenting
The objective of collaboration and teamwork is to achieve the desired result efficiently with all relevant stakeholders on board. 
With Google Drive commenting, you can save time by simply highlighting parts of a document you want to discuss and leaving comments there. In addition, you can tag stakeholders directly in your comments so they can focus on what's relevant to them.
OneDrive Commenting
Commenting in OneDrive works similarly to Google Drive. Users can simply highlight content, leave comments, and tag the relevant individual. The tagged user gets an email notification along with the highlighted content. Furthermore, the tagged user can respond to the comment directly via email.
User-Friendliness
Winner = Google Drive
Google Drive User-Friendliness
Google is great at presenting complex solutions in a simple form. Google Drive is evidence of that. The user interface is plain yet powerful. It highlights just the right features through a perfect selection of icon sizes and button colors. As a user, you're offered the most commonly used options upfront without the burden of having too many features on your screen.
OneDrive User-Friendliness
We feel that OneDrive has a brand management problem. It's not unheard of for users to get confused between OneDrive, Sharepoint, and Teams. All three have separate storage areas, and it's easy to forget where you left a certain file. This has affected our user-friendliness score on OneDrive. In addition, we feel the OneDrive interface is needlessly complicated.
Security
Winner = OneDrive
Google Drive Security
Google has suffered several data leaks in the past. As a result, the service has tightened up security across the board. Specifically, the RSA encryption key length has been increased to 2048 bits and changes regularly to maintain top-notch security of the data on Google Drive.
In addition, the introduction of 2FA or two-step authentication has reduced the risk of unauthorized access to user data.
OneDrive Security
The OneDrive Personal plans offer multiple authentications, creating mixed-case passwords up to 13 characters long, facial recognition, and message prompts. The Enterprise plans provide advanced encryption, file auditing and reporting, data retention, etc.
OneDrive also offers Personal Vault, where you can keep sensitive data behind extra layers of authentication.