5 Qualities of a World-class Onboarding Manager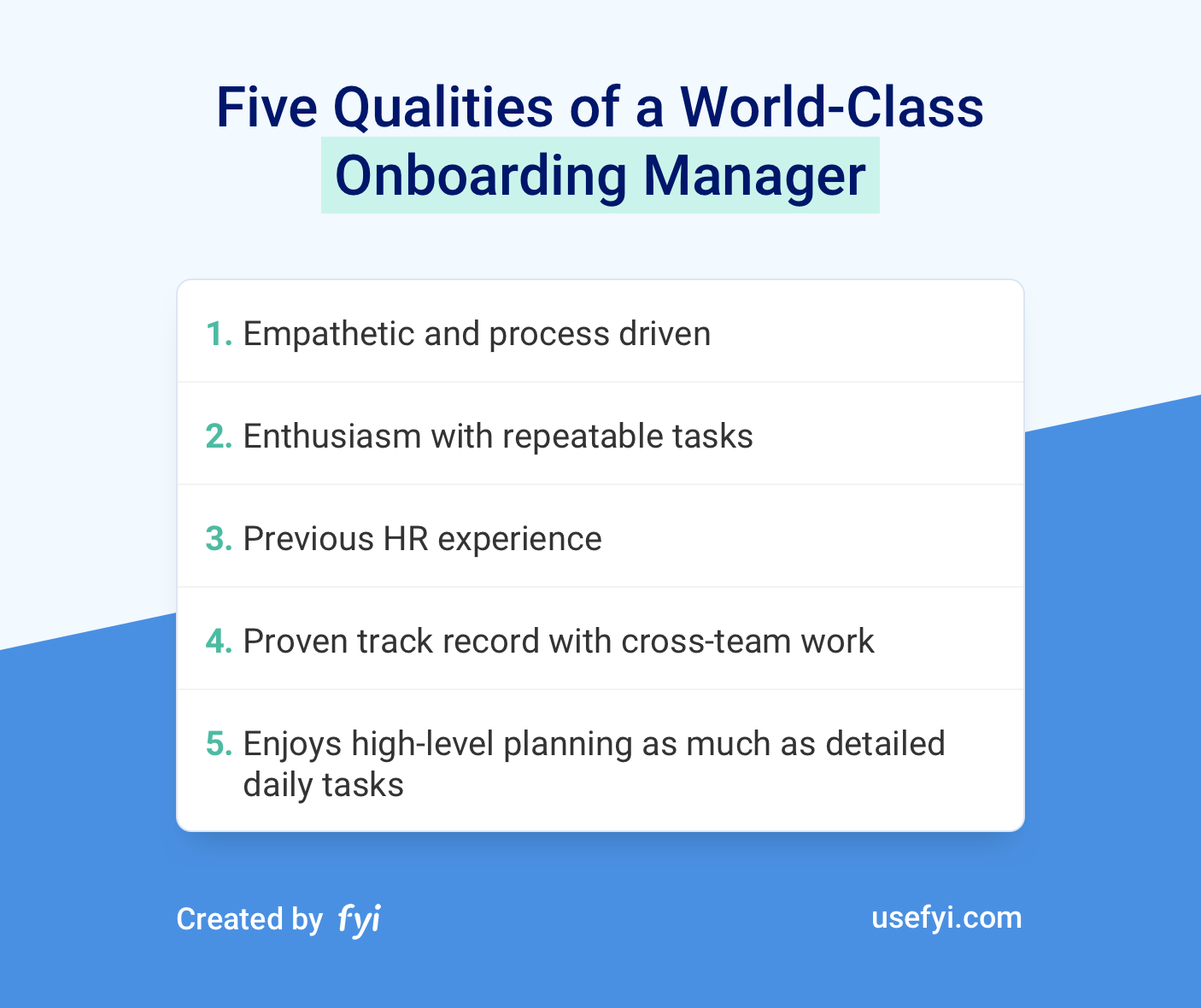 I believe that onboarding plays a critical role in the success of any company.
Get it right and employees ramp up quickly, adding momentum to company goals.
Get it wrong and you'll have turn-over and months wasted as new employees slowly ramp up.
One of the reasons that onboarding gets neglected at companies is that no one owns the onboarding process. If no one owns it, nothing gets done.
Hiring an onboarding manager will solve that problem, giving you an onboarding process that new employees enjoy while getting them up to speed as quickly as possible.
For this to work, you'll need to find the right person.
What does an onboarding manager actually do?
The short answer: the onboarding manager owns onboarding. It's that person's responsibility to make sure the onboarding process gets new employees fully ramped up as quickly and effectively as possible.
Our onboarding includes 4 phases. The onboarding manager owns each of these phases:
Pre-onboarding – this starts once the new employee signs their offer letter and ends on their start day.
Orientation – the structured phase of onboarding that gets new employees through all the required material.
First assignments – the first few projects that help ramp employees up.
Ongoing support – long-term support to help ensure the employee gets fully integrated into the team.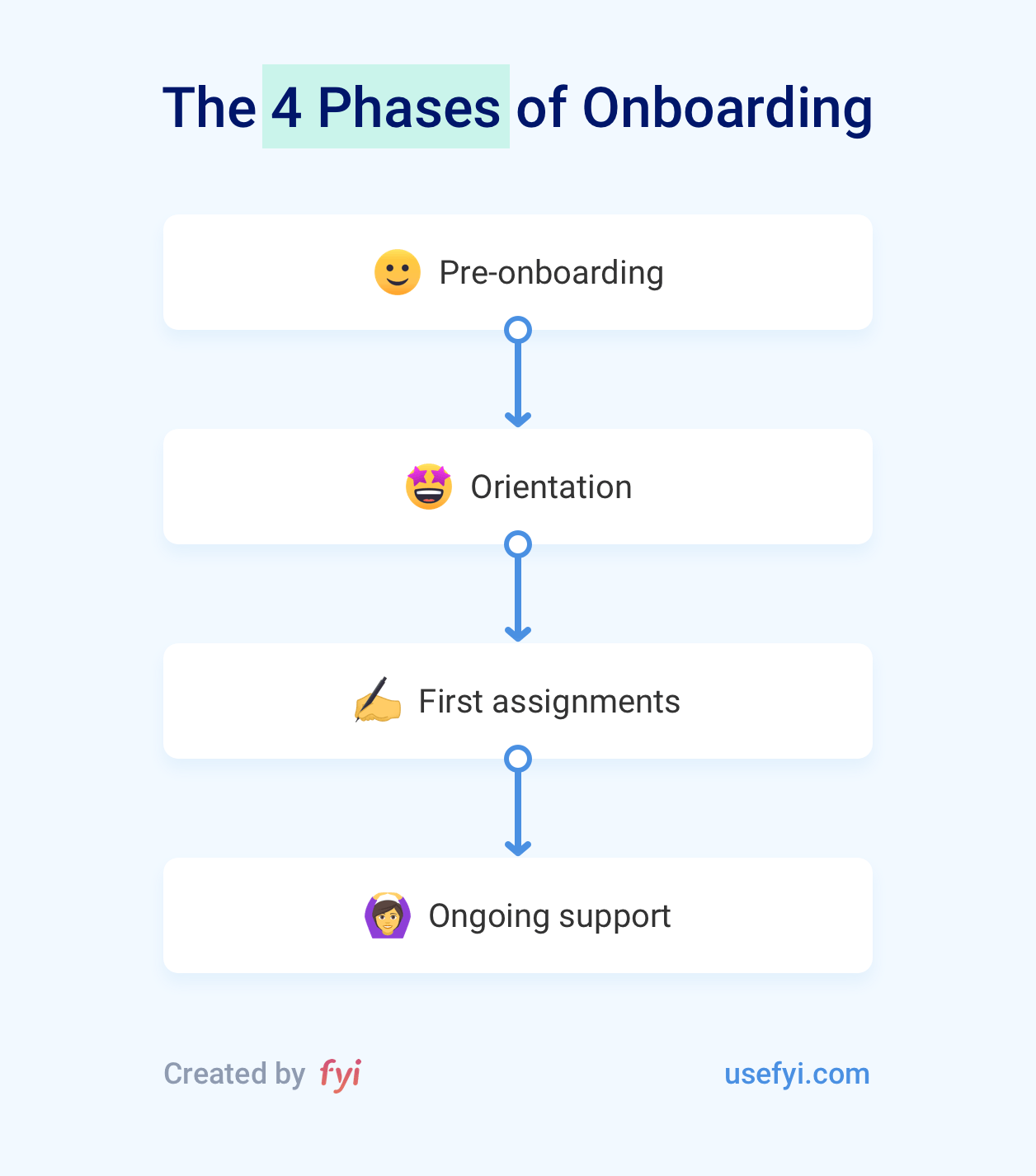 As soon as a new hire signs an offer letter, the recruitment manager should hand-off the employee to the onboarding manager to complete these 4 phases. It's the onboarding manager's responsibility to get the new employee working at full capacity and completely integrated into the team. Not only does the onboarding manager increase the effectiveness of new employees by getting them ramped up quickly, they also reduce turn-over as employees see the impact of their work and feel part of the team.
If you wanted to tie the role to a few metrics, here are some good options:
New employee satisfaction scores at days 30, 90, and 180
Percent of employees deemed "fully onboarded" by their manager after 30 days
First-year turnover rates
When should you hire an onboarding manager?
Before we jump into the when, we should ask ourselves if we truly need a full-time onboarding manager for the long-term.
If you're planning on going through a hiring sprint that will taper off within 3-6 months once critical gaps have been filled, I recommend exploring two different options for getting your onboarding completed:
Have one of the members of your HR team moonlight as the onboarding manager when you're going through the onboarding sprint. This is my preferred way to cover a big recruitment push that isn't going to last. Just be careful not to overload someone by expecting them to complete all their previous duties on top of the new onboarding assignment. I always try to only give one priority to each employee at a time. And depending on the seniority of this person, they might need more guidance on what a great onboarding process looks like. So step in early and give good guardrails if needed.
Have one of your senior managers devote the majority of their time to recruitment and onboarding. This works well if your hiring sprint is focused on a single department. For example, if you need to hire 50 account executives in the next 3 months, a senior member of your Sales team can be the onboarding manager for that batch of hires.
But what if you're looking at a sustained rate of hiring? When should you open a full-time role for onboarding?
Here's how I'd make the decision on when to hire an onboarding manager.
First, I'd officially assign onboarding to my HR or operations team. I'd ask them to own it, put together an onboarding process, and be responsible for getting new employees up to speed quickly. When we're only hiring new employees occasionally, this is an easy responsibility to own along with other HR responsibilities.
Second, I'd keep an eye on the bandwidth of the HR team while hiring ramps up. Are other HR initiatives moving forward or is everything grinding to a halt at the expense of onboarding? Or is onboarding being neglected entirely? If things start to slip, I'll consider opening the onboarding manager role.
Third, I'd have an ongoing discussion with whoever owned the HR function. Once they were confident that onboarding was taking 60-70% of someone's full-time capacity, I'd consider opening a full-time role for onboarding. This assumes that I'm planning on continuing the current hiring pace.
5 Qualities to Look For In Your Onboarding Manager
When I'm looking to fill an onboarding manager role, I look for candidates that meet these criteria.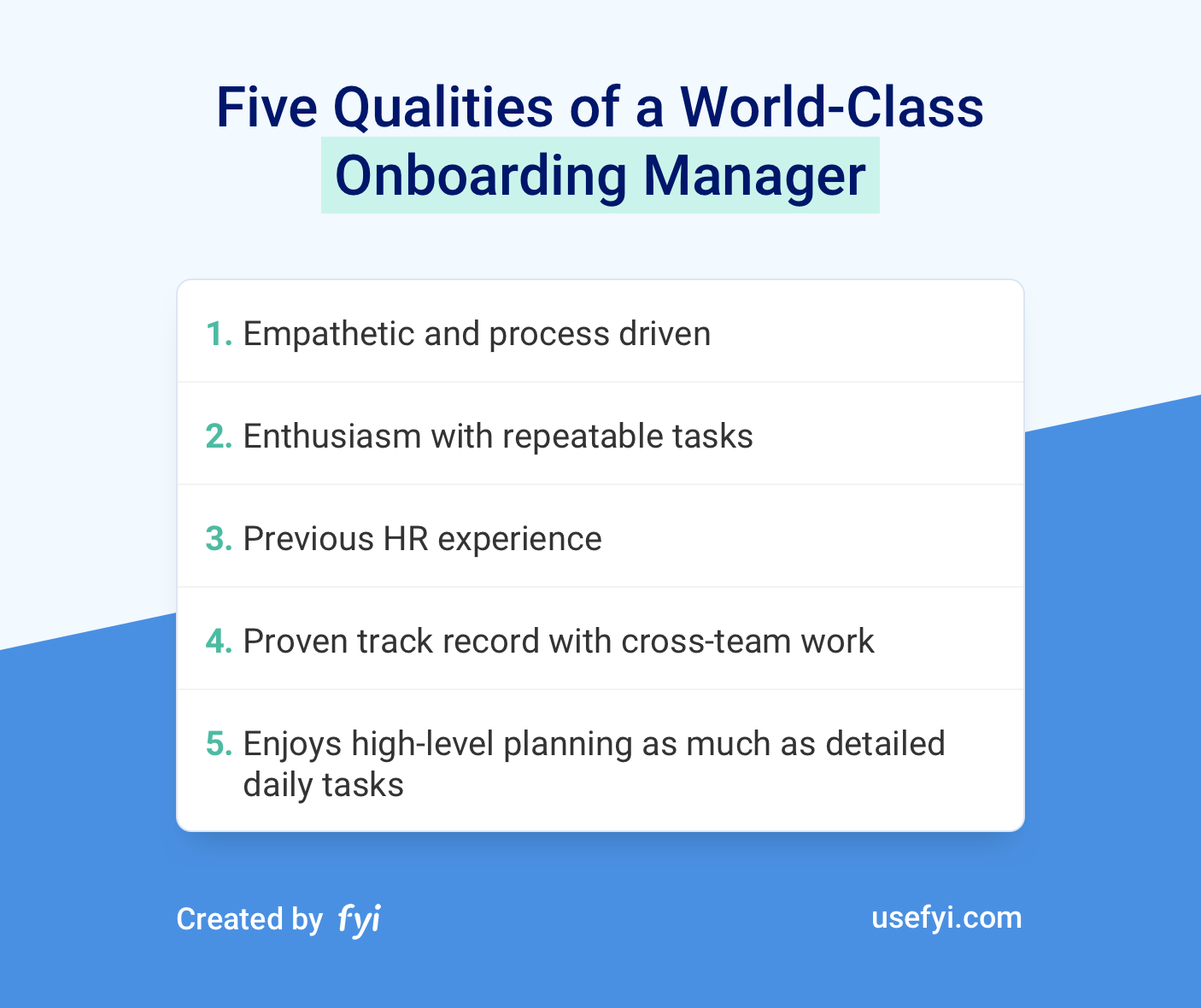 Empathetic and process driven
It's easy to find empathetic folks.
It's also easy to find process-driven folks.
It's really hard to find empathetic folks that are also process-driven.
If an onboarding manager doesn't have enough empathy, they'll create an overly efficient process that doesn't account for the fears and doubts that all employees have when starting a new role. New hires will flounder and take much longer to onboard.
And if the onboarding manager doesn't pay attention to process, every new hire will get a different onboarding process. Some folks will get a great experience, some won't. And the entire team will be less efficient when the onboarding process is being recreated from scratch for every hire.
Amazing onboarding managers find that perfect balance between empathy and process.
Enthusiasm with repeatable tasks
Some folks need to work on new types of problems all the time. Those folks really struggle as an onboarding manager. They'll shine really bright for a few months and then crash quickly as they run successive batches of employees through your onboarding.
Once the onboarding process has been figured out and implemented, the onboarding process gets pretty boring for a while. The onboarding manager will spend the bulk of their time checking in on previous hires to make sure everything's still working, looking for small iterations to their program, and running new batches of employees through it.
There won't be much in the way of "mission-critical" projects.
I've struggled to find people that can perform both sides well. Folks tend to be good at starting new programs or running them, only a few can do both. One way out of this is to have someone else on your team start the program, get the key pieces in place, then hire an onboarding manager to do smaller iterations and keep the program running long-term.
The major exception to this is with companies in hyper-growth mode. For these companies, every process will break and need to get completely rebuilt every 6-12 months. For onboarding managers at this type of company, there's no danger of getting bored. They'll run into the opposite problem: being able to keep reinventing themselves and their onboarding program to meet the demands of the company. If you're entering this kind of pace with your company, find an onboarding manager that's willing to throw out previous work and start from scratch on a regular basis.
Previous HR experience
Ideally, you'll find someone with enough HR experience that they'll know all the HR and regulatory compliance that you'll need to follow in order to hire folks in your industry. They should also be able to keep an eye on new regulations to keep your processes updated over time.
If you have a really strong HR team that already has all these items covered, you could find an onboarding manager with less experience in this area. Just make sure they get a required set of tasks that need to be completed for each hire and they understand these tasks are essential.
Proven track record with cross-team work
Onboarding involves every single team at the company.
If your company is anything like the companies I've worked with over the years, every manager and executive will have strong opinions for onboarding. Some will believe they don't need to do anything. Others will have everything structured so tightly that the new employee will scarcely have time to breathe.
An onboarding manager must be capable of getting feedback from everyone across the team and then building alignment around a single process. And they'll have to do it on their own, no one else will be prioritizing onboarding.
Some folks have the skills and persistence to do cross-team work. A lot don't. They give up too early or get frustrated with the amount of time they have to spend building consensus. And the larger your company, the more important this becomes.
To find someone that can succeed in this type of work, look for candidates that have successfully completed similar initiatives in the past. It doesn't have to be onboarding projects, it could be any type of project as long as it involved multiple teams with differing views on the ideal solution.
If your candidate succeeded with these projects in the past, the odds are good that they'll be able to build an onboarding process that your entire team will follow.
Enjoys high-level planning as much as detailed daily tasks
Arguably the most important part of an onboarding manager's role is to develop and maintain the onboarding process across the entire company. This requires a lot of strategic planning with the entire operations team and other executives. The work impacts every team across the company in a major way. Not only do new employees need to get onboarded quickly and effectively, the onboarding manager also plays a huge part by helping to establish the company values for new employees.
That's the fun, high impact stuff.
There are also plenty of tasks that aren't so fun:
Double checking to make sure new employees have signed all their paperwork
Getting materials printed and ready for a new employee orientation
Following up with team managers to make sure they're fulfilling their responsibilities during onboarding
Repeating the new hire orientation dozens of times
Unlike some roles that can get away with sloppy details, the onboarding manager doesn't have any room for error. Your onboarding process is the first impression that new employees get from your company. It sets the tone for what's expected.
Sloppy orientation communicates to employees that your company isn't detail oriented. Which means the new employees won't be as detail-oriented themselves.
If you want a culture of excellence, your onboarding needs to be on point.
A great onboarding manager will make sure every new employee goes through a polished onboarding round. They do that by caring about all the little details.