Lastpass Vs. Nordpass: Side by Side Comparison
If you want a password manager that provides a large chunk of its features for free, two of the most tested and reliable options are NordPass and LastPass. And they both also have a list of high-end features that will help your employees and co-workers maintain the security of their passwords.
Figuring out which password manager is the better option for you just requires a little bit of research. Our side-by-side LastPass versus NordPass comparison will highlight the key components of each software package to help you make your choice.
Our Recommendation = Get NordPass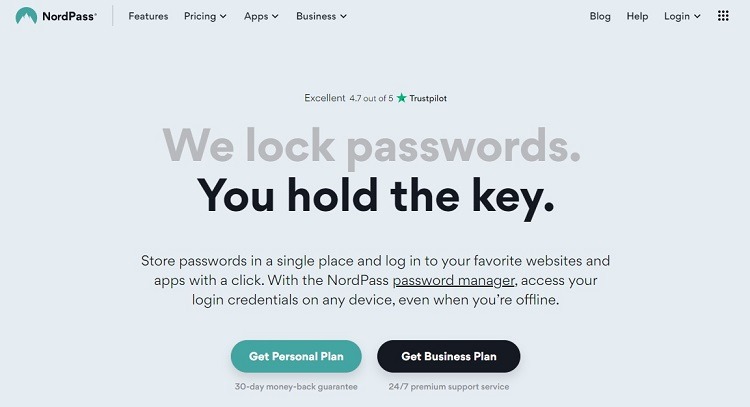 Both LastPass and NordPass are strong password manager options. The comparison between the two packages is a close one. However, we are going to give NordPass a slight edge due to its higher level of encryption and security, more streamlined interface, and more customer service options.
NordPass is especially helpful for those who already use NordVPN. The company that created NordVPN recently branched out into password management software to create NordPass.
You will receive strong feature lists in both the free and paid subscription versions of NordPass. Both personal users and business users will be able to use NordPass successfully.
If you are new to the concept of password security software, NordPass is easy to use. Even though it has advanced security features, you won't become bogged down trying to decipher them.
It features several online guides that can walk you through the process of using certain features in the software. Impressively, NordPass includes a live chat customer service option for answering tricky questions at all pricing tiers.
When to Get LastPass Instead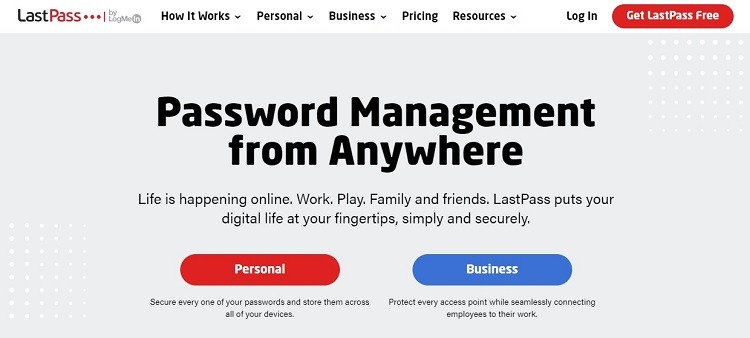 LastPass has plenty of advantages as well, and it may fit your needs better.
If you need to see a piece of software survive the test of time before you trust it fully, LastPass is the better choice. LastPass boasts more than 16 million users. It initially appeared on the market several years ago, meaning that the chances of encountering a design flaw are slim.
With LastPass, you can have more control over the automatic generation of your passwords, meaning you may be able to make them easier to remember. NordPass automatically generates passwords too, but you have a little less control over the final result.
If you already are using LastPass, we find little reason to make the switch to NordPass. Although NordPass is our recommendation for the majority of users, the differences between the two packages are not strong enough to warrant the hassle of making a switch, unless you are disappointed in the level of performance you are receiving with LastPass.
Pricing – Is LastPass or NordPass the Better Deal?
Winner = NordPass
Both LastPass and NordPass offer strong features in the free versions of the software. These free versions aren't meant for business-level users, however.
In the business-level versions of these software packages, you will find the two packages carry very similar pricing plans. For the business plans, both software packages charge customers per user and per month.
We'll give the NordPass the slight advantage in pricing, as its mid-range tiers are slightly less expensive than LastPass. Additionally, NordPass's lowest business tier accepts up to 250 users, while LastPass's lowest business tier has a 50-user limit.
LastPass Pricing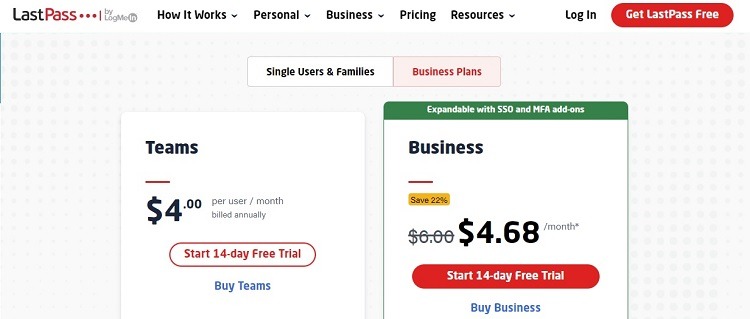 The pricing tiers for LastPass include:
Free: The Free version works best for single users. It can store an unlimited number of passwords, and it will autofill passwords as well. It can generate strong passwords for you. It delivers multi-factor authentication (MFA) options. However, you can only use the account on either a desktop computer or on a mobile device (not both).
Premium: The Premium version works for single users at $3 per month. It includes a 30-day free trial period. In addition to the features in the Free version, you can use the account on both mobile and desktop versions. Subscribers can access priority tech support in this version.
Families: The Families tier costs $4 per month and includes all features of the Premium version. It has six different individual password vaults. The dashboard in this version allows you to manage each user's vault individually.
Teams: The Teams version works for business teams of up to 50 users. It costs $4 per month per user and offers a 14-day free trial period. It includes a management dashboard. You can select MFA for additional security protection.
Business: The Business tier has a standard cost of $6 per user per month (but discounts may be available). You can have an unlimited number of users with this tier, and you can create groups of users who have the same security protocols to simplify the management process. It includes basic MFA and single sign-on (SSO) capabilities, although you can pay extra to gain advanced MFA and SSO features.
NordPass Pricing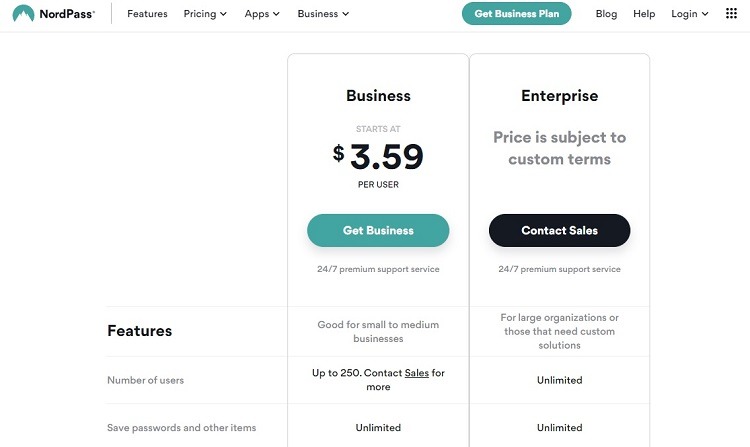 The pricing tiers for NordPass include:
Free: The Free tier works for single users and will save an unlimited number of passwords. It will autosave and autofill password forms, as well as personal information forms. With the Free tier, you can access your passwords on any device. MFA is available in this tier too.
Premium: The Premium version costs $2.49 per month and works for a single user. It offers all of the features found in the Free version. This tier provides an option for gaining emergency access to your passwords. NordPass also will give you warnings about weak passwords when using this tier.
Family Premium: The Family Premium tier costs $4.99 per month. It has all of the same features as the Premium version while offering up to six separate storage vaults within the primary account to accommodate each family member. Both the Family Premium and Premium tiers have a 30-day money-back guarantee.
Business: The Business tier costs $3.59 per user per month for up to 250 users on the account. It includes premium customer support services 24 hours a day, seven days a week. You can set up MFA for all of the users in this tier. You can manage the user accounts in this tier from an easy-to-use dashboard.
Enterprise: You will need to contact NordPass to receive a custom pricing quote for the Enterprise tier. You can have an unlimited number of users on the account. The Enterprise tier contains the same features as the Business tier, and it adds SSO capabilities to this tier.
Encryption Capabilities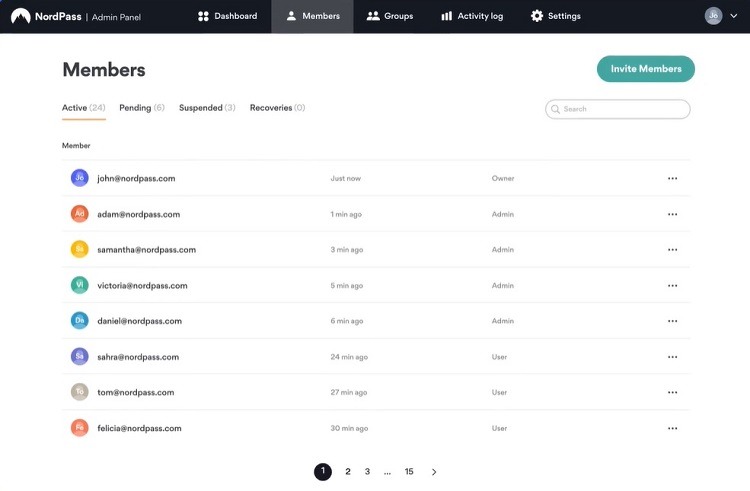 Winner = NordPass
Although both of these password managers deploy encryption to transmit data back and forth from their servers, NordPass uses a higher level of encryption. Both services have pricing tiers that allow for the use of MFA, which gives you a more significant level of protection for the account.
LastPass Encryption Capabilities
LastPass makes use of 256-bit AES encryption, which provides a highly effective level of security, matching the level the majority of software packages require. However, 256-bit AES is not quite as secure as what NordPass offers.
LastPass did have a hacking scare in late 2021, but the company lost no customer data. LastPass reported that the scare involved customers receiving messages about a security breach, but the system sent the messages in error.
NordPass Encryption Capabilities
NordPass makes use of XChaCha20 encryption, which is a slightly higher level of encryption than what LastPass offers. This advanced encryption protects the data as it travels both to and from the server.
If you want to deploy biometric authentication to gain access to your account, NordPass supports using this technique rather than entering a master password.
Account Recovery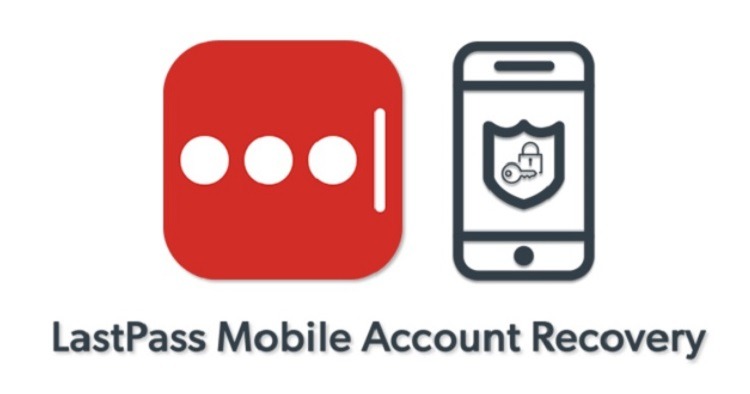 Winner = LastPass
Both software packages offer zero-knowledge architecture. This means that if you lose your master password, customer service cannot help you regain access. Customer service personnel have no means of accessing your master password.
However, the LastPass and NordPass packages both offer extra options for trying to recover your account that does not require making use of customer service.
LastPass Account Recovery
With LastPass, you have a couple of different means of attempting to recover your password. At the time you set up your account, you can create a hint that can give you a clue about your password. When you lose your master password, you can view the hint to try to spark your memory.
LastPass will send you a one-time recovery code at the time you set up your account as well. You must track this code until you need it, as customer service cannot send another copy to you.
NordPass Account Recovery
NordPass only offers one option for trying to recover your password. At the time you set up your account, NordPass will generate a recovery code that you will need to store in a secure location. Should you ever lose your master password, you can use this recovery code. You have to come up with this recovery code on your own, however, as the customer service team cannot access it for you.
Strong Password Generation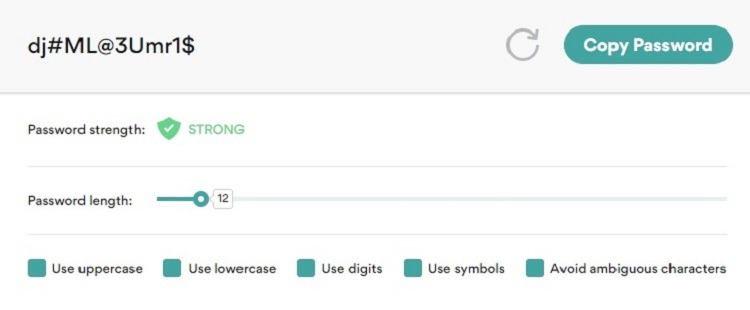 Winner = Draw
Both LastPass and NordPass offer the ability to generate passwords automatically that will be extremely strong.
Because the password management software is saving the passwords for you, using passwords consisting of a large number of characters becomes easier. You don't have to remember the long passwords. The password managers generate the long passwords for you and remember them too.
Another advantage of making use of a password generator is that you never will have the same passwords at different websites. Using the same password multiple times can cause significant security issues if someone hacks your account.
LastPass Password Generation
To create a custom password in LastPass, you can select the parameters the software should use, including:
Length in characters
Inclusion of uppercase letters
Inclusion of lowercase letters
Inclusion of digits
Inclusion of symbols
Avoiding similar-looking characters, like zeros and Os
NordPass Password Generation
With NordPass's generator, you can select a number of parameters for the password the software creates, including:
Length in characters
Inclusion of uppercase letters
Inclusion of lowercase letters
Inclusion of digits
Inclusion of symbols
After the software creates the password, it will display a rating for the password's strength for you. If the automatically-generated password is too weak, you can make it stronger in NordPass by increasing the number of characters in use or by allowing the software to use a wider variety of characters.
Password Strength Measurement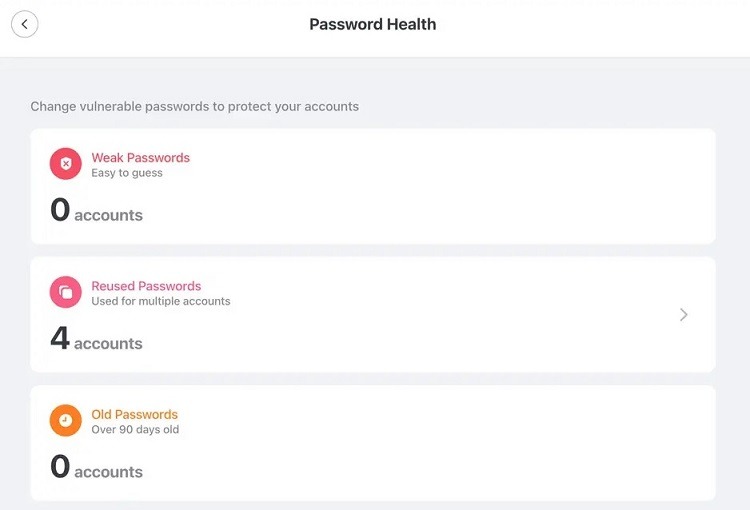 Winner = Draw
Once you have some passwords stored in NordPass or LastPass, you may want to test them for their strength. This measurement will alert you if any of the passwords are weak, meaning a hacker may be able to steal them using brute-force techniques.
You may have some older passwords stored that you can update with this feature.
LastPass Password Strength
Through its Security Dashboard, LastPass will measure the strength of any passwords stored in the software. LastPass will alert you if any of the passwords are too short, easily guessed, too old, or reused from the past.
To change a weak password, you can click the Change Password button next to the password. LastPass does not automatically make the change for you, however. It will allow you to manually change the weak password at the website that uses the password.
NordPass Password Strength
NordPass measures the strength of your passwords through the Password Health screen. Through this screen NordPass scans the stored passwords, marking any of them as too weak, too old, or reused from the past.
To fix a weak password, click the Change Password button. You will have to change the password at the website associated with the password.
Import Existing Passwords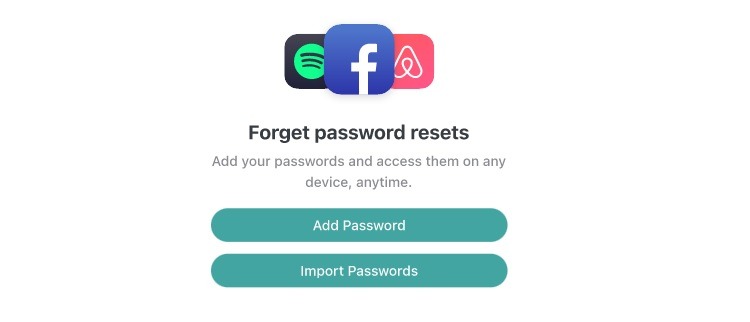 Winner = Draw
You may already be using password management software or password storage options in your browser. When you begin using LastPass or NordPass, you don't want to have to re-enter all of those passwords. Fortunately, both software packages provide an importing option, automatically accessing your passwords stored in other areas.
LastPass Password Importing
LastPass supports pulling passwords from a number of password manager software packages and the Chrome web browser. It even allows you to copy your passwords stored in a .csv file into LastPass.
If LastPass is not compatible with the password manager software or browser you are using, the software will copy those passwords as you access them, rather than all at once. In other words, LastPass learns your old passwords as you make use of them, automatically saving them in LastPass.
NordPass Password Importing
When you select NordPass, the software makes the process of important passwords as easy as possible. The software will pull your passwords from browsers like Chrome and Firefox. It also can pull your password list from many other password management software packages.
It works with a .csv file too, should you store your passwords that way.
Customer Service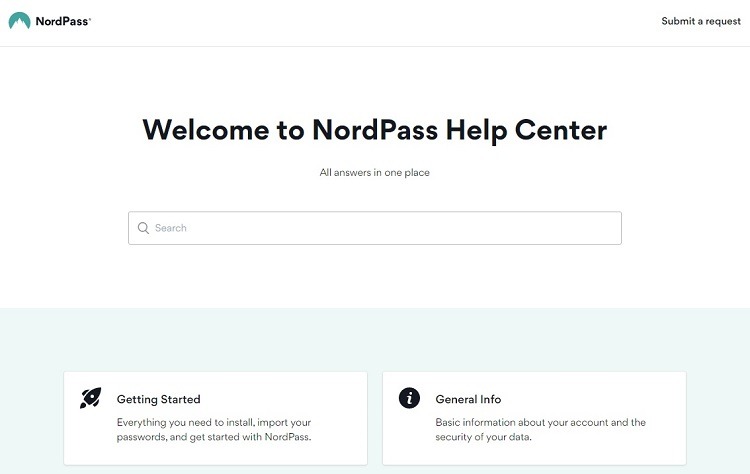 Winner = NordPass
Both NordPass and LastPass have a number of options for accessing customer service and for finding answers to questions you have while using the software. NordPass receives a slight advantage in this area, because it has a live chat option, giving you a better chance of receiving an immediate answer to any questions you may have.
LastPass Customer Service
In the single-user and family pricing tiers, LastPass customers can access self-help documents. They also can post questions on a message board where other LastPass users or some customer service specialists may be able to answer them.
Other than in the Free tier, all LastPass users can send questions to the customer service team via email. In the Business tier, you can pay extra for a dedicated account manager option.
NordPass Customer Service
NordPass customers can access the self-help documents at any time. All pricing tiers allow you to create support tickets, send emails to support, and access live chat.
In the Business and Enterprise tiers, you can access customer support 24 hours a day and seven days a week. The Enterprise tier in NordPass offers a dedicated account manager, as well as face-to-face onboarding.