Shipping bug-free software products at a rapid pace is one of the biggest challenges for modern-day software companies.
Jira makes this job much easier.
As the world's leading project management tool for agile teams, Jira provides you with all the features to collaborate in a rapidly changing work environment and get things done faster.
In this detailed review, we'll analyze Jira's core features, pricing, and some of its main strengths and weaknesses to help you decide if it's the right choice for your business.
Overview – What Is Jira?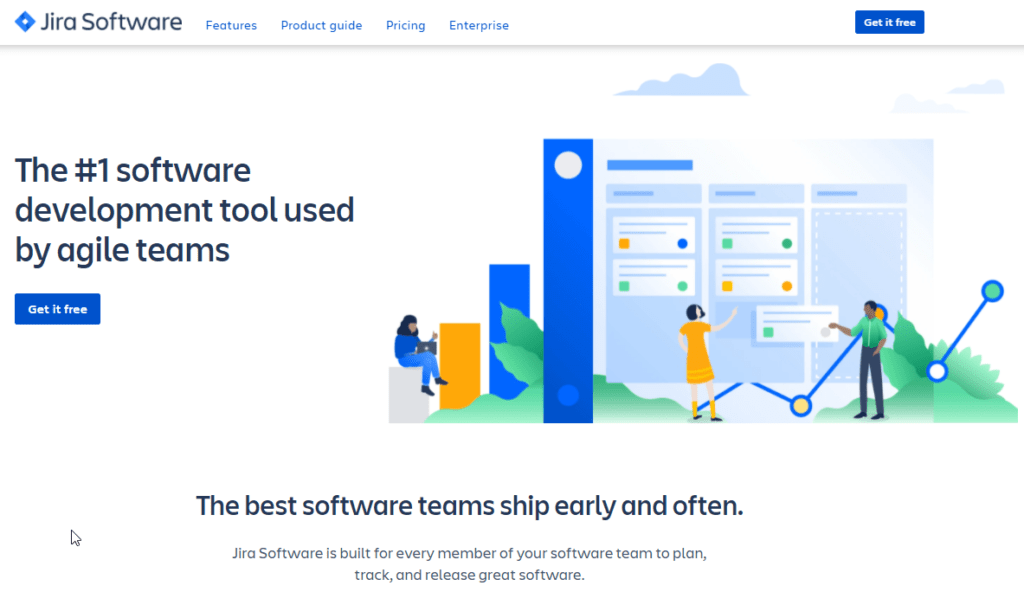 Jira is among the world's leading project management and workflow management tools specifically designed for agile software development teams.
However, it is equally helpful in managing projects for other organizational functions such as marketing, sales, HR, and finance.
It is owned by Atlassian, an Australian software company that also owns Trello, Confluence, and several other popular software products.
Jira originally started as a bug and error tracking tool for software quality assurance teams. But it has rapidly evolved into a project management tool for software companies and a complete collaboration and workflow management platform for all kinds of organizations.
Today, Jira has over 65000 customers worldwide, including Cisco, Square, Spotify, eBay, and Airbnb.
At its core, Jira helps distributed, and agile software teams collaborate transparently through various project management and communication tools.
Its primary goals are to:
Help agile software teams manage projects better
Enhance collaboration between functional and cross-functional project teams
Facilitate bug and error tracking
Facilitate long-term project planning in view of the broader organizational goals.
It offers powerful agile views such as scrum and Kanban boards, roadmap views, custom and template workflows, automation, and in-depth analytics with 12+ reporting views.
It also integrates with hundreds of different project management, software development, marketing, productivity, and general business apps. This allows Jira users to combine its native features with their favorite apps to achieve their goals faster.
It also offers advanced user rights management to help you control the flow of information to only the most relevant team members. You can assign various user roles their unique sets of rights depending on the level of participation you require from an individual.
In short, Jira is a powerful and multi-purpose project management product that's ideal for agile software teams and fast-paced businesses focused on rapidly shipping flawless products.
Jira Pricing And Plans
Jira's offers three different paid pricing plans, three of which are paid monthly or annually.
The pricing and features in all the plans are based on the number of users in your team.
Its free plan offers accounts for up to 10 users. It gives you all the basic project management features such as kanban and scrum boards, basic roadmaps, customizable workflows, integrations, backlog, and several other valuable features.
However, most of the advanced features are locked out of the free plan.
Here's what the three paid plans cost per month.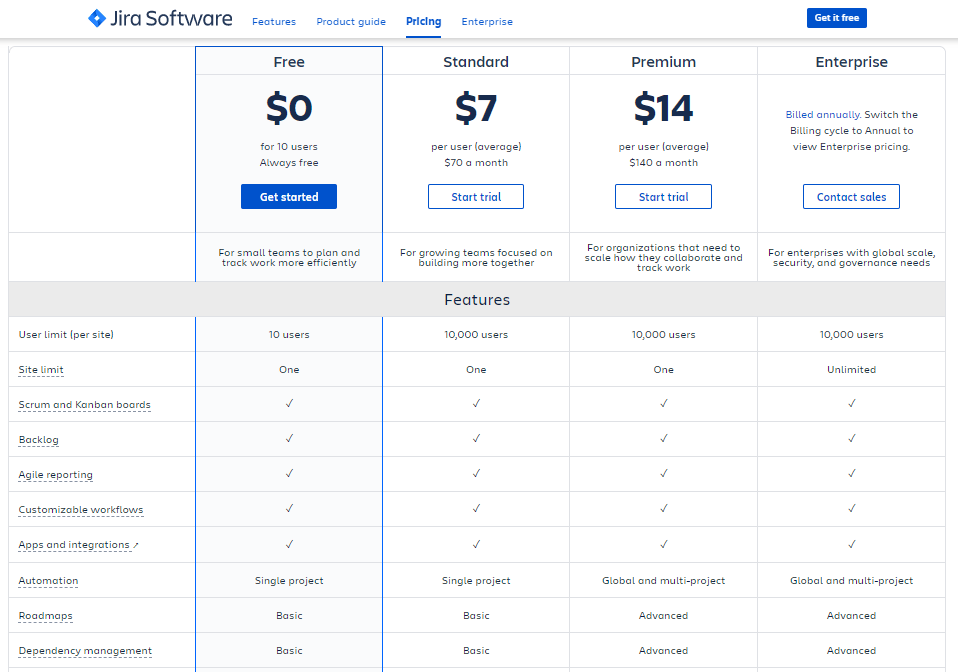 As you can see, the Standard plan costs $7 per user per month, while the Premium plan is priced at $14 per user per month. Large organizations with bigger teams can request custom pricing for the Enterprise plan.
Jira Standard Plan
The Standard plan offers pretty good value for money as you get the following features for just $7/user per month.
10,000 users
scrum and Kanban boards
backlog
integrations
roadmaps
automation
user management
project roles
session duration management
250 GB cloud storage
Plus, you get phone and chat support during business hours in case you need help.
It is an excellent choice for startups and small teams looking to scale their business.
Jira Premium Plan
The Premium plan, priced at $14 per user per month, is Jira's most popular plan, ideal for mid-level software development companies that are aggressively growing and taking on bigger projects.
It offers all the features in the Standard plan, plus the following.
Global and multi-project automation
Advanced roadmaps
Advanced dependency management
Capacity planning
Project archiving
Release tracks
IP allow listing
Data residency
Unlimited cloud storage
99.9% server uptime guarantee
24/7 support
You get an additional 20% discount on all the paid plans if you choose annual billing. Plus, all the paid plans come with a 7-day free trial.
In our opinion, the Standard plan is sufficient for most small to medium-sized development teams. However, we recommend that you first sign-up for the free trial of your desired plan and explore all the features in Jira before making a final call.
Key features
Jire offers a host of project management, bug tracking, and collaboration features for agile software development teams and cross-functional project managers.
Let's take a close look at some of its core features.
Scrum And Kanban Boards
Project management, task delegation, tracking, and workflow management in Jira are done via scrum and Kanban boards.
Scrum and Kanban are two different agile methodologies that rely on status boards for project management.
With Jira, you can use scrum, Kanban, or both (Scrumban) depending on your project nature and business needs.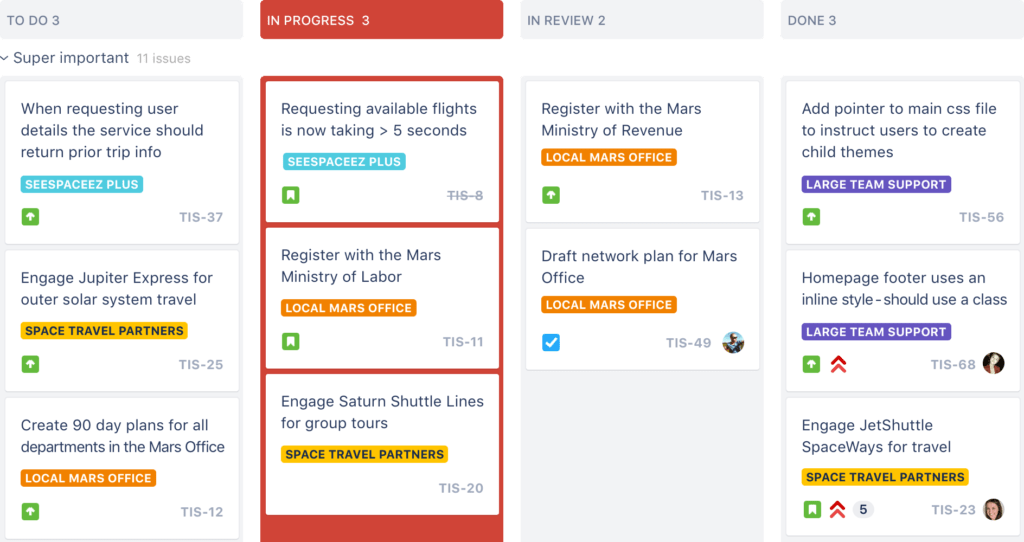 Scrum boards allow agile teams to organize their work in sprints and meet deadlines by slicing work into stages and utilizing burndown and velocity reports. Jira enables users to customize their scrum boards and allows them to deliver iterative and incremental value as fast as possible.
Software development teams use Kanban boards to visualize their workflow, limit work-in-progress, and maximize efficiency. They give teams complete visibility into the next steps in a workflow and help them continuously deliver maximum output in minimal cycle time.
Jira's boards are primarily designed for software teams. Still, organizational departments such as marketing and HR that are frequently involved in cross-functional projects can also use them to bring more transparency to their operations and get things done faster.
They have an intuitive drag & drop interface in which you can quickly move tasks from one stage of the workflow to another, assign tasks to new team members, and assign project roles.
Custom Workflows
Workflow is the process that your team follows to execute or manage a task in Scrum and Kanban boards.
For example, the default scrum board workflow in Jira consists of three stages – To Do, In Progress, and Done.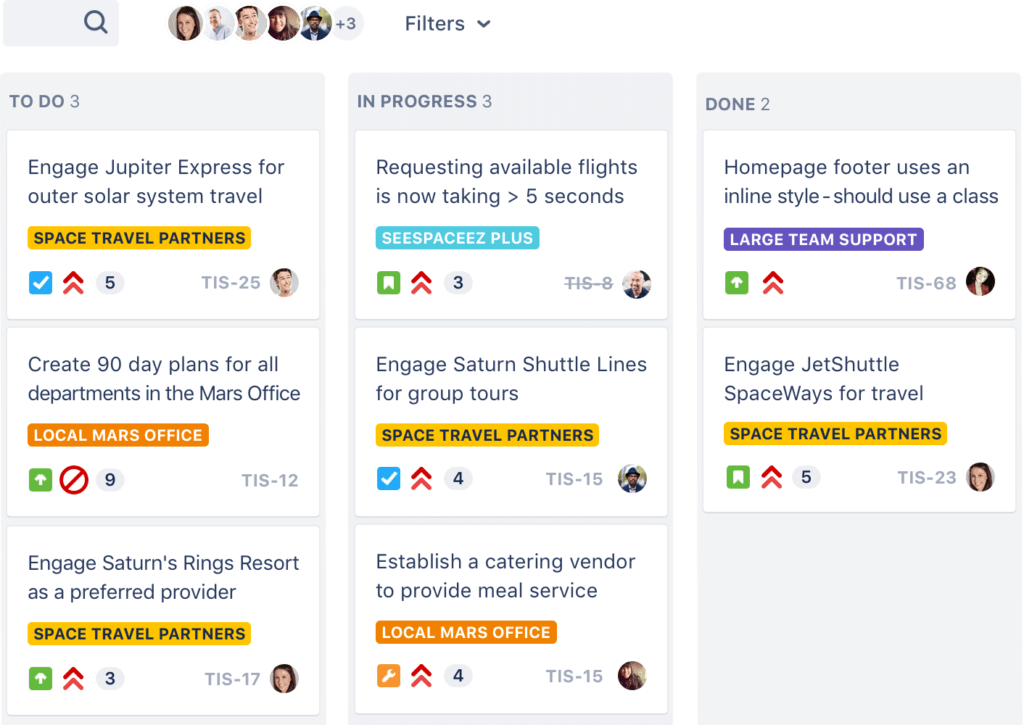 You can create a separate card for every task and place it in the relevant column depending on its status.
The default workflow is sufficient for most business types. However, you can also customize your workflows in Jira and add/remove status columns depending on your team's process.
You can also create different workflows for different teams and functions in your organization. This customization gives you complete control of your project management process and helps you create a transparent workflow where there's no room for confusion.
Roadmaps
Jira's project roadmaps help you see your project from an organizational perspective, measure every deliverables' progress, and proactively counter any bottlenecks in your process – all in a single dashboard view.
You can use them to chalk out long-term product plans and offer clarity to your team on the direction you're heading in.
Roadmaps give you a consolidated view of all your project components, allow you to zoom into each task, and give you all the necessary information you need to make strategic decisions.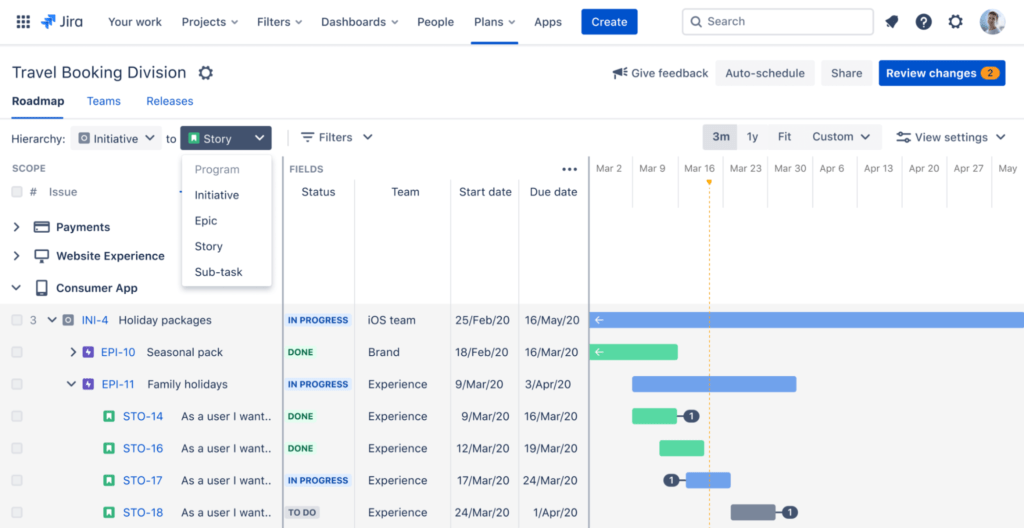 You can use them to identify dependencies in your project, share feedback on tasks with your team, and manage any changes in the project scope or timeline.
Agile Reporting
Jira offers in-depth analytics with various types of project reports that give you the necessary insights to make informed decisions.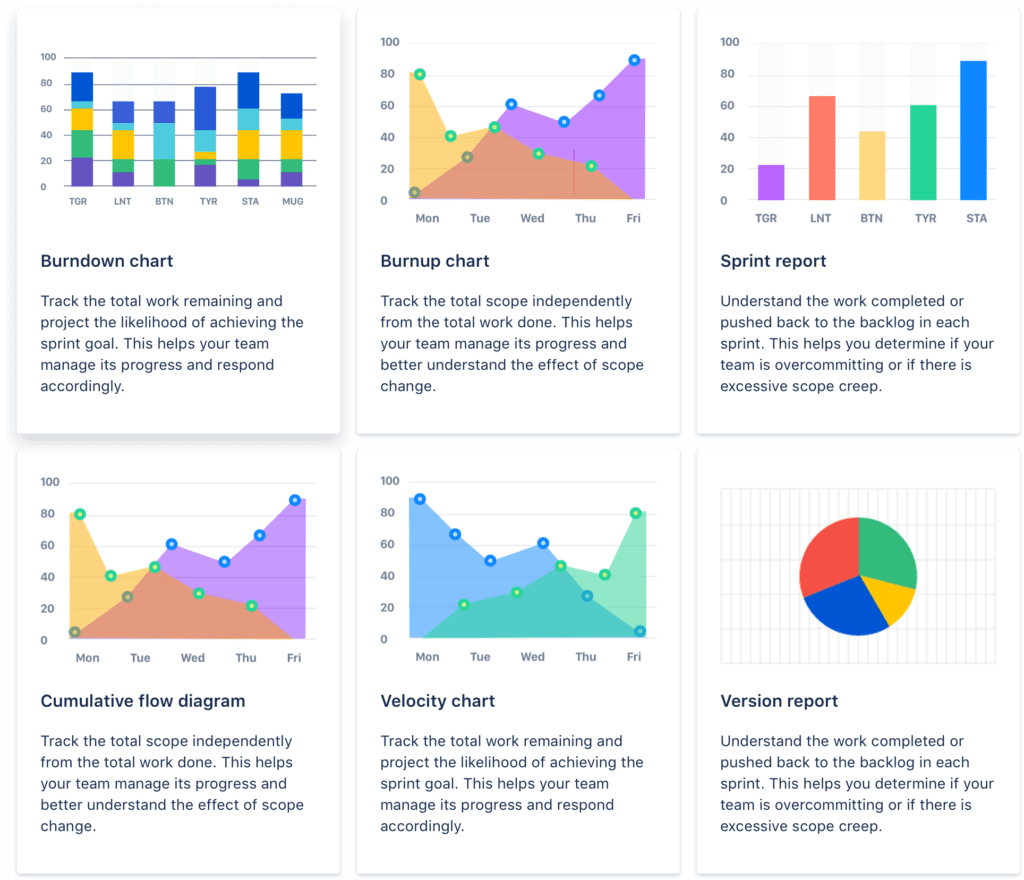 Here's the list of reports you get in Jira.
Scrum report
Burndown chart
Release burndown
Velocity chart
Cumulative flow diagram
Control chart
Average age report
Created vs. Resolved issues report
Pie chart report
Recently created issues report
Resolution time report
Single level group by report
Time since issues report
Time tracking report
User workload report
Version workload report
You can view these reports in their respective sections or as a part of an overview dashboard that gives you a summarized version of the data.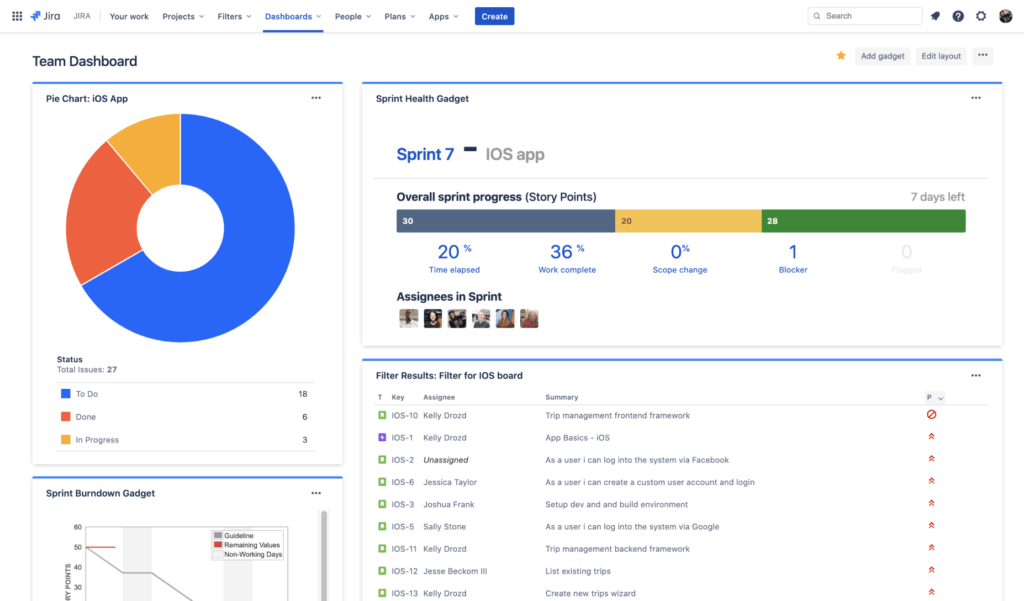 These data-driven insights work as your eyes and ears and allow you to make timely decisions necessary for the swift completion of your project.
Apps And Integrations
Since Jira is among the most popular project management products in the world, it has no shortage of third-party apps and integrations.
Overall you can integrate Jira with over 3000 different project management, productivity, and business applications.
Some of Jira's most popular integrations are Atlassian products like Confluence and Jira Align and other leading business apps like Slack, Gmail, GitHub, Dropbox, etc.
Automation
Jira's automation features help you save time and deliver work faster without engaging any additional team members. You can use the if-then-else condition-based automation sequences to automate your complete workflows in Jira.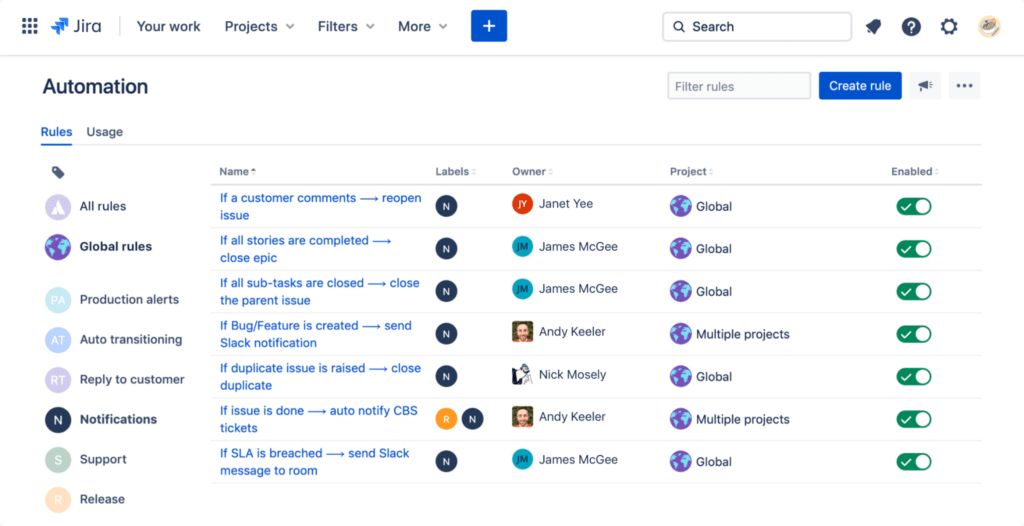 You also get dozens of different automation templates in Jira using which you can quickly set up automation for standard workflows or processes involving third-party apps.
Pros Of Using Jira
Jira is one of the best project management products in the world. Naturally, it has a lot of strengths and advantages.
Here are a few of them.
Diverse Project Management Features
Jira is primarily designed for agile software teams and offers scrum, Kanban, and Scrumban boards to help technical teams manage their projects efficiently. However, its custom workflows make it an ideal project management application for all kinds of businesses and project teams. You can tailor Jira's tools to fit your business needs since it offers various project management features that work for numerous industries.
Customization And Integration
Jira offers an insane level of customization and integrates with more than 3000 different applications. This means you can stay within Jira's ecosystem while using your favorite applications without needing to migrate your data or shift to a new tool.
Intuitive Design And User Experience
Jira's design hasn't always been its strongest point. But over the last few years, it has gradually improved its user experience and currently offers an intuitive interface that's better than many other PM tools.
Templates For Everything
Jira makes your job much easier as a project manager by giving you templates for different workflows, automation, and many other features. You can use templates for inspiration and customize them to fit your business needs easily.
Cons Of Using Jira
Despite being an excellent product, Jira still has some weaknesses.
Steep Learning Curve
Jira offers a plethora of project management features that cover all kinds of businesses. While this is a good problem to have, it does make it hard for new users to get used to the product. Generally, understanding Jira and using all its features to their full potential requires a lot of learning and experience.
Reports Not Reusable
Jira offers a wide range of reports that provide unique ways project managers can analyze different tasks. However, you can't download and reuse the reports as images or PDF files. This poses a problem when you want to take a report outside Jira for a presentation or feature it in an external document. Your best option is to take a screenshot of the relevant reports to reuse them.
Expensive
Despite offering so many different features, Jira is still an expensive product that's heavy on the pocket for most small-to-mid-sized businesses.
Our Recommendation
As you've seen in this detailed review, Jira is among the best project management tools in the world that offers all the necessary features for agile project management. It is ideal for software development companies, startups, and fast-paced tech companies focused on shipping flawless products at a rapid pace.
However, it's not ideal for every business.
If you're looking for classic project management features in industries like construction, engineering, etc. Jira might not be the best option. Similarly, Jira's price also makes it a difficult option for small and medium-sized businesses with growing teams.
But overall, Jira offers immense value for money and is an excellent choice for agile software development teams.