Jira is the world's leading project management and bug tracking tool for agile software development teams.
Thousands of marketing, finance, HR, and other non-technical professionals also use Jira to get things done more efficiently because of its diverse features.
But Jira isn't perfect for everyone.
It was initially designed for bug tracking and other highly technical software development tasks. So unless your team consists of only hardcore software developers, you might need to look for Jira alternatives for better alignment between different functions of your organization.
In this article, we'll discuss some of the best Jira alternatives to make your work efficient and effective.
Who should NOT Use Jira
There's a lot to like about Jira and how it has evolved over the years from a simple bug tracking tool to a leading project management solution for agile teams.
But it's not perfect and lacks several features that many project management teams need.
Here are some of the scenarios where using a Jira alternative makes more sense.
Your Team Needs To Frequently Collaborate
Jira offers some great agile management features. But it doesn't provide a clear solution if your teams need to frequently collaborate via messaging, chat, document sharing, or other forms of communication.
Your only option is to integrate Jira with Confluence or another third-party app to enable additional collaboration features.
You Don't Follow Agile Methodology
Jira is designed for agile teams that adopt an incremental and iterative approach to work and use Kanban and Scrum boards to manage projects.
But this approach doesn't suit many industries like construction, engineering, and even many software development companies that prefer following traditional project management practices.
For such companies, Jira is not the right fit.
You Only Require Basic Project Management Features
Jira has a ton of different features that allow you to manage various technical projects with ease. However, because of so many features, Jira has a steep learning curve.
You don't need to go through the painful process of understanding how Jira works if all you need is a simple Kanban board or semi-formal mechanism to track your project milestones efficiently.
In such scenarios, it's much better to use a more straightforward project tracking tool that only offers the features you'll actually use.
You Have Budget Limitations
Jira isn't very expensive for large organizations. But there are cheaper alternatives available, especially if you're on a tight budget and don't require every feature in Jira.
For smaller organizations, Jira and all its options and features may just be too expensive or unnecessary. In this case, looking at other options is a great idea.
These were just some of the reasons why you might decide to look for a Jira alternative. But there can be a dozen other reasons as well.
10 Alternatives to Jira
Even if you're currently using Jira, the critical thing to remember is always to have a backup plan for everything in your business (including your project management tool!).
Below we've listed some of the best alternatives you can find for Jira. They're not perfect products and might not solve all your problems—but then, nothing is perfect.
Each tool listed here has its strengths and weaknesses and can be excellent Jira alternatives in different situations.
Alternative 1: ClickUp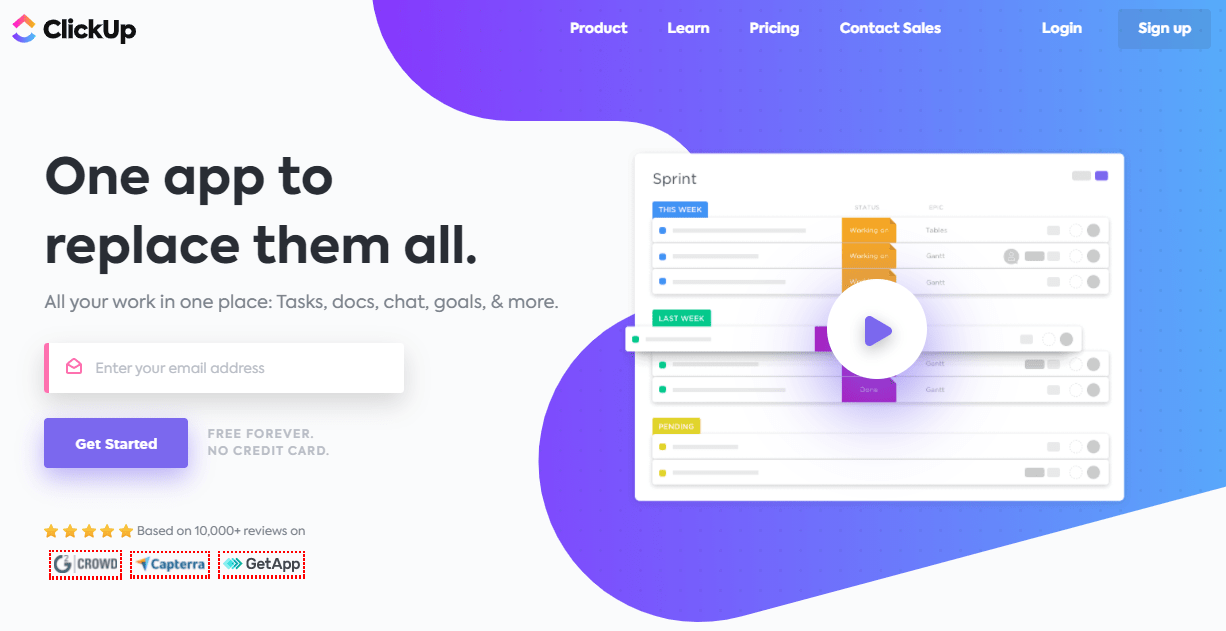 ClickUp is among the best Jira alternatives for startups, distributed software teams, and even enterprise clients.
It is a feature-rich product that offers a wide range of project management, process management, collaboration, and task tracking capabilities.
It offers agile project management features such as Kanban and Scrum boards, Gantt charts, sprint management, bug tracking, etc.
It also gives you a complete instant messaging solution similar to Slack, along with a document management tool that allows you to collaborate with other stakeholders.
Other features like reminders, workload management, time tracking, notes, and automation make ClickUp an ideal Jira alternative that organizations of all sizes can use.
It offers a pretty useful free plan along with three different premium plans for different user types.
Core Features
Kanban and Scrum boards
Gantt charts
Workload management
Instant messaging
Document management
Checklists
Dependency management
Wiki and knowledgebase
Automation templates
Mindmaps
Multiple project views
Time management tools
Comprehensive reporting features
Pricing
Free Plan
Unlimited Plan: $5 per user per month
Business Plan: $9 per user per month
Alternative 2: Asana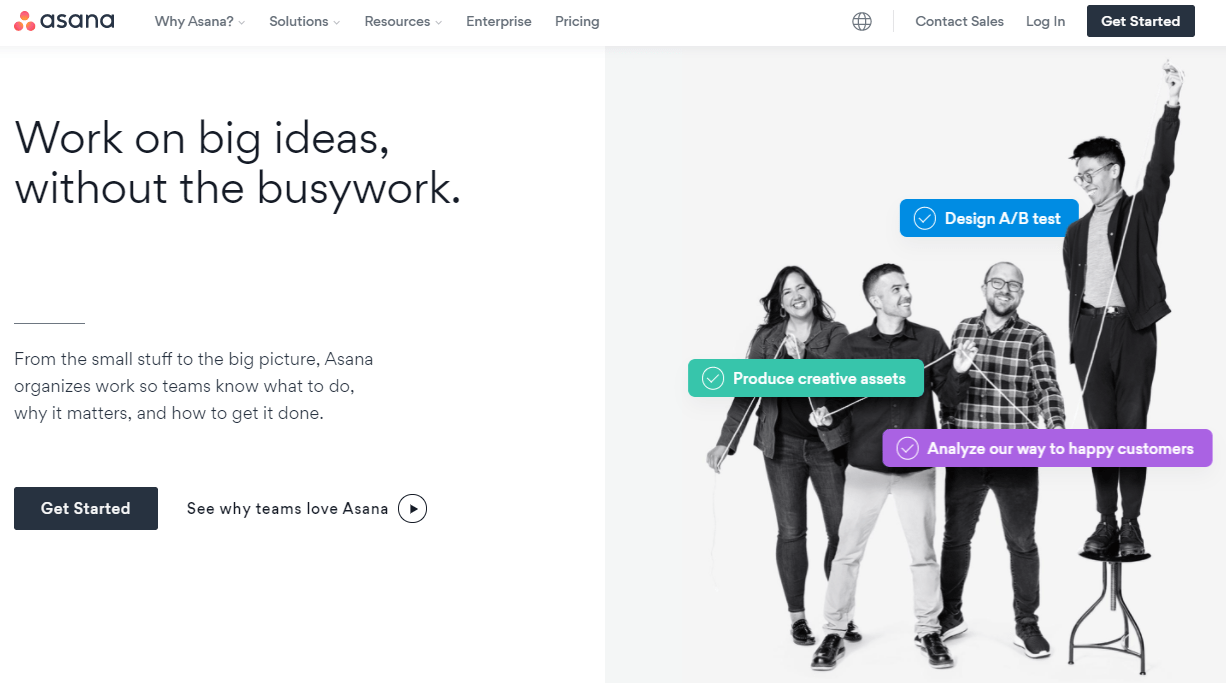 Asana is another hugely popular project management tool for agile teams and a great alternative to Jira.
It offers Kanban and Scrum boards, calendar view, resource management, and task tracking features.
Plus, it offers a robust messaging system to facilitate real-time collaboration between different project stakeholders.
Asana is not just a technical project management solution. Other organizational functions such as marketing, HR, finance, and supply chain can also benefit from its powerful project management features to get things done more efficiently.
Core Features
Multiple workspaces
Kanban and scrum boards
Calendar view
Activity feed
Workload and resource management
Roadmaps
Instant messaging for direct and team chats
Countless integrations
Workflow templates
Comments and attachments for tasks
Pricing
Basic Plan – Free
Premium Plan: $10.99 per user per month
Business Plan: $24.99 per user per month
Alternative 3: Trello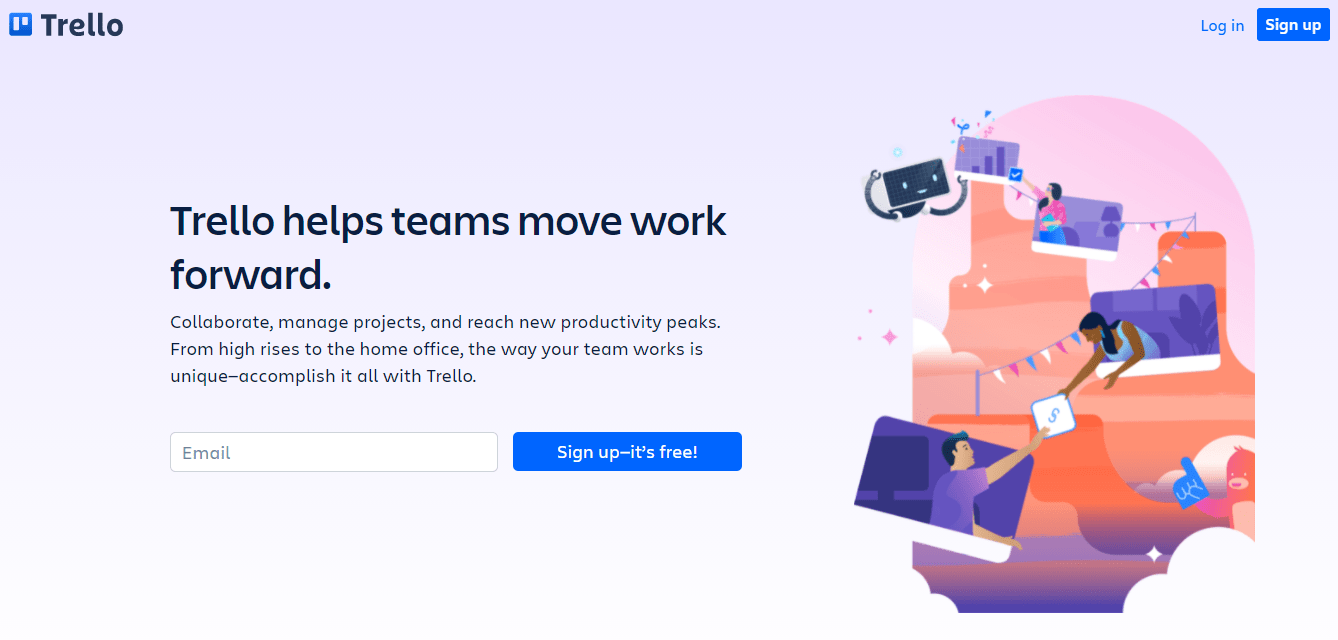 If you're looking for a more straightforward project management solution to streamline your processes and bring more transparency in communication, Trello is an excellent choice.
Trello is owned by Atlassian, the same company that owns Jira. It offers kanban and scrum boards for agile project management and allows you to set up different boards for backlogs, sprints, or your next iteration.
You can create different workflows in Trello boards, create unlimited cards, and use tags for workflow management. Additionally, you can set reminders and deadlines and assign tasks to various team members.
You can also use free Trello add-ons to enable burndown charts and Gantt charts to your account.
Overall, Trello is an ideal choice for small software teams and non-technical teams looking for a simpler way to manage projects.
Core Features
Kanban and Scrum boards
Dashboard view
Timeline view
Workspace Table view
Calendar view
Advanced checklists
Map view
1,000 automated command runs per Workspace + 200 per user, up to 6,000 per month
Workspace-level templates
Collections
Observers
Single board guests
Custom backgrounds & stickers
Saved searches
Pricing
Free Plan
Business Class: $10 per user per month
Enterprise: Contact for custom pricing
Alternative 4: Monday.com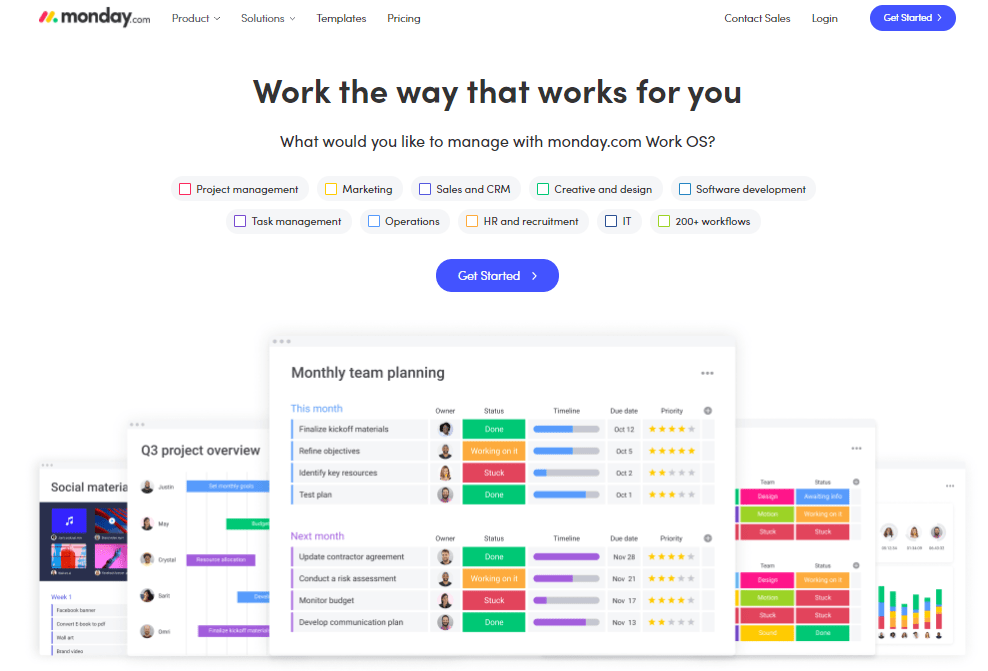 Monday.com is another hugely popular multipurpose project management tool that's excellent for startups and enterprises alike.
It comes with a host of agile management features that allow you to effectively track your activities with various project views such as Kanban, calendar, map, etc.
Monday.com has an intuitive interface that doesn't overwhelm users with unnecessary features. It comes with a detailed knowledge base and world-class customer support to help you get started easily.
It offers a free plan for individual users, but its most popular plan is an excellent choice for mid-level startups focused on fast shipping.
Core Features
Project activity log
Kanban view
Timeline view
Calendar view
Map and chart view
Workload management
Whiteboards
Document collaboration
Time tracking
In-depth analytics
Dependencies
Automation
Integrations
Pricing
Individual: Free
Basic: $8 per user per month
Standard: $10 per user per month
Pro: $16 per user per month
Alternative 5: Codegiant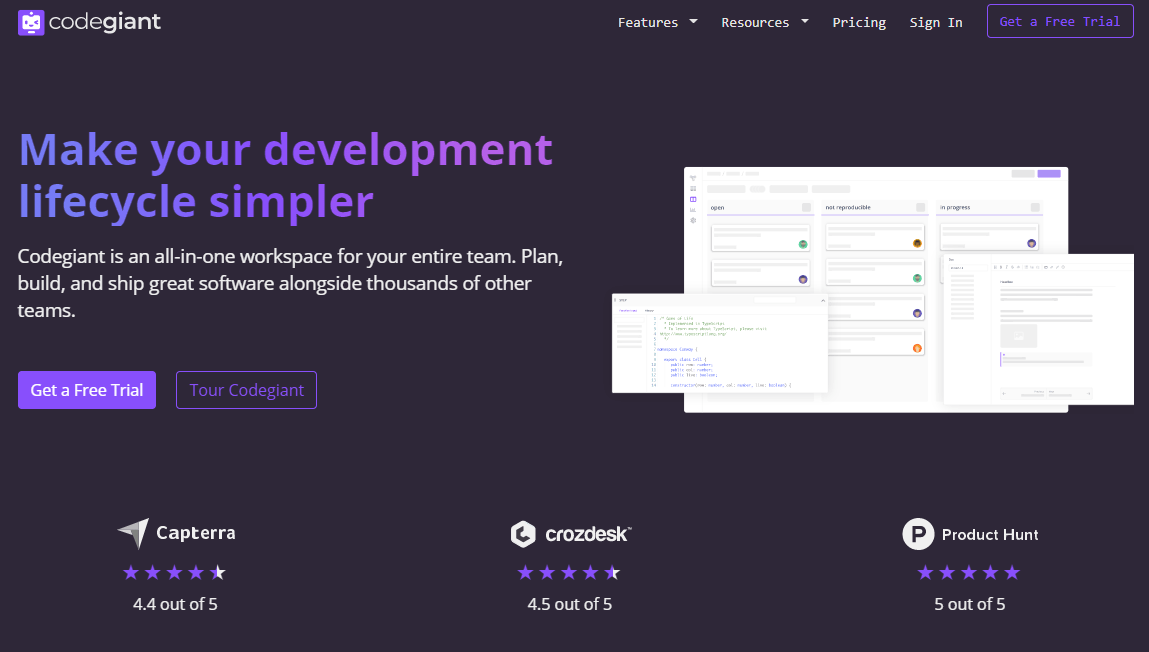 CodeGiant is an ideal Jira alternative for software teams looking for a simple yet powerful project management and issue tracking solution.
It comes with several powerful process management features for technical teams and gives you a complete issue tracking system for bug tracking. You also get both Kanban and Scrum boards for agile management.
Codegiant brings tons of work management features to the table, using which you can easily create tasks, distribute them among your team members, and keep track of your team's progress. This allows you to clearly see the next step you need to take to ensure that your team moves in the right direction.
Core Features
Intuitive interface
Kanban and Scrum boards
Roadmaps
Sprints
Epics
Tasks and subtasks.
Tags, mentions, and comments
Time estimates
Jira project importer
Pricing
Free
Team: $5 per user per month
Premium: $20 per user per month
Alternative 6: Clubhouse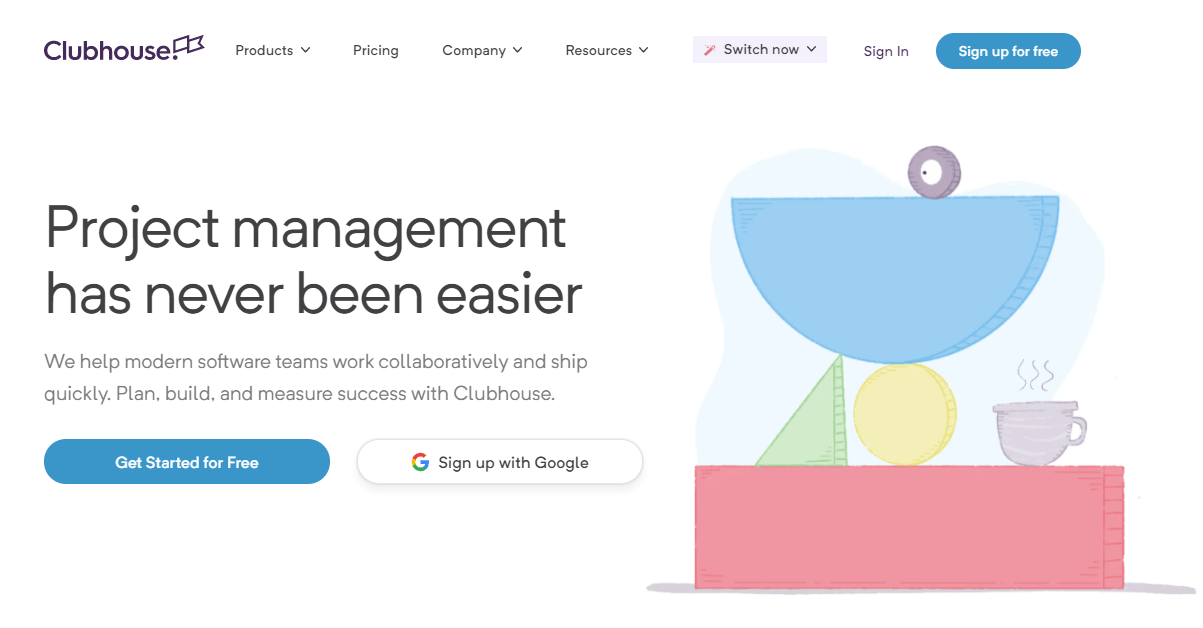 Clubhouse is another robust project management solution designed for agile software development teams.
It gives you an intuitive interface to easily zoom in and out of your projects and use different views for better decision-making.
It gives you features such as roadmaps, epic, and stories along with Kanban and scrum boards. You can also use custom workflows according to your business needs. You also get a document collaboration feature to share and edit project documents.
Clubhouse integrates with a wide range of third-party applications and also has iPhone and Android apps to help you manage projects on the go.
Core Features
Custom workflows
Kanban and Scrum boards
Stories
Roadmaps, epics
Velocity and burndown charts.
Cumulative flow diagrams
Pricing
Free
Standard: $8.50 per user per month
Enterprise: Contact Clubhouse for pricing
Alternative 7: PivotalTracker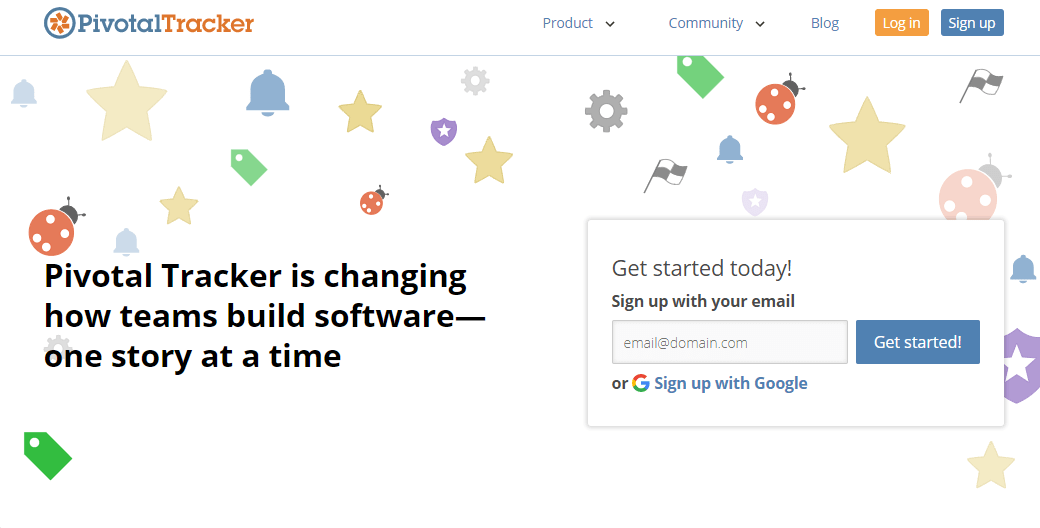 PivotalTracker is a valuable tool for project and task management and issue tracking for software teams.
It's not as rost as Jira and might not be an ideal solution for large teams looking for an all-in-one project management solution.
But for software teams focused on bringing more transparency to their workflow and shipping fast, PivotalTracker can be a great choice.
You can use it to create stories, choose story types, assign tasks, generate activity boards, and quickly move project cards with a drag & drop interface.
It also comes with comprehensive project analytics that allows you to analyze your work from various angles.
Core Features
Stories
Kanban boards
File sharing
Tags and labels
Analytics
Drag & drop interface
Notifications
Search
Pricing
Free
Startup: $10 per user per month
Standard: $6.50 per user per month
Alternative 8: ProofHub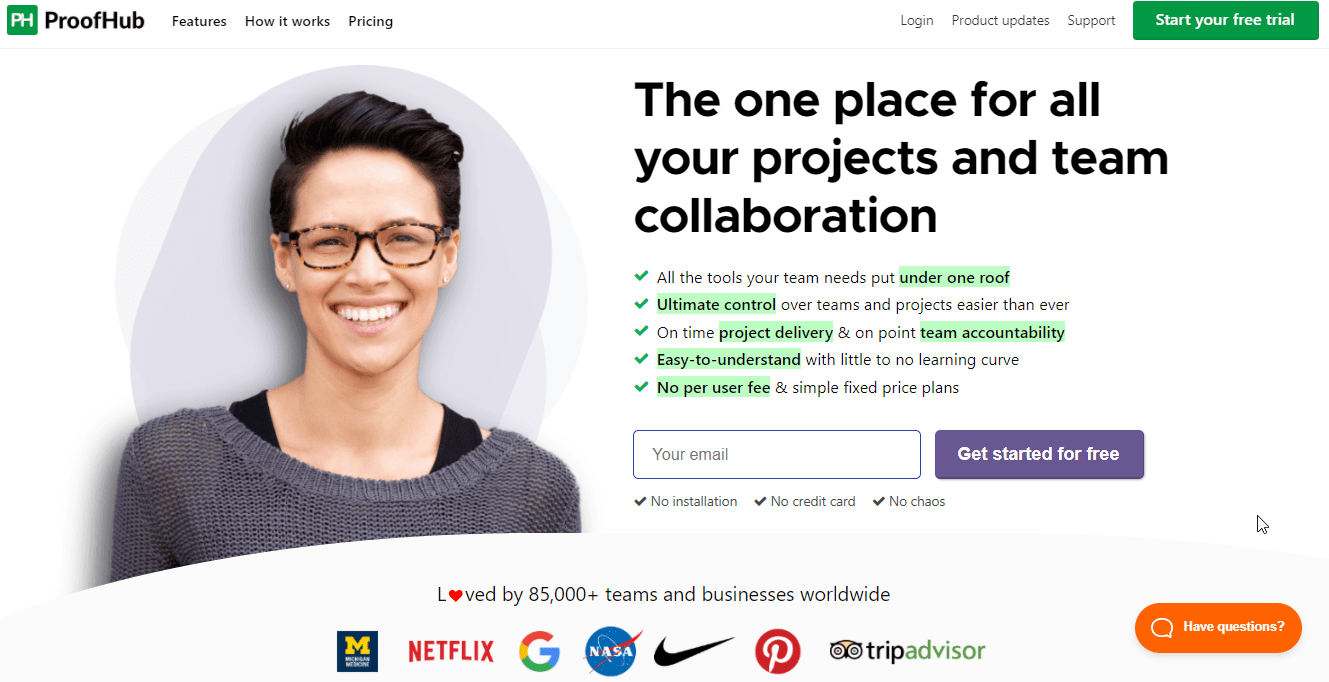 ProofHub is another leading agile project management tool, used by more than 85,000 businesses worldwide.
It's unique in its pricing model since it doesn't charge you for the number of users. Instead, you pay a flat fee per month for unlimited users and dozens of hugely impressive agile management features.
ProofHub replaces several project and task management tools for you by offering Gantt charts, Kanban and Scrum boards, roadmaps, group chats, document and file sharing, and numerous other features.
However, ProofHub doesn't offer a free plan, but you can sign-up for its free trial before starting a premium subscription.
Core Features
Custom roles
Gantt charts
Kanban and Scrum boards
Time tracking
Group chat
File sharing
Project templates
White labeling
Custom workflows
Project manager
Network control
Manage trashed items
API access for data transport
Project and resource reports
Advanced activity logs
Account transfer tool
Pricing
Unlimited: $89 per month for unlimited users
Essential: $45 per month for unlimited users
Alternative 9: Wrike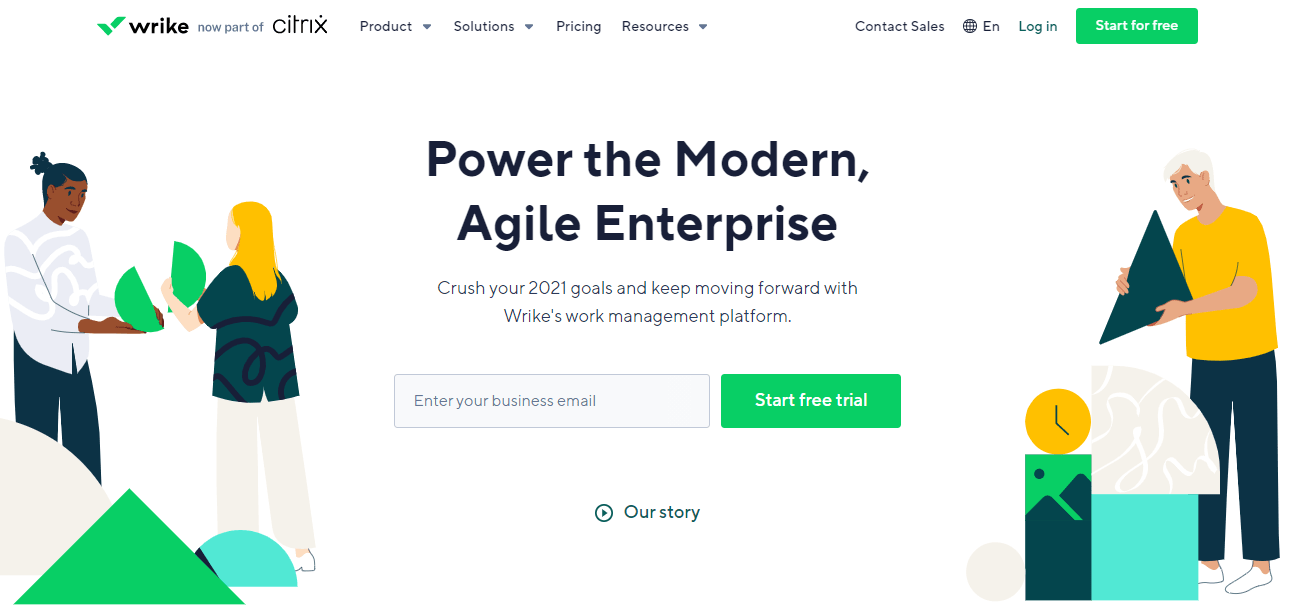 Wrike is a world-class work management, project planning, and team collaboration solution that allows remote and distributed software and marketing teams to get things done efficiently.
It offers the full range of agile project management features along with team collaboration tools to help bring transparency to your workflows.
Unlike Jira, Wrike is equally helpful for marketing, HR, finance, and other not engineering departments of your organization. It offers robust task management tools with time tracking and resource management capabilities.
Its intuitive interface and detailed support content also help non-technical users get started quickly.
If you find Jira overly complicated, don't like its interface, or get overwhelmed with all its features, Wrike is an excellent alternative you can try for free.
Core Features
Board view
Task & Subtask Management
File sharing
Real-time Activity Stream
Spreadsheet view
Gantt Chart
Advanced Integrations (MS Project, Excel, RSS)
Shareable dashboards
Collaborators
Custom fields & workflows
Shared real-time reports with scheduled notifications
Report templates
Graphical analytics
Calendars
Request forms
Project and Task Approvals
Time tracking
User groups & permissions
Pricing
Free
Professional: $9.80 per user per month
Business: $24.80 per user per month
Alternative 10: Axosoft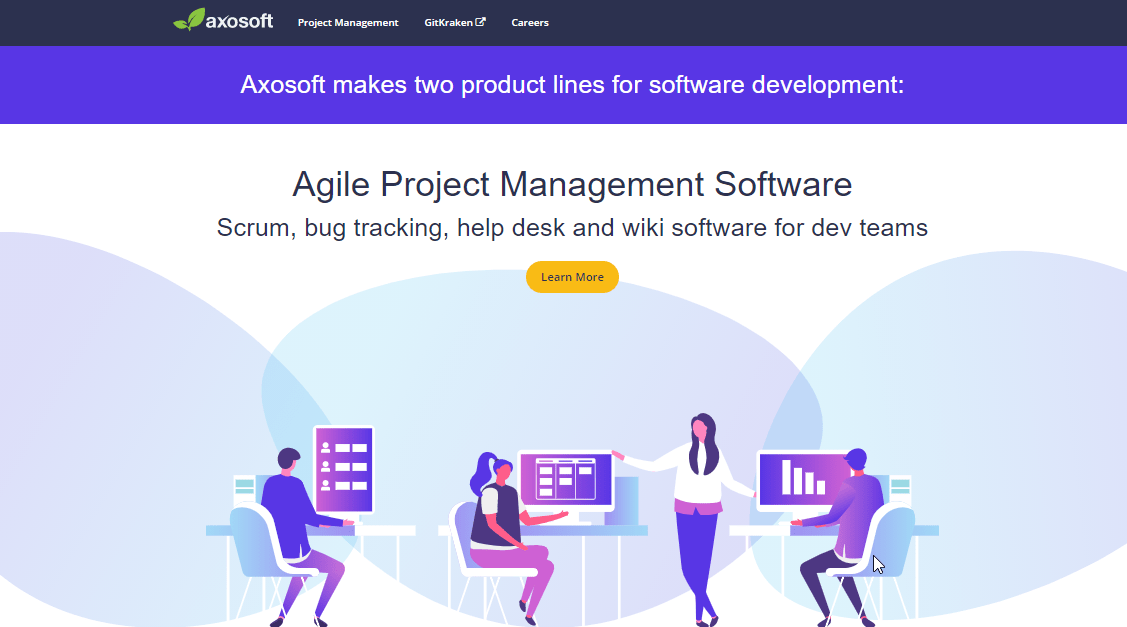 Axosoft seems like a simple tracking tool but gives you many different project management features to get things done and ship software products faster.
It offers Scrum and Kanban boards, bug and issue tracking, custom workflows, and various other project management features.
It also comes with an impressive helpdesk and wiki platform you can use to provide timely support and create a product knowledge base.
Core Features
Track unlimited work items
Epics, User stories
Bug and Task tracking
Group, filter, and summarize by type
Track status and workflow per item
Auto-trigger actions on workflow step
Kanban board view
Unlimited workflow templates
Unlimited custom fields and workflows
Hierarchical project tracking
Unlimited projects and subprojects
Use different templates per project
Stack rank items
Release planner
Capacity management
Daily standup tool
Burndown charts
Velocity calculator
Pricing
Axosoft pricing is not offered in tiers. Instead, pricing is based on the number of users and whether you plan to have Asoxsoft host it or install it yourself. Both options include their documentation, Help Desk, and premium support.
Pricing starts at $105 per month for up to five users billed annually for their hosting, and the rate increases with additional users.