The 8 Best ITSM Certifications and How to Decide
IT service management (ITSM) is the process of managing the delivery of IT services to end-users and clients. ITSM treats the designing, creation, and delivery of IT as a service. The proper implementation of ITSM principles allows your business to derive the greatest level of value from IT services.
The philosophy of ITSM is far more than simply providing your end-users with computing hardware. An IT service manager will handle all aspects of technology usage in the company, including the management of computing hardware, servers, traditional software, and apps.
To implement ITSM in a manner that leads to efficiency gains for your company, you will want people who have training and knowledge related to ITSM principles. You can achieve this through ITSM certifications. Use our list of the best ITSM certification programs to learn more about how these certifications work.
ITIL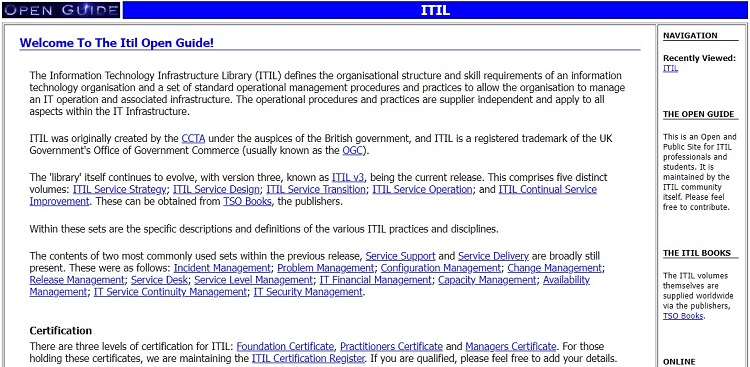 The Information Technology Infrastructure Library (ITIL) is the best known and most widely recognized ITSM certification option throughout the world. 
ITIL delivers the best practices framework for the incorporation of ITSM within your organization. It offers a wide range of certification options related to ITSM, all under the ITIL umbrella. The current version of this certification is ITIL 4. It replaces version 3 of ITIL, which ceased training and examinations in late 2021.
The various certification options within ITIL include the following.
ITIL 4 Foundation
Those seeking to become ITSM professionals will need to start with the ITIL Foundation certification. This is an entry-level certification that provides a baseline of knowledge regarding ITSM. Some of the topics that are part of the ITIL Foundation include:
Operation of ITSM in modern organizational structures

How ITSM principles improve speed and efficiency

How ITSM principles provide value to the organization

How ITSM implementation benefits the organization

An introduction to terminology and concepts associated with ITSM
By attaining ITIL Foundation certification, IT service managers will receive a wide-ranging introduction to the world of ITSM. This certification introduces ITSM concepts in a way that helps those in the early stages of the process. It also is useful for those who are currently working in an ITSM capacity, but who want to gain more knowledge and learn more about modern ITSM concepts.
ITIL 4 Managing Professional
The ITIL Managing Professional (MP) certification provides information to help the IT service manager learn to manage products and services within the IT umbrella. This includes IT-enabled services and workflows. ITSM professionals will receive help with strategies for managing interactions among the business and its customers and partners as well. 
MP certification consists of completing four modules, which are:
ITIL 4 Specialist: Create, Deliver, and Support:

ITSM professionals who must handle end-to-end delivery of IT services and products can benefit from this module. They will learn about how to improve IT service techniques and methods. 

ITIL 4 Specialist: Drive Stakeholder Value:

You will learn methods of managing relationships and interactions involving IT among customers, suppliers, and partners through this module. 

ITIL 4 Specialist: High-Velocity IT:

Use this module to learn more about the rapid delivery of IT services, including making use of business methodologies like agile in conjunction with technologies like cloud storage and automation.

ITIL 4 Strategist: Direct, Plan, and Improve:

You will learn the practical skills required to improve the overall direction and performance of the IT organization. This module touches on creating useful strategic decisions to drive continual improvements. (This module is also part of the ITIL 4 Strategic Leader certification.)
ITSM professionals will need to receive certification from the ITIL Foundation examination before they can seek ITIL MP certification.
ITIL 4 Strategic Leader
For ITSM professionals looking for a certification that deals with all aspects of the digital services in use in the organization, rather than in IT only, the ITIL Strategic Leader (SL) certification is available. This certification consists of two modules aimed at helping professionals learn more about how IT decisions affect your overall business strategy. The two modules in the ITIL SL certification are:
ITIL Strategist: Direct, Plan, and Improve:

This module is the same module found in the ITIL MP certification that we described earlier. 

ITIL Leader: Digital and IT Strategy:

This module gives ITSM professionals information about attempting to align the overall business strategy and the strategy of the IT department. Through this module, you will learn strategies and techniques for dealing with fast-changing and disruptive technologies both in IT and in overall digital services.  
You will need to have ITIL Foundation certification as a prerequisite for seeking the ITIL SL certification. These modules are best for professionals who have some experience working in the IT industry, as they deal with management topics.
ITIL 4 Master
Should you complete certification for both ITIL SL and ITIL MP, you are eligible to seek ITIL Master certification. However, simply completing these other certifications is not enough to achieve the Master certification. 
To achieve the ITIL Master certification, you will need to demonstrate an ability to make use of the principles and methods you learned during the previous certification processes in a real-world setting in an IT department. Only those who have several years of experience working as an IT service manager will have the skills and knowledge required for successful achievement of this certification.
Some of the specific areas in which you will need to show proficiency and knowledge in the ITIL strategies and in deploying them with ITSM include:
Show examples of applying the ITIL principles within the IT department

Provide justification of why you used a particular strategy

Use ITIL techniques to solve academic problems
Even though all these ITIL certifications relate to each other, you do not have to hold all four ITIL certifications to become an ITSM professional.
Those ITSM professionals who achieve both ITIL SL and ITIL MP certifications do not have to seek ITIL Master certification, although they can. Additionally, ITSM professionals do not have to seek both ITIL SL and ITIL MP certifications. They could receive only one of these certifications if desired. Some people may achieve ITIL Foundation certification and stop there as well.
Pros
ITIL is the recognized leader in the area of certifications related to ITSM

Multiple levels of certification available, so you can find exactly what you need. 

Because of the importance of ITIL, many different providers offer ITIL certification courses and exams, so you can find the perfect dates for the coursework

ITIL's techniques and strategies focus on real-world situations, providing practical knowledge
Cons
It can be expensive to move through all of the different modules and levels
Cost
Prices vary significantly, depending on the type of certification you need

Self-paced online classes can last up to 12 months and can cost up to $1,000 per certification

In-person classes can last two to five days and can cost up to $4,000 per certification

Some classes include the cost of the exam at the end of the class

Certification exams purchased separately from the certification classes can cost $200 to $500
CompTIA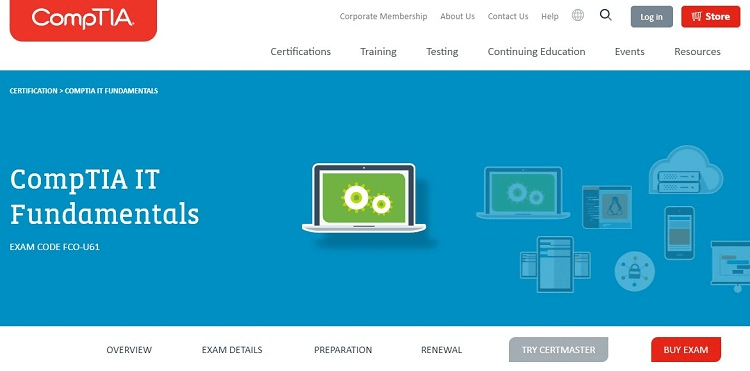 Those who have an interest in starting a career in IT, with an eye toward becoming an ITSM professional down the road, can make use of CompTIA certifications. These certifications work best for those who need the basics and want to continue building their skills.
CompTIA offers four different types of certifications related to ITSM and aimed at IT professionals. 
CompTIA IT Fundamentals
The IT Fundamentals (ITF+) certification process gives those just starting out in the IT profession or those who are considering a career in IT some of the basic knowledge they need. The CompTIA ITF+ certification also touches on information that will show these newcomers things they will need to know about what they can expect as they continue to advance in the profession, including moving toward becoming an IT service manager.
Because the ITF+ certification and classes focus on the basics, this certification also is useful for people in your organization or business who do not have the technical know-how to work directly in IT. 
Non-IT professionals can use some of the information gained during this certification process to learn more about how IT benefits the business. This knowledge can help them make budgetary and staffing decisions about IT, because they have a greater understanding of the importance of IT.
CompTIA offers online lessons and more than 40 hours of content to help you prepare for the ITF+ certification exam.
CompTIA A+
The CompTIA A+ certification focuses on giving IT professionals critical thinking skills that help them solve problems on the fly. This is a popular certification that some businesses want IT professionals to hold before they will hire them.
The A+ certification contains information that goes a step farther than the introductory certification in ITF+. The A+ coursework offers specific information in key areas that the IT professional must understand well, including:
Hardware devices management

Software troubleshooting

Operating system management

Networking

Mobile device management

Cloud computing management

Security measures
Through the A+ certification, you will learn how to handle current technologies in use, while also understanding how to make the migration to new technologies. Developing critical thinking skills through this certification will help the IT professional make decisions that are beneficial to the company financially. You will find the balance between saving money and maintaining strong performance from the IT department for the company.
CompTIA Network+
Those who are seeking an IT career involving network management will benefit the most from the Network+ certification. This coursework provides information on managing your company's network successfully, including best practices for troubleshooting.
This certification discusses the importance of creating network policies that help you manage the network effectively. You also will learn the importance of making decisions on the type of devices and cabling that will work best with the network.
As part of the certification exam, you will need to be able to show proficiency in developing a methodology for maximizing network performance and for troubleshooting. Learning more about network management is a key component that you may use later when attempting to seek a job as an ITSM professional.
CompTIA Security+
The CompTIA Security+ certification gives IT professionals real-world examples of security issues, helping them develop problem-solving skills. Being able to make quick decisions about security problems is a key skill for IT professionals interested in ITSM in the future.
As part of the Security+ certification process, you will need to show the ability to assess the security solutions in place at a business. You then will make recommendations on changes that will yield better and more secure results.
You will need to show the ability to manage security for a wide range of network components, including the ability to mesh cloud, mobile, and on-premises devices safely. Through the Security+ certification, IT professionals will learn how the design and implementation of the network affect security.
Finally, the coursework for the Security+ certification provides information on the best practices for maintaining compliance with key regulations, such as HIPAA and GDPR.
Pros
Those seeking to start a career in IT can use these certifications as a starting point

Price for coursework and exams for CompTIA certifications often is lower than for ITIL certifications

Numerous self-directed courses and coursework are available, so you can work at your own pace
Cons
Does not have the advanced skill-building found with the ITIL certifications

Live online courses are available, but they significantly drive up the price
Cost
ITF+:

Between $179 and $609 for coursework or classes and up to $130 for exam alone
A+:

Between $329 and $4,774 for coursework or classes and up to $239 for exam alone
Network+:

Between $479 and $2,934 for coursework or classes and up to $348 for exam alone
Security+:

Between $529 and $2,874 for coursework or classes and up to $381 for exam alone
Some coursework options also include a voucher for taking the exam and live online classes, while others are for self-directed e-learning only
How to Pick Your Best ITSM Certifications
Step 1 – Understanding Your Level of Expertise
The first step in determining what kind of certification you want to attempt to attain is being honest about where you stand in your journey as an IT professional.
If you are just starting out in the IT profession, or if you are considering a career in IT, the IFT+ or A+ certifications from CompTIA will be the best choices. These are introductory certifications, giving you the basics and helping you decide whether IT will be a good career choice to match your skills and interests.
For those who have a focus on becoming an ITSM professional and who already have experience working in the IT profession, the ITIL Foundation certification is probably going to fit your needs well as a starting point.
Step 2 – Having the Right Prerequisites
Next, you need to make sure you fit the prerequisites for the certification before you start the coursework.
Some of the ITSM certifications require that you have a certain level of experience working in IT or that you already hold other certifications. If you have no certifications and no experience as an IT professional, you can start your journey to becoming an IT service manager with the CompTIA IFT+ certification.
If you are already working in IT or if you want to learn more about how ITSM can work inside your business, ITIL Foundation is a great place to start your certification journey. Additionally, you will need ITIL Foundation certification before you can seek ITIL Managing Professional or ITIL Strategic Leader certifications.
Before you can seek ITIL Master certification, you need a number of prerequisites, including several years of working in IT, ITIL Managing Professional certification, and ITIL Strategic Leader certification.
Step 3 – Finding Courses That Fit Your Needs
Perhaps you have some specific IT skills that you need to advance in your job. Obtaining various IT and ITSM certifications can give you the ability to show that you have the skills you need for consideration for a promotion and a higher salary.
Some job postings require that the candidates carry or be working toward CompTIA A+, Network+, or Security+ certifications. Having certain certifications already in hand can give you the edge against other job candidates.
If your company wants to begin implementing ITSM and ITIL strategies, you may want to suggest obtaining ITIL Foundation certification for both IT professionals and members of management as a starting point. 
You also may be able to convince the company to pay for the costs of the certification classes and the exams to ensure its ITSM professionals have the desired levels of skills.
Additionally, if you hold ITIL 3 certifications, you may want to consider renewing your certifications with ITIL 4. Exams for ITIL 3 no longer occur, as this version of the program is now discontinued. Again, your company may be willing to pay for you to update your ITSM certification status to reflect ITIL 4 requirements.