6 IT Manager Resume Examples
The technology scene has grown exponentially in recent years, and there is more demand than ever for capable IT managers. Virtually all organizations require someone to manage their operational network. Nevertheless, there's stiff competition for IT managerial positions. The position comes with many perks, including high pay, a flexible work environment, and a high potential for advancement.
IT managers require many years of experience and deep technical knowledge of software, hardware, operating systems, and programming languages. Therefore, your resume is the best chance to communicate your competence and convince the hiring manager that you are the right person for the role.
Writing your IT manager resume from scratch can be daunting. So we put together resume examples to help you craft the best resume. 
A good resume includes the following sections in their exact order. We also provide specific examples for each section. 
IT Manager Resume – Format Example
Getting the resume format right helps grab the hiring manager's attention, make it easier to scan your resume, and ensure that the most important information stands out. The critical elements in a resume format include the font, layout, and overall appearance of the resume.
The layout is arguably the most critical factor here. You have standard options like a chronological, skills-based, or hybrid resume. However, the best choice for IT managers is a reverse-chronological layout. This structure starts with your most recent or current role, working back to older positions until you've listed all your relevant work experience.
A reverse-chronological resume offers multiple advantages. First, it's the most common template, so recruitment managers are familiar with the layout. It'll be easier for the recruiter to find critical information at a glance. Additionally, this layout emphasizes your employment history and experience, the most relevant information for hiring managers.
Lastly, this resume template is optimized for Applicant Tracking System (ATS). An ATS is a software tool designed to automatically filter resumes before getting to a human decision-maker, such as a hiring manager.
The sections in a reverse-chronological resume from top to bottom include:
Contact information

Resume summary

Employment history

Education background

Information Technology skills and qualifications

Certifications

Additional sections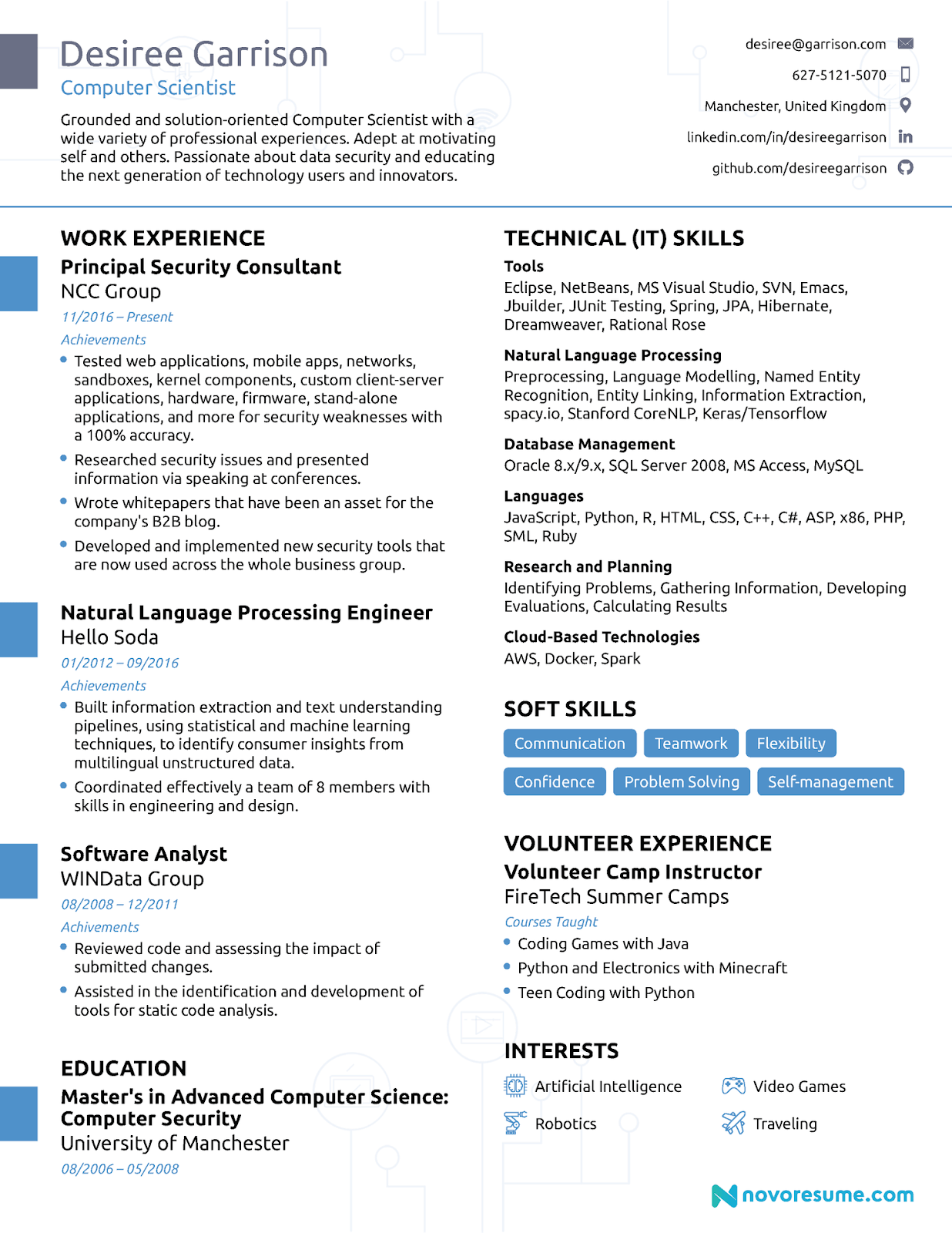 The next consideration is your font. Some of the most common resume fonts include:
Areal

Calibri

Times New Roman

Georgia

Didot

Cambria

Helvetica

Muna

Garamond

Avenir Next
These are easy to read and especially useful if there's a lot of work experience or extensive educational background. You have many choices here, but it's best to stick with the classics such as Arial, Times New Roman, Calibri, Cambria, and Helvetica.
Regardless, be sure to use consistent font throughout your resume. Mixing fonts isn't professional and can make your resume harder to scan. Finally, a font size of 12 is optimal, but nothing less than 10.5—smaller than that is hard to read.
Fortunately, there are plenty of free templates to choose from. A simple search engine query for "reverse-chronological template" will give you numerous templates. You'll only need to select your font and enter the information in the appropriate place.
Other formatting details to remember include:
Set your line spacing to 1 or 1.15 and resume margins to 1 on each side.

Provide sufficient space between the different sections so your resume doesn't look like a single text block.

Include a resume header with your name, job title, and contact information.
The downside of using a reverse-chronological resume for an IT manager position is worth mentioning. The layout reveals everything about your career progression, including stagnations and employment gaps. You may want to consider a skill-based which emphasizes your skills over your experience.
However, most current or aspiring IT managers have a solid career background worth showing off.
IT Manager Resume –  Summary Example

With a resume template picked out, it's time to fill in the blanks. Of course, your resume summary comes first. But, consider writing this part last. You'll have plenty of inspiration for your summary once you've completed the resume.
The typical resume summary is 3-4 lines. The idea is, to sum up your professional IT experience and management skills. This section also serves as an introduction to your professional background. A good summary will capture the hiring manager's interest and encourage them to read the rest of your resume.
Here is an excellent example of a good IT manager's resume summary section:
Experienced and personable IT manager with over nine years of experience managing and coordinating all IT-related matters, including data, computer hardware and software, mobile technology, wireless communications, and security. Retired legacy hardware and operating systems which reduced risk exposure by $250,000 and lowered recurring licensing costs by $65,000 per year. Able to manage IT staff by engaging, training, communicating job expectations, and evaluating performance.
There are several reasons why this summary works. First, it gives a condensed history of your career. It quantifies your achievements in a way that's easy to understand. Finally, it summarizes your IT-related job skills.
Here's another example of a good resume summary for an IT manager position:
Self-motivated IT manager with experience in the Financial Services, Banking, Logistics, and Health Care fields. Adept at designing, developing, implementing, and coordinating systems, policies, and procedures. Cross-functional experience includes leading, managing, and participating in project management, quality assurance, and business analysis teams to develop the annual technology planning process.
Again, the example above demonstrates your career experience, relevant skills, and achievements in a nutshell. Consider writing this section last. It's hard to write your resume summary if you don't know what you're summarizing in the first place.
IT Manager Resume – Work History Example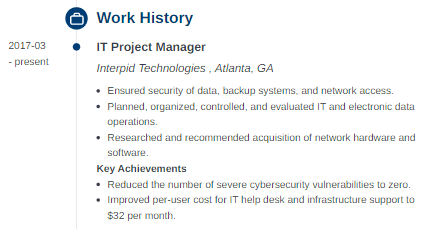 Next on the resume is your IT management experience. Again, there's intense competition for the role, so you'll need to make sure that your experience stands out. You can do this by highlighting the most relevant duties from your current or previous job.
Remember that we're using the reverse-chronological resume template. So your most recent role comes first, followed by the previous one, and so on.
Below is an excellent example of a solid IT manager's resume work history or experience.
IT Project Manager
March 2017-Present
Intrepid Technologies, Atlanta, GA
Key Qualifications & Responsibilities
Ensured security of data, backup systems, and network access.

Planned, organized, controlled, and evaluated IT and electronic data operations.

Researched and recommended acquisition of network hardware and software.
Key Achievements
Reduced the number of severe cybersecurity vulnerabilities to zero.

Improved per-user cost for IT help desk and infrastructure support to $32 per month.
The example includes everything that a hiring manager wants to see. It demonstrates your most relevant duties and key accomplishments with figures to confirm your competence.
You can also include transferable duties in this section. You've likely undertaken non-IT-related assignments that may still apply to the position. For example, you can list your experience organizing meetings, managing documentation, or leading cross-departmental teams.
Here's an example of using your transferable skills and experience in your resume.
Assistant IT Manager
March 2017-Present
Intrepid Technologies, Atlanta, GA
Key Qualifications and Responsibilities
Assisted rollout of employee training resulting in a 35% decrease in HR complaints.

Scheduled and coordinated meetings with vendors and subcontractors to issue plans, specifications, and contracts.

Oversaw a team of 30 employees.
Key Achievement
Implemented a new meeting room efficiency system to reduce the number of booked but unused meeting rooms by 50%.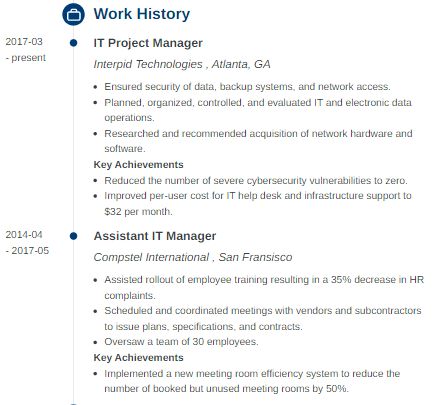 Again, you've included the responsibilities relevant to an IT manager's role. This example also quantifies your achievements that prove your competence.
It's also good to tailor your resume to the job description. For example, highlight your specific project management experience if the job description requires coordinating and supervising IT teams.
IT Manager Resume –  Education Background Example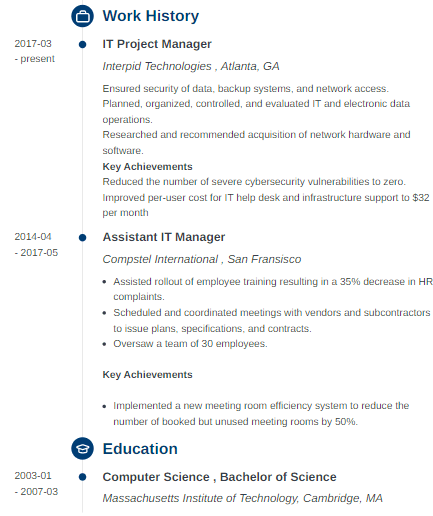 It's time to add your educational experience. Again, we'll be following the same reverse-chronological order. So start with your most recent degree, such as a bachelor's or master's. There's no need to include your high school background.
Use the following format to list your degree in your IT management resume:
BS in Computer Science
Massachusetts Institute of Technology. Cambridge, MA
Relevant Coursework: Advanced Web Development, Software Design and Development, Computer Security, Algorithms and Data Structures, Data Science, Mobile Development.
Be sure to include the courses relevant to the IT manager role. You can also have extras like your GPA if it's above 3.5 and academic honors such as making the dean's list, though this is not necessary.
Your education experience section, in this case, will look like this:
BS in Computer Science
Massachusetts Institute of Technology. Cambridge, MA
Graduated in 2008 with a 4.0 GPA
Relevant Coursework: Advanced Web Development, Software Design and Development, Computer Security, Algorithms and Data Structures, Data Science, Mobile Development.
If you graduated within the last three years, you could leave out your GPA. Naturally, your professional experience will count for more than your GPA. Finally, you may include your high school background if you don't have a bachelor's degree or higher.
IT Manager Resume – Skills and Qualifications Example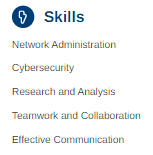 This section of your resume highlights your IT management-related skills and qualifications. It's worth tailoring your skills to the job requirements. It will improve the chances of the AMS picking up your resume for shortlisting.
Keep in mind that there are soft and hard skills. Soft skills refer to personal qualities you develop throughout your life and career. Hard skills refer to specific job-related skills such as cybersecurity and application development.
Examples of soft skills include:
IT strategy

Project management

Research & analysis

Effective communication

Time management

Attention to detail

Organizational skills

Teamwork and collaboration
Similarly, some examples of hard skills include:
Application development

Cybersecurity

Data architect

Web development

Network administration

Business intelligence

Datacenter management

Applications architect

Mobile application development
Write down as many skills as you can on a piece of paper. Then, go back to the job description and check which skills apply to the specific role. Below is an example of a job description for an IT Manager role:
IT Manager Duties and Responsibilities
Coordinate and oversee distributed IT teams

Manage information technology and computer systems

Run regular network and data security checks

Develop new network troubleshooting strategies to decrease maintenance costs and reduce downtime

Monitor network utilization and performance and improve network availability, reliability, and optimization

Troubleshoot and solve hardware, software, and network-related issues

Handle annual IT department budget and reduce operational costs

Develop strategies for staying up to date with new network technology and communicate this information to the executive team each quarter

Identify and act on opportunities to improve and upgrade software and systems

Collaborate with other department Managers to evaluate network growth and maintenance requirements

Develop and execute training programs and workshops for employees
Following the above example, you'll want to include IT and management skills that closely match the outlined duties and responsibilities. So you can narrow down your list of skills to include:
Network administration

Cybersecurity

Research and analysis

Teamwork and collaboration

Effective communication

Project management

IT strategy

Business intelligence

Agile development
This strategy is ATS-friendly. The software targets keywords that closely match the job description. Finally, keep in mind that an IT managerial role focuses more on soft skills and leadership.
IT Manager Resume –  Extra Sections Example
You can end your resume here. But you still may not stand out from the competition. Adding a few extra sections to the resume helps improve your chances of landing the job.
Ideally, this is a more personal section. It's an opportunity to show off your personality and individuality. The previous resume sections are standard, making it difficult for a recruitment manager to figure out who you are.
The extra sections to consider adding to your resume include:
Certifications

Most IT managers have at least a bachelor's degree. So extra IT certifications are a great way to stand out. You can also include courses that you are currently enrolled in. Examples of excellent certifications include:
Project Management Professional (PMP)

Cisco Certified Architect (CCAr)

Microsoft Certified Technology Specialist (MCTS)

CompTIA Network+

CompTIA Security+

VMware Certified Professional (VCP)
Again, use the reverse-chronological order when listing your certifications. Start with the most recent and finish with the oldest certification. IT and management-related certifications are excellent props for showing your knowledge, competence, passion, and dedication.
Programming Languages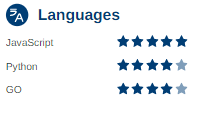 Languages can also help make you a more attractive candidate for an IT manager position. Programming languages you learned outside of a paid job are helpful in this section. For example, include languages you learned during coding boot camps, personal projects, or workshops.
Consider including this section if your programming languages knowledge doesn't fit into other resume sections like education, skills, or work experience.
Just make sure that you are proficient in the programming language. You may be required to prove your competence during the interview.
Volunteer Work

Most modern companies have community programs. It's worth checking the company profile and finding out about the philanthropic or community-based programs it is involved in. Then, you can closely match your volunteer experience with the company's programs.
Volunteering works in your favor in specific industries. For example, non-profits, healthcare, and academia favor community engagement. Adding your volunteer experience also complements your soft skills.
However, consider leaving this section out if you haven't volunteered in many years. You can also omit this section if you think it's irrelevant to the role or company. For example, a fundraising cycling group may not be as relevant as a volunteer position as a software engineer for Meals on Wheels.
Hobbies, Interests, and Activities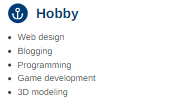 Some hobbies and interests can show off your leadership skills. Keep your bullet list short, with at least 3-5 items. Examples of good hobbies and interests to add to your resume include:
Web design

Blogging

Programming

Game development

3D modeling