The 7 Best IT Manager Certifications and How to Decide
As an IT manager, you're not only required to manage your organization's IT infrastructure, security needs, data storage, hardware, and software, but also people, projects, and processes.
IT manager certifications provide a way for you to prove your competence in a given area of IT management. Your certification gives employers the confidence to hire or promote you and trust you to execute projects in line with your qualifications.
According to CompTIA, IT professionals who obtained a new certification saw a bump in their salary by nearly $13,000 in the last 12 months. This is evidence that investing in more learning through IT manager certifications pays off.
Accordingly, we have listed seven IT certifications below that we feel can boost your IT management career. By the end of this article, we hope to help you decide which one is right for you. 
Want to learn more? Let's dive in.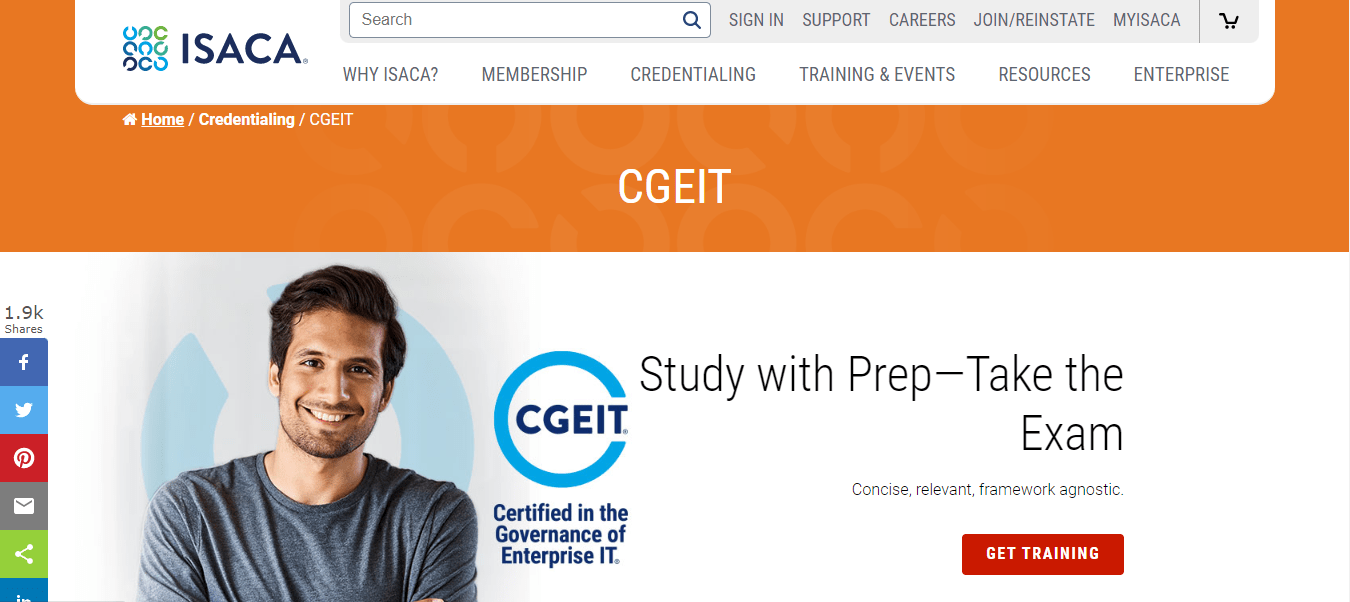 CGEIT is a concise, relevant, and framework agnostic certification. The credential is the only one of its kind for individuals in the IT corporate governance space.
According to ISACA, the association that issues the CGEIT credential, the average annual pay of CGEIT holders is $141,000, making them some of the highest-paid IT professionals in the industry.
The ISACA certification verifies your ability to deal with modern security threats. It demonstrates a deep understanding of IT governance requirements. This certification is for experienced professionals who have worked in a relevant IT governance role for at least five years.
The certification expires every three years and requires at least 20 CPE hours annually and 12 CPE hours over a period of three years for certification maintenance.
CGEIT Pros
Framework agnostic.

The only IT governance certification for individuals.

$141,000 average salary of CGEIT holders.
CGEIT Cons
At least five years of experience is required to be eligible for this certification.

Limited appeal outside of banking and finance
CGEIT Pricing
Exam fee for ISACA members: $575

Exam fee for non-members: $760

Annual maintenance fee for ISACA members: $45

Annual maintenance fee for non-members: $85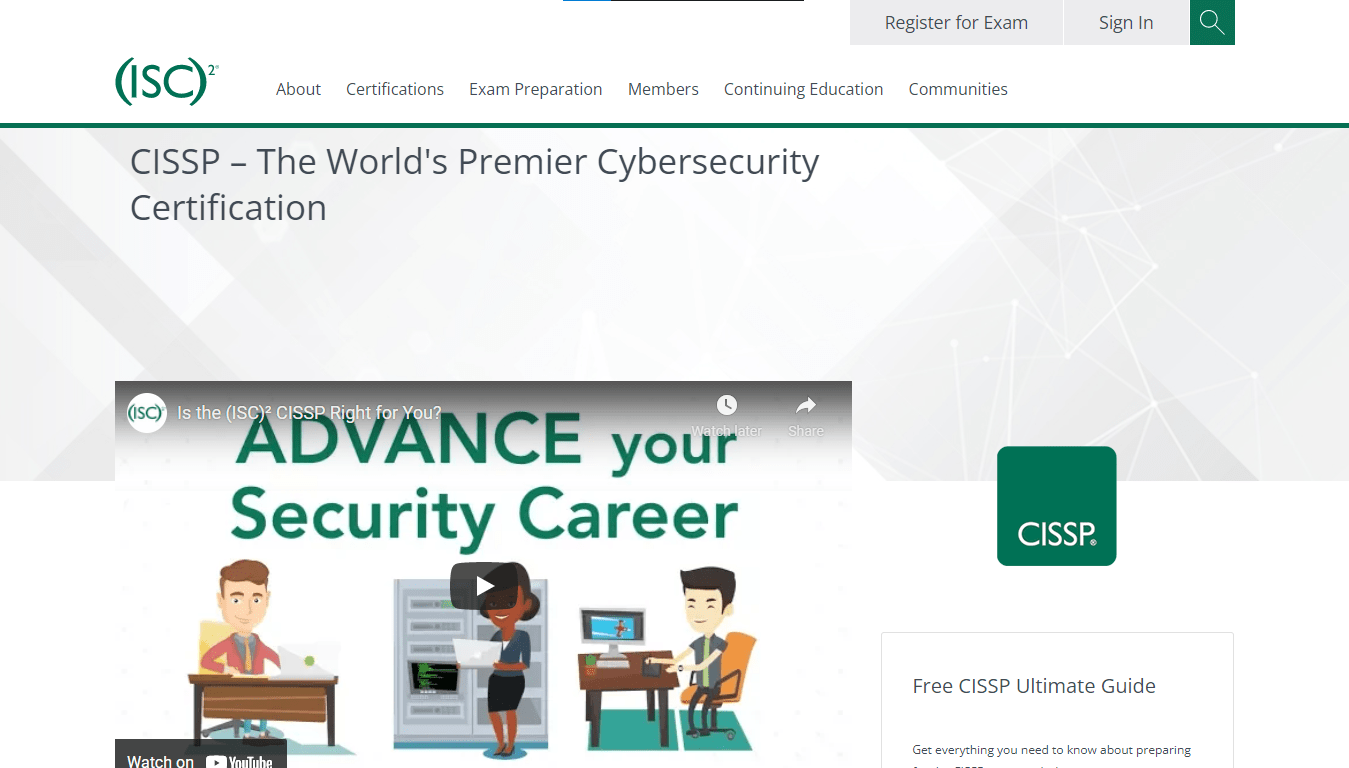 Cybersecurity isn't just a major issue at the enterprise level, it's one of the top priorities at the senior management and leadership level. CISSP is a cybersecurity certification from ISC that can demonstrate your expertise and knowledge of IT security and information assurance.
The credential enhances your knowledge and skills around the topics of organizational structure, budgeting, risk management, monitoring and assigning of deliverables, remote communication management, and large-scale project management.
The certification requires renewal every three years.
CISSP Pros
Recognized and endorsed by leading organizations around the world.

Access to an influential peer network.
CISSP Cons
May not be the best certification for every cybersecurity professional, depending on their career path and goals.

The exam is difficult to clear.

Pass rates are estimated to be below 50%.
CISSP Pricing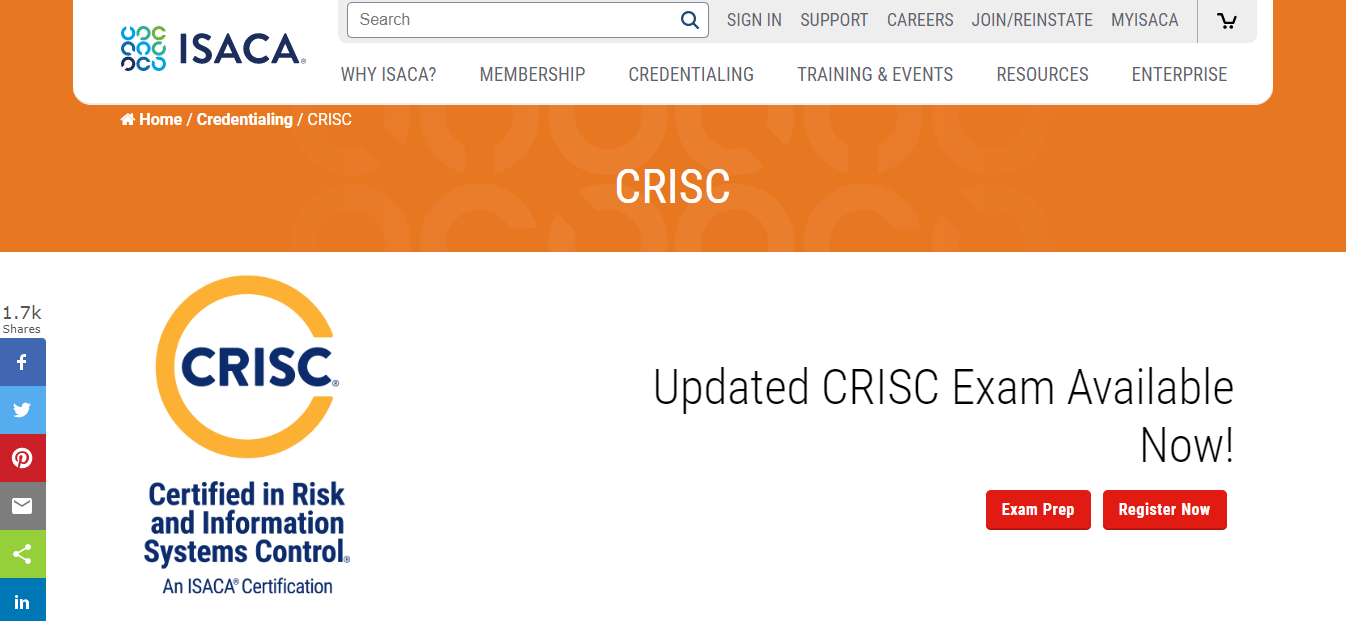 Risk Management is an important skill to have for IT managers. That's why the Certified in Risk and Information Systems Control or CRISC certification is a potentially valuable credential to have on your resume.
The certification demonstrates your capability to analyze, understand, and control enterprise IT risk using the latest best practices to identify, analyze, evaluate, assess, prioritize, and respond to risks.
Offered by ISACA, the certification covers topics such as IT governance, risk assessment, risk response and reporting, and IT security. Once you clear the exam, the certification does not expire.
CRISC pros
The only credential focused on enterprise IT risk management.

The credential does not expire.

Based on the latest work practices and knowledge.
CRISC cons
Clearing the exam on the first attempt is tough.

Some participants report a lack of real-life, practical knowledge. 
CRISC pricing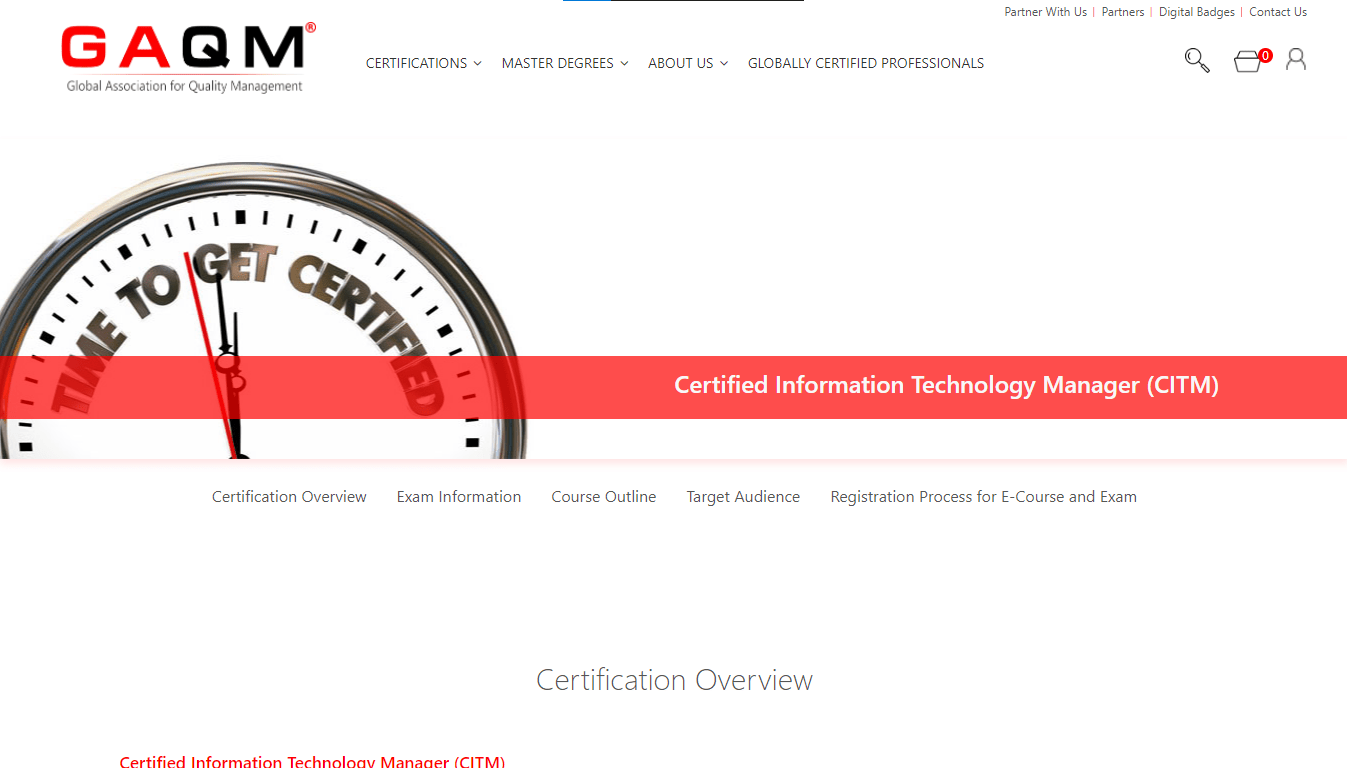 Offered by the Global Association for Quality Management or GAQM, the Certified Information Technology Manager (CITM) credential is well-suited for IT professionals who are interested in gaining a deep understanding of IT management issues in the modern workplace.
The topics covered in the certification are business frameworks, IT frameworks, software, database management, information systems, corporate IT strategy, corporate governance, risk, finance, and management of technology personnel.
To help you prepare for the exam, GAQM offers a comprehensive online course that usually takes 30 to 35 hours on average to complete.
Once you clear the exam, the credential does not expire.
CITM pros
No pre-requisites to attempting the exam.

A comprehensive e-Course provides focused exam preparation material.
CITM cons
Participants need to pay extra for the e-Course.
CITM costs
e-Course and Exam: $300

Exam only: $170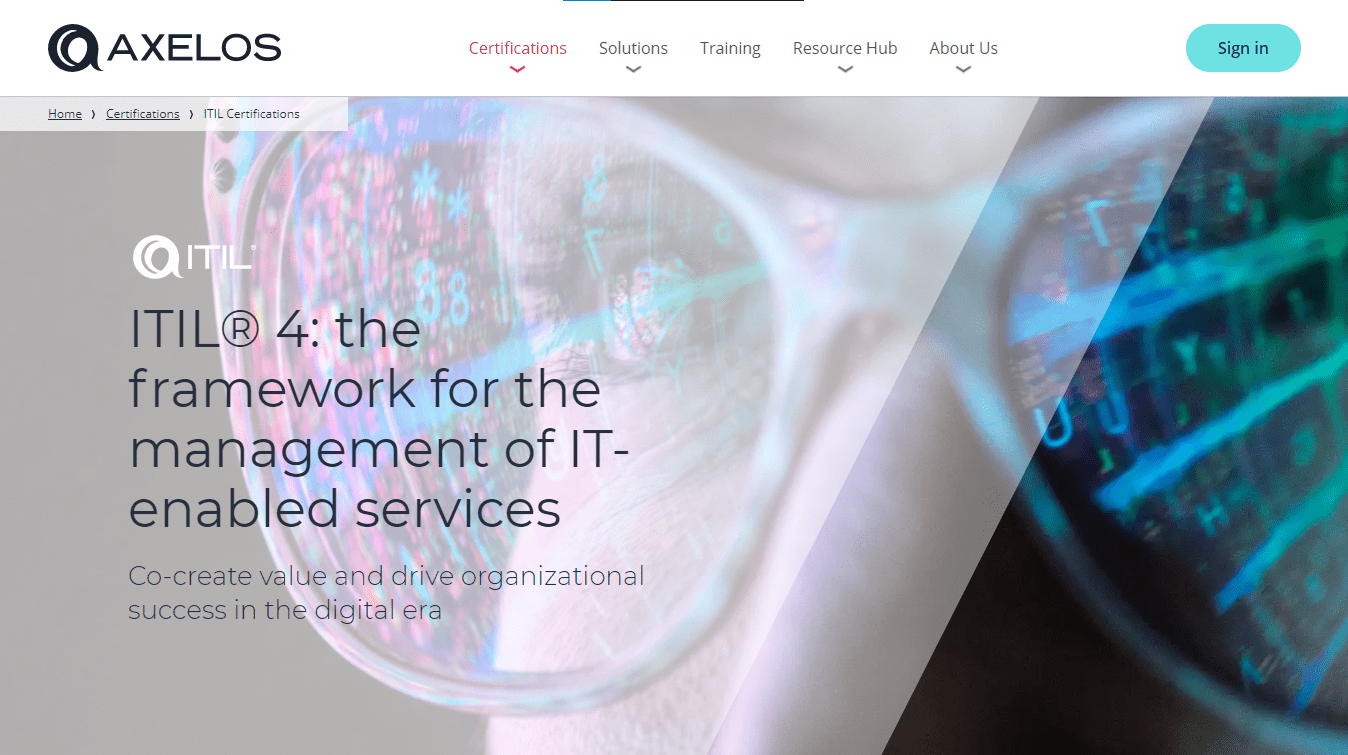 If your organization subscribes to the ITIL methodology, this certification from Axelos will help you demonstrate your ITIL 4 expertise. This certification uses a modular, tiered approach to allow professionals to either develop an in-depth view of service management or to focus on specific areas of knowledge.
The course material focuses heavily on the implementation of effective management strategies, leading to improved team efficiency and organizational processes. There are three different ITIL 4 certification streams:
ITIL 4 Managing Professional

ITIL 4 Strategic Leader

ITIL 4 Extension Modules
You can be certified up to the Extension Modules level, which demonstrates a deep understanding of ITIL 4 best practices. 
To obtain this credential, you'd have to find a third-party vendor that offers an accredited program. Costs may vary depending on the training provider you choose.
ITIL Pros
The credential does not expire.

Enhances your ability to build better relationships with customers.
ITIL Cons
Way too many trademarked terms and buzzwords.

Too heavy on theory at times, neglecting practical knowledge.
ITIL Pricing
Exam fees and other costs vary depending on your chosen vendor.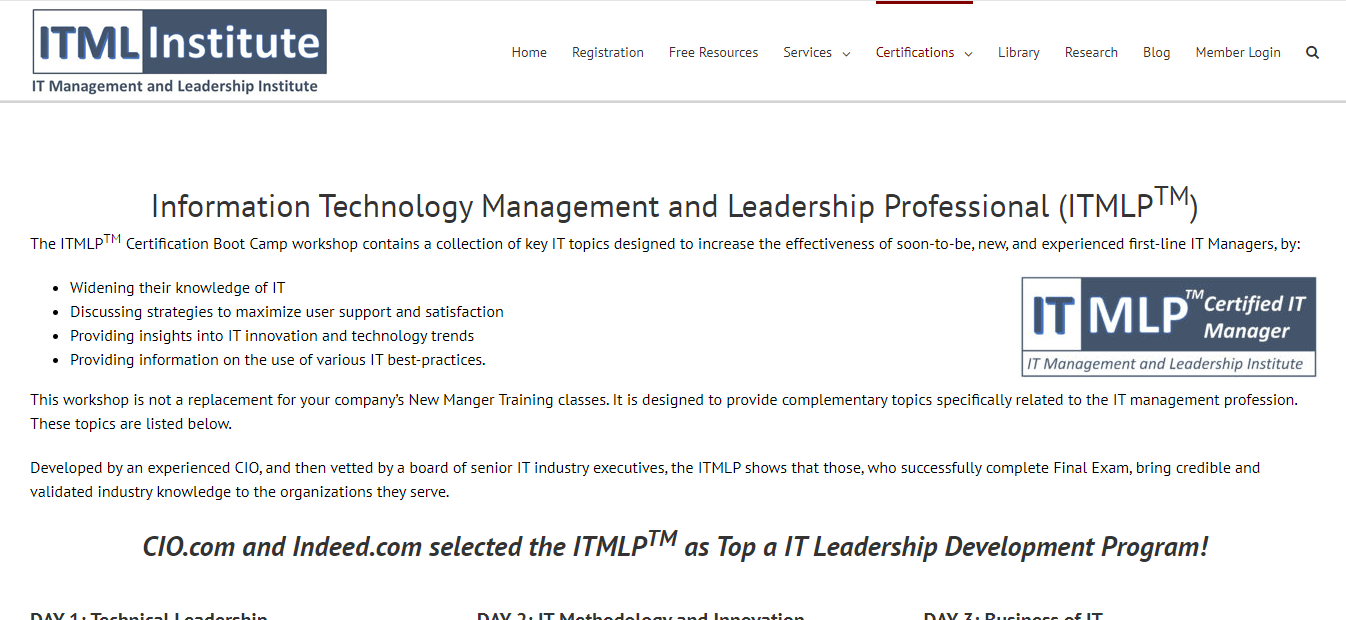 The Information Technology Management and Leadership Professional (ITMLP) certification from the IT Management and Leadership Institute demonstrates your competence, skills, and abilities as a modern IT manager.
To obtain the certification, the participants attend a three-day boot camp where various relevant topics are covered, such as:
Technical leadership

Hybrid and virtual IT teams

Creation of innovative IT solutions

IT funding and cost management 

Vendor management

Client services
During this period, the participants also learn about the latest IT innovations and trends such as digital transformation, virtual and augmented reality, big data, etc.
The credential is not only well-suited for top management, such as C-level executives and IT leaders but is also great for current and future IT managers, project managers, and business analysts. 
Once you clear the exam, the credential does not expire.
ITMLP Pros
Developed by an experienced CIO and vetted by IT industry executives.

Access to an influential peer network.

The credential doesn't expire.
ITMLP Cons
The certification is among the more expensive ones we've come across.
ITMLP Pricing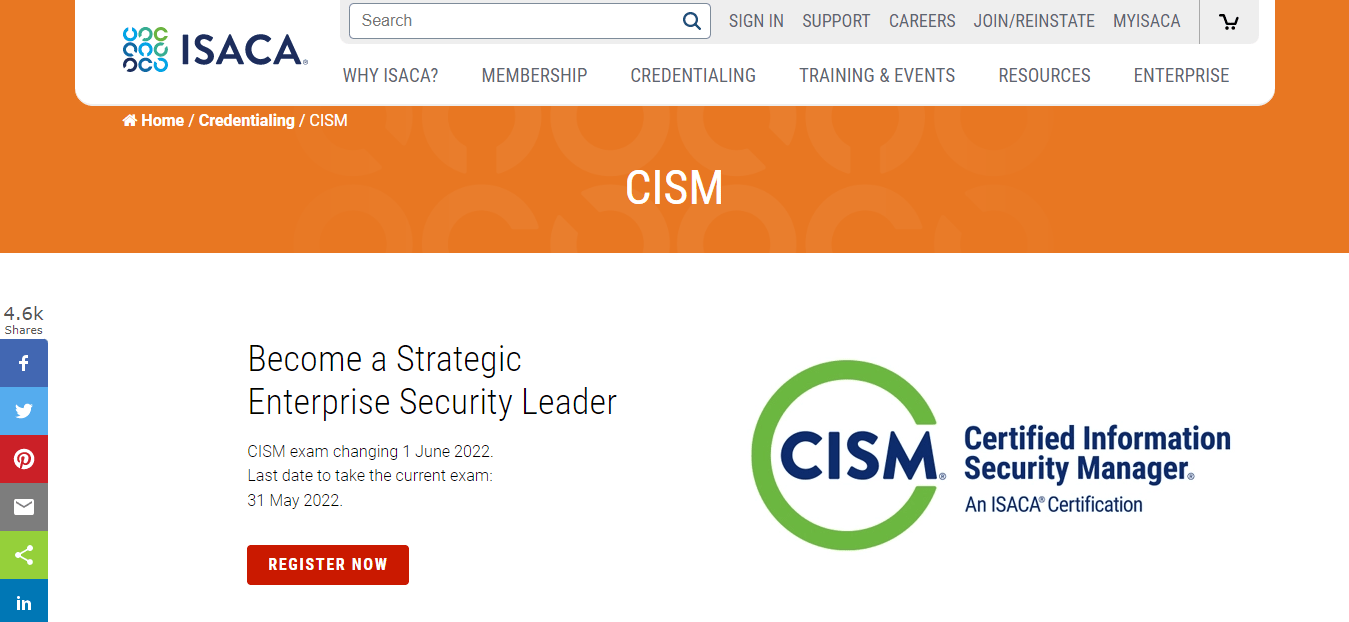 The Certified Information Security Manager (CISM) certification from the ISACA demonstrates your expertise in the areas of:
Information security governance.

Program development and management.

Incident and risk management.
The CISM certification is usually a pre-requisite in the hiring processes of government agencies and organizations that prioritize cybersecurity. As a seasoned IT professional, the CISM credential can help you prove your competence and knowledge in the IT security space to your existing and potential employers.
Once you clear the exam, the certification is due for renewal every three years.
CISM Pros
Join a network of over 48,000 IT professionals.

The average salary of CISM holders is $145,000.

CISM holders report an average salary increase of 42% in managerial roles.
CISM Cons
The first-time pass rate for this certification is estimated to be between 50-60%.

Designed for professionals whose focus is no longer technical or specialist skills.
CISM Pricing
Exam fee for ISACA members: $575 

Exam fee for non-members: $760
How to Pick Your IT Manager Certifications
Choosing your IT manager certifications carefully is one of the most important steps you can take to grow as an IT professional. Not only do IT certifications cost money, but they also usually require a significant commitment in terms of time and effort.
Even though the criteria for what defines the "right" certification would keep changing depending on technological innovations, and economic factors, the following steps should help you narrow down your certification options and choose the best. 
Step 1: Decide What You Want to Accomplish
Choosing the IT manager certification that's best for you depends on what stage of your career you're at and what you ultimately want to accomplish.
You could be a fresh grad looking to kickstart your IT career, an executive looking for a salary boost, an experienced professional trying to solidify your place in the industry and improve your job security, or someone who's looking for a change in career path.
Each of these situations would require a different approach. For example, if you're looking for a salary increase, a quick search on the highest-paying certifications would give you a head start. Similarly, if you want to improve your job security, look for certifications that make you an expert on new technologies.
Making sure you're clear on your reasons for acquiring a certification would help you channel your time, money, and effort in the right direction. 
Step 2: Think About Your Interests
In addition to monetary and demand considerations, it's important to make sure you're interested in the subject matter being offered as part of the certification.
The ideal situation here would be to find yourself at the intersection of certifications that help you achieve your goals and credentials that interest you.
You can start by shortlisting courses you believe would match your criteria. Then, a glance at the table of contents can give you a better understanding of whether the course material matches your interests.
Taking as many certifications as you can in your area of interest is a great way to not only grow in your industry but also to keep yourself motivated as you continue to learn new skills in your area of expertise.
Step 3: Do Your Research
As an IT professional, you wouldn't implement new software in your organization without research. You would value the time, money, and other resources that would be required for such a project. The responsibility of choosing the right IT manager certifications demands similar considerations.
In addition to the wasted time, money, and effort, there's also the opportunity cost of pursuing the wrong credentials where you could have spent your resources better elsewhere.
Here's a checklist to keep in mind when doing your research on a particular certification:
Do you meet the eligibility criteria?

Can you make the kind of weekly time commitment this certification requires?

Is the certification recognized by your industry?

How well does the certification serve your career goals?

What are the requirements for re-certification?
Due to a large number of certifications on offer as well as the numerous variations among similar credentials, the value of research cannot be overstated.
Step 4: Think Long-Term
The IT industry is evolving at a breakneck pace. Advancements in AI, cybersecurity, blockchain, and other new technologies mean IT professionals need to think about whether their target certification would be relevant five years from now.
Therefore, make sure to read industry blogs and speak to colleagues and friends for a second opinion on the longevity of your target certification.