The 5 Best IT Asset Management (ITAM) Certifications and How to Decide
IT asset management (ITAM) is a process by which organizations are able to create plans and best practices for managing their assets related to information technology.
An IT asset may involve hardware, software, and information that the organization uses on the network. This could involve computers, software licenses, mobile devices, and other items. With such a large number of these types of assets in use within an organization, it is challenging for the IT department to manage them. The IT asset manager takes on this leadership role.
To work in the area of ITAM, managers and other professionals may need certain ITAM certifications to qualify for the job. We will discuss some of the best ITAM certification options available to help you find the perfect option to fit the needs of your organization and of your job description.
IAITAM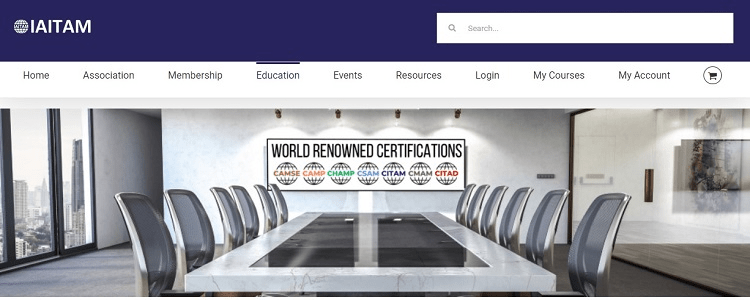 Through IAITAM (the International Association of Information Technology Asset Managers), you can select among any of seven different certification courses that provide the qualifications for a wide range of occupations related to IT asset management, including IT asset manager. The courses include:
CAMP:

The Certified Asset Management Professional (CAMP) course is a strong overview of the IT asset management process, while also providing information on IT service management (ITSM).

CSAM:

The Certified Software Asset Manager (CSAM) course gives students the ability to learn how to manage software assets within the network environment using best practices. Students also will learn how to handle challenges associated with software piracy and with software compliance necessities.

CHAMP:

The Certified Hardware Asset Management Professional (CHAMP) course provides advice and best practices to help professionals find ways to fit within the budget when making IT hardware purchases, while also lengthening the lifespan of current hardware.

CMAM:

The Certified Mobile Asset Manager (CMAM) course ensures IT professionals have the information they need to successfully manage the use of mobile devices—both BYOD and corporate-owned mobile devices—within the corporate network environment.

CITAD:

The Certified IT Asset Disposition (CITAD) course gives students the information they need to help the organization work through the disposal process of IT assets when they reach the end of their useful lifespan. Practices like resale, repurposing, and recycling can help to generate financial gain for the organization

CAMSE:

The Certified Asset Management Security Expert (CAMSE) course helps students learn how to incorporate security strategies that fit both IT and ITAM, enhancing the organization's overall security strategies for things like intrusions and attacks. 

CITAM:

The Certified IT Asset Manager (CITAM) course is a multiple-day course, giving students an overview of ITAM and the ability to start or make improvements to an existing ITAM program within an organization. After receiving certification in this course, students will be able to design and implement strategies for setting objectives and priorities for the ITAM program.
CAMP, CITAM, and CAMSE fit directly under IT asset management training. CSAM focuses on software training. CHAMP and CITAD have a focus on hardware training. CMAM delves into mobile training.
Most of the live online courses are available over one day, although a few courses occur over a two- or three-day span. The majority of courses run during the typical business day hours. Multiple dates are available for each of the seven courses throughout the year, so you can find a date that will fit into your schedule. 
One of the benefits of IAITAM courses is that those taking the courses are able to interact with each other, even in a virtual environment, allowing them to build off each other's knowledge and skills. 
Professionals worldwide can take advantage of the IAITAM courses, which focus on providing practical exercises. The courses attempt to give students the basics they need for success in a range of different types of businesses. These courses also help you learn more about best practices for IT asset management and how to follow those best practices, some of which include:
Software compliance management

IT security implementation

Maintaining control over IT assets

Techniques for communicating with non-IT departments

Techniques for communicating with employees who struggle with tech

Preparedness techniques for disaster recovery
Pros
Wide range of courses available, so you can focus on the exact course you need

Several courses allow completion in one day

Techniques learned work for a wide range of industries
Cons
If you need all seven courses, it will take several days to work through all of them
Cost
CMAP: $2,000

CSAM: $2,000

CHAMP: $2,000

CMAM: $2,000

CITAD: $2,000

CAMSE: $2,000

CITAM: $3,500

Price discounts are available for those who have a membership in IAITAM
ITAMOrg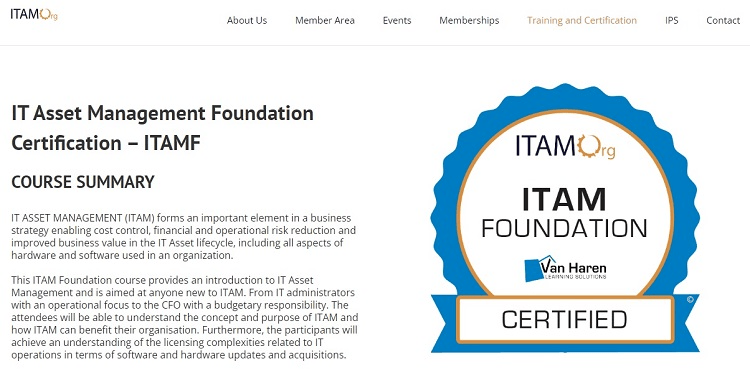 With ITAMOrg, students will have access to the ITAM Foundation course. This course works best for those who are seeking an introduction to the world of IT asset management. 
You will learn more about the importance of ITAM for any organization, as well as the best practices to follow for the IT asset manager inside the organization. It has specific information in areas such as the use of the ISO 55000 and ISO 19770 standards, Students will learn strategies for communicating with the organization's key stakeholders about the importance of emphasizing ITAM within the organization. 
This introduction discusses strategies and functions the IT asset manager uses on a regular basis, including:
Setting goals for ITAM integration

Cost control of IT assets

Contract management

Compliance issues

Information security

Business value of IT

Hardware lifecycle (from procurement to disposal)

Software lifecycle (from procurement to disposal)

Assessing the maturity of the use of ITAM within the organization
The ITAM Foundation courses are able to provide the information in a way that even accountants and CFOs in the organization can understand the materials in the course. These people do not need to have a technical background. The course also has plenty of information for personnel involved in IT security and IT operations.
Students will learn more about how they can achieve compliance within four specific areas of ITAM. The course provides information on these four areas, which include:
Hardware Asset Management (HAM)

Software Asset Management (SAM)

Services and Cloud Asset Management (SEAM)

People and Information Asset Management (PINAM)
The ITAM Foundation classes are available with tutor-led online classroom courses and with online learning classes. The course runs over a two- or three-day session, depending on the certified training organization involved
Pros:
Courses are great for all kinds of people, regardless of background

This is a strong introductory course

Course is well-organized, dealing with items IT asset managers need to know
Cons:
May not have the in-depth information you want and need
Cost: 
Depends on the certified training organization selected

Costs usually are in the range of $1,100 to $1,400
Pink Elephant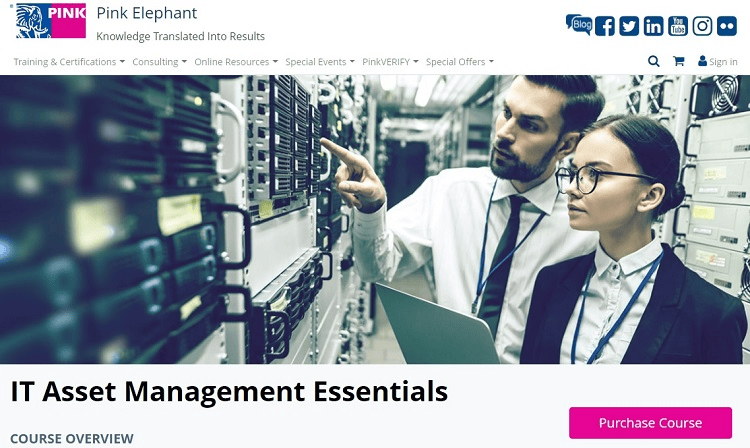 With Pink Elephant, you can take the ITAM Essentials course that focuses on the concepts required for the lifecycle management of hardware, software, and mobile devices. It also helps you understand how cloud-based assets and the Internet of Things may fit into your IT asset management plans.
This course focuses on providing practical solutions for those seeking to become IT asset managers. It gives students an overview of IT asset management, helping them understand all aspects of implementing an ITAM program within the organization.
Students do not need to complete any prerequisites to be able to participate in and complete the course. Course materials are available in a digital copy only, although students can print the materials at their leisure. Upon completion, students can take the exam for the ITAM Essentials certificate.
Multiple options are available to students for taking this course, including:
Self-paced online course over a 12-month period

Online classes with an instructor for an individual or a team

In-person classes with an instructor for a team
Pros:
Students do not need prerequisites to take the course

Self-paced option for the course is available
Cons:
May not provide the in-depth information you want to see

Instructor-led classes require three days
Cost:
Self-paced course for an individual: $795

Online course for an individual: $2,295

Must request prices for team course options
New Horizons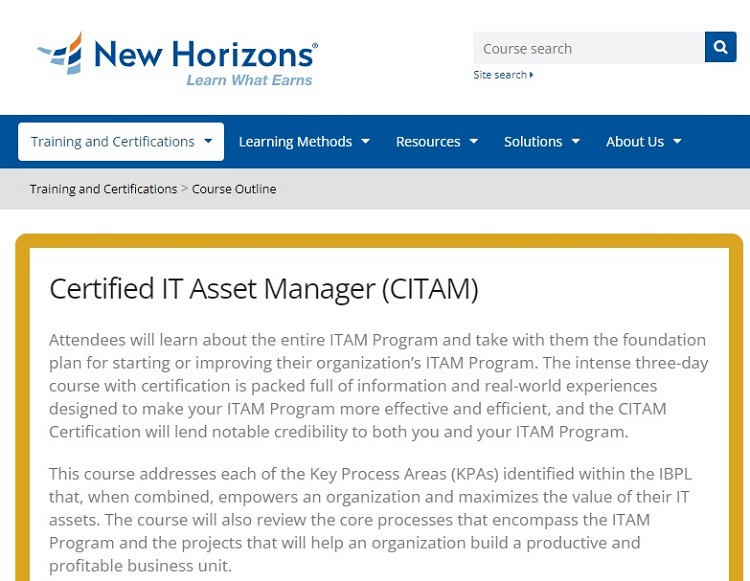 With New Horizons, you can participate in the CITAM program. This is a detailed IT asset management program for those seeking a strong overview of the process of creating a foundational plan for an organization looking to implement ITAM. 
This course discusses multiple real-world examples, which will help some students gain a better understanding of the coursework. It also deals with understanding how the key process areas (KPAs) of your ITAM program fit together to create the best possible results.
The coursework for this CITAM program uses the IAITAM course as its basis.
New Horizons offers this course once a month. It runs during normal business hours. Students are able to take the exam for this course any time within a 14-day period after the completion of the course's three-day process. Students who do not pass the test on the first try are able to participate in a retake for no additional charge.
You will need to complete prerequisites in CSAM and CHAMP courses to be able to qualify for going through this certification course. This means that the course is not a good choice for those who are completely new to the ITAM process.
Pros:
Course provides a strong overview of ITAM best practices

Includes the exam for certification for CITAM
Cons:
Only offers one type of certification

Students need to complete prerequisites in CSAM and CHAMP to qualify for this course
Cost:
Gogo Training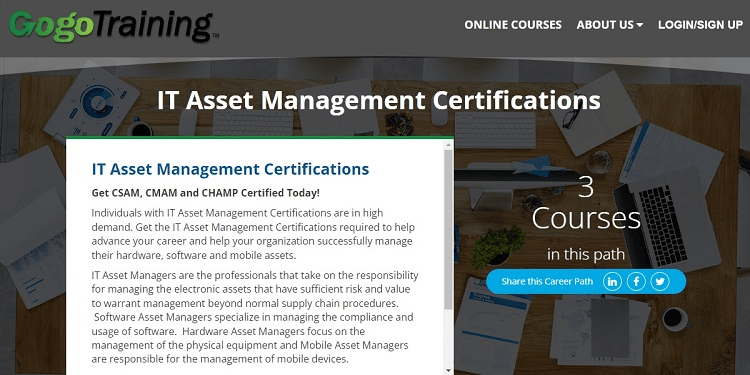 With Gogo Training, students can obtain certifications in CSAM, CMAM, and CHAMP. These three areas of ITAM certification focus on hardware, software, and mobile device certifications. Students can focus on a single certification or they can work toward multiple certifications through Gogo Training, depending on their career path requirements.
CSAM:

This is an on-demand training course that provides best practices in software asset management with a focus on understanding software regulation.

CMAM:

This course helps your organization manage the use of mobile devices on the network through the creation of policies and processes for how end-users should manage the use of their mobile units. 

CHAMP:

With this course, students learn how to follow the lifecycle of the IT hardware assets the organization is using. They also learn how to make plans for the disposal of the assets in the most cost-effective way.
Students do not need to have extensive experience in these areas of ITAM to be able to participate in these introductory courses. When participating in these online learning classes, students will receive a digital copy of the course materials, rather than a printed copy. 
Gogo Training's certification options use IAITAM courses as a base. Although you will take the course through Gogo Training, you will need to complete the examination for certification for these courses through IAITAM. 
Pros:
Course designs work well for those with minimal experience in ITAM

Bases its coursework on the impressive IAITAM standards
Cons:
Still must take the certification exam through IAITAM

Offers a limited number of courses versus some competitors
Cost:
CSAM: $1,095

CMAM: Must request pricing details

CHAMP: $995
How to Pick Your Best IT Asset Management (ITAM) Certifications
Step 1 – Evaluate Your Experience Level
When determining which ITAM certification program you want to use, start with an honest assessment of your experience level. 
For certain types of certifications, you will need to have some prerequisites in place before you are able to participate in the course. Such certifications require some background knowledge and hands-on experience to be able to understand the course material and pass the certification exams.
The IAITAM coursework works best for those who have some experience with IT asset management, as it provides focused information in specific areas of ITAM. Both Pink Elephant and Gogo Training base their courses on IAITAM standards, so they also are better choices for those who have some experience with ITAM.
Courses aimed at novices provide more of an overview of ITAM. These courses may deliver advice on how to start an ITAM program at your organization or on understanding the role of an IT asset manager within an organization. ITAMOrg is one of the best certification programs for novices, even those who may not have a background in information technology. The New Horizons program does not require prerequisites, which can be helpful for novices.
Step 2 – Explore Options for Classes
Next, think about how you would like to work through the courses. The majority of IT asset management certification programs will consist of online classes that meet on certain dates and during certain times. You will need to attend the virtual classes at these times, just as you would with an in-person class. The virtual classes typically last one to three days.
With Pink Elephant, you also have a self-directed course option, where you can go through the coursework at your own pace and on your own time schedule. You can complete the course over a 12-month period. Gogo Training offers some on-demand coursework options.
For in-person training, Pink Elephant offers an in-person instructor for a team.
Step 3 – Decide Whether You Want IAITAM Affiliation
IAITAM is a highly-respected organization that offers ITAM coursework and certification options. This organization has been in existence for more than two decades. Students can trust the longevity of IAITAM when seeking a certification process that other professionals will respect.
Within the past few years, IAITAM provided significant updates to its ITAM certification courses and also added mobile IT asset management training to its coursework. 
If you are seeking an ITAM certification course that makes direct use of IAITAM principles and best practices, both New Horizons and Gogo Training work under the IAITAM umbrella. Of course, you also could simply select coursework and certification processes from IAITAM itself.