iCloud vs Dropbox- Which is the best and why?
Cloud storage services can solve limited hard drive space and file organization problems without the expensive price tag.
However, the availability of different platforms, each claiming to be the best, can make narrowing down choices difficult. More so, for Mac users who know the challenge of picking the right cloud storage solution.
Dropbox was the clear pioneer when it came to cloud sharing and storage services for the longest time. But now that Apple is allowing file and folder sharing, Mac loyalists are getting tempted to let their Dropbox subscription expire.
But is it actually worth it?
Today, we'll discuss iCloud and Dropbox cloud storage services in more detail, including their similarities and differences. Let's find out which platform managed to steal the thunder from the other.
Our Recommendation: Dropbox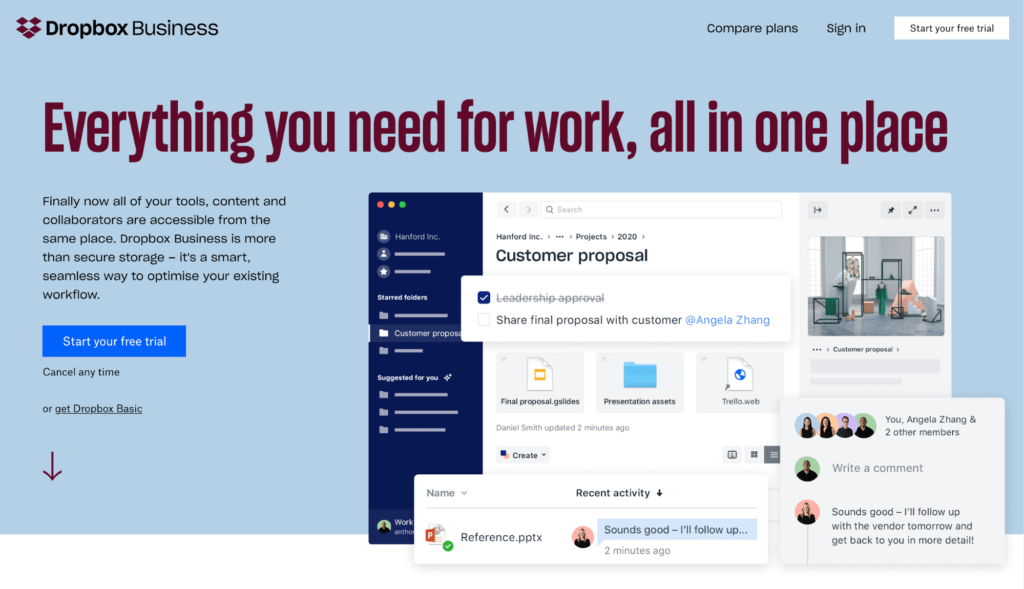 Until recently, there wouldn't have been any competition when it came to choosing between Dropbox and iCloud, the former was a clear choice. While Apple's built-in solution has definitely upped its game over the last few years by introducing certain useful features, it still has a long way to go.
Let's first consider the obvious advantage: availability.
While you can use Dropbox on Apple and Windows, iCloud is reserved for Mac users. They can download iCloud when using Windows, but the experience just isn't the same.
This may not be an issue if this article were especially targeted for Mac users, but since we're analyzing everything from a broad spectrum, Dropbox certainly is a winner here.
Moreover, the platform offers way more features when compared to iCloud, and comes with a simple, user-friendly interface. While both have cloud storage facilities, Dropbox allows Office integration, better file sharing, and simplified file versioning to users – something that iCloud doesn't offer.
Most business owners require collaboration access and file-sharing services due to which Dropbox just becomes a better choice, especially considering the current situation where workforces are going remote or hybrid.
If we consider things from a Mac user's point of view, then too, Dropbox proves to be a great platform. While iCloud comes integrated into every Mac, iPad, and iPhone, Dropbox also allows you to enjoy the same simplicity that iCloud offers once you finish setting it up.
Ultimately, Dropbox gives you high-level security, tons of storage space, and fast performance that makes it perfect for larger organizations dealing with hundreds of files and folders.
When to Select iCloud Instead
There is no doubt that iCloud is also an excellent option for macOS, iOS, and iPadOS cloud storage – it just has a very different approach.
The following are a few situations where iCloud's strengths clearly outperform Dropbox:
Situation 1: When you have a limited budget
Apple iCloud offers you plenty of simple plans without having to break the bank. Its free plan comes with 5GB of storage, which, when compared to Dropbox's 2GB free storage, is definitely a much better deal.
The higher storage makes iCloud particularly appealing for people who don't want to spend any money on cloud storage.
Moreover, Dropbox's pricing plans can be more complex and far more expensive, making it a cause for concern among businesses with tight budgets. So if you have a restricted budget and already on a Mac, iCloud might be a better option for you.
Situation 2: When you want to transfer files and folders faster
This might come as a shock to some, but uploading and downloading data is quicker on iCloud. Mind you, Dropbox isn't slow, iCloud is just faster.
Apple stores its iCloud storage on Amazon Web services, and since AWS already has servers across the world, it's a contributing factor for its faster speeds. If you find yourself frequently dealing with last-minute uploads and downloads, iCloud will make a better choice for sure.
Situation 3: When you want to easy product integration
One of the strongest suits of iCloud is its easy-to-use product integration facility.
Since the service is already built-in in every Apple device, there is no need to spend additional time to download the application – plus, all your photos, notes, and files are automatically uploaded to iCloud and can be accessed from anywhere.
Thus, you get to experience all the benefits of cloud storage without any extra effort on your part.
Google Drive vs. Dropbox: Key Features Comparison
In this section, we'll discuss Dropbox and iCloud in more detail by putting them under the same featured categories.
We've also selected a winner for every category to make choosing between the two cloud document management and data storage products easier for you.
Pricing
Winner = iCloud
Let's face it: The overall cost of the cloud storage service is arguably the most important factor for individuals and organizations. After all, what's the use of having a wide range of features if one simply doesn't have the budget to afford it?
In terms of free storage, iCloud offers 3GB more storage when compared to Dropbox's 2GB. It's free 5GB plan is sufficient for those who don't have to deal with large volumes of data transfer. In fact, when compared to other Dropbox alternatives too, 2GB storage is very low.
You'll have to choose between different plans if you do decide to shell out money for extra storage.
iCloud has pretty straight forward price plans; you have to pay $0.99 a month to increase storage to 50GB; $2.99 a month to increase storage to 200GB; $9.99 a month to increase storage to 2TB.
Contrarily, Dropbox offers a wide range of plans for individuals and businesses, which makes it slightly more complicated.
Dropbox for Individuals: This category includes Dropbox Basic, Dropbox Plus, and Dropbox Professional plans.
While the Basic plan is free with 2GB of storage, Plus costs $11.99 per user per month for 2TB storage and Professional costs $19.99 per user per month with 3TB of storage.
Dropbox for Businesses: This category includes Dropbox Standard, Dropbox Advanced, and Dropbox Enterprise.
While the Standard plan costs $15 per user per month with 5TB of storage, Advanced costs $25 per user per month with unlimited storage. In case you want to opt for the Enterprise plan, you'll have to call the help center to ask for price quotes.
As you can see, Dropbox prices aren't very pocket-friendly, and not everybody has such huge storage requirements, making iCloud more preferable for most.
Feature Availability
Winner = Dropbox
The name cloud storage can be a little deceptive since a user isn't only concerned with storage here. There are several other features, such as file syncing, sharing, and backup, which adds to a platform's appeal.
Dropbox hands down have a wider selection of features, which includes file syncing, password file sharing, and recently launched upgrades like computer backup, Dropbox Passwords, and Dropbox Vault.
On the other hand, iCloud offers simple personal and business use features – but it's mostly limited. We particularly like its iWork integration that gives users instant access to productivity tools that were otherwise payable, like spreadsheets, presentation-based projects, and so on.
Not one to be left behind, Dropbox also has productivity tools that prioritize business and team collaboration. For instance, you can use the Dropbox Paper tool for quick note-taking or integrate Dropbox with Microsoft Office 365 to edit Office documents.
Ease of Use
Winner = Dropbox
Determining the winner for this category wasn't easy, especially when you consider things from an Apple owner's viewpoint.
The good news is you won't have to struggle with usability with either of the platforms. But since Dropbox has an easy-to-understand interface, it manages to move ahead of iCloud.
iCloud is designed to be the native storage solution for Apple users. Therefore, there's no need for you to worry about any application installation; you can start right away!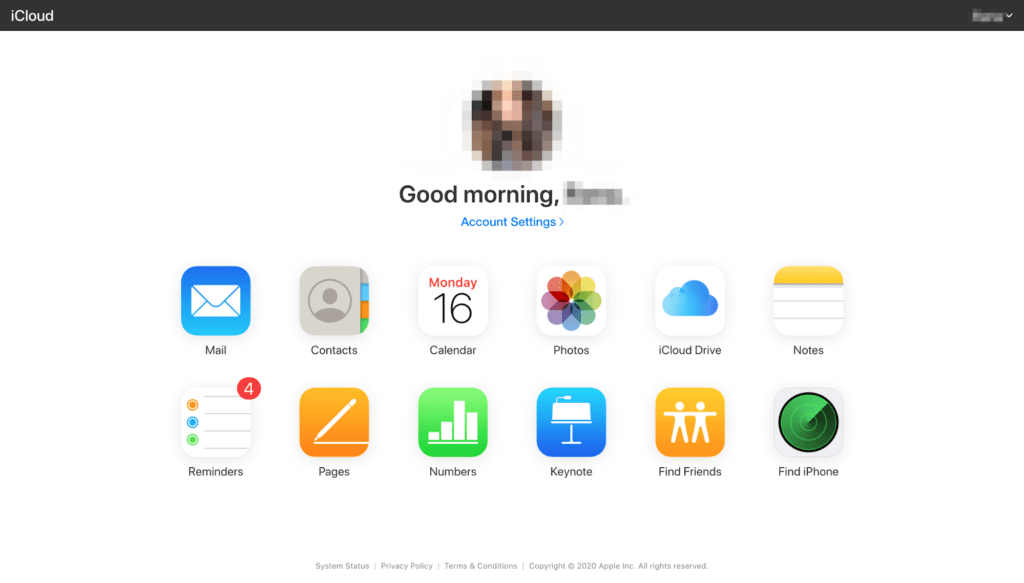 It's easy to use and navigate – both on mobile and laptop – with a clean and colorful interface that makes file organization easy and attractive. Plus, you can also color-code and tag individual files and folders to organize files more efficiently.
Likewise, Dropbox has improved its user-interface as well. You can drop or remove files, manage syncing, sharing, and notifications – all from your web panel or the Dropbox settings area in the Dropbox desktop app.
iCloud does make integration seamless, but since downloading and setting up Dropbox isn't hard, it doesn't give the former platform a significant advantage.
File Syncing
Winner = Dropbox
One of the main reasons why Dropbox wins over iCloud is its ability to support block-level file syncing.
You see, instead of copying the whole file every time like iCloud, Dropbox modifies only the edited parts of the documents, making the whole process easier and faster. This is also helpful for those who have limited bandwidth or data caps.
Dropbox gives you the facility to control the bandwidth usage in the mobile and desktop apps, with upload speeds capped at 75% to restrict any negative impact on your internet connection.
In the case of iCloud, as the user doesn't have the option to limit bandwidth usage, the platform can maximize bandwidth, which, in turn, may slow down your internet connection.
File Sharing
Winner = Dropbox
File sharing isn't necessarily iCloud's strongest suit, but it most certainly is Dropbox's.
Dropbox users can easily share files and folders from the file manager, the Dropbox desktop app, or through the mobile app.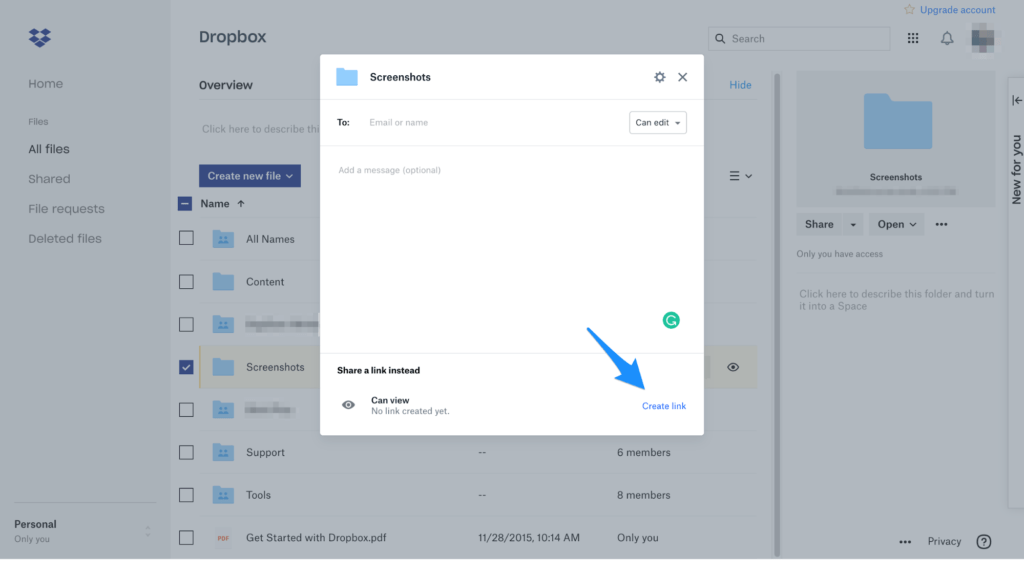 You have the option to share a file by generating a link that can be sent via email. Moreover, Dropbox integrates with third-party services like Trello and Slack, which makes file sharing even more convenient for businesses.
If you are a paid user, you can password protect your shared files and set an expiry date for the shared links too.
The platform offers another innovative Smart Sync feature that can be a boon for those worried about file storage usage. This feature allows users to save files to online-only mode, keeping them off the hard drive that can help save precious disc space.
Dropbox Transfer, a service that enables users to send read-only versions of files up to 2GB in size for free users and up to 100GB for paid users, is another plus.
Do you see why Dropbox truly shines when it comes to file sharing?
iCloud, on the other hand, has improved over the years in this area. Before sharing photos, videos, and files were restricted to family members added to a user's iCloud account, but recent updates have made iCloud file sharing more flexible. So other iCloud users can send and receive images and documents as well.
Unfortunately, though, iCloud clearly lags behind Dropbox considering the latter's advanced file-sharing features and bandwidth control.
Privacy and Security
Winner = Tie
Dropbox and iCloud both require improvement where security is concerned since they are subjected to US security and privacy laws, which aren't exactly the safest. But they still manage to do a good job.
Dropbox offers 256-bit AES file encryption, which restricts the possibility of data breaches or encryption without authorization. On the other hand, iCloud increases its files with 128-bit AES encryption.
Before you jump to any conclusions, let us point out that cracking a 128-bit AES encryption can be exceptionally hard too, so it's not like your files are in danger. Plus, iCloud offers zero-knowledge encryption for some data through its keychain password and credit card management service.
The only problem here is that iCloud Drive files don't have end-to-end encryption. As a result, anyone with a decryption key can easily decrypt the files.
Both Apple and Dropbox have complete control of your data encryption keys, giving the respective companies full access to your files, and support two-factor authentication.
As you can see, there's no clear winner where privacy and security is concerned, making it a tie.