Slack is among the most popular instant messaging and communication platforms for businesses and remote teams. In this detailed article, I'll share the exact steps to help you get started with Slack, share tips on using it effectively, and some of the common problems you can face in using it.
Let's get started.
Understand How Slack Works
Before you sign up for a Slack account and start using it to connect with your clients and teammates, you need to understand the basics of how it works.
Slack uses a tiered system based on workspaces, channels, and threads to organize private and group conversations.
Let me explain what each of these tiers means.

Workspace
↓
Channels
↓
Threads
↓
Messages
Workspace
A Slack workspace is a dedicated space for a specific company and consists of different channels where all the communication happens.
Users can only apply to join a workspace by creating a new Slack account with their email address. Once a workspace owner approves a user's application, they can communicate with other workspace members and access the channels in it.
Channel
A Slack channel is a dedicated space to discuss a specific topic within a workspace. Channels can be both public and private, and any user in a workspace can create them unless the workspace owner changes the default permissions. There's also no limit to the number of channels users can make in a Slack workspace.
Thread
A thread is a series of messages inside a channel created when a user replies to a chat message.
Message
Messages exist inside channels and threads. The newest message in a channel or thread always loads at the bottom of the screen, so scrolling up allows you to view past messages. A message can be an image, video, text, emoji, URL, or file. Everyone in a channel can view all messages in that channel.
Direct Message
In addition to sending messages within channels, Slack users can communicate outside channels by sending direct messages to the other users in a workspace. Only the users included in a direct message can see the messages in it.
Now let's look at how to use Slack.
Sign Up For A Slack Account
Signing up for a Slack account is easy.
You can join Slack by signing up with your email or an invitation link from an existing workspace.
Let's go through the sign-up process first.
1. Open Slack in your browser or download and install its Android or iPhone app.
2. Click on Get Started or visit this URL (https://slack.com/get-started)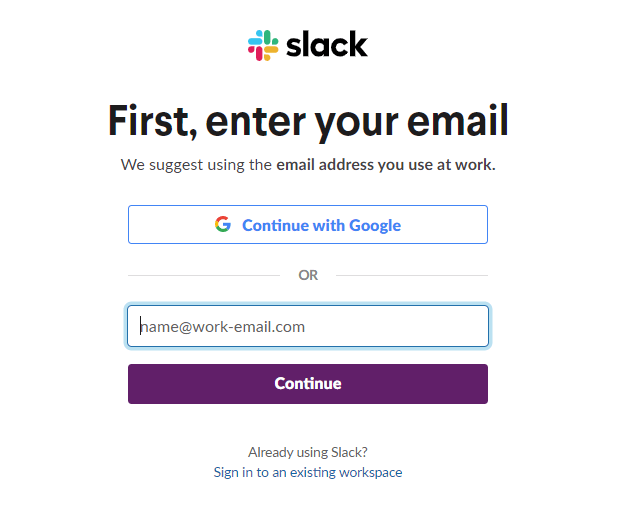 3. If you're using Slack for your company, use your corporate email address to sign up as it makes it easier for your team members to find and join you. But you can also sign up with your Gmail or any other email account.
4. To complete your account sign-up, enter the confirmation code sent to your email address by Slack.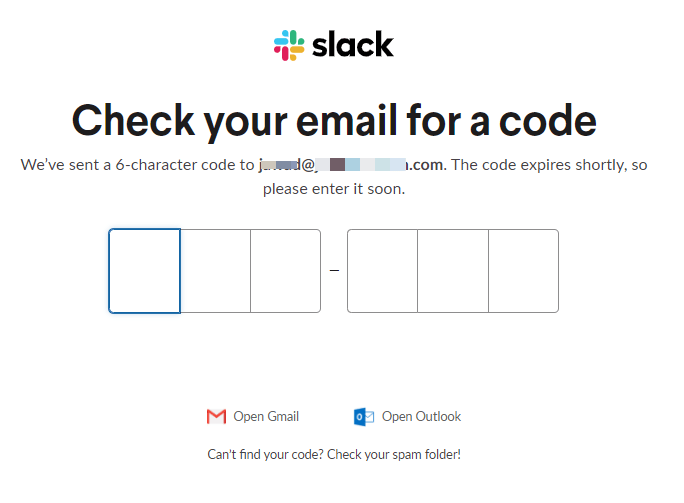 You've now successfully signed up as a Slack user.
The next step is to create or join a workspace.
Create or Join A Slack Workspace
When you complete the signup process, Slack gives you the option to create a new workspace or join an existing one. If you've already joined or are eligible to join a workspace with your email address, you'll see it listed on this page.
To create a new workspace, follow these steps.
1. Click on Create a Workspace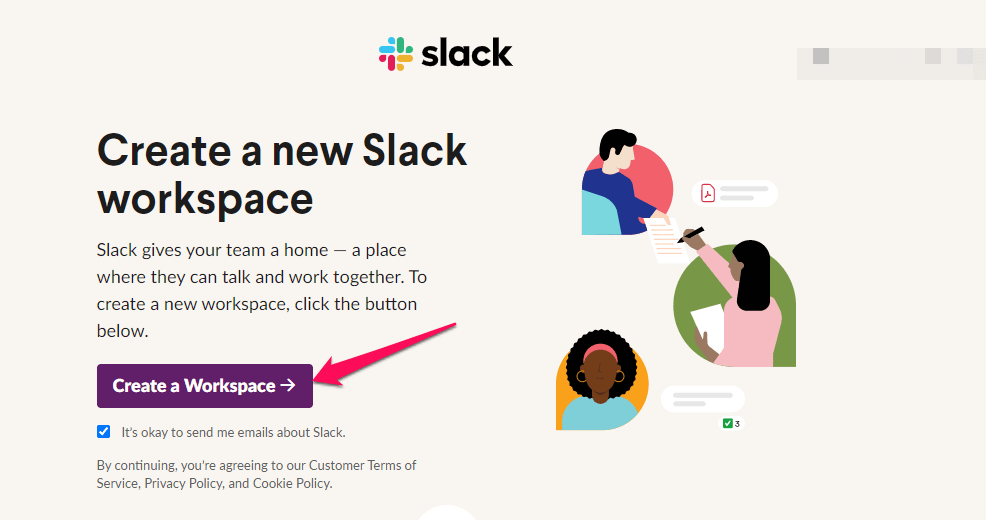 2. Give your workspace a name that is easily recognizable by your team members. It can be the name of your company, department, or a specific team for which you're creating a Slack workspace.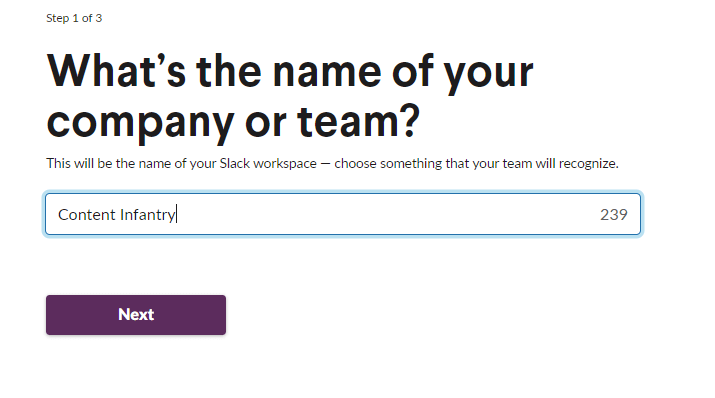 3. Next, you need to create the first channel in your workspace. Choose any immediate project or goal your team is working on. Your team will use this channel for messages, files, and updates related to the channel's purpose only.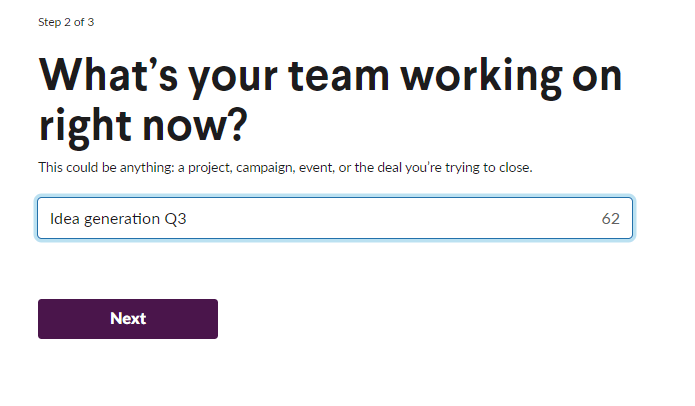 4. Now that your workspace has a channel, it's time to invite your team members to join you on Slack. This is an optional step since you can ask users to join you later as well. You can invite your team members either by entering their email addresses or by sharing your Slack workspace's unique URL with them.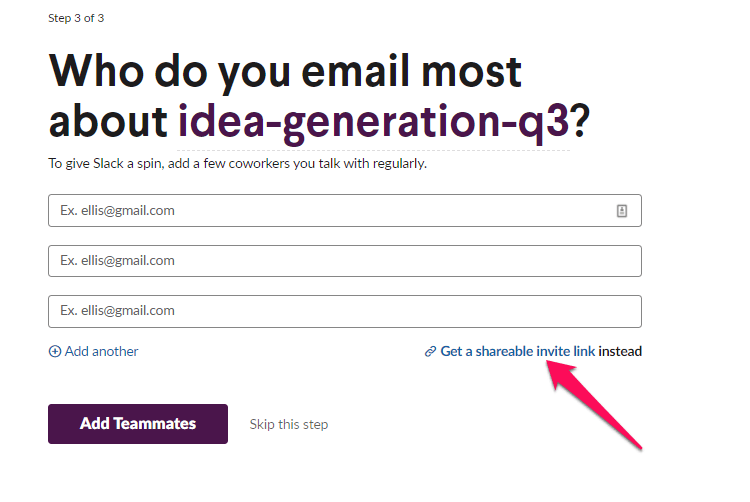 5. To join your Slack workspace, your team members need to click on the invite link in your email and complete the registration process.
6. Your workspace is now ready for use. It has two channels by default (general and random) and the channel you created during the workspace creation process.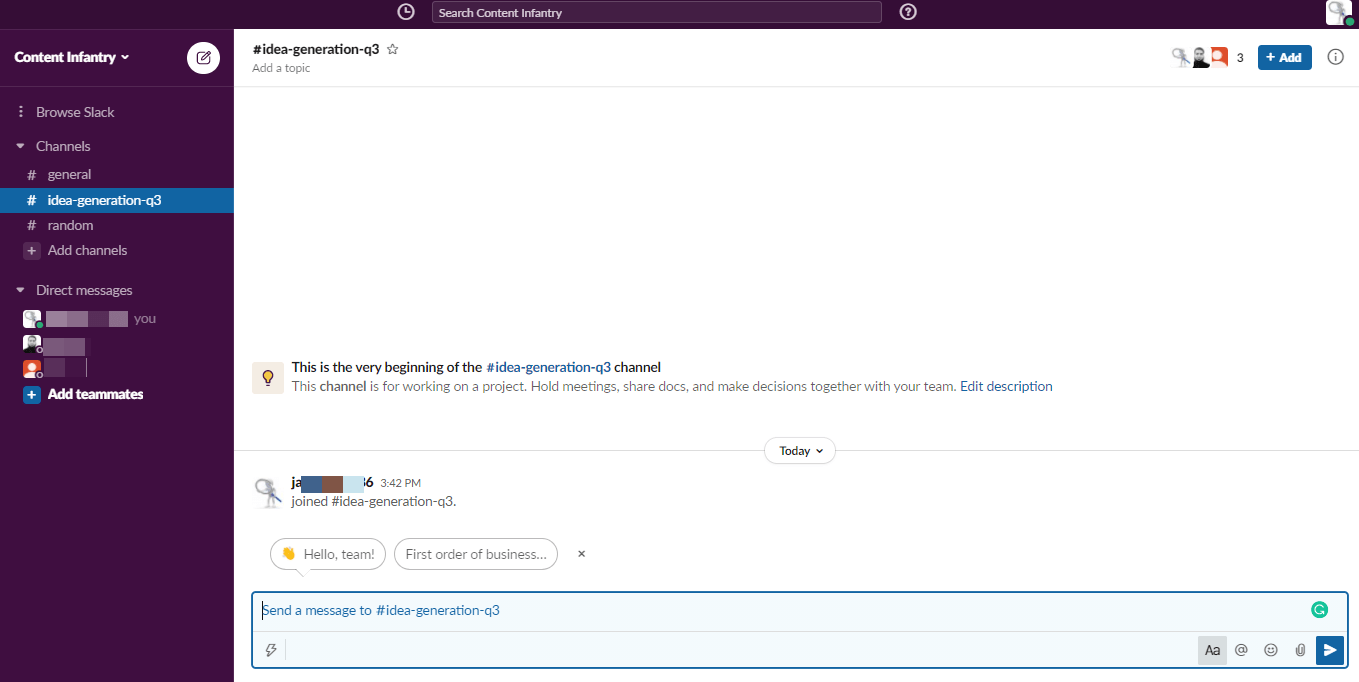 You can start communicating with your team members in the existing channels or create new channels if you want.
Let's see how you can create more channels in your workspace.
Create A Slack Channel
There's no limit to the number of channels you can create in a Slack workspace. However, only create a new channel if you think a topic requires a separate space for discussion. Otherwise, too many channels can make communication difficult for you and your team members.
Here's how you can create a new channel in your Slack workspace.
1. Click on Add channels in your Slack workspace's left menu under the channel list.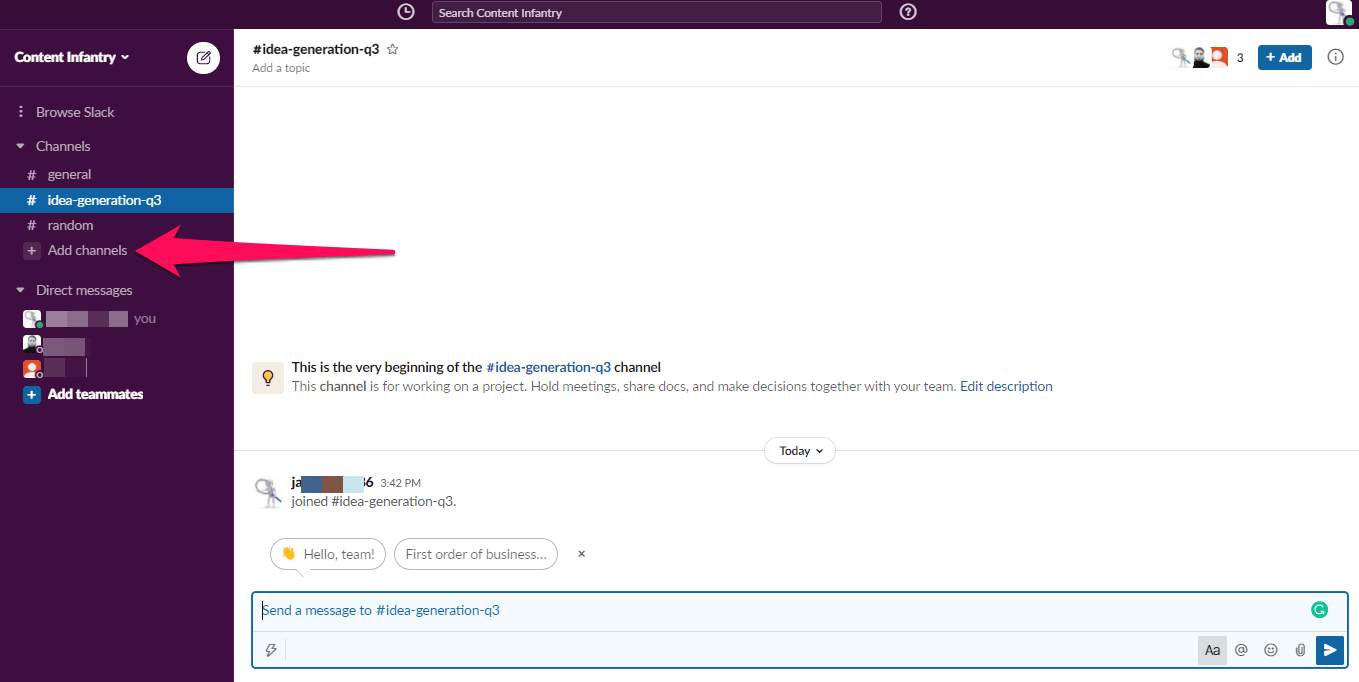 2. In this step, you need to name your channel and describe it. Keep the channel name short, clear, and easy to understand. Also, share a brief description that explains the purpose of the channel.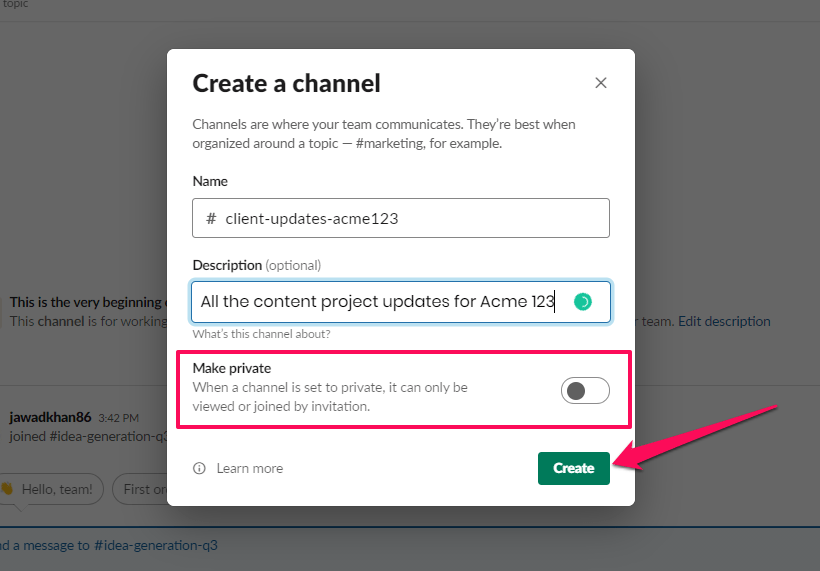 3. Right below the channel description field, you have the option to make your channel private. Only approved team members in your workspace can find and join a private channel. Once you make a channel private, you can't reverse it. So only do this if you're sure you won't need to make it public later.
4. Once you've named your new channel, it's time to invite users to it. You can choose to invite all the members of your workspace to a channel or invite specific members via email. Below the email field, you have the option to automatically add any new members of your workspace to this channel. If you enable this option, this channel will become the default channel for your workspace.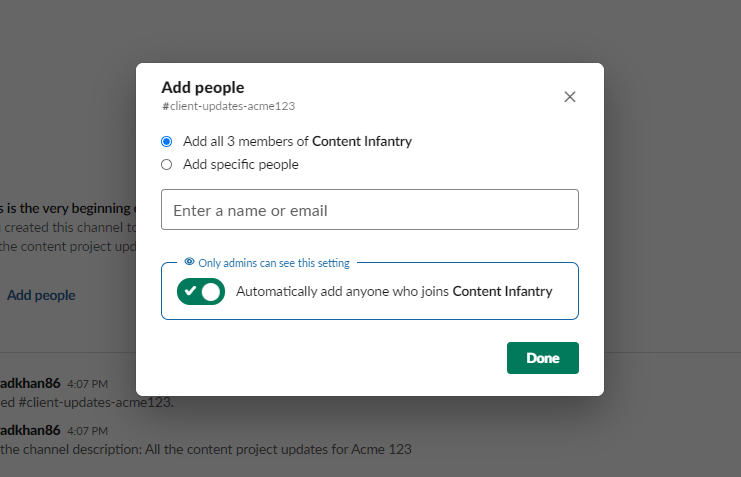 5. Your new Slack channel is now ready for use. If it's a public channel, anyone in your workspace can join it and start communicating with the other members.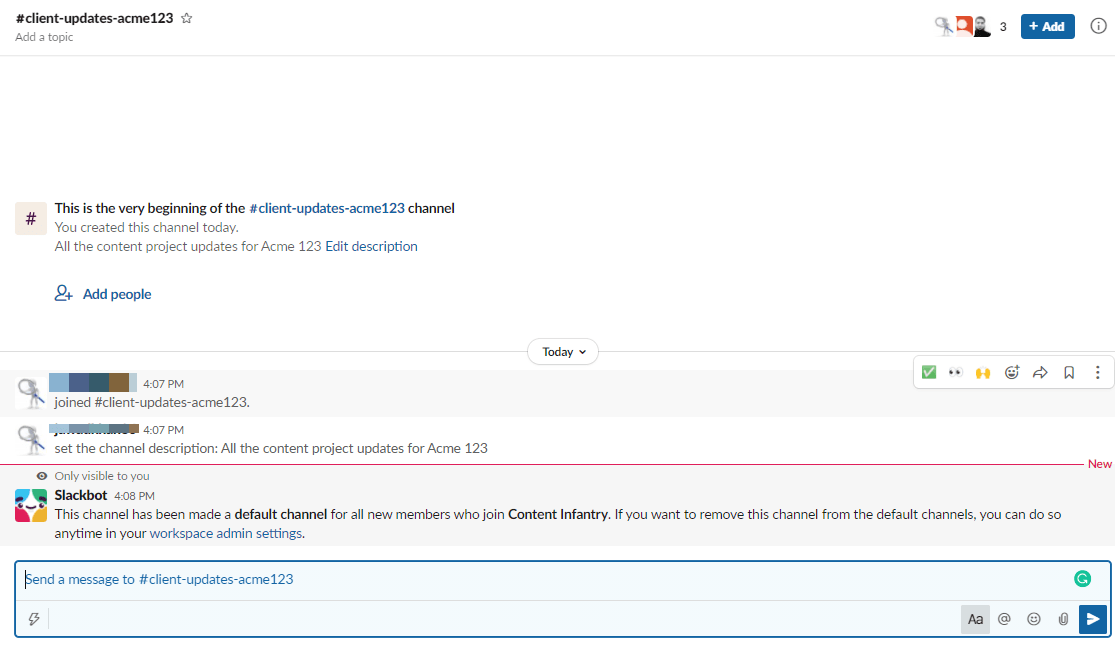 You will be able to see your new channel's name in the channel list on the left of your screen.
Browse And Join Slack Channels
If you join a workspace with dozens of different channels, you can browse through them and join any public channels you want.
Here's how to do it.
1. Open the Slack workspace in which you want to search for channels
2. In the desktop version, click on the Browse Slack link in your screen's left panel. In Slack's mobile app, click on the Search icon.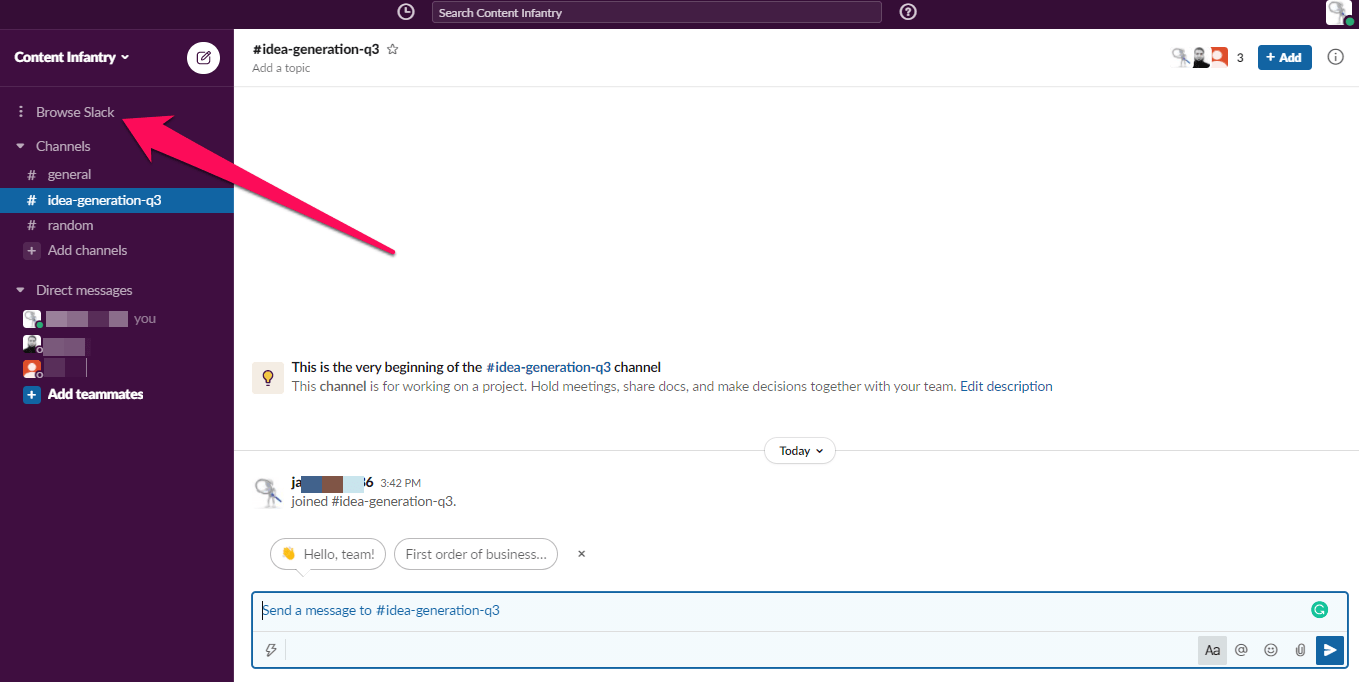 3. Click on Channel browser to open the channel search page.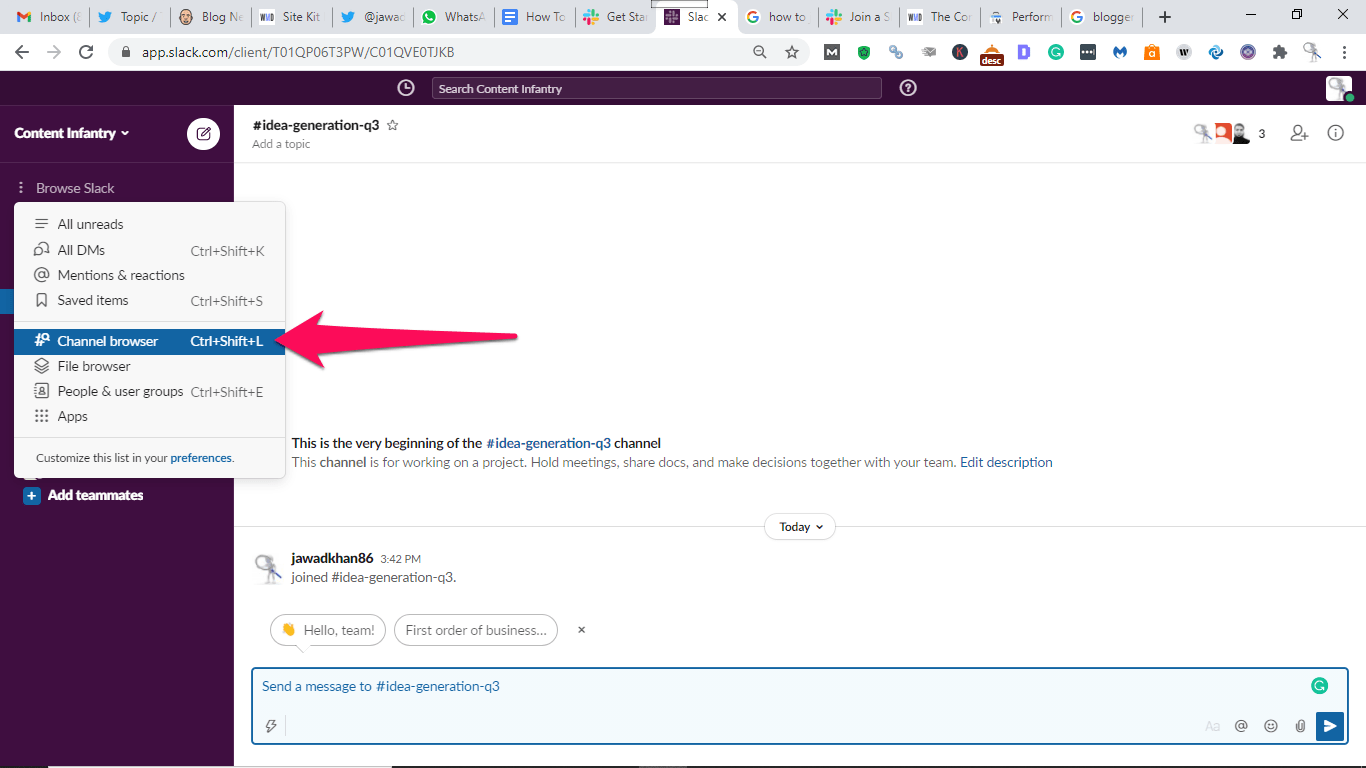 4. On this page, you can search for a channel by its name or description or scroll down the list of channels.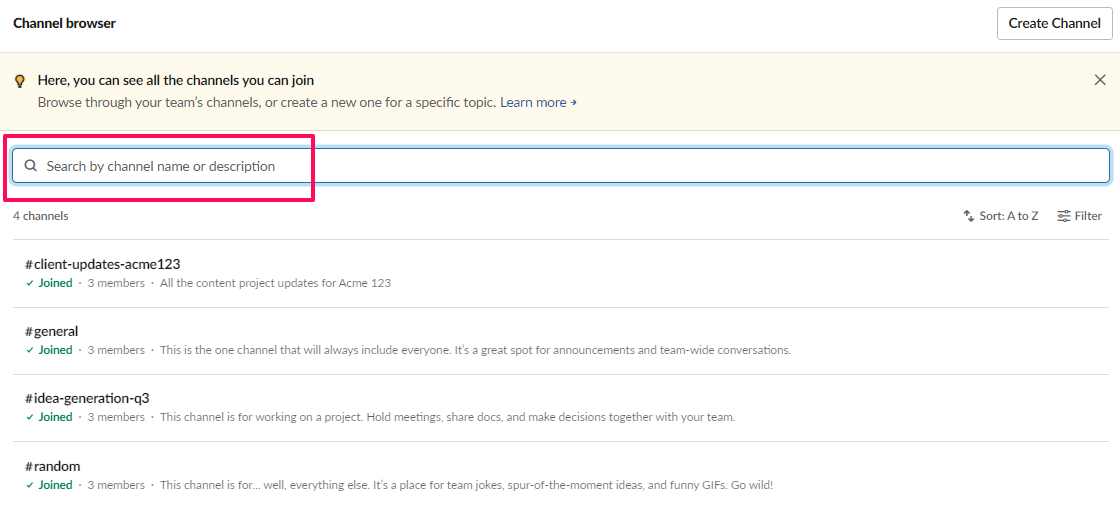 5. Click on the Join button next to a channel to join it.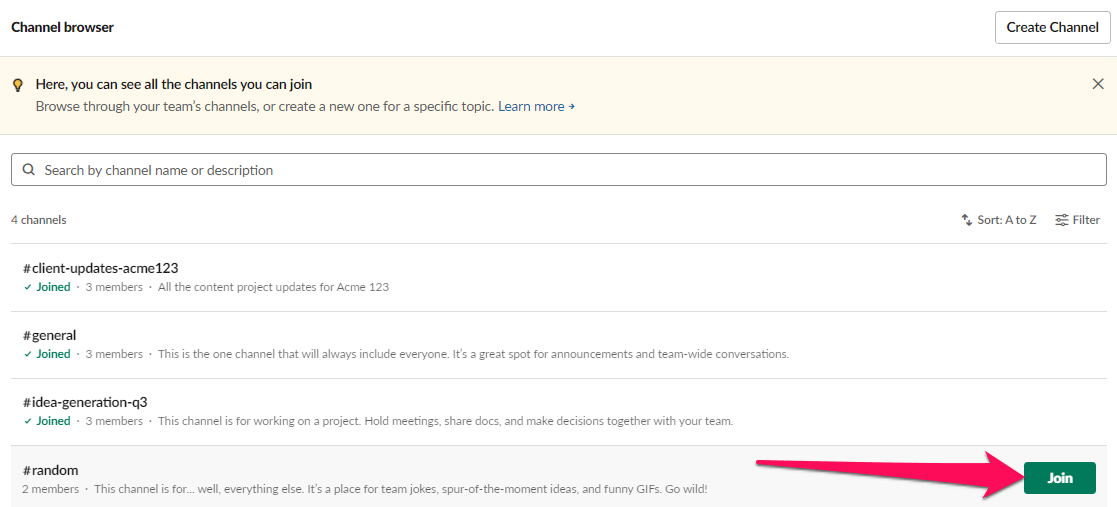 There's no limit on the number of channels you can join as long as the workspace owner does not place any restrictions.
Send Direct Messages In Slack
Outside channels, you can also send direct messages to other users in a workspace.
Here's how to do it.
1. Open the workspace in which you want to contact other users.
2. Click on a person's name in the left pane of your screen under Direct Messages to open a direct chat window.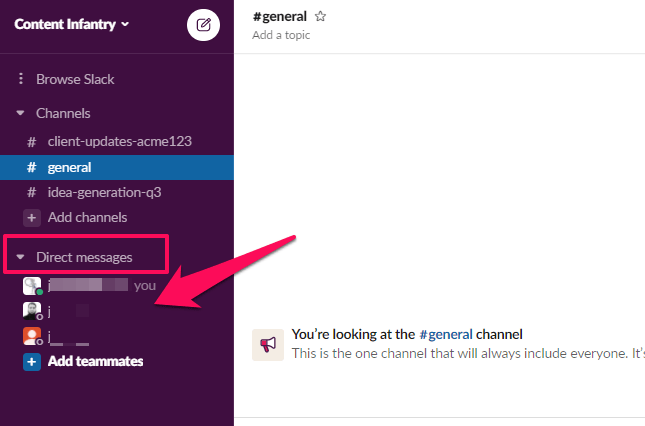 3. The direct messages you send in this window are only visible to you and the recipient.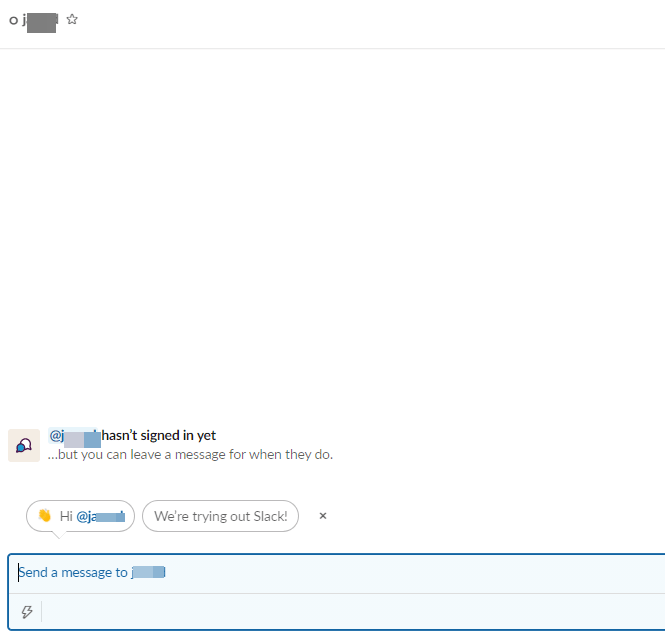 4. If you can't find a user in the list of Direct Messages, you can search for their names from Browse Slack→ People & user groups.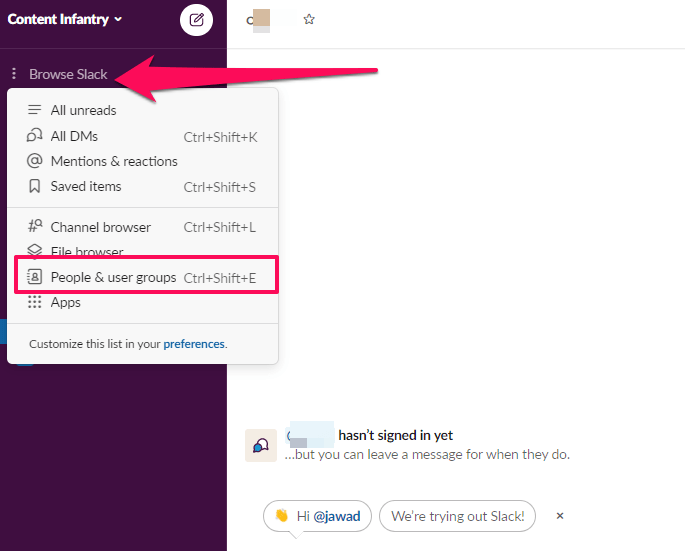 5. Search for any members on this page and click on their names to send them direct messages.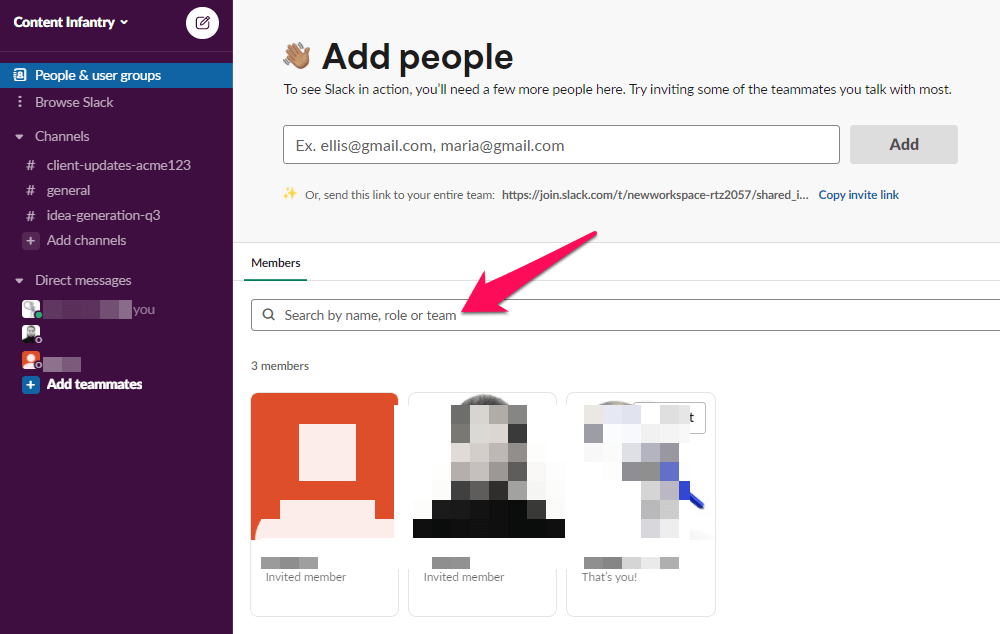 Install Apps In Slack
Slack integrates with 2000+ apps and third-party tools, which is among the top reasons why it is such a popular messaging platform.
By default, any workspace member can install an app (unless the owner places a restriction.) Once an app is added to a workspace, all members can use it.
Here's how you can install different apps to a Slack workspace.
1. Go to Browse Slack→ Apps to open the Slack apps directory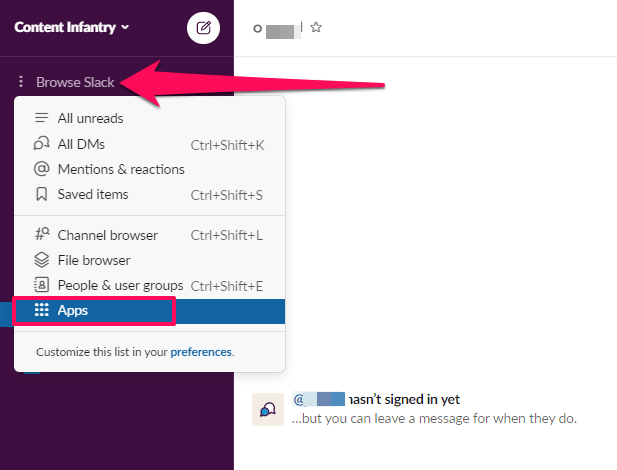 2. Hundreds of apps are listed on this page. Choose from one of them or search for your desired app from the search field.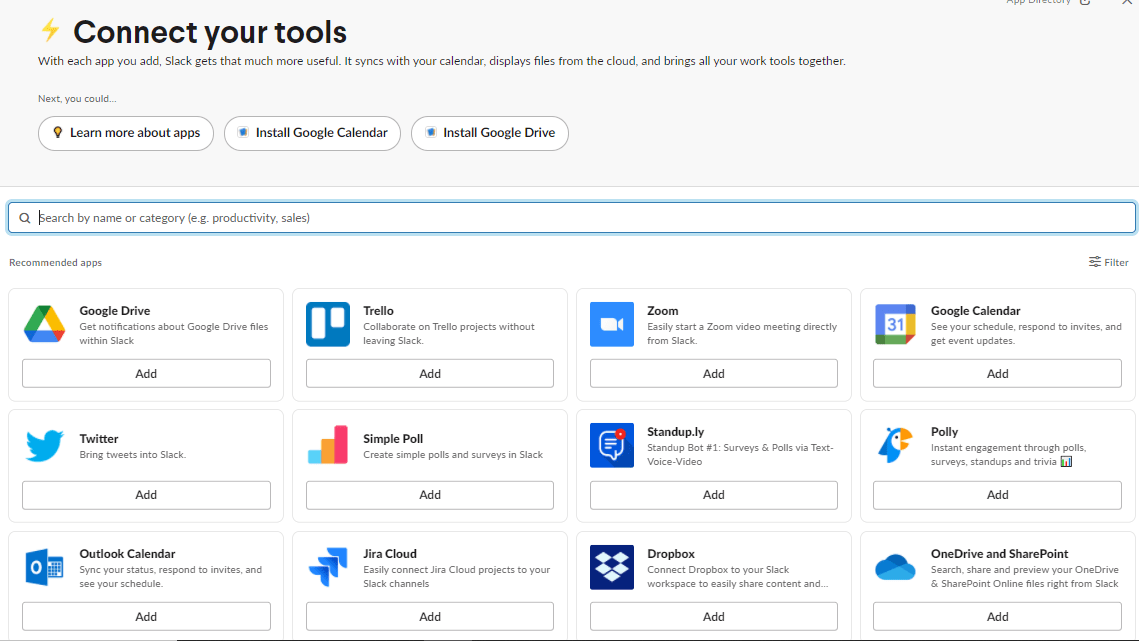 3. Click on the Add button next to an app to start the installation process.
4. Slack will take you to the app's page, where you need to add it once again.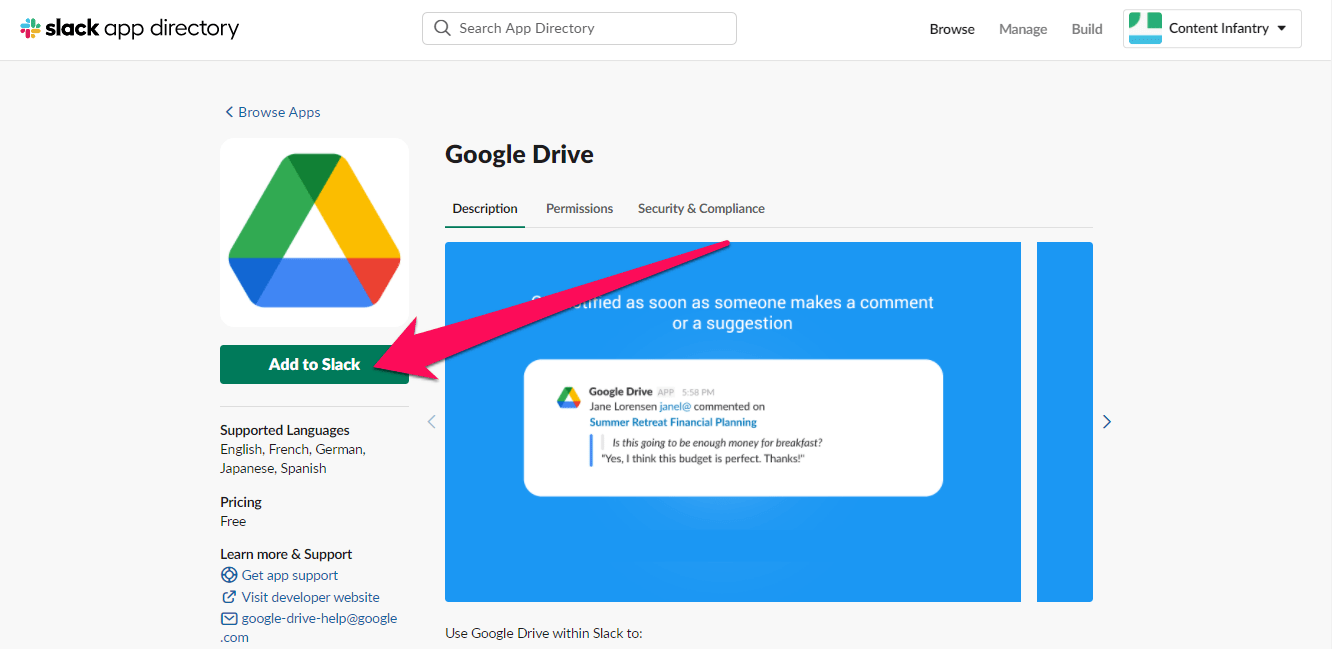 5. Slack will ask for a series of permissions before adding the app to your workspace.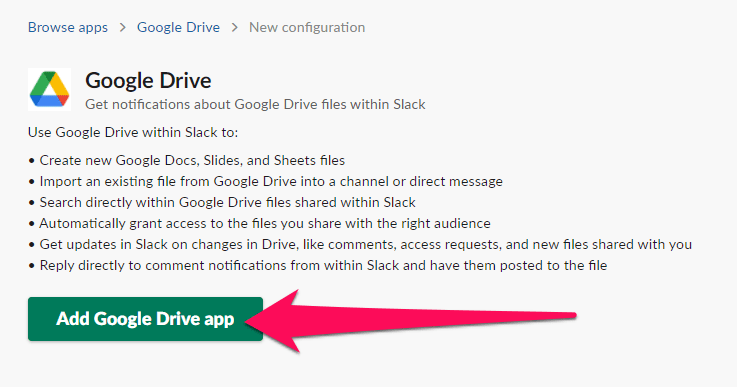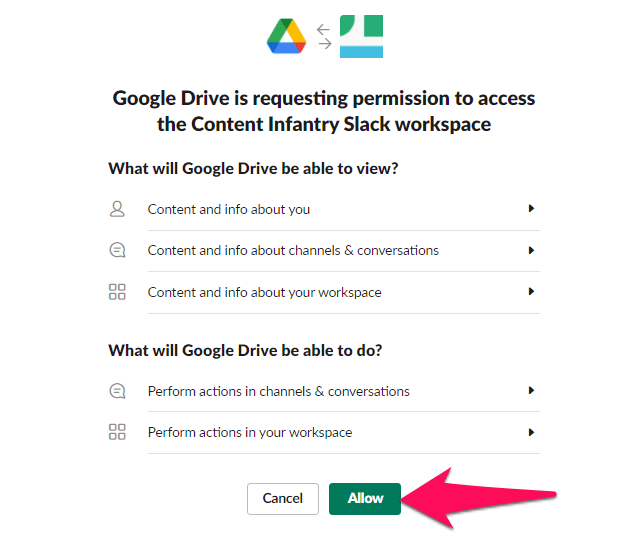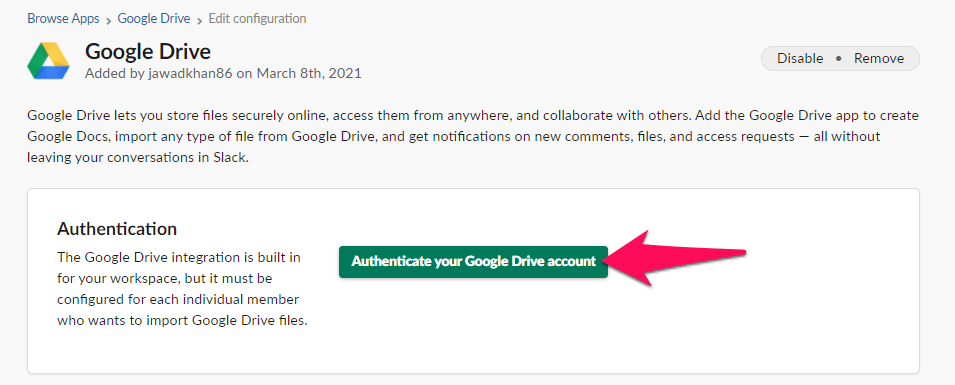 6. Once the installation process is complete, your new app will be visible in the Apps list on the left of your screen in Slack.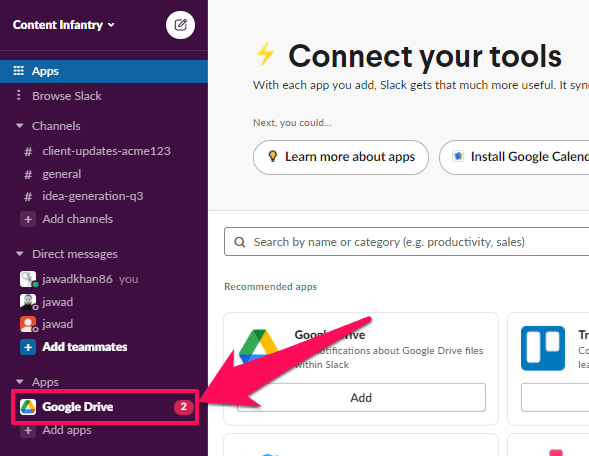 Slack's free version allows up to 10 apps in a workspace, but there's no limit in the paid versions.
5 Tips For Using Slack To Improve Productivity
There are just too many Slack features and hacks to list in a single article. But here are some useful ways to use Slack more productively.
Create Reminders Using Slackbot
Setting reminders for yourself, for a team member, or for all members of a Slack channel is as easy as sending a message. Simply use the "/remind" command for Slackbot in your chat window, describe the reminder, set its date, and hit the Enter key.
Here's the syntax:
/remind [me / @someone / #channel] [what] [when]
Examples:
/remind me to call Jeff tomorrow at 3 PM
/remind @Jeff to submit the presentation on 03 June 2021 at 3 PM
/remind #general to submit ideas for the next ad campaign tomorrow at 1 PM
Here's how it works:

When you enter the command, Slackbot confirms your reminder.


This simple command will help you keep track of all your important tasks and allow you to set reminders on the spot.
Send Direct Messages From Anywhere
Instead of finding a user and opening their private chat window to send them a direct message, you can use this simple command in any chatbot in Slack.
/msg @user [your message]
You don't even have to remember the full username because when you type @ Slack will show you the list of all the users in your workspace.
Control Your Notifications
Slack is an excellent communication tool, but it can also be addictive and hurt your productivity if you keep checking every chat notification.
An easy way to handle this is by changing your notification preferences.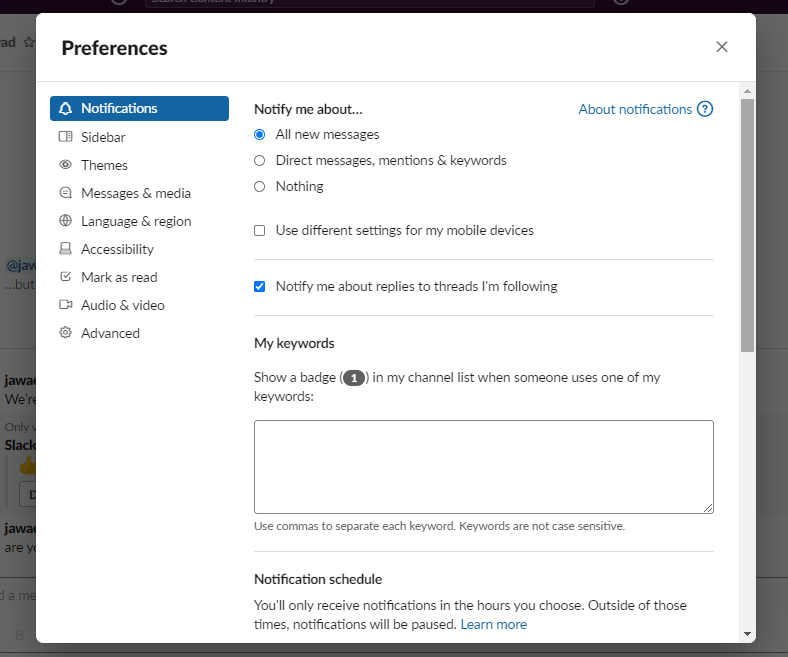 You can change these settings from [workspace name]→ Preferences.
Use Advanced Searches To Dig Out Information
Slack becomes a goldmine of information when most of your company's communication happens there.
To find relevant information, use Slack's advanced search filters and modifiers to narrow down your search.

Here's the full list of modifiers you can use in an advanced Slack search.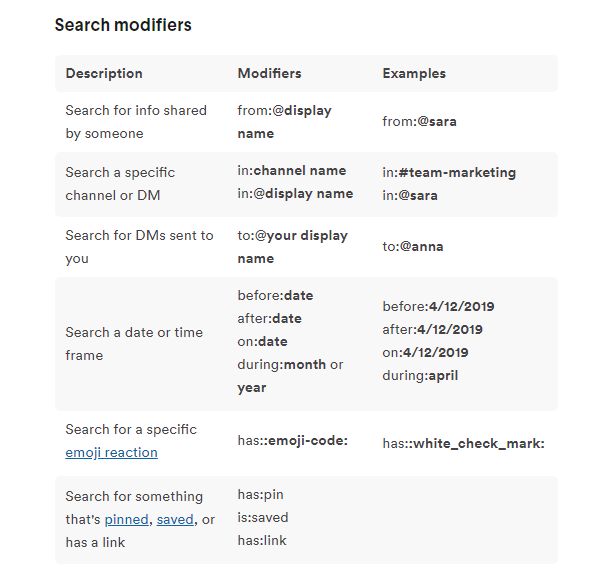 Using these modifiers and filters will make your searches faster and more accurate.
Quickly View Your Mentions And Unread Messages
A lot can happen on Slack if you don't check it for even a day or two.
But catching up with all relevant messages is also easy.
Simply go to any channel and press/tap to go to the last unread message.
Mac: Option + Shift + ↓
Windows: Alt + Shift + ↓
Smartphone: Unread messages
Similarly, check your Slack notifications for any messages that specifically mention you.
Common Problems When Using Slack
There's a lot to like about Slack, but it's still not perfect. Here are some common problems users face with Slack.
Connectivity Issues With Slack
Considering that many businesses rely entirely on Slack for communication, an outage for even a few minutes can cause a lot of trouble.
Unfortunately, connectivity and outages have been frequent problems with Slack (the most recent one at the start of 2021).
If you think Slack is down, run its connection test on slack.com/help/test for confirmation.
Too Many Channels
Anyone can create a channel in Slack if the workspace owner doesn't place any restrictions.
For larger teams and workspaces with thousands of members, this can be a huge problem.
The more channels there are, the more messages and notifications you need to follow. Plus, the whole interface becomes more cluttery. And worst of all, your Slack app drains a lot more resources, ultimately slowing down everything.
So ideally, workspace owners should only allow new channels when they're needed.
Too Many Time-Wasting Messages
Slack is a simple platform that looks like a casual chat tool. While this is great for user engagement, many users don't take it seriously enough and send too many irrelevant messages.
This results in long and unproductive conversations that can quickly add up and heavily cost a company.
Audio And Video Call Quality
Users can make audio and video calls from their Slack chat boxes, which is great. However, there are frequent complaints about the quality of these calls.
Voice breakup during calls and frozen videos are common issues users have highlighted on different forums.
This is probably why users still prefer third-party calling apps even when using Slack.
Notifications Not Going Away
This is a technical glitch that I've noticed in Slack's Android app. Sometimes the notifications don't go away even after you've checked and even responded to the messages.
I ran some quick searches on Google and found that other users have also faced this issue over the years.