How to Integrate Slack With Asana
Slack is one of the leading tools for team management. But integrating it with Asana can turn it into a work management tool. In turn, you get to enjoy a truly powerful integration that will take your team collaboration and productivity to the next level.
Connecting Asana with Slack is super easy. All you have to do is download the Asana app in Slack, create a new task using the slash commands, and you're done.
In this guide, we'll go into more detail about the Slack Asana integration and how you can utilize Slack with Asana effectively.
Let's get started.
Step #1 Add the Asana App to Slack
You first need to have to download the Asana app from the Slack App Directory. Go to https://slack.com/apps and type "asana" into the search bar.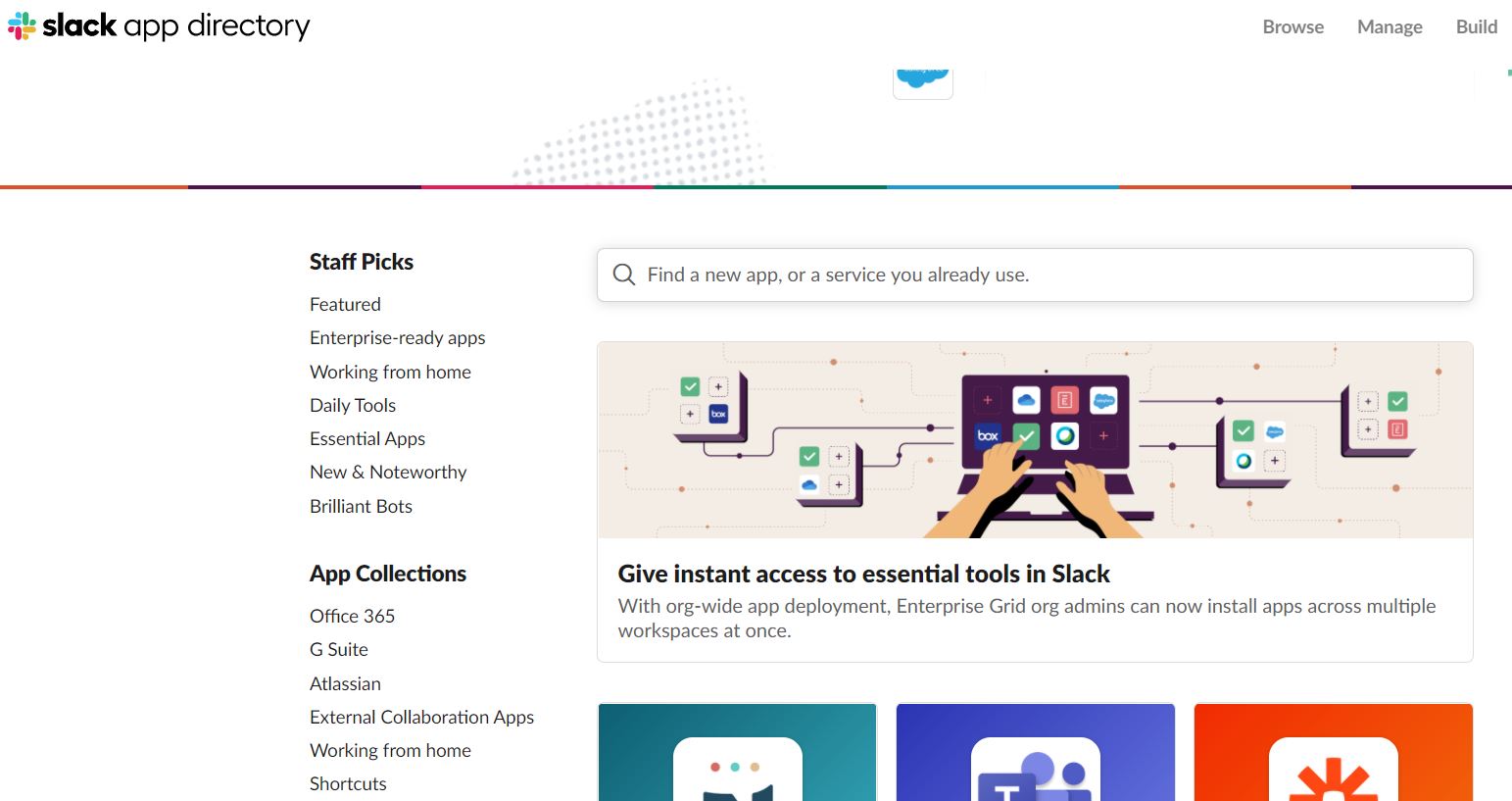 Once you find Asana, click Add to Slack.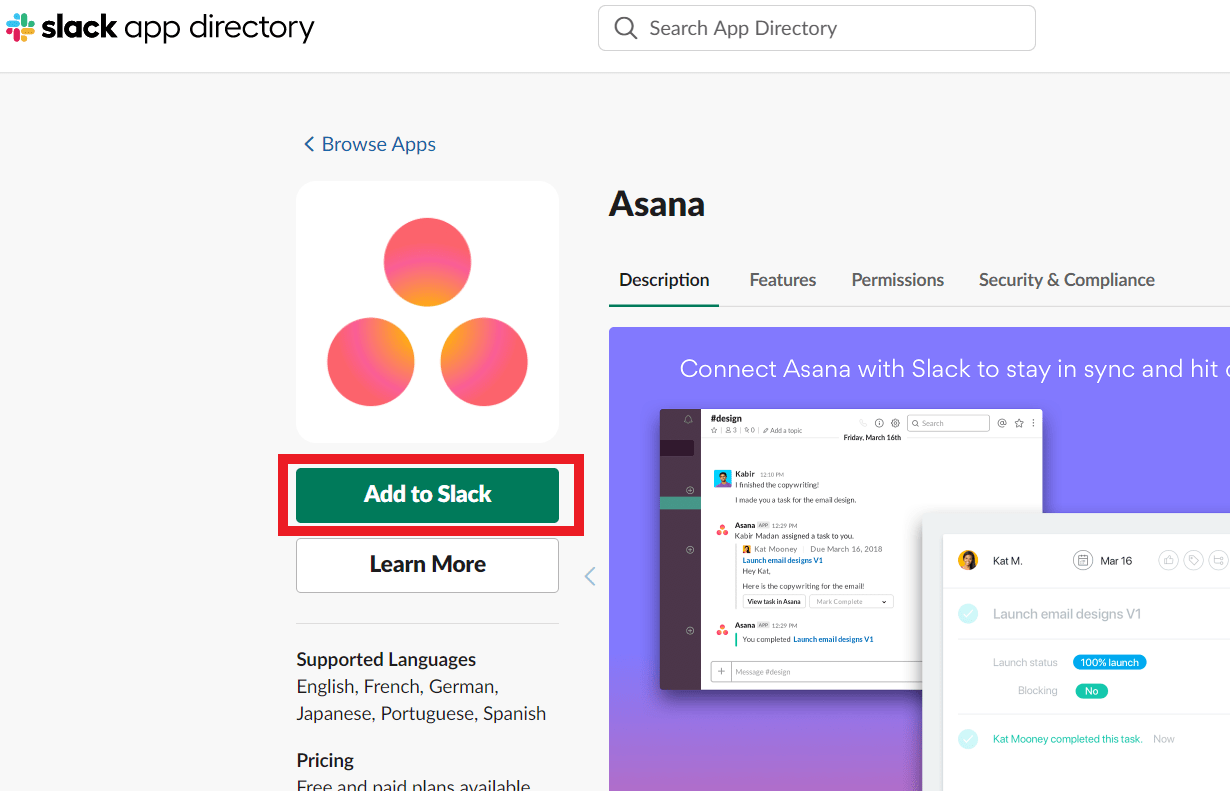 Select the Slack channels where you want Asana to post to. Then click on Search for Channels to include direct messages.
Now, you and the other team members will have to sign into their respective Asana accounts directly from the Slack channel.
Go to the Apps section of Slack (you'll find this at the bottom of the left sidebar in your main Slack view), and click on Asana.
Enter the following command in the message box: /asana
Click on Connect Asana to Slack to grant application permissions, and follow it up by selecting the Allow button. This will enable the app to access the Asana account.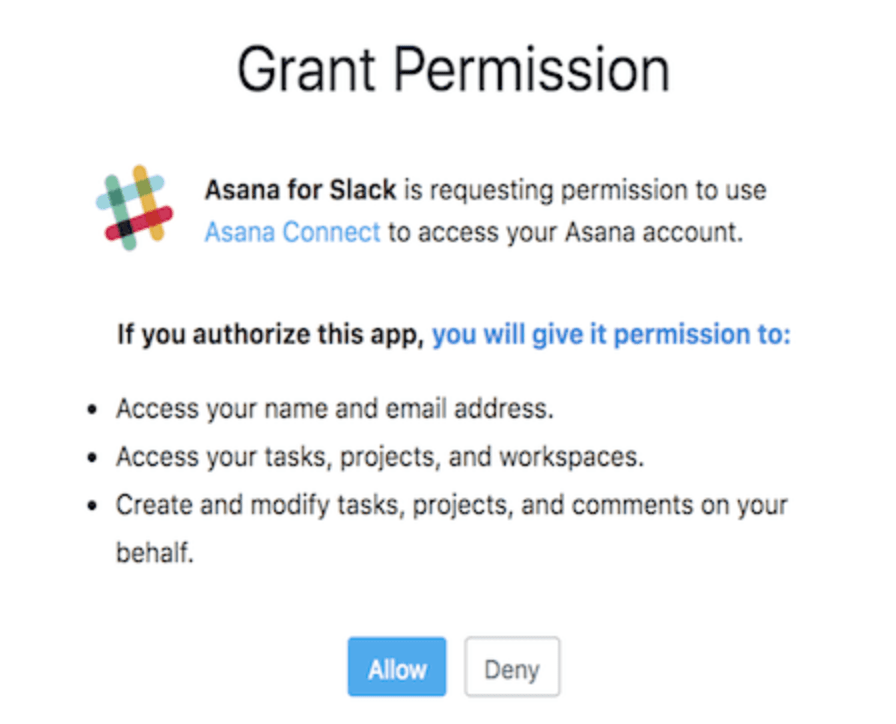 Step #2 Create a New Asana Task in Slack
In the second stage, you'll have to set up Asana tasks within the Slack platform, and while this may sound intimidating, trust us when we tell you it certainly isn't.
To create a new Asana task in Slack, enter this command into the message box: /asana create. When you press enter on your keyboard, the New Asana task box window will pop-up on your screen.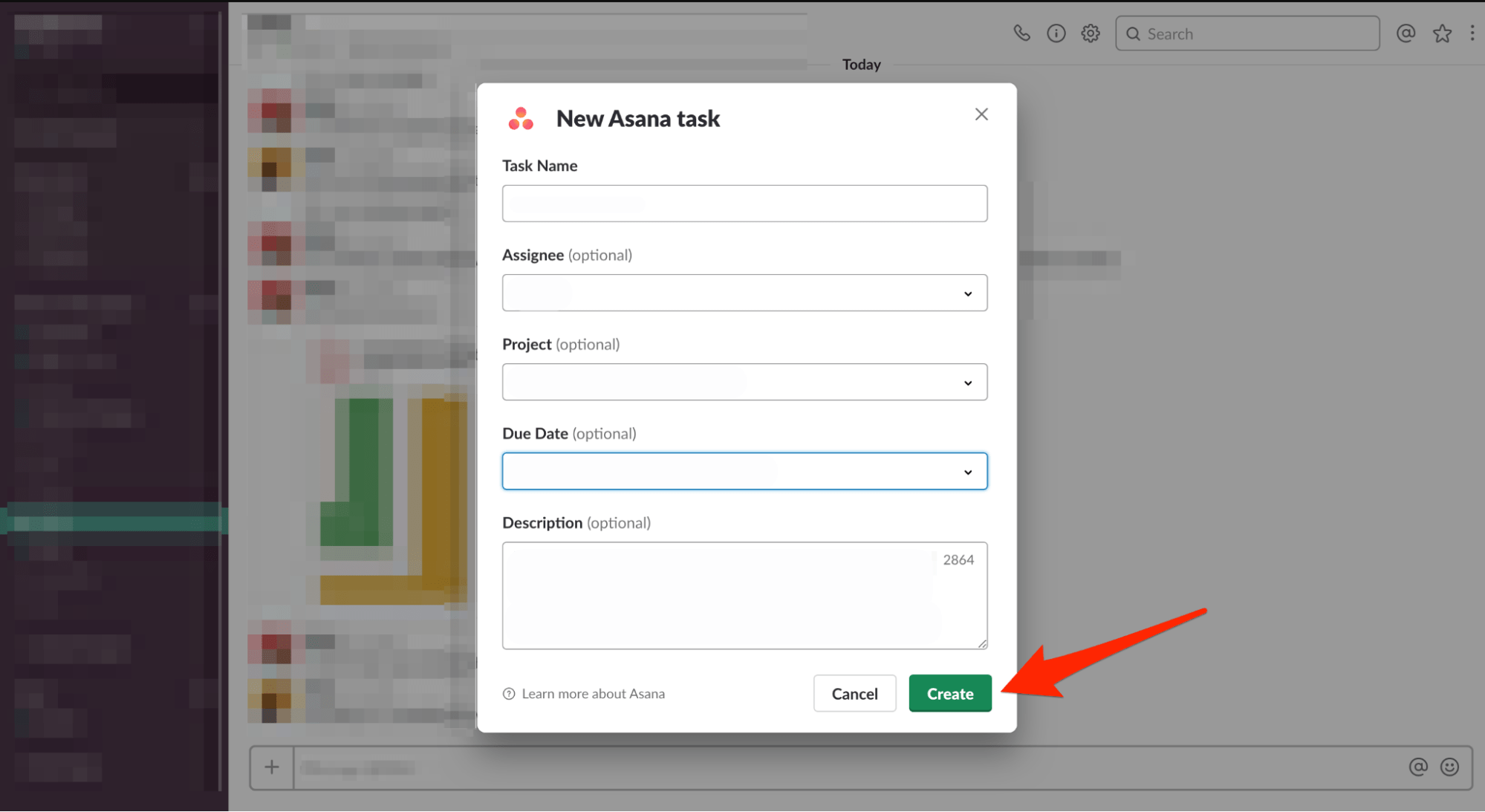 Fill in all the text boxes on that window. And once that's done, click on the green Create button.
Step #3 Turn Your Slack Messages into Asana Tasks
Instead of creating an Asana task, you can turn a Slack message into a task as well, and yes, it's just as simple.
Hover your mouse over the message you want to set up a task for. You see a small toolbar appear on your screen.
Click on the three horizontal dots (known as the "more actions" button and sometimes called a "hamburger icon") that is the far right option.

The More Actions menu includes tons of new Asana options like 'Follow message,' 'Copy link,' 'Remind me about this,' and so on. However, as we're concerned with creating an Asana task, you should select the Create a task…Asana option.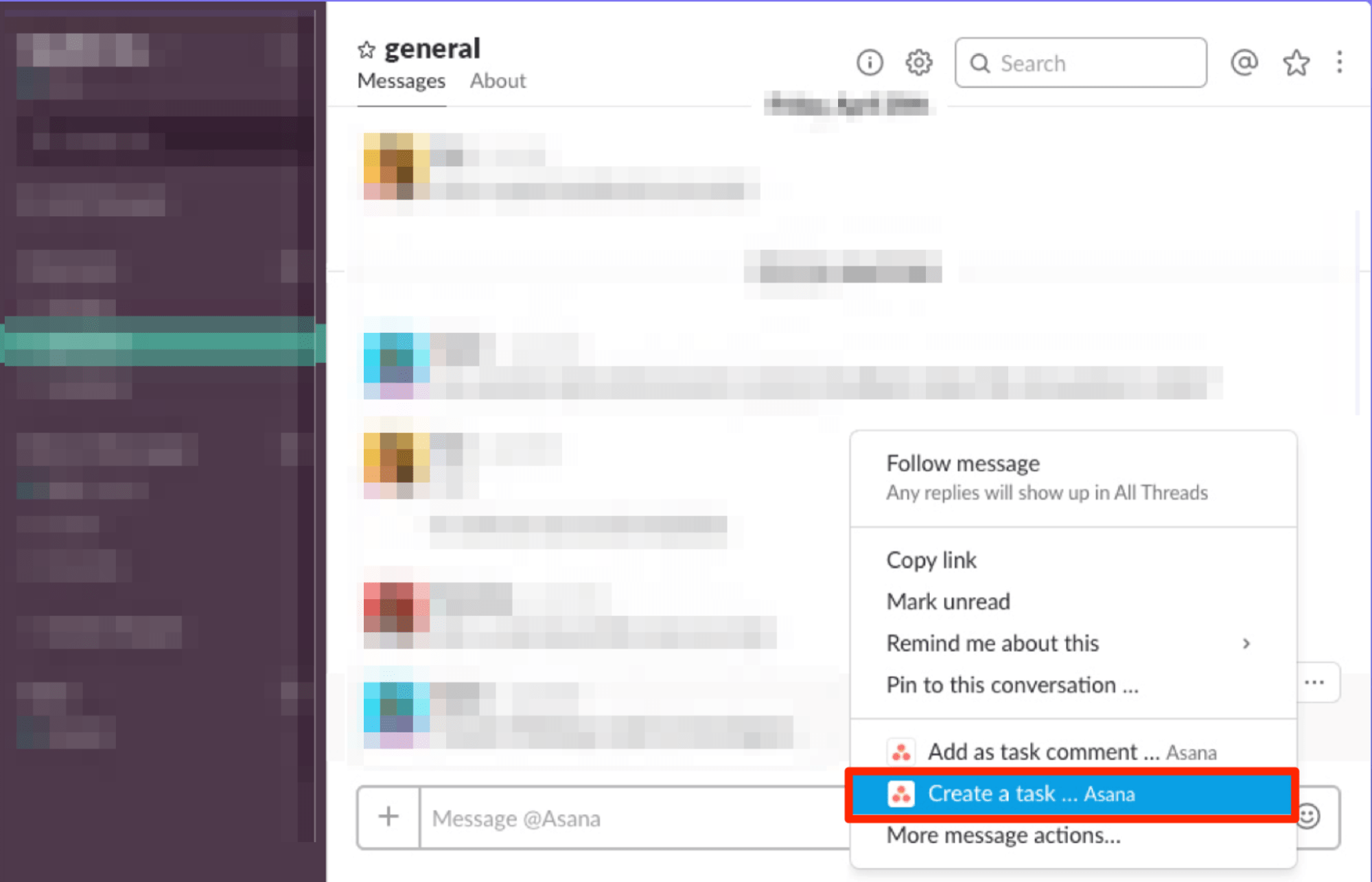 This will create the task automatically.
Step #4 Set Up Your Asana Notifications
You can set up Asana notifications for different Slack channels.
Start by selecting the channel you want the notifications bar on the left, and then enter the following command in Slack: /asana link.
Follow this up by hitting enter.
You can now select the project you want to link with the channel.
Step #5 Take Action on Asana Task Notification
You can select actions for every task notification on a Slack channel.
Click on the More actions dropdown menu on the right of the specific task notification. You'll see a list of options like 'mark complete,' 'change due date,' and 'add to project,' among others. Select one that matches your requirements best.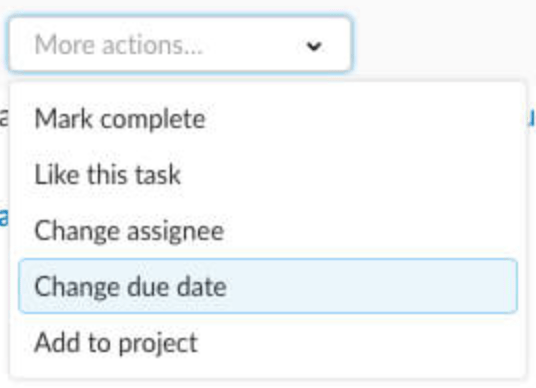 Below, we've compiled a list of the most common problems users face when integrating Slack with Asana. After all, you should have an idea of how to proceed in case you face similar issues.
Problem 1: Difficulty Changing the Domain in the Asana Bot Settings
You can switch to an organization account by adding your website domains on Asana even when you were previously using your personal emails on the free workspace plan.
It might be possible for a few members of your team to not set the organization's workspace as their default due to a glitch, causing you to see the error message, "We weren't able to change your default Asana domain. Please try again."
In this case, you'll have to deauthorize and then reauthorize the Asana app to function again.
You'll have to type the /asana settings command and then click on the Authorize button. By doing this, you won't be able to use the app anymore, and all linked project notifications you set up will be removed.
To turn them back on, you have to re-authorize and set the app up again. To reinstall, click on this page.
Alternatively, you can also update your domain in Slack by following the steps:
Type /asana in the message box
Click on Personal Settings, and change the default domain
Once that is done, click on Change Domain
Problem 2: Cannot Connect to the Slack Desktop App
You may not be able to connect to the Slack desktop app due to the settings for your network or any security device interference like a proxy, antivirus software, firewall, or VPN.
Here's how you can troubleshoot this problem.
Clear the cache by clicking on Restart Slack just below the error message. After doing this, check whether you can open the app.
If not, you'll have to collect your net logs on the Slack desktop app and send them to the help center for further investigation. To collect net logs, click on the Download logs button below the error message.
Alternatively, you can follow the steps below:
Open the Slack desktop app, and select help in your computer's top menu bar. If you are a Windows 10 user, you'll have to click on the three horizontal dots icon on the top left corner of the Slack app.
Click on Troubleshooting, followed by Restart and collect net logs. The app will restart automatically, and once done, you'll see a pop-up window on your screen with the message "Your log is in progress."
Continue using Slack as usual. When the issue occurs again, go back to the pop-up window, and click on Stop logging.
Locate the log as a file in the Downloads folder on your computer, and send it to the Slack Help Center with the file attached.
You should hear back from the support team within a few hours or days. Just follow their instructions, and you should be good to go.
How to Make the Most of the New Asana and Slack Integration
Thanks to the new Asana for Slack integration, you won't find yourself flipping back and forth between the two tools to get work updates or take action on tasks.
And while that's great, there's so much more you can do with it.
Get Notifications in Slack About All Your Asana Tasks
You can get personal notifications for work assigned to you on Asana directly on Slack, allowing you to follow through with queries or actions right away.
Here are a few ways where you can get personal notifications on:
New Tasks Assignments. Whenever a new task is assigned to your name, you'll receive a notification on Slack along with details, including who assigned it to you, due date, task name, and task description, among others.
Any Comments Made on Tasks. It's normal for team members to ask questions, share updates, or give feedback on tasks. After integrating Asana with Slack, you'll receive notifications on Slack whenever there's any comment on the tasks assigned to you. What's more, you can reply to the comment or like the comment right from the notification.
Task Updates. You'll get notifications whenever you're added to any Asana tasks. For instance, if there's a change in a task's due date, you'll receive a notification on Slack.
Link Asana Projects to Slack Channels
You can link specific Asana tasks to Slack channels to notify everyone in the channel and receive any updates made to your projects.
Here are a few projects you can link to Slack channels:
Bug Tracking. Everyone will know right away whenever a critical bug is reported that can impact your customers. This way, every team member can resolve the situation pronto.
Creative Requests. You can assign any design requests to designers or comment on tasks with questions that everyone knows what they have to do without wasting time. Also, every team member will know who's assigned each request, which makes things even clearer.
Product and Campaign Launches. The day of the product launch is always hectic. But with this integration, you can keep everyone in sync by combining real-time messaging with your project plans so that everyone gets notified whenever tasks are completed.
Convert a Slack Message into a Task or Comment
You can turn Slack messages into new Asana tasks and comments with actions—something we discussed earlier. Great ideas, work requests, and important context can come at any time during a quick brainstorming session in Slack, which is why this feature can be incredibly handy.
Another advantage is that you don't have to worry about your messages getting lost in long channel threads and DMs.
The Bottom Line
As you can see, the Asana and Slack integration successfully amalgamate the best of both worlds by combining Slack's instant messaging platform with Asana's exceptional project management functionality.
It's the users' ultimate win since they can act on their Slack messages, turning them into projects, or create Asana tasks right from scratch on Slack.