How to Create a Group Email in Gmail
Are you tired of typing dozens of email addresses every time you have to send a group email in Gmail?
There has to be an easier way, right?
Thankfully, there is more than one way to send mass emails in Gmail.
In this detailed article, I'll tell you exactly how to create a group email in Gmail along with several other useful tips for sending mass email campaigns.
Keep reading.
4 Ways To Create A Group Email In Gmail
There are several ways you can send group emails using your regular Gmail account. Until I knew these methods, it took me 15-20 minutes to enter all the email addresses every time I wanted to send a group email to my college friends or colleagues.
Now, it takes just a few minutes.
I'll show you how in the following sections.
Method#1: Send Group Emails Using Labels
If you send emails to the same group of people frequently, using labels is your best option in Gmail.
What are labels in Gmail?
Labels are like tags you can assign to different email addresses or conversations to identify and group them.
They not only help you organize your contacts and conversations better but also allow you to send emails to hundreds of people without entering their email addresses individually.
Here's how you can do it.
Step#1: Sign in to your Google account.
Step#2: Go to contacts.google.com
Step#3: Click on the Labels tab located in the menu on the left of your screen. If you have created labels before, you can see all of them under the Labels tab.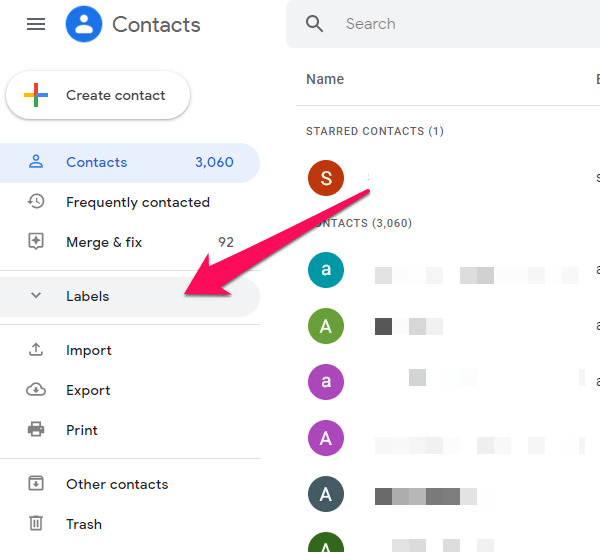 Step#4: Click on "Create label"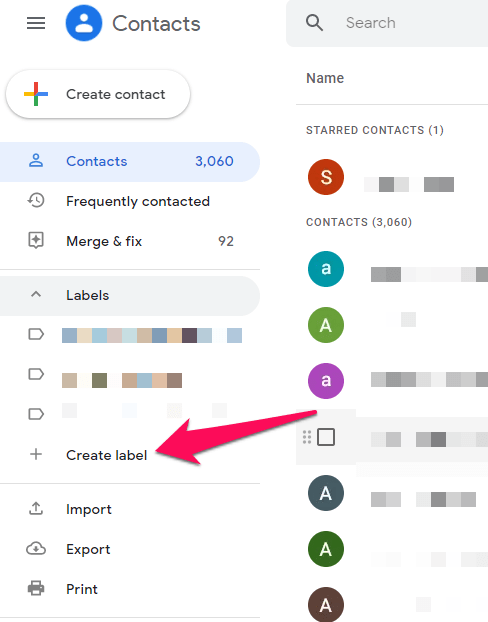 Step#5: Give your label a name that's easy to remember.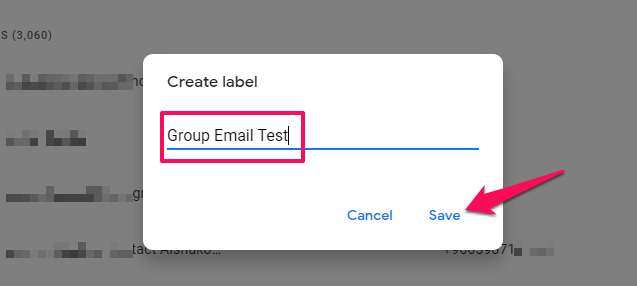 Step#6: Click on Save.
Step#7: Now click on Contacts to show all the email addresses in your contact list.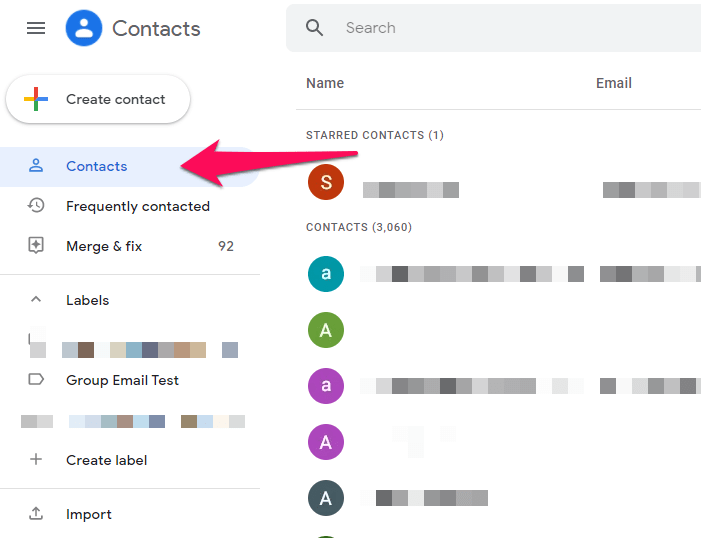 Step#8: Select the contacts that you want to add to your email group.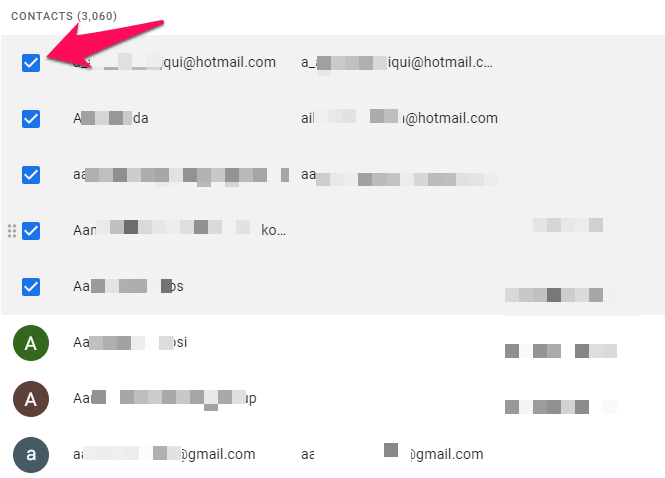 Step#9: Now click on the Labels icon over your contact list and select the relevant label. This applies the label to all the selected contacts.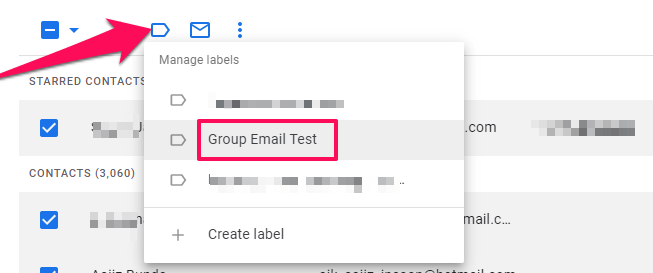 These contacts have now been grouped in your Gmail contact list using your label.
To send a group email to this label,
Step#10: Visit gmail.com to open your Gmail account.
Step#11: Click on Compose to create a new email message.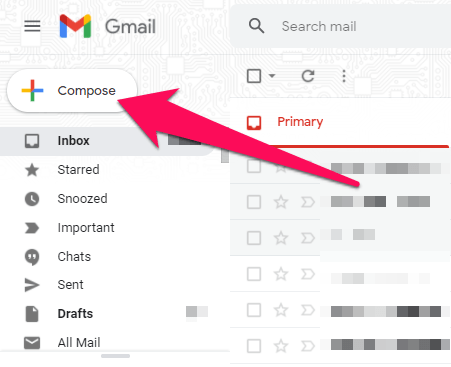 Step#12: Use the BCC field instead of To so that your recipients cannot see the group/label name. When you type your group/label name in the BCC or To field, Gmail will recognize and show it to you. Click on the label to add it to the address field.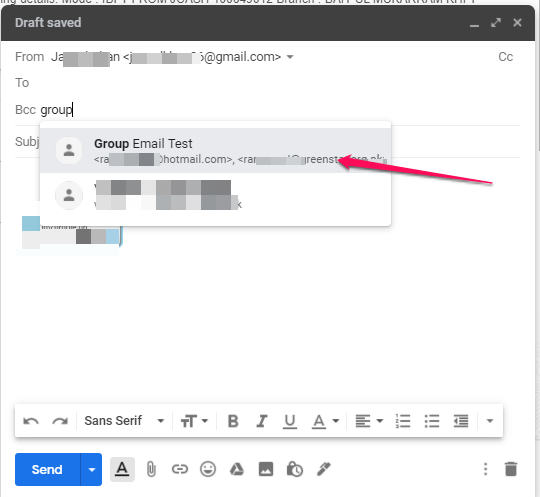 Step#13: Click on the Send button to launch your group email.
Congratulations! You've successfully sent a group email in Gmail without typing the email addresses individually.
Method#2: Send Group Emails In Gmail Smartphone App
You can also send group emails in Gmail using the Gmail smartphone app (both Android and iOS).
The process is almost identical.
Let me quickly describe it to you.
To use this method, you'll need to install the following apps: Gmail and Google Contacts
Once you have these apps, follow the steps below.
Step#1: Open the Gmail app on your smartphone.
Step#2: Open the menu and scroll down to the bottom where you'll find Contacts.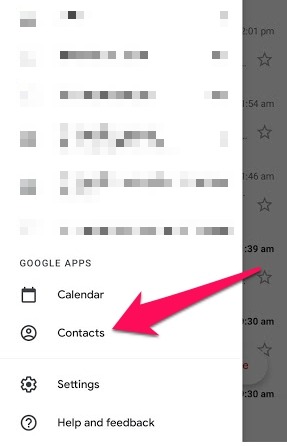 Step#3: In Contacts, tap on the menu icon to find Labels
Step#4: Tap on Create Label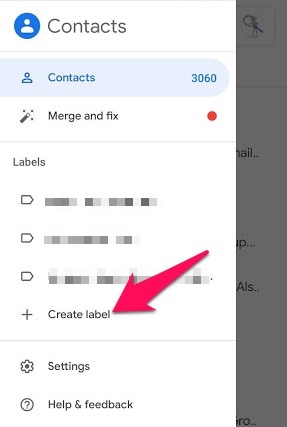 Step#5: Use an easy to remember the name for your label.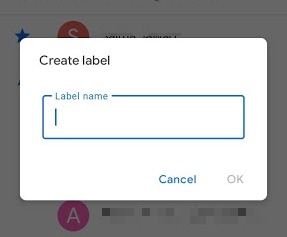 Step#6: Tap Ok to save the new label.
Step#7: In the Contacts app, long-tap on all the contacts one by one that you want to add to your email group.
Step#8: Now tap on the options icon on the top-right of your screen and tap on "Add to label".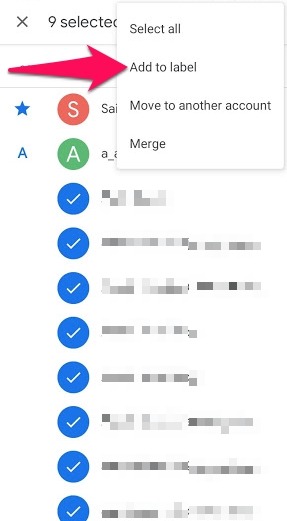 Step#9: Choose the relevant label from the list to apply to all the selected contacts.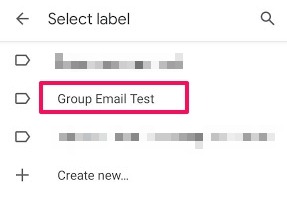 Step#10: To send an email to your labeled contacts, go to the Contacts app→ Menu→ Labels→ Your label.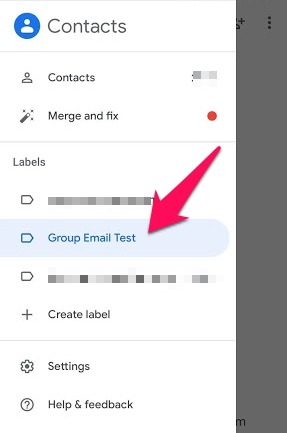 Step#11: In the options menu, choose "send email"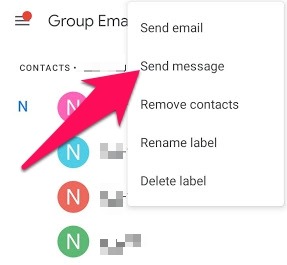 Step#12: This will take you to the "New Message" interface in your Gmail app.
Step#13: Create your email content and tap Send.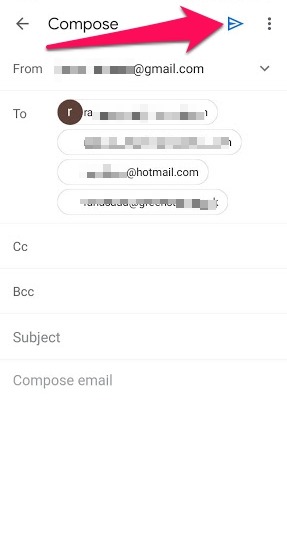 That's it, your group email has been successfully sent.
If any of your contacts respond to your email, only you will receive them.
Method#3: Send Group Emails Using Google Groups
Do you remember Google Groups?
If you don't (or haven't heard of it at all) I don't blame you.
Google Groups was one of Google's most popular products until 2010. After that, it slowly faded away as users got interested in other platforms.
But unlike many other dormant products, Google hasn't killed Groups yet.
You can still use it for free if you have a Gmail account.
One of the many benefits of Google Groups is that you can instantly send emails to thousands of people without typing their email addresses individually.
The only condition here is that all your recipients must join your Google Group before they can get your emails.
Here's how you can send Group emails using Google Groups.
Step#1: Sign in to your Google account.
Step#2: Go to https://groups.google.com
Step#3: Click on "Create Group" to start a new group.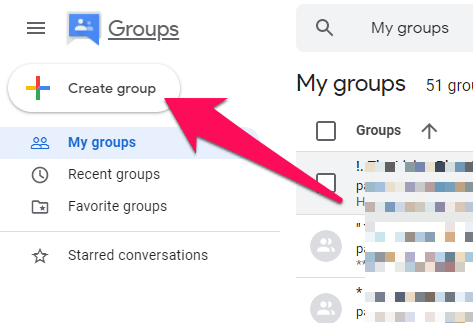 Step#4: Give your group a name, a unique email address, and a brief description. Your email address has to be unique and since there are so many groups, you might need to choose a long email address.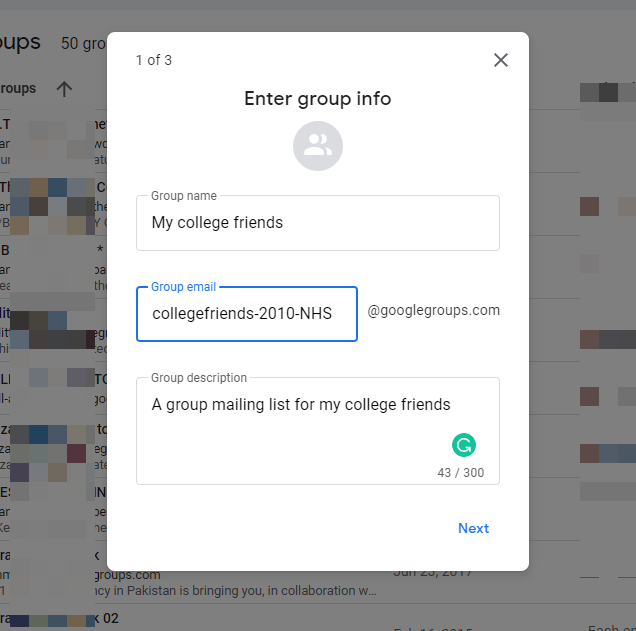 Step#5: Click Next.
Step#6: In this step, you need to configure the privacy settings of your group. Since you want to use this group as an email list for one-way communication, I suggest using the following settings (as shown in the screenshot). Keep the posting rights to yourself so that only you can send emails to the group. Also, make sure it's a private group that's not publicly searchable and can only be joined through a private invitation.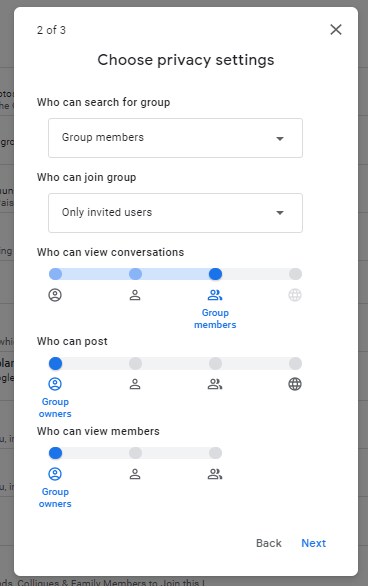 Step#7: Now's the time to invite people to your group. In the Group Members field, type the email addresses of all the people you want to add to your group.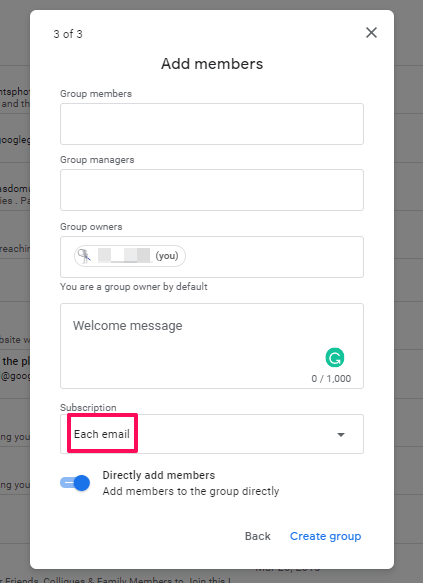 Leave the Group Members field empty because you're the Group Owner by default and don't need any managers or co-owners.
Step#8: You can type a small introductory message about the group, for example, "I've created this mailing list to send group emails to my college friends". Your group members will be able to see this message when you invite them to the group.
Step#9: In the Subscription field, choose "Each email" so that every message you send to the group is delivered separately.
Step#10: Enable the option to directly add members to your group so that you don't need to wait for people to accept your invitation.
Step#11: Click on Create Group to finish the setup.
Step#12: Inside your new group, click on Group Settings in the left bar.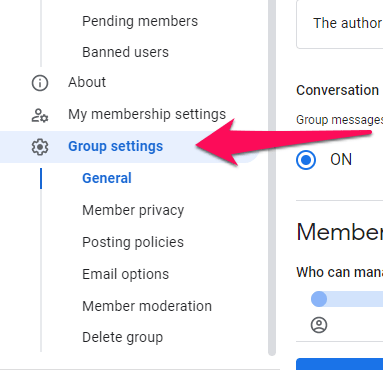 Step#13: Enable the "Advanced Settings" option on the top-right corner of your screen.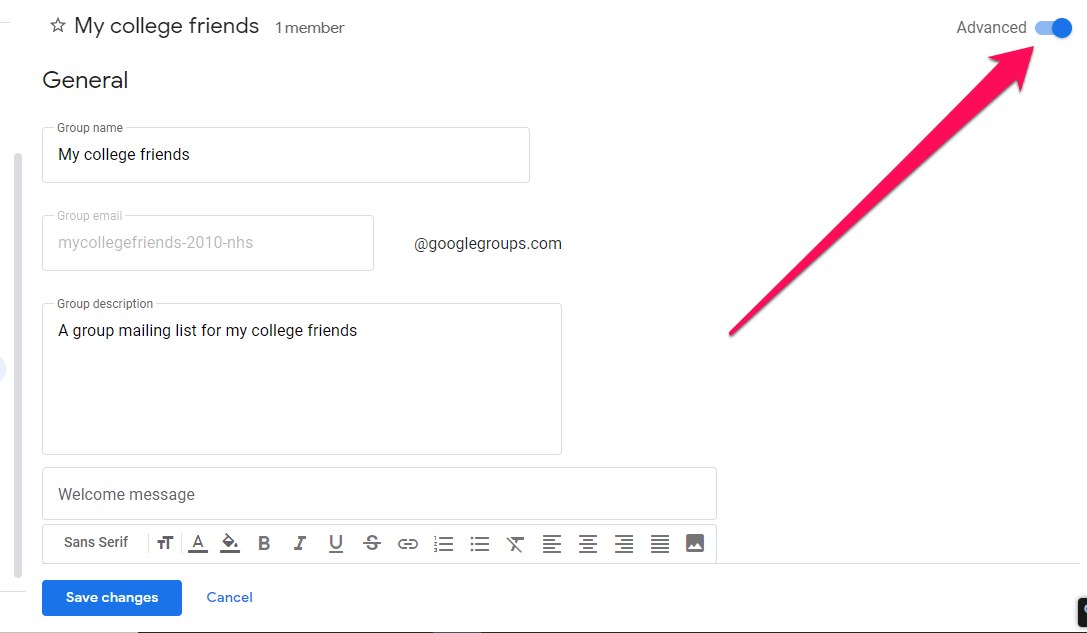 Step#14: Scroll down to "Post replies to" and choose "the author of the message only".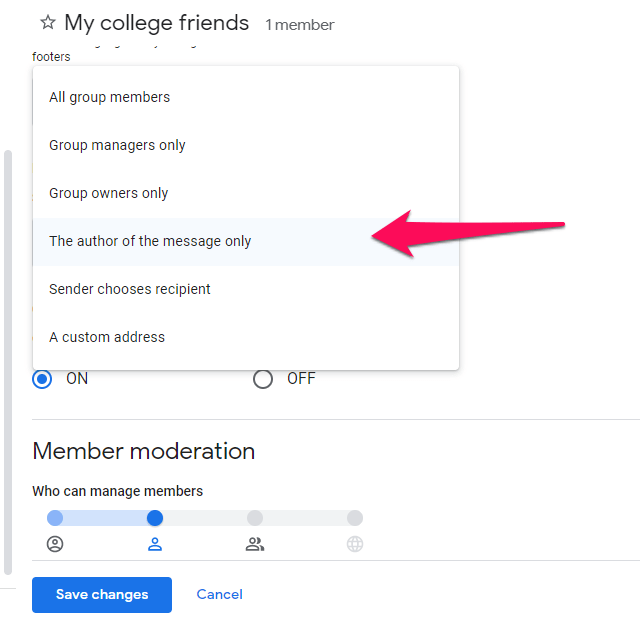 Now any replies to your group emails will only be sent to you, not all the group members.
That's it! You have now created a group that you can use as a mailing list for sending mass emails.
To send an email to your group members
Step#15: Go to your Gmail account and click on Compose.
Step#16: In the To field, type the email address of your Google Group that you chose while setting up the group. If you don't remember it, you can find it by visiting your group from groups.google.com.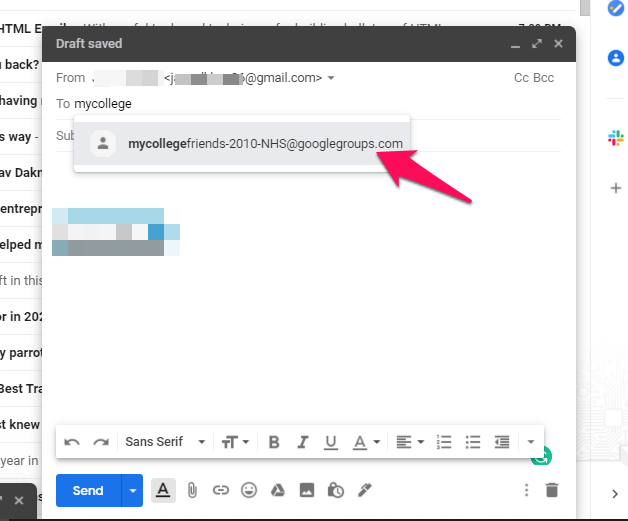 Step#17: Type your message content and click Send
Congrats! You've successfully sent a group email in Gmail.
If you want to add more email addresses to your group, go to Google Groups→ Your Group→ People→ Add Members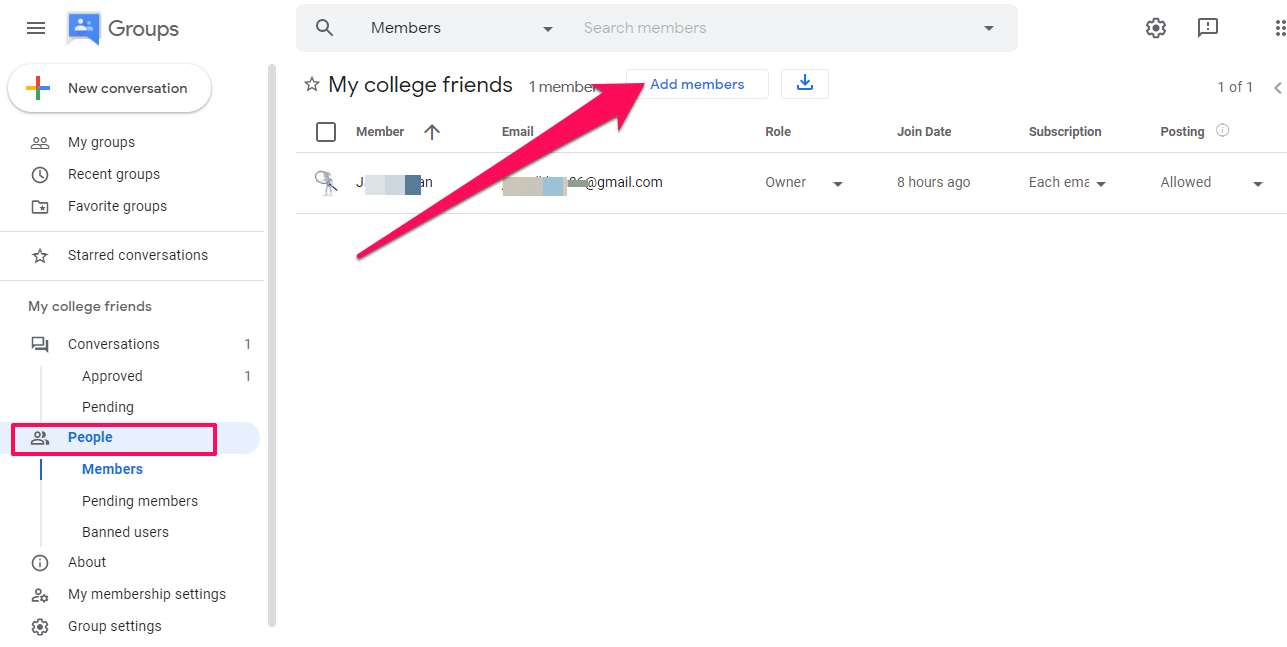 Type the email addresses of all the people you want to add and click "Add members".
Method#4: Send Group Emails Using Blind Carbon Copy (BCC)
If you want to send group emails occasionally without creating labels or groups, there's another way.
You can type all the email addresses in the Blind Carbon Copy (BCC) field and send your group email. In this method, you will have to type all the addresses individually. The only advantage here is that none of the recipients will be able to see the email addresses of the other users.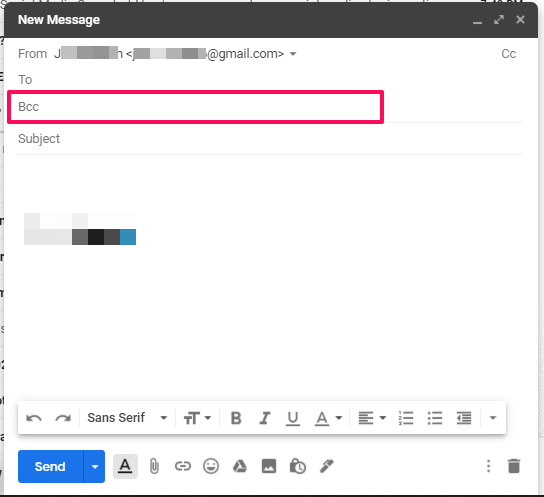 If you ever need to send an email to the same people again, you can simply open the previous group email from your Sent folder and copy all the email addresses from there.
Gmail Daily Sending Limits – How Many Emails Can Be Sent At Once In Gmail?
For regular Gmail users with free accounts, the daily email sending limit is 500 emails per day. This means that if you're sending group emails using labels or the BCC field, you won't be able to send more than 500 emails in a day.
The sending limit is reset after 24 hours and you can continue sending emails with your Gmail account. For premium Gmail accounts, the daily sending limit is 2000 emails per day.
If you're using Google Groups to send mass emails, the story is different.
There's no limit to the number of members per group in Google Groups. This means you can send an email to your Google Groups email address and it will be sent to all the members without any issues.
When to Use a G-Suite Email Alias
Google Workspace (previously called G-Suite) allows users to create up to 30 email aliases.
What is an email alias?
An email alias is an additional email address, that uses your domain name, but forwards all the emails it receives to your main email address.
For example, bill@yourdomain.com wants a different email address for support inquiries. So he creates the email alias support@yourdomain.com. All the emails sent to support will land in Bill's main email account.
It's an easy way to disguise your primary email address and provide a customized experience to your clients and co-workers.
When does it make sense to use an email alias?
Email aliases are mostly useful for sales and support professionals that want to provide a personalized experience to their clients.
They're also useful if you want to send emails from different email addresses. You'll create the emails from your main account but choose an alias for sending them so that the sent address visible to the recipient shows your alias.
When to Use An Email Marketing Tool
Sending group emails using Gmail makes sense when you want to reach out to a selected group of people.
However, if you want to send mass email campaigns to people around the world without any restrictions, automate your email campaigns using autoresponders and if-then conditions, or grow an email list that can be monetized in different ways, then you'll need to use a professional email marketing tool.
Email marketing software comes with a lot of other options as well.
For example, you'll be able to see detailed analytics of your email campaigns, identify your most engaged subscribers, send emails based on subscriber behavior, design HTML emails, create mobile-friendly emails, and a lot more.
You can use both free and premium email marketing software depending on your business needs.
Are You Ready To Create Group Emails In Gmail?
Sending group emails in Gmail is possible, as I've shown you in this article.
But to prevent its services from being used for spamming, Gmail has made sending group emails harder than regular emails.
This is why you need to use the workaround that I've shared.
Plus, there's an email sending limit of 500 emails per day for regular Gmail users.
In short, group emailing with Gmail only makes sense if you're using it for small groups of your personal friends, co-workers, or trusted contacts that you frequently engage with.
Otherwise, using a professional email marketing tool is the better option for mass email campaigns.