What is GoToMeeting?
And should you get it?
GoToMeeting is a market leading video conferencing tool used by millions of people. It helps companies improve their internal and external communication by letting them host online meetings that run smoothly.
Users can share their screen as well as send documents and resources right within the tool. And, every meeting can be recorded and shared with people who didn't attend.
In this post we examine GoToMeeting's features and compare them with two alternatives: WebEx and Zoom.
At the end of the post, we make our recommendation.
Let's start by looking at what GoToMeeting offers and how it compares with WebEx and Zoom.
Overview
Pricing and plans
The GoToMeeting pricing doesn't include a free plan and is based on the number of participants you can have in a meeting. Here's a table that shows the key differences between plans: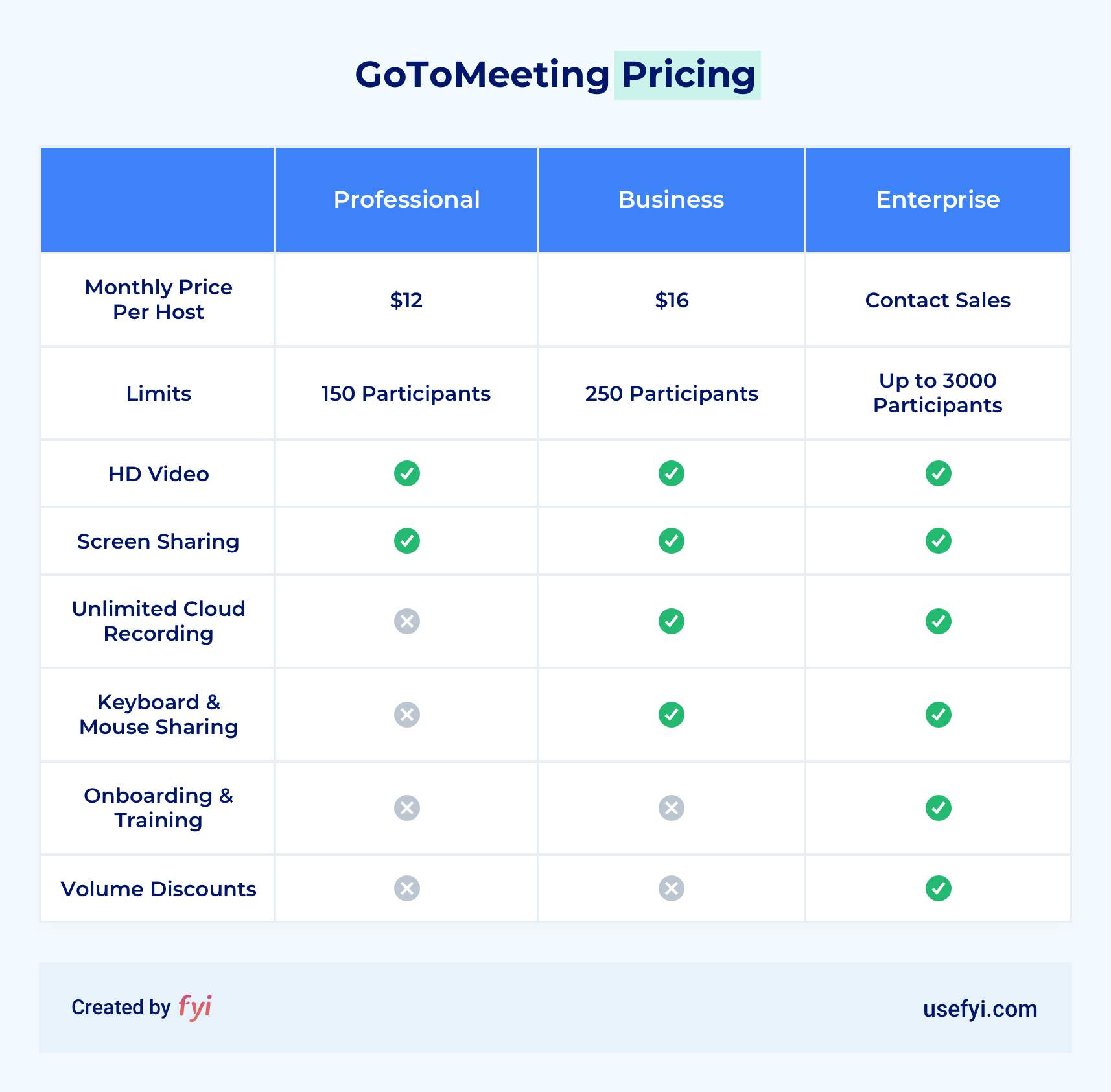 More expensive plans give access to more powerful video meeting features as well as a higher quality of customer support.
GoToMeeting provides an even more detailed breakdown of their plans on their website.
Key features
Millions of people use GoToMeeting for its web conferencing features.
What are they?
First, you can host high definition video (or audio) conferences and meet face-to-face with meeting participants. It has everything companies need to carry out quality online meetings internally with their employees and externally with their customers.
Second, you can share your screen or pass keyboard and mouse control to participants to collaborate. That makes remote troubleshooting and training much faster because you can just show what you mean or move the mouse around on another computer, instead of trying to walk the other person through all the steps.
Third, you can record and share meetings locally or in the cloud. That makes it easier for companies to analyze meeting results and improve. People who couldn't attend can watch the recording and people who did attend can review the meeting later in greater detail.
Overall, GoToMeeting provides a robust online meeting solution for companies.
What makes it different
GoToMeeting, Zoom and WebEx are three market leading video conferencing tools.
According to G2 and Capterra, two websites that rank software products by user reviews, both GoToMeeting and Zoom perform better than WebEx across almost all product areas.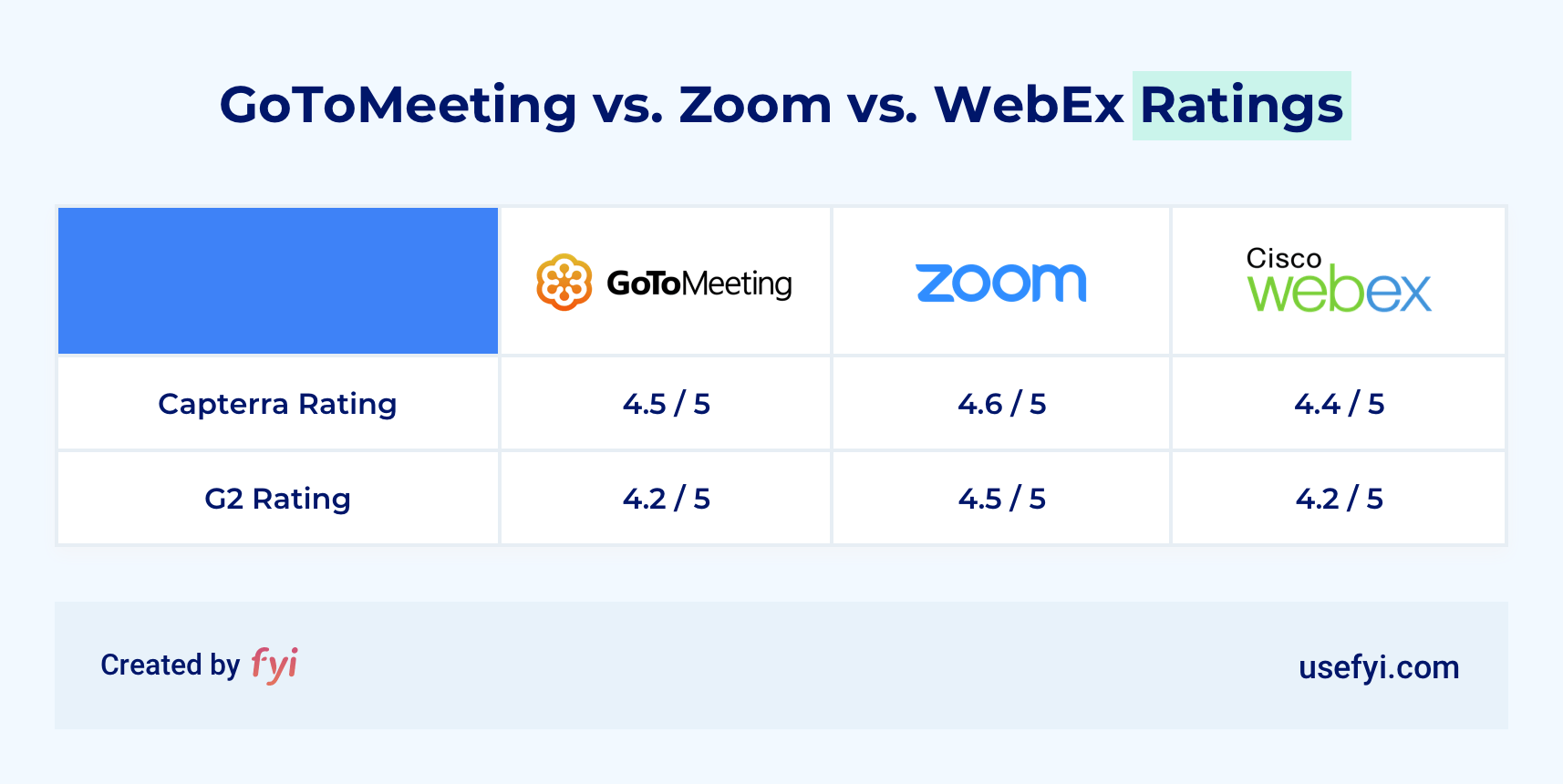 Taking all product areas into consideration Zoom is currently the best video conferencing tool but, GoToMeeting may be better in some cases.
The clear advantage the Zoom has is its free plan: they provide a fully-featured video conferencing solution for free for up to 100 participants.
However, if you need more than 100 participants, Go To Meeting may be a better choice. In fact, Zoom charges extra fees on all its paid plans except the Enterprise one. The Pro and Business plans have limits regarding the amount of cloud storage available and the number of attendees and hosts they support. If you hit them and need more, you have the option to purchase add-ons or switch to a higher-priced plan.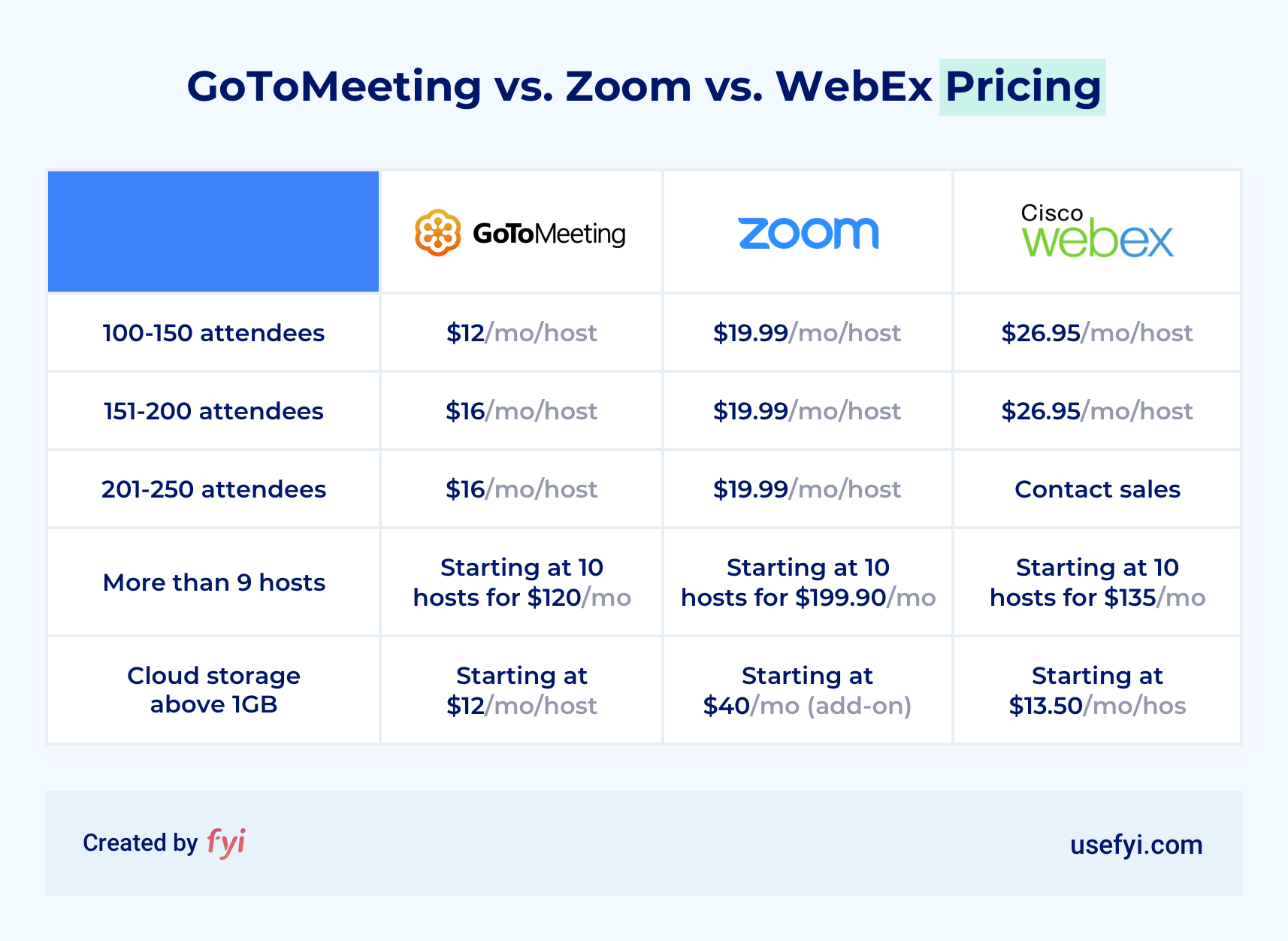 The GoToMeeting offer is more generous regarding cloud storage, attendees and hosts. For example, if you're a large company that needs to accommodate between 100 and 250 attendees in meetings, you would pay $16 per host per month with GoToMeeting and $19.99 per host per month with Zoom. And, with Zoom you would need to buy at least 10 host licences, whereas GoToMeeting doesn't require a minimum number of host licenses to buy.
In fact, GoToMeeting doesn't have host requirements, which Zoom has for all its paid plans. If you are looking to have up to ten hosts you can start on Zoom Pro plan but, if your needs grow and you want to add hosts, you need to upgrade to higher-priced plans. Zoom Business supports up to 100 hosts and above that number you need to upgrade to Zoom Enterprise.
Another aspect that really makes GoToMeeting shine compared to Zoom is the unlimited cloud recording in the Business and Enterprise plans. The feature allows you to record and store in the cloud as many meetings as you like. On the other hand, Zoom charges an extra fee for cloud storage above 1GB.
Let's look at GoToMeeting's pros and cons in more detail.
Pros
Meeting Recording
GoToMeeting gives you the ability to start, search and share meeting recordings.
The feature is available on the desktop app as well as the mobile apps for iOS, Android and Windows. And it works just as well for ad hoc meetings or scheduled ones. GoToMeeting also provides automatic transcription of recorded meetings and search through the transcripts.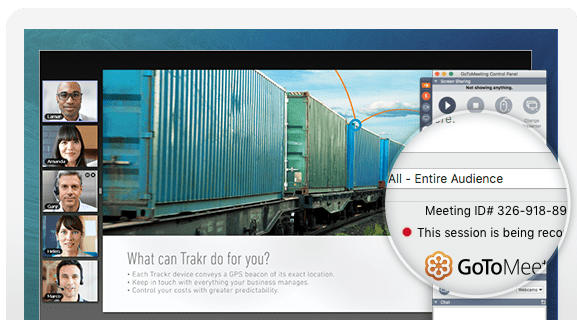 The powerful meeting recording functionality combined with the lack of cloud storage limits is what makes GoToMeeting really stand out compared to alternatives. In fact, GoToMeeting provides unlimited recordings, transcript and storage with its Business and Enterprise plans. Zoom, on the other hand, charges an extra fee for cloud storage above 1GB, starting at $40 per month.
For companies with high meeting recording needs, GoToMeeting is a very appealing option.
Audio and Video Quality
One of the biggest advantages to using GoToMeeting is its audio and video quality. It supports high-quality video and audio and its automatic bandwidth adjustment technology helps meetings run smoothly even when the internet connection isn't stable.
You can share up to 25 different cameras at once during a session and the view can be customized in the following ways:
Show all attendees in the meeting
Show only the person who is talking
Show only the people who are sharing their webcam
Don't show any webcam
As for sharing your own webcam, GoToMeeting lets you preview how attendees will see you before joining the meeting so you can make sure that everything looks alright. Sharing your camera just takes a click and you can customize your appearance by leveraging a number of advanced video settings such as brightness, contrast, saturation and more.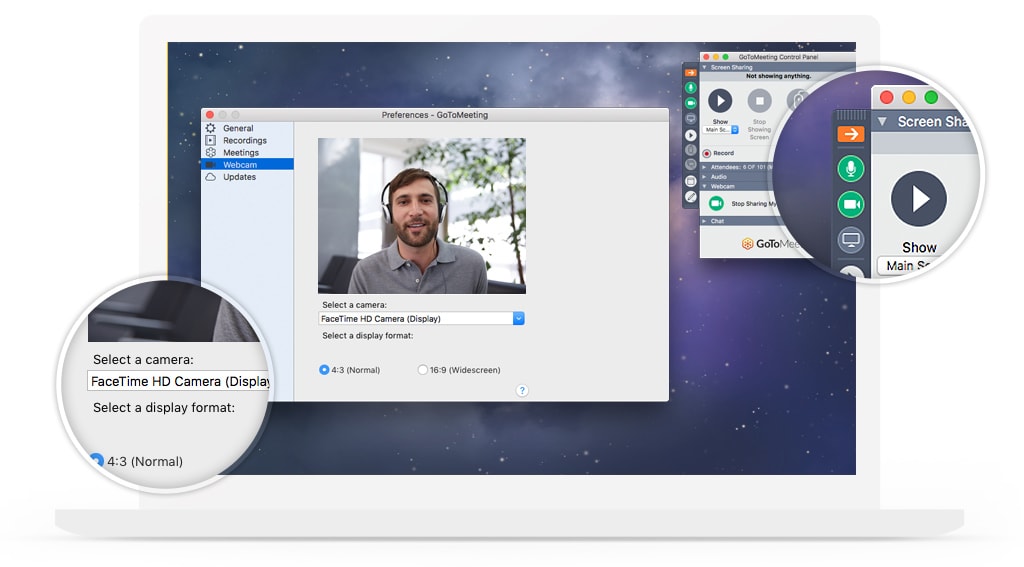 These features are enough for most businesses. However, if you're looking for more advanced functionality, Zoom may have it. The number of cameras you can display at one time during a meeting goes up to 49 with Zoom, compared to 25 with GoToMeeting. As for sharing your webcam, Zoom allows you to apply an automatic filter to touch up your appearance in poor lighting conditions and even to display a virtual background if you want to hide what's behind you.
Ease of Use
When it comes to hosting online meetings, GoToMeeting excels for ease of use. Even for people who are less technologically oriented, it offers a seamless way to collaborate with others remotely, see their screen or walk them through a process that is difficult to share over the phone.
During GoToMeeting's sessions you're provided with an intuitive control panel that always appears on the right side of your screen. In full screen mode you can even make it smaller and have it appear at the top of the screen. Features on the control panel include audio and video settings, screen sharing, chat and video conferencing options.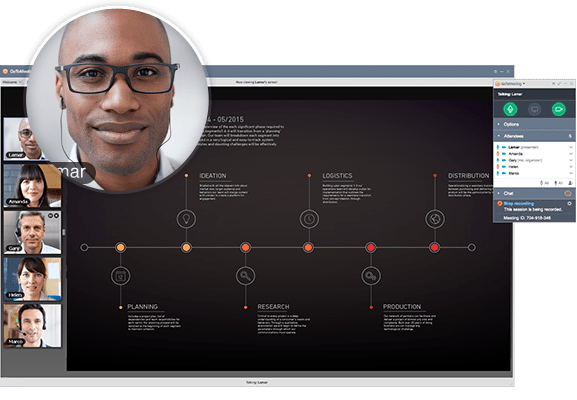 Screen Sharing
GoToMeeting enables you to conveniently share your desktop, smartphone or tablet screen. And it even provides some advanced screen sharing features, such as drawing tools, the option to switch presenter and meeting recordings.
For teams who collaborate online it is paramount to have a seamless way to screen share during meetings. GoToMeeting provides just that. You do not have to be tech savvy in order to share your screen during a GoToMeeting session. That becomes particularly helpful when you have meetings with your customers who may differ in comfortability when using a software tool that they are not used to.
Sharing your screen with GoToMeeting just takes two clicks. When you click the option to share your screen you are prompted to choose which window you want to share. And, you can even go one step further and share your keyboard and mouse control.
Some other nice options available with GoToMeeting are allowing all participants to share their screens at the same time and screen sharing from mobile devices with their iOS, Android and Windows apps.
How do screen sharing options compare with Zoom?
Zoom offers again some more advanced functionality. For example, you can share your computer's audio (e.g. share music you're listening to on your computer, without having to rely on your microphone) or share a just portion of your screen. While GoToMeeting's screen sharing features are very robust, Zoom is still one step ahead.
Cons
Connection
Some users complain about its bandwidth usage and connection issues. That's the lowest-rated feature on G2 (1% below average).
It is difficult to say if it has to do with the product itself or the quality of the Internet connection during meetings.
GoToMeeting recommends on their support page to have at least 1 Mbps of bandwidth available for optimal session performance.
No Free Plan
The lack of a free plan puts GoToMeeting at a disadvantage compared to Zoom and Webex, which both provide a free plan with strong video conferencing capabilities.
GoToMeeting just provides a 14-day free trial, after which you need to upgrade to one of their paid plans if you want to continue to use it.
Our Recommendation
In general, we suggest avoiding WebEx. It costs just as much as GoToMeeting and Zoom but scores worse than them across almost all product areas, based on both G2 and Capterra ratings.
Should you then choose GoToMeeting or Zoom?
If you're a small-medium company, we recommend getting a free Zoom account. You will be able to run meetings for up to 40 minutes and with up to 100 participants for free.
If you're a large company and your meetings tend to have between 100-250 attendees, you are interested in unlimited cloud storage and want to take advantage of GoToMeeting's lack of a minimum number of licenses to buy, then GoToMeeting may be a better choice.