Free Slack Vs. Paid Plans
Several remote workforces trust Slack to maximize their team productivity. This tool ensures optimal collaboration with fast and convenient communication that keeps everyone on the same page about a specific project, announcements, or just routine work.
While Slack users don't doubt the platform's excellence, there are still quite a few queries about its pricing.
Currently, Slack offers a free version that seemingly comes with enough features to allow businesses to get by. So why should users upgrade and opt for premium subscriptions? What is it that makes the paid Slack plans more appealing than the free option?
Let's find out.
Is Slack Really Free?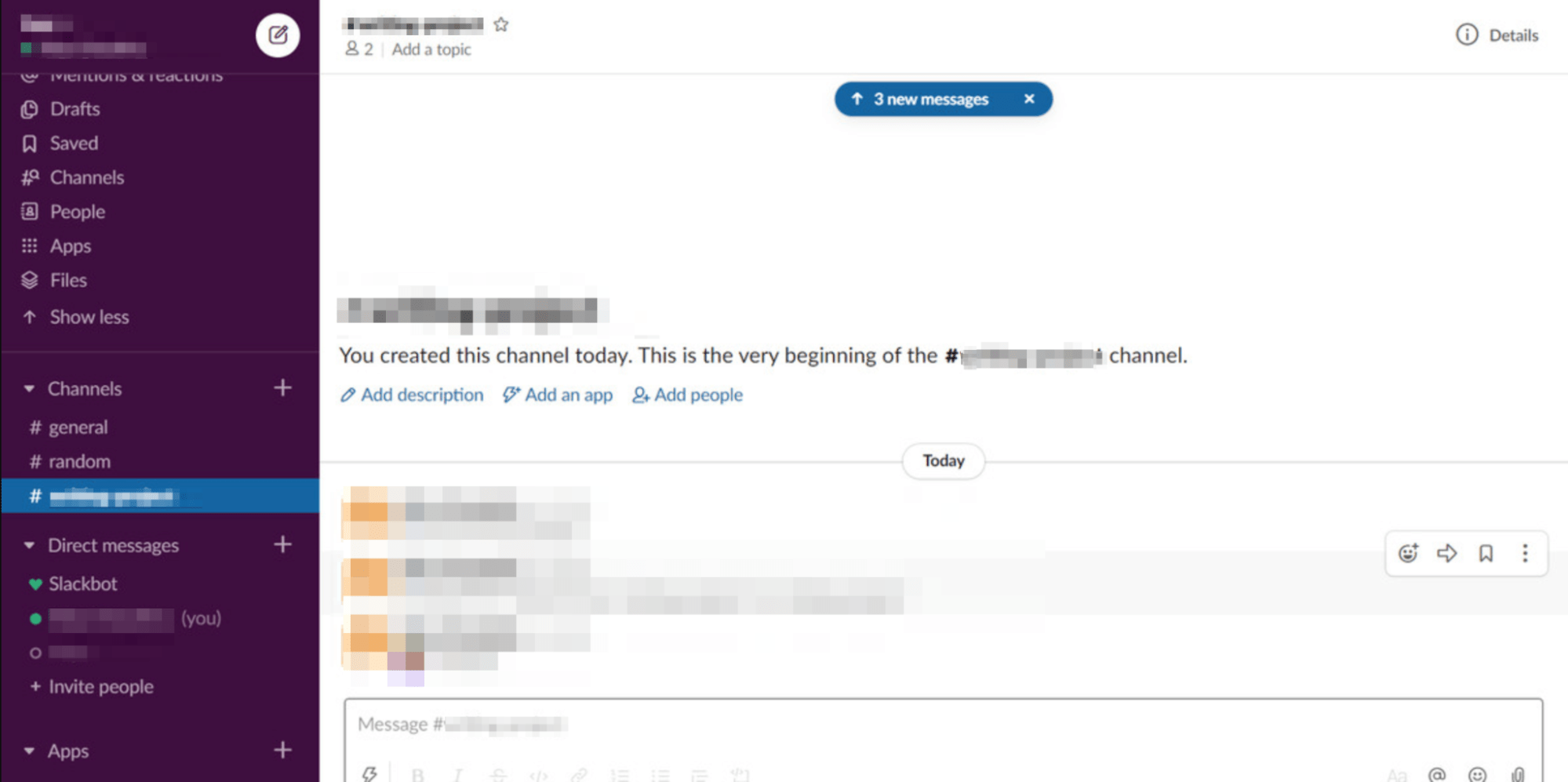 To answer the question right away: Yes!
Slack offers a freemium version to give potential customers a taste of the platform in a bid to convert them into paying one in the future. You really don't have to pay a single penny to create a Slack account or invite team members to your workspace.
What's more, there's no time limit on this trial, with users having the option to create as many Slack channels as they want and use them forever.
The only catch is this plan has limited features.
Slack's free plan, therefore, is most suitable for personal use as well as for small businesses and groups. If you have medium- to large-sized teams, the limitations might create problems for you in the future. We'll discuss this in more detail below.
How Far Can You Get on a Free Slack Plan?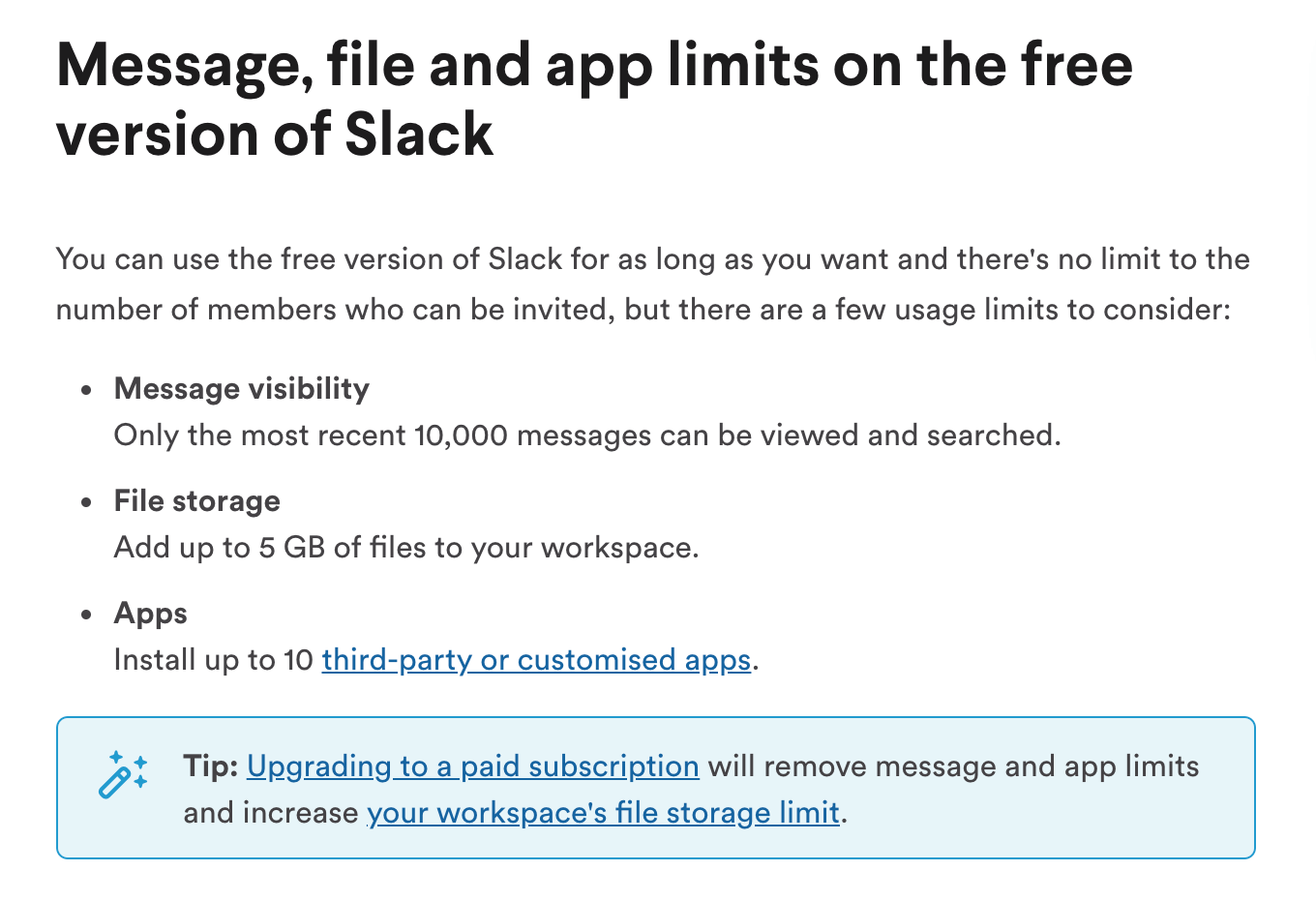 "You can use a free version of Slack as long as you like, and there is no limit to the number of members who can be invited."
That's what the developers have to say about the Free Slack plan. But things are not always that black and white.
If you opt for the free Slack plan, you have a 10k message search limit, as well as limits on storage and app integration. But if you can work within those limits, you can continue communicating with your teammates, hold one-on-one video and audio calls, and take advantage of your most vital integrations.
Here's a breakdown of the free Slack in more detail:
10k Searchable Messages Limit
This 10k limit is suitable for individual use or teams that don't use team chats most of the time. But it may prove to be insufficient for small-sized teams. This can prove to be disruptive for your team operations, as your colleagues won't be able to refer back to important information once you reach the 10K limit.
For example, if you are a team of 10 members who exchange about 2,000 messages every week, you'll reach the messaging limit in about five weeks–which means any messages older than that won't be accessible anymore.
And if you have more than 10 team members and/or send more than 2,000 messages per week, you'll hit the limit that much sooner.
In the end, you'll have to upgrade to the Standard plan (or higher) to reveal the previous messages.
File Storage Limit
Users also have to deal with the 5GB storage limit to their workspace. This is one of the more frustrating factors of the free plan.
Your team members and continue uploading files once this limit is reached. Slack, though, will start archiving the oldest files to make room for new ones due to which members won't be able to view the archived file in channels, search results, or direct messages.
However, all the archived files will become visible again once you upgrade to a paid subscription.
1-on-1 Video Calls
You can't conduct team conferences on the freemium plan simply because you can't add more than one participant when holding a video call.
That means no big meetings or webinars, which can be a real bummer for many business owners.
Integrations up to 10 Apps Only
The whole point of integrations is to make Slack better and more powerful than its competitors. You can use the tool to facilitate daily work by making it easier is another plus.
Moreover, Slack has been constantly adding new tools and paid plans, which is why you can integrate the tool with every other popular tool to enhance your productivity.
In the freemium plan, you can have access to 10 integrations. If you want to integrate the platform to an eleventh app, you'll either have to delete any one of the old integration or stay within the limit of 10 apps.
So how far can you get on a free plan?
You can continue using the freemium plan if you're okay with the limited searchable messages and integrations. It's why this option is better suited for smaller teams or individuals.
Slack Paid Plans: What Do They Offer?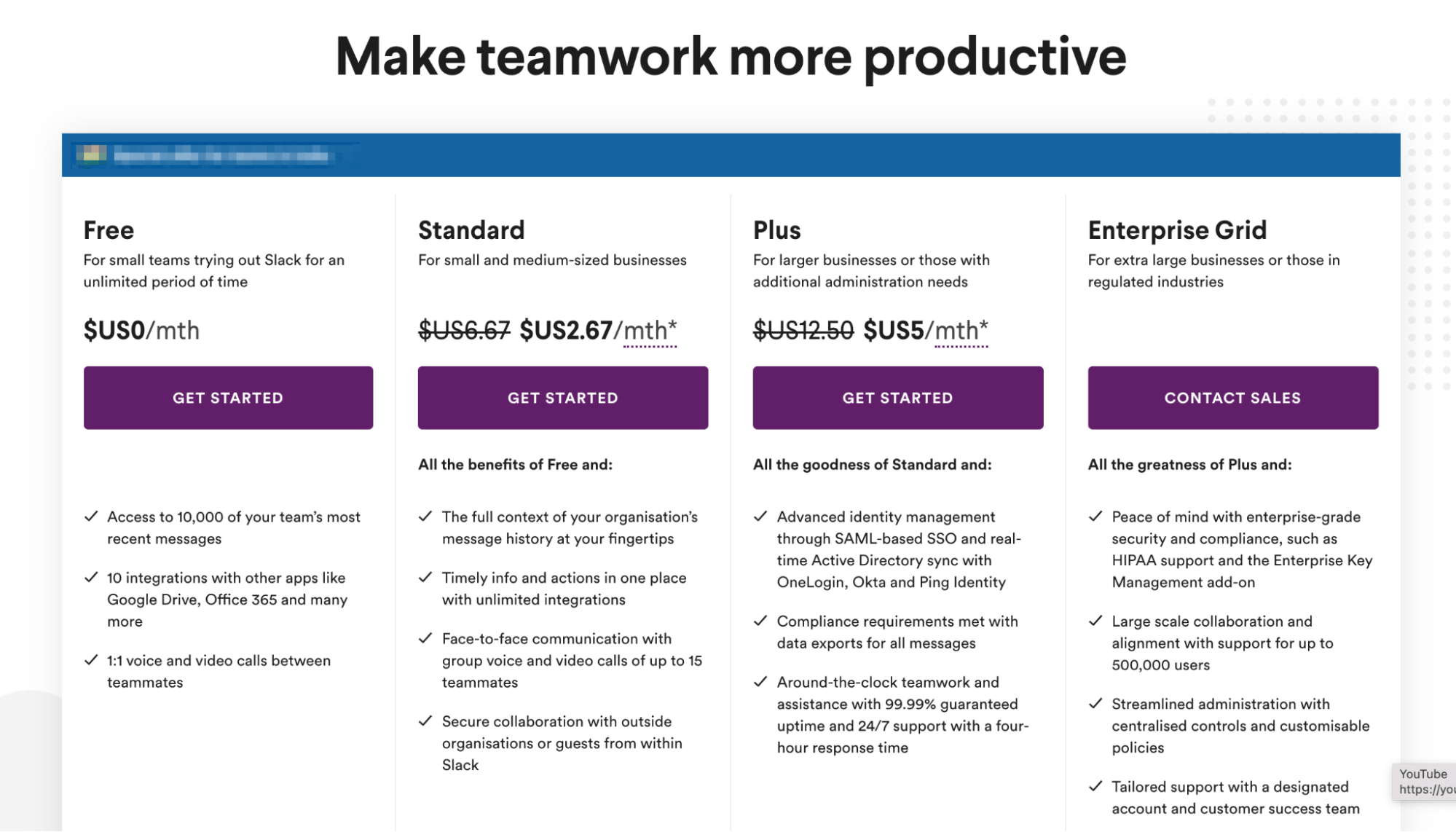 There are three subscription plans you can choose from: Standard, Plus, and Enterprise Grid.
Let's take a look at what each one of them offers.
Standard Plan
The Standard plan is suitable for small and medium-sized businesses and is available at $6.67 per month.
Plus Plan
The Plus plan is more suited for larger businesses or those with additional administration needs. The price starts at $12.50 per month.
Enterprise Grid
Extra-large businesses or regulated industries should opt for the Enterprise Grid plan. You have to contact the sales team to receive a customized quote.
What You Get With Paid Plans
Under this section, we'll take a deeper look at the features each paid plan of Slack has for its users.
Standard Plan
You can access the following features under this plan:
Full Archive
The Standard plan lets you view your entire message history in one place. So the whole conversation becomes searchable for every team member.
Unlimited Apps
Standard subscribers can integrate applications beyond the 10-app limitation. The fact that Slack can integrate with as many as 1000+ tools from different categories ensures you don't miss out on anything to boost productivity.
Guest Access
The Standard pricing plan makes it easier for small companies to connect with vendors, retailers, and people outside the company. Admins can extend guest access by sending out invitations to one or multiple Slack channels.
Other Features
Custom retention policies
Forward emails into Slack
Priority support
Group voice and video calls
User groups
Custom profiles Screen sharing
Plus Plan
You can access the following features under this plan:
99.99% Uptime With 24/7 Support
Plus subscribers won't have to ever worry about Slack being operational despite the time zones.
You're assured of 99.99% uptime, which might we add, is an industry-leading standard of availability and a financially backed service level agreement (SLA). They also get priority support, which means their queries are resolved before the queries of freemium subscribers.
SSO and Provisioning
Plus subscribers can integrate Slack workspace with that existing SAML 2.0 identity provider, which is suitable for companies that want to ensure secure access to the team. They also have a built-in connection to many SSO providers, along with the option to use a custom or own SAML solution.
Data Exports
Companies that have legal obligations to archive messages can benefit a lot from the data export feature. Team admins or leaders can request access to the entire team's message history. The history can either be direct messages between the members or conversations in the private channels.
Other Features
OAuth with Google
Two-factor authentication settings
User provisioning and de-provisioning
Real-time Active Directory sync with OneLogin, Okta, and Ping Identity
Group video calls up to 15 people
Screen sharing
Enterprise Grid
You can access the following features under this plan:
Unlimited Workspaces
Large enterprises cannot do much with a single Slack workspace. They need a system that can provide each of the organization's multiple teams a focused and separate place to work—something that Enterprise Grid offers.
It provides teams and members access to the team members, necessary information, and apps that can help them with their projects, productivity-wise and functionality-wise.
Bridges Team Gaps
Businesses can enjoy centralized control to create customized communication structures that mirror the way your organization works.
You can have Slack channels for the different shared workspaces when needed, and also collaborate with outside vendors when the need arises.
Greater Security
The chief administrators of all workspaces can manage security, structure, policy, and compliance for the whole organization directly from a single view and centralize control after subscribing to Enterprise Grid.
Even specific workspaces have complete control of the security and compliance of any or all workspaces.
Other Features
1 TB storage per member
Work securely with other organizations using Slack Connect
Security, compliance, billing, and platform integration management in a single view
Enterprise mobility management (EMM) integration
Audit log API
Designated account and customer success teams
Organization-wide search, messaging, and announcement-focused channels
Summary
Slack has a very clever pricing model that gives plenty of options.
The plan you choose should depend on your needs. If you have a smaller team with a budget restriction, the freemium model would be the right fit for you. However, if you find the 10K message searchable and 5GB limitations too taxing, you can always upgrade to Standard, Plus, or Enterprise Grid.
Whichever plan is right for you, you're assured of an excellent platform that can facilitate effective and speedy team collaboration and communication.