How Much Dropbox Storage Can You Get?
Cloud storage is widely used these days. Over 2 billion people use personal cloud storage worldwide. Plus, almost nine in ten businesses use some form of cloud storage.
Dropbox is a popular choice for both individuals and companies. It makes backing up, sharing and working on files from anywhere super easy.
If you're a newbie to the cloud or are exploring more advanced options, one of the main things you'll want to know is how much space you can get. So, we've put together this guide that covers everything you need to know about Dropbox storage.
It'll help you work out how much storage you need, how to get more Dropbox storage and you'll be able to compare Dropbox plans to see which is right for you.
2 GB – Free With Every Free, Basic Account
Dropbox Basic is a free, starter account that's suitable for personal use. Every free account comes with 2 GB of storage.

To give you an idea of how much storage this amounts to, you'd be able to store around 600 high-res photos at 3.3 MB per pic or around 500 pages of text if each page has 4,000 characters.
Now let's talk about the storage features you get with a Dropbox Basic account:
Backup files from your Mac or Windows desktop automatically.
Add photos and video automatically from mobile devices.
Store and access files on up to three devices.
Create a shared folder for collaboration or use share links to share a file with anyone, even non-users.
Transfer files of up to 100 MB securely.
Recover old versions of files and restore deleted files for up to 30 days.
16 GB+ Unlocked on Basic Accounts
2 GB might not be enough storage space, even for individual users. But thankfully there are several ways to get more space on your Dropbox account for free:
1. Complete Tasks from the Getting Started Checklist
Firstly, you can complete five steps from the Dropbox Getting Started Checklist for an extra 250 MB. These are simple steps that include installing Dropbox on multiple devices, putting your first files into the Dropbox folder and sharing folders with friends or colleagues: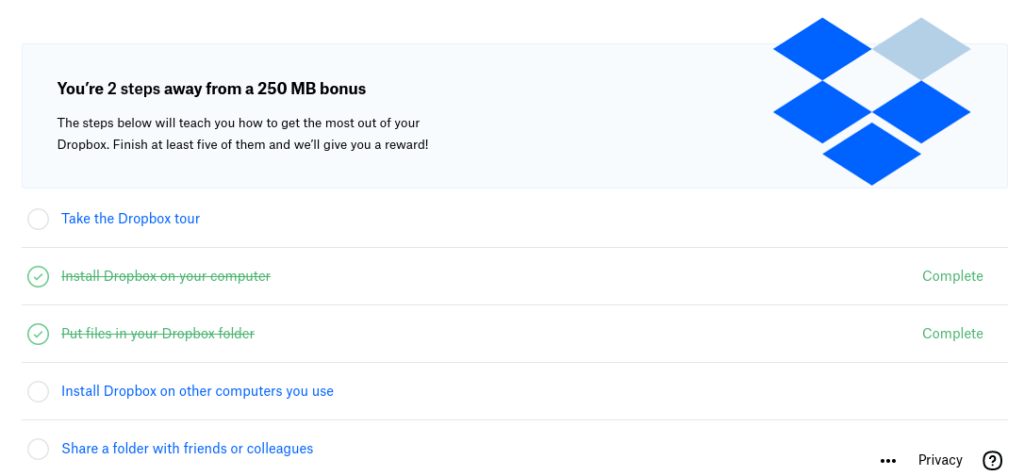 2. Invite a Friend or Colleague
On a Dropbox Basic account, you get 500 MB per referral up to 16 GB. To refer a friend, go to Settings, select the Plan tab, click Invite a friend: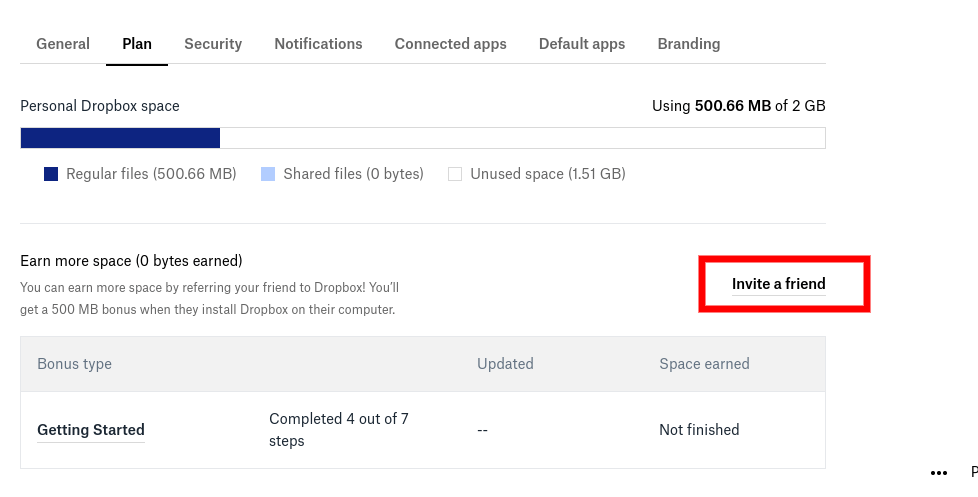 Then you'll get the option to enter email addresses manually, invite your Gmail contacts, create a referral link or share your referral on Facebook: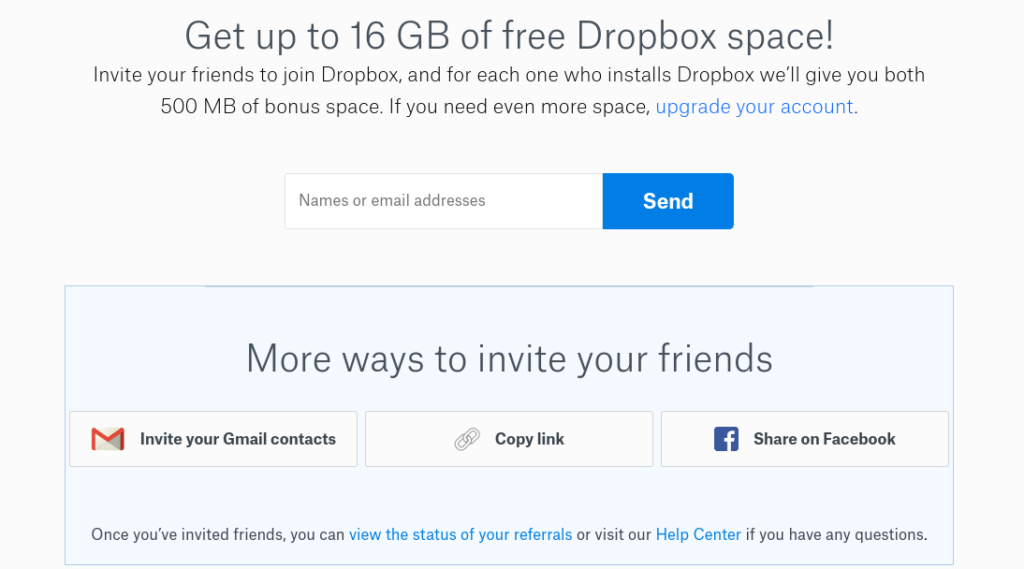 As you make referrals, you'll also be able to see how much space you've earned in the Plan section.
3. Contribute to the Dropbox Community
The Dropbox Community is a forum where users can ask questions, get solutions to their issues, share tips and submit ideas for how to improve Dropbox.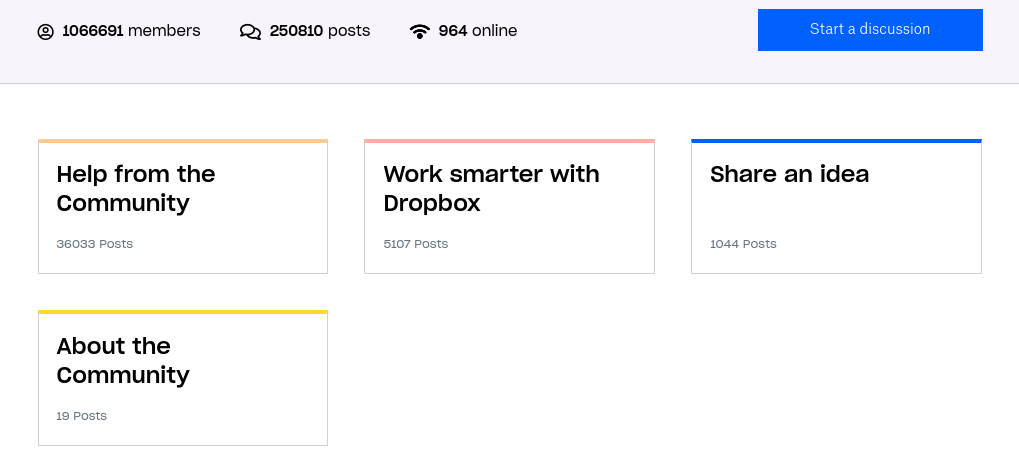 When the responses you contribute get marked as a solution or get a lot of likes the team at Dropbox is more likely to see your contributions. If a member of the team digs your response you may receive a Mighty Answer badge and reward of 1 GB of additional space.
4. Share Feedback
On the Get Space page, you can earn an extra 125 MB by sharing why you love Dropbox in up to 90 characters: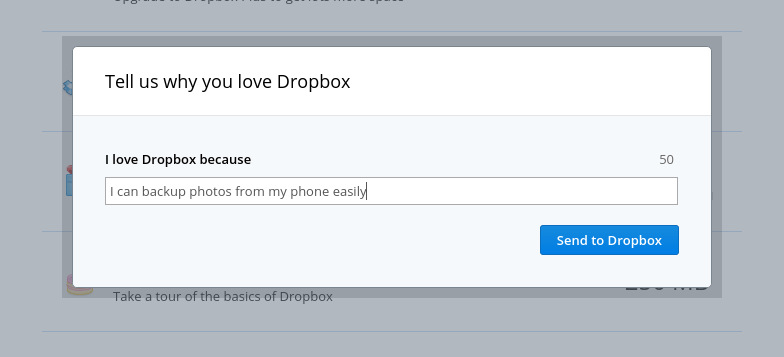 5. Promotions
There are five companies that offer promotional storage space when you purchase their products or sign up for their services:
Dell – 100 GB storage when you purchase a Dell computer.
Lenovo – 100 GB storage for 12 months when you purchase a Lenovo computer.
HP – 100 GB storage when you purchase an HP computer.
Upwork – 20 GB storage for 6 months for Upwork users.
Pixlr – 25 GB storage for 6 months for Pixlr customers.
Dropbox promotional offers are subject to change, so keep an eye on what the current promotions are.
2 TB – Plus Personal Plan
Dropbox Plus is the upgraded version of Dropbox Basic for individual users. For $9.99 per month, you get 2 TB (2,000 GB) of storage space. It comes with the features of the Basic account and then some.

Here are the additional features:
Store and access your files on an unlimited number of devices.
Make files online-only with Smart Sync to save hard drive space.
Access folders offline on your mobile device.
Transfer files of up to 2GB.
Reverse all changes to your account made in the last 30 days in case of an accident or ransomware attack.
Save and sync passwords across multiple devices.
Store sensitive files in your Dropbox Vault.
3 TB – Professional Personal Plan
Dropbox Professional is for individuals who want to use Dropbox for work. Hence, the plan is a great option for freelancers, solopreneurs, self-employed individuals and the like.

For $16.58 per month, you get 3 TB of storage space and access to pro features that'll make your work life easier.
Here are some of the most useful features:
Transfer files to colleagues or clients quickly and securely.
Share large files of up to 100 GB.
Recover and restore files for up to 180 days.
Reverse changes made to files in the last 180 days in case of an accident or attack.
Clients can preview files in Dropbox so they don't need to download extra tools or software.
Control access to share links with passwords, permissions and expiration dates.
Lock files while you're editing them so nobody else can make copies or changes.
Monitor who views files and when.
5 TB – Business Standard Plan
There are three Dropbox Business plans available. The Standard package comes with 5 TB of shared storage space for teams and costs $12.50 per user per month. It's a simple-to-use option for smaller businesses/teams.
Let's take a look at some of the notable features of Dropbox Business Standard:
3+ team members can store files and collaborate on unlimited devices anytime, anywhere.
Share files of up to 2 GB per transfer.
Restore or recover files for up to 180 days.
Reverse file changes for up to 180 days.
Transfer file responsibilities to different team members.
Use the Admin Console to monitor and manage files.
Whatever Space You Need – Business Advanced and Enterprise
Dropbox Business Advanced or Enterprise will suit larger businesses that require more storage and greater security. These plans offer as much storage as your teams need.

Dropbox Business Advanced costs $20 per user per month. You must contact Dropbox's sales team to discuss pricing for the Enterprise plan.
These plans come with all the features of the Business Standard plan plus additional advanced features.
Here are some of the extra features:
Transfer files of up to 100 GB.
Limit the number of devices connected to your account.
Manage and unlink devices.
Provide tiered admin controls with different permissions to team members.
Team admins can access their team members' accounts.
Monitor and log file activity.
How Much Storage Do You Need?
For individual, non-commercial users, it's relatively easy to work out how much storage you need. If you wanted to back up your laptop, for example, you'd need to see how much disk space you're currently using. Then, add some wiggle room for future files – for instance, you could multiply the space you're currently using by two to give yourself ample room.
If you want to back up multiple devices then, of course, you'd want to calculate the sum of the storage you're using on those devices before adding your wiggle room.
If you're using cloud storage for business, then there are a few variables to consider. How many users with how many devices will use the Dropbox account? And what types of files will you be storing? The reason being, different types of files tend to be different sizes. For example, media files, such as video, are typically a lot larger than standard documents.
It is possible to make a solid estimate of how much storage space you'll need. According to Dropbox, 1 TB of data equates to around 8 (128 GB) smartphones or 4 (256 GB) laptops. But you're not necessarily going to store every single file from every user's device. So, to frame it another way, 1 TB equals around 6.5 million document pages or 500 hours of HD video or 250,000 photos on a 12 MP camera.
It's likely that you'll have a mix of these types of files. But, this should give you a rough idea of the amount of data storage you need for your team(s).
Having unlimited storage space is appealing and is certainly the simpler option. But, it's better to estimate how much storage you'll actually need and choose your plan accordingly. Because why pay extra if you don't need to?
And don't forget that you can scale your plan to accommodate your storage needs as you go along. Or utilize the space you have in a more efficient way…
How to Get More Space in Dropbox Without Upgrading
Reached your storage quota? Or want to maximize the space you have? Here are some tips for freeing up storage space on Dropbox:
1. View Storage Space
If you want to check how much personal storage space you're using, go to Settings and then select the Plan tab. Here you'll be able to see how much space you have left.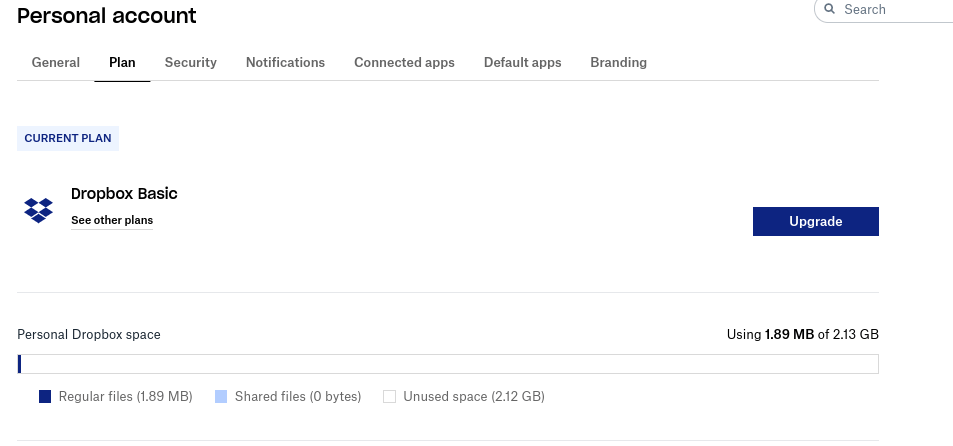 For Dropbox Business admins, go to the Admin Console and select Insights. Here you can check how much space your team is using.
2. Turn Off Camera Uploads
If you have a limited amount of space, e.g. you're a Basic user, turn off automatic camera uploads from your phone.
In the app, go to the main menu and select Settings. Then under Features, select Camera uploads. Simply toggle Camera uploads to Off.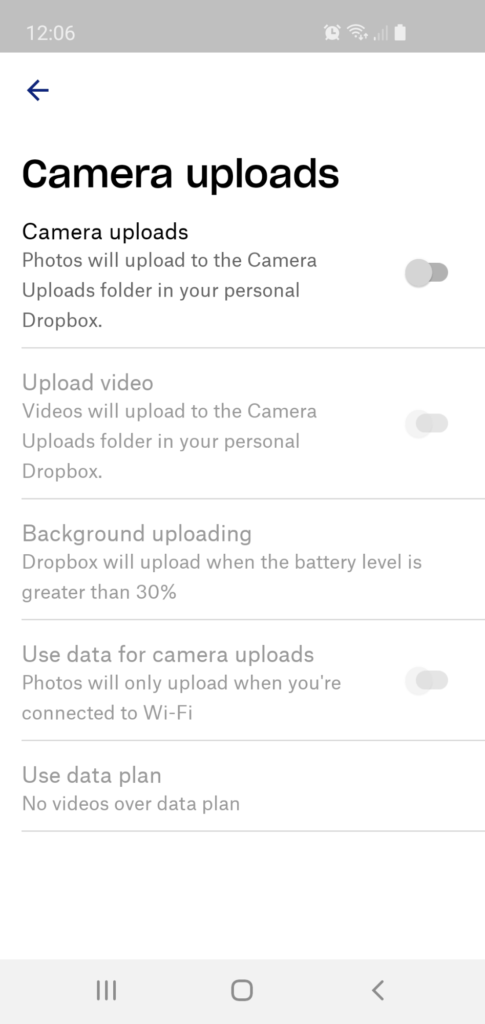 3. Remove Files
One of the easiest ways to free up space is to remove files that you don't need anymore or that you haven't used in a while. It makes sense to start with the largest files on your account, to free up as much space as possible.
On the Dropbox dashboard open up the All files view. Then click the dropdown menu that says Modified and select Size.
This will sort files and folders by size so you can get rid of the biggest ones first.
Click on the three dots next to a file or folder then select Delete. This will send the file to the Deleted files folder. In this folder, you can select files to restore or permanently delete.

4. Remove Shared Files
You may not have noticed that files that others share with you also take up your storage space. Find Shared files in the sidebar on your account.
Click the three dots next to the folder you want to remove and select Share. Select the dropdown menu next to your name and then Remove my access.
5. Delete Duplicate Folders
Because you're able to use Dropbox on multiple devices, there may on occasion be syncing errors that produce duplicate folders.
There isn't a specific fix for finding and deleting duplicate folders. Aside from keeping an eye out for such folders, you could search the word "copy" as your duplicate folders may have "copy" at the end.
All in all, you should spend some time every so often deleting or removing files that you no longer have use for. This way you can keep your files well-organized and you shouldn't need to upgrade to a bigger plan.
Summing Up
Dropbox plans range from 2 GB of storage for Basic accounts all the way up to unlimited storage for Business Advanced and Enterprise users. It's not just the amount of storage that increases as you move up each pricing tier but also the number of advanced features. To choose the right plan for you, you must carefully consider both of these things.
It's a good idea to figure out how much storage you or your company will potentially need before choosing a plan as you could save cash. Also, you can save cloud space through regular housekeeping which is important to keep in mind if you're considering an upgrade.