What is Dropbox Showcase?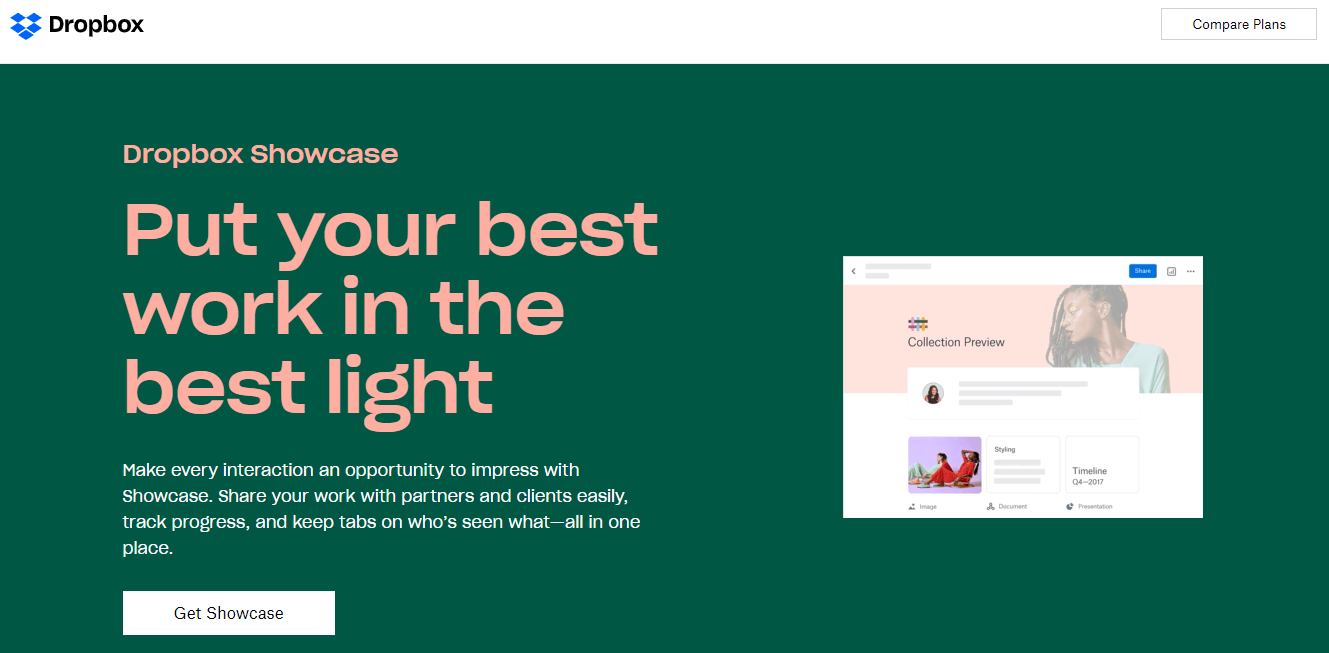 If you're tired of sharing your beautiful work as ugly email attachments that your clients and co-workers routinely ignore, you'll love Dropbox Showcase.
Showcase is a Dropbox feature that allows you to share your work with anyone on a responsive and beautifully designed page (aka a showcase) even if you have zero coding or designing skills.
Instead of simple attachments, the files you add to a showcase will appear as eye-catching thumbnails with descriptions and offer live previews of your work to anyone who has access.
It also gives you complete control over who can view and download your showcase files or collaborate with you on a project.
If this sounds interesting, you'll love the other features of Dropbox Showcase that I'll share in this post.
Keep reading.
Dropbox Showcase Features | Here's What It Offers
So what exactly does Dropbox Showcase offer?
It's an easy way to share your work with anyone using an attractive interface where you have complete control.
Here's an example of a showcase that lists different types of files (attachments).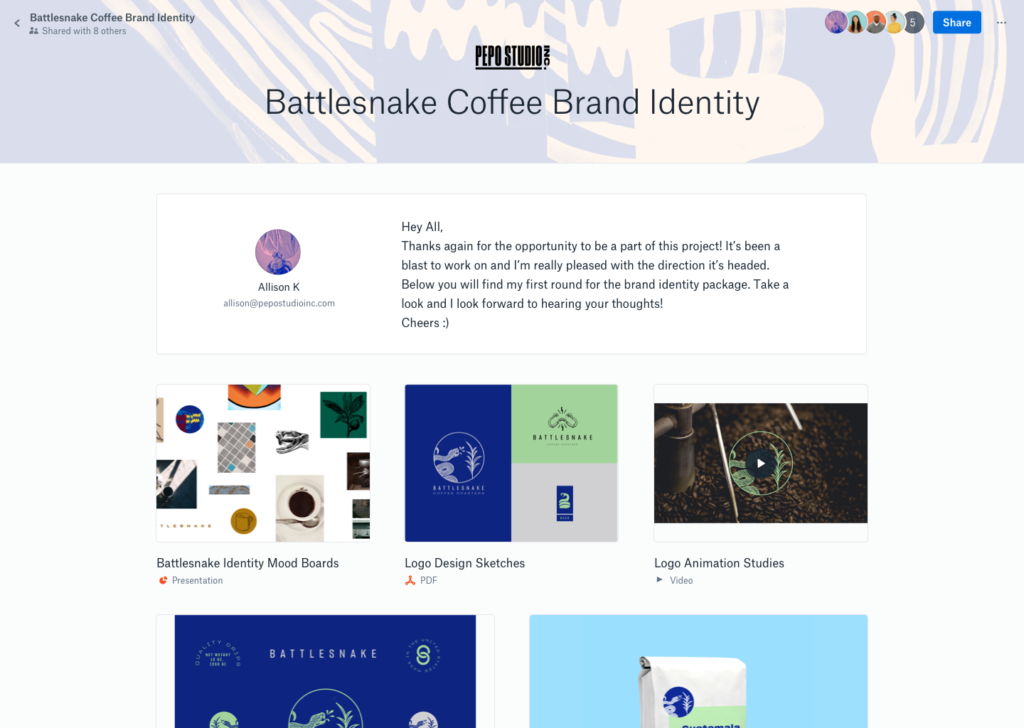 As you can see, the user interface is much more engaging and attractive as compared to a simple list of attachments in an email.
Let's take a closer look at some of the main features you get with Dropbox Showcase.
Create Branded Showcases
Dropbox Showcase comes with a standard template design that works fine for every industry.
But you don't have to use it as a generic web page.
Instead, you can add your unique brand colors and logo to make your showcase design consistent with your brand identity.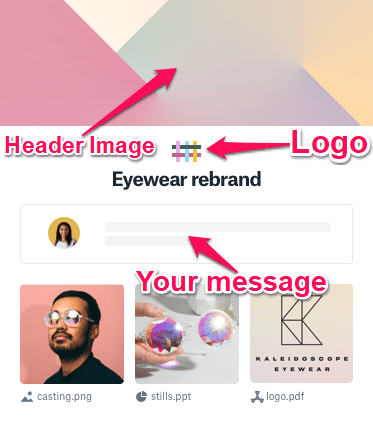 Branded showcases become even more important when the visitors are coming from your website, landing page, or an official email.
According to a study by Demand Metric, inconsistent branding causes confusion among users, jeopardizes your brand assets, and damages your brand's credibility.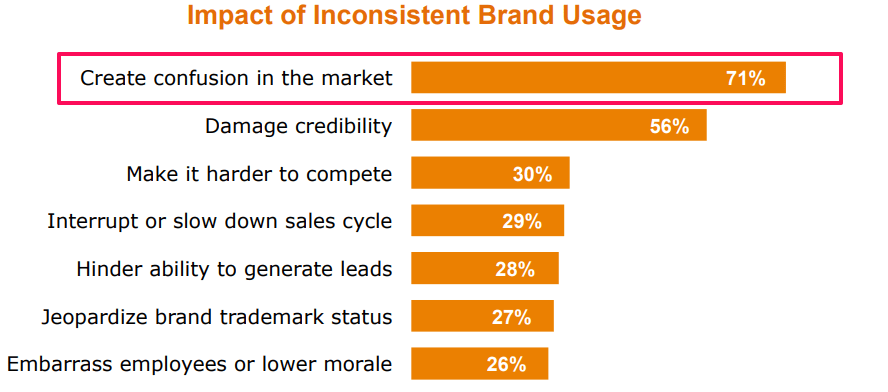 Source
On the other hand, consistent branding across your platforms results in a better user experience, clears confusion, and gives credibility to your showcases so that your visitors can access your files with full confidence.
Add Files From Anywhere
You can easily add any files from your Dropbox account to your showcase in just a few clicks.
But even if a file doesn't currently exist in your Dropbox account, you can still upload it to your showcase with the same access privileges and features as the other files.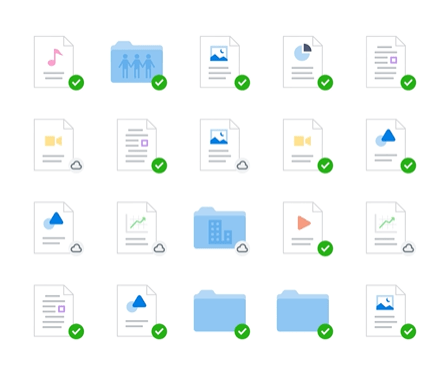 The same showcase can have multiple file types for example images, videos, PowerPoint presentations, Excel sheets, and Dropbox Paper docs. You can also add links from YouTube and several other third-party sites.
Showcases don't use any additional space from your Dropbox account and the files that are already in your Dropbox storage are simply added to your showcase.
Any other files that you upload from outside are stored in a new Dropbox folder called Showcase uploads which uses your account's storage.
The size limits for every file type are different. For example, files like .JPEG or .GIF can take up to 100MB per file for images up to 50 megapixels.
Presentation files like .PPT or .PPTX can take up to 288MB per file while video file formats can take up to 50GB of space per file.
You can view the complete list of file types supported by Dropbox Showcases (and their sizes) on this link.
Give Your Work The Exposure It Deserves
Sharing files and projects with co-workers or clients isn't enough to get their attention. You also want them to immediately understand what your files are about and what's in it for them.
Using showcases, you can give your files and attachments the exposure they deserve. Every file you list on your showcase is automatically turned into an attractive thumbnail.
This not only happens with image and video files but also with documents, PDFs, and even audio files.
And that's not all.
You can add unique titles and descriptions to every file so that your co-workers know what's inside.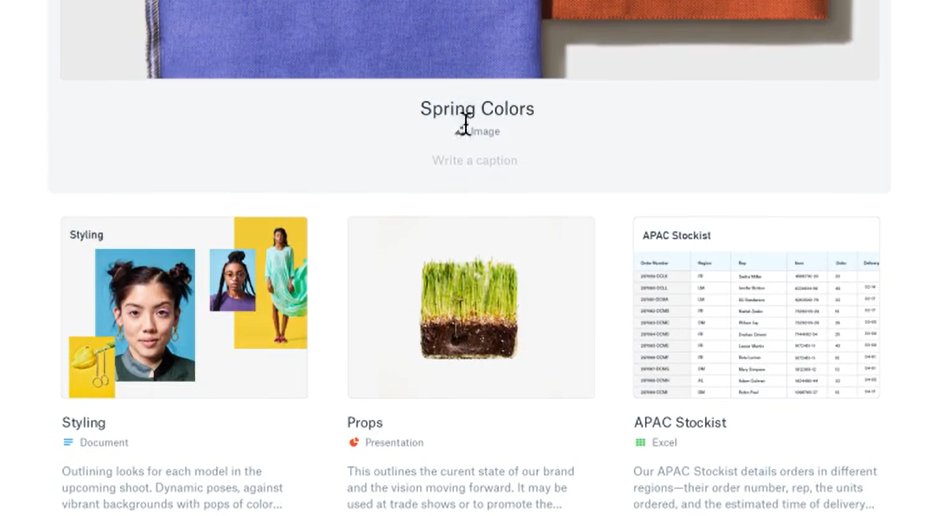 Your files not only look good this way but it's also much easier for anyone who accesses your showcase to find the files most relevant to them.
You can also organize your files for different target users on the same showcase using multiple heading and text sections.
It's all pretty easy to do with simple drag & drop options.
Share With Whoever You Want
It doesn't matter if your clients, co-workers, or anyone else you want to share your work with use Dropbox or not. They can view and access your files if they have the link to your showcase.
This means you can share your showcases with anyone you want and they can share it forward if there's a need.
This is ideal for creative professionals who want to share their work portfolio with as many people as possible.
If you also want to allow people to download your files or comment on them, they'll need to sign up for a Dropbox account so that you can add them to your showcase.
But let's say you don't want everyone to see your showcase because of the nature of your files.
No problem.
You can simply make the showcase private so that only the added users can access it and view or download the files.
It's a flexible setup that you can control according to your needs.
Track Your Files
Your Dropbox Showcase comes with detailed analytics and tracking for each file. You'll know exactly who has viewed your files, downloaded them, clicked on your links, or forwarded your work to someone else.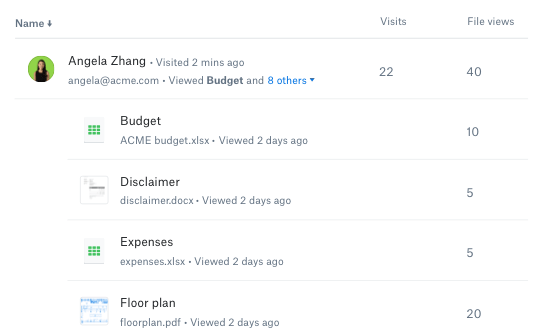 Apart from keeping you updated with your team's progress, this feature solves another major problem that creative and corporate professionals routinely face – not getting credit for their work.
With showcases, no one can forward your work with their label on it. No matter who views your files, they'll always know that you're the original creator.
Plus, with seen receipts, you'll always know when to follow up with your team or clients, on a project or proposal.
Collaboration – The Missing Feature In Dropbox Showcase
Surprisingly, Dropbox Showcase does not allow multiple users to edit a showcase. Only the original creator can modify the showcase in any way.
For example, if you're a team lead who has created a showcase and wants to delegate the task of managing it to a subordinate, you'll have to give them access to your Dropbox account.
You can't simply give editing rights of a showcase to someone else.
Despite being such a useful product, showcase feels incomplete without this basic feature that most customers expect it to have.
Is Dropbox Showcase shutting down?
Sadly, yes.
Dropbox has decided to discontinue the Showcase feature from January 2021.
What happens to your showcases and files after this date?
You won't be able to access the showcase section in your Dropbox account, create new showcases, access your existing showcases, or view analytics from your previous showcases.
But since any files that you list on your Dropbox Showcase are stored in your Dropbox account storage, you'll still have access to them.
But you won't be able to share your work or forward it to anyone using Dropbox Showcase after Jan 2021.
Why is Dropbox Showcase shutting down?
There's no official word from Dropbox about it but it seems they've already added most of the features from Showcase to Dropbox Paper, a collaborative document editing, and task management feature in Dropbox.
How To Use Dropbox Showcase
Getting started with Dropbox Showcase is easy.
Sign in to your Dropbox account and access the Showcase section from your main account dashboard.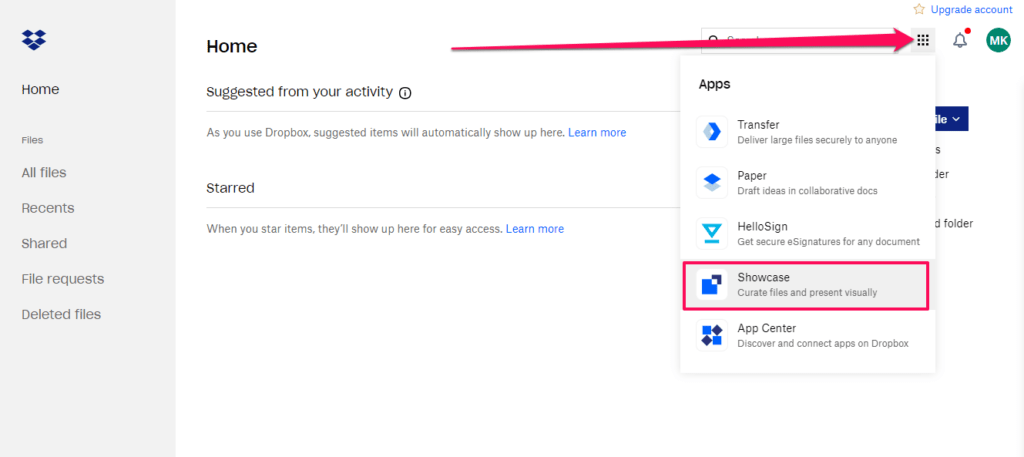 This will take you to the Showcase section where you'll be able to see all your existing showcases, manage their content, create new showcases, or delete any showcases that you no longer need.
If you're looking for inspiration, the dashboard also has three different showcase examples that you can learn from.

How do you start or edit a showcase? Let me explain.
How to Create a Dropbox Showcase
To create a new showcase, click on the Create Showcase link.

This takes you to the showcase editor where you can start building your showcase.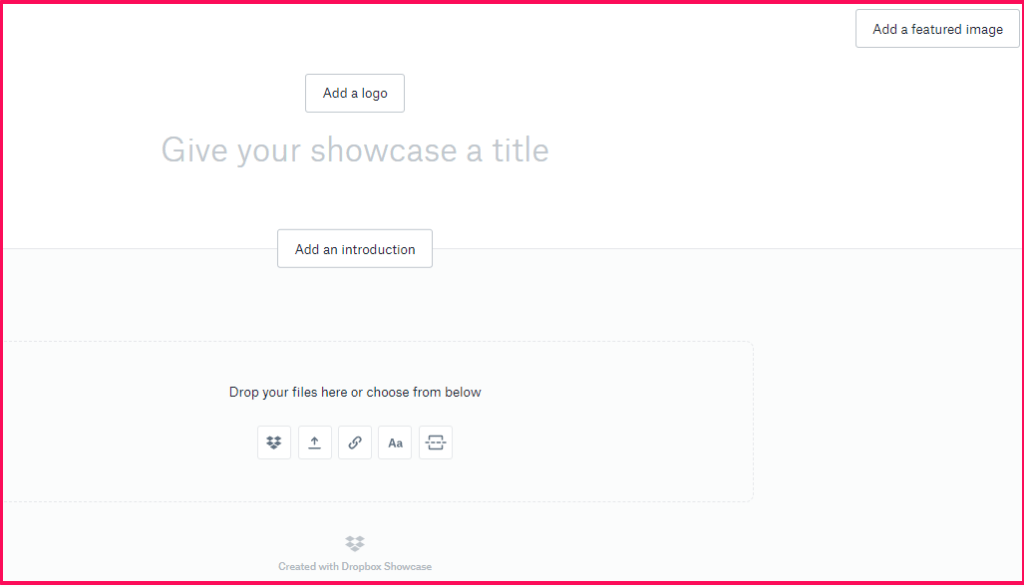 Seven different elements make up a showcase.
Logo
Title
Intro Text
Your Files
YouTube videos or any outside links
File titles, captions, and descriptions
The featured image of your showcase
You can add multiple text sections and headlines as well to organize your content better.
Start creating your showcase by giving it a title and adding your brand's logo and featured image using the buttons in the editor.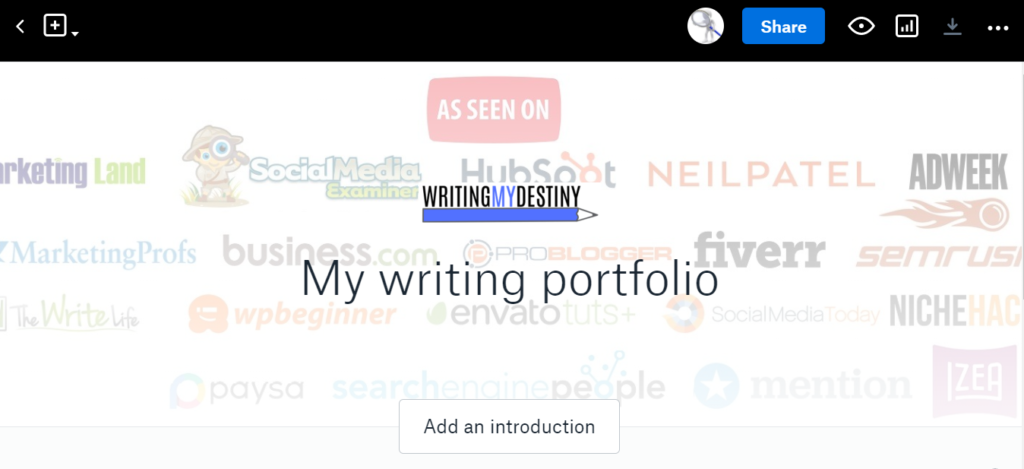 Next, click on the "Add an introduction" button to describe your showcase so that the users know exactly what it is about.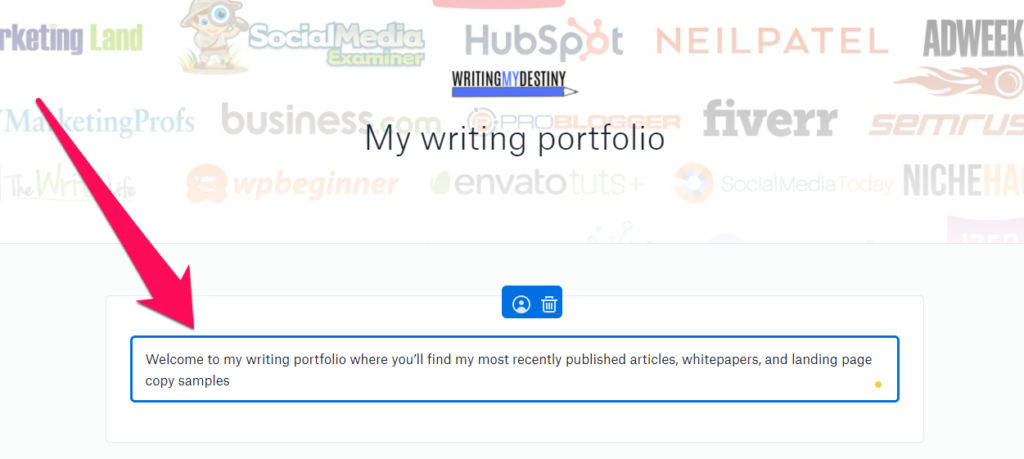 You can also show your picture with the intro text by clicking on the "author" button just above the text block.
To add a new section or heading to your showcase, click on the menu button on the top left of your screen and choose the relevant option.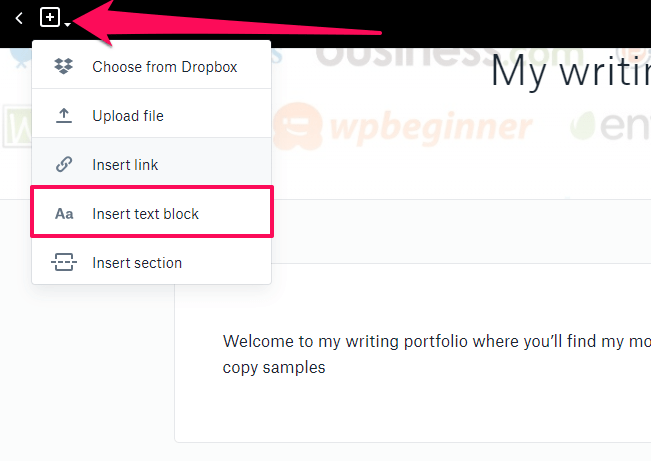 You can use text blocks to add new headings or text descriptions for different sections. Each text block comes with basic formatting options like Heading, Bold, Italic, and text alignment.

Choose "Insert section" if you want to add a completely new section with its own set of files. You can also choose how many items are displayed in each row of a section.
Let's start adding files now.
You can add files or items to your showcase by uploading them from your PC, adding them from your Dropbox account, or by linking to an external source.

As I mentioned earlier, there are many different file types you can add to your showcase including documents, PDFs, videos, images, and audio files.
The moment you add a file to your showcase, it will appear with an auto-generated thumbnail, a preview link that users can click to see the file without downloading it, and an editable title and caption where you can describe the file.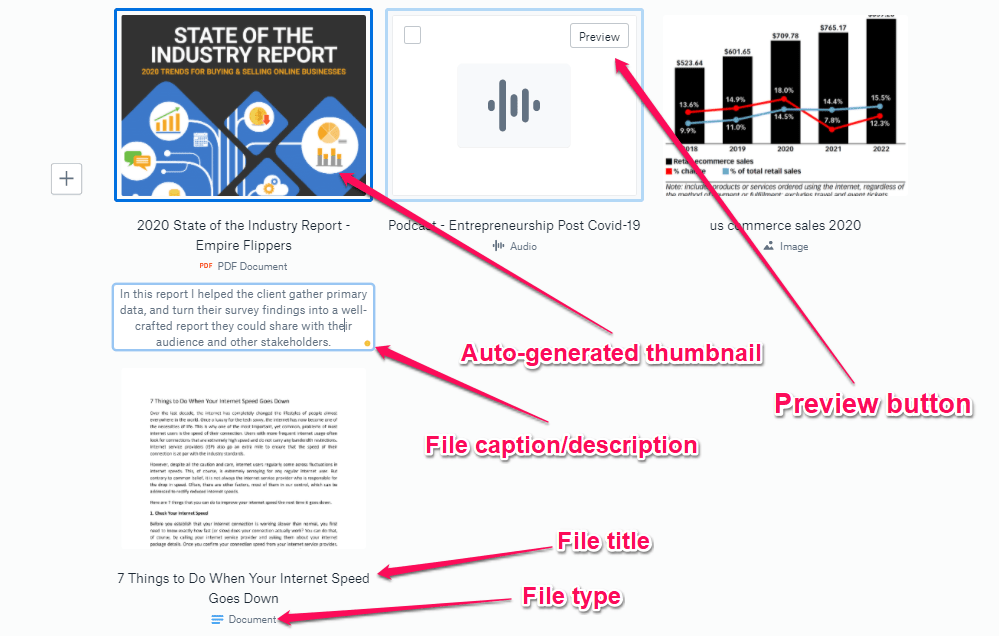 Every change to your showcase is auto-saved so you don't need to worry about losing your data. Once you're ready to launch your showcase, preview it for different devices to make sure it appears exactly the way you want it.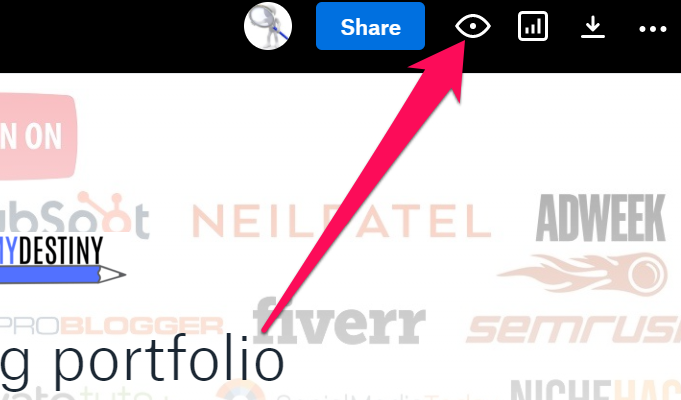 That's it, you're now ready to share your showcase with the world.
Let me show you how.
How to Share a Dropbox Showcase
You can easily share your showcase with anyone using the share button on the top left of your screen.
Copy your public link from this section and share it anywhere you want.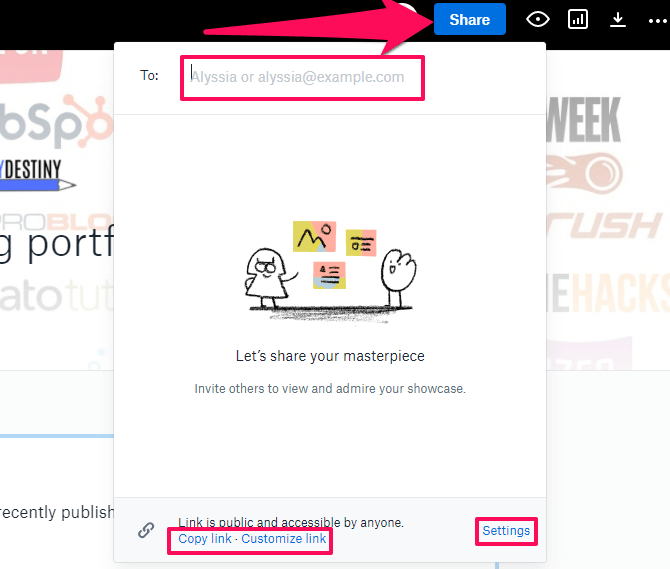 Or you can invite people via email by entering their email addresses on the top. By default, anyone with the link to your showcase can view and download your files.
You can change this from the settings section.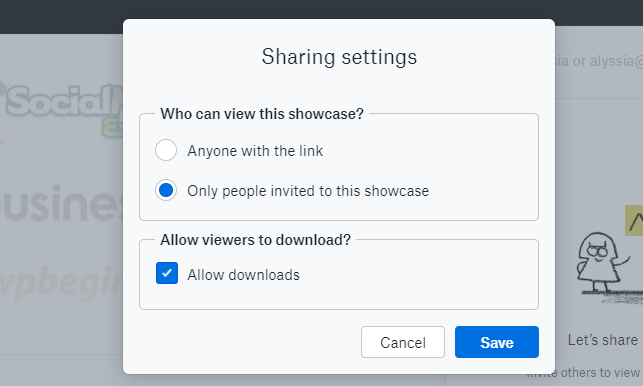 If you uncheck the "Allow downloads" option, your viewers will only be able to preview the files in your showcase.
You can also download your showcase and share it offline as a ZIP file.

When you share your showcase via email, it appears with your logo and featured image.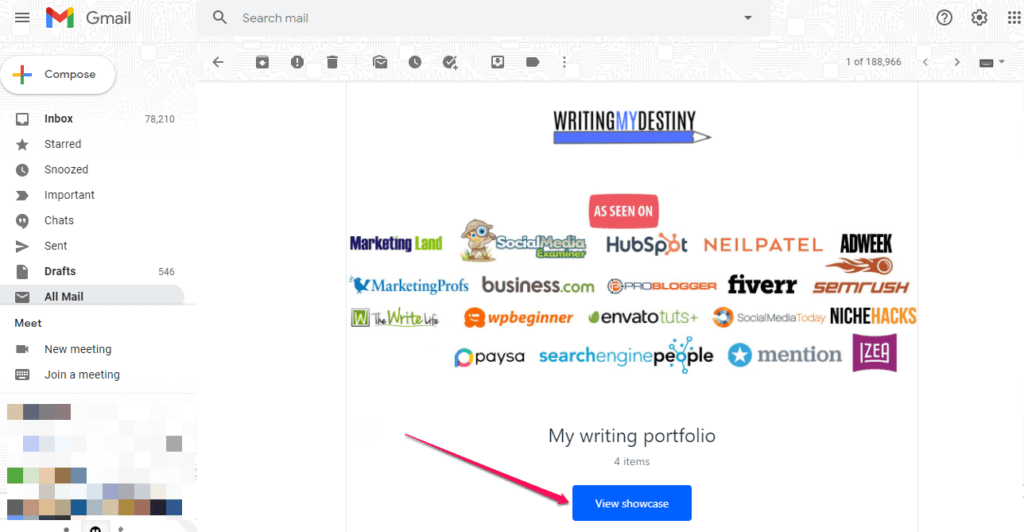 They can view the complete list of files in the showcase by clicking on the "View showcase" button in the email.
How to Edit a Dropbox Showcase
Editing a Dropbox showcase is pretty simple.
Just open a showcase from your dashboard and click on any section that you want to edit.

You can add new sections, upload new files, or change the branding of your showcase on the go.
However, if you've shared a showcase via email, the changes won't be reflected in it.
How to View Dropbox Showcase Activity
You can see exactly who visits, views, or downloads your showcase files from the "Activity" section.

This section offers multiple analytics views. For example, in the user view, you can see how many files a certain user has viewed, download, or commented on. In the file view, you can see the relevant stats for each file in your showcase.
Which Plans Have Dropbox Showcase
Dropbox Showcase is available to all users on the Dropbox Professional plan, and to Dropbox Business teams on an Advanced, Enterprise, or Education plan. However, you can't use it in the free or individual plans.
Dropbox Pro plans start from $16.58/month billed annually. If you want to get a taste of Dropbox Showcase for free, you can sign for a free 14-day trial of the Dropbox Professional plan (credit card details required).
The Difference Between a Dropbox Showcase and a Dropbox Folder
Both Dropbox Showcase and Folder are similar because you can use them to bundle and share multiple files with different users.
However, the files in a Folder appear as a simple list with no previews, activity tracking, or customized branding. Users can't comment on any files in a Dropbox Folder.
A Dropbox Showcase, however, allows you to share multiple files with different users on a branded page with your logo along with attractive file thumbnails and previews, and also gives you detailed user tracking and the ability to comment under different files.
In short, showcases are more engaging and visually appealing than folders.