Dropbox Plus – Is it Worth Getting?
Are you an individual Dropbox user who's tired of being limited to the basic features you're currently using?
Do you think it's time to move on to something more specialized that can help you sort and organize your thoughts more clearly?
If that's the case, then Dropbox Plus is 100% something you should check out.
It not only gives you access to more advanced and customizable options but it almost evaporates your storage and sharing limits.
That's why in today's post we'll go over whether Dropbox's Plus Plan is worthed and especially who can benefit the most from using it.
But before we begin, let's clarify what's Dropbox Plus exactly…
What is Dropbox Plus?
Dropbox Plus is the cloud storage plan that flipped over the whole online file sharing and storing industry.
Why is that?
Well, if you're sharing files through highly limited media like Email or Facebook you probably noticed they have restrictions on what you can upload and share.
Moreover, the typical limit on most social platforms is 25 MB or less.
That's extremely limited and not enough if you want to do any kind of work online.
Luckily, Dropbox Plus comes to the rescue.
It grants you access to 2 TB (2000 GB) cloud storage space you can use however you want.
And the most impressive part — you can share files up to 2 GB per transfer.
That pushes every social media platform in the dust when it comes to accessing and sharing files quickly.
Individual users who use larger files daily can easily benefit from that.
That goes for anything from high-quality images to large pdf files or long videos.
What if you haven't used Cloud Storage Services before?
You don't need to worry. It's the same as saving a file into your desktop folders.
The only difference is that these files can NOT get lost.
You can back up your best ideas, memories, and family traditions and even if your computer hard drive burns down, your cloud storage will be saved and accessible from other devices.
I recommend you put your most valuable files in there and always use the device syncing options so you can transfer files from each device with lightning download/upload speed.
And even if disaster strikes and you accidentally delete your valuable files from your own Dropbox, you get a 30-day full backup.
That way you can't mess up and you are safe to browse, sort, and play around with your files at any time from any device.
You just read a broad overview of what you get with the Dropbox Plus plan for individual users.
If you like what you see, you can start using the plan right away.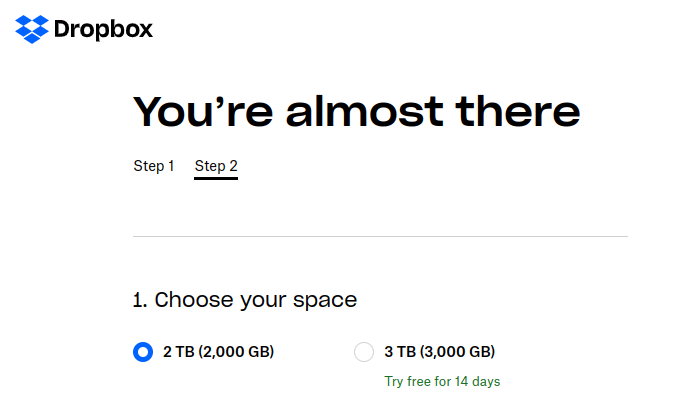 Not sure yet?
Then let's get into the in-depth features and benefits you get when using the most used cloud storage service on the planet.
Overview of everything you get on the Dropbox Plus plan
We already mentioned that you get a 2 GB cloud storage to use however you feel best, but there's a lot more to it…
Dropbox accounts are unique by the ability to access and make changes to them using different devices at the same time.
That goes for Windows, Mac, Linux, iOS, Android devices, and more.
The Smart Sync feature makes it so your Desktop Dropbox folder doesn't take up any of your hard drive space.
You can also turn on Camera Uploads which automatically adds all of your photos and videos directly to your Dropbox.
That means you can go on a vacation, document the whole experience on your phone, and when you're finished you just delete the files from your phone because they are already in your Dropbox.
And speaking of trips and vacations…
Have you ever been stuck in a place where you don't have access to an internet connection?
Because with Dropbox's Plus plan you get Mobile Offline Folders that, as the name suggests, let you access all of your important files using your mobile device while being offline.
And if you ever get clustered by too many documents or small files in your Dropbox, you have the option to full-text search your Dropbox.
That includes scanning file names and also the insides of docs files you've uploaded in your Dropbox.
We covered more or less everything in the Storage and Access department.
Now let's move on to the Content and Accident protection part of things.
With Dropbox Plus you get a Remote device wipe that lets you delete data from a stolen device, while everything is saved in your cloud storage.
As mentioned previously, you also get a 30-day full recovery and version history.
That can be useful when you accidentally mess up when cleaning your storage.
Dropbox Passwords is another amazing feature that helps you store all of your website and apps passwords.
Keep in mind no one has access to these passwords but you.
Even Dropbox can't access this folder so you have 100% password security.
And speaking of sensitive content, you can save your most important files in the Dropbox Vault.
This is a folder with restricted access so only you and your family can access it in case of an emergency.
And of course, as you're taking advantage of some of the more advanced options that Dropbox offers, you get access to dedicated email support.
Any time you've got a problem you just send an email and a tech expert will come to the rescue.
That's all for the in-depth overview of what you get when using Dropbox Plus.
Now let's go over your pricing options and whether Dropbox is worthed compared to other options on the market.
Dropbox Plus Pricing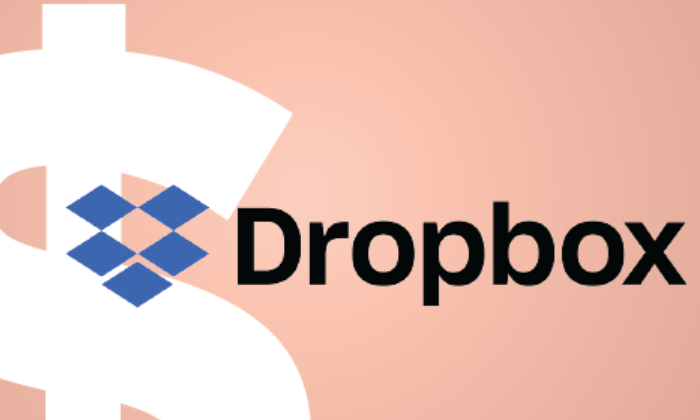 With Dropbox, you've got multiple ways of signing up for a paid plan such as the Dropbox Plus plan.
For this particular one, you can sign up for $11.99/month if you choose to make the long-term commitment and start with the yearly plan.
And as most of Dropbox's users renew their payments for years, I'm expecting the same from you.
That's why Dropbox's yearly payment plan is one of the most used plans to this day.
But if you're not exactly sure that you're going to be using Dropbox long-term, then you can always start with the monthly option that starts at $13.99/month.
For payment options, you can use Visa, MasterCard, American Express, or Paypal.
And the best way to look at monthly recurring investments is whether the app, service, or product you're buying saves you more time, effort, and money when using it compared to other options.
Specifically for Dropbox's Plus plan, you get 10 times the value for what you're paying.
Even if it saves you only 1 hour of work that you would normally waste on splitting files and sending them through different email providers that will inevitably block you for sharing too many links or files…
It's still worth it!
Of course, that's if you value 1 hour of your time at more than a couple of bucks.
And we're sure that Dropbox will save you way more than just 1 hour a month.
If you're still not sure whether it will do that for your specific situation, you can try it out for 1 month and see how it goes.
Now that you know what you get with the Dropbox Plus plan, let's dive into how it compares with other plans.
How does Dropbox Plus compare to other Dropbox plans?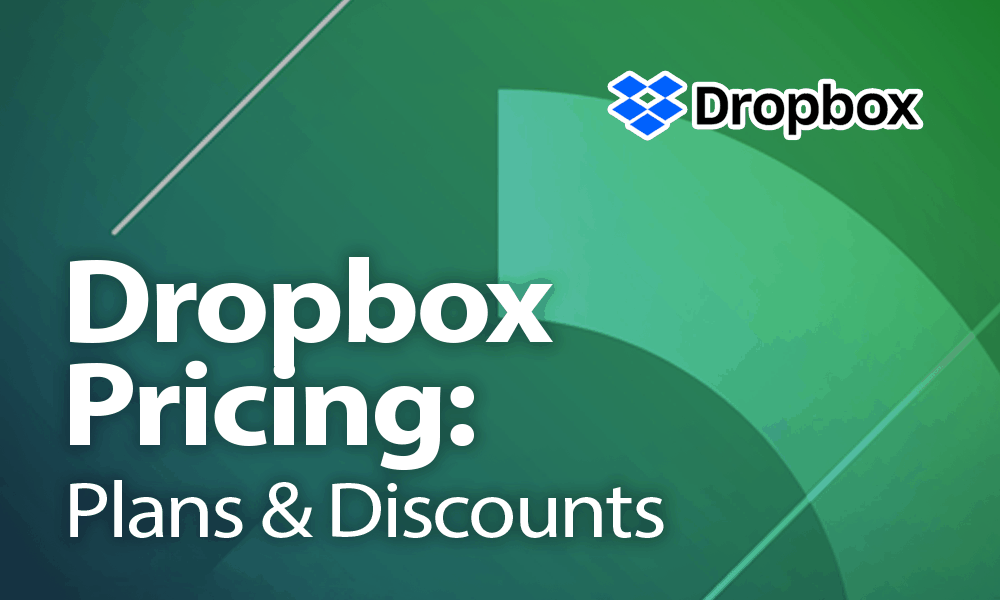 Dropbox offers 3 different plans for individual users.
Dropbox Plus is the middle plan of the three.
You also have the option to go lower or shoot for the stars.
The first plan is a Free plan that anyone can start using any time.
It is extremely limited in space and sharing options compared to the Dropbox Plus plan but it's still a pretty sweet deal.
To be specific, with the Basic Free Plan you get 2 GB Storage and the option to send up to 100 MB per transfer compared to 2000 GB storage and 2 GB per transfer with the Dropbox Plus plan.
The beginner plan is for people that haven't used cloud storage services before and just want to try it out.
But with these limits, you can't do much work. If your daily activities include using large files, images, and videos, you'll definitely need to upgrade to a bigger plan.
Speaking of bigger plans let's look at the Professional plan Dropbox offers.
Using it, your storage space jumps to 3 GB and you can send up to 100 GB per transfer, including customizable options for sharing files.
This plan is for big players that want to get things done.
You get lots of different upgrades and most importantly, you get access to live chat support 24/7.
That way you can resolve any issue in mere seconds.
Of course, having such advanced options comes with a price.
Your best option is again the yearly plan which stands at $19.99/month.
I don't see a reason to start with the more expensive monthly option if you're certain that you need the advantages in the Professional plan.
That was a quick overview of the individual plans but you also have business plans.
The only thing is that you need to be a team of at least 3 people to start using a business plan.
The best part of using a business plan is that you get a 30-day Free Trial on all of them.
So you can take a look at them now and see if any of them fit your needs.
Is Dropbox Plus worth it?
Now for the main event, is Dropbox Plus worth it?
The answer to this question depends entirely on what you as an individual user need when using a cloud storage service.
We've noticed that many people use Dropbox as a memory space to save their best moments, pictures and files.
So even if you're not using online platforms and files in your work, Dropbox can still help you a ton.
Of course, if you're the exact opposite and you're using, downloading, and sharing online files with your team and friends on a daily basis, then you most certainly need to start using Dropbox Plus.
The cool thing about services like Dropbox is that it pays for itself.
You've got to calculate how much you personally value your time but Dropbox users save tens of hours each month just because they don't have to use outdated methods like email.
The fast download and upload speed and the option to save all of your precious memories are worth way more than a couple of bucks per month.
And still, it's entirely your personal decision whether you want to start or not.
But in our practice, we've noticed that being able to pull out your phone and dropbox files to your friends and colleagues is extremely helpful in any communication.
And if you like structuring your day and work, you have got the option to customize your Dropbox the way you like it.
Go ahead and look at all of the features and applicable benefits you get with Dropbox Plus right now and make your well-thought-out decision whether to start using it.
To summarise… Dropbox Plus is an amazing plan where you get advanced storing and sharing options for your cloud storage.
You can use Dropbox from any of your devices any time you wish.
It's basically the best way to use and share files with friends, family, and co-workers.
If you're using shareable online files daily or you want to save all of your outstanding memories in a safe place, then Dropbox Plus is the way to go.