How to Get A Free Dropbox With 16GB of Space
For years now, Dropbox has been the gold standard and a trustworthy provider for file syncing and data backup.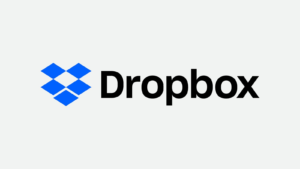 Dropbox was one of the first early companies to understand and deliver on cloud storage and syncing. It is a reliable and straightforward file-synching with a storage service that has now been enhanced with collaboration features. Dropbox offers synced desktop folders access anywhere. Though most plans can be looked at pricey, they have unique features that make them stand out.
Dropbox does a great job of seamlessly integrating into macOS, Windows, Android, and iOS. They keep your files back up to the web and syncing across multiple machines without any labor. In short, everything you put into your designated Dropbox folder will be synced to the cloud.
With so many other competitors in this cloud and storage space, Dropbox was the first provider to do this and remains one of the best in the market today.
Please note, you can't include network drives or external drives in your Dropbox, you can select which files and folders are synced to which device, and you can choose to keep files just in the cloud to save space on your hard drive. Dropbox mobile apps work well, too, and can back up photos and videos taken on your phone if needed.
Now that a quick intro has been given on Dropbox let's get into what you can expect signing up with a Dropbox account.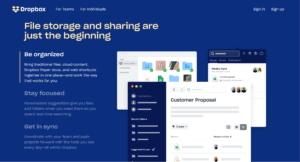 What a Standard Dropbox Free Account Includes
Kudos to Dropbox for offering a free Basic account that can get you started with 2GB of space. With this free plan, you can get started with accessing and sharing photos, documents, and other files from any device.
2GB of cloud storage space isn't much, of course, but you are given the opportunity to try out the service most competitive providers do not offer. Although you are limited with this Basic free account, let's list out what you can expect starting at this plan.
Ability to access files anywhere
Dropbox Basic plan gives its users easy access to get to their files on multiple devices. Computers, tablets, phones, they are all free.
Suppose you are trying to receive access for Windows, Mac, or Web. You will have to install Dropbox's desktop app. Once doing so, your account will appear, and the folder will be ready.
Regarding the Web, you will need to sign in to dropbox.com to access everything you have stored in your dropbox folder. No software installation is required.
If you want to access your files on the go, just download Dropbox mobile app on iOS or Android. You can preview more than 175 file types from anywhere.
Sharing and collaborating on files
Dropbox gives you the ability to send larger files to anyone you need to securely. Along with sending large files, you can collaborate with the shared files.
To send a large file to someone, you will simply create a shared file or folder. Then you will copy the link into an email, text, or chat and complete the file transfer. You can also send files within and directly from Dropbox. The recipient will be able to view and download the file even if they do not have a Dropbox account.
You can feel comfortable sending big files knowing they will be secured. You can password-protect a shared link and set a date for the link to expire. To give recipients the ability to edit shared files, you will need to invite them to a shared folder with the files stored inside.
Dropbox does an excellent job of offering seamless collaboration, whether you are sharing files with one person or an entire team.
Backup files
Dropbox helps keep all of your sensitive information safe and secure with the following:
File Recovery: Regardless if a file is deleted from your Dropbox, you can restore anything that has been deleted in the past 30 days.
File Sync: With Dropbox desktop and mobile apps, you are able to upload photos and videos to Dropbox from your phone, SD card, or camera. Anything can be backed up by storing it in the Dropbox folder on your computer.
Version history: You have 30 days to roll a file back to any version it was first saved to Dropbox.
This Basic free plan is an entry-level offering. If you are looking to test out what Dropbox offers, you can't go wrong with this 2GB free storage plan.
How to Get an Extra Amount of Space
Dropbox offers four total plans, with storage going up to 5TB and higher. To learn more about their paid plans, check them out here.
Not everyone may have the luxury or desire to purchase one of their paid plans. With a little research, you can find ways to double the free 2GB that Dropbox gives you. After you created a Dropbox account and have downloaded the app to your desktop, see below for a list of steps that will give you more additional space with the 2GB storage you receive with the free Basic plan.
Complete the "Get Started Tour" Once you are done completing the account setup and finishing steps, Dropbox will give you 250MB.
Earn an easy 125MB by connecting your Facebook account
Earn an easy 125MB by connecting your Twitter account
You can earn another 125MB by following Dropbox on Twitter
If you write a short text telling Dropbox how much you love their service to earn 125MB
Dropbox also allows you to earn up to 16GB of free space by inviting your friends to join Dropbox. Each time a friend uses your link, you both will receive 500MB of bonus space. If you can invite 32 people using your friend's link, you will get up to 16GB. Feel free to share your link on Facebook, Twitter, and install Dropbox on your friend's and family's phone to get more traction.
Once in a while, Dropbox will create challenges and send them out via their blog. You can receive additional space during these challenges. The sizes are not disclosed until the challenges are up. If interested, sign up with their mailing list to stay up to date.
For signing up for their free Basic plan, you can earn up to a pretty good amount of storage for your files for free. I will get more into Dropbox's paid plans below.
What a Free Account Doesn't Have
Dropbox isn't the most expensive cloud storage provider on the market, but it also isn't the cheapest. But for theta they offer, I believe their prices are worth it. A step up from the free Basic account plan will be the Plus Plan.
The Dropbox Plus plan will start at $11.99/monthly and provide you 2TB of storage. You will also be provided with priority email support and features like smart sync and Dropbox rewind. Smart Sync allows you to access your files and folders stored in Dropbox without worrying if they are on your drive or the cloud. This will give you the peace of mind and not worry about running out of local storage. This is also a great feature if you are experiencing ransomware or malware issues and need to undo the damage caused to your drive.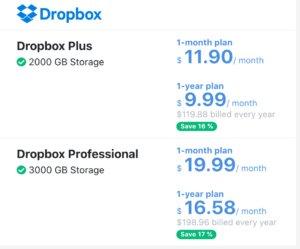 Dropbox's Plus plan recently upgraded from 1TB to 2TB, the additional storage and standard features have increased the price from $9.99 to $11.99. Their monthly costs now are $11.99, while the yearly billing comes out to $9.99 a month. Existing subscribers will continue to pay the old price until the end of their current billing cycle. They will also be sure to receive their extra storage and new features.
Storage: With the Plus plan, you can expect secure and safe cloud storage, you can keep your photos, documents, personal records and more in an easy-to-access destination with 2,000 GB of storage.
File Sharing: Dropbox can be used across all devices; anyone can receive access to the provider. This makes sharing files instantly much easier. No matter the size, it can be sent to Mac, PC, and iOS.
Restore and Recover: You can restore or recover anything in your Dropbox account under the Plus plan. For up to 30 days, you can recover photos, PDFs, and personal files. They will remain safe until completely deleted or recovered.
Data Backup: Dropbox will automatically sync and save your photos, personal documents, passwords, app content, Google Docs, and much more.
Integrations: Dropbox connects directly to the apps you are using every day. With this plan, you should have enough storage space to organize and centralize all of your data.
Two-factor Authentication: You can set up your account to require a six-digit security code or key in addition to a password to access your account.
Device Approval: As an admin on your account, you control how many devices you can connect to and disconnect.
Dropbox Transfer: You can securely send large files up to 100GB to any recipient regardless of whether they have Dropbox.
Full-Text Search: Quickly search all of your documents on your drive with this feature. All files and docs can be scanned through the mobile app.
Plus Button: You can create any Microsoft office file, upload photos, and scan documents from the Dropbox app to your phone.
Support: With the Plus plan, you receive priority email support. Live chat and phone support are upgraded features that you can get with the Professional plan.
If you are interested in learning more about the Plus plan or signing up for a free trial, you can check it out on the Dropbox pricing page. You can also find more about other plans. Whether you are searching for individual plans or business plans, Dropbox has excellent offerings.
To close, Dropbox is a veteran online cloud storage service provider. They have excellent features with seamless integration. If you are an individual, you can't go wrong, testing their Basic free plan for 2GB. If you see that it is not enough space, there are ways to earn more space or just think about upgrading to the Plus plan. Suppose you are looking for cloud storage for your business. In that case, Dropbox offers excellent offerings, which may be more expensive but will provide plenty of features for collaboration and securing your data.