Max Dropbox File Sizes and How to Get Past Them
Dropbox is an amazing software that helps you store, secure, and transfer files through all of your devices, but it can get overwhelming when dealing with its limits.
In this article, we're going to show you an in-depth review of file size limits that each Dropbox plan gives you.
And also, a couple of tricks you can use to get around those limits and optimize your efficiency in working with Dropbox.
So no matter if you're a registered Dropbox user or you're just considering if it's the right file-sharing software for you, this post will help you see how to overcome the limits of its sharing capacity.
Let's dive straight into the topic by looking at…
Dropbox's File Size Limit on Every Plan
Dropbox, as with any other subscription-based software, has monthly limits on what you can do.
Their cloud storage is beneficial for storing and sharing files, images, and videos with family, friends, and coworkers.
The big problem comes when your files exceed one of their limits.
When this happens, you will be forced to upgrade to a larger plan just to send a store or send a singular file.
That's why today, we want to talk a little more about how to get past Dropbox limitations, so you can enjoy your work without having to worry about being limited by Dropbox.
And don't worry, most of Dropbox's features are similar to all plans, even the free basic one.
However, what's important here is the difference in the storage space and sharing options.
Let's start with listing the Dropbox storage space limits on every plan so you can get a better idea of what you're working with:
Free Basic Plan = 2 GB (2000 MB)
Dropbox Plus = 2 TB (2000 GB)
Dropbox Family = 2 TB (2000 GB)
Dropbox Business Standard = 5 TB (3000 GB)
Dropbox Business Advanced = No Limit
Now that we know that, people often face one other prominent restrictions when they try to use Dropbox Transfer.
If you haven't heard of it, Dropbox Transfer is a feature that lets you share large files with other people.
It can be extremely beneficial for people working on giant projects involving large videos or files daily.
Once again, it can be frustrating to upgrade to the next plan only for using this feature once.
That's why we're going to cover how to get past these limits through different methods further in the post.
But before we proceed, let's first list all of Dropbox File Transfer limits so you can know exactly what you're working with:
Free Basic Plan = 100 MB per Transfer
Dropbox Plus = 2 GB per Transfer
Dropbox Family = 2 GB per Transfer
Dropbox Business Standard = 2 GB per Transfer
Dropbox Business Advanced = 100 GB per Transfer
Another cool thing about Dropbox Business Advanced is that it gives you the ability to delegate responsibility through your team members.
You can limit the access to some of your shared links to specific members of your team or give greater access to others.
And that's great because this way you can manage your team more efficiently and avoid any unexpected problems.
But the fun part comes in the next section of the post.
We're going to look at some of the tricks and not so well-known techniques you can use to get past Dropbox's limits and optimize your workflow.
4 Tricks to Get Around Dropbox File Size Limits
Dropbox is an excellent Cloud for storing your valuable files and ensuring they stay safe and secure in the online space.
However, it doesn't support its users when they want to share data with other people who do not use it.
As you've already seen in the section above, the limits that Dropbox gives you when you want to transfer files outside the cloud is just up to 2GB for their standard plans and 100GB only for their Dropbox Business Advanced plan, which is not relevant for everybody.
That's why in this section of the post, we'll show you some fantastic tips and tricks that will help you reduce file size and transfer data easier.
#1: Use a Free Software to Transfer Files to Your Peers Before You Upload Them to Dropbox
The first trick we're going to discuss will help you share large files with anyone even if they don't have a Dropbox account.
If you want to share files with other people who don't have a Dropbox account, it's more convenient to use other free services like TransferXL.
The good part about this software is that it's completely free, and you don't have to pay a dime for the Dropbox Plus, Family, or Business Standard plans, which give you the option of transferring files only up to 2GB.
Even better, with TransferXL Free Plan, you can transfer files and folders to your colleagues or team members, which take up to 5GB of space.
You can transfer large videos, high-resolution pictures, and massive amounts of data using this method.
Just follow these simple steps to begin your transfer: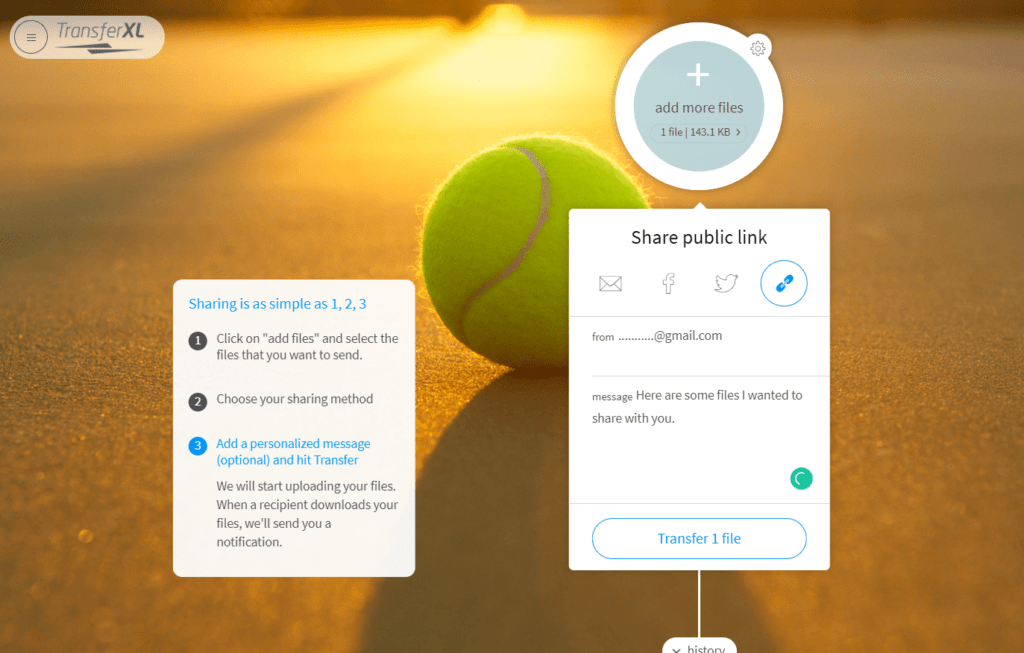 #1 Click the link above and go into TransferXL
#2 Click "Add files" or just drag & drop the files and folders you want to share (even if you upload multiple files, the service takes care of zipping everything for you to make your transfer easier)
#3 Choose your sharing method (you can mail it to contacts, use Facebook and Twitter or create a public link that you can copy)
#4 And finally, you can add a personalized message and then hit Transfer.
That's how you can use TransferXL to transfer files beyond the file-sharing limits of Dropbox.
#2: Reduce The Size of The Files You Want to Share
File compression is one of the best solutions for sending huge files to your clients or co-workers.
If you're hitting the maximum file size sharing limits on your current plan, you can always ZIP your files.
In this section, we'll share a brief overview of how you can do that.
How to Zip Files and Folders On Mac
If you're a mac user, just follow the simple steps outlined below:
#1 Gather multiple files you want to compress together in one folder. Ideally, you should create a new folder containing only the files you wish to compress.
#2 Right-click or Ctrl-click the new folder and select "Compress Items".
#3 The ZIP file will be saved in the same location you created the original folder.
Similarly, if you only want to compress specific files in a folder but not the entire folder, hold down the Command key and then click on whichever files you want to zip.
When you select all of them, right-click and select "Compress items".
All items will be compressed into one single file, called "archive.zip".
You can always rename it afterward.
How to Create a ZIP File on Windows 10 Using the "Send to" Function
The process is similar and just as simple so let's get right to it:
#1 Ensure that all the files you're compressing are in one folder.
#2 Right-click on the folder or select all the files you need and then right-click on one of them.
#3 Find the "Send To" option.
#4 Click the "Compressed Folder" option, and you're done.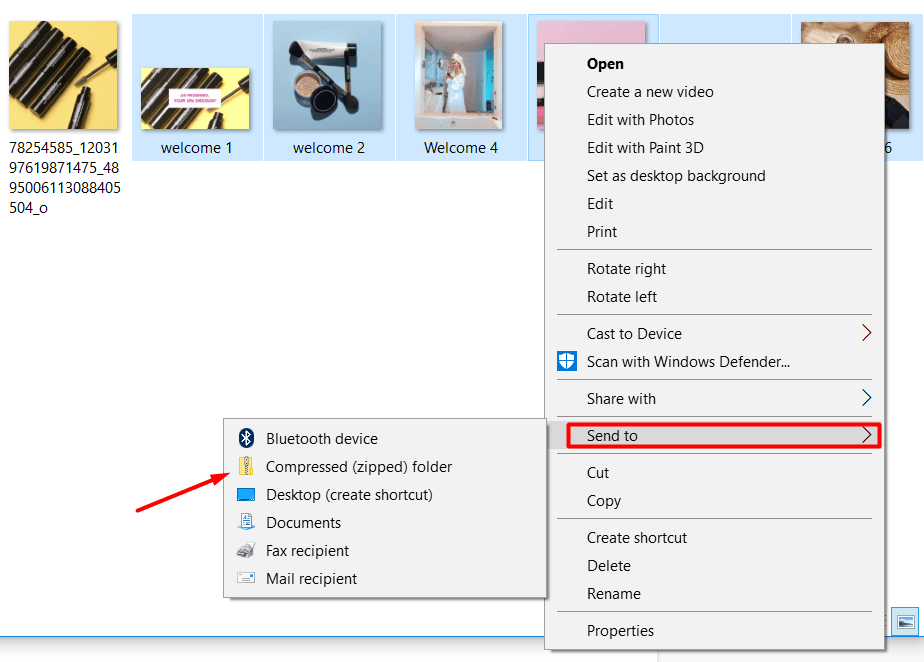 Once again, the zipped file will be saved in the location you got the files from.
To uncompress the files you zipped on both Mac and Windows, just right-click on the zipped folder and:
On Mac – Hover over "Open With", select "Archive Utility". The file will unzip, and a new folder will be created with all of the files contained.
On Windows – Select "Extract All". Then the files will be extracted and stored in the same location as the ZIP file.
Now that we've discussed how to compress the files you want to transfer, there's one last trick you need to know.
#3: Reduce The Size of The Images You Want to Share
Many people tend to use cloud-based services like Dropbox to store and share their memories in the form of images with friends and family.
And that's a great practice.
However, if you don't want to keep your picture collection for yourself but want to share it with friends who don't have a Dropbox account, then things get tricky.
Furthermore, when using a professional camera, picture sizes can get huge, like 5-10 MB / picture.
That's why in this part of the post, we'll show you how you can compress your images while ensuring that the quality doesn't get damaged.
We'll give you two convenient online services to help you with that:
The first one is TinyPng, which is more straightforward than the other one, and you can compress .png and .jpg files.
However, TinyPng gives you a limit of 5mb per picture and 20 pictures max in a batch on their free version.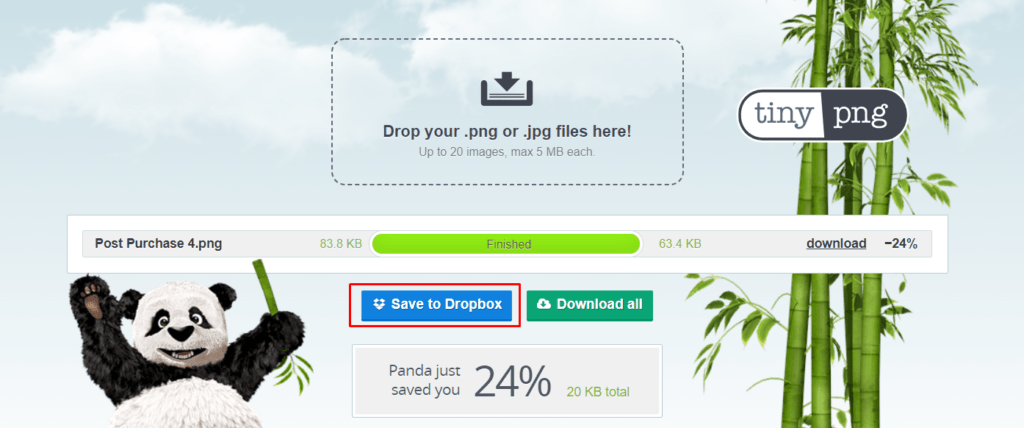 To use it, just drag & drop your images on the TinyPng website and then click the "Save to Dropbox" button that appears.
The next software that gives you even more options and is called Img2Go.
In the image below, you can see all the choices that the software gives you to compress pictures.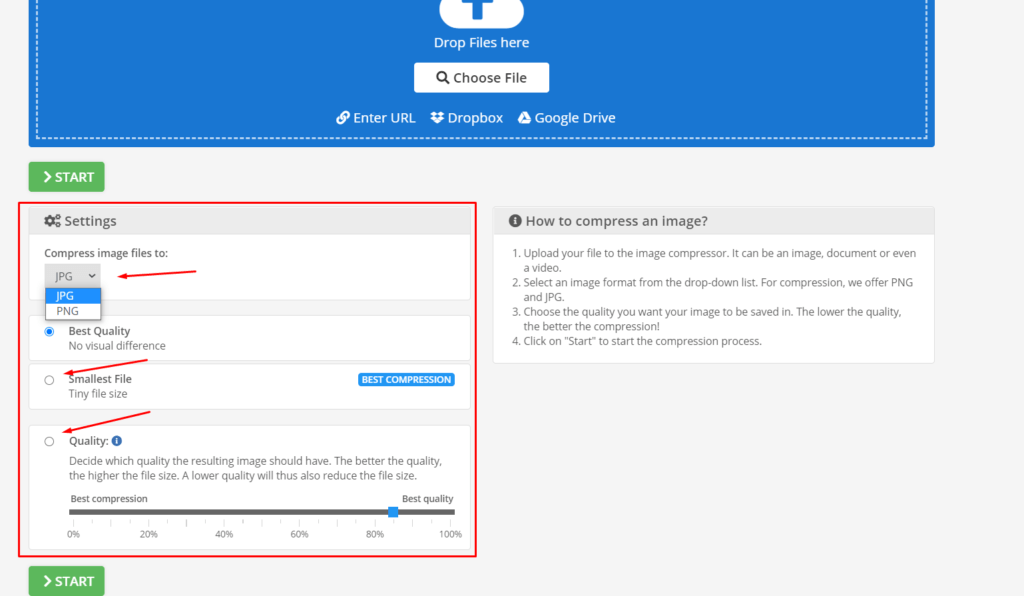 Here are the steps that you have to follow to compress your pictures:
#1 Upload your file to the image compressor. You can also upload your images directly from your Dropbox Storage to make the process easier.
#2 Select an image format from the drop-down list. For compression, they offer PNG and JPG. (shown in the picture above)
#3 Choose the quality which you want to save your images in. The lower the quality, the better the compression! (You can choose different options for different occasions)
#4 Click on "Start" to start the compression process.
Once that's done, Img2Go will give you the following options:

If you want to download the pictures directly to your computer, click the green "Download" button and save them to a convenient location.
On the other hand, if you want to use your Dropbox to store the pictures, click the "Cloud Upload" and then select "Dropbox".
The best part is that it's also easy to use and allows you to convert all kinds of images from different formats.

To do that, you can just play with all the features it offers.
Now that you know how to reduce the size of your pictures when you want to share them with friends, we'll also discuss how to:
#4: Reduce The Size of The Videos You Want to Share
For this purpose, we'll be using some fantastic online software like Clipchamp and VideoSmaller to get past Dropbox file-sharing limits and make your workflow easier.
You can use VideoSmaller for small videos up to 500 MB, and the best part is that it's completely free.
Just click the link, upload your video file, tweak a couple of options, and you're good to go.
The second application is Clipchamp.
It is perfect if you want to have more options, including the ability to edit your videos, compress videos of any size, and process them in batches.
It's the better option if you're going to compress videos consistently and want a professional editor.
The only difference comes with Clipchamp's free trial.
It watermarks your videos, and if you want to remove the watermark, you'll need to either pay the $7.50 / month yearly subscription or $9.00 for one month.
So if you want to make the process as easy as possible without downloading software to your computer, Clipchamp is the way to go.
And this last trick sums up the whole post for today.
To conclude the article, I suggest you pick the Dropbox plan that best fits your needs and start storing and sharing the files you need.
There are many cool tricks and techniques to get around Dropbox's limits, and today we shared with you the ones that have worked great for us and will work even better for you.