How to Recover Your Dropbox Deleted Files
We're only human. From Grandma misplacing her dentures to you shutting down the PS4 before Tomb Raider automatically saves your latest adventures with Lara Croft, we all make mistakes that lead to us losing things.
And the same goes for your files. We've all accidentally deleted a file at some point.
Plus, we're fickle beings – we change our minds a lot. Sometimes we even delete files on purpose and find that we need or want them again at a later date.
But, before you drop to your knees and tear your hair out over your lost files, you need to know that there is a solution. Here's your guide to recovering deleted Dropbox files:
What Happens to Deleted Files in Dropbox?
Thankfully, Dropbox temporarily saves any files you trash in your Deleted files folder. You'll see this folder in the sidebar on your dashboard:
How long Dropbox saves your deleted files depends on the type of account you have. For Basic, Plus and Family users, you can recover your files for up to 30 days. For all Dropbox Business accounts, this extends to 180 days.
Dropbox also saves previous versions of files. So, if you or a member of your team make an accidental or unwanted change, you can recover old versions of the file for up to 30 days (Basic, Plus and Family users) or 180 days (Business users).
Furthermore, if you have a Business account and one of your team members moves or deletes a file, Dropbox will double-check with them that this is what they intend to do. It's a little bit of added insurance to prevent accidents. Admins will also be notified when a team member moves or deletes a file. Hence, if a change was made against your wishes, you'll know about it and be able to recover the file.
Finally, Dropbox offers a full account rewind which means you can restore a whole folder or your entire account in case of a bigger mishap or cyberattack. This isn't available for Basic users but Plus and Family users can rewind their account to any time in the last 30 days. Business users can rewind their accounts back 180 days.
Using the Normal Dropbox Recovery
Here are three ways to restore files using Dropbox:
1. Recover a Deleted File on Dropbox
Step 1. Select Deleted files on your dashboard's sidebar.
Step 2. Click on the file you want to recover or select multiple files using the checkbox at the side of each file.
Step 3. In the dialog box that appears, click Restore.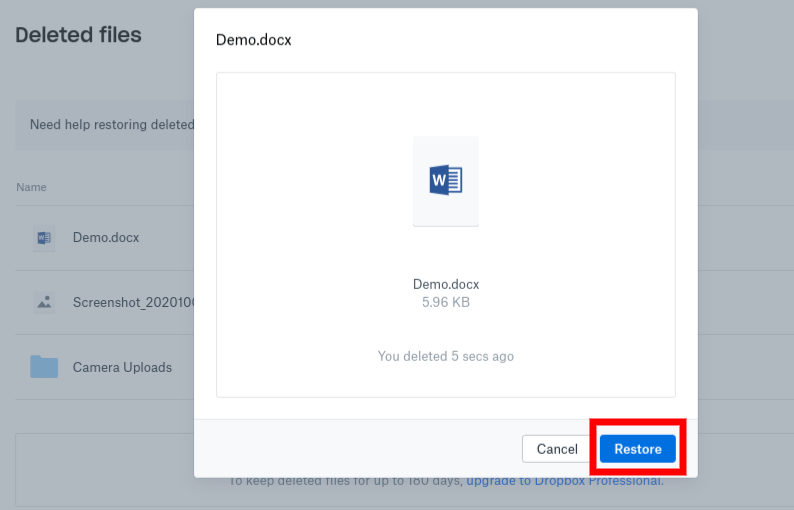 If you want to recover a shared file or folder then you need Can edit access to do so.
2. Restore a Previous Version of a Dropbox File
Step 1. Find the file in question and click the three dots next to it.
Step 2. Select Version history from the dropdown menu.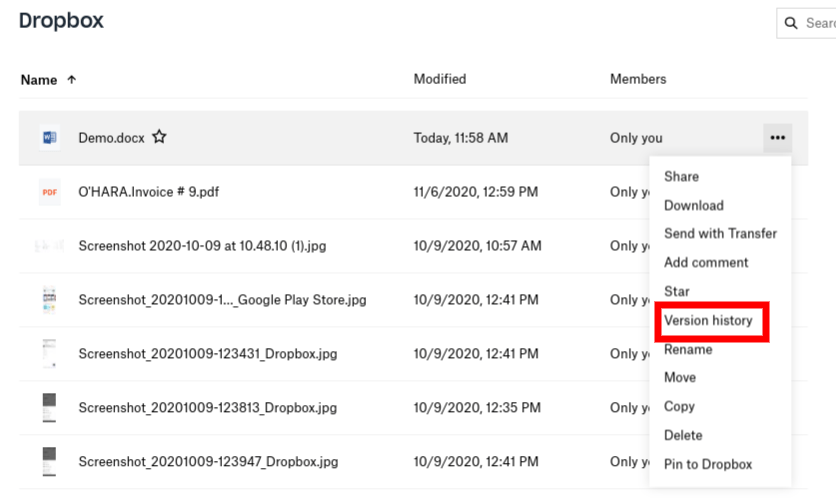 Step 3. Click on the version you want to restore and you'll see a preview.
Step 4. If it's the correct version of the file, click Restore in the top right corner.

This will replace the current version of the file.
3. Rewind Your Dropbox Account
Step 1. Select All files from the sidebar.
Step 2. From the menu on the right, select Rewind Dropbox.

Step 3. Click Get started to see a graph that displays your Dropbox activity.
Step 5. Pick the day you would like to restore Dropbox back to and click Continue.
Step 6. Click the blue line below the earliest change you want to reverse from the Fine tune list and then click Continue.
Step 7. Click Rewind to begin restoring your account.
How to Find Your Files AFTER They Get Permanently Deleted
It's possible to permanently delete files from Dropbox manually. Moreover, Dropbox permanently deletes files when the recovery period is up automatically. At this point, it's impossible to restore these files using Dropbox.
But, don't fret because they're not necessarily gone forever.
If you have the desktop app, your Dropbox files are stored locally on your hard drive. Obviously, this will not be the case for any files you choose not to sync to your computer. But everything else goes in the Dropbox folder.
Because of this, you may be able to recover permanently deleted Dropbox files using a data recovery tool. After you've installed such a tool on your computer, you'll be able to use it to scan the drive where your Dropbox folder is stored. It should bring up a bunch of recovered data that you can search through to find the file you wish to recover.
Here's some of the best data recovery software for restoring Dropbox files:
EaseUS – You can use the EaseUS Data Recovery Wizard to restore Dropbox files. The tool supports both Windows and Mac operating systems. With a free account you can recover up to 2 GB of data and its paid options let you recover unlimited data.
MiniTool – MiniTool Power Data Recovery will help you recover permanently deleted Dropbox files on Windows computers. Restore 1 GB of data for free or upgrade to a paid membership to recover unlimited data.
Disk Drill – Restore Dropbox files on Mac or Windows operating systems using Disk Drill. Its free version lets you recover 500 MB of data, while its paid options offer unlimited recovery. Disk Drill's Recovery Vault is available for all account types and will help prevent data loss in the future.
Why Did Dropbox Delete My Files?
If you don't remember deleting a file but it's nowhere to be found, you may be left wondering, where on earth did my file go?
As mentioned above, files in the Deleted folder will be deleted permanently after the allotted recovery period. But, that's not the only explanation for missing files. Here are some further possibilities:
Another program deleted the file – Your antivirus software or another program that's linked to or monitors your Dropbox files may have deleted the file. Furthermore, if you use another cloud provider or local backup software this may interfere with your Dropbox files. Check the settings for any program or app connected to Dropbox.
You used an older version of Dropbox on an old device – If you access an old device that has an older version of the Dropbox desktop app, there's a chance that the database on this old device will overwrite the files you currently have in your Dropbox account. Each time you go on an old device you need to quit Dropbox immediately and download the updated version of the desktop app.
You upgraded or reinstalled your operating system – When you upgrade or reinstall OSX, Windows or Linux, there's the rare possibility that your Dropbox folder will be reverted to an older version.
You accidentally removed a shared folder – When you remove a shared folder, naturally, all of the files within that shared folder go with it. You'll simply need to go to the Shared folder section and add the folder to your account again. If you permanently deleted a shared folder that you didn't create, you'll need to request another invite from the owner of the folder.
There was a problem with an external drive – Though it is possible to transfer your entire Dropbox folder to an external drive, it isn't recommended. Lots can go wrong while syncing to the folder on an external drive. For example, if the drive is disconnected while syncing, files may be lost. So, it's wise to only put copies of your files on an external drive and not your entire Dropbox folder.
6 Ways to Avoid Losing Your Dropbox Files
If you've ever lost important files then you know how devastating it can be. Say you lost some family photos from that amazing trip you took together. Or if you lost work files it may have even affected your position or livelihood. So, here's how to make sure it doesn't happen again:
1. Add Copies to External Storage
If you're concerned about losing data, you may wish to make copies of your files and save them outside of the cloud. If you don't need much storage space, a USB stick will suffice. Or you may need to invest in an external hard drive if you have lots of files.
Naturally, this means you must back up your files manually every day or every few days. And keep your external storage in a secure location. You don't want it to get damaged or for somebody else to get their hands on it.
2. Prevent Team Members from Deleting Files
Dropbox Business users benefit from extensive admin controls. Usually whoever creates or uploads a file is able to delete that file permanently. However, you can change the settings so that non-admins are unable to permanently delete files (even if they uploaded the file).
This will reduce the likelihood of accidental deletions or spurned employees getting rid of key files. Here's how to do it:
Step 1. Go to Admin Console and click Settings.
Step 2. Select Deletions.
Step 3. Switch the setting to Off.
3. Make Dropbox Extra Secure
A cyber attack could result in your data being lost or compromised. But, there are a few steps you can take to secure your Dropbox account.
Firstly, you must make sure your password is strong and unique. Also, be aware of the types of online scams people might use to get hold of your log-in details, for example, phishing.
Furthermore, you can reduce the chance of a malicious party gaining access to your sensitive files by limiting the number of devices you and/or your team members connect to your Dropbox account.
4. Consider if You Really Need to Use Smart Sync
You can use Smart Sync to make some files online-only. These files aren't stored locally on your hard drive which frees up disk space for those who need it.
But, if you don't need the disk space, you may wish to avoid using Smart Sync altogether. The reason being that the data recovery software mentioned above relies on copies of your files being saved to your hard drive in order to restore them.
5. Name Your Files
Yes, it's an effort to keep your files organized. But, unfortunately, it's something you have to do if you want to avoid losing files.
If you don't name files appropriately, you risk losing them. For example, if you decide to purge a bunch of files at once you may just check all of the boxes or highlight the files without realizing what's inside some of them.
And on a general note, naming important files will help you find them much easier using Dropbox's search function.
6. Keep an Eye on Your Files
If you're an admin, you can also monitor file activity. In the Insights section of your Admin Console, you'll be able to see who has access to files and what they do with those files, for example, when they view, edit or share a file.
This, of course, means you can keep a close eye on your files to prevent them getting lost. You can check whether your team is keeping files organized. You can also look out for suspicious activity that could indicate a cybersecurity issue and lead to data loss.
Summing Up
Whether you did it on accident or on purpose, there are actually a few ways to recover your deleted files using Dropbox. You can restore them from the Deleted files folder within the recovery period, restore a previous version of a file that you lost or rewind all of your Dropbox activity if you need to.
However, when files are permanently deleted, you'll need to use a recovery tool to bring them back from the local storage on your computer.
If this happens to you it's worth taking the steps to make sure it doesn't happen again. Perhaps you need to backup your cloud backup by putting copies of your files on an external drive. Or maybe it's as simple as organizing your files better. Either way, fingers crossed you don't have to say RIP to any of your files ever again.