Everything You Should Know About the Dropbox Business Plan
Dropbox is a massively popular cloud-based file sharing service, with around 16 million users. They must be doing something right as 97% of Fortune 500 companies use Dropbox, with 56% opting for paid memberships.
But, the question is whether a paid membership is worth it for your business.
You may be on the lookout for a file sharing service to allow you and your team to work together from any remote setting. Or perhaps you need a safer way to store and share important documents.
So, here's a detailed break-down of what's included in a Dropbox Business plan, who might benefit and some alternatives you may want to consider:
What You Get With Dropbox Business
Dropbox Business is a cost-effective file sharing solution for professionals, companies and enterprises. The business plan offers more than just cloud storage, it's a tool for collaboration, team management and workflow optimization.
Let's take a look at some of the most impressive Dropbox Business features:
Easy Collaboration
There are loads of Dropbox business features that improve collaboration. Everybody can access their work files securely from anywhere and on any device. What's more, Dropbox takes up only a small amount of hard disk space. Naturally, you can create, share and sync files within the platform.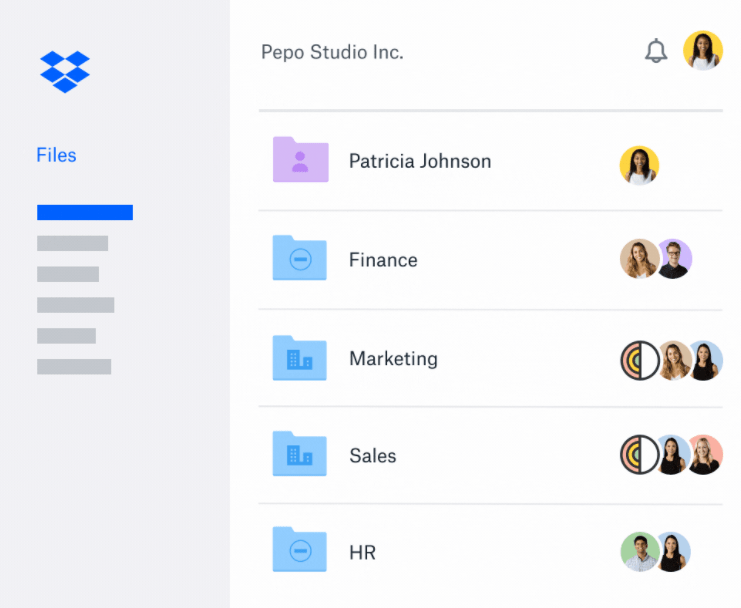 (Image Source)
Dropbox Business integrates with collaboration tools, which we'll get onto in just a moment. Plus, it's super simple to transfer file responsibilities from one account to another, if the person or team in charge of a task changes.
Superior Security
Dropbox is equipped with a sophisticated infrastructure to protect your files whether they're in storage or on the move. This infrastructure consists of several layers of protection, including secure encryption, data transfer and network configuration.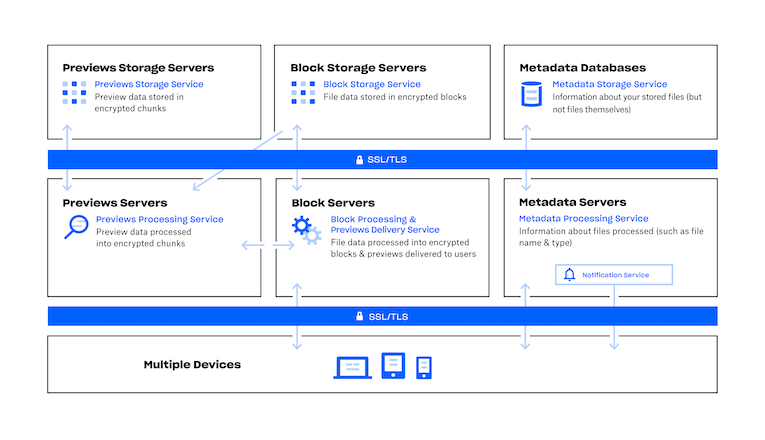 (Image Source)
Another fantastic security feature allows you to wipe files remotely if a device is stolen. There's also the option to integrate other additional security products.
Tons of Integrations
Dropbox Business offers over 300,000 app integrations which will help your teams collaborate effectively and streamline workflows.
For instance, you can integrate your preferred communication tool, such as Zoom or Slack. Start a Slack conversation within the Dropbox platform to keep files and conversations about them in the same place.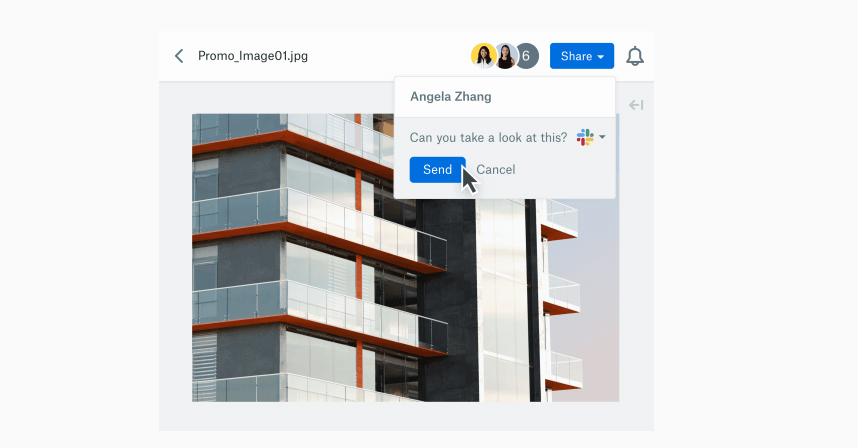 (Image Source)
Furthermore, you can integrate document management tools, such as Nintex, which will allow you to automate workflows. And Dropbox Business works with all types of files, such as Google Docs, Dropbox Paper, Microsoft Office and traditional files.
Intelligent Features
Dropbox Business helps your entire team speed up processes with intelligent, personalized suggestions. The tool will organize files and suggest content based on user or team activity.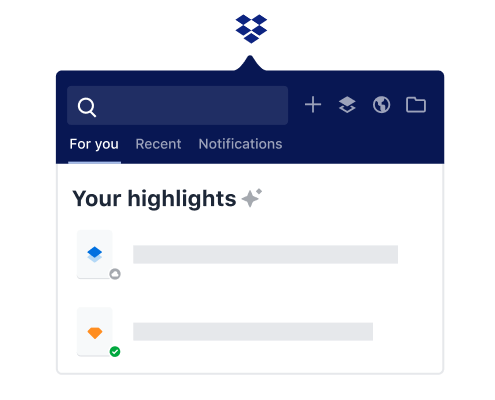 (Image Source)
What's also interesting is that it'll intelligently recommend content, relevant files and useful note-taking templates when you schedule meetings via a calendar integration. And Dropbox learns when you accept or dismiss suggestions in order to keep improving its suggestions.
Tracking & Monitoring
The tool has excellent capabilities for admins. You can view and manage team folders and control syncing.
Via the admin dashboard, you can also keep an eye on connected devices, team activity and sharing. This is great for security and monitoring productivity.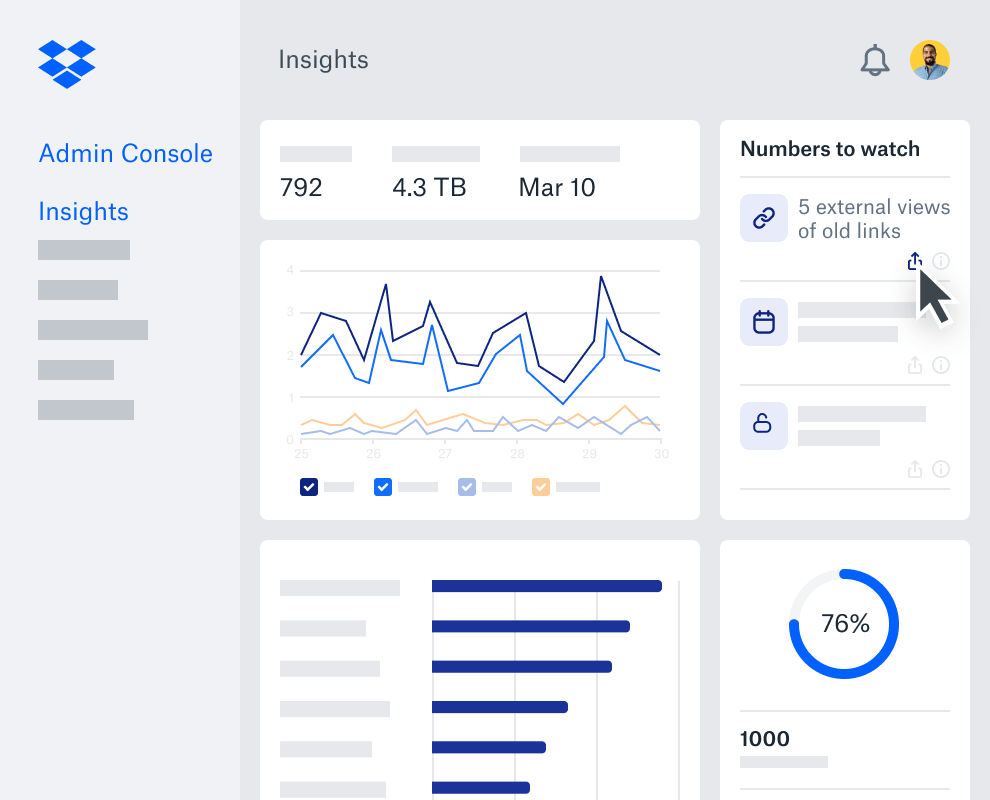 (Image Source)
There are security features you can use to grant temporary access to files or links, including password protection and the ability to set expiration dates on access.
All in all, Dropbox Business is rich in useful features that will boost security, collaboration, productivity and more.
Dropbox Business Pricing
Dropbox Business offers four main plans at different price points. The Professional plan costs $16.58 per month for one user and comes with 3 TB of storage.
If you're looking to use Dropbox Business for teams, then there's a tiered pricing model. The first plan is the Standard plan, which costs $12.50 per user per month and comes with 5 TB of storage.
Then there's the Advanced plan at $20 per user per month and the Enterprise plan for which you have to contact Dropbox to get a quote. Both the Advanced and Enterprise plans come with unlimited storage.
Naturally, the number of features available increases as you go up the tiers. So, compare the packages to see which is the right option for you.


(Image Source)
If you decide that Dropbox is the right solution, be sure to take advantage of the free trial for your chosen plan.
Who Should Get Dropbox Business?
Over 500,000 teams use Dropbox Business. These teams come from a range of industries, e.g. tech companies, media publishers, e-commerce brands, educational institutions and many more. Here are some of Dropbox Business's notable customers:


(Image Source)
Hence, Dropbox Business is suitable for many different types of companies. But, in terms of the size of company that should get Dropbox Business, it really depends on your needs.
Dropbox is more expensive than some alternatives. But, that's down to its expansive levels of storage, enhanced features and huge range of integrations.
Therefore, you must consider your options carefully. For example, if you have a smaller business and don't need anything fancy, it makes sense to go for a cheaper option.
Whereas, if you're looking for an advanced solution for a mid to large company or enterprise then Dropbox is the superior option. Unlimited storage is pretty enticing, after all.
There are several reasons why your company might need Dropbox Business:
You Need Abundant Storage Space
Dropbox Business gives you the abundant space you require without the need for physical hard drives and servers. Cloud storage cuts costs as it significantly reduces the amount of necessary equipment.
Moreover, large files are essential for some companies. For example, you might deal with code, video, 3d mockups and the like.
The problem here is that you can't always send large files via email. You might have to compress files, deliver them physically or even set up an FTP server, all of which can be extremely time-consuming. With Dropbox Business, however, you can store and share large files easily.
You Have Remote Workers
The shift towards remote or flexible working has been going on for some time. The COVID-19 pandemic, of course, introduced even more businesses to the concept as a necessity. It's also not unusual to work with freelancers or outside contractors.
Therefore, having a centralized bank of information is crucial for most companies. Dropbox Business allows you to fine-tune the organization of files so that everybody gets access to what they need in order to do their jobs effectively.
You're Concerned About Security
And rightly so. Cybersecurity is a huge issue these days. In 2019, there were 1473 data breaches in the US, exposing over 164 million records.
Dropbox's powerful security infrastructure mentioned above can ease your worries. But, what's even more useful are the admin features and controls. You decide who gets access to what and for how long. This prevents the kind of cybersecurity issues that occur through human error, e.g. insider threats.
You Want to Streamline Processes
There's a lot you can do with Dropbox Business to improve and speed up processes. Firstly, you have the ability to monitor activity and check up on the progress of your teams. This means you can provide help and direction where needed to ensure you meet deadlines.
As mentioned above, the many integrations available with Dropbox Business make communication and collaboration seamless.
Furthermore, by integrating with Nintex or a similar tool you can standardize and automate workflows. You can create repeatable processes through Nintex's drag and drop workflow builder. You'll also be able to automate certain aspects, such as reviews and approvals to save time.
Dropbox Business Alternatives
Still not sure if Dropbox Business is the right service for you? Here are some other file-sharing services you may wish to consider:
1. G Suite Essentials/Enterprise – Best for Small Businesses
If you already use Google tools, you may wish to upgrade to a package that's more suitable for teams or organizations.
With Google Drive, you get the first 15 GB of storage for free. This is, of course, superior to Dropbox's free version, which offers 2 GB of free storage.
Upgrading to G Suite Essentials or Enterprise means enterprise-grade video calling through Google Meet, much more storage on Google Drive along with access to the free tools, Docs, Sheets and Slides. It also works with Microsoft Office and Outlook calendar.
The Essentials package is $8 per user per month and includes 100 GB storage per user or 2 TB of pooled cloud storage. G Suite Enterprise includes unlimited cloud storage or 1 TB per user if fewer than five users. You must contact the sales department for a quote on this one.

G Suite Essentials may be more suited to smaller businesses that need less storage and fewer integrations. Without transparent pricing, it's difficult to compare the Enterprise version to Dropbox Business. But, there's no harm in getting a quote.
2. Microsoft OneDrive – Best for Simplicity
Microsoft OneDrive is well-integrated with Windows 10 and Microsoft 365. But you can use it across multiple networks including Android, Mac and iOS.
OneDrive's business plans are very straightforward. Plan 1 is $5 per user per month for 1 TB of storage per user. Plan 2 is $10 per user per month for unlimited cloud storage.
Alternatively, you can opt for a Microsoft 365 package which includes other services such as Sharepoint, Exchange and Teams, alongside OneDrive.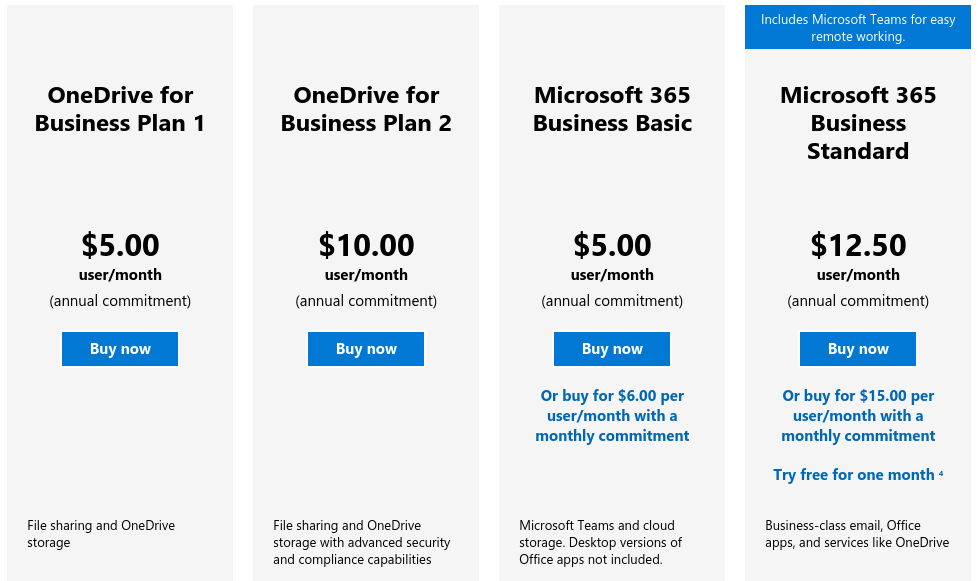 Note that you must make an annual commitment to get the package while Dropbox Business offers monthly or yearly payment plans.
OneDrive is widely-considered a reliable cloud storage and file sharing service with excellent usability. As with Google Drive and its respective tools, OneDrive is a great option if you prefer to work with Microsoft's suite of tools.
Yet, Dropbox is the better option if you need a solution that supports multiple file types and integrations.
3. pCloud – Best for Unique Features
pCloud is an interesting service that offers features you might not see elsewhere. It's particularly suited to companies that need to store and share a lot of media files. Its audio and video players allow you to stream directly from the platform.
Another unique feature is the option to backup your social media accounts. You can connect your pCloud account to the likes of Facebook or Instagram and keep all of your social media content in one place for easy access.
In terms of plans and pricing, you can get 500 GB of storage for $3.99 per month or 2 TB of storage for $7.99 per month.
But what's really interesting is that you can choose a lifetime plan that lasts for 99 years and requires a one-time payment. The 500 GB lifetime plan costs $175 and the 2 TB lifetime plan costs $350.

Overall, pCloud might be the right choice for you if these unique features better suit your business.
4. FileCloud – Best for Customization
FileCloud offers a range of file storage, sharing, backup and syncing options. What makes the service stand out from the crowd is the option to self-host via a FileCLoud server on your premises.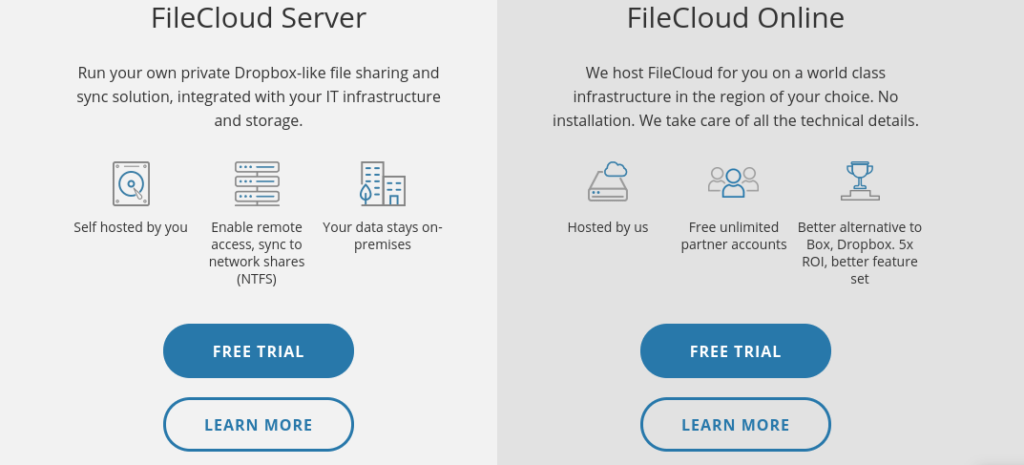 FileCloud Server starts at $4.20 per month. The FileCloud Online plan starts at $10 per user per month for 1 TB of storage for the first five users and 100 GB for every additional user.
The service also offers white label customization, such as custom branding and the option of your own custom domain.
So, if it's important for you to retain autonomy for your business, then you should consider FileCloud.
Conclusion
Dropbox Business is a market-leading file sharing service for a reason. It beats out much of the competition with its superior integrations and features.
It's wise to consider your options and compare with other services. But, Dropbox Business is our best-in-class choice for secure, collaborative cloud storage and file sharing.
If you're curious about Dropbox Business, the first step is to compare its packages to find the right one for you. Then, see if it's a good fit with a free trial.