What Is Dropbox Backup? Should You Use It?
Dropbox is a pioneer in cloud sharing and storage services.
With workforces going remote, it's no surprise that business owners around the world are using the platform to continue operations amidst the ongoing pandemic.
Recently, the platform unveiled various new features that help bridge the gap between work and home, making it easier to work from home. Dropbox users can organize and secure their digital life with Dropbox Passwords, Dropbox Vault, and computer backup.
Out of these three features, computer backup was probably long overdue.
It was previously in the beta stage, but now that it's finally here, you can use it to sync folders on your PC or Mac to your Dropbox account within minutes.
In this article, we'll discuss Dropbox Backup in more detail, how it's different from the normal sync feature of the platform, and whether the upgrade is better than other dedicated backup tools.
Ready? Let's begin!
What is Dropbox Backup?
Dropbox Backup will back your computer files into system folders automatically.
Known as computer backup, it's a cloud backup solution from Dropbox that can backup files and folders on your PC or Mac – including Documents, Downloads, and Desktop – directly to your Dropbox account folder.
Moreover, since all your files and documents are synced continuously at repeated intervals between the cloud and your hard drive, you'll have anywhere, anytime access to your data, irrespective of whatever happens to your computer.
The feature also allows you to backup multiple PCs and Macs at a single place to facilitate decluttering and easy organization of all necessary data.
Once you're done setting up Dropbox Backup, you can continue using your folders normally, as well as any files stored in it, on the web, and from your mobile phones.
Another thing to make a note of is that if you're already using another service to backup your files and folders, the Dropbox setup for backing up will fail. Basically, you need to choose between Dropbox Backup and other backup services.
If you delete any files from the Dropbox folder on your computer, they will be deleted from other devices that have Dropbox installed in them as well as your online Dropbox account.
Dropbox does offer a grace period, though.
Probably because it's very common to delete files and folders by accident – we've done it, you've done it. Everyone has done it!
You can recover any deleted data in the past 30 days if you have a Dropbox Basic or Plus account. The grace period is extended to 180 days for Dropbox Professional or Business account holders. Phew.
That said, backing up in Dropbox is still essentially a file syncing service and not the same as online backup services. We'll discuss the difference in more detail later on in the article.
How to Get Dropbox Backup
Before setting a computer backup, there are a few things you have to do.
Otherwise, you might face troubleshooting errors.
Steps to Follow Before Setting Up Computer Backup:
Step #1 Close all open applications and files on your computer device.
Step #2 Connect your computer to the internet.
Step #3 Install the Dropbox desktop application if you don't have it already. Search "Download Dropbox" on your web browser and select Go to download.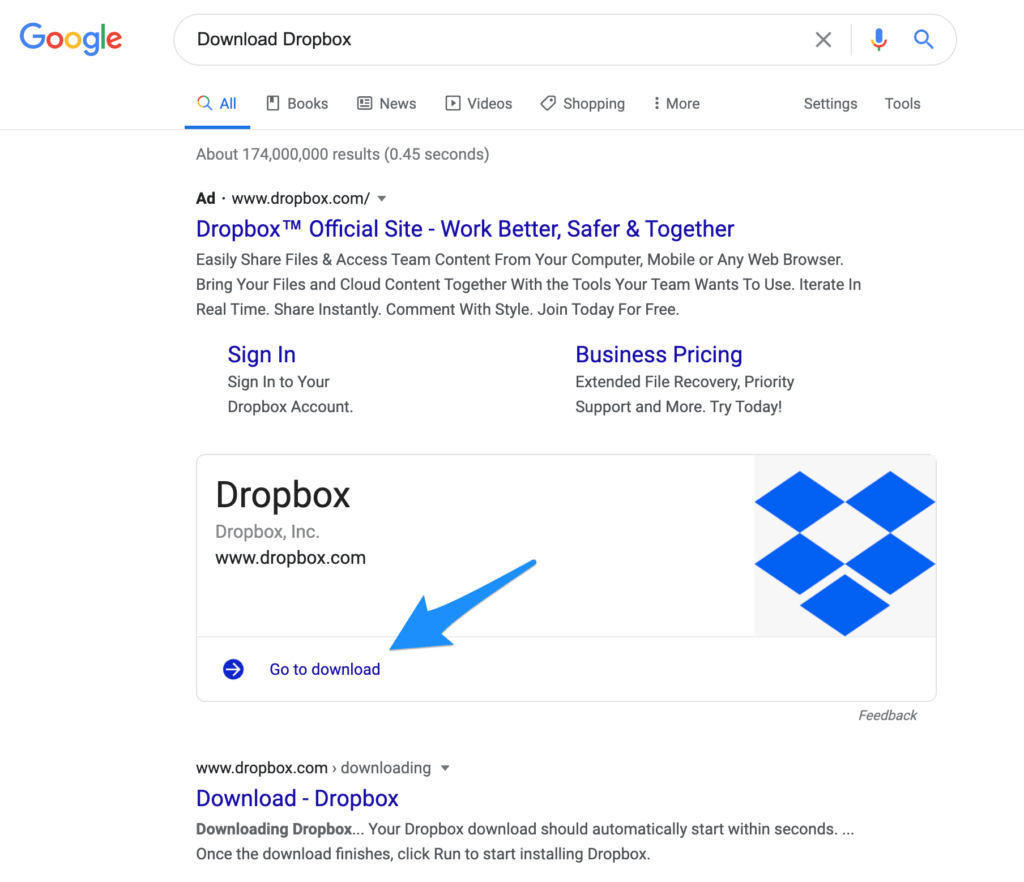 You'll also have to make sure the syncing is complete before proceeding to the actual setting-up stage.
Step #4 If you use other backup cloud storage providers like Google Backup and Sync, iCloud, or OneDrive, contact the respective platform's help center to disable these backups.
As mentioned before, if any of the folders or files are backed up to another cloud storage provider, Dropbox Backup will fail.
Steps for Setting Up Computer Backup in Dropbox
Step #1 Select the Dropbox desktop application on your computer.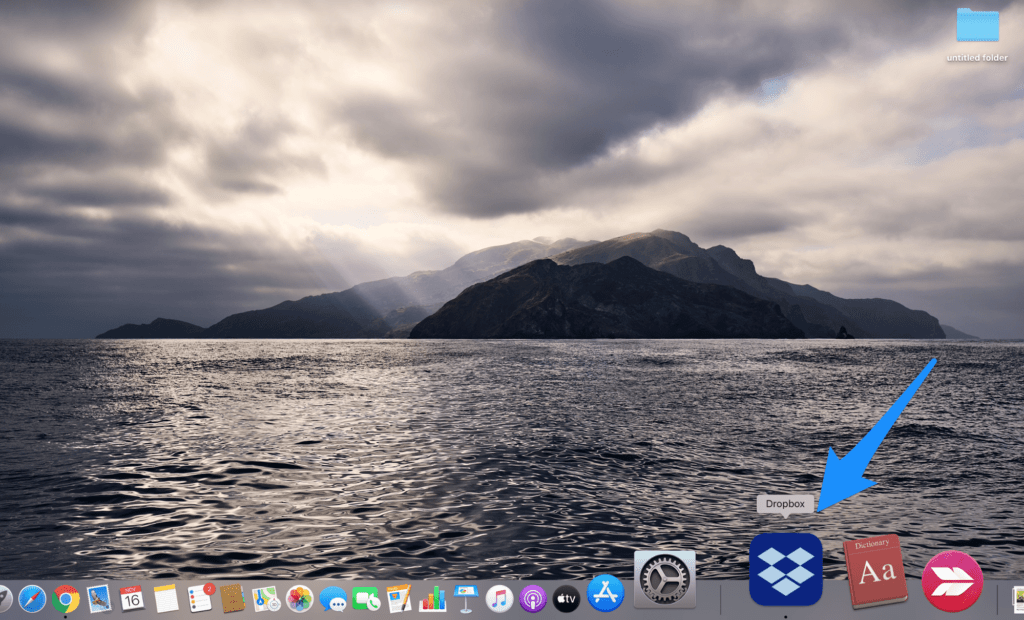 Step #2 Click on your profile picture. In case you don't have a profile picture, you can click on your initials.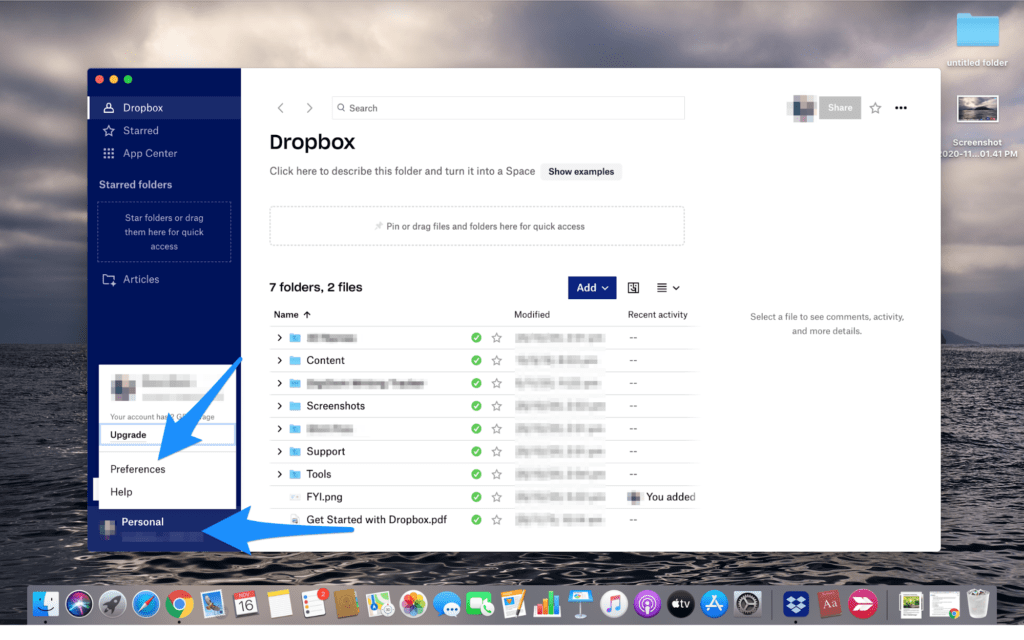 Step #3 Select Preferences from the lower left-hand side of your computer screen.
Step #4 A new window will appear. Click on the Backups tab from the tab menu.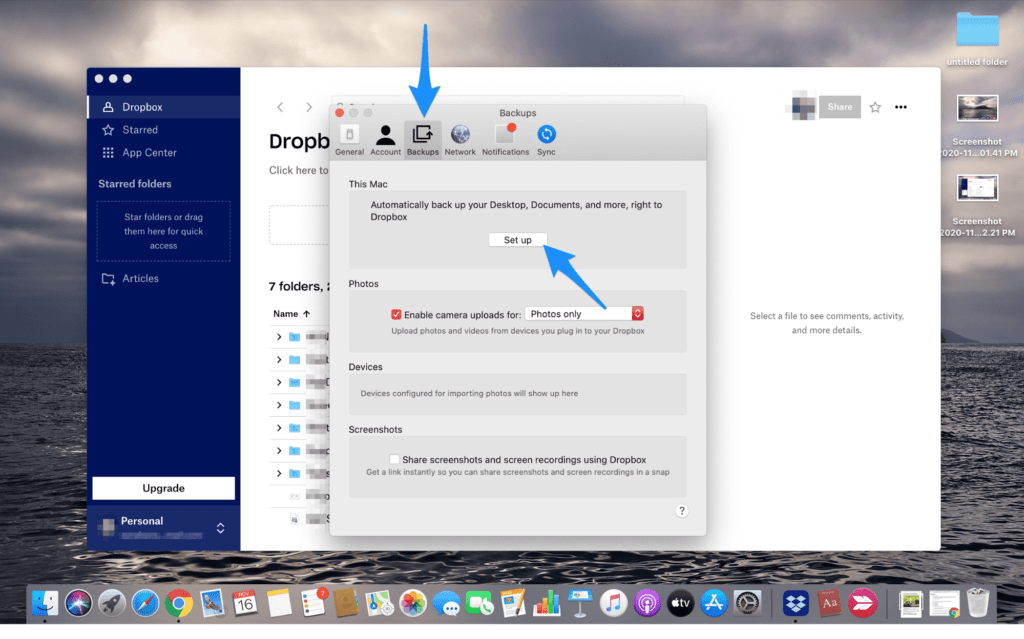 Step #5 You can check the folders you would like to backup after clicking on Manage Backup.
In case your personal and work accounts are connected, you can choose the account you want the file backup in.
Step #6 Depending on your account, you'll see either Next or Set Up options. Click on the tab relevant to you and follow the action prompts.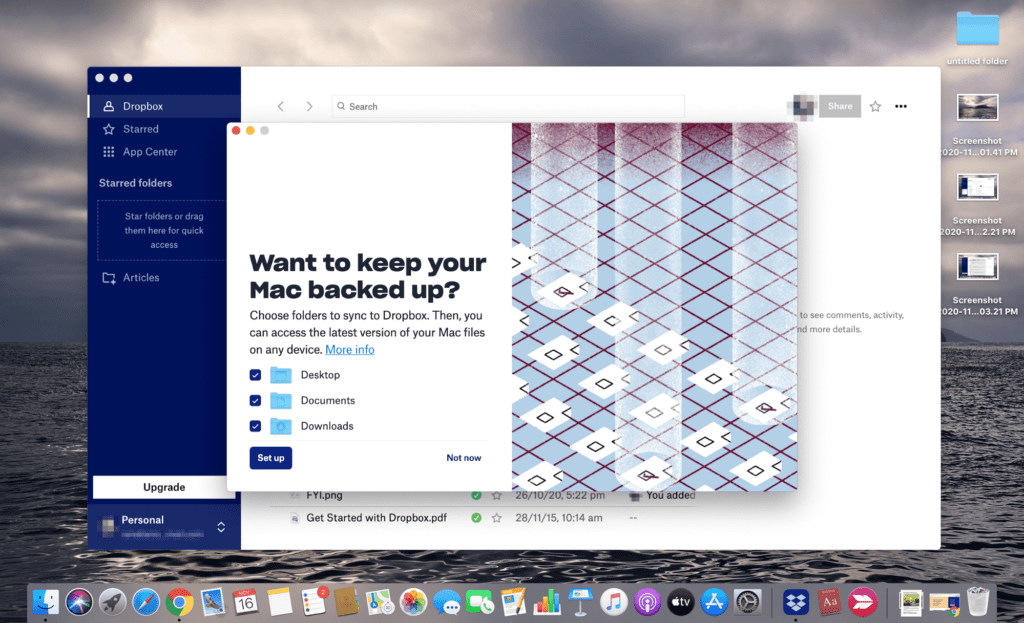 Mac owners should click okay when prompted to give Dropbox permission for folder and file access.
Note: A shortcut will be created in your Dropbox account called "Files on my computer" if any files or folders fail to backup. You'll be directed to the location of these files on your computer every time you click on this shortcut.
How is Dropbox Backup Different from the Normal Sync?
To sync or backup, it's always been a question.
Syncing, short for synchronization, and backing up files are often used interchangeably, but they are quite different from each other.
When you copy data from one location to another, it's called file backup. For example, when you copy files from your pen drive to your laptop, it's backing up files. This process is one of the most reliable ways for a business to protect their digital assets and continue operating smoothly.
There are several advantages of file backup as well.
In addition to being automatic, file backup is actually pretty easy since you don't require any technical acumen. Plus, when you use a cloud-managed backup service like Dropbox, you're assured of any time, anywhere backup, as well as access to data.
Contrarily, syncing data means merging the most recent information into devices.
Think of the whole process as storing data in an approved data repository, which can then be accessed remotely by anyone who has the permission to view the data through their computers, tablets, or mobile phones.
In addition to Dropbox, businesses also use Google Drive, OneDrive, Evernote, and Box for syncing and sharing files and folders.
One of the main differences between data backup and sync is data recovery. When you just sync and share your files and folders, you can only recover data over the internet. So be prepared to have several gigabytes of data and lots of time in your hand since recovery here is going to be very time-consuming and involve plenty of internet data.
Moreover, you may have to pay additional money for storing the recovered data.
On the other hand, backing up data will allow you to locate and recover lost files and folders as well as leverage larger – or even unlimited – storage capabilities to recover mass data without extra expenditure in less time.
Backup and Sync: Two Complementary Concepts?
With the meanings and differences out of the way, let's view both the concepts from a different perspective.
Instead of pitting data sync and data backup against each other, let's take them as two complementary actions.
Syncing files and folders can become even better for work collaboration and file access when you have an additional backup system in place.
You see, when you simply sync files, misplacing folders can become a common problem. More so, because syncing directories between machines can get very confusing with the technicalities involved. Your content remains exposed to cyberattack risks as well. Yikes!
Let's consider an example to understand this better.
Imagine you get ransomware on your laptop and then connect the device to a cloud data sync like OneDrive. In doing this, not only will the malware encrypt critical data on your computer device, but it may also sync to the cloud, infect it, and put all your synced data at risk.
However, if you had backed up your data, things would be way different.
Restoring data and the site structure, changing permissions, and managing data loss would be faster and less time-consuming.
Therefore, you should consider adopting syncing and backup strategies to get the best of both worlds. After all, data is crucial for seamless operations, and if you don't have a plan in place, there will always be a risk of cyber attacks or accidental data loss.
Is Dropbox Backup Better than Dedicated Backup Tools?
Computer backup allows you to automatically sync folders on the PC or Mac to your dropbox folder. This removes any manual effort on your part.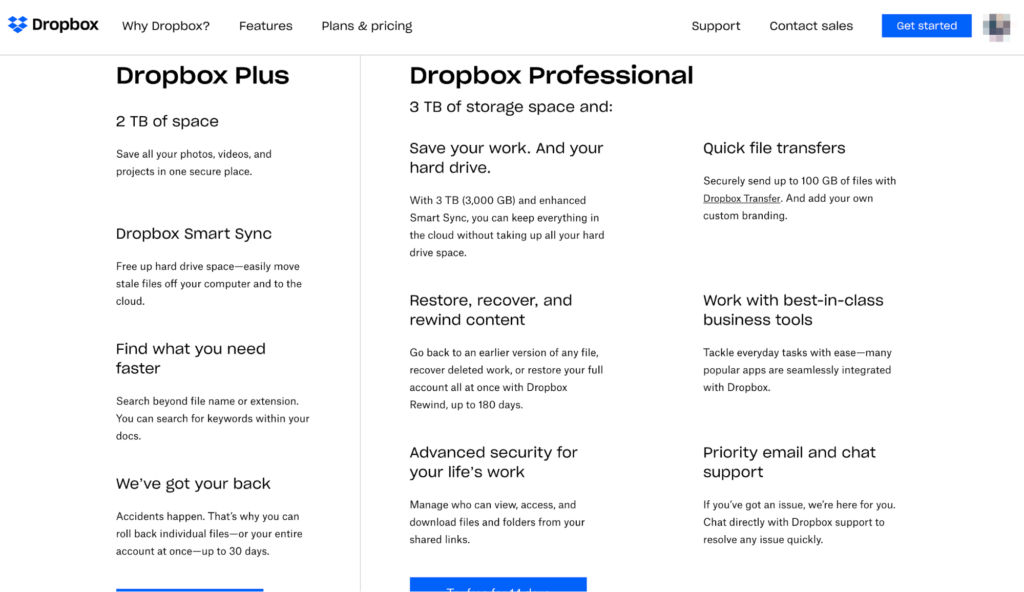 You also have the option to disable this feature if you don't want to sync all your files and folders. As mentioned above, this latest upgrade is available on Dropbox Professional, Dropbox Plus, and Dropbox Basic.
When you take the Dropbox Plus subscription, you get 2TB of storage and up to 2GB of Dropbox Transfer. This plan is available at $9.99 (payable monthly) and offers your file recovery and version history of up to 30 days.
The Dropbox Professional plan, on the other hand, is chargeable at $16.58 per month and comes with 3TB of storage and up to 180 days of file recovery and version history. You get up to 200GB of Dropbox Transfer, along with customization options, too.
That said, you can always opt for other Dropbox alternatives when it comes to filing backup. The following are some of the most dedicated cloud backups:
IDrive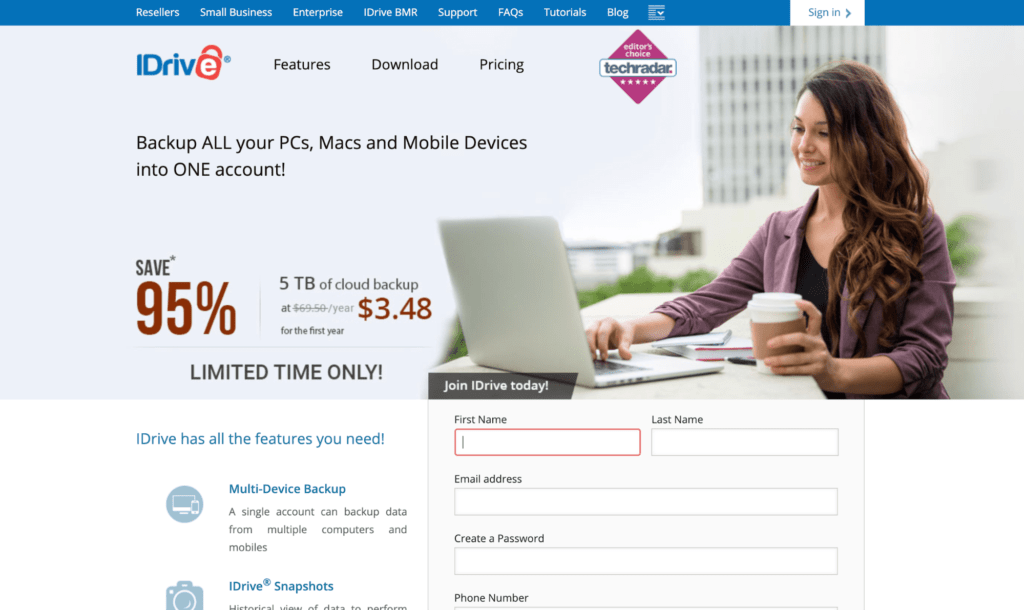 IDrive Small Business is one of the best cloud backup services when it comes to versatility.
It covers a wide range of platforms, offers a straightforward web-based console, and has hybrid backup support, which gives you the ability to save selective files locally. The platform comes with baseline storage of only 250GB, which understandably isn't going to be enough for every business.
IDrive would be best suited for small businesses that can use the selective sync feature of the platform, but in case you need more storage space, it won't be as feasible as other options.
Microsoft OneDrive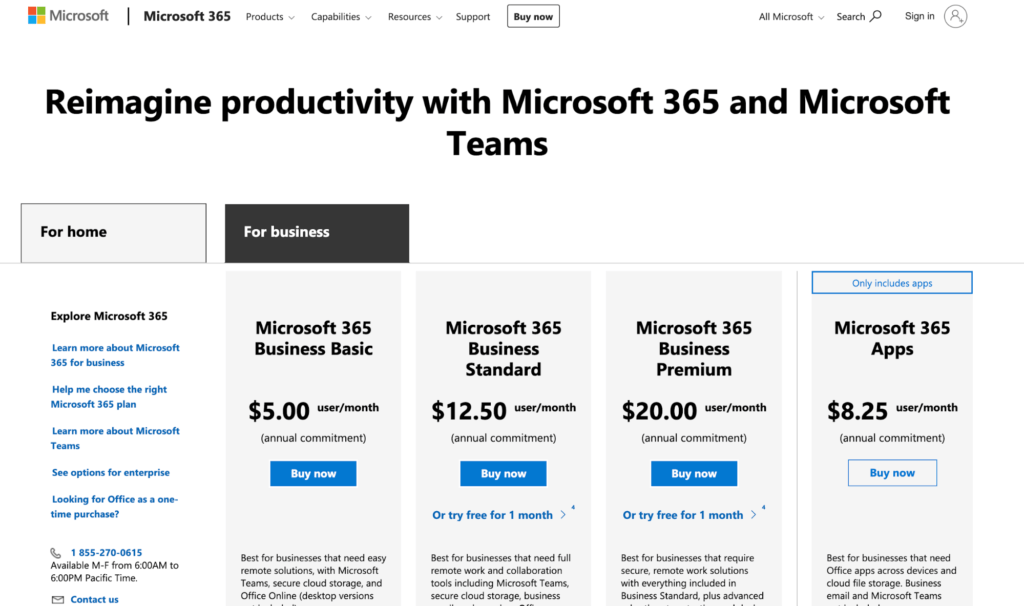 Several businesses use Microsoft OneDrive for creating cloud backups of official files and folders, albeit with a few upgrades.
Using OneDrive for Microsoft exclusively limits you to 10GB worth of free space if you use the free user plan, but when you combine it with a Microsoft 365 subscription, you get instant access to huge per-user cloud storage at 1TB per user.
The only problem is that you have to integrate this cloud service with Microsoft 365 to avail of these benefits. Plus, there are other, more cost-effective options of Microsoft Office available.
Backblaze Business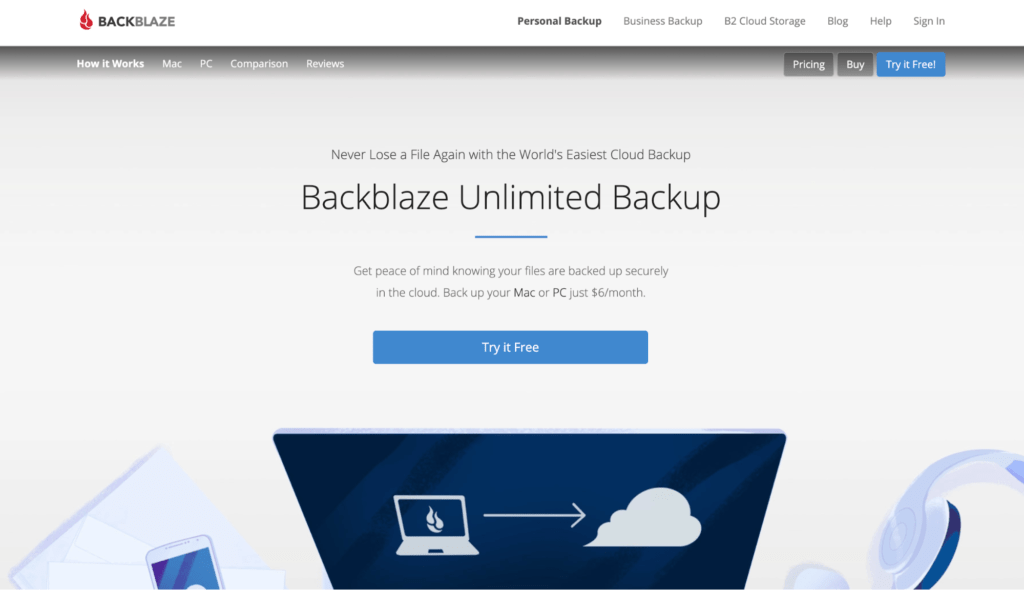 If you've ever searched cloud backup, you must've come across the name Backblaze.
It's a simple and budget-friendly backup solution for business. Having no limits on bandwidth or capacity, you can try out various service levels to identify your right fit.
Backblaze Business, in particular, is a single plan that costs $60 per computer and comes with unlimited backup space for that specific computer. It has an impressive range of features, but only offers mid-range backup performance. Keeping this in mind, it won't be appropriate for those who are looking for high-level functionality.
Dropbox Backup vs. Microsoft OneDrive vs. Backblaze Business vs. IDrive
Now that we've discussed other plausible alternatives, let's also see how Dropbox Backup performs when compared to them.
As mentioned before, Dropbox Backup gives you a secure and safe way to store and backup your files, allowing you to adjust storage space depending on scalability. You also don't have to worry about local hard disk constraints because of the Smart Sync feature that permits you to choose between files.
Considering all these factors, Dropbox Backup would be a better alternative for businesses who are looking for huge cloud storage provisions and have the budget to opt for paid plans for the platform.
IDrive would be better for those looking for solutions and don't mind the 250GB storage. But if storage is of utmost importance, we would highly recommend opting for Microsoft OneDrive or Backblaze Business. While the former is slightly more expensive, the latter is a more wallet-friendly solution.
Nevertheless, whatever be your choice of cloud backup service, you'll be assured of a more convenient way to store critical data and enjoy 24/7 access easily.