The 12 Dropbox Alternatives You Must Look At
Dropbox wasn't the first file-sharing service on the scene. But, through smart growth tactics, it soon grew to be a major player. Even now it commands the second-largest market share after Google Drive.
Nevertheless, there are tons of options available nowadays. So, you can't be blamed for getting a bit overwhelmed when trying to find the best file-sharing service for you or your business.
The truth is, Dropbox Business is awesome. Yet, it's not suitable for everybody. That's why we decided to break down the best Dropbox alternatives.
But, first, let's take a quick look at who these alternatives are for.
Who Should NOT Get Dropbox
Whether you should choose Dropbox or an alternative largely depends on your needs.
Firstly, if you're looking for a free cloud storage solution, there are better choices. The freemium version of Dropbox comes with 2 GB of storage while others offer more space. For example, OneDrive offers 5 GB for free and Google Drive offers 15 GB for free.
Furthermore, Dropbox may not be the best option if you have a small business or a limited budget. There are cheaper services and better deals out there.
Dropbox Business suits mid-size and larger organizations that work with large files and need integrations with other tools and software. But, if you don't need all that and are just looking for a simple solution then it would make sense to find a better deal elsewhere.
So, without further ado, here are the best alternatives to Dropbox:
1. G Suite Essentials/Enterprise – Best for SMBs
These two packages, G Suite Essentials and Enterprise, are an upgrade on the regular set of Google tools. They come with a range of extra features, such as enterprise-grade video conferencing via Google Meet that allows for up to 250 participants.
But, what we're interested in, of course, are the additions to Google Drive. The G Suite Essentials package costs $8 per user per month and includes 2 TB of pooled storage or 100 GB per user. You must contact Google's sales department to get a quote for G Suite Enterprise. It comes with unlimited cloud storage or 1 TB of storage per user if fewer than five users.
With G Suite Enterprise, you'll also benefit from advanced security and admin controls: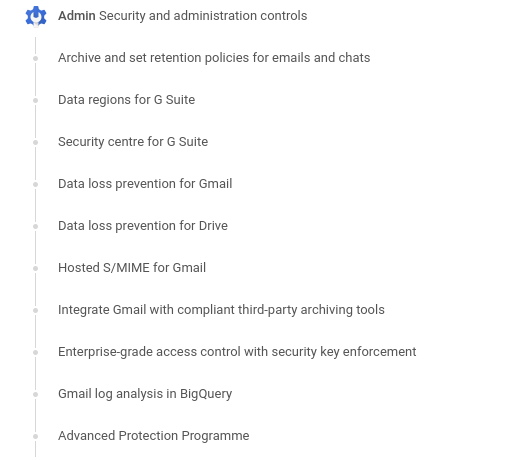 All in all, the Essentials package is great value for SMBs and it's worth getting a quote for G Suite Enterprise if you're interested in the extra features.
2. Microsoft OneDrive – Best for Ease of Use
You may be familiar with OneDrive if you use Windows 10 and/or Microsoft 365. It not only allows you to backup and access files remotely but also share and collaborate on projects in Microsoft Office in real-time.
There are four straight-forward, competitively-priced packages to choose from:

Plan 1 includes 1 TB of storage per user and Plan 2 includes unlimited cloud storage. Microsoft 365 Business Basic and Standard packages both come with 1 TB of storage per user and Microsoft Exchange, Sharepoint and Teams. With the Business Standard package, you also get the Microsoft Office Apps (Outlook, Word, Excel, OneNote etc.) included.
OneDrive has been lauded for its simplicity, usability and reliability. So, if you don't need a bunch of bells and whistles, just an easy-to-use solution, then Microsoft OneDrive is a great choice for you.
3. pCloud – Best for Media Companies
pCloud is one of the most unique cloud storage solutions on the market.
You can stream directly from the platform using its audio and video players. Plus, you can upload or download files of any size at any speed (or as fast as your Internet will allow). Both of these features make the service particularly suited to companies that handle a lot of media files.
Even the plans and pricing models are unique. You can opt for a lifetime plan where you just make a one-time payment.

For $175 you can get the 500 GB lifetime plan and for $350 you can get the 2 TB lifetime plan. Of course, there's the option to pay monthly, too at $3.99 per month for 500 GB and $7.99 per month for 2 TB.
Be sure to check out pCloud to see if its features meet your unique requirements.
4. FileCloud – Best for Self-Hosting
FileCloud offers both cloud storage and self-hosting options. You might choose the latter if you want to keep your web services and data on-site.
Both services come with a set of great features. The self-hosted FileCloud Server integrates with your IT infrastructure and you can still access files remotely.
FileCloud Online comes with free, unlimited user accounts, plus the option of having a custom domain and custom branding.

FileCloud Server is fantastic value for money with packages starting at $4.20 per user per month.
There are two FileCloud Online packages. The Standard package costs $10 per user per month and comes with 1 TB of storage for the first five users and 100 GB for each additional user. The Enterprise package is $15 per month and comes with extra features, premium support and 200 GB for each additional user on top of the 1 TB of storage.
FileCloud is a great choice for businesses that are looking for self-hosting or customization.
5. Box – Best for Efficiency
Box is the OG file-sharing service, having launched in 2005 before any of the other major players. It's a cloud content management service with advanced features for seamless collaboration and efficient workflow management.
The Box Relay tool allows you to create repeatable processes and automate workflows without the need to integrate a third-party app.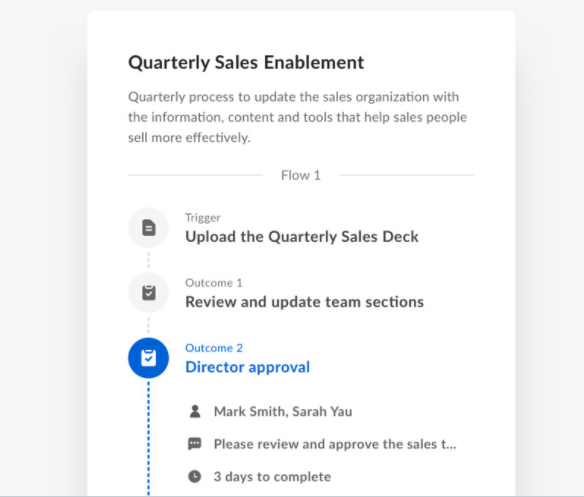 Though if you do want to use an outside tool, Box offers an immense number of integrations (1400+).
Box's Starter plan costs $5 per user per month for 500 GB of storage. Its further business tiers start at $15 per user per month for unlimited cloud storage.
Box is more than just a simple file-sharing service, it's a project management and collaboration tool. Therefore, it's perfect for larger businesses that want to speed up processes.
6. CertainSafe – Best for Security
CertainSafe is an easy-to-use cloud storage solution that values security. The service offers a private digital vault made secure by military-grade technology.
Sensitive files are protected using CertainSafe's proprietary MicroEncryption process: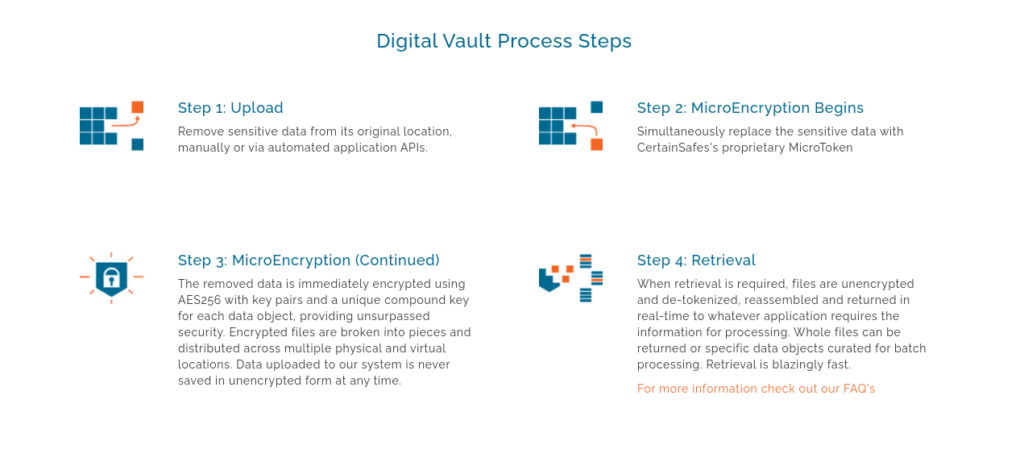 But, all of that protection doesn't detract from usability. You can easily manage files and users, and collaborate with customers and staff via secure chat.
The service's main package includes 100 GB of storage per user at $12 per user per month. You can also contact the company for a quote on a custom package. This indicates that there may be an opportunity to work out a good deal for your business.
CertainSafe is the right choice for companies that handle a lot of sensitive data and therefore need an extra secure solution.
7. Citrix ShareFile – Best for On the Go
Citrix ShareFile is a fantastic file-sharing and collaboration tool for companies that have remote workers or people that need to work while on the go. The service offers real-time collaboration on documents. But, what's really cool are Citrix's mobile apps that allow you to sync, share, edit and annotate documents from a mobile device.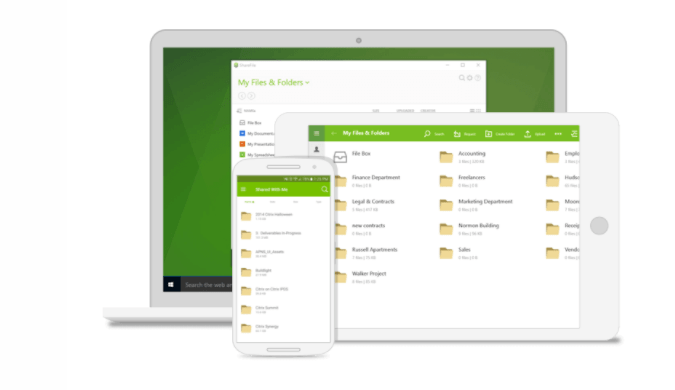 Also, worth noting is Citrix's capacity for sharing large files easily.
Citrix ShareFile's pricing model is based on packages for five users. There are the Standard, Advanced and Premium packages at $50, $77 and $122 per month respectively. Each package comes with unlimited storage and more features as you go up the tiers.
All in all, you should definitely consider Citrix ShareFile if your staff need to collaborate remotely.
8. Jumpshare – Best for Visuals
Jumpshare is another of the more unique additions to this list. As well as being a file-sharing tool, it allows you to take and share videos and screenshots. You can even turn your screen recordings into GIFs.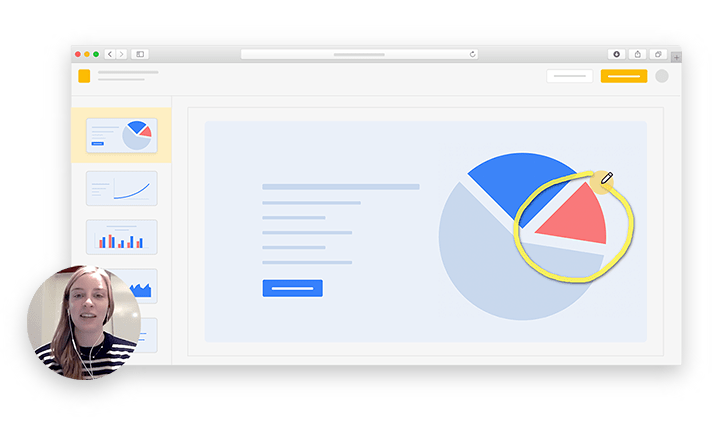 The way the tool works is also interesting. You simply drag and drop files into a tray and when you're done it creates a share link for you and your team or customers. You can collaborate effectively on the platform via comments and tagging, too.
Jumpshare's packages are great value. Jumpshare Plus costs $8.25 per month for 1 TB of storage space, while Jumpshare Business is $12.50 per month for 2 TB of storage.
If you need to do a lot of demos or if your staff or customers are visual learners then Jumpshare is an excellent choice.
9. MediaFire – Best for Usability
Because MediaFire is so easy to use and has a free version with a decent amount of storage space (10 GB), it's widely used by individuals. The tool has a simple user interface that's easy to navigate and allows for first-rate organization.

MediaFire offers one-time links and a detailed log for security. You can also customize the branding for your business.
There are two straightforward package upgrades to choose from. MediaFire Pro is for individual users and costs $3.75 per month for 1 TB of storage. MediaFire Business costs $40 per month for up to 100 users, with up to 100 TB of storage.
MediaFire is a solid option for beginners. You can use the free version to see if you dig it and then upgrade to a premium version when you're ready.
10. Egnyte – Best for Control
Egnyte is another top choice for security-focused businesses. It allows you strict control over all files shared within or outside of your company. Plus, it works across multiple devices and operating systems.
One amazing feature is that admins can set up custom dashboards for every user. Admins also have access to useful reports on user activity.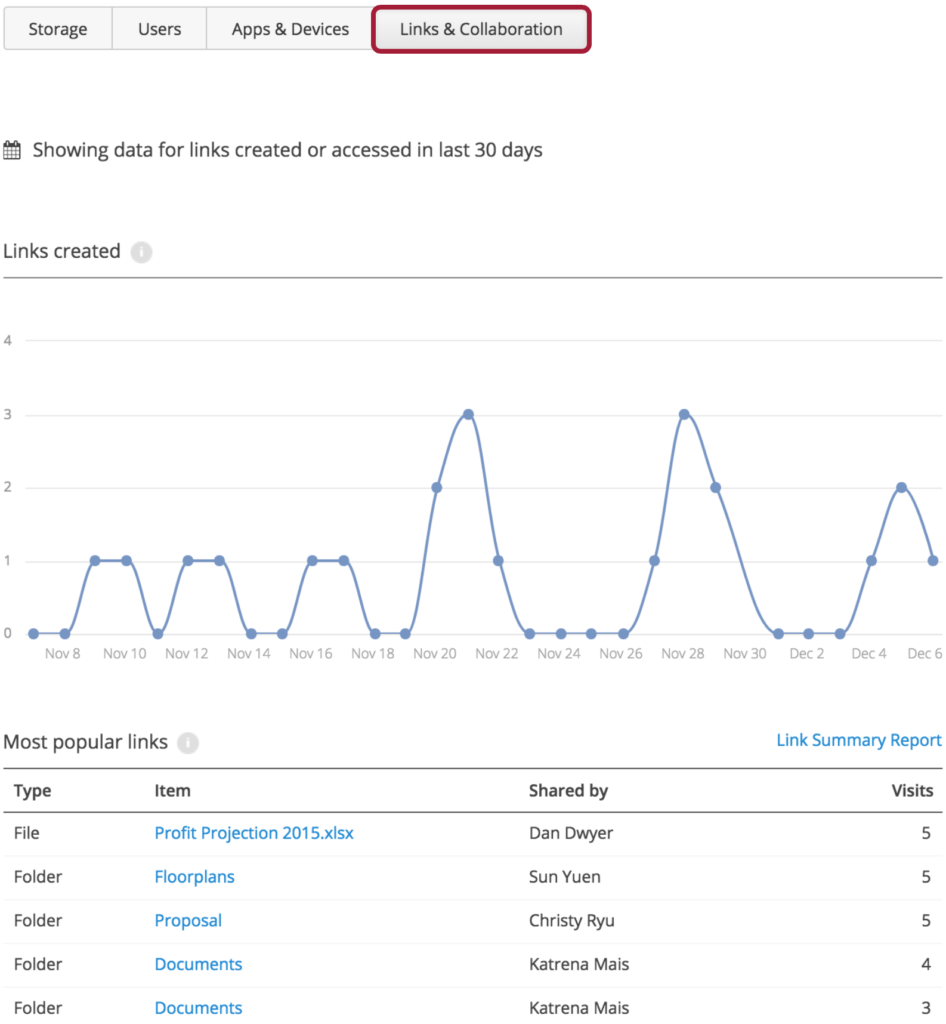 The tool boasts both superior information governance and collaboration.
Egnyte Team costs $10 per user per month and comes with 1 TB of storage. Egnyte Business is $20 per user per month and includes 1 TB of online storage plus 10 GB of shared cloud storage per user.
Egnyte is perfect for companies that want tight controls.
11. Sync – Best for Transfers
Sync is a file-sharing service that supports multiple file formats and devices. What makes Sync stand out is the fact that all packages come with unlimited data transfer. Plus, recipients of your share links can access files immediately without the need for a Sync account.
The service was also built with data privacy in mind. There are several security features including end-to-end encryption and two-factor authentication.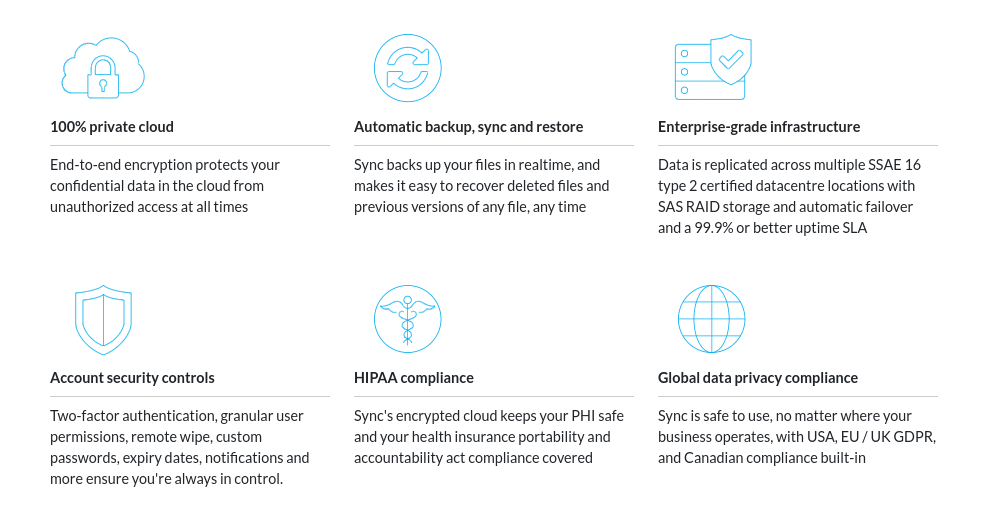 Sync is also one of the best value services on this list. The Standard package is $5 per user per month and includes 1 TB of storage per user. Sync Plus costs $8 per user per month and includes 4 TB of storage per user, while Sync's Advanced package is $15 per user per month with 10 TB of storage per user.
Overall, this is the best choice if your company needs to transfer lots of data.
12. eFileCabinet – Best for Automation
eFileCabinet comes with a bunch of fantastic features built-in. There are folder templates for easy set-up, portfolios for your most-used files, instant file retrieval, automated workflows, full-text search and more.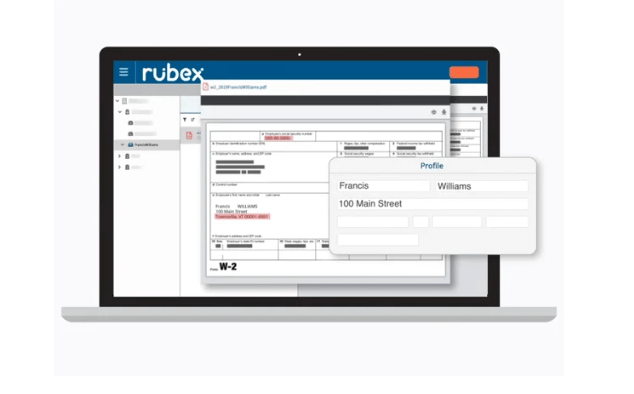 It also integrates with many tools and pieces of software, such as Foxit, Docusign and Salesforce.
The only downside is that eFileCabinet is rather expensive. Its plans start at $55 per user per month for 1 TB of storage. Therefore, it's likely that only large businesses and enterprises can afford this one.
Final Word
As you can see there are several fantastic alternatives to Dropbox Business. To choose the right solution for you, consider what features you need and what's most important for your business.
For example, do you need a high level of security? Or perhaps a solution that's easy-to-use for your not-so-tech-savvy staff? Or do you need more of a project management tool?
There are services that suit all different kinds of businesses here. You just need to decide which is the best fit.