How to Convert a PDF into a Google Doc
If there's one thing we know about PDFs is that they are hard to edit.
An incredibly popular part of Google Drive, Google Docs is a free online word processor that gives users a super convenient and powerful way to create, edit and organize documents, including PDFs.
Typically, people create, email, and share PDF files from Google Docs. But today, we'll discuss something opposite – how you can convert a PDF file into a Google Doc format to edit and share without any extra hassle.
What's more, you can convert a PDF into Google Docs without the need to use any third-party tools like PDF to Google docs conversion is built right into Google Drive.
Sounds good? Let's get started!
Step #1 Find Out the Kind of PDF You Have
All PDFs aren't equal – some are created from text documents like Notepad or Microsoft Word, while others are a series of photos or have a password lock.
If you want to convert a PDF to Google Doc, you'll want files created from Word or Notepad and that aren't password-protected. Plus, it's no use wasting your time and effort trying to convert PDFs that aren't supported in Google Docs.
Step #2 Open Google Docs
Log in to your Gmail account. Click on the nine small dots just beside your profile icon at the top right-hand side of the screen.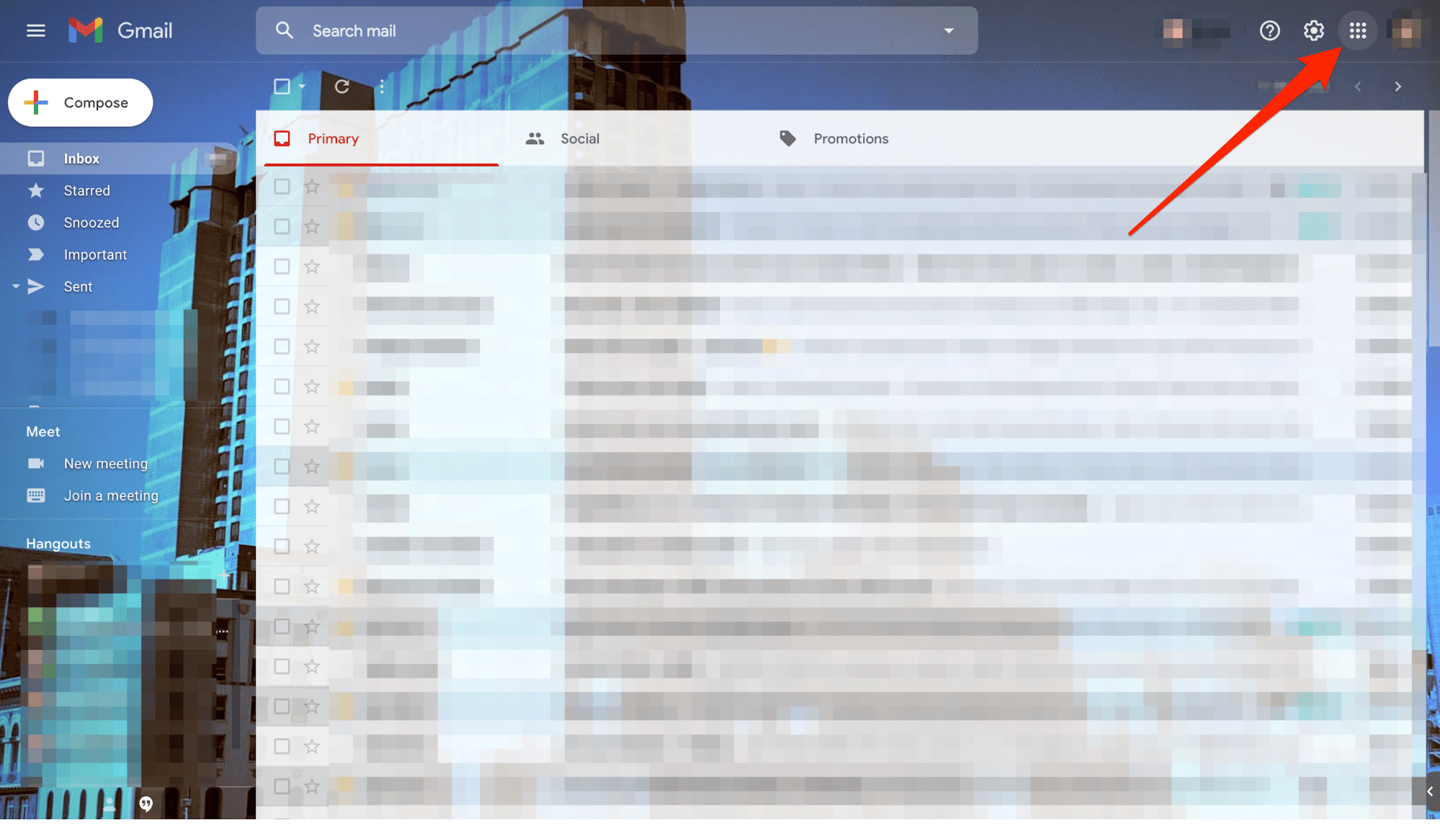 Select the Google Docs icon that will open a new tab.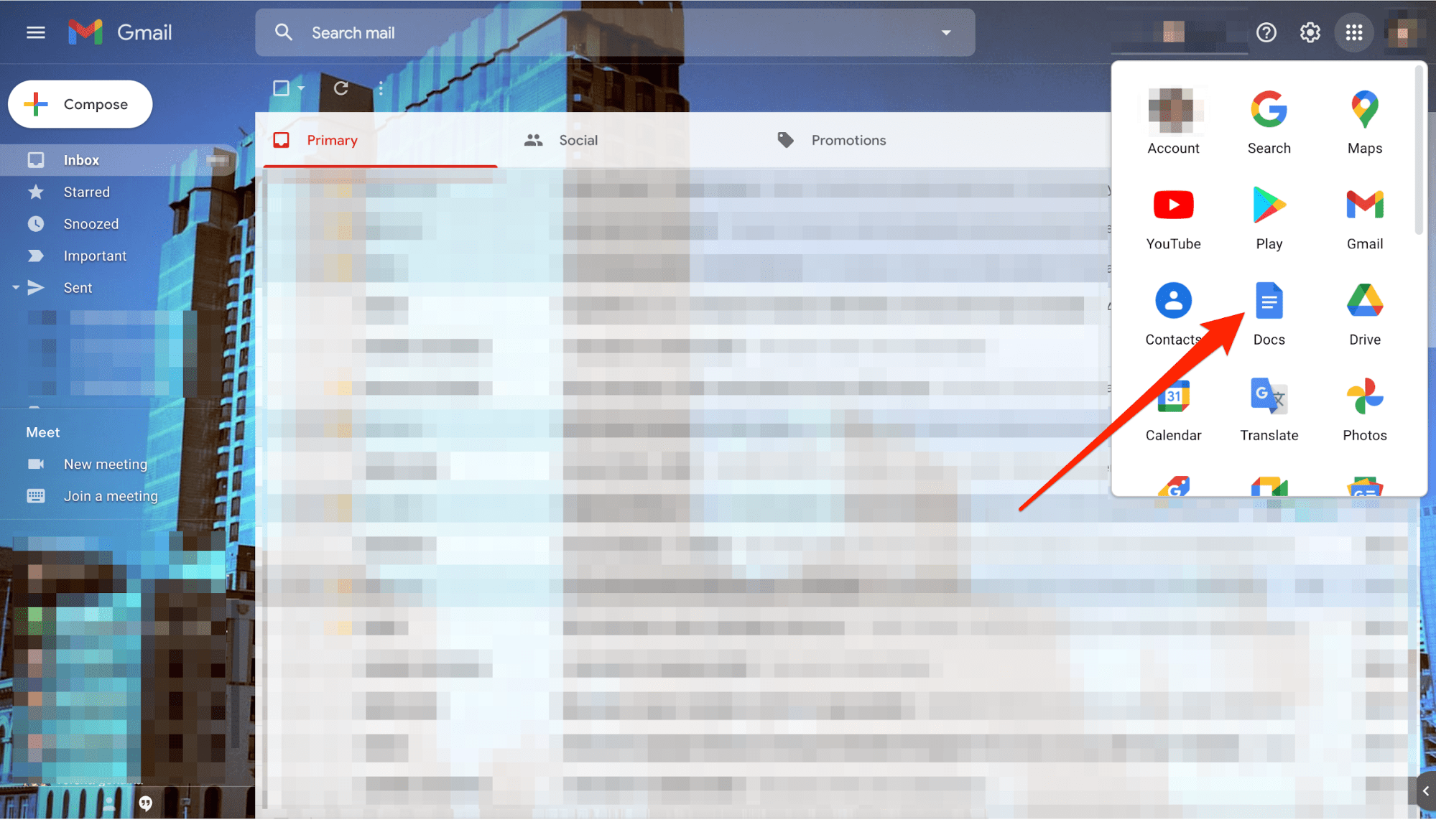 Alternatively, you can also go to https://docs.google.com/ on your search engine's web browser. This will open the Google docs page if you're already logged in.
If you aren't logged in already, click on Go To Google Docs that you'll find in the middle of the page. Then enter your login credentials when prompted. There can also be times when you may be prompted to log in without clicking on anything, proceed as you normally would.
Step #3 Select Open File Picker Icon
The Open File Picker icon is a folder-shaped icon located on the right-hand side of the screen. Find the icon and click on it. A pop-up window will open.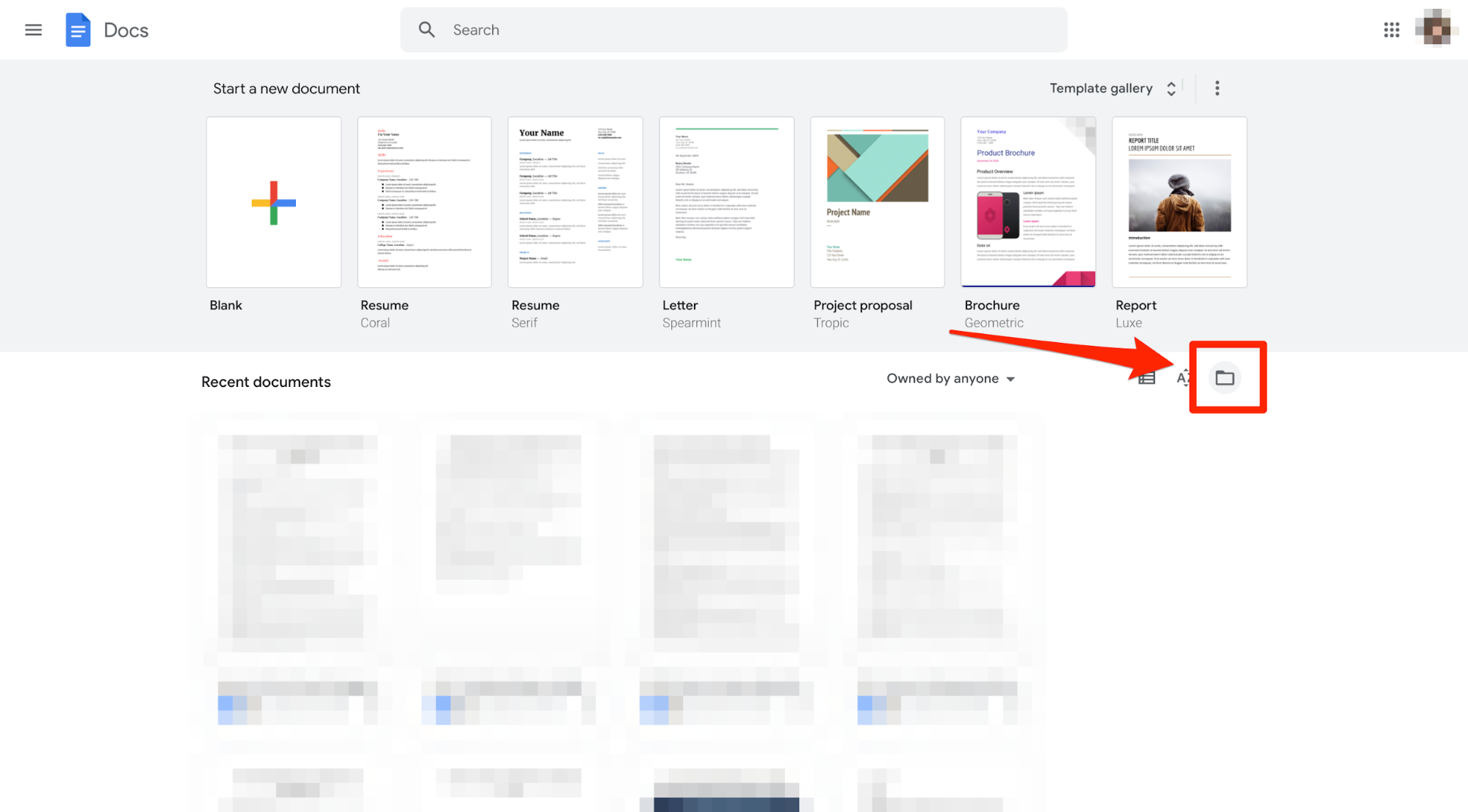 Step #4 Click on the Upload Option
In the Open a File pop-up window, click on Upload. You'll see two options here: Drag a file here and Select a file from your device. Click on the second option.
This will then open a window from where you can select the PDF file you want to convert.
Step #5 Upload Your PDF File
Select and upload the PDF file that you want to convert to a Google Doc on your computer device.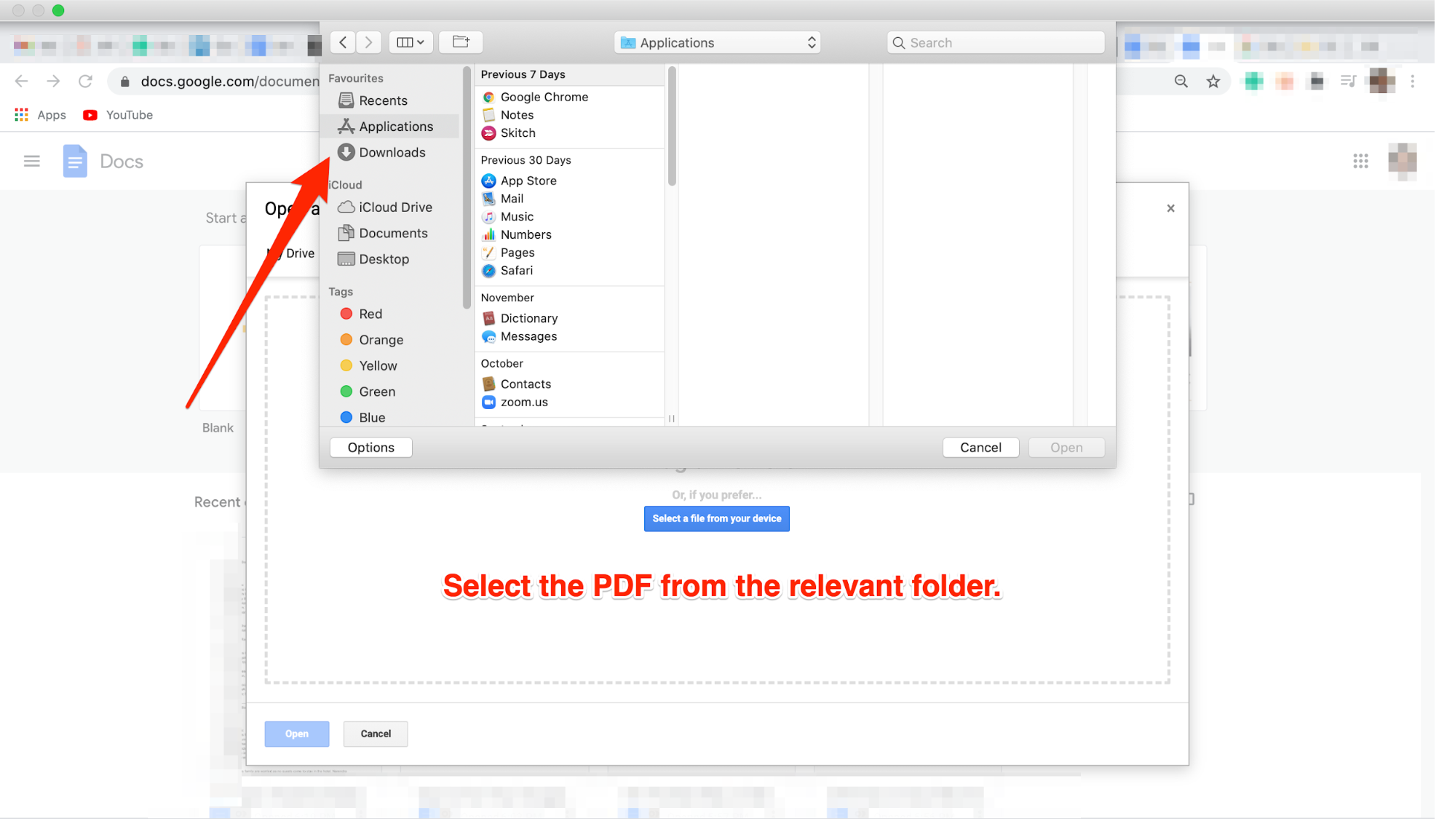 If you have a Windows computer, click on open on the bottom right corner of the pop-up window. The PDF will begin uploading the Google docs automatically. In case you use a Mac, you only have to double click on the PDF folder, and the uploading process will begin.
Once the upload PDF files have finished uploading, it'll open automatically.
Step #6 Open the PDF File With Google Docs
As mentioned before, the PDF file will open automatically once downloading is complete. You'll see an Open With option right in the middle on the top of the screen – click on it. Then select Google Docs from the drop-down menu.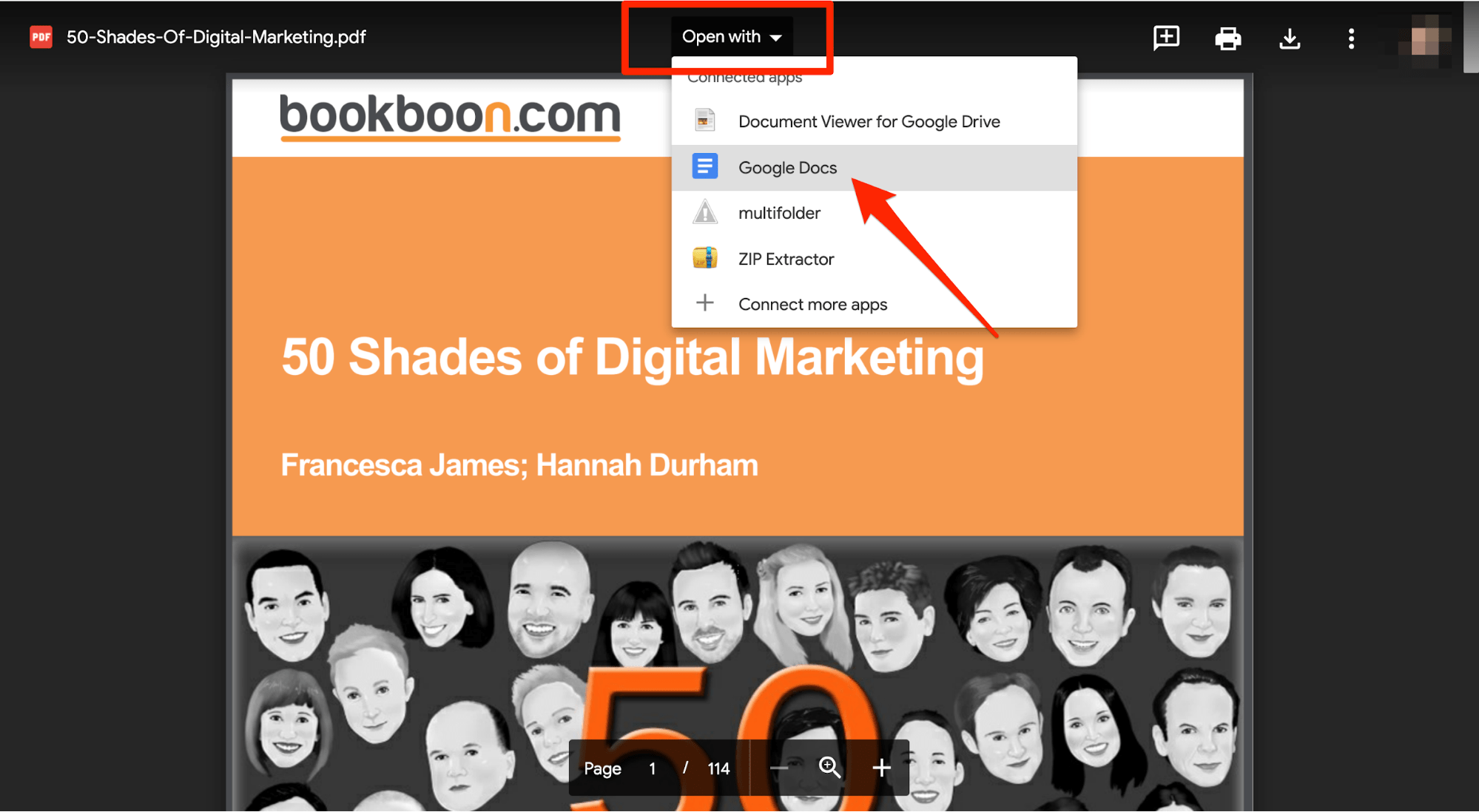 Your PDF will open in Google docs in a new tab, allowing you to edit the text as you please.
Step #7 Edit the PDF as Needed
Your PDFs formatting may change once you open it on Google Docs.
If you want to restore the changes, you'll have to change, add, or delete text as you normally would when using the Google Docs document. You can use the top toolbar to change the font, text color, alignment, and so on.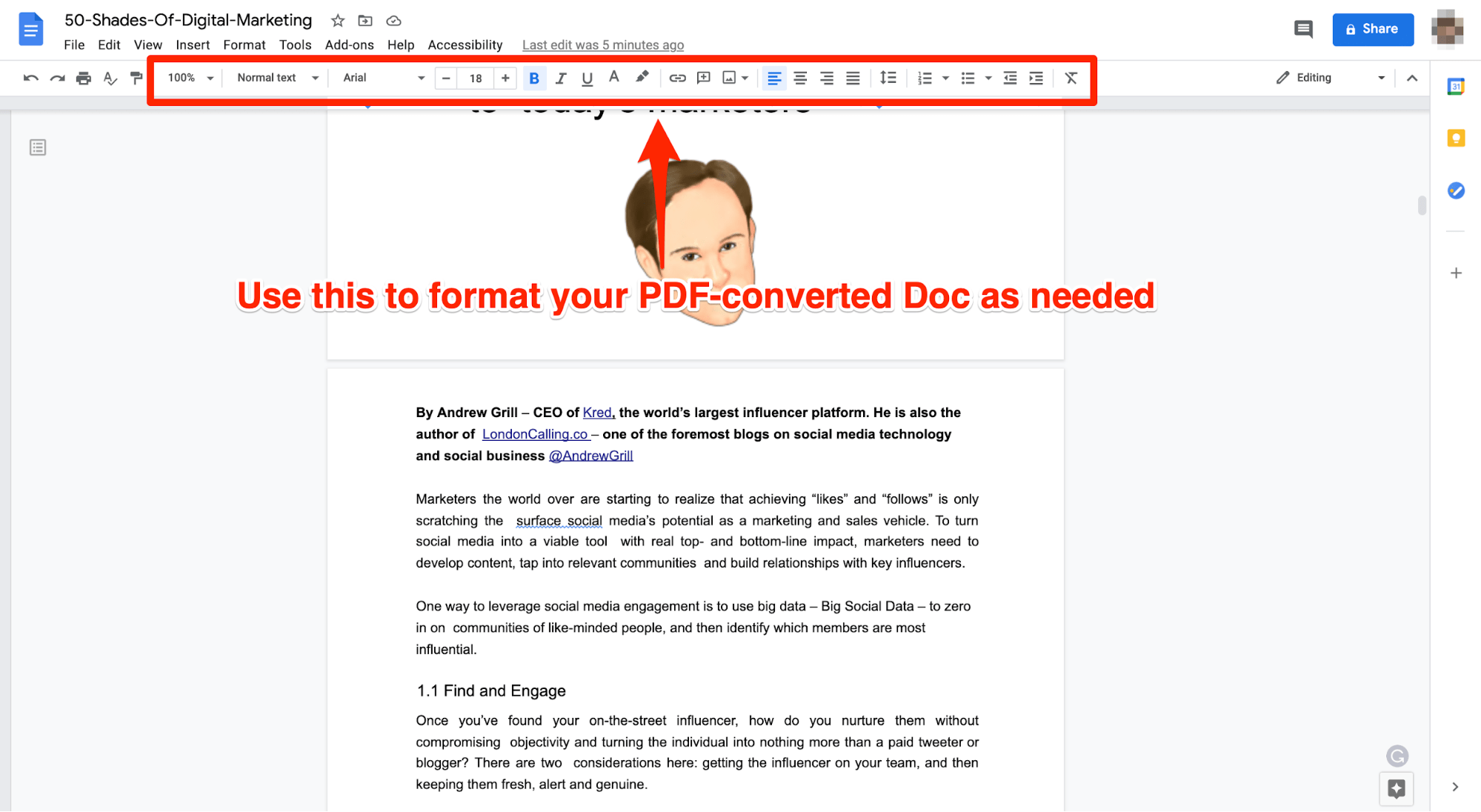 Step #8 Downloading the Doc File as a PDF Again (Optional)
Often, after converting a PDF to a Google Doc, users want to re-download the file in a PDF format. If you want to do the same, you just have to do a few additional steps.
Go to File from the top menu bar. From there, select Download and then click on PDF Document (.pdf). Doing this will convert your document back into a PDF that will be download to your computer.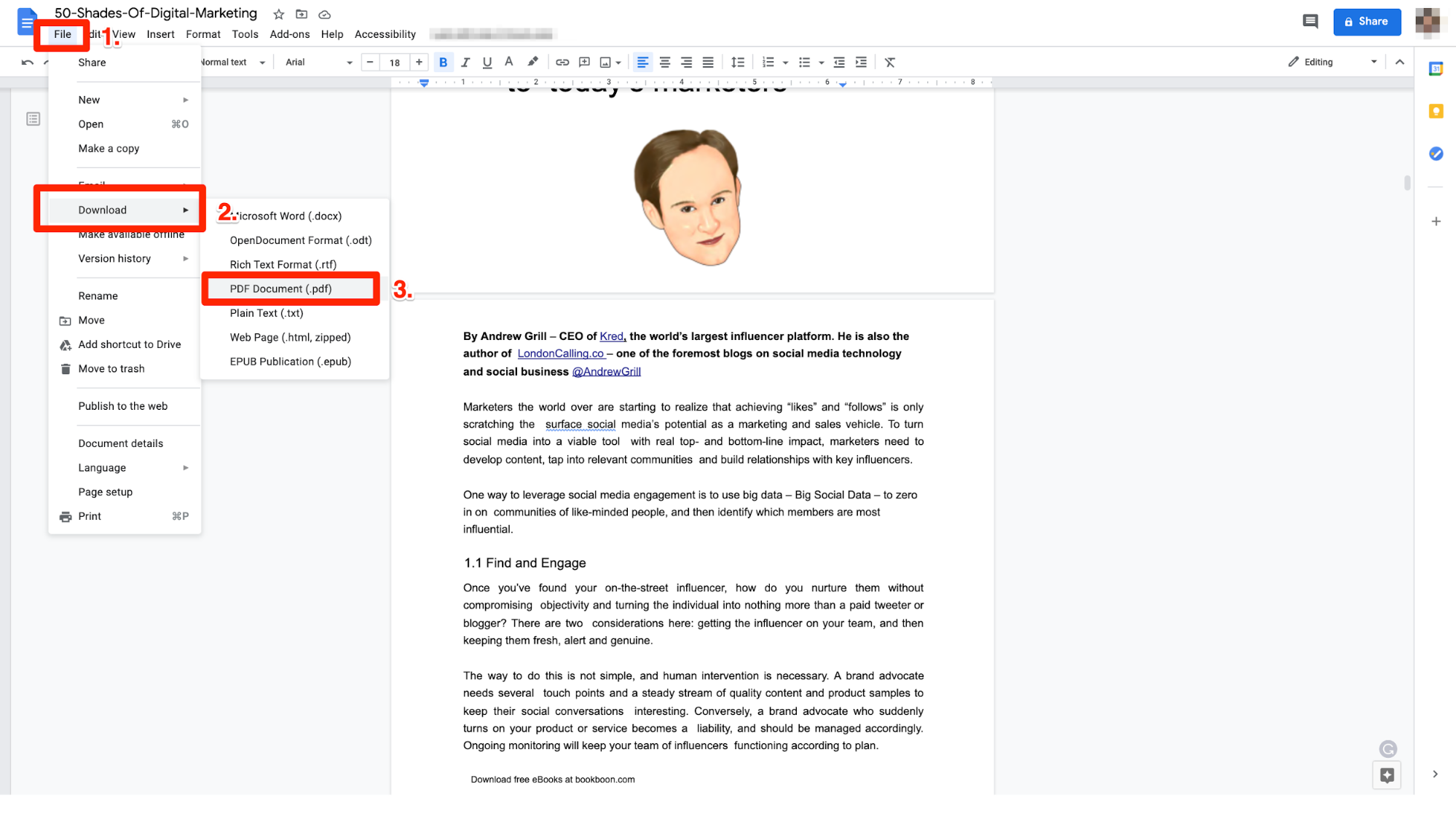 If you want to save the Google Doc file in Word format, simply click on Microsoft Word (.docx) instead of PDF Document.
Other Ways to Convert PDF Into Google Docs
There are a few other ways that you can consider converting PDFs into Google docs – ones where you can get around with the common formatting failure too!
Read on as we discuss them in more detail.
Alternative 1: Converting a PDF to Google Doc Format With Microsoft Word
Microsoft Word has a more accurate conversion process. What happens here is you open the PDF first in Microsoft Word, which you then open on Google Docs.
Here's what you need to do:
Step #1 Open Microsoft Word on your computer.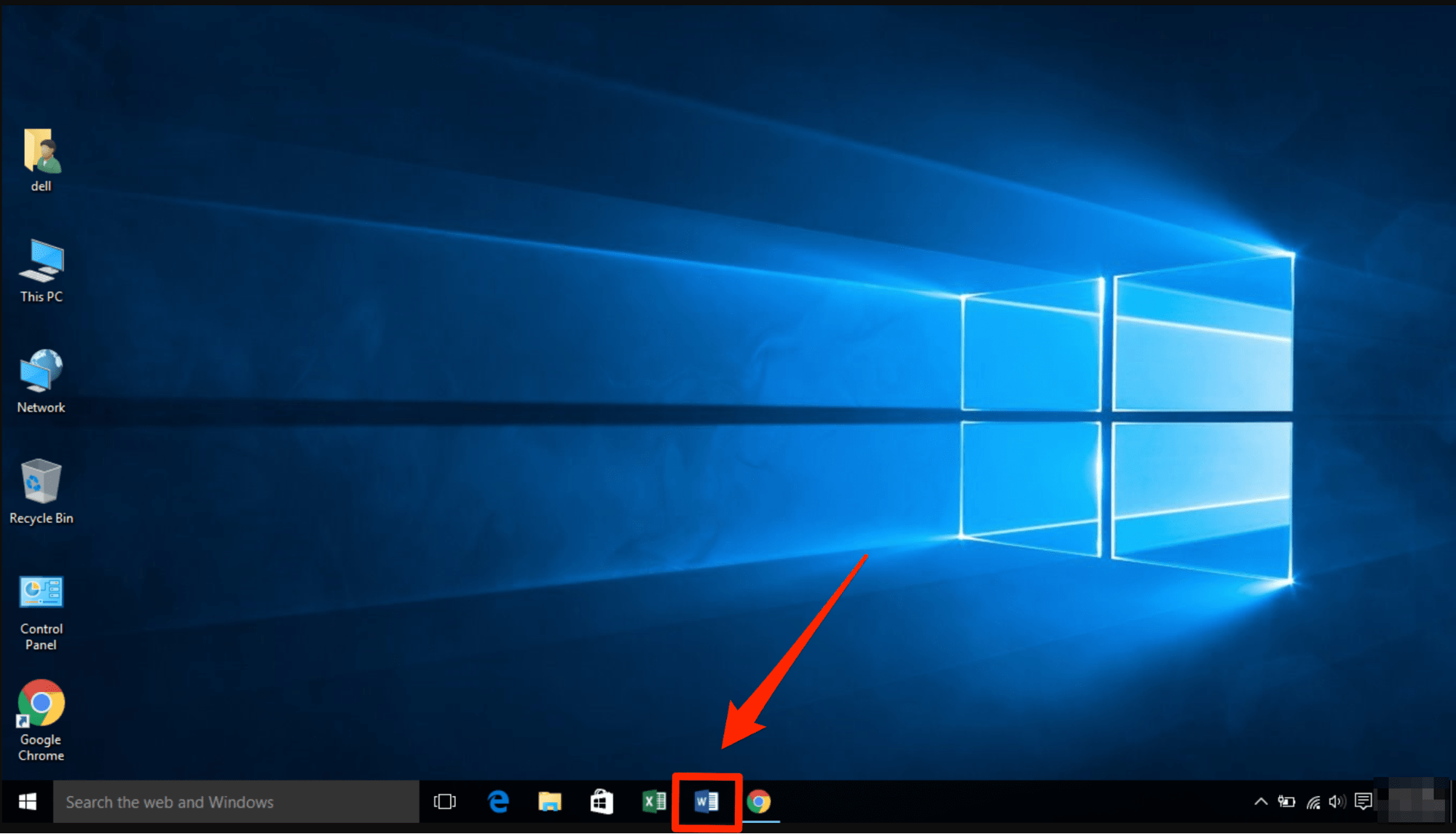 Step #2 Once Word opens, go to the main menu. Click on Open and then browse for the PDF file that you want to convert. Select the file.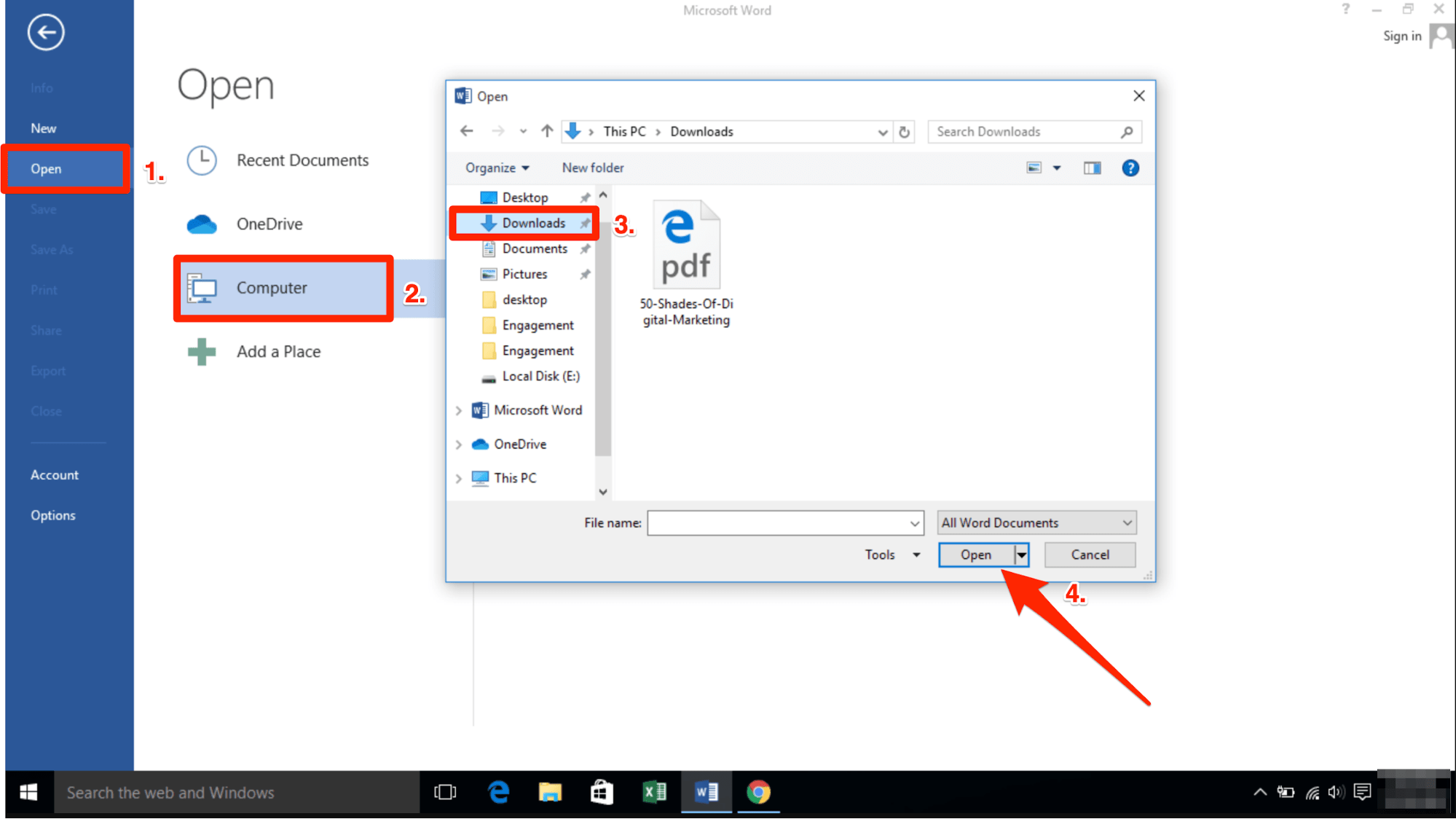 Step #3 A pop-up window will crop up on your screen, notifying you that the file will be converted from PDF format to an editable Word document. Press OK to continue.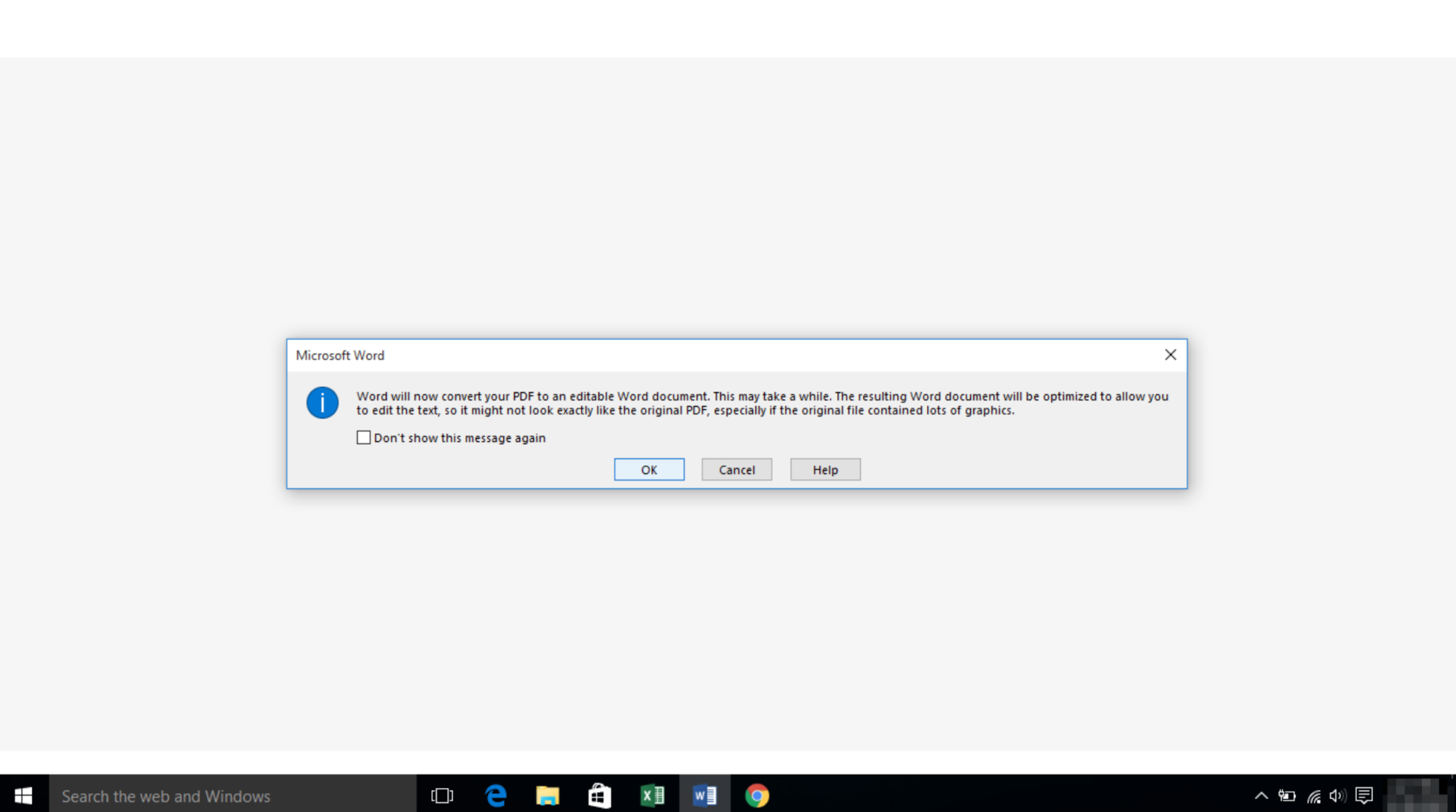 Step #4 Once the conversion is complete, you'll see the PDF document in Word format.
MS Word is actually a great application that retains the original formatting, such as indentation, spacing, bold, and other aspects.
Step #5 At this point, you'll have to select Enable Editing that you'll find at the top of the window to save the file to your PC in Word format.

Step #6 Once you're satisfied with the edits, go to File and then Save As. Save the word document to your PC. This will be saved with a .docx extension.
Step #7 Open your Google Drive account to navigate the folder where you had stored the Word document. Right-click inside the folder, and then select Upload Files.
Step #8 Browse and select the .docx file you had saved, and then choose Open.
Step #9 You'll see the document on Google Drive as a Word file. Right-click on it, and then select Open With. Finally, select Google Docs.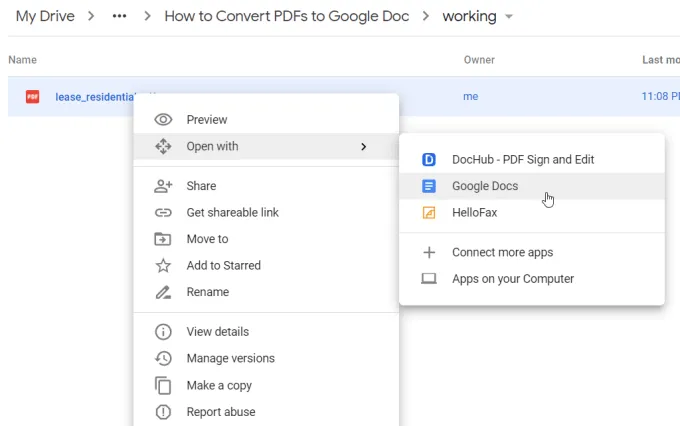 Image Source: Online Tech Tips
Doing this will convert the Word document into Google Docs format.
At the same time, you'll find that this newly converted document is in a much better format when compared to when you'd directly converted the PDF to a Google Doc file.
But it isn't over yet…
Step #10 To complete the conversion, go to File on the menu bar, and select Save as Google Docs from the drop-down menu. This will remove .docx at the top of the document and store the document as a Google Doc.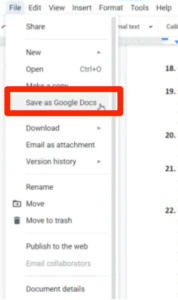 While this method does involve a few extra steps, you actually save a lot of time when you consider the formatting that you often have to spend hours restoring.
Alternative 2: Converting PDFs to Google Docs Using EasePDF
For those of you who aren't aware, EasePDF is an online converter having more than 20 tools, including file format conversion.
In this case, you start by editing the PDF first on each PDF and then uploading it to your Google Drive account.
Step #1 After signing in to your EasePDF account, go to the homepage.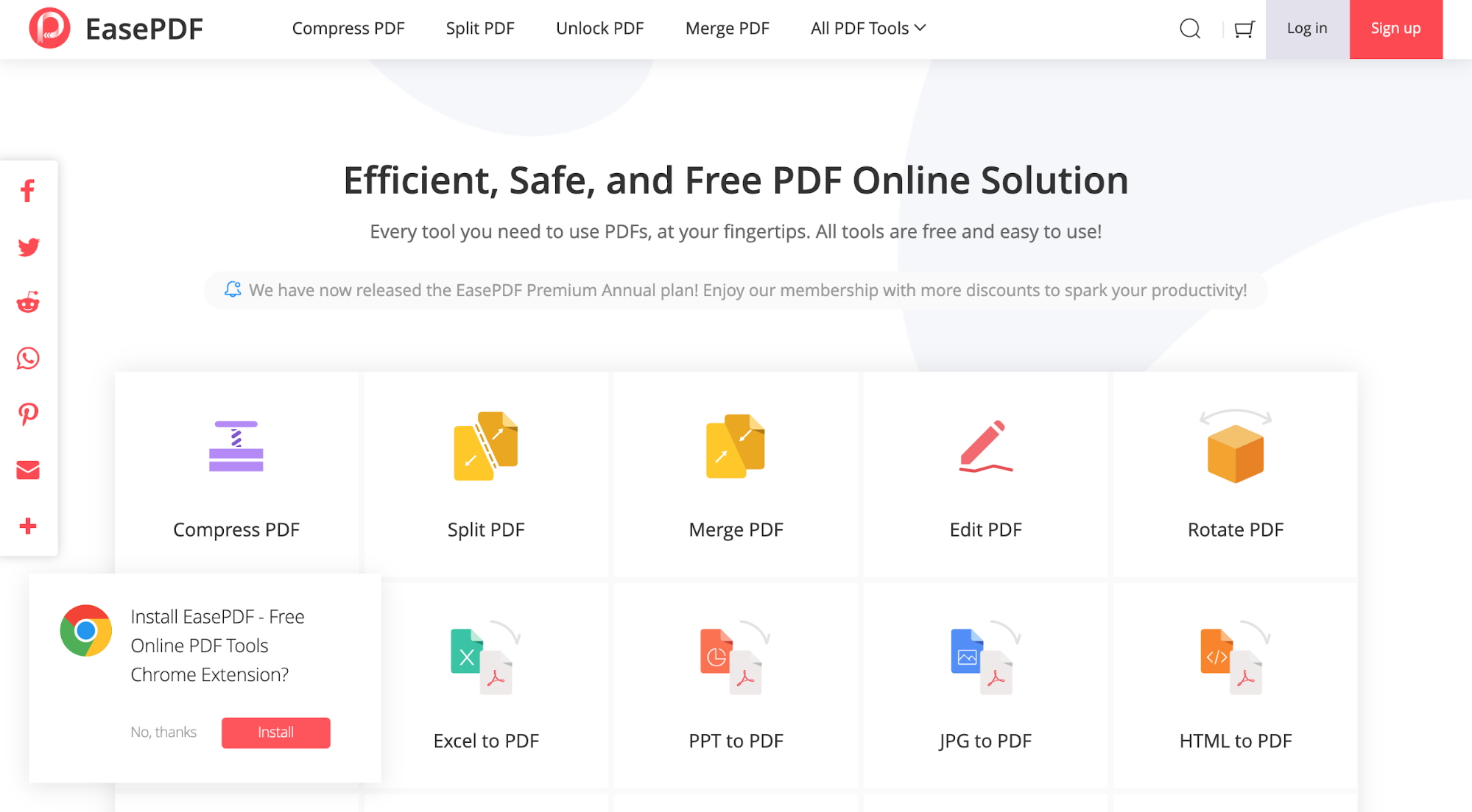 Step #2 Go to Edit PDF or eSign PDF to sign your name as needed. Next, select the PDF file that you want to add text to or add your signature.
Remember, you have the flexibility to not only upload PDF from the computer but also from Google Drive, Dropbox, URL, and OneDrive.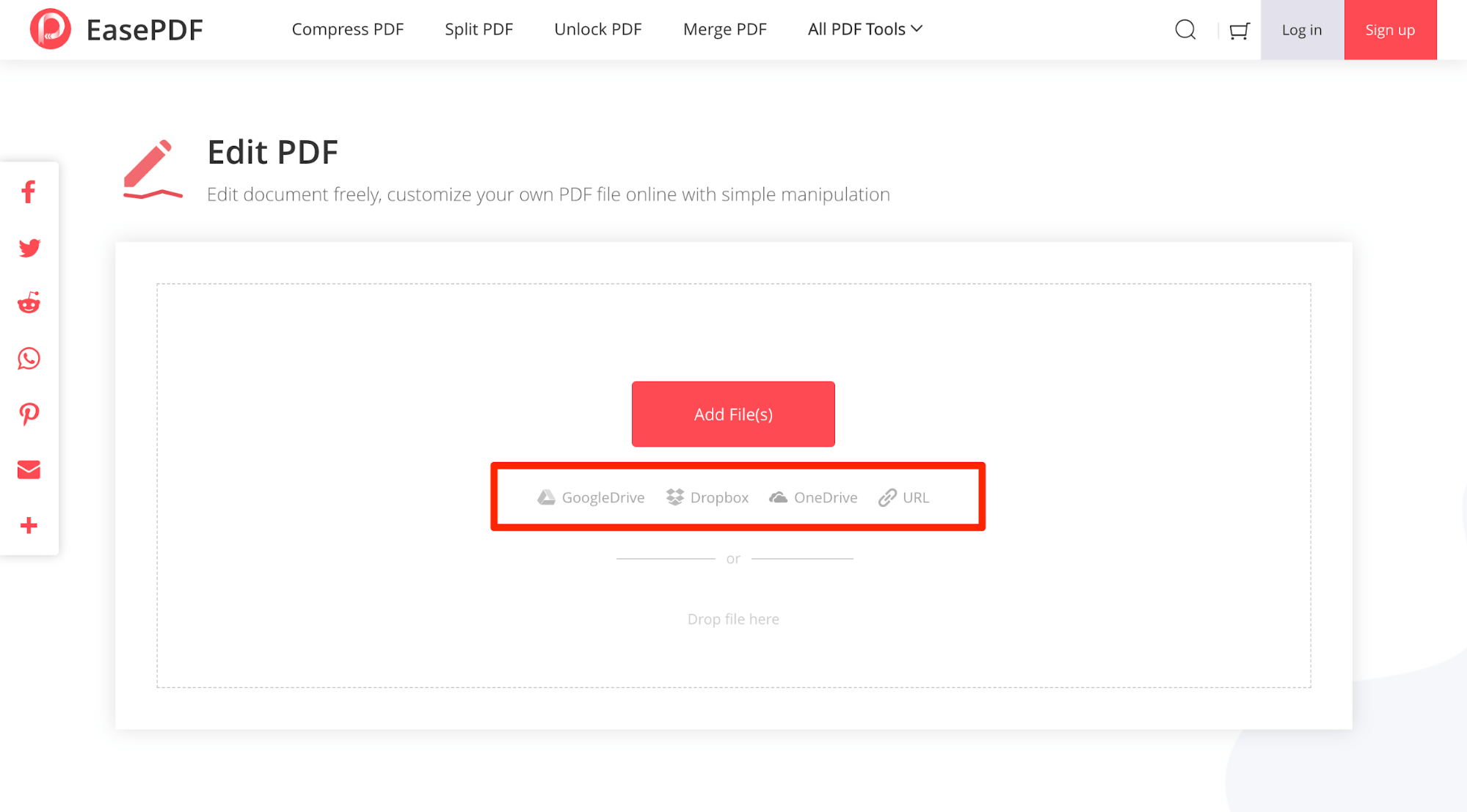 Step #3 Select the editing tool on the toolbar as needed.
Step #4 Click on Save PDF to download the PDF file. You can also convert the file to another format by using the converting tool on the platform.

Step #5 Once this is done, you will only have to upload the PDF to Google Docs, as we discussed before. Click on Upload followed by Select a file from your device, and select the saved PDF to open it in Google Doc.
Alternative 3: Converting a PDF Into a Google Doc by Using PDF to DOC
PDF to DOC is an excellent PDF conversion tool that's not only free but is also available online. Therefore, you don't have to download any app to use the platform.
You can convert PDF to Doc, docx, text, or PNG, as well as convert other file formats to PDF – whatever you want.
Here's how it works:
Step #1 Go to www.pdf2doc.com. On the home screen, click on Upload Files.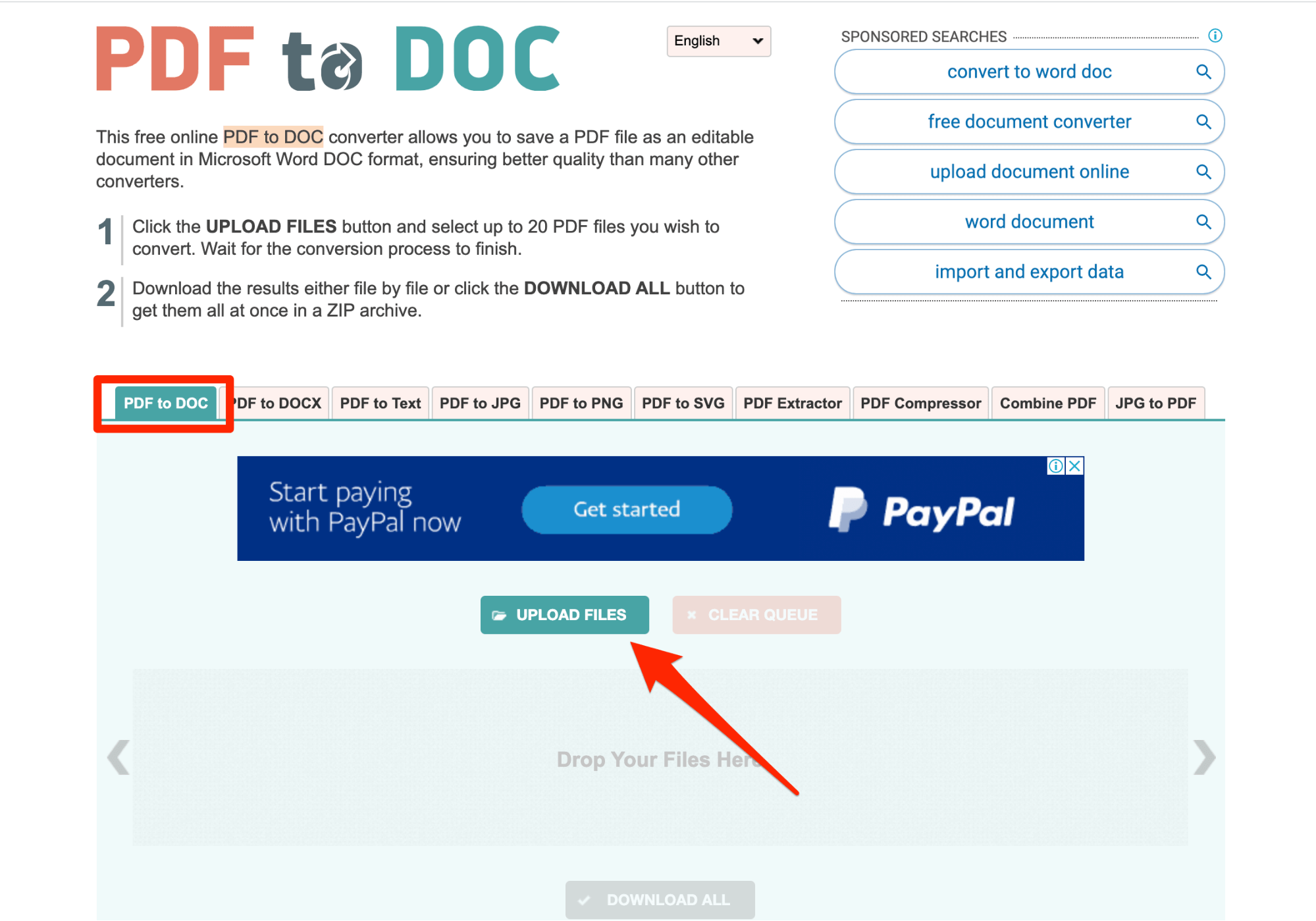 Step #2 Select the PDF file that you like to upload and press Enter. Your PDF will start converting automatically, and once the conversion process is over, you'll find a Download button appear under your file.
Step #3 Click on Download to retrieve your file. In case you've converted more than one PDF, click on the Download All option to save time and avoid having to download every file individually.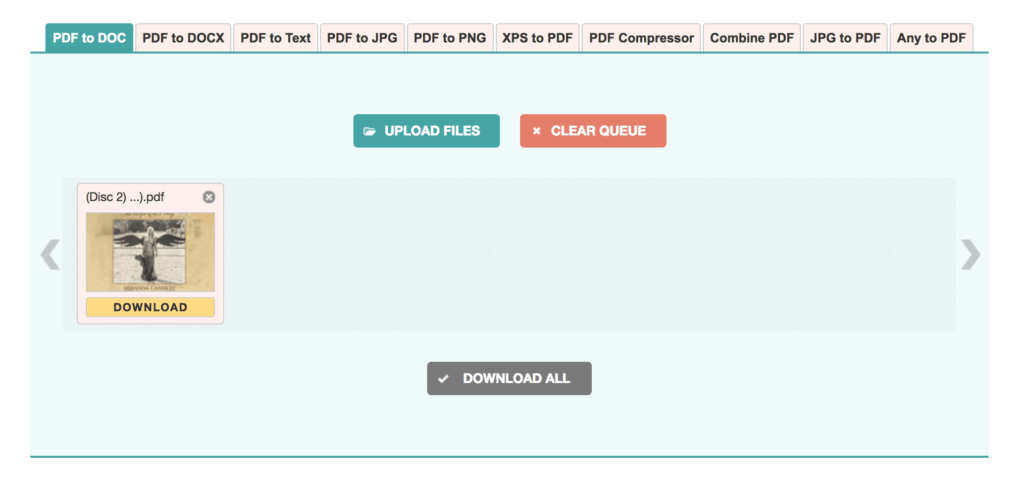 We'd highly recommend this method for converting image-heavy PDFs. You may still lose a few fonts in the transition, but the result is still quite precise.
The Bottom Line
These are some of the best ways to convert PDF files to Google Docs. While you can always convert the file directly by uploading it to Google Docs, we would recommend going the extra mile and converting it to Word and then uploading it to Google Docs.
You can also use other tools like PDF to DOC and EasePDF to get results even faster and more precise. In the end, it's completely your call – you'll get a fresh PDF-convert Doc either way.