Confluence and Jira are among the most popular collaboration products for software teams working in an agile environment.
They're both owned by Atlassian, a leading Australian software company that also owns Trello and several other technology products.
Jira primarily offers project management features for agile software teams that allow them to create, manage, monitor, track, and collaborate on different functional and cross-functional projects.
On the other hand, Confluence is a knowledge base for project teams with several project management features as well.
In this detailed comparison, we'll evaluate the different features of these products and help you choose the one that's more suited to your business needs. Let's dive in.
Our Recommendation = Get Jira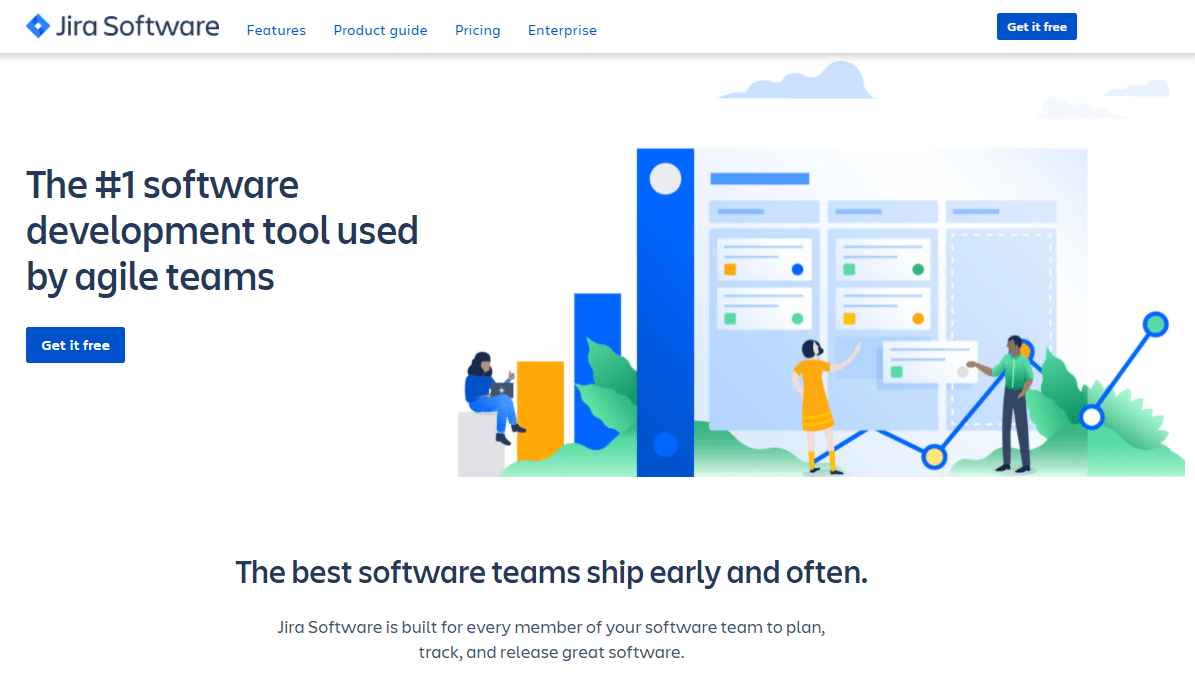 As I said in the introduction, Jira and Confluence are vastly different products with their own strengths and weaknesses.
You can even integrate them to get the best of both worlds.
But if you had to choose one of them, Jira is the right choice.
Why? Let me share a few reasons based on my personal experience with these products, recommendations from other project management professionals, and several hard facts.
Jira Is A Complete Project Management Solution
Jira is a suite of project management tools that allow agile teams to manage projects in fast-paced software development companies.
Compared to Confluence, Jira is a complete project management solution that covers every stage of the project management cycle and offers specific workflows for different software development scenarios.
It offers scrum and Kanban boards, product roadmaps, detailed reporting, and a variety of automation features.
In short, it's a complete project management solution that offers everything your team needs. Confluence is a useful knowledge management platform, but it's not as robust or all-in-one as Jira.
Jira Offers More Integrations
Jira is designed for agile software teams, but that doesn't mean it can't be used for other businesses or objectives.
With a wide range of third-party integrations and software support, Jira is a versatile product that you can use in numerous ways.
For example, suppose you want to set up a project knowledge base for your company. In that case, you can choose to integrate Jira with Confluence or any other wiki app that offers similar features.
In comparison, if you're a Confluence user, you're limited to its features and can't connect it with as many apps as Jira.
Jira Offers More Value For The Money
Both Jira and Confluence charge a similar subscription fee per month for their basic plans. But Jira offers a lot more value for that price because of its wider variety of features and support for different business objectives.
Jira Is Fully Customizable
You can fully mold Jira to your business needs by customizing workflows, creating new issue fields, descriptions, custom fields, and a ton of other customizations. Confluence has some custom capabilities, but nowhere near as many.
In short, Jira is a versatile product that's much more useful to project teams than Confluence. If you had to buy one of Jira and Confluence, Jira is the right choice.
When to Get Confluence Instead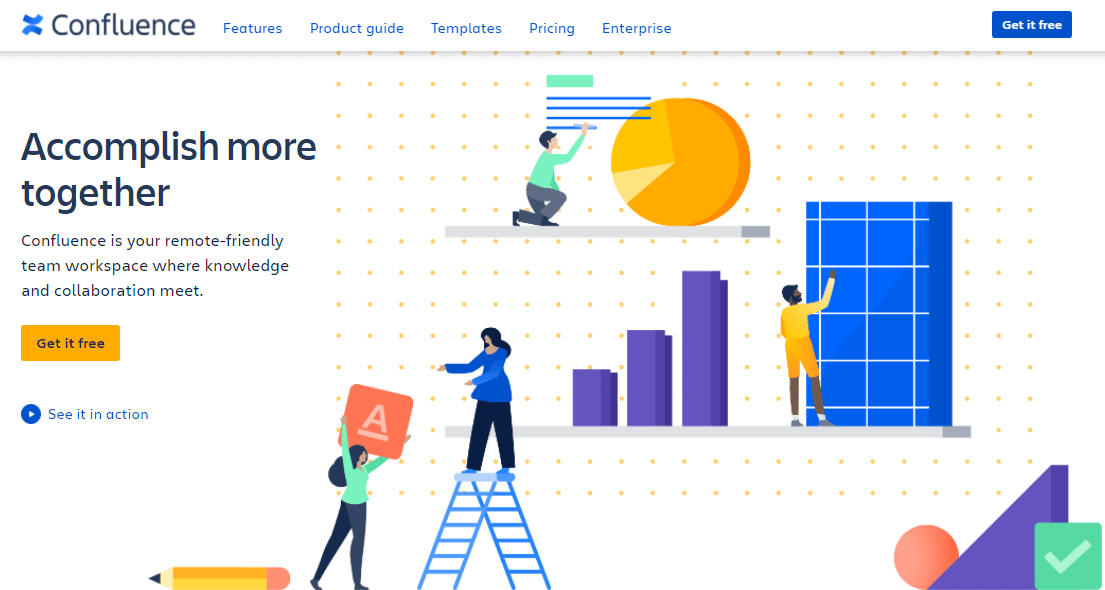 Jira is a more versatile product than Confluence and is more suited to project management teams.
However, that doesn't mean Confluence is a lousy product–not at all.
Confluence is primarily a knowledge base and collaboration platform, designed to create project-specific libraries, supporting documents, manuals, and even articles and blog posts.
It helps you create the knowledge hub your team needs to quickly source the information required to perform different tasks. It plays a vital role in helping your teams get things done by reducing dependency on individuals and preserving collecting the wisdom of your teams.
You can use it to start project/task-specific discussions, manage communication in threads, or create private discussions for selected team members. As such, Confluence works well for projects where the milestones aren't clear and the focus is on experimentation and finding out the best way forward with brainstorming.
When your team is involved in extensive project planning, especially in cross-functional projects, and requires constant input from various stakeholders at different stages of the project life cycle, it makes more sense to get Confluence than Jira.
Confluence is also a better choice than Jira when you don't require Kanban or scrum features and instead rely more on real-time communication between team members.
Pricing – Is Jira or Confluence the Better Deal?
We've discussed some general strengths and weaknesses of Jira and Confluence so far.
To put things into perspective, let's analyze their pricing structures to understand the value they offer for your money.
Jira Pricing And Free Plan
Jira has a pretty flexible pricing model based on the number of users in your team.
Suppose you're an independent consultant or a freelancer and require Jira for only one site. In that case, it offers a free plan that gives you up to 10 users, basic roadmaps, scrum and kanban boards, single project automation, and several other valuable features, along with 2GB of cloud storage for your files.
But if you need Jira for more sites and users, you can choose from one of its three premium plans.
Here's what each plan costs.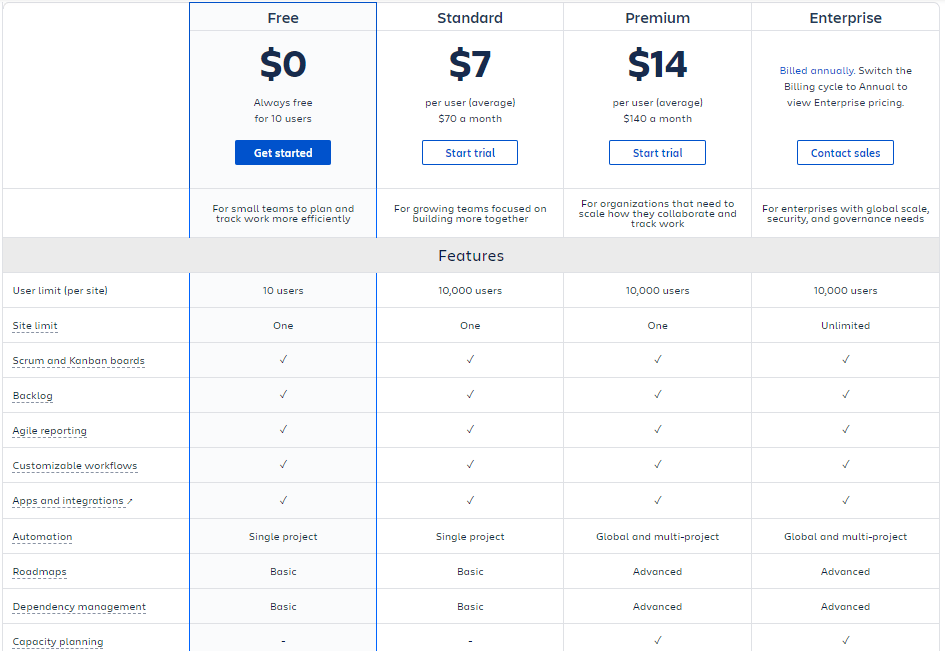 The Standard plan costs $7 per month per user billed monthly and allows up to 10,000 users on your account. You also get up to 250GB of storage, project roles, and advanced permissions.
Premium, Jira's most popular plan, costs $14/per month per user with unlimited storage, 24/7 support, advanced automation, and all other features in the Basic plan.
All the paid plans come with a 7-day free trial.
Confluence Pricing and Free Plan
Confluence also offers a free plan for 10 users with Unlimited spaces and pages, structured page trees, macros, template library, and 2GB of cloud hosting.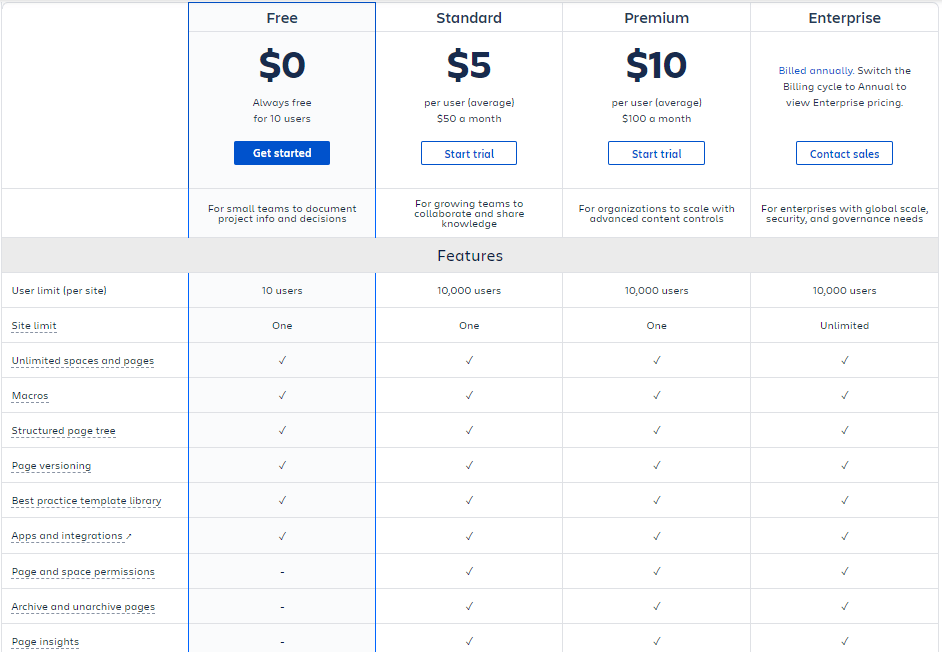 The Standard plan offers everything in the free plan plus 10,000 users, archives, page insights, and up to 250 GB of cloud storage for $5/month per user.
The Premium plan costs $10 per month per user and offers everything in the Standard plan plus in-depth analytics, unlimited storage, priority support, and many other advanced features.
Like Jira, all the paid plans in Confluence also come with a 7-day free trial.
Which Product Offers More Value For The Money?
Both Confluence and Jira offer free plans along with paid plans full of diverse and valuable features.
However, Jira's versatile plans at very affordable monthly subscription rates are hard to beat.
This is why Jira is the winner for us in terms of product pricing.
Confluence Features Vs. Jira Features | What Are The Differences
Since Jira and Confluence are complementing products, we'll analyze their features separately to understand the value they offer.
Remember, you can always integrate Jira with Confluence to enjoy the best of both worlds.
This feature analysis will help you decide if you're only looking to purchase one of these products instead of integrating them.
Jira Features
Here are some of the key features you get with Jira
Scrum Boards
Jira's scrum boards help you visualize a project's development phase by helping teams and their roles collaborate transparently. Every team member has access to the scrum boards which means they can quickly identify their tasks and any bottlenecks in their path.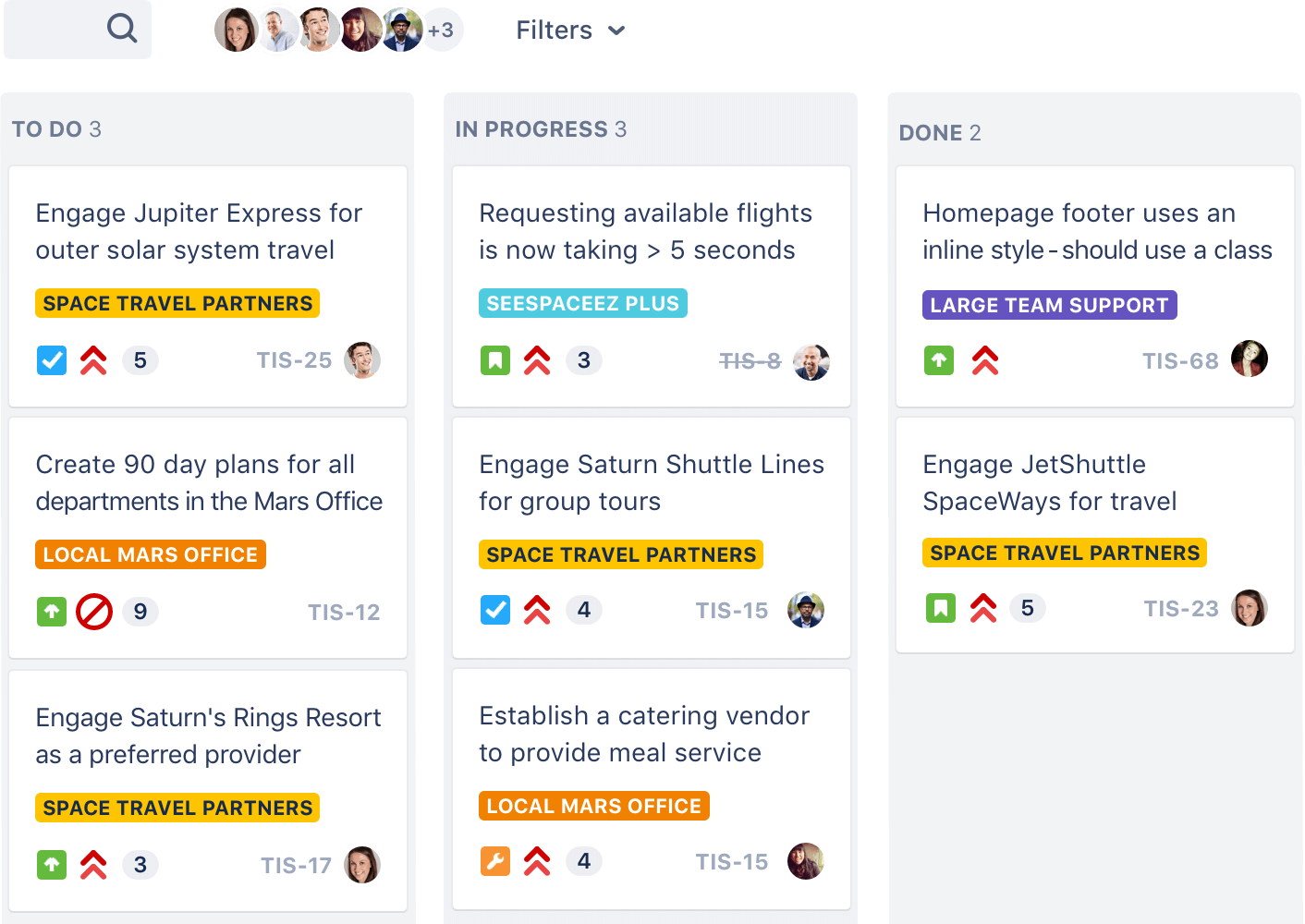 The Scrum board helps teams organize their work around the sprint timeframe and meet deadlines by slicing work into stages and utilizing burndown and velocity reports.
Jira's scrum boards are primarily designed for software teams. Still, other organizational departments such as marketing and HR that are frequently involved in cross-functional projects can also use scrum boards to bring more transparency to their operations and get things done faster.
Kanban Boards
Kanban is another popular project management framework for agile and DevOps software development. It helps software development teams visualize their workflow, limit work-in-progress, and maximize efficiency.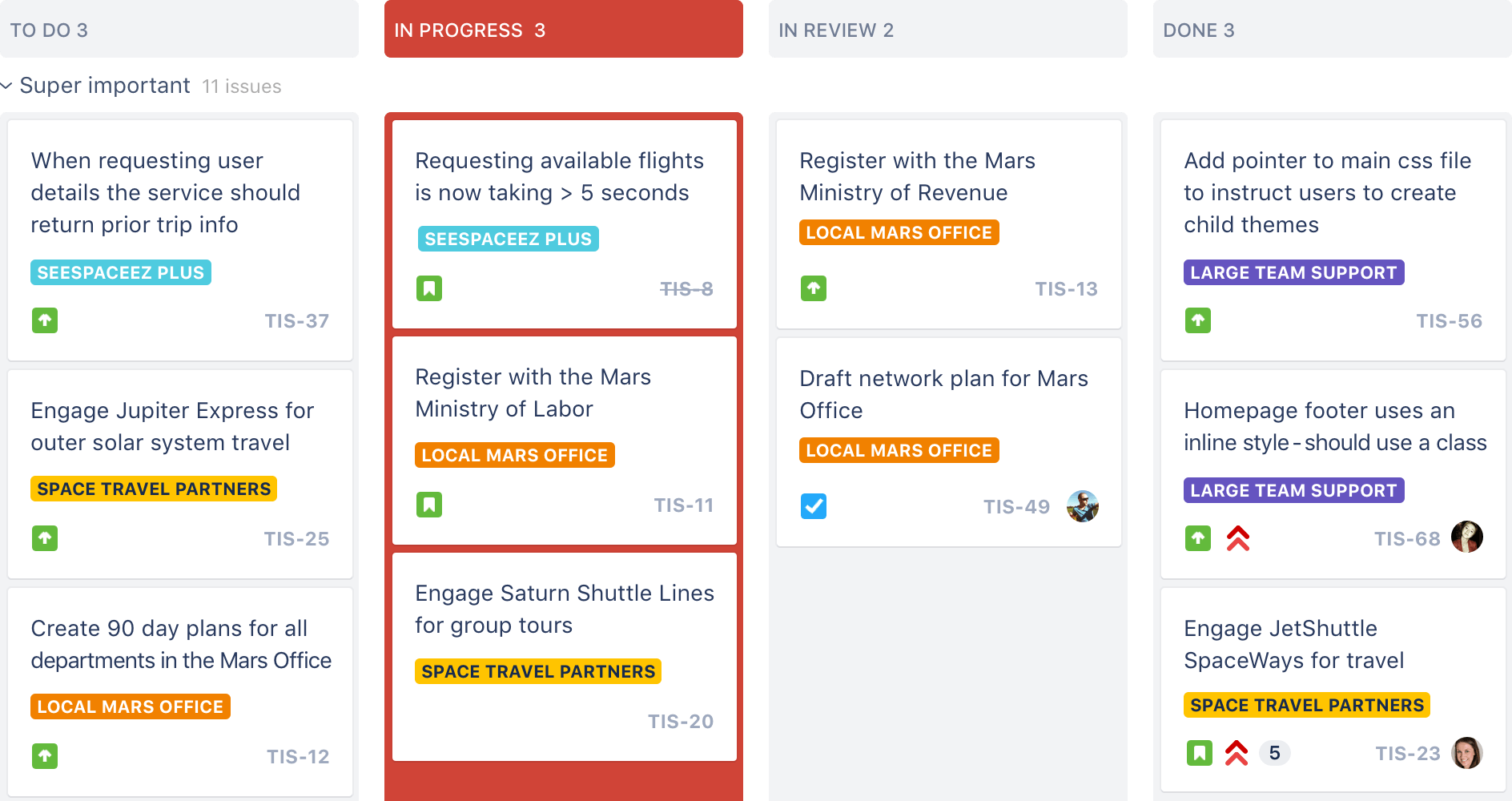 Jira's kanban boards allow teams to focus on continuous delivery by removing bottlenecks and minimizing work-in-progress. It allows users to create custom workflows of various complexities based on their needs.
Roadmaps
Roadmaps allow you to plan smarter, communicate better, and release more predictably by giving you the bigger picture of your cross-functional projects.
It gives you a consolidated view of all the tasks distributed among your teams and ensures that you have all the pieces of the puzzle when making a decision.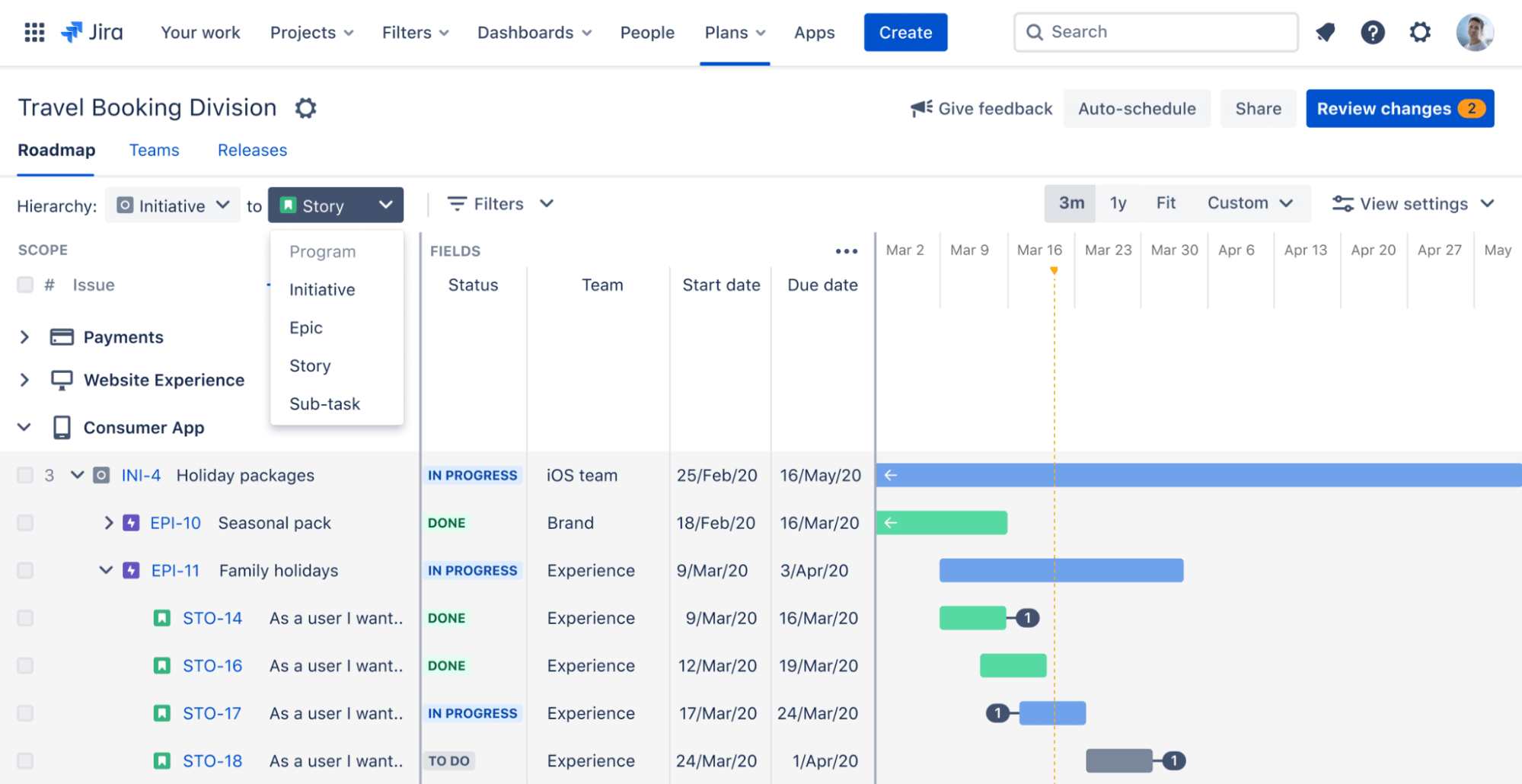 Roadmaps also help you evaluate your team's capacity and identify any dependencies in your processes. You can even create different best and worst-case scenarios to plan for any emergencies in advance.
Agile Reporting
Reporting and analytics are a project manager's eyes and ears. Without tracking the right metrics, a project manager can never correctly prioritize tasks or make informed decisions.
This is why Jira offers in-depth and detailed analytics with more than a dozen different reports.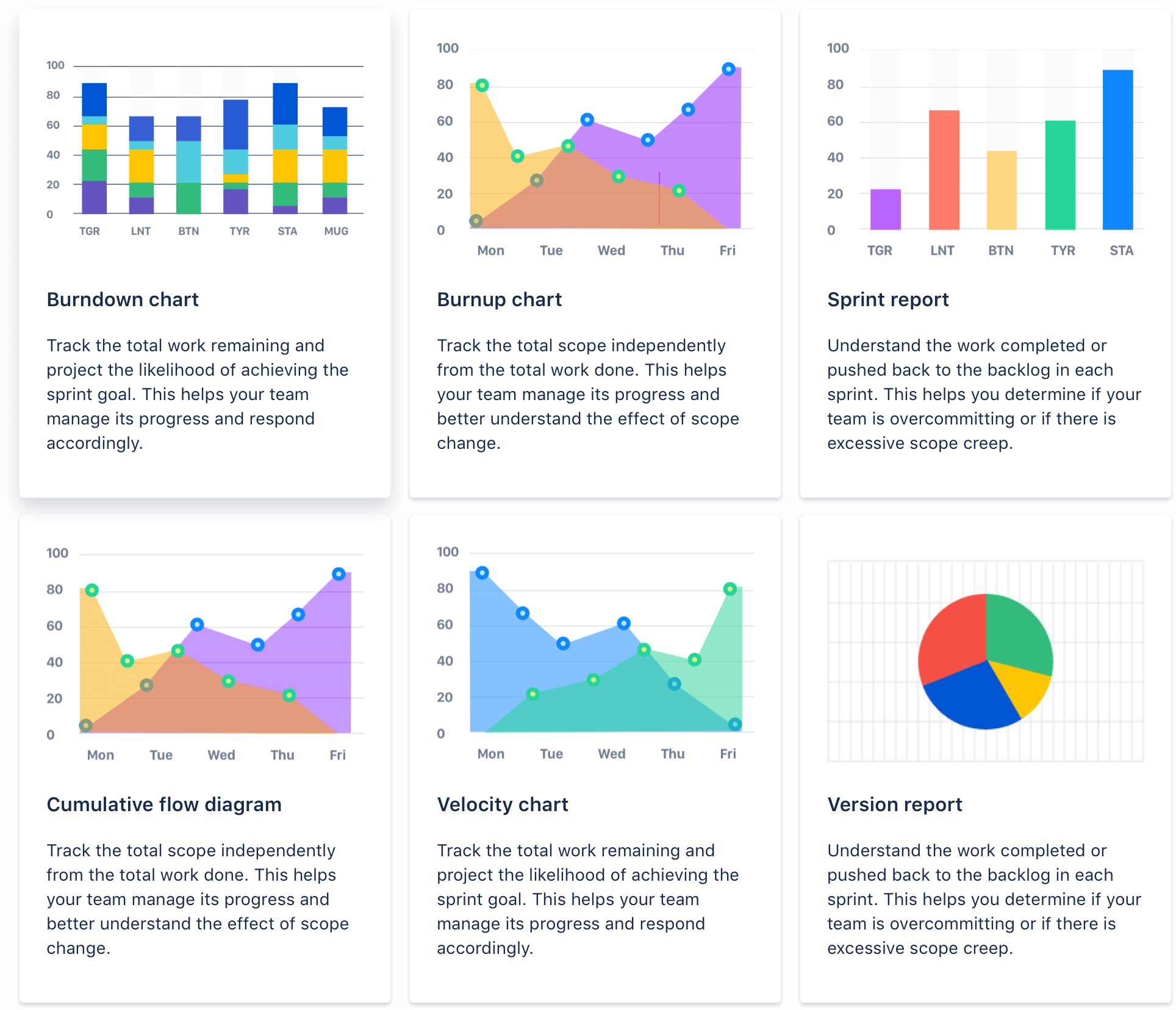 All these reports are designed specifically for agile software development teams. For example, the Sprint report allows you to identify scope creep and track all the work done in a sprint. The Burndown chart helps you track your progress towards sprint goals. Or use the Velocity chart to track work from sprint to sprint, determine the work speed and set realistic goals for future sprints.
Third-Party Integrations
Jira integrates with dozens of different project management, document management, collaboration, marketing, and business applications. It is one of Jira's biggest strengths and allows its users to explore more possibilities without leaving the platform.
Automation
Jira comes with dozens of different automation templates to completely automate many of your project management operations. The automation sequences mainly work on if-then conditions and use different tags and user engagement patterns for activation.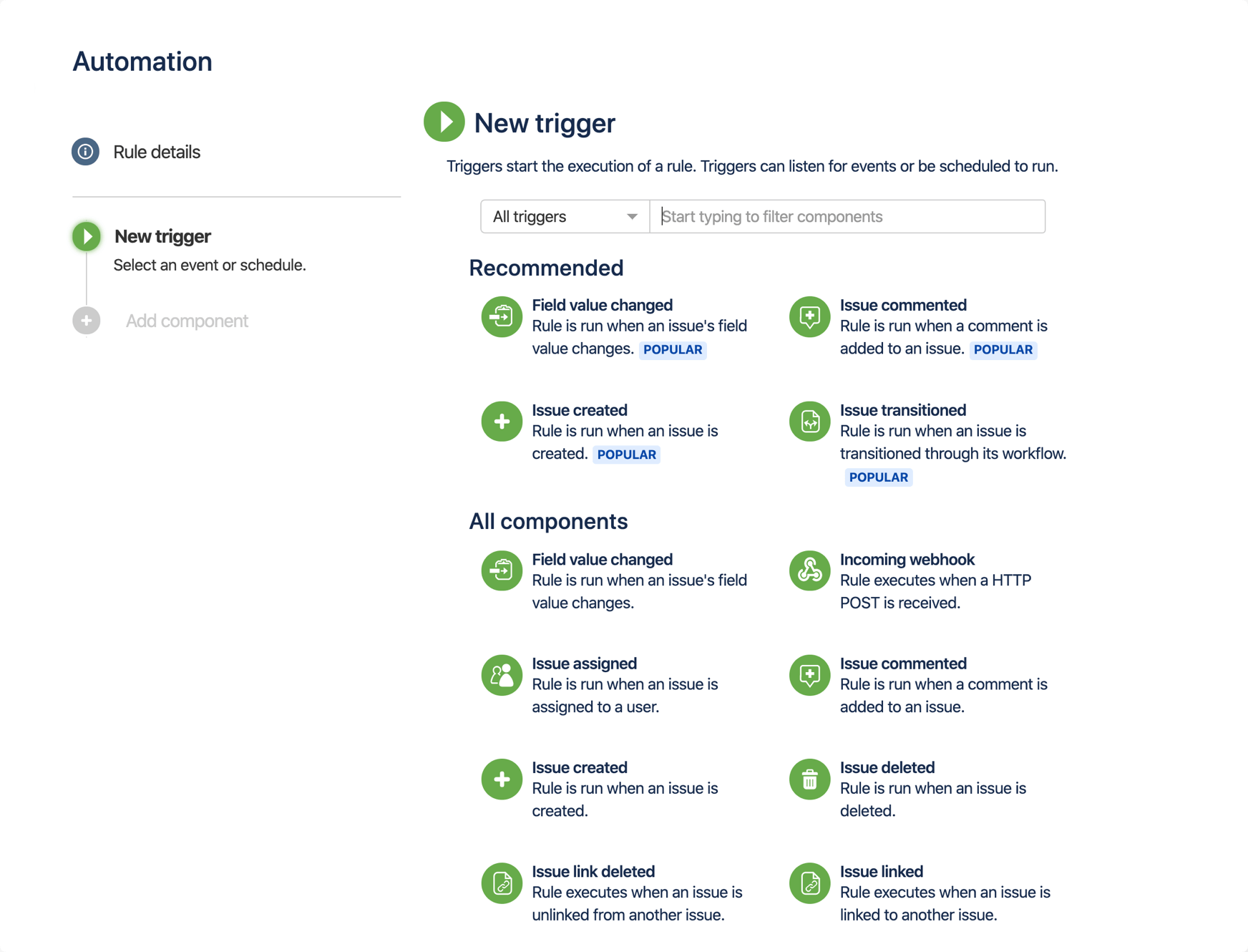 You can also apply bulk automation and manage all your sequences from a single interface.
Confluence Features
Let's analyze some of the main features of Confluence.
Spaces And Pages
Everything in Confluence is organized through spaces and pages. You can think of spaces as broad categories or departments within your organization. In comparison, pages are the documents that carry the information that you or team members enter.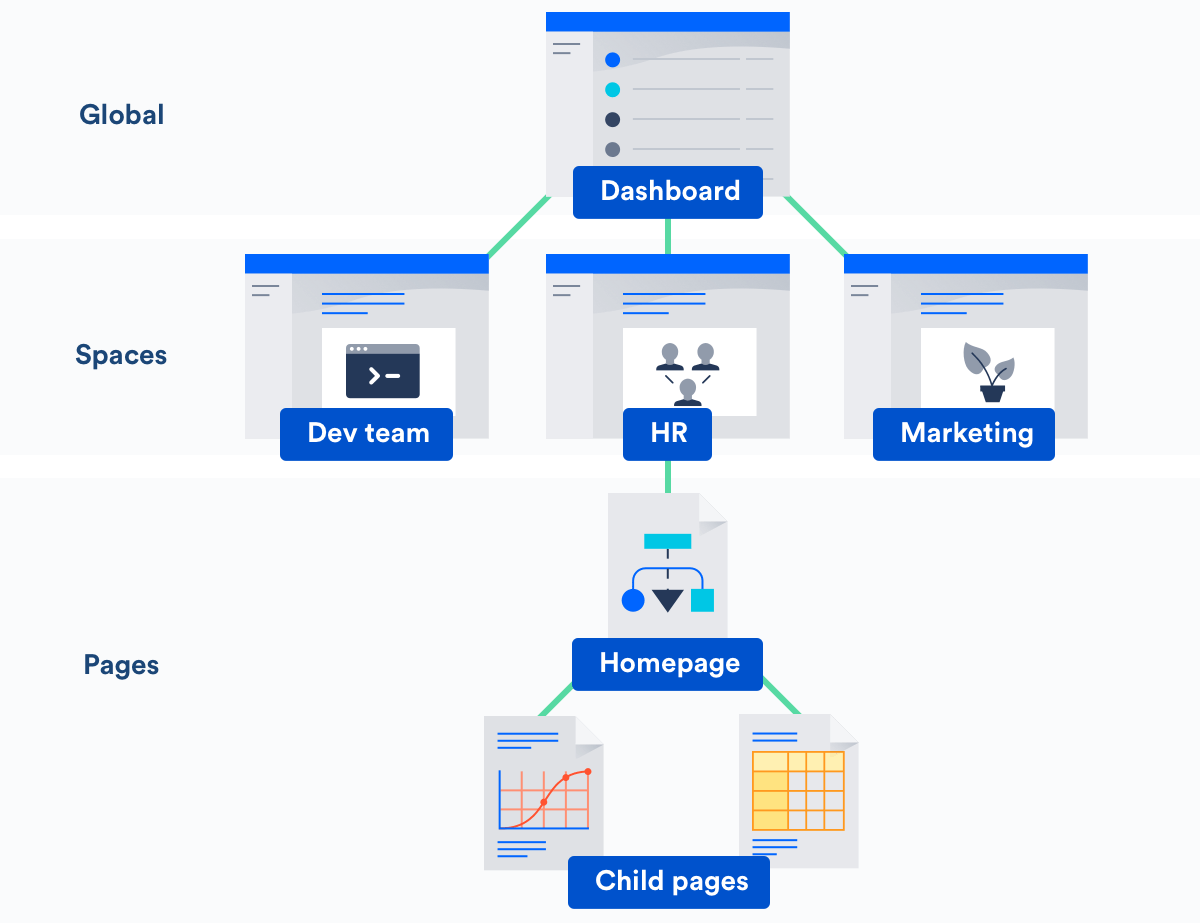 In Confluence, you'll use pages to create content, notes, blog posts, and communicate with other stakeholders.
Product Knowledge Base
Confluence allows you to create a fully functional knowledge base for your products that your team members can populate and use when required.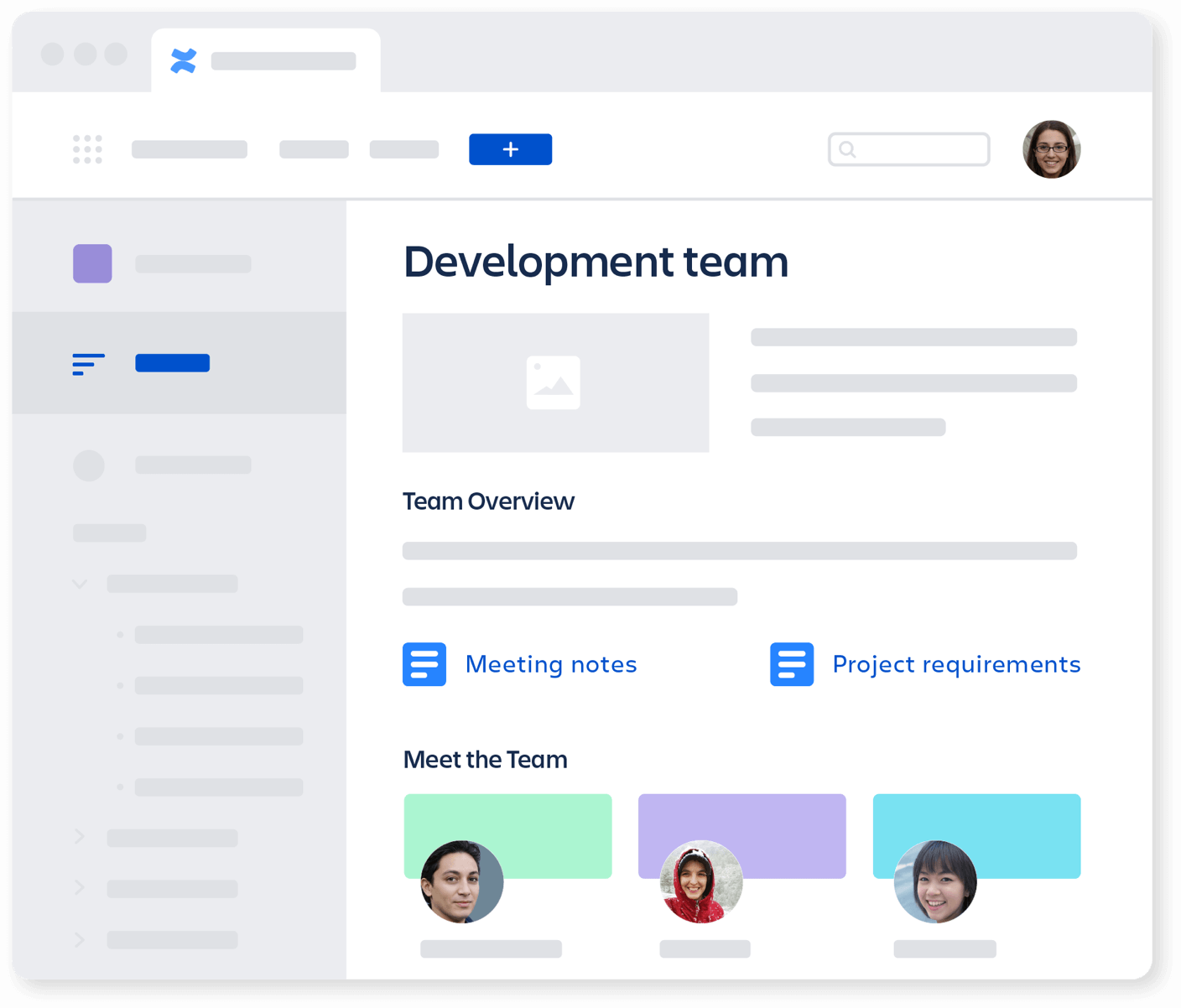 You can organize your knowledge base using labels and by defining page hierarchy. When creating a new page for your knowledge base, you can start with a blank document or choose from over 75 templates for different strategy and planning docs.
Document Collaboration
Confluence is an excellent app for collaborating on different project documents and brainstorming new ideas. It allows multi-author editing and highlights the changes by other users with distinct colors.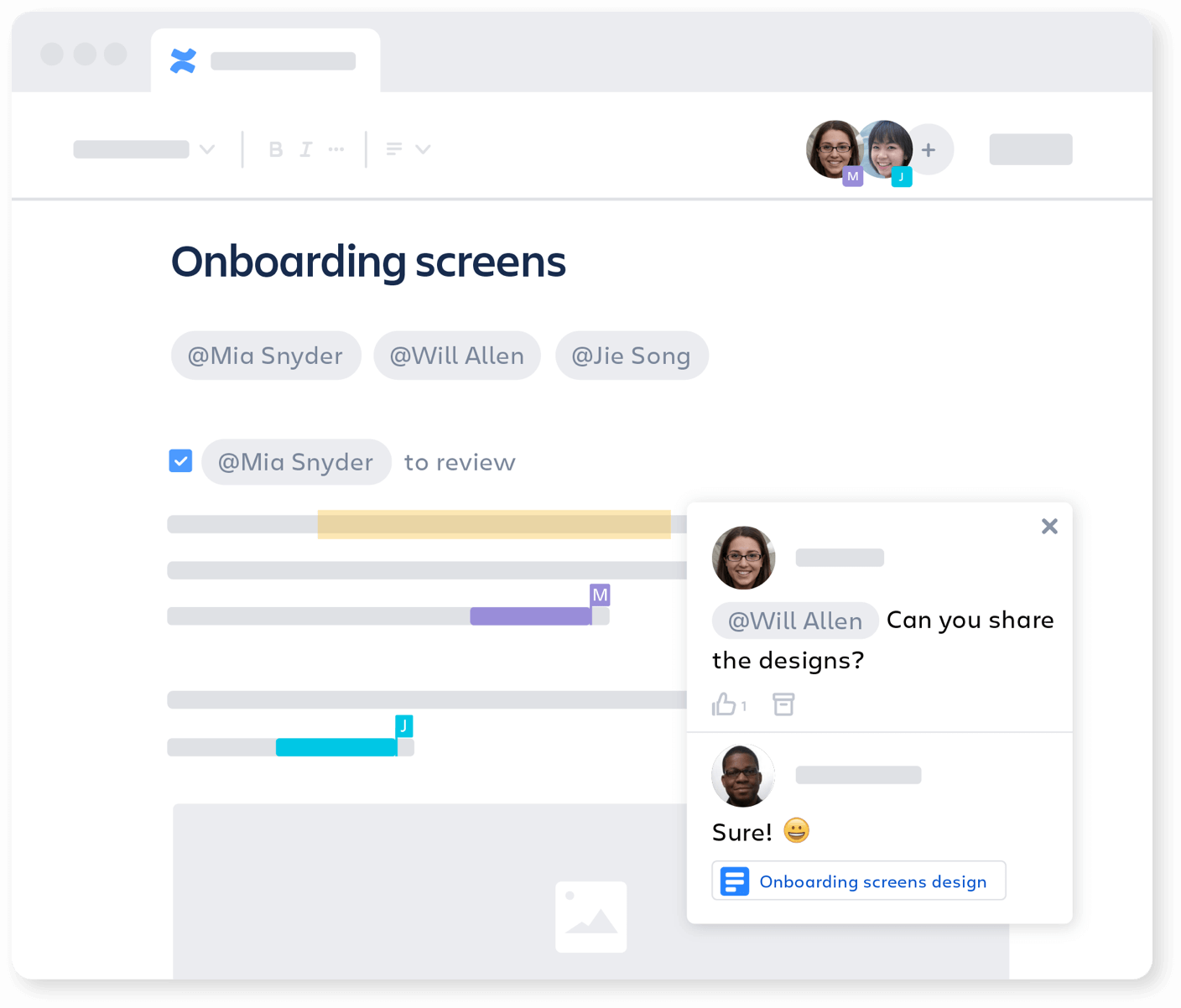 You can tag other users to seek their input or assign tasks. You can also highlight and comment on specific content sections and start conversation threads to discuss ideas.
Communication & Information Sharing
Confluence gives you complete control over information sharing with user rights and gated content. You can choose to publish pages to all the users associated with your account or restrict access to limited individuals. You can also create announcements that all the relevant users will receive via email.
Integration
Confluence is a valuable tool on its own. But it becomes a collaboration powerhouse when you integrate it with Jira, Trello, or any other project management application.
When integrated with Jira, Confluence allows you to manage a knowledge base for specific projects and shows you the relevant pages with every sprint.
Confluence vs. Jira: Wrapping Up The Comparison
As I've described in detail in this article, both Jira and Confluence are world-class products that allow you to collaborate on projects in different ways.
However, it's clear from our analysis that when the two are compared as stand-alone products, Jira is far superior to Confluence and provides much great value for money.
So if you're looking to choose one of these products, go for Jira.
Otherwise, get both and integrate them to get the best of both worlds.