The 5 Best Business Process Management Tools
Modern businesses develop and manage numerous tasks. They also acquire and process a lot of data. The most successful companies, regardless of their size or industry, can efficiently automate, analyze, process, act upon, and improve their business processes. Those that truly excel do it all in real-time.
But it can prove a daunting task without the right tools.
One of the best ways to manage day to day operations is with Business Process Management Software or BPM. Helping firms simplify their business practices, BPMS is applicable for a number of tasks and workflows, including account management, compliance, customer relations, human resources, expenses, invoicing, and project management. That's just a small sample of the software's most popular capabilities.
But which platform is best for your company? And how should you go about choosing the right one? Let's take a look at five of the best business process management software and the steps you should take in picking the BMP software that works for you.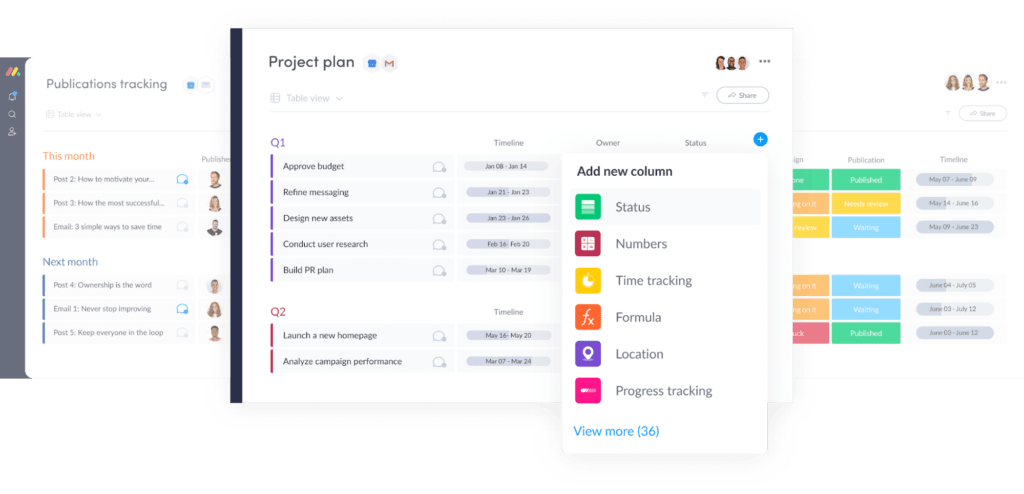 A relative newcomer to BPM software compared to a few of the legacy firms on our list, Monday.com has grown into a viable BPM platform in less than a decade. As a provider to over 100,000 organizations, including Hulu, eBay, BBC Studios, and Costco, the software represents a multi-faceted solution for any sized company in any industry.
At the core of the service is a streamlined, "building block" system that improves real-time collaborations with robust share and mobile functions. The platform is also scalable and customizable. It allows users to work within an environment that best suits their team and goals. A list of the features include:
Fully customizable dashboard for projects and workflows
Code-free automation
Time and resource tracking
Collaboration tool for multiple users
Custom app creation
Execution Board
Well-curated and searchable knowledge base
Motivational tool
Detailed and easy to view reporting
Simple onboarding process
Two-factor authentication
One of monday.com's strongest attributes is integration. Regardless of what third party apps you utilize, they can easily mesh with the BPM platform. G-Suite, Shopify, Mailchimp, Facebook ads, Dropbox, Salesforce, Zoom, and Microsoft Teams are just a few of the numerous integrations available.
monday.com offers a 14-day free trial. They also have three plan tiers with dynamic pricing based on the number of users. This is a massive benefit if your initial plans are modest yet hope to grow over time. The monthly plans break down as follows, and include the platforms 18% discount for yearly subscriptions:
Basic: $39 for 5 users; then $40 increase for every 5 users – $79 for 10, $119 for 15, $159 for 20, etc…
Standard: $49 for 5 users; then $50 increase for every 5 users – $99 for 10, $149 for 15, $199 for 20, etc…
Pro: $79 for 5 users; then $80 increase for every 5 users – $159 for 10, $239 for 15, $319 for 20, etc…
Should you require 50 or more users for any of the above plans or need an enterprise solution, contact Monday.com.
Appian is recognized as an innovator in enterprise technology, including its platforms for business process management systems, digital process automation, dynamic case management, and low-code development. Organizations such as Barclays, Dallas-Fort Worth International Airport, Merck, and Ryder have all called upon Appian to assist with their business application needs.
Appian's low-code solution creates seamless collaboration between IT and business interests with full-stack automation. The menu of features is impressive and includes:
Intelligent automation with robotic process and AI automation
Collaborative case management
Business process management
No-code integration with Blue Prism, DocuSign, Salesforce, SAP, Oracle, among many others
Drag and drop visual design and real-time testing
Process models and reusable components
Scalability
Automatic upgrades and mobility
Secure, with compliance through third-party audits, and full governance oversight
One of Appian's significant benefits is its relatively short and straightforward onboarding process. There's also a good support structure in place, although their premier and premier plus support layers will incur additional costs.
Appian includes a 14-day free trial with pricing covering three tiers, including:
Standard User: $60 per user per month for 100 user minimum
Infrequent User: $18 per user per month for up to four 24 hour monthly sessions
External User: $2 per user per month for external users to submit forms/requests
Appian also offers flat-fee pricing and enterprise custom quotes, which are both available upon request.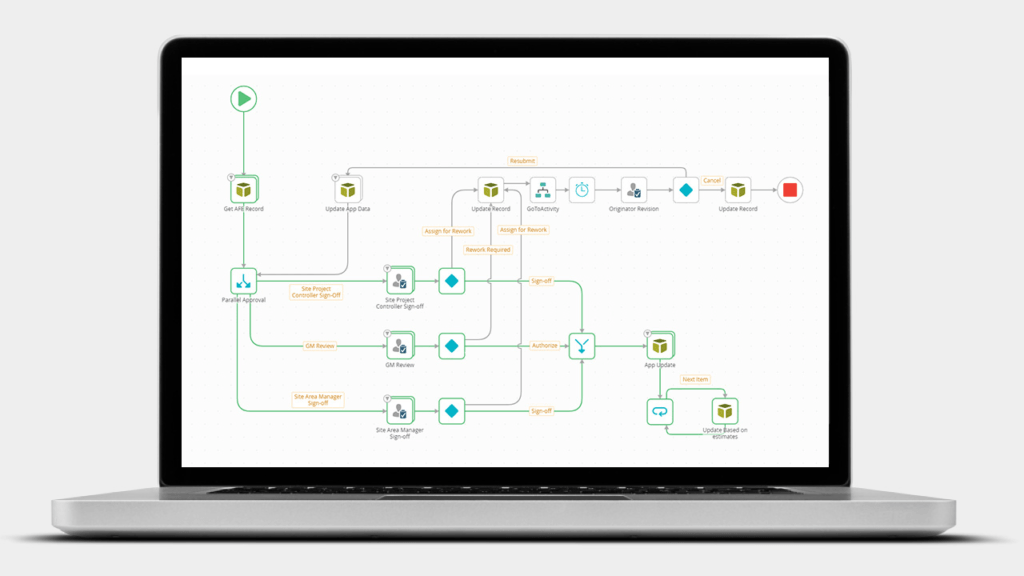 K2 has two decades of experience in helping a wide array of companies to simplify and improve their workflows. Used by firms as diverse as Deloitte, Stihl, and Verizon, K2 specializes in turning complex workflows into simple automation.
K2's process automation platform works across numerous applications, with minimal coding, and, in some cases, none at all. Several of K2's most attractive features include:
Workflow creation via drag and drop method
Real-time analytics
Easy to use pre-built apps
Forms that are accessible across applications
Simple integration with numerous systems and processing including Microsoft, Google, Salesforce, Dropbox, Automation Anywhere and DocuSign
Excellent security and oversight controls
In addition to its feature set, K2 offers two methods of deployment. The first is K2 Cloud, a fully scalable, low maintenance option that allows your firm all the benefits of a BPM without the headache of daily technical management. Platform updates, security, day-to-day oversight, and upgrades are taken care of by K2.
The second deployment option is K2 Five, which puts K2 in servers in your datacenters, on-site, or via private cloud for the ultimate control and oversight.
One drawback for both K2 Cloud and K2 Five is the extended set-up and acclimation period, which requires patience and lots of training.
K2 features a 30-day free trial with pricing covering three tiers, including:
Starter: $12 per user per month – K2 Cloud only, 100 user minimum, up to 5 workflows
Builder: $18 per user per month – 100 user minimum, up to 25 workflows
Premier: $24 per user per month – 100 user minimum, up to 125 workflows
Contact K2 for their enterprise solutions and pricing.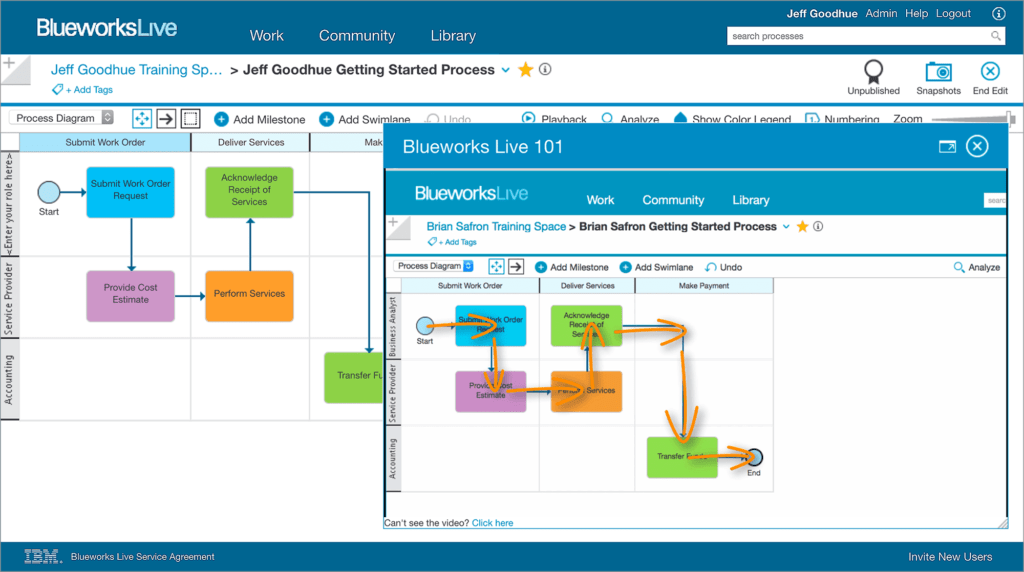 An organization such as IBM needs no introduction; its reputation as a technology innovator and leader long ago solidified. It's no surprise then that their Business Process Management toolkit features four platforms: IBM BlueworksLive, IBM Process Manager on Cloud, IBM RPA Business Automation Workflow, and IBM Operational Decision Manager.
While the latter three are niche products, IBM Blueworks is the one that possesses the most BPM function across practically any industry. The cloud-based platform provides users a powerful space to automate workflows through a centralized process repository, drag-and-drop mapping, and templates. All of this includes real-time collaboration and tutorials.
Other features include:
No installation required
Starter templates
Embedded tutorials
Instant exporting
Workflow storage
Flexible permissions
Unlike some other systems, onboard is straightforward and does not involve a steep learning curve. The platform is available on either a public or private cloud network. It can be set up to meet the specific needs of your organization. While the overall platform is incredibly stout compared to other software, it is less customizable.
IBM features a 30-day free trial that includes access to all features and an unlimited number of collaborators. Their single pricing tier for the cloud is $53 per user per month and consists of the centralized business process repository, industry-standard process mapping, and team collaboration.
Blueworks Live also has a Private option for companies that need single-tenant solutions and a Federal option for U.S. federal agencies that require multi-tenant solutions. Contact IBM for pricing on both of these enterprise-level options.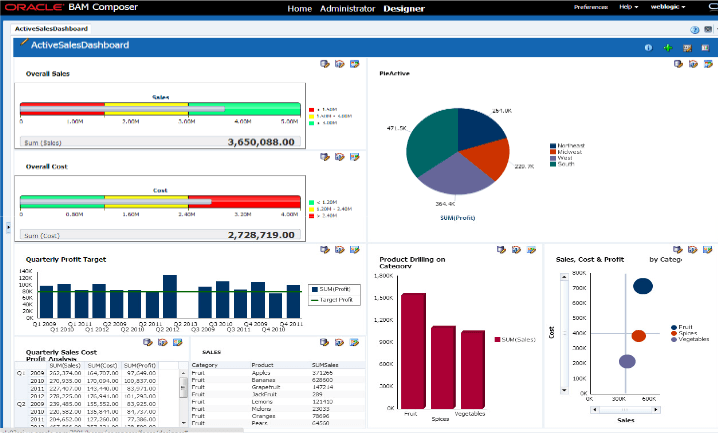 Much like IBM, Oracle has proven it's worth many times over across numerous tech segments. Oracle's BPM software is both a practical and powerful platform. It is part of the firm's Fusion Middleware suite of infrastructure products that features business intelligence and cloud applications.
Designed with the intent to make IT and business collaboration easier and more productive. The core of the software is flexible enough to meet diverse needs across multiple business segments. That includes structured automation, team-focused case management, and data collection and process analysis. A selection of the software's top features include:
In-flight process changes
Real-time metrics and predictive analytics
Business-friendly rules and integration
Process modeling and development
Documentation and reports
Secure integration, including for mobile
Centralized process repository
Seamless collaboration between IT and business segments
Embedded content management
Complete audit trail
Out-of-the-box dashboards for multiple processes and tasks
Business-friendly dashboards and reporting structure
Configurable alerts, notifications, and actions
Risk detection
Overall, the software is very sound and is one of the most complete enterprise BPM options available. The software's deep learning library and tutorials are arguably the best among BMPs. Although the software offers a host of integration options, those integrations are not as intuitive as other software suites.
Currently, Oracle does not offer a free trial for the BPM software, and pricing is available upon request.
How to Pick Your Business Process Management Software
Though BPM software aims to simplify workflows and improve collaborations, choosing the right platform can be slightly more complicated. However, you can reduce the overall process down to four simple steps – understand your needs, determine the number of users, assess costs, and evaluate onboarding and readiness.
Let's take a look at these four critical steps to picking the best business process management software for your organization.
Step 1 – Understand Your Needs
The first step to choosing BPM software is also the broadest. Business Process Management Software comes in all shapes and sizes for all kinds of companies in all industries.
For example, if your business operates in the growing home services segment, you can find BPM software designed specifically for that industry. Or you can utilize a service with a broader scope, such as the five platforms featured above. It's the same for any industry.
The advantage of a more comprehensive service is that they are less rigid than those with one set of workflows in mind or limited customization. Software such as Appian, K2, and monday.com provide you room to tailor the platform to your needs, monday.com being the most flexible of all.
Step 2 – Determine Number of Users
The steps to choosing BPM software become more straightforward during step two – determining the number of users. The three most vital points to weigh when thinking about users is where you're starting from, where you're going, and where you hope to end up.
Most BPMs structure their costs around the number of users. In many regards, you can combine steps two and three (assess costs) into a singular discussion. However, if you're seeking a platform built to grow as your user needs evolve, monday.com is an attractive option thanks to its ascending subscription scale. IBM offers a singular per user structure, which is great for those that need complete flexibility.
Appian and K2 have 100 user minimums. And Oracle is similarly positioned as a service designed with medium to large firms with continued, rapid growth in mind.
Step 3 – Assess Costs
Of course, costs versus users can delve into a conversation about which comes first. Determining users is typically a more central concern as it directly flows from your business needs.
Overall, each pricing structure for the platforms we feature is straightforward, with monday.com and IBM the most flexible and K2 being the best value. Although each provider has an enterprise option if your business needs require it, K2, IBM, and Oracle are the best choices for this service level.
Step 4 – Evaluate Onboarding and Readiness
Finally, your last step in choosing BPM software steams from your organization's onboarding capacity and readiness for new processes. Even if it seems one solution stands out above another, the onboarding process can often make or break a platform's early success. Yes, you can overcome a failed launch, but you lose time and money by not being prepared for the learning curve that comes with BPM software. Or the integrations that might be required.
If your company is risk-averse and desires BPM software that requires minimal set up and effort, the cloud-based options of monday.com, Appian, and IBM are natural choices. K2 and Oracle will require more from your team, but their legacy systems are sought after for a reason. If you have the bandwidth, don't discount them, but accept the learning curve will be higher.