The Ultimate Manual To Box Notes
If you're looking for a collaborative document management tool that allows you to create, edit, and share various document types with your team members in a secure environment, Box Notes might be an excellent choice.
It's a robust document management tool that increases productivity, streamlines communication, and makes your routine meetings more effective by eliminating repetitive work, automating tasks, and providing a collaborative environment to your team members.
In this detailed article, we'll analyze the various features and benefits of Box Notes and help you decide if it's the right solution for your business.
Let's dive in.
What is Box Notes Anyway?
Box Notes is a real-time note-taking, document management, and collaboration platform that comes with your standard Box account.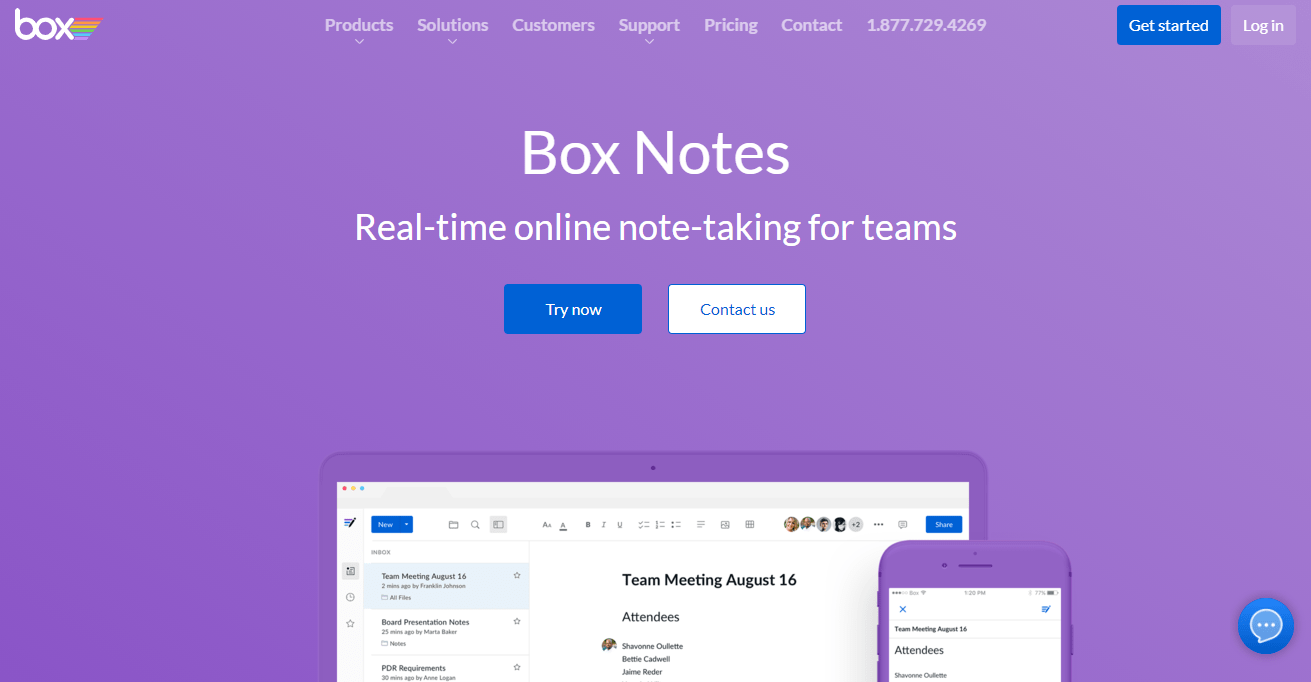 Its primary function is to provide a complete document creation, editing, and management platform Box users can utilize for various business tasks such as taking meeting notes, developing project plans, brainstorming on different ideas, and various other tasks that require teamwork and streamlined communication.
Despite being a small part of the overall Box features, Notes is a powerful application that you can use as a complete document management tool on its own. It offers all the standard document creation features such as rich text formatting, multi-media integration, auto-saving, tagging notes, etc. It also gives you the ability to create checklists, notes, reminders, and regular blog posts and articles.
Every Box Notes file is automatically saved to your Box account in a secure environment where only authorized users can access it.
If needed, you can create public links to your notes that users outside your organization can use to access your documents. This feature comes in handy when sharing project proposals, presentations, or plans with prospective and existing clients.
If you want to limit the access to your notes to your co-workers only, you can share them with specific users by adding their email addresses to the approved user list.
Notes is also a powerful collaboration platform perfect for creating marketing collateral, newsletters, blog content, or any other document that requires input from multiple stakeholders. Users can simply highlight any part of the text in a note and share their feedback as a general message or for specific users by tagging them.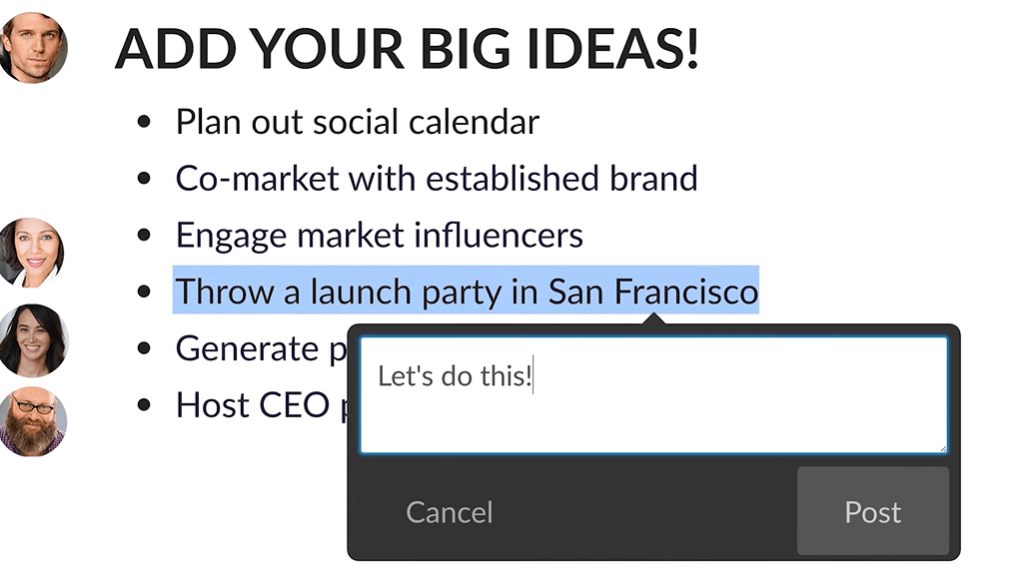 Similarly, you get a complete chat interface similar to Google Docs where all the added users can discuss ideas, share feedback, and communicate on any issue related to your note.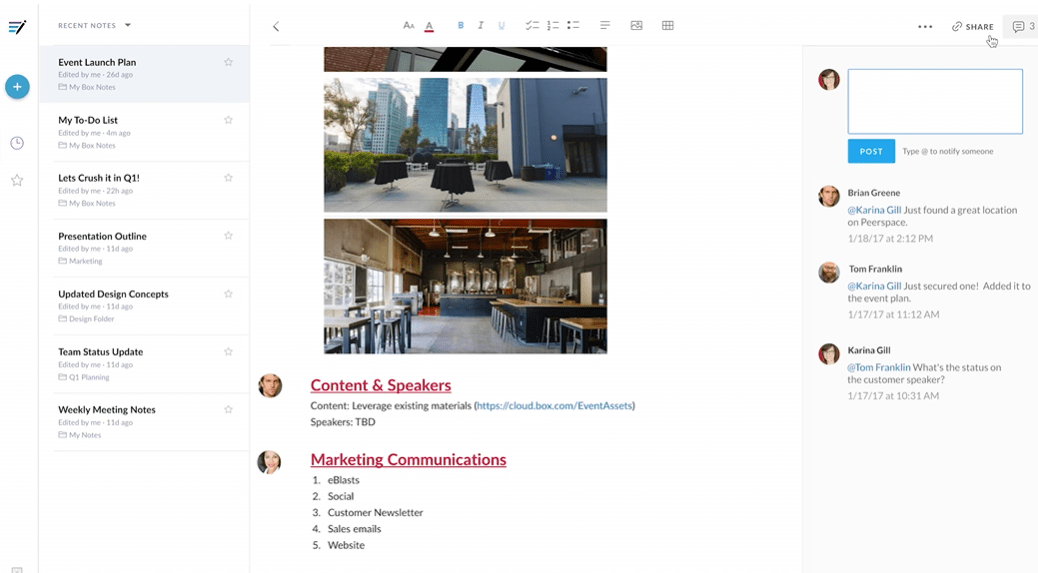 Despite being a feature-rich application, Notes comes with a clean and easy-to-use interface that takes users straight to the document editor without confusing them with unnecessary options.
It lists all your notes in the side panel, where you can access them with a single click. The document editing and sharing options are also easily accessible and ensure that users are not distracted from their primary tasks.
Overall, Notes is a powerful application that can quickly become your go-to document management and collaboration app, especially if you're an existing Box user looking to move all your documents to the Box ecosystem.
How Box Notes Works
Box Notes exists as a separate application inside your Box account. You can start using it by either creating a note directly from your Box dashboard or going into Box Notes and adding a new note.
Box Notes comes with a host of document management, editing, sharing, and collaboration features.
Let's discuss its core features one by one.
Document Creation
Box Notes comes with a wide range of document creation and editing options. You can start with a blank document and structure it according to your needs. Or you could use one of the templates from the Box Notes library designed for various business goals.
As you can see, Box Notes offers five different document templates, plus the option to start with a blank note.
You can start using any template by selecting and clicking the Create button.
For example, I selected the Meeting Agenda template to create a new note in my Box account.
Once inside the Note editor, you get a host of different editing options. Since I've used a template, it already has various editing elements that I can use.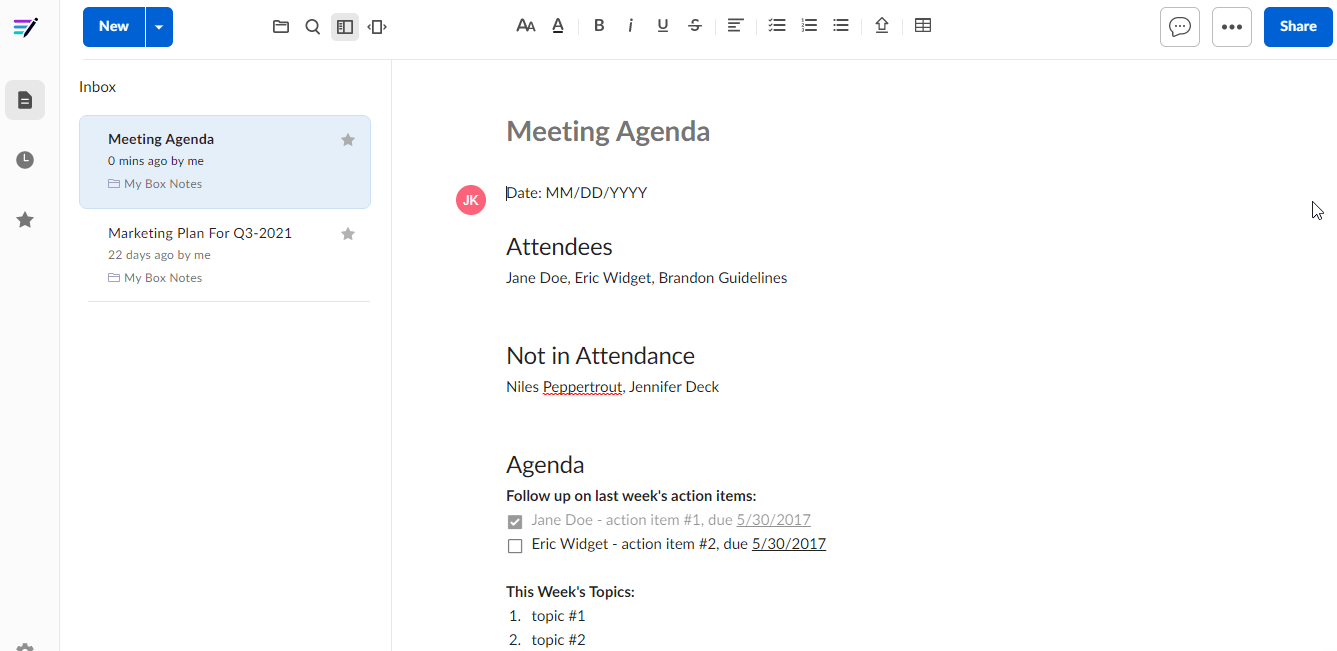 For example, you can give your note a date, create different sections using sub-headings, add agenda checklists that the users can mark off, or add a simple numbered list. There are other options like adding images, inserting tables, tagging other users, etc.
In short, Notes gives you a complete document creation and editing solution you can use to create any type of document.
Co-Editing And Sharing
Collaboration is at the heart of everything Notes offers. It's a completely collaborative platform where you can invite up to 20 users to access, comment, view, or edit documents together.
To make everything clear, Notes shows you what different users are doing in a document by displaying their pictures on the edited part.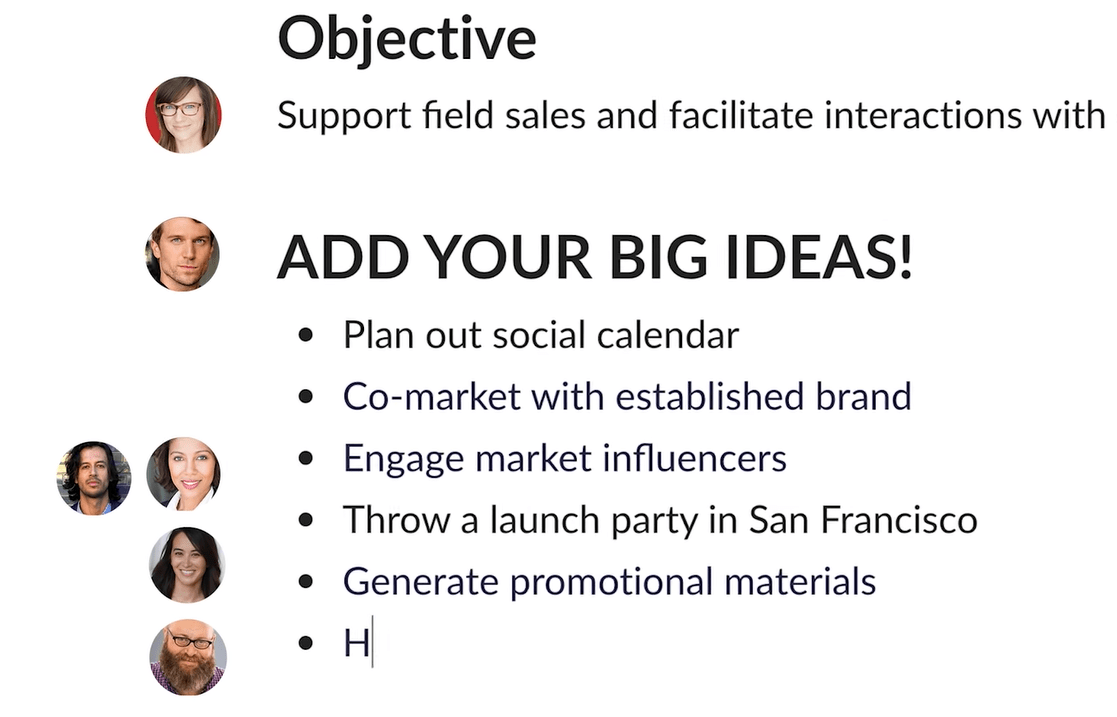 To avoid any problems in collaborating on a file, you can also temporarily make notes inaccessible to the other users so that you can make all the changes you want.
Notes also gives you full user management features, which means you can decide the access level of users in a document.
You can add users to a note with view-only and edit rights. You can also create public links to share with people outside your organization. To keep your documents safe, you can also create limited-time links that are automatically disabled after a specific time.
The authorized users in a note are notified when someone tags them or updates a document via email and app alerts.
Annotations
Annotations play a crucial role in collaborative document editing. It eliminates confusion and allows users to specifically highlight and comment on different sections of a document.
Box Notes annotations take this a step further by allowing you to add annotations anywhere in a document. You can highlight a small part of the text, an image, a table field, a link, or anything else to add your comments.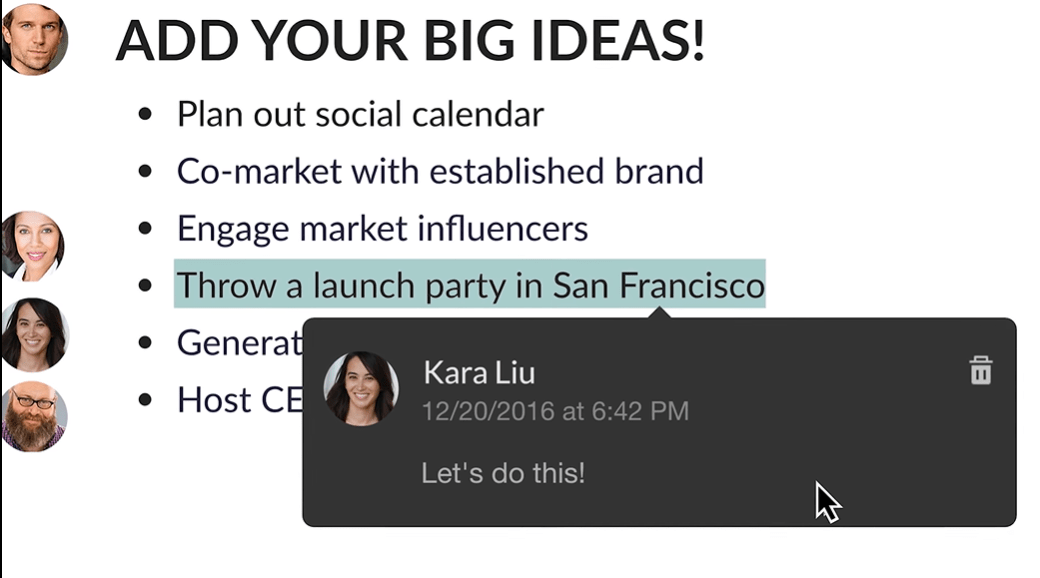 To make your annotations more specific and actionable, Notes also allows you to tag different users so that everyone knows exactly who you're talking to. The relevant users can resolve your comments to hide them from the document. However, you can always see all your annotations if you want.
Comments
Comments are similar to annotations, but they're organized in the messaging interface of Box Notes. You can open the messaging interface by clicking the messaging icon on the top of your Notes window.


You can use this interface for a general chat with other users or tag specific users to ask questions, seek feedback, encourage participation, or assign tasks.
The messages in the comments section are visible to all the authorized users in a note.
Images
To create richer notes, you can upload and add images as well. If you're using the web version of Box Notes, you can upload images from your computer, a link to a Box image file, or a preview of an image file in Box. The same options are available to Box Notes desktop app users as well.
However, Box mobile app users can also capture and upload images using their smartphone cameras.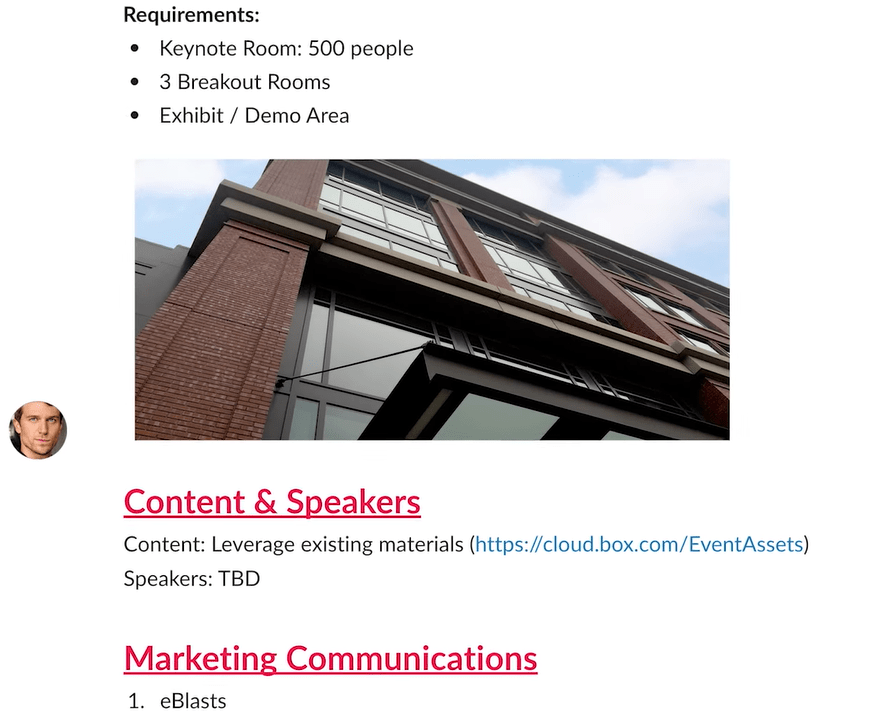 You can enlarge images to improve visibility and also add hyperlinks if needed.
Document Version Management
When you create a new Box Note file, it is automatically saved to your Box account. Any changes you make to the file are saved in real-time, which means you don't need to worry about losing your data in case of an emergency system shutdown or accidentally closing the browser.
Secondly, Box Notes automatically manages the complete change history for every document. You can view the changes to a document by different users by opening the version history section from your note's options.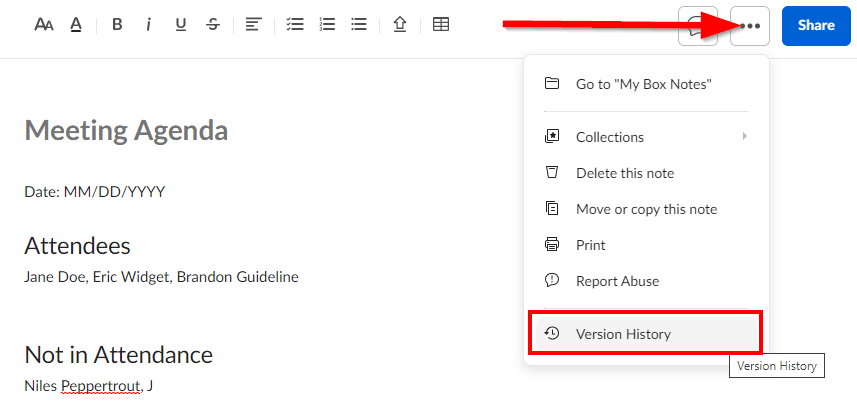 Here, you can see the various versions of your document and the users who've made changes to them. To activate any previous document version, select it and click Restore.
Box Notes Desktop Application
You can also use Box Notes on your Windows or Mac computers. Its desktop app offers all the features in the web version, but it also allows you to create and edit documents offline. Once you get back online, your changes are automatically synced with your Box account.
You can download the Notes desktop application from its Desktop App page.
Example 1: Using Box Notes For Meeting Notes
Box Notes is an excellent tool for capturing and managing meeting notes. Instead of taking useless meeting notes in isolation, make it a collaborative effort by using Box Notes.
The next time there's a meeting, create a Box Note file with your crucial agenda points listed as sub-headers.
Now create a link to your note that grants edit rights to all the relevant stakeholders, and share it with them in your meeting invitation.
This gives your participants early insights into the key discussion points.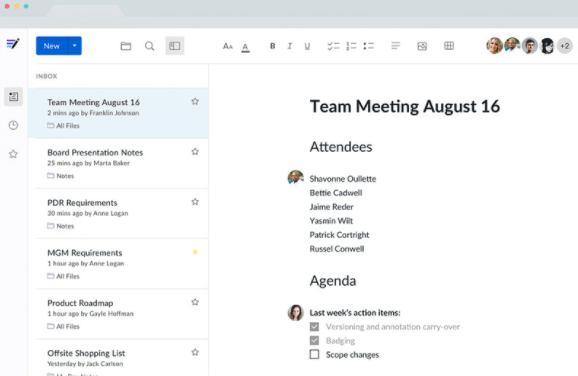 When the meeting starts, you and the other participants can easily add notes and ideas under the relevant headers.
By the time the meeting ends, you'll have comprehensive meeting notes covering all the key ideas discussed between the participants.
Additionally, you can tag different participants to assign tasks as a result of the action items identified in the meeting.
Example 2: Create Better Project Plans Faster
Multiple meetings, unavailability of stakeholders, miscommunication, and prioritization are among the biggest hurdles in effective project planning.
Because of these bottlenecks, even the most significant projects of a company can get delayed unnecessarily.
Box Notes removes most of these bottlenecks with its collaborative features that allow all the relevant stakeholders to use a common platform for sharing ideas, adding tasks, tracking progress, and countering any potential showstoppers beforehand.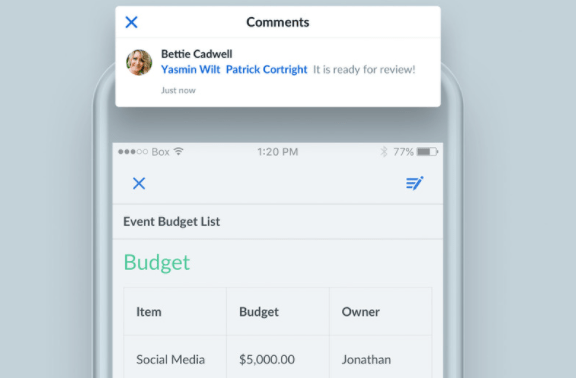 You can use Notes to connect all the important stakeholders irrespective of their location. Plus, everyone can see the progress on a document in real-time and share their feedback whenever convenient.
This allows project managers to execute project planning sessions more effectively and get things done much faster than the conventional meeting model.
How to Get Started With Box Notes
Now that you've understood the core features in Box Notes let's quickly find out how to start using them.
Creating A Box Account
To use Box Notes, you need to have an active Box account.
Here's how you can create one.
Step 1: Visit the Sign Up page of the Free Personal account on Box. You get 10 GB of storage and a 250 MB file upload limit with a free account.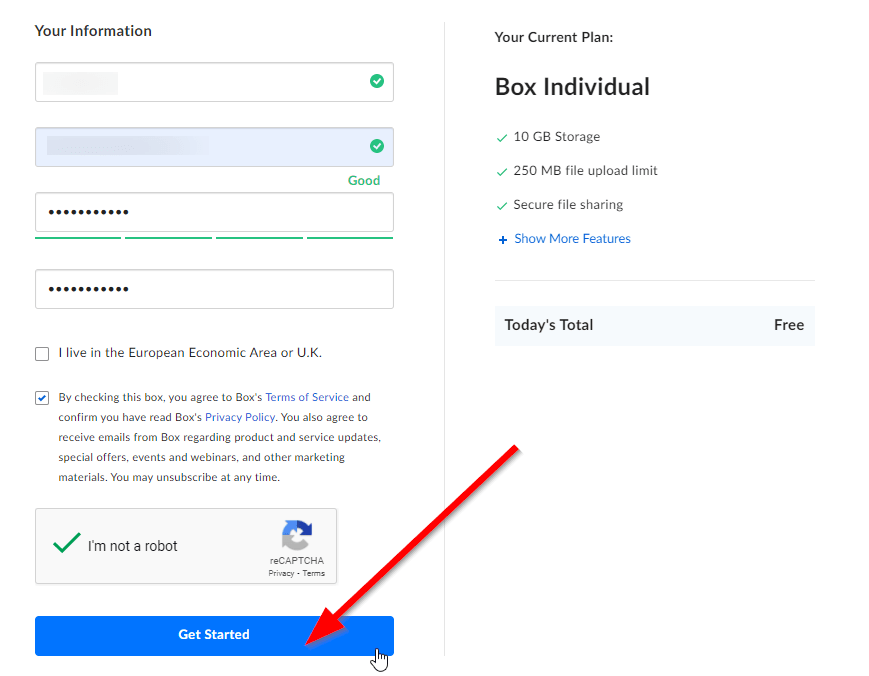 Step 2: Enter your name and email address, create a password, then click Get Started to create your account.
Step 3: Verify your account by clicking the verification link in the email sent to your registered email address by Box.
Now you can sign in to your Box account using your login credentials.
Let's move to the next steps.
Creating A Box Notes File
Box Notes is already a part of your Box account by default. Here's how you can use it to create new notes.
Step 1: Sign in to your Box account.
Step 2: Click on Notes in your account left menu.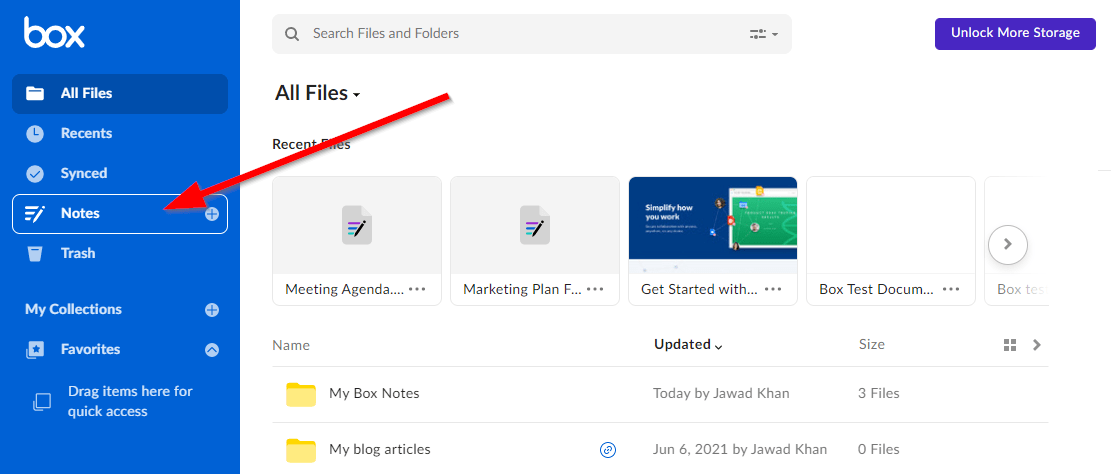 Step 3: Click New to create a new blank note.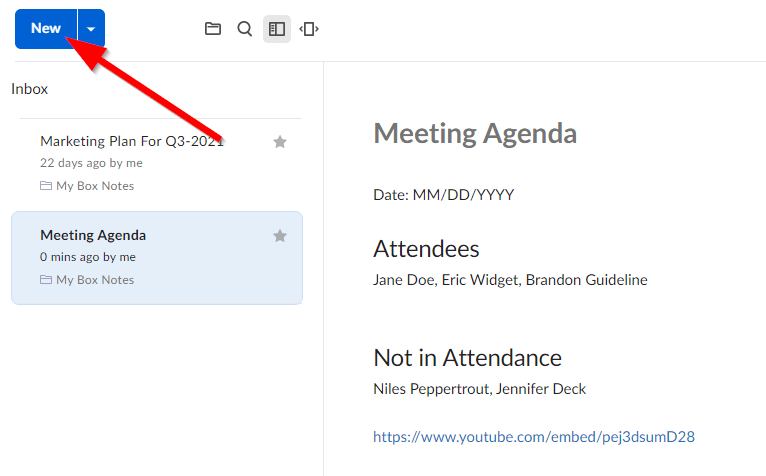 Step 4: Give your note a title to save it to your Box account.


You've successfully created a new Box Note.
Sharing A Box Notes File
You can share a Box Notes file with your colleagues, co-workers, and clients. Here's how to do it.
Step 1: Open the Box Notes file you want to share.
Step 2: Click Share to open the different sharing options.


Step 3: To get a shareable link to your note, click Get Link.
Step 4: To give edit or view-only rights to the link users, use the option below the link.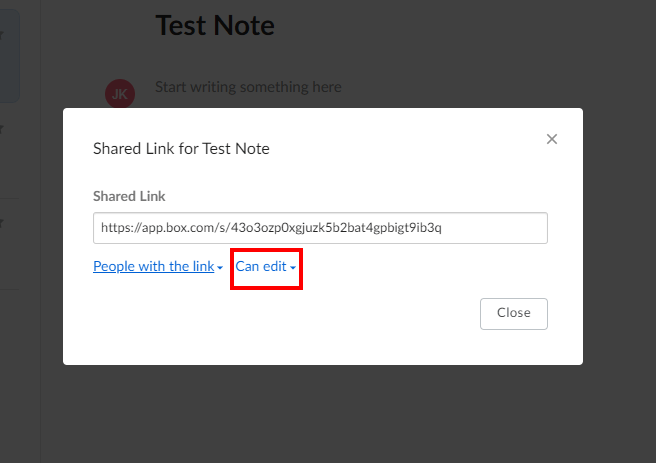 Step 5: Copy the link by selecting it and pressing CTRL + C.
Step 6: Click Close to exit.
Step 7: To invite other Box users in your company to edit a note, click Share → Invite people to edit.
Step 8: Enter the email addresses of the people you want to invite.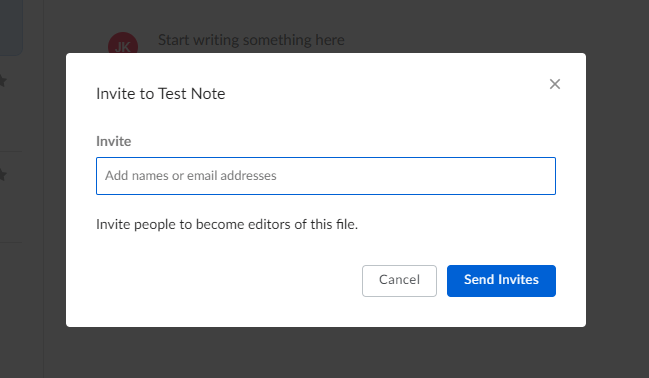 Step 9: Click Send to send the editing invitation.
You have successfully shared your Box Notes file with other users.
Commenting In Box Notes File
To chat with other collaborators in a document, follow these steps.
Step 1: Open the note where you want to collaborate.
Step 2: Click on the comment icon on the top of your Notes editor.


Step 3: Type your message.
Step 4: To tag a specific user in your message, type @ followed by their name.
Step 5: Click Post to publish your comment.
You have successfully posted a comment in Box Notes.