The Ultimate Manual To Box E-Signature
Remote workforces are an ongoing business trend today. More than ever, businesses need to implement a system that allows them to conduct their operations securely—without becoming overly complicated for employees.
Box, one of the leading cloud-based content management systems, makes it easier for workforces to collaborate in a secure environment. While the platform offers tons of excellent features, we're going to focus on the Box e-signature facility that facilitates seamless onboarding and document signing.
Let's dig deeper into how you can utilize this integration to simplify operations.
What Are Box E-Signature and Box Sign Anyway?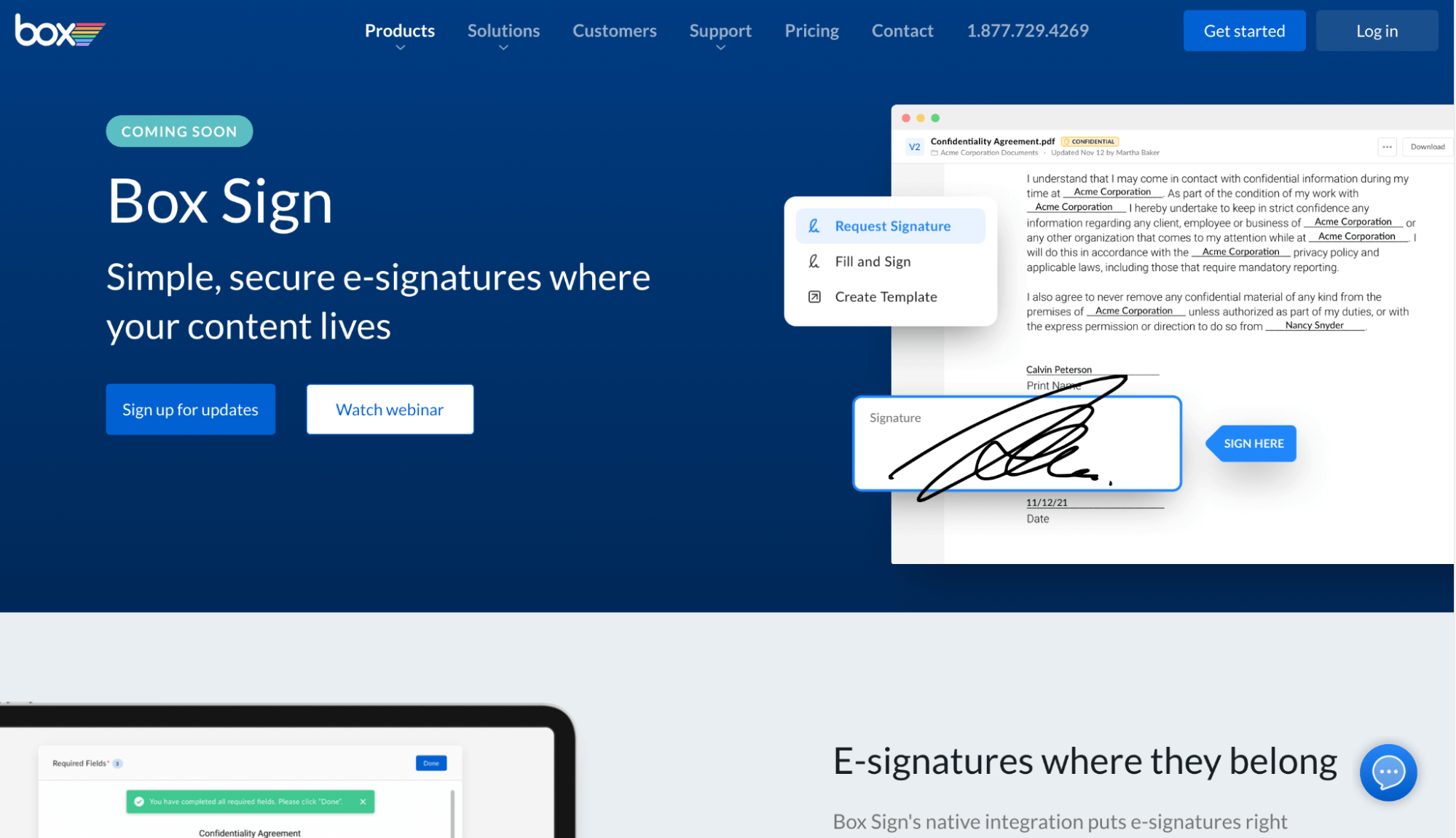 Box started as an online storage and file sharing platform, but it has quickly morphed itself into a provider of a wide range of content management services within the cloud. The latest addition to their umbrella of services is Box E-signature.
This innovative technology allows all involved parties to electronically sign documents automatically once Box is integrated with compatible e-signature software. In particular, the company announced its intended acquisition of SignRequest, a company that helps enable cloud-based electronic signatures (e-signatures) to keep up with the substantial digital transformation of enterprises—something that has only been accelerated due to the pandemic. Box plans to leverage SignRequest's technology inside a new feature called Box Sign.
However, Box Sign isn't available right away, which is why users will have to continue using third-party integrations that specialize in managing e-signatures in the meantime.
These native integrations allow users to put e-signatures on all documents stored in the Box platform. In turn, this makes the entire signing experience—from creating agreements to getting signatures to storing executed agreements—extremely convenient and secure for all the involved parties.
How Box E-Signature Works
Box's decision to integrate with SignRequest, or offer e-signatures in the first place, is a no-brainer.
It makes perfect sense to join forces with reliable e-signature software. In addition to its modern interface and reasonable subscription plans, Box will crack entry barriers for the other enterprises. In other words, this move makes the platform a "complete" solution in a sense, considerably increasing its appeal to businesses.
Plus, the whole point of the platform is to store files and folders that are usually part and parcel of such transactions. After adding e-signatures, the company can now finalize transactions through e-signatures within the platform in addition to hosting the content.
Box Sign is a pretty straightforward functionality. You can embed Box Sign into your website and custom applications, followed by uploading documents and signatures, which is then encrypted to create a unique hash. It's this unique hash that keeps the whole process secure.
But until Box Sign is available, you can integrate with SignRequest directly to create legally binding digital signatures and import templates via cloud-based services. There are also several ofter e-signature software that can be integrated with Box. We'll discuss this in more detail in a bit.
Box's e-signature is designed to empower teams and simplify processes. Here's a brief rundown of how the integration helps different departments in a business:
Sales – Sales teams can close deals faster by automating contracts and document signing.
HR – The seamless signing experience accelerates the hiring process by making onboarding easy and streamlined for new hires.
Legal – Various e-signature services often offer templates and workflows that can be used to standardize contracts and minimize legal risks.
Marketing – Agency SOW sign-off and collaboration help speed up campaign launches.
Procurement – Centralized supplier agreements and signatures facilitate vendor onboarding.
Finance – Streamlined e-signatures and audit trails make it easier for the finance department to manage budgets, invoices, POs, and other social documentation.
As mentioned previously, you can link your Box accounts to third-party e-signature software that specializes in sending, receiving, and managing legally binding e-signatures. Keep reading as we outline three of the most popular e-signature integrations.
Example 1: Box E-Signature and HelloSign
Integrating Box with HelloSign allows you to access and sign Box documents directly from your HelloSign account.
You can pull in the necessary files from Box after signing into your HelloSign account. Alternatively, you can select a specific Box document and request signatures using the HelloSign option in the Box application navigation menu.
Once that's done, a copy of the completed document will automatically be stored in your Box account.
Example 2: Box E-Signature and DocuSign
Similar to HelloSign, DocuSign is another e-signing service that lets you review, comment, and approve documents.
You can use Box for DocuSign to create, red-line, share, and execute files with DocuSign. All the copies are stored in Box once all the intended parties finish signing the files. So you're also assured of file organization and security in addition to convenience.
Example 3: Box E-Signature and OneSpan
OneSpan keeps all your documents digital by collecting e-signatures directly from Box.
The platform's API and SDKs allow you to integrate e-signatures into your Box app easily. OneSpan has also developed a detailed user guide, relevant documentation, and a community portal to guide you through the process.
Moreover, all e-signed documents and audit trails are saved automatically back in Box once the signing is complete.
How to Get Started with Box E-Signatures
Signing critical documents electronically is both secure and legal.
Box, in particular, is one of the safest cloud-based platforms that leaves no stone unturned to bring you secure, compliant signatures. And while it does that, you can also use its services to define one consistent information security and governance policy to apply throughout the content journey.
Want to give it a try? Here's how you can get started with Box e-signatures:
Step 1: Sign Up With Box
The first step to getting started is to make a Box account.
You can choose from two categories of plans: Individual and Business. The Business Starter plan starts from $4.75 per user per month and goes on to $35 for the Business Enterprise plan. You can also opt for the Individual plans, but they aren't suitable to meet your corporate requirements.

Hit the Buy It button to purchase a Box plan. Follow this up by filling in your personal and credit card information. You will immediately have access to the Box platform, including e-signatures.
If you already have an account, you can directly go to the login page to start signing paperwork electronically. Make sure you enter your email/username and password correctly to access your Box account.
You can also opt for a free trial to test-drive the Box E-Signature feature.
Step 2: Integrate With a Third-Party Signature E-Signature and Agreement Cloud Service
As mentioned above, there are tons of other e-signature cloud services in addition to SignRequest that can integrate with Box to create a seamless electronic signing experience for your employees, customers, and partners.
From DocuSign to HelloSign, you can choose any service you like best. While you can go to system settings to integrate the services with Box, you can also contact customer support for assistance.
Here's how you can integrate your Box account with your HelloSign account:
Log in to HelloSign.
Hover over your email address on the top right corner of your screen. Click on Settings, followed by Integrations.
Look for "Box." Once you find it, select Activate on the right-hand side.
Allow access to complete the integration.
You can integrate other third-party e-signature cloud services with your Box account in a similar way.
Step 3: Upload Documents and Files to E-Sign
Once you've integrated Box with the other e-signature company, you have two options:
You can e-sign documents directly from the third-party cloud's platform after exporting them from Box.
You can e-sign documents in Box itself by clicking on the name of the third-party service. You should see this option after selecting a specific document on the Box platform.
Continuing with our HelloSign example, here's how you go about this:
Click on the Box icon to upload the document that needs to be signed. This will allow you to pull a file from your Box account.
Once the document is uploaded, you'll see the options to e-sign automatically. You can send the document to other people, requesting them to e-sign it and send the document back to you.
And that's it! This is how easy your corporate life can be if you use the Box e-signature feature. Moreover, you won't ever have to worry about misplacing your paperwork as once all the documents are signed, they're stored automatically in Box.