The Ultimate Manual For Box Collaboration
Box is among the world's most popular document and file sharing tools used by over 90,000 customers, including 67% of Fortune 500 companies.
It allows you to share files with other users and gives you several collaboration features to create, edit, and manage your content as a team.
In this detailed guide, we'll look at some of the main collaboration features and tools in Box and how you can use them to get things done faster.
What is Box Collaboration Anyway?
Box is a cloud storage service that allows you to save your documents, videos, images, presentations, and other files on secure servers.
It also allows you to share your files with your colleagues, friends, and even the general public using various sharing options and access rights.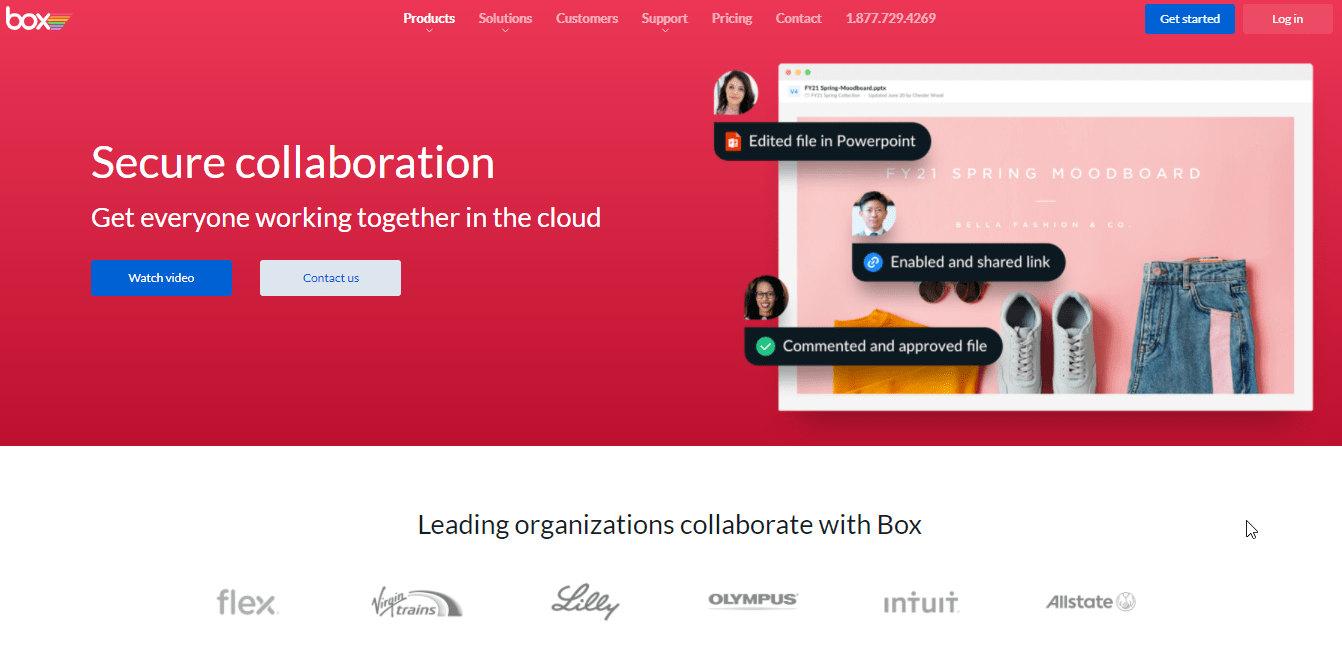 Box is an ideal collaboration tool for official documents, presentations, legal contracts, marketing plans, and other crucial files that often require input from other stakeholders or go through multiple approval cycles.
When using Box, you and your team members can collaborate on different documents and files, edit content, request changes, or seek clarification on different parts of an article, image, or video using screenshots.
It also comes with a messaging interface in which you can tag other collaborators, assign tasks, set deadlines, and brainstorm ideas.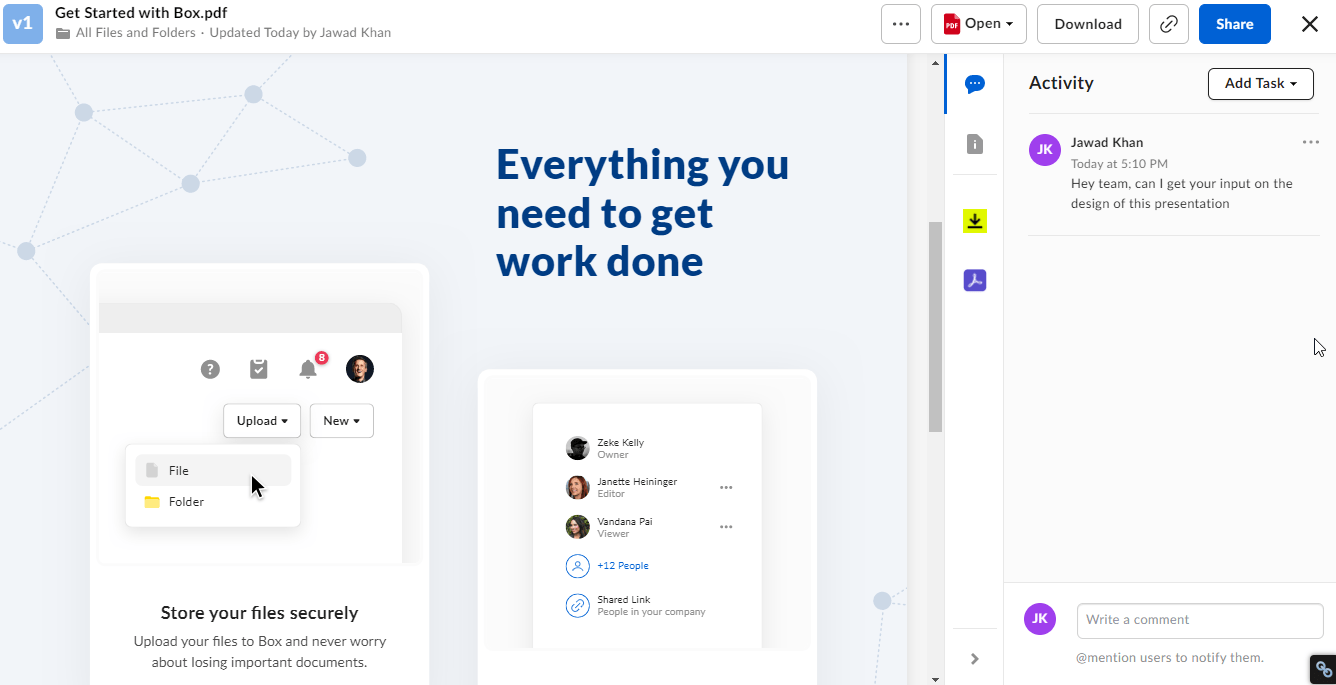 Using this interface, you can create tasks for specific team members to mark as completed before the deadline. Or you could create tasks that require approval from another team member by a particular date. Either way, you can use it for day-to-day task management and even for smaller projects.
Apart from allowing you to collaborate on different files, Box also provides you with a document creation and management app called Box Notes.
Notes is a document collaboration tool similar to Google Docs. You can use it to create official documents that multiple users can edit and access simultaneously.

It gives you all the conventional document editing and formatting options and allows you to add videos, images, presentations, etc., to your content.
You can also insert tables, create checklists, and tag users in different sections of your document to seek input.
And to make collaboration even easier, Box seamlessly integrates with dozens of different productivity, collaboration, project management, and business tools. This allows you and your team members to work together on your content without leaving your favorite apps.
In short, Box gives you reliable document management and collaboration platform to share ideas and create better content together.
How Box Collaboration Works
Box gives you several collaboration tools to share your work with other users and create great content together.
Let's take a quick look at some of its tools that work together to provide you with a seamless and collaborative work experience.
Box Drive
Box Drive is a desktop application for Mac and Windows which allows you to sync your local files with your Box account.
It creates a folder in your PC that's synced with your Box account. Any files or folders that you copy to this folder are uploaded to your account.
Similarly, you can use Box Drive to access your Box account files from your PC. To start syncing your files automatically with Box, you can download the Box Drive desktop app and copy your files to its folder. The file and folder structure you follow in the desktop app will be used for your Box account.
Box Folders
To better organize your files and share them with only the most relevant users, you can create different Box folders. You can create folders for different departments in your company, various cross-functional projects, or teams with common goals.
A folder can carry an unlimited number of files as long as they're within your account storage limit. You can invite users to different folders and apply user permissions to all files in a folder together.
Box Files
Box can host your documents, presentations, videos, audio, PDFs, and other popular file types. You can manage the access permissions for every file individually or collectively for their folder.
Box gives you file previews for more than 120 file types which means you don't need to download them to see what's inside.
Files are the place where the real collaboration takes place in Box. You can open a file, leave comments, tag users, assign tasks, and perform a host of other actions in Box.
Box Notes
Box Notes is the document creation, editing, and collaboration app in Box. It allows you to create all kinds of documents from scratch, invite other users to edit them with you, and share them with anyone you want.
Box Notes documents can exist as a part of a folder in your account or as independent files.
Comments and Annotations
Inside Box Notes and the file editor, you can highlight different document sections and leave comments. In your comments, you can also tag other users to seek feedback. Similarly, you can add annotations to different parts of a document for more clarity.
Tasks
The file editor in Box has a handy feature that you can use for assigning tasks to different team members or seeking approval from your bosses. Simply create a task with a description and a deadline and tag the relevant user for their input. Box will keep reminding the relevant users until they mark the task as complete or resolve it from the Box editor.
Box Collections
Collections is another way to organize and share your files in Box. A Collection can include multiple files and folders related to the same business goals.
Box Mobile App
You can also create, share, and edit files using the Box mobile app for Android and iPhone. Any changes you make to your documents are synced with your account and reflected across your devices.
These features combine to make Box an excellent collaboration and file-sharing tool.
Let's now look at two examples of how Box can help you collaborate more efficiently.
Example 1: Edit Documents With Your Team Members
Box comes in handy when you're creating documents that require input and feedback from multiple stakeholders. Creating multiple versions of a document is an outdated way to collaborate and poses several security risks. Plus, it dramatically reduces the efficiency of the whole process.
With Box, you can invite multiple team members and even outside users to a document. Simply invite users to your document or share an invitation link to give them access.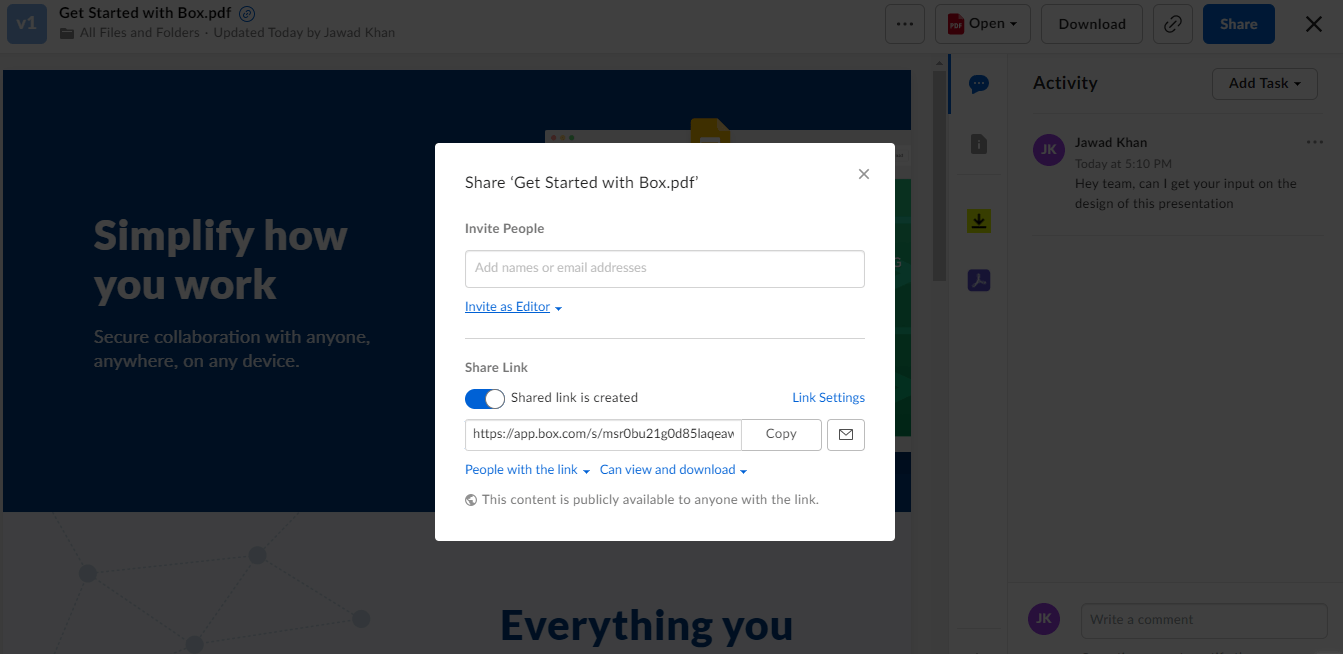 To ensure that your content remains safe, set access permissions for the users so they can only perform the needed actions.
You can also communicate with other users in real-time by using the messaging interface in the document editor.
Example 2: Perform Task Management Within Documents
You can also use Box as a task management tool for different projects. Suppose you have a project plan document that requires specific actions from various stakeholders.
Instead of managing and tracking those actions outside the project plan document, use Box to centralize the whole activity and manage your tasks in real-time.
To do that, open the project plan document and create a task for the relevant user in your team.

Assign the task to the relevant user and describe what needs to be done in detail in the description box. You can also add a deadline to ensure that the task is completed when you need it.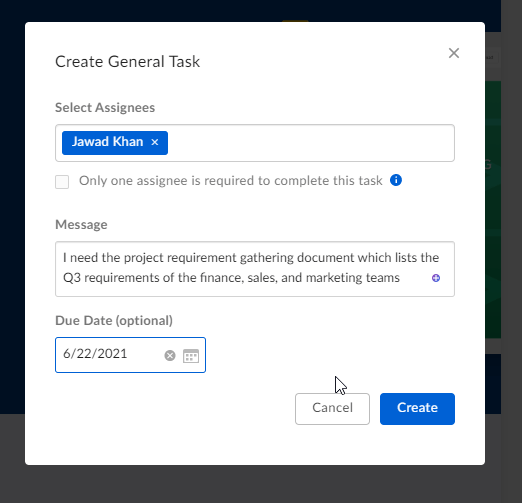 The task is immediately assigned to the relevant user, who has to mark it as complete before the deadline.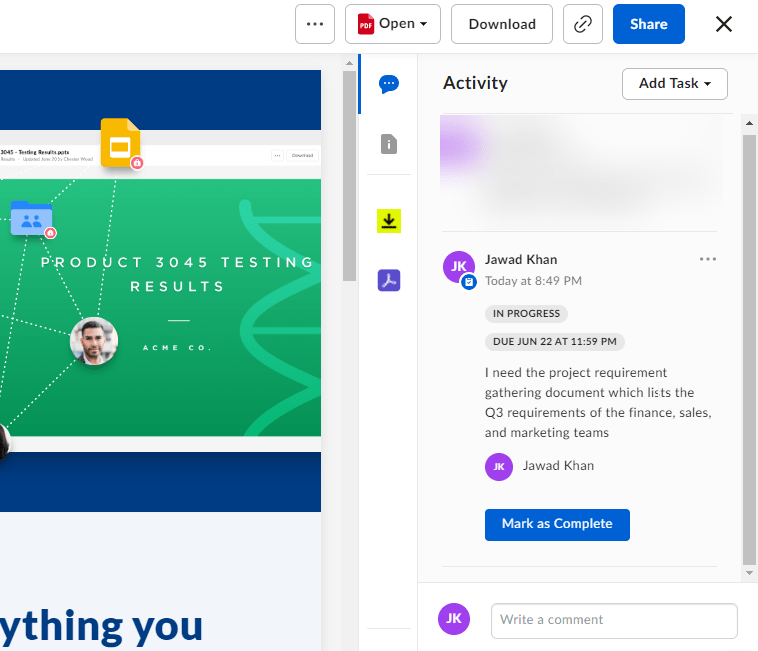 Every pending task has an in-progress label with it along with its deadline.
The responsible users are also notified via email, and regular reminders are sent until they complete the task.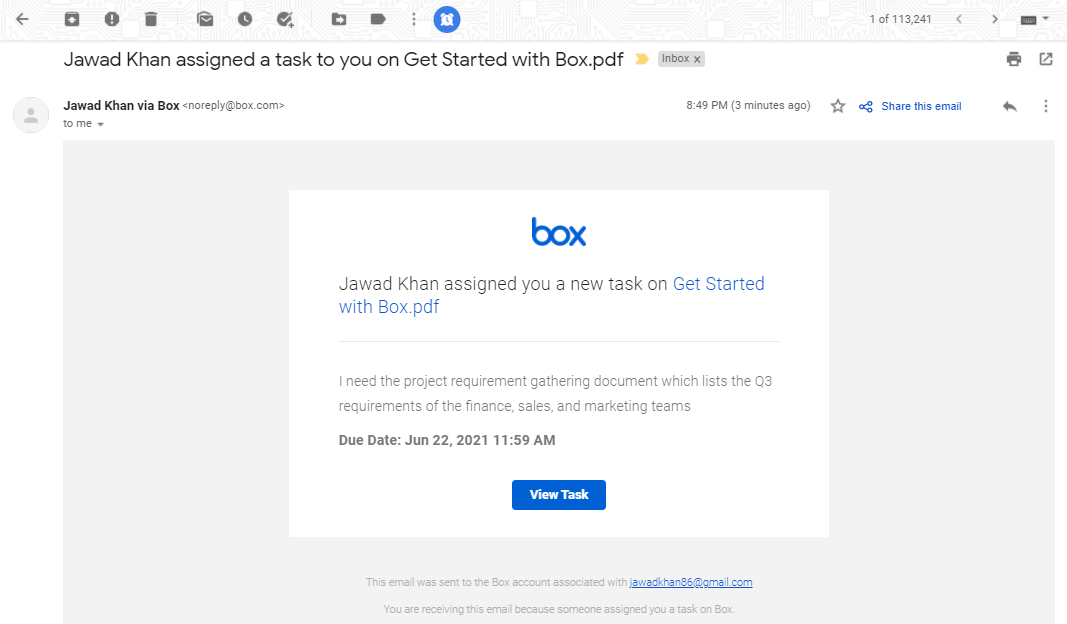 This simple interface allows you to collaborate on important tasks without leaving the Box ecosystem.
How to Get Started With Box Collaboration
Here is how you can get started today with Box's collaboration features.
Step 1: Sign Up For A Box Account
To start using Box for collaboration, you first need to sign up for a Box account.
Here's how you can do it.
Visit the Sign Up page of the Free Personal account on Box. You get 10 GB of storage and a 250 MB file upload limit with a free account.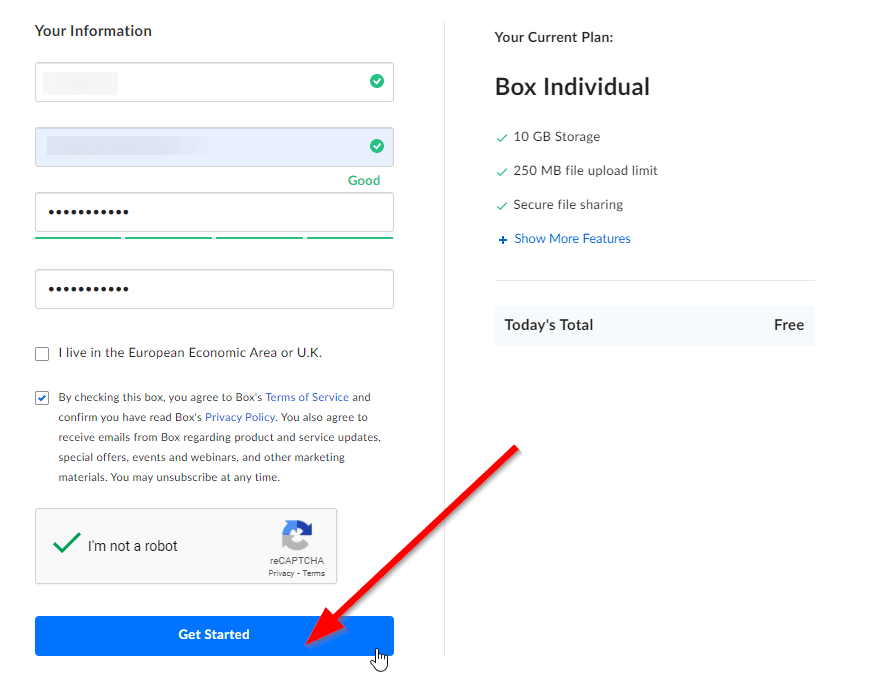 Enter your name and email address, and create a password, then click Get Started to create your account
Verify your account by clicking the verification link in the email sent to your registered email address by Box.
Now you can sign in to your Box account using your login credentials.
You've successfully created a Box account.
Let's move to the next steps.
Step 2: Upload of Create A New Folder
Creating folders is an easy way to organize your files and share them with a group of users.
Here's how you can create a folder in Box.
To Upload A New Folder
Step 1: Click on the New+ button in your main dashboard.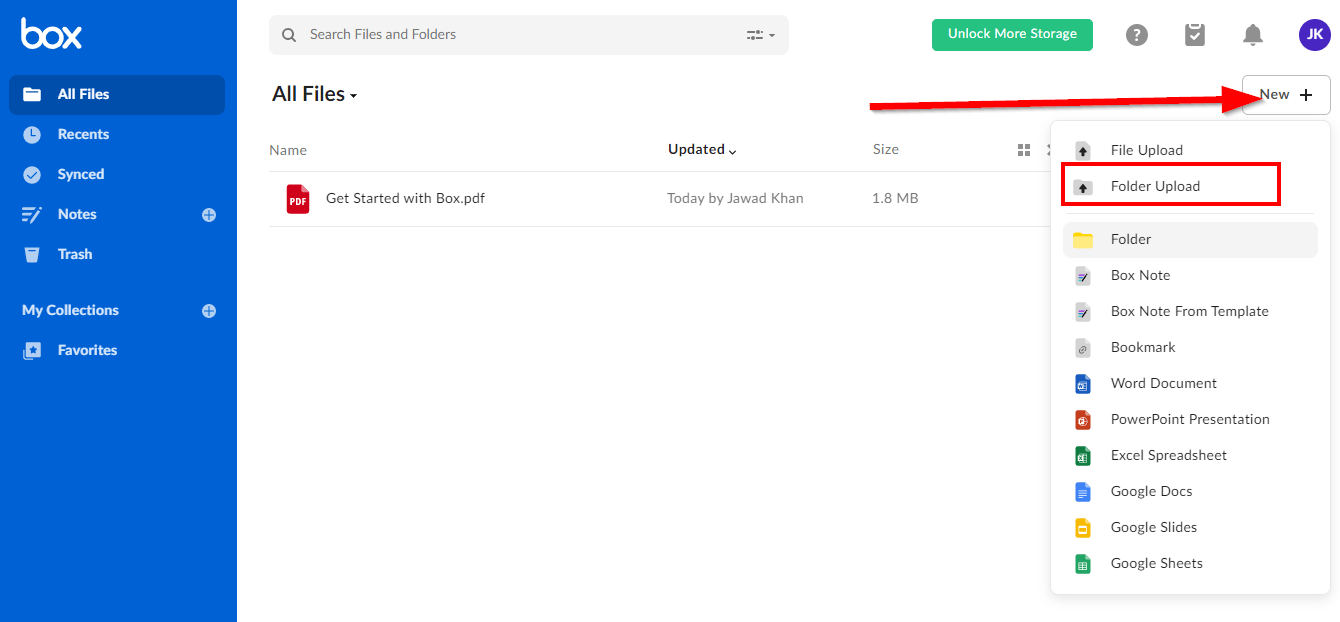 Step 2: If you want to upload a complete folder from your computer, click Folder Upload to open the file explorer and select the folder you want to upload to your Box account.
Wait for the files to upload (Box will show you the upload progress).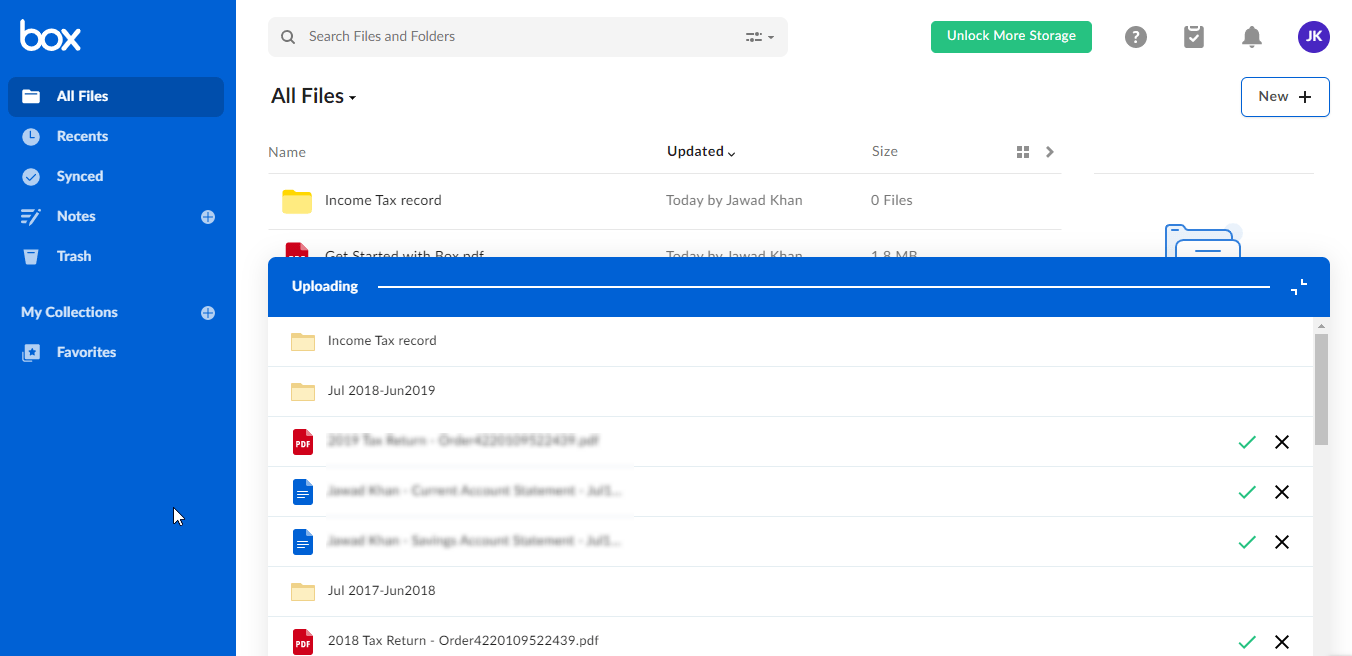 To Create A New Folder
Step 1: If you want to create a new folder, click on the New+ button in your main dashboard.
Step 2: Click Folder from the list.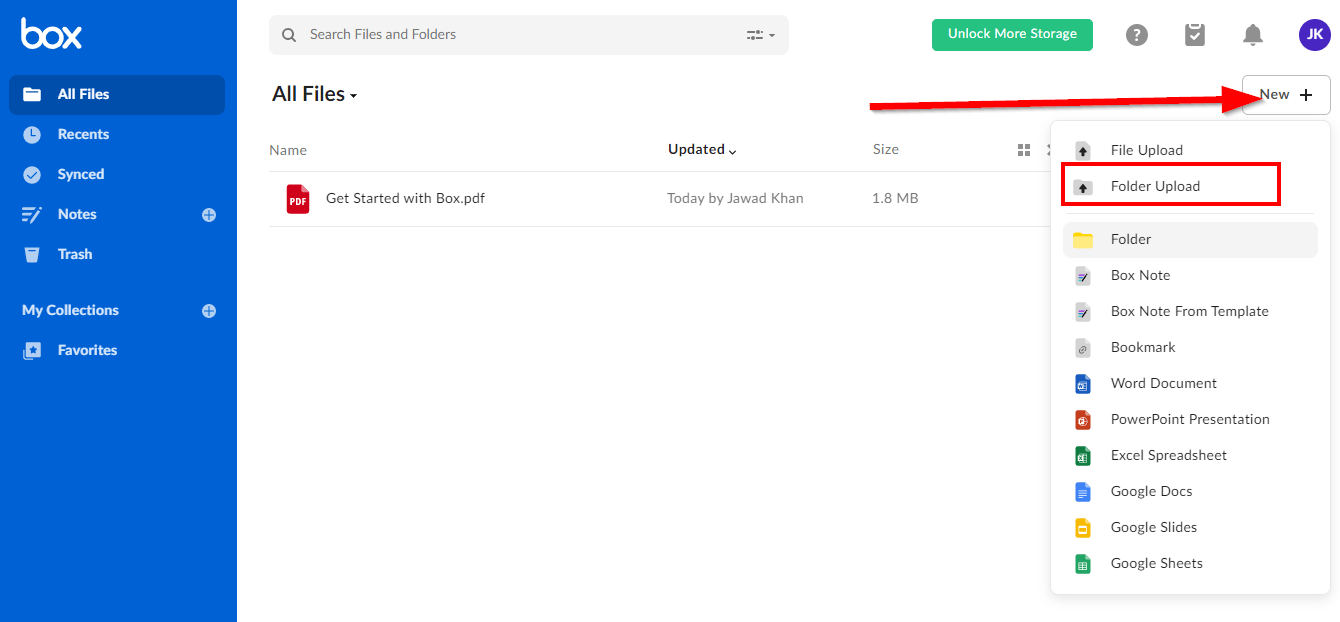 Step 3: Decide a name for your folder.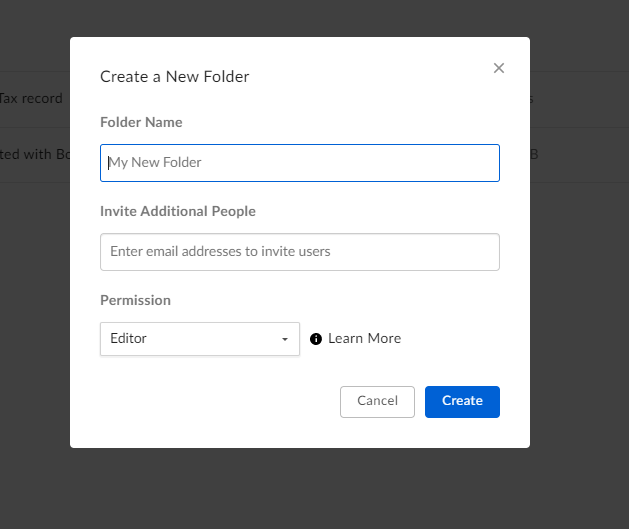 Step 4: Enter the email addresses of the users you want to invite to collaborate and choose a permission level for the invited users (optional).
Step 5: Click Create to finish the process.
You have now successfully created a new folder in Box.
Step 3: Upload or Create A New File
You can upload new files from your computer or create files from within Box in several ways.
Here's how to do it.
Upload A File From Your Computer
Step 1: In your Box account, click on the folder you want to upload the file into.
Step 2: Click the New+ button in your main dashboard.


Step 3: Click File Upload from the menu and choose the files you want to upload from your computer.
Wait for the upload process to complete.
You've successfully uploaded files to your Box account.
Create A Document In Box Notes
Here's how you can create a document in Notes.
Step 1: Click on New+ in your account dashboard.


Step 2: Click on Box Note from the menu and give your document a title.


Step 3: Create your content in the body text section.
Your content is saved automatically, so you don't have to worry about losing data if a system shuts down.
Step 4: Invite Users To Collaborate
Box offers multiple ways to share and collaborate with other users on files.
Share A Box Note
Step 1: To invite other users to collaborate on a note, click the blue Share button.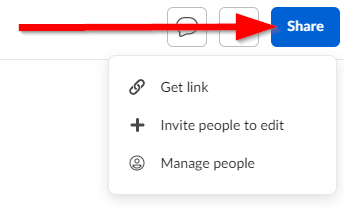 Step 2: Click Get link to generate a shareable link of your document that you can share with anyone.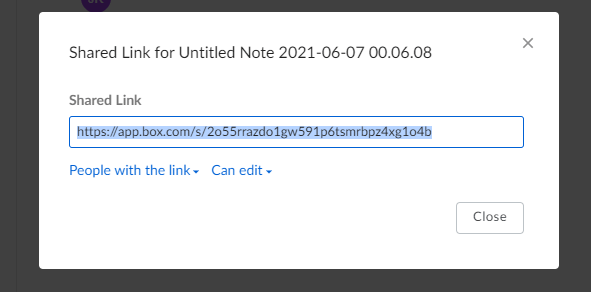 Step 3: Choose the user access rights from the menu under the link.
Step 4: Click Close to save changes.
Invite Users by Email
Step 1: Click Share → Invite people to edit.
Step 2: Enter the email addresses of the users you want to invite and click Send Invites to send the email invitations.
You have successfully invited users to collaborate with you on Box Note documents.
Share Files From Your Box Account
To share any other files from your Box account, follow these steps.
Step 1: Hover your mouse pointer over the file you want to share and click Share.

Step 2: Enter the email addresses of the users you want to invite and choose the role of the invited users.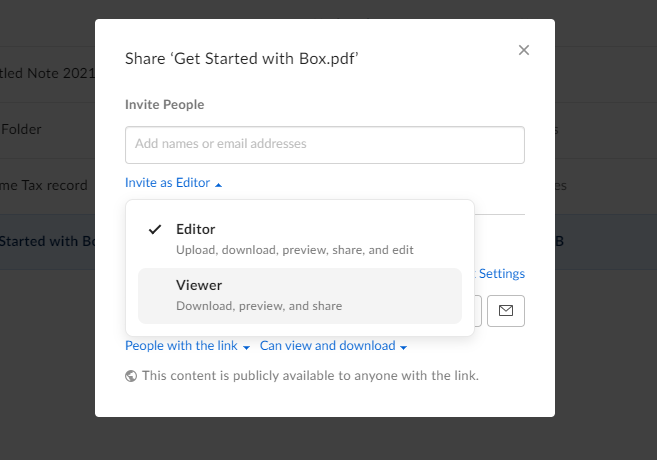 Step 3: Click Send to complete the process.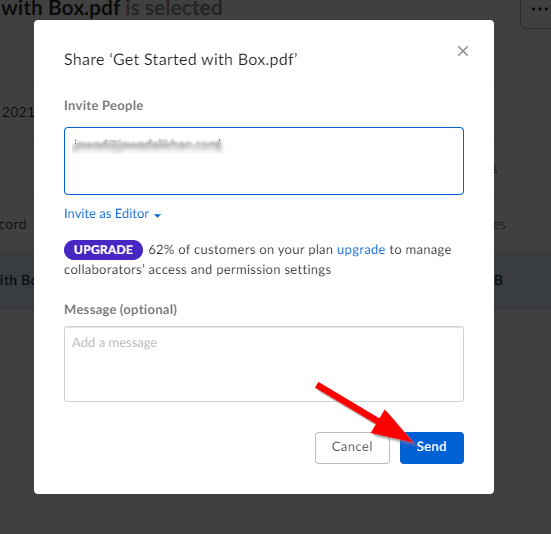 Invite Users With Public Link
Step 1: Hover your mouse pointer over the file and click on the link icon.
Step 2: Click Copy to copy the link and share it with anyone you want to invite.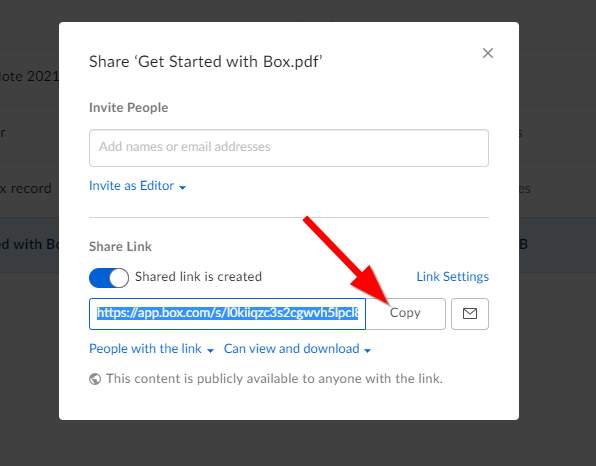 You have successfully shared your Box files with other users.
Step 5: Collaborate With Users In Box
To collaborate with users in Box, follow these steps.
Step 1: Open the file in which you want to collaborate.
Step 2: Draw a rectangle over any area you want to highlight for other users to see.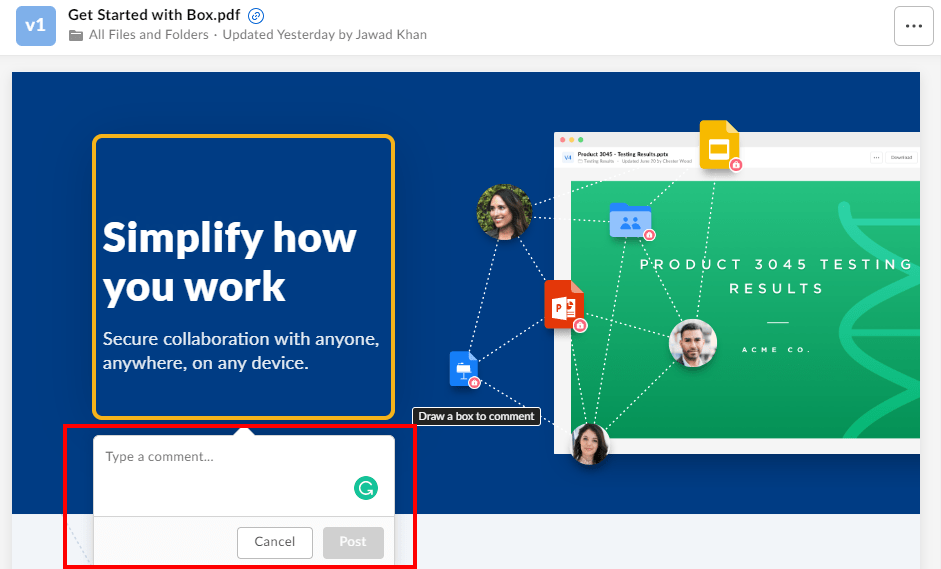 Step 3: Describe the point you want to highlight in the comment box by tagging the relevant user.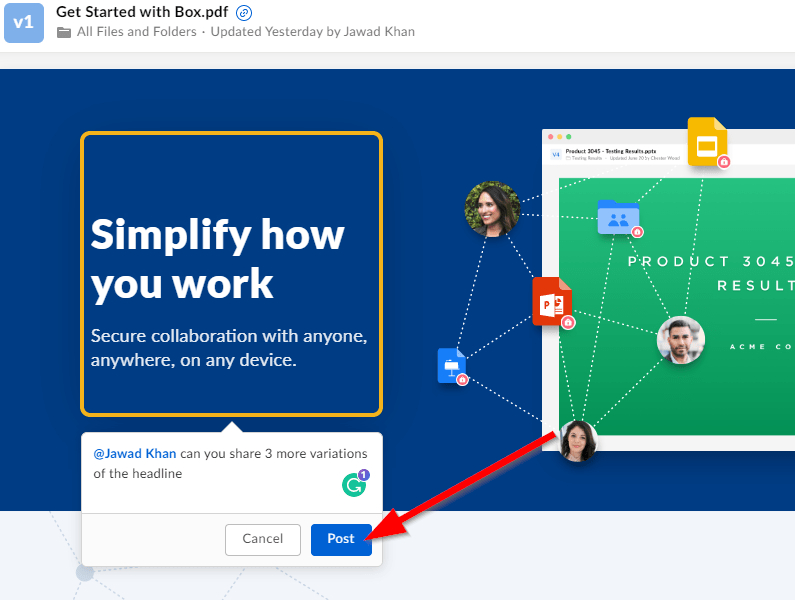 You can also highlight a specific section of text in a document and comment by tagging a relevant user.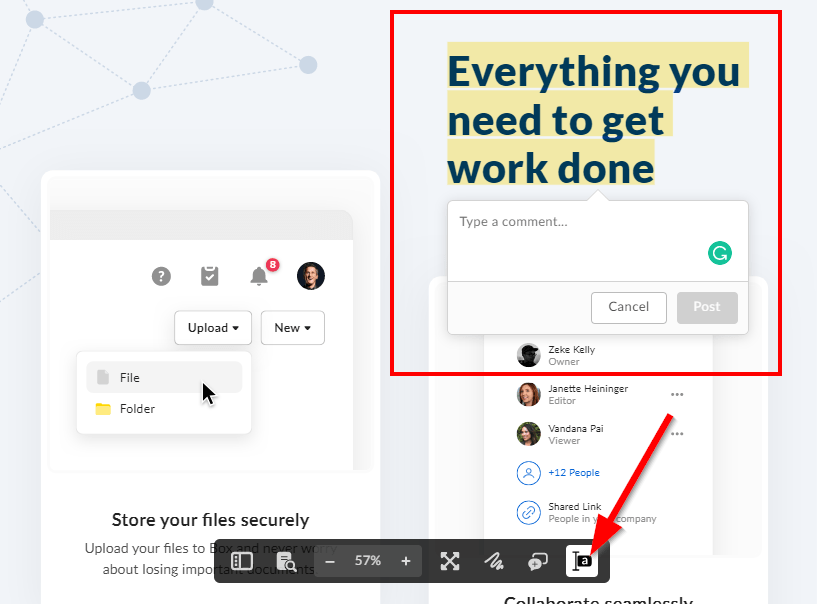 Step 4: To assign a task in Box, click on Add Task → General Task.

Step 5: Select a user from the list to assign the task.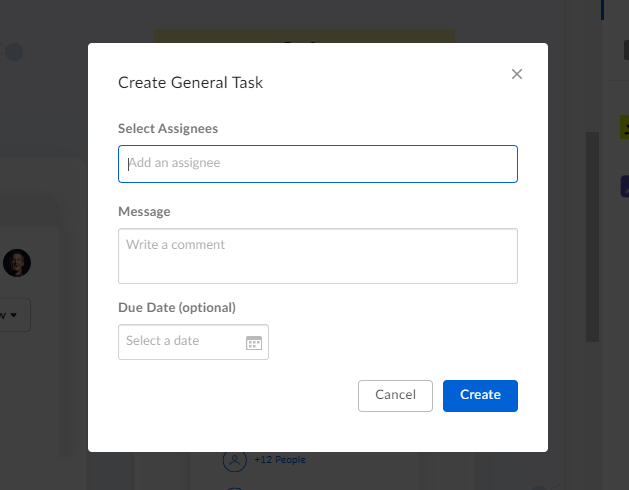 Step 6: Describe the task in the message section and choose a due date using the calendar.
Step 7: Click Create to assign the task.
You have successfully created and assigned a task in Box.