The 6 Best Workflow Management Software and How to Decide
You know you need a better way to manage workflows for your team and business. Because let's face it. Your current system of spreadsheets and unmanageable email threads simply isn't cutting it anymore.
But, choosing the best workflow management software is harder than it sounds.
They all claim to be the best of the best but how do you know which workflow management software is right for your business and current financial situation?
What makes them different? How do you know if you're getting the most bang for your buck?
If you're not sure how to answer these questions, you're in luck! In this article, I cover the six best workflow management software including a comprehensive step-by-step guide on how to decide which option is best for your specific budget, requirements, and business size.
So, let's get started!
1. ProWorkflow — Most Affordable for One User
If you're a solopreneur or freelancer interested in managing your workflows and organizing your business, ProWorkflow is a great choice. Their individual plan is affordable and includes several advanced features you won't find at this price anywhere else.
You get up to ten projects at a time with unlimited client access and collaboration. And with ProWorkflow, you can upload files, share notes with collaborators, organize your projects with categories, and track your expenses all in one place.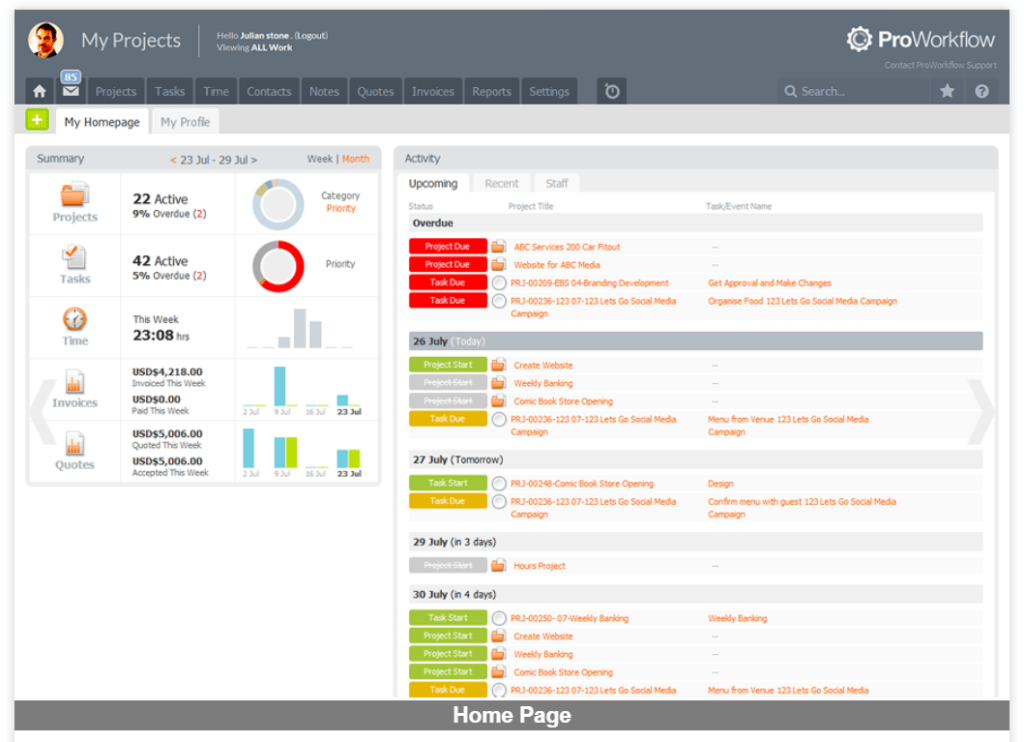 Furthermore, you can set up task dependencies and recurring tasks as well as create reusable templates, set custom color schemes, and leverage numerous different project views so you (and your clients) always know what's coming next.
ProWorkflow pros:
Affordable individual plan with plenty of advanced features
Easy to learn and use (even if you're not tech-savvy)
Everything freelancers and solopreneurs need to stay organized
Library of apps to add extra functionality to your workflows
Top-notch customer service
ProWorkflow cons:
Limited standard analytics and reporting
Low file storage limits
Minimal integrations
ProWorkflow Pricing
ProWorkflow has three simple plans and a free trial for new users to try it out before they commit. For one user or a small team, ProWorkflow is affordable which makes it the perfect choice for freelancers and solopreneurs.
But as you add more users and require more advanced features, the cost adds up quickly. So, If you need more than a few users, I recommend going with a more affordable option.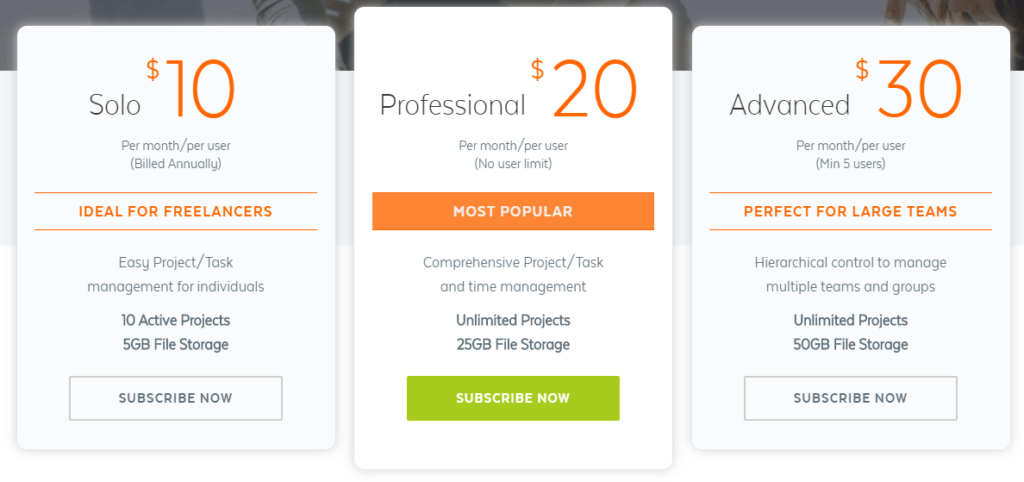 2. Wrike — Best for Enterprises and Large Companies
Wrike is built specifically for enterprises and large businesses interested in managing their workflows, enhancing team collaboration, and delivering projects on time. So, if that sounds like you, Wrike is a great choice.
They take project organization, team communication, and analytics to a new level for large teams. Plus, you can rest easy knowing the platform can handle your business projects as they scale because Wrike focuses on enterprises and the specific workflow features they need.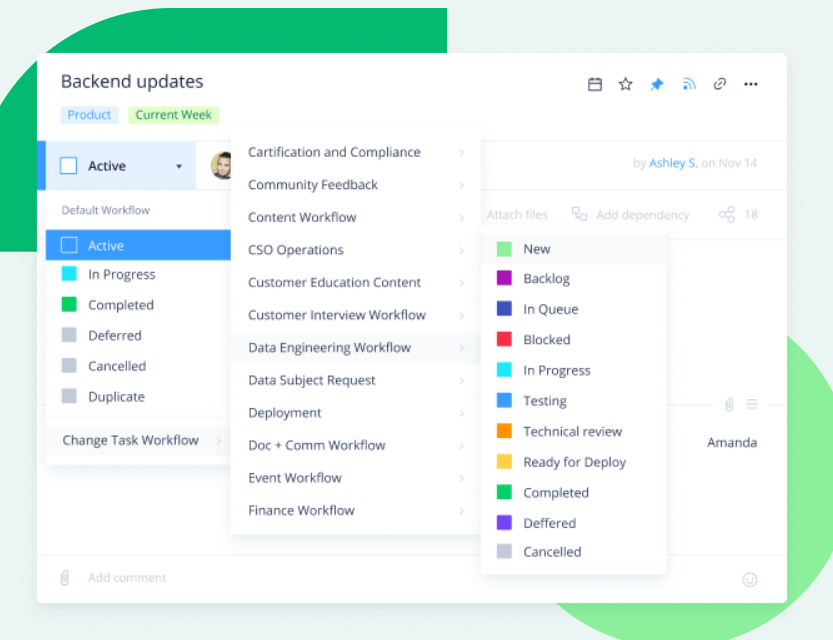 From an impressive list of software integrations to countless advanced features included in their top plans, Wrike is built with large companies in mind. Plus, they value feedback and continuously add new features based on their customers' needs.
Wrike pros:
Separate workspaces for different teams and projects
Built-in communication tools for effective team collaboration
Advanced task dependency and user access control
Very flexible and adaptable for all types of projects
High-quality analytics and reporting dashboards
Bult for enterprises and large teams
Wrike cons:
Clunky and heavy interface
Advanced features make the platform difficult to use
Wrike Pricing
Wrike has four plans ranging from free to enterprise level. However, the advanced features and capabilities of the platform make it unsuitable for basic workflow management and smaller projects.

3. Asana — Best Feature-Rich Free Option
If you've ever used Trello to organize your business, Asana is a smart choice because it uses the same Kanban visual-based approach to creating and managing workflows. Asana is incredibly simple and easy to use yet still packed with powerful project management functionality.
Furthermore, Asana offers a free plan for up to 15 users so you can organize and manage your workflows without paying anything. Then, when you outgrow the free plan (if you do), you can upgrade to one of their affordable paid plans with more advanced features.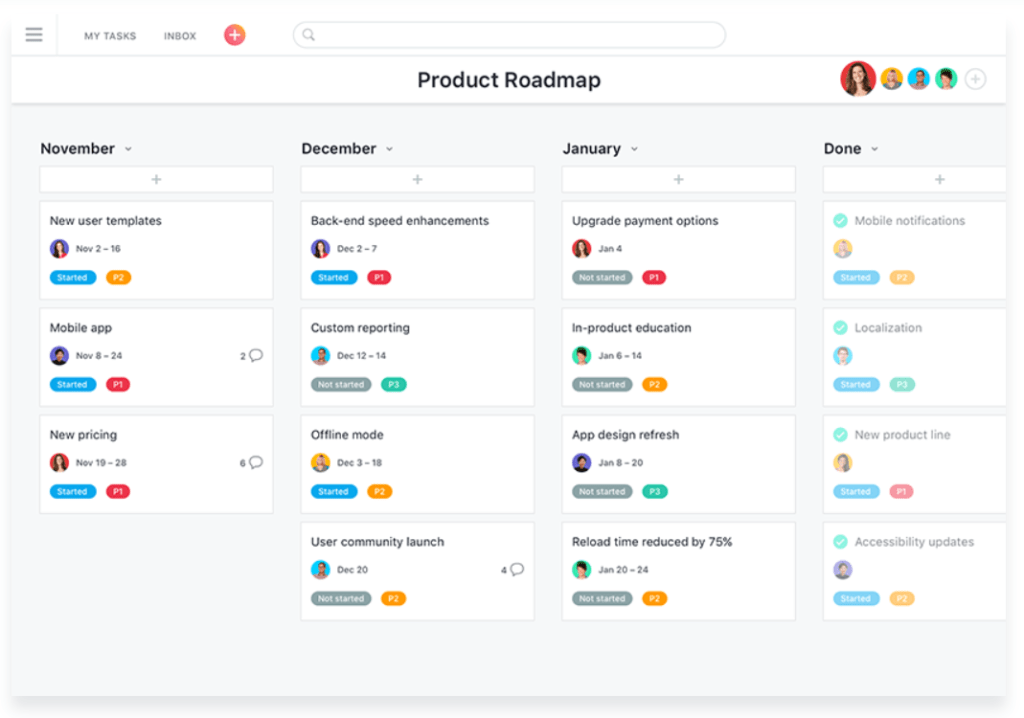 From marketing, operations, and sales teams to design projects, content management, and engineering teams, Asana has everything you need to simplify the workflow management process for your team.
Asana pros:
Forever free plan for up to 15 users (with plenty of features)
Unlimited tasks, projects, and file storage (even on the free plan)
Assign tasks and due dates on the free plan
Mobile app (iOS and Android) for managing on the go
Prioritization features
Asana cons:
Advanced features may overwhelm new users
Not possible to organize the files you upload
Limited customization capabilities on the free plan
Limited to one assignee per task
Asana Pricing
Asana has four plans ranging from free to enterprise level. Their paid plans are on a per user per month basis and can get expensive if you have several users. So, while Asana is the best free option, it may not be suitable for teams needing the advanced features of their paid plans.

4. Hive — Best Simple Per User Per Month Pricing
If you're interested in a simple yet powerful workflow management software, Hive is great because there aren't any different plans to choose from. Every paying user gets access to a full suite of tools for:
Planning projects with workflow automation and pre-made templates
Executing projects with action items, to-do lists, feedback loops, and approval cycles
Communicating with your team via email, chat, meeting notes, and files
Monitoring your projects with analytics, resource allocation, and time tracking reports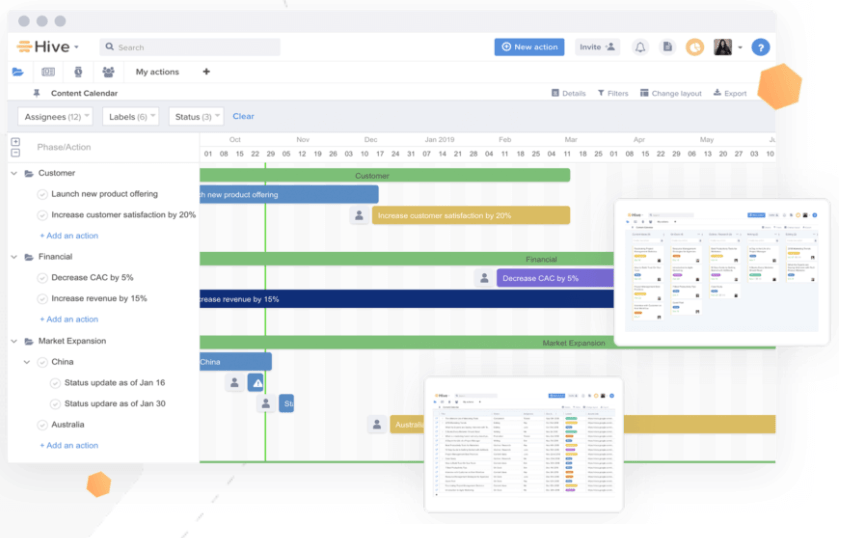 So, whether you have 3 users or 25 users, you know exactly what you're going to pay every month without the hassle of confusing plans and different packages. Plus, you can buy workspace add-ons for an extra monthly fee so you only pay for what you need.
Hive pros:
Full email integrations so you can manage projects from your inbox or the app
Leverage numerous project views so you always know what's coming up
Workspace add-ons let you only pay for what you need
No confusing packages or pricing plans
Can scale as your business grows
Hive cons:
Can get expensive for large teams
Not the easiest software to learn or use
You can't create tasks dependant on other tasks
The mobile app isn't great (as of right now but they're continuously adding to it)
Hive Pricing
Hive differs from the other workflow management software in this list because they offer one simple package that includes their main features on a per user per month basis. Each user is $12/month if you pay annually and $16/month if you pay monthly.
They also offer an enterprise plan to make Hive more affordable for large teams.

5. Nifty — Best for Small Teams
Nifty offers one of the most affordable prices for teams up to 25 users with unlimited projects and clients/collaborators plus 500 GB of file storage. It's also affordable for teams of up to 50 users (with 1 TB of file storage).
So, it's a smart choice for small teams interested in managing their projects and workflows. Plus, you get full access to their core project management features as well as the ability to create task dependencies, recurring tasks, and milestone dependencies.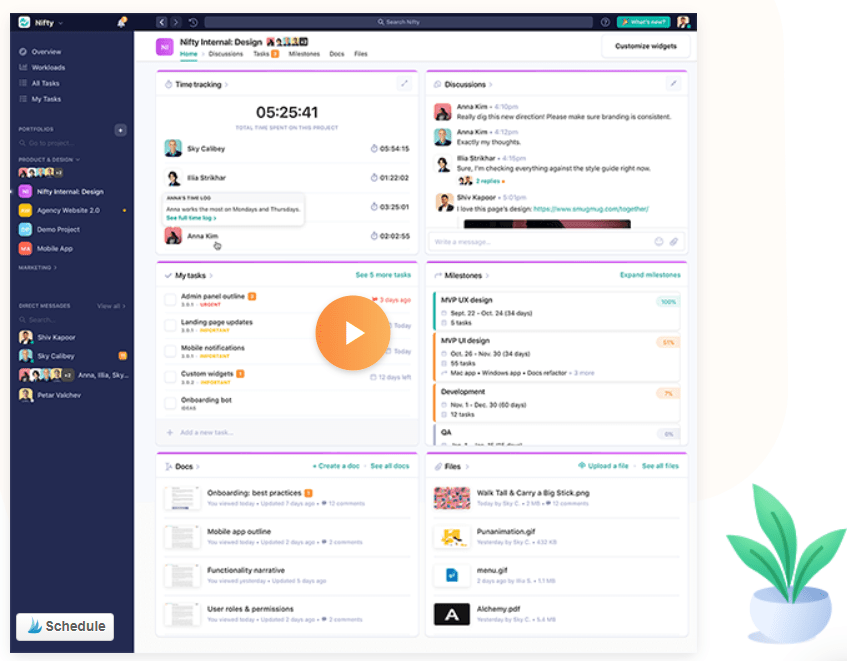 Furthermore, you get access to advanced features like priority support, custom fields, time tracking, workload overviews, and budget tracking (coming soon) on their Pro and Business plans.
Nifty pros:
Affordable for teams of up to 25 or 50 users
Create custom workflows with task dependencies
Unlimited projects and tons of storage space
Continuous product updates based on customer requests
Easy to use (with a minor learning curve)
Nifty cons:
Somewhat limited integrations with other software
Limited view customization options
Mobile app needs improvement
Nifty Pricing
Nifty pricing is great because you don't have to pay per user. You can choose the package that best fits your team size up to 50 users and the advanced features you need access to. And if you pay annually, you get two months for free (on every plan).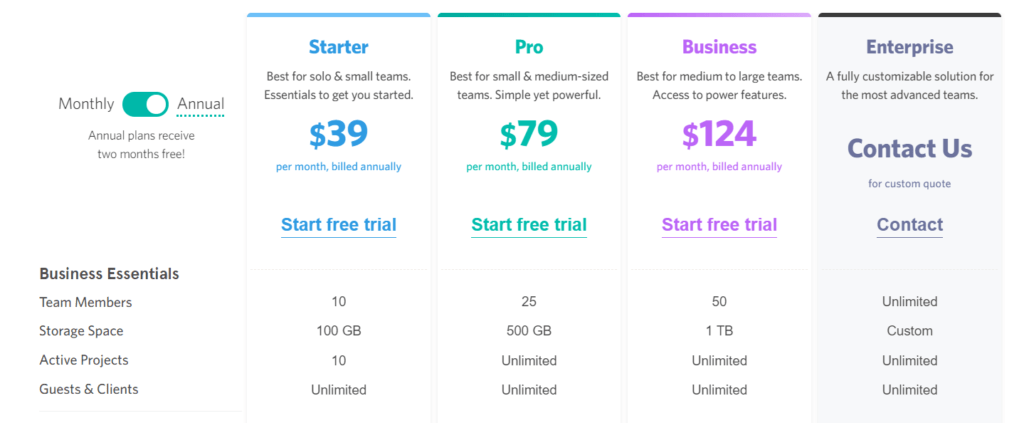 6. ProofHub – Best for Unlimited Users
If you have a large team or need unlimited users without an increase in price, ProofHub is a great choice. Plus, you can decide if you need access to their advanced features and an increase in storage space.
Either way, ProofHub is the most affordable option for large teams and unlimited users. Both pricing plans include everything you need to seamlessly plan, execute, collaborate, and deliver projects on time.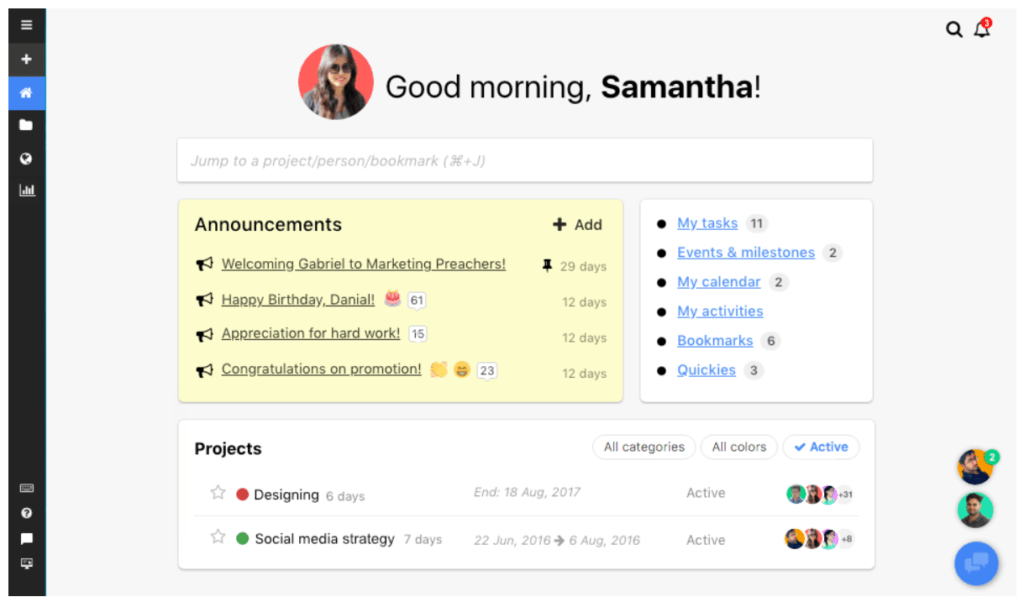 Furthermore, ProofHub includes a discussion area (as well as a chat feature), multiple assignees per task, numerous project views, file organization, and custom user roles so you have complete control over your workflows.
ProofHub pros:
Very affordable for large teams (with unlimited users)
Multiple assignees per task and custom user roles
Advanced file storage organization features
Plenty of storage space
Easy to learn and use
ProofHub cons:
Dated user interface
Limited integrations with other software
Gets complicated for complex projects
A large number of email notifications
ProofHub Pricing
ProofHub stands out from the other workflow management tools because you pay one monthly price for an unlimited number of users. Furthermore, you can decide if you need to upgrade from the essential plan to access more advanced features.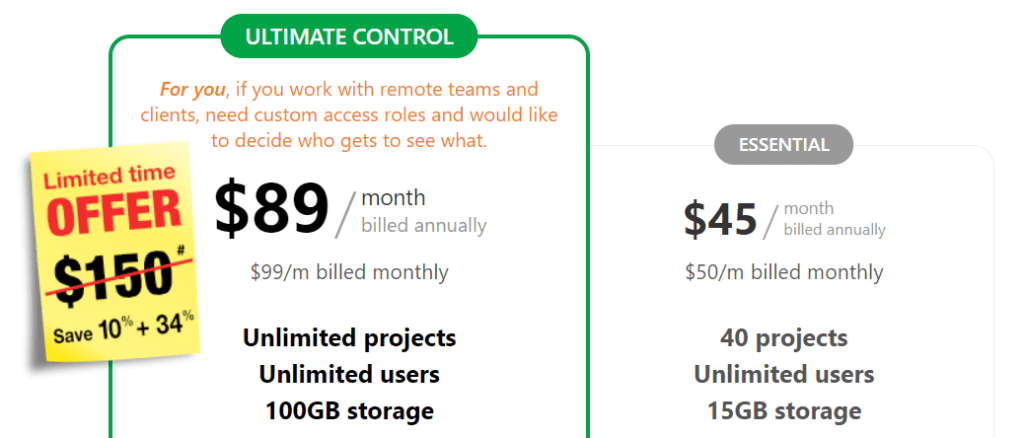 How to Pick the Best Workflow Management Software
Now that you know the best workflow management software, it's time to walk through how to decide on the right platform for your business. We'll start by defining your requirements and monthly budget.
From there, we'll talk about which software you should choose depending on what you need.
So, let's get started!
Step 1: Define Your Workflow Management Requirements
Workflow management requirements vary depending on the number of projects you want to manage, the size of your business, and the level of control you expect to have. So, it's important to make a list of your requirements and prioritize those requirements as well.
This helps significantly narrow down your choices. So, you may be able to immediately cross off several platforms depending on your requirements.
To get started, make a list of everything you'd like your workflow management software to do.
Then, order them from most important to least important. And finally, eliminate any platforms that aren't suitable for your business and go through the rest of the steps to figure out which platform is right for you.
Step 2: Set Your Monthly Budget
After you know what your requirements are, it's important to set a viable monthly budget. This will also help you narrow down your list of choices. Furthermore, you also need to make sure your prioritized requirements align with your budget.
So, make sure your requirements are realistic for the budget you have. If not, go back and rethink your requirements based on your monthly budget and move on to step three.
Step 3: Interested in a Free Forever Plan? Choose Asana

If you're looking for a free workflow management solution, Asana is an excellent feature-rich option for up to 15 users. You can use their free plan forever or upgrade to an affordable paid plan if you outgrow Asana's free plan.
But, if you're a freelancer or solopreneur (with at least $10/month to spare) looking for more advanced workflow management features, move on to step four. If you need more than one user account and aren't looking for a free solution, move on to step five.
Step 4: Are You a Freelancer or Solopreneur? Go with ProWorkflow

ProWorkflow is perfect for individuals interested in managing workflows and simplifying project management tasks. Plus, the individual plan comes with a set of advanced features for only $10/month.
However, if you need more than one user account, move on to step five.
Step 5: Want Simple Per User Pricing? Choose Hive

If you're looking for simple per-user pricing, Hive is a smart choice. They have one plan that includes everything you need to manage projects, communicate with your team, and create workflows without trying to figure out which plan is right for you.
Hive is $12 per user/month so it's super affordable if you need a few user accounts. However, if you need more than 10 users, move on to step six.
Step 6: Have a Small Team? Get Nifty

Nifty offers affordable plans for teams of up to 50 users. So, if you have a small team and want to simplify the process of creating and managing workflows, Nifty's a great option. If you need less than 25 users, expect to pay $79/month for unlimited projects and 500 GB of storage.
But, if you need up to 50 users, Nifty costs $124/month for unlimited projects and 1 TB of storage space. Either way, this is one of the most affordable options for small teams.
However, if you need more than 50 users, move on to step seven. And if you're interested in an enterprise-level workflow management software, move on to step eight.
Step 7: Need Unlimited Users? Choose ProofHub

ProofHub is the most affordable option for an unlimited number of users. Plus, you get to choose if you need access to more advanced features so you only have to pay for what you're actually going to use.
For basic features and 15 GB of storage, ProofHub is $45/month. And for advanced features plus 100 GB of storage space, it costs $89/month.
Step 8: Running a Large Enterprise? Go with Wrike

Wrike is the cutting-edge workflow management software for enterprises and large companies. So, if that's you, consider choosing Wrike's business (for up to 200 users) or enterprise plan for advanced features, management capabilities, and comprehensive enterprise-level workflow