The 5 Best Workflow Management Software and How to Decide
Are you looking for the best workflow management software to streamline workflows, automate repetitive tasks, enable time tracking, and optimize your team's performance? If the answer is yes, you are in the right place.
We thoroughly tested numerous workflow management software tools and have compiled a list of the top five that are guaranteed to improve the way things get done at your organization.
Naturally, different teams and businesses have different needs and may find specific tools more suitable than others. To help you make a selection, we've outlined the core features, pros and cons, and pricing models for each software we'll discuss in this article.
Asana
Our first pick is Asana. This is an obvious choice amongst a plethora of workflow management tools out there due to its ease of use, focus on core workflow management functions, and fantastic mobile app for use on the go.
Asana allows for easy project and task creation, automation, addition and tagging of team members to particular tasks, chat functionality, attachments, and prioritization of tasks, along with the core functions of breaking down projects into tasks and allowing team members to mark them complete. Asana allows you to view your workflows in multiple formats, including Timeline/Gantt Chart, List, Board, and Calendar views.
Another factor that makes Asana a top choice is its wide variety of integrations with other tools. Slack, Outlook, Gmail, MS Office 365, or Google Calendar (and many more), and Asana can make them all work together. This gives Asana users a major advantage when linking tasks from one app to another and provides a seamless workflow management experience for all team members involved.
Furthermore, templates in Asana allow you to define standardized workflows for your teams to follow. As a result, the organization saves time and effort on existing projects while making hiring and training new employees easier. Fixed templates and workflows also help project managers determine which teams, individual employees, or potential hires are performing better since they provide a standardized measure to gauge performance.
Asana Pros
Easy to set up projects and workflows
Seamless collaboration with cross-functional teams
Gamified to encourage usage frequency
Multiple ways to view workflows
Robust reporting features included in the paid pricing plans
All the essential features are available with the free plan
Asana Cons
The dashboard design starts going haywire if you add too many projects
New users may initially find it difficult to deal with all the options and features available
Email notifications are enabled by default, clogging your inbox unless you disable it
Exporting functionality is limited to JSON and CSV file formats
A task cannot be assigned to multiple people at the same time
Integrations with external apps are required for time tracking
Asana Pricing
Basic: Free forever plan
Premium: $10.99 per user per month billed annually or $13.49 billed monthly
Business: $24.99 per user per month billed annually or $30.49 billed monthly
All plans come with a full-access 30-day trial.
Zapier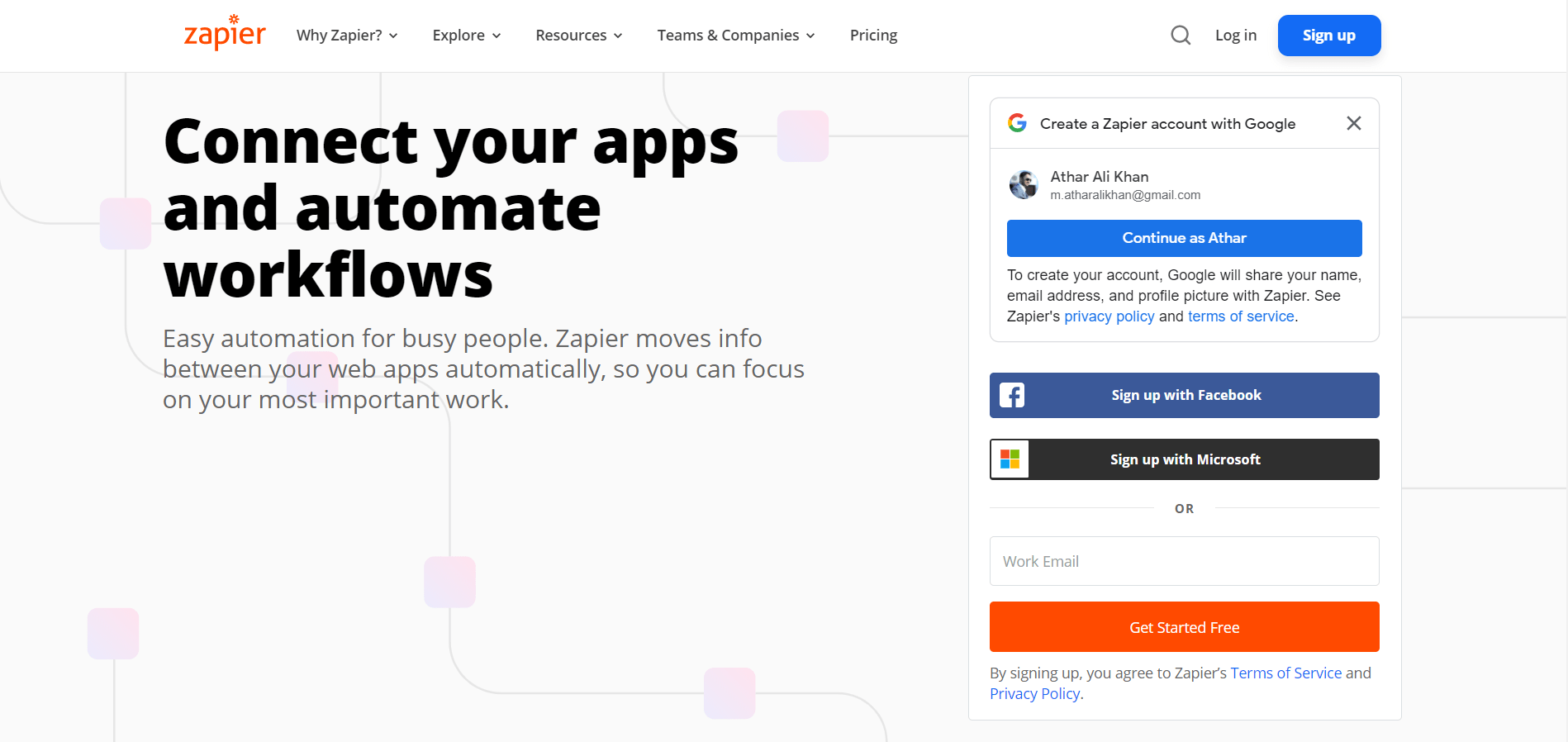 The second workflow management software on our list is Zapier. This powerful tool is designed to enable software automation by allowing different apps to talk to or integrate. These apps are all included in Zapier's app integration library, and the list includes popular tools such as Slack, Google Docs, Google Sheets, Facebook Ads, and more.
Zapier allows you to create workflows by outlining sets of steps or "zaps" for what happens in a certain app if a specific action is triggered in another app. The app lists your zaps on the dashboard from where you can perform various operations, including turning them on/off, editing, renaming, or deleting them. Depending on your payment plan, you can theoretically create thousands of zaps with an infinite number of steps to create a continuous workflow.
Zapier Pros
Easy to set up and use
Offers a wide range of reliable app integrations
Virtually unlimited possibilities for the kinds of workflows that can be set up
Saves users many hours per week after the integrations are in place
Zapier Cons
There's no option to tell Zapier what to do in case a workflow fails due to an error
Relies heavily on third-party tools, which makes it vulnerable to errors outside of its own system
Zapier Pricing
Free plan with limited features
Starter: $19.99 per month billed annually or $29.99 billed monthly
Professional: $49 per month billed annually or $73.5 billed monthly
Team: $299 per month billed annually or $448.5 billed monthly
Company: $599 per month billed annually or $898.5 billed monthly
You can start with a 14-day trial before committing to a plan.
Airtable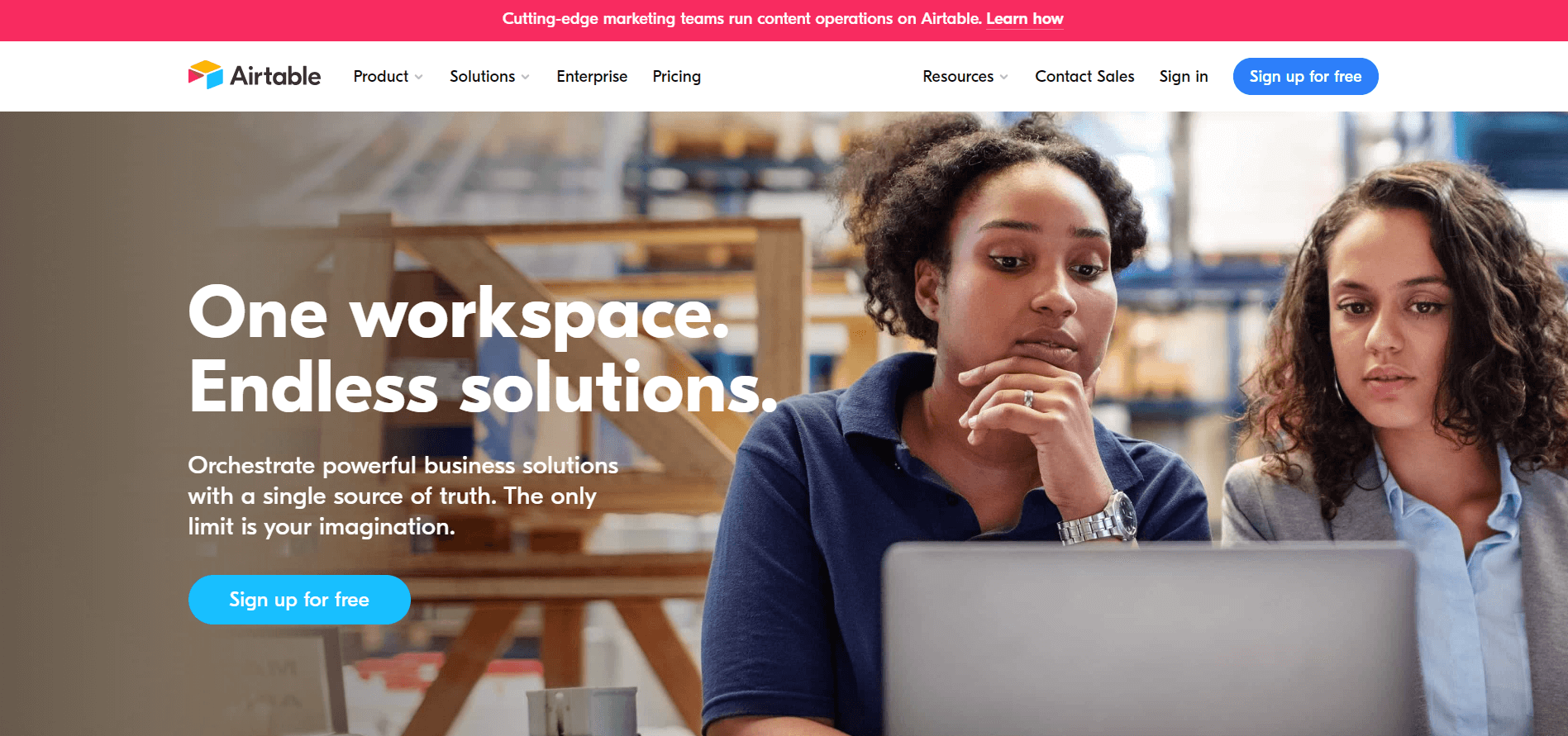 Our next pick is Airtable. Airtable's user interface looks like a spreadsheet. But don't be deceived, Airtable is so much more.
This workflow management software allows you to set up your workflows just like Asana. You can add projects and tasks or steps, collaborate with team members, post comments, add attachments, and sync with the cloud, so everyone's on the same page.
There are multiple views available to look at your workflows, each bringing a unique perspective on how the processes are set up. These include grouped and ungrouped lists, Calendar, Gallery, and exporting/embedding on an external website. Airtable also allows you to create and share forms that feed directly back into your workflow.
Airtable Pros
Looks like a spreadsheet and works like a complete workflow management software
Great selection of templates to choose from
Workflows can be viewed in a variety of insightful views
Tracking project progress is easy and fun
Attachments can be dragged and dropped straight onto the sheet with previews
Airtable Cons
Steeper learning curve than Excel
Formula building options leave a lot to be desired. Don't expect Excel-level formula assistance here
Comments can be posted on individual data rows, but there's no central comments exchange section
The app does not always auto-refresh when new records are added and often requires manual sorting when a new entry is made
Airtable Pricing
Free
Plus: $10 per seat per month billed annually or $12 billed monthly
Pro: $20 per seat per month billed annually or $24 billed monthly
Enterprise: Custom quote
A 14-day Pro trial is available.
ClickUp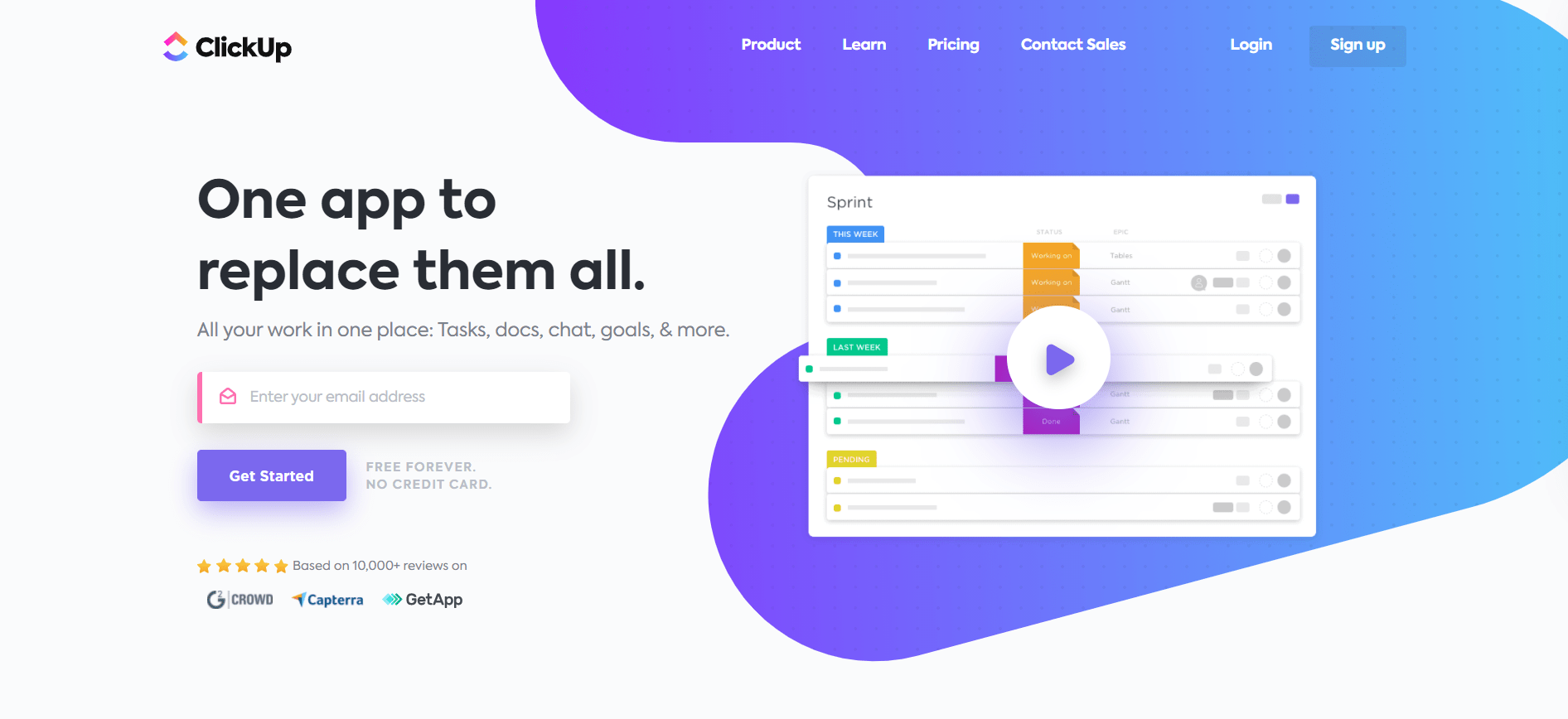 ClickUp is a tool that claims to be a one-stop-shop solution for an organization's productivity needs. Based in the cloud, ClickUp offers the ability to bring projects, tasks, workflows and related steps, timelines, calendars, attachments, and teams together in one place.
Information in ClickUp is organized in a hierarchy. The highest level in the hierarchy is called the Workspace. The second-level items are called Spaces. These can be considered project or workflow names.
Below that, we have Folders and Lists. Folders can hold multiple Lists, whereas Lists hold tasks or steps in a workflow. Furthermore, Folders can have their own Workflow Statuses and Custom Fields.
For further customization and detail, Workspaces have multiple features called ClickApps that can be turned on and off based on the requirements of the workflow. Examples of ClickApps are Multiple Assignees, Time Tracking, and Priorities.
ClickUp Pros
Simple yet intuitively designed user interface
Offers robust collaboration features that work equally well for teams and individuals alike
Well-designed dashboard features allow you to pick widgets to ensure you have the most relevant information at your fingertips
A powerful free version of the service allows you to take advantage of most of the features available in the paid versions of the app
Combines the features of several productivity apps into one package, leading to better workflow management and cost-saving
ClickUp Cons
The learning curve for newbies can be steep and the numerous features introduced together initially can be confusing for inexperienced users
Not the ideal tool for those who prefer simplicity over highly customizable workflow management
ClickUp Pricing
Free
Unlimited: $5 per member per month billed annually or $9 billed monthly
ClickUp offers a 14-day trial before requiring a purchase.
ProofHub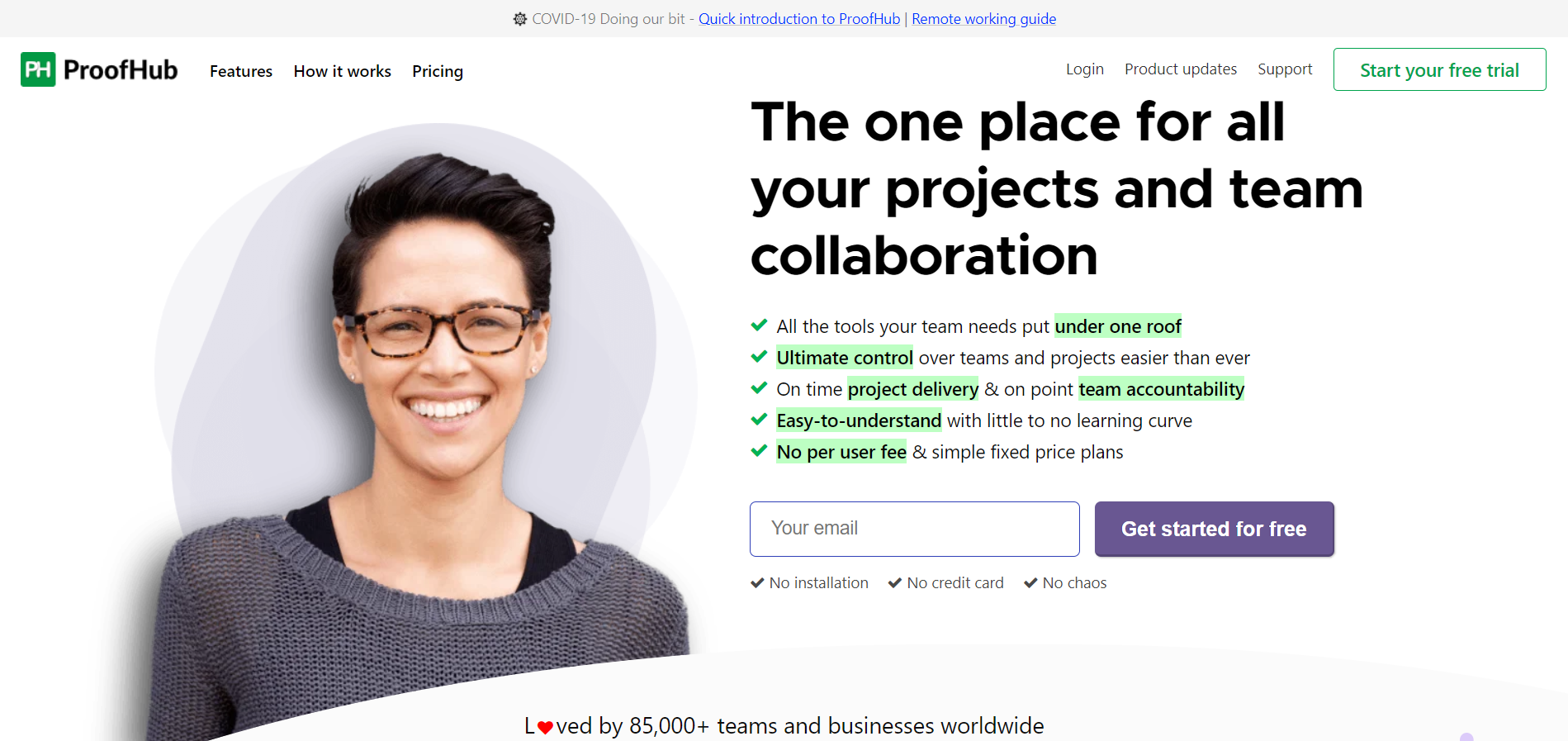 ProofHub is a cloud-based service that provides users with a centralized workspace for workflows, plans, schedules, chats, files, Gantt charts, etc. It offers a comprehensive set of features that helps teams stay organized and manage their workflows effectively. In addition, it comes with solid reporting capabilities that provide useful insights for all stakeholders involved.
ProofHub also boasts of a large variety of app integrations for functions like file storage, accounting, invoicing, etc.
A unique feature of ProofHub is that project managers can review and approve attachments before they become available to the rest of the team.
When it comes to workflow management, two types of workflows can be created in ProofHub. A basic workflow that consists of "To Do" and "Done" stages. Users can simply drag and drop steps from one stage to the next as needed.
The other type of workflow in ProofHub is Kanban. Tasks go through three different stages in this type of workflow, namely, Backlog, In-Progress, and Complete. Just like the basic workflow, users can drag and drop tasks from one stage to another.
ProofHub Pros
Powerful Android and iOS apps for on-the-go workflow management
Insightful reporting tools
Easy and quick to set up
Advanced file management with the option for review and approvals
Unlimited users for a fixed fee
ProofHub Cons
Considerably fewer app integration options as compared to some of the competing workflow management software
Like a few other services, ProofHub tends to send a lot of notifications to users, which can get overwhelming
There are user reports of buggy app features, such as chat sometimes not showing all the messages in a conversation
Does not scale well. Better suited to smaller teams vs. enterprise customers
ProofHub Pricing
Essential – $45 per month billed annually or $50 per month billed monthly
Ultimate Control – $89 per month billed annually or $99 per month billed monthly
ProofHub offers a 30-day trial before requiring a purchase.
How to Pick The Best Workflow Management Software
Now that you've learned about some of the top workflow management software available out there, here are some crucial factors to consider before selecting the right one for your needs.
Define Your Workflow Software Needs
Before you finalize a workflow management tool, make sure to have a discussion with your team about the kinds of features you'd really need to manage your workflows. A single tool might not have everything you need.
It's essential to find the right match for the kinds of processes you want to build, your team's size, skills, experience, and budget, plus having the right integrations to increase functionality. Once you have a broad outline ready, you're well on your way to making the right selection.
Know Your Must-Have Features and Budget
As discussed earlier, it's important to know the features you absolutely cannot do without. This would play an important role in determining the kind of budget you'd need for this exercise. After analyzing your project requirements and having open discussions with your team about the types of choices available, make a list of features.
The ultimate goal is to find the right intersection of features and a cost that matches your financial constraints.
Test the Software
After going through this list, you may still want to try two or three different tools that you fancy the most. Take advantage of the free trials offered by the services. Many of these trials come loaded with premium features for you to get a taste of what it would be like to use the tool full-time for your workflows. Hands-on experience beats reading reviews any day of the week. Get a feel for the interface and features. Does the tool work well for the size of your team? Would it scale well if required? Does it integrate with the kinds of apps your team is already using? These are important questions that should be factored in before making a final decision.
Ensure Availability of Adequate Customer Support
Despite the ease of use many modern workflow management software boast of, project managers eventually face issues, especially when using a new tool. In such a scenario, effective customer support is vital to your team's success. Look for online reviews and ratings to get an idea of the kind of support to expect from a service provider, or simply reach out to customer support to ask questions.
Finalize the Best Workflow Management Software
You've done your research, listed your must-have features based on your team's feedback, taken software for a test drive to get a feel for how they work, and investigated customer support for the tool you're leaning toward.
It's time to rate your final selections based on the criteria and choose the one that scores the highest. When making a financial commitment with a service provider, it's often beneficial to subscribe to annual plans instead of monthly ones to get substantial discounts.