Best Web Application Firewall (WAF) Providers
The growing number of cybersecurity threats makes controlling data breaches and preventing website hacks difficult. Luckily, web application firewall (WAF) providers can ensure data integrity by monitoring website traffic and blocking hackers and malicious users. 
While all standalone and comprehensive WAF solutions help boost web security, they vary in performance, sophistication, pricing, and user-friendliness. In this article, we'll take a look at the top WAF solutions, as well as lay out a step-by-step tutorial to help you find the best match for your business.
Let's get started.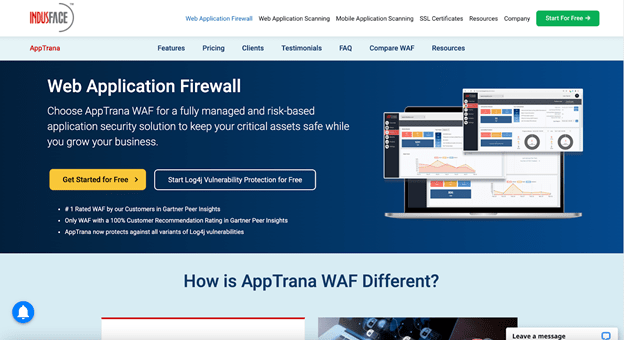 Indusface's AppTrana WAF is a fully managed web application firewall from Indusface that includes web application scanning for greater visibility into application-layer vulnerabilities, instant and managed risk-based protection, and website acceleration with a bundled CDN. It is backed by a 24/7 Managed Security Expert service that provides custom rules and policy updates, complete with a zero false-positive guarantee.
The solution basically combines risk protection, risk monitoring, risk detection, and website acceleration features under a single umbrella, giving you access to a fully managed website security offering.
AppTrana also has an optimized set of core managed rules based on security assessments of thousands of other websites. After onboarding, your customers can perform an on-demand automated security assessment of their websites to get instant visibility on whether they are already protected by WAF or need custom security rules.
Customers that require custom rules can request the same from the Indusface's centralized portal and the 24/7 MSE team, who will create a custom rule with Zero WAF false-positive assurance and protect them from cyberattacks.
Pros
Simple configuration

Convenient single-view dashboard

High-performing solution to prevent cyberattacks effectively

Access to true security experts
Cons
The notification system can be improved

Limited integration facility
Pricing
Indusface currently offers two AppTrana plans:
Premium – $399 per app, per month

Advance – $99 per app, per month
All users can sign up for a 14-day free trial of the Advance plan.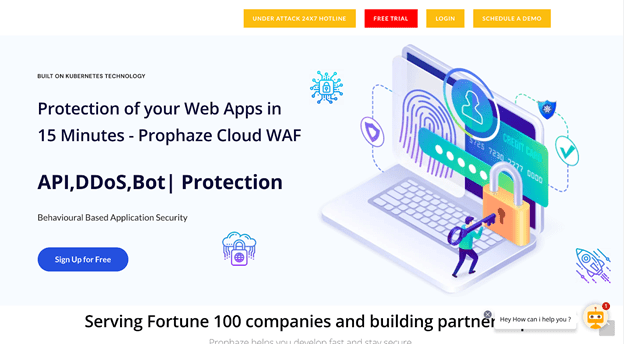 Prophaze WAF is a cloud-based, all-in-one web security solution, combining the features of a WAF, runtime application self-protection (RASP), content delivery network (CDN), a denial-of-service attack (DDoS), bot mitigation, and application programming interface (API) security.
Prophaze WAF is one of the more advanced WAF solutions in the market. Despite this, it's incredibly easy to use. The company targets small business owners and is designed with non-technical users in mind. You can access the dashboard through any standard browser, and thanks to its simple and clear interface, understand the presented data.
This WAF also has AI routines to adjust the baseline of standard behavior for refining detection rules. This helps reduce the number of false alarms and provides genuine site visitors unrestricted access to your system.
What's more, this WAF solution operates with Kubernetes containers and can effectively monitor the performance and security of your own system's Kubernetes activities and detect any hacking attempts. 
Virtual patching and DDoS protection features further boost your system's protection, preventing data loss and ensuring compliance with GDPR, CCPA, HIPAA, SOC2, and PCI-DSS policies.
Pros
All-in-one web security solution

User-friendly and easy to implement

Offers a wide range of integrations

Efficient customer support
Cons
Lacks customizable dashboards and reporting features

Doesn't allow access to additional non-administrative users
Pricing
Prophaze WAF's pricing is based on the feature set, deployment type, and volume of traffic consumed. The company offers a WAF pricing calculator to provide users with a customized quote. You can check it out here.
The company offers a free trial to all customers.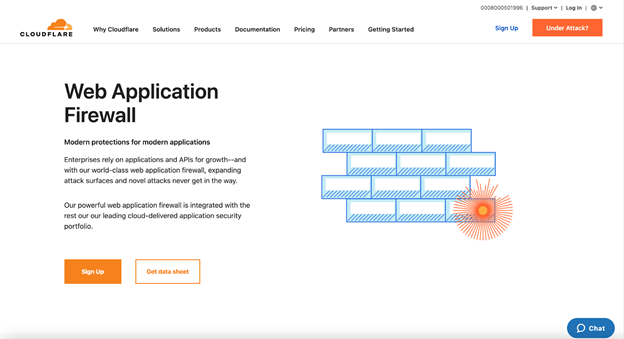 Cloudflare is one of the most widely used web application firewall solutions, with its servers managing 2.9 million requests every second on behalf of its customers.
It delivers enterprise-grade WAF to protect internet property from SQL injection attacks, cross-site forgery requests, and cross-site scripting–all while making no changes to your existing infrastructure.
Cloudflare also creates rules in response to new threats that mitigate the vast majority of threats on its network. In other words, any hacking attempt on its customer will automatically get added to a blacklist entry for all Cloudflare-protected web servers.
To ensure stronger security, Cloudflare protects users against the top 10 Open Web Application Security Project (OWASP) vulnerabilities, like security misconfigurations like sensitive data exposure, broken authentication and session management, injection, and insufficient logging and monitoring.
Cloudflare is in accordance with PCI compliance requirements to safely handle credit card information. In addition, this WAF solution also auto-updates new security vulnerabilities as and when they are released, keeping your entire security network updated and on track. 
Pros
Managed WAF firewall rules

Robust analytics and detailed security information

Additional CDN feature for website caching to boost website loading time

Reduced bandwidth usage
Cons
Confusing page rules and regulations

Inconsistent GUI

Has a steep learning curve
Pricing
Cloudflare currently offers three plans with the WAF facility:
Pro – $20 per month

Business – $200 per month

Enterprise – Contact the sales team for a customized quote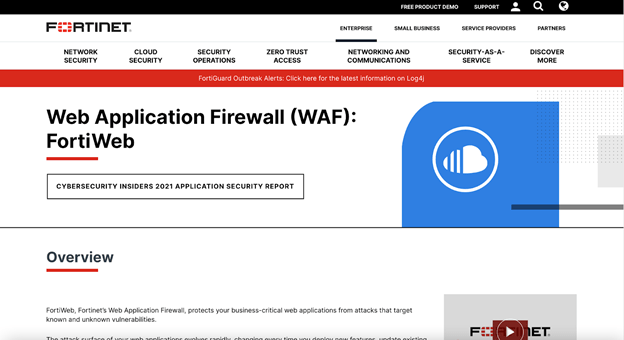 FortiWeb WAF is a Fortinet product that uses artificial intelligence and machine learning technology to detect application request anomalies and detect underlying threats in your web traffic.
FortiWeb WAF has a correlated and advanced multi-layered approach to provide complete security for external and internal web-based applications. It effectively protects hosted web apps from non-vulnerabilities, zero-day threats, and OWASP top 10 app attacks.
The WAF solution primarily operates a DDoS protection service when accessed as a cloud service or as an appliance. It analyzes all incoming traffic traveling to the network and employs AI-based machine learning to identify any suspicious activity with nearly no false positive detections.
In addition, FortiWeb WAF uses a threat intelligence feed to keep track of the latest cyberattack strategies as well as to detect behavior patterns that deviate from the calculated norms, signaling a data breach. You can use its visual reporting tools to get a detailed analysis of data sources, types, and other elements.
You can combine this WAF solution with an SSL off-loader and a load balancer if needed. FortiWeb's dashboard can be accessed from anywhere through a standard browser, which further simplifies security maintenance.
Pros
Straightforward set-up process

Easily configurable and user-friendly graphical user interface (GUI)

Provides adequate protection against cyberattacks

Internal and cloud firewall management can be managed using a single console
Cons
Slow customer support

Training sessions need to be more robust and comprehensive 
Pricing
FortiWeb WAF has slightly complex pricing, depending on your region and fulfillment option. You'll have to contact the sales team for more pricing information.
A free 14-day trial is also available.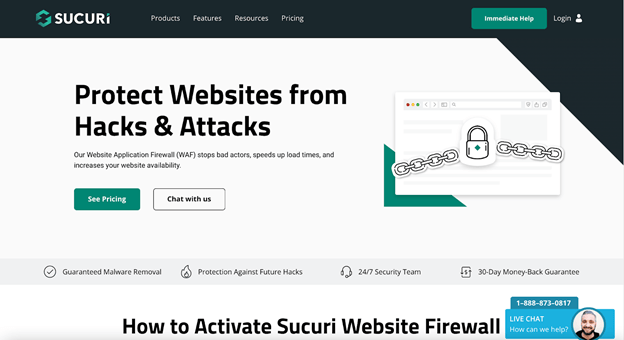 The Sucuri Website Firewall is a part of a cloud-based suite of website protection measures that hosts your website address at Sucuri's server, meaning all of your web traffic goes there initially. The server then filters all malicious traffic through a range of techniques and maintains a frequently updated database of attack signatures.
After the filtration process, Sucuri Website Firewall forwards all genuine requests to your web server. It also helps reduce overload and optimize resources via GZIP compression and is compatible with other CDNs.
You can count on this web application firewall to detect and mitigate DDoS attacks, zero-day exploits, and OWASP top 10 vulnerabilities. It can prevent brute force attacks against website login pages as well. 
Other features include smart caching options, free SSL on firewall servers, and protection from a wide range of other cyberattacks.
Sucuri Website Firewall also ensures round-the-clock customer service all year long, with an impressive 97% satisfaction rate. What's more, the company has a median response time of four hours, ensuring prompt customer support always.
Pros
Easy to set up and deploy

Detailed and informative knowledge base

Competitive pricing
Cons
Inconsistent customer service

Hard-to-navigate customer/admin dashboard
Pricing
Sucuri offers four pricing plans:
Basic Platform – $199.99 per year

Pro Platform – $299.99 per year

Business Platform – $499.99 per month

Multi-site and Custom Plans – Price available upon request
All plans have a 30-day money-back guarantee.
How to Pick Your Web Application Firewall (WAF) Provider
Below, we'll show you how to choose the best WAF provider for your security system. Let's take a quick look.
Step 1: Find Out What Threats the WAF Protects Against and What Detection Techniques It Uses
You want a comprehensive web application firewall that can protect your system against all norms and vulnerabilities from across the application, server, third-party resources, and so on.
WAF solutions analyze traffic to only allow genuine users access to an application and filter out malicious requests to prevent cyberattacks. To do this, they use a range of detection techniques, such as behavior analysis, signature matching, and normalization. 
Choose vendors that offer advanced threat detection techniques for best results. In addition, you also want to compare the proof of false positives to negative rates. Zero-day threat detection and third-party test results can also be useful to gauge a prospective provider's effectiveness.
Step 2: Evaluate How the Web App Firewall Protects Hosted Applications
This step focuses on finding out how the prospective WAF provider protects web applications. To evaluate, consider the following questions:
How does the prospective WAF block requests? Is it through connection interruption, connection intermediation, connection reset, or by alerting other devices?

Does it only block bad requests, or is it capable of blocking specific sessions, users, IP addresses, and so on, as well?

How does it protect against DDoS attacks?

Does it protect hidden form fields from user manipulation and support data/you are encryption?

Does it provide continuous and instant support through a combination of custom rules and out-of-box rules to protect against existing app vulnerabilities as identified by Security Assessments?
Step 3: Check Whether the WAF Solution Allows for Customization
Every web application and business has unique rights and vulnerabilities, risk appetite, security requirements, and so on. It's why WAF policies and rules have to be custom-built, as well as continuously tuned, to keep pace with the app itself and all emerging threats.
We recommend choosing WAF solutions that offer real-time insights and security analytics, plus round-the-clock visibility of the risk posture and business impact. This will enhance the overall security of your apps.
Step 4: Check Whether the WAF Solution Can Auto-Update Based on New Threat Vectors and Risk Postures
Intuitive WAF solutions with AI, ML, and Global Threat intelligence database features can learn from the past attack history of your business and global attacks to strengthen your existing protection levels. What's more, these tools can detect new areas to crawl for vulnerabilities and effectively differentiate between bots and human traffic, enabling them to easily allow, block, flag, or challenge access requests.
Step 5: Figure Out the WAF Solution's Ease of Deployment and Reporting 
The last thing you want from your prospective WAS is for it to crash or become unavailable during deployment. Look for flexible and hassle-free solutions that cause zero downtimes and clashes during onboarding.
While you're at it, also find out how logging and reporting work for the prospective WAF. Evaluate the ease of access, depth, and comprehensiveness of the traffic log audit trails and reports. Customization is another benefit that affects the effectiveness and quality of security incident investigation.