The 5 Best Video Surveillance Systems
There are many great reasons to invest in a video surveillance system for your business. In addition to keeping employees and assets safe, the best video surveillance systems use AI and facial recognition to deliver real-time business intelligence about foot traffic and occupancy.
Not so long ago, even basic cameras cost a couple hundred dollars. Times have changed, and you can find affordable HD resolution cameras. If you are willing to spend, top of the line models give you even better image quality, as well as features like color night vision and thermal imaging.
There's more to the best video surveillance systems than just cameras, though, as you'll have to consider how equipment transmits, stores, and manages the recordings it captures.
I've reviewed 5 of the best video surveillance systems from vendors that provide flexibility and reliability. All of these systems can be molded according to your changing needs, and after the reviews, we'll go step by step through how to pick the right one for you.
1. Lorex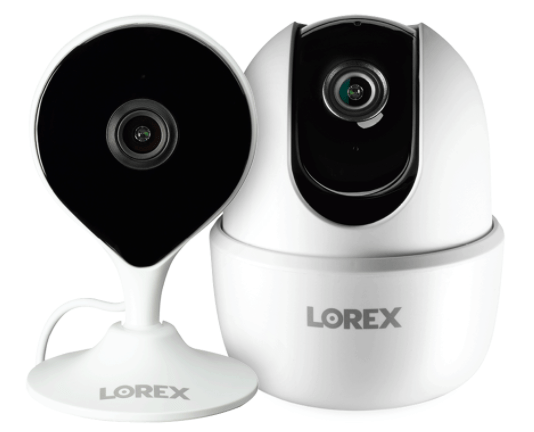 Pricing:
Systems starting at $249.99
Lorex Technology provides a range of excellent cameras and equipment that you can mix and match to completely satisfy your video surveillance needs. Installation is DIY, everything comes in the box, and you never need to pay extra in order to use all of your new camera's features.
There are no monthly costs and a 2-year warranty, so although the cameras are more expensive upfront than similar models from competitors, you can keep your long-term costs extremely low with Lorex.
When it comes to camera options, you can choose from 1080p, 2K, or 4K resolution, as well as wireless, wired, and wire-free setups. In terms of recording, you can choose DVR or NVR based on what will work best with the cameras you chose.
Monitor up to 32 cameras on a Lorex security system (digital IP, MPX, or wirefree), and select exactly the features you need, including:
Color night vision
Floodlight
Pan-tilt-zoom
Smart detection
Siren
Thermal imaging
Two-way audio
Vandal proof
Zoom lens
There's no professional monitoring service with Lorex, and no in-house security solution beyond the siren that comes with some cameras. Shipping is free, but If you are not comfortable with DIY, you'll have to hire a third party to install your Lorex system.
If you are confident about getting everything set up, Lorex gives you a lot more options than some of the other DIY systems with zero monthly costs.
For people who know what they want and how to use it, Lorex is one of the best video surveillance systems available.
2. Arlo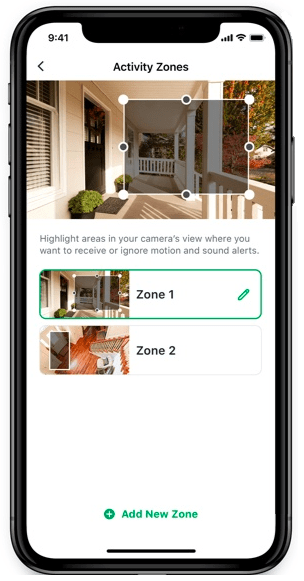 Pricing:
Systems starting at $399.99
Arlo has a relatively small selection of sleek cameras that can be used to set up a simple and effective video surveillance system. It is truly DIY, with wire-free WiFi cameras and rechargeable batteries instead of long cords.
Their cameras tend to be more expensive than others with similar resolution and features, but all of Arlo's products incorporate smart home functions that give you greater control over your system.
On the Arlo App, you can configure individual cameras to pay special attention to certain Activity Zones in their field of view. Set it to ignore vehicle traffic, pets, or to pay particular attention to specific areas, such as entrances, cash registers, loading docks, and so on.
In order to take advantage of the best features, you'll need to subscribe to one of Arlo's Smart Plans:
Premier: Up to 2K quality, $9.99 per month for up to 5 cameras
Elite: Up to 4K quality, $14.99 per month for up to 5 cameras
If you need more than 5 cameras, there's a 50% price break to add additional cameras. Continuous video recording is available for 14 days ($9.99/month) or 30 days ($19.99/month)
Their line of indoor/outdoor cameras runs from the Arlo Essential to the Arlo Ultra. They are all 100% wire-free, weatherproof, and equipped with a siren. Each successive model comes with higher image quality, as well as features like enhanced night vision and noise cancellation.
The Arlo Pro 3 Floodlight is also wireless and captures video in 2K with color night vision. The siren can be triggered remotely, and the motion-activated light is brighter than a car headlight.
They also offer the Arlo Go, which is powered by LTE, so you can place it anywhere you get cell service. Combined it with a solar panel charger, and there's really nowhere on your property where you can't place Arlo Go for continuous coverage with no battery changes necessary.
If you are looking for quality products with a simple, flexible set up, Arlo is a good option for a small business that needs video surveillance in key areas.
3. Reolink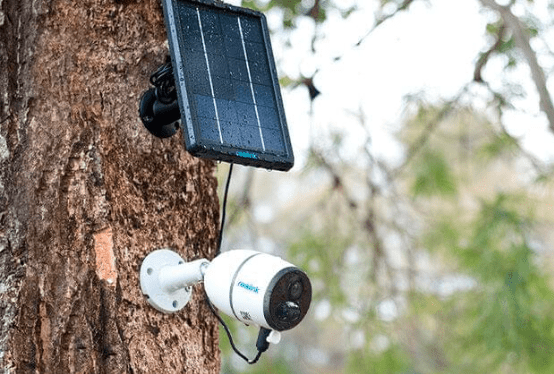 Pricing:
Full systems starting at $199.99
Reolink is another straightforward video surveillance solution with quality products that are easy to install. They have rechargeable battery-powered, IP, and WiFi cameras available with a range of features and recording options. You can purchase solar panels to power cameras no matter where they need to go.
What makes Reolink one of the best video surveillance systems is that complete solutions are extremely affordable. This starts with their cameras, which deliver whatever you need at a competitive price. One of their most popular models, the RLC-410, is $49.99, and comes with:
Audio
5MP Super HD resolution
IP66 waterproofing
Power over ethernet
100 foot night vision
If you want to be able to zoom, you can upgrade to an RLC-511, which is only $98.99 and comes with 4X optical zoom.
Even their high end systems start at less than $1,000, and you get 24/7 continuous recording to Reolink Cloud or NVR.
You can access Reolink Cloud from the mobile app. The basic plan is free, and comes with 1GB cloud storage, 7-day video history and supports 1 camera. You can upgrade plan according to your needs:
Standard: $3.49/month, 30GB storage, 30-day video history, supports 5 cameras
Premier: $6.99/month, 80GB storage, 30-day video history, supports 10 cameras
Business: $10.49/month, 150GB storage, 60-day video history, supports 20 cameras
For businesses looking to switch over from analog to IP, Reolink is one of the easiest and most affordable options on the market.
4. Wyze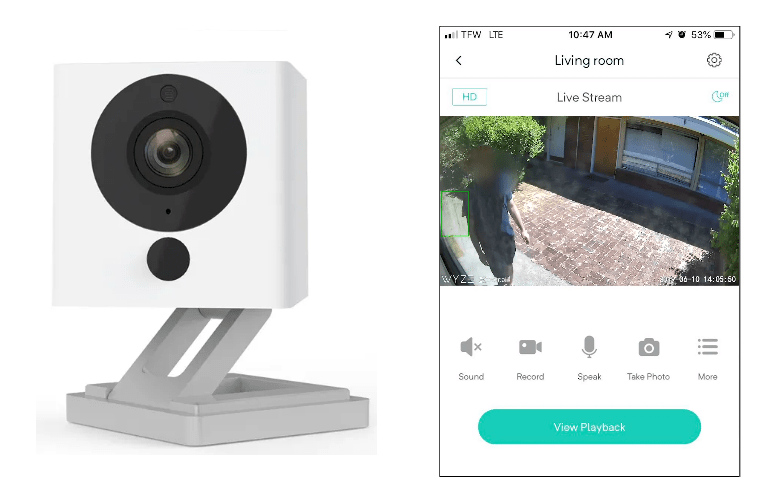 Pricing:
Cameras starting at $19.99
If you want to get one of the best video surveillance systems that is affordable and easy to customize, Wyze is a game-changer. All of their cameras are reasonably priced, yet there's a lot they can do, and they tie into Wyze security products like sensors, locks, and keypads that can fully outfit your business.
When I hear $20 camera, I think I am going to have to give up a lot of functionality at that price. With Wyze, you get 1080p video quality, which is not top of the line, but it comes with two-way audio, HD night vision, and passive infrared motion detection. For many people with basic surveillance concerns, the cameras are more than enough.
The pricing is very straightforward, and your cameras will work without having to pay a monthly fee. Video surveillance equipment from Wyze includes:
Wzye Cam: $19.99
Wzye Pan Cam: $29.99
Wyze Cam Outdoor: $39.99
Outdoor Starter Bundle (1 cam and base station): $49.99
Wyze Cam Mounting Kit: $3.99
To get set up outdoors, you'll need to get a base station, which comes with the Starter Bundle, and can connect with up to 4 outdoor cams.
Without a plan, you still get Free, rolling 14-day coverage uploaded securely to AWS cloud, or continuous recording with local storage on a microSD card (sold separately). The video is limited to 12-second event coverage, and in order to get 24/7 continuous you will have to get a CamPlus subscription, which is $1.99/month or $14.99/year.
Wyze is not a feature-rich option, and probably not a great idea for large organizations who need a robust video management solution. If you need a few cameras with remote access, and you are not worried about outstanding video quality, Wyze is an easy and affordable option.
$30 for a camera that pans? You are looking at hundreds of dollars with many other systems.
5. Pelco

Pricing:
Pelco products are used by casinos and airports, which tells you most of what you need to know. They make state of the art cameras, reliable systems, and have earned the trust of the industries that face the most extreme surveillance challenges.
Pelco cameras with SureVision technology deliver detailed image quality in the toughest environments, automatically track objects, body temperatures, license plates, and more. Best of all, Pelco's Smart Compression Technology reduces bandwidth and storage requirements without any loss to the image quality.
As you might expect, Pelco is not a flexible DIY solution, you'll have to call them to get an accurate price for what your system will cost. But whether you have a 100 cameras, or thousands in multiple locations, Pelco can supply an all-in-one system that matches your needs.
Their VideoXpert is one of the best video management systems on the market. It's intuitive and really well designed. With an Enterprise subscription, you can navigate surveillance video from up to 25,000 cameras. They have a really wide array of cameras, including:
Explosion Proof cameras
Fixed IP cameras
Fortified Camera systems
Pan-tilt-zoom cameras
Panoramic IP cameras
Thermal cameras
With Pelco, you can set up surveillance systems that monitor traffic, record license plates, and deliver stunning quality video in the most challenging conditions. Harsh temperatures, hazardous conditions, high humidity, or low light—it does not matter, Pelco has a camera that will capture the video you need.
How to choose the best video surveillance system
After reading the best video surveillance system reviews, it's obvious that these vendors serve very different needs.
People aren't usually torn between Wyze and Pelco, for example. Wyze is ultra-lightweight and 100% DIY, whereas Pelco's has explosion proof cameras and video management solutions for thousands of cameras.
You may have already honed in a video surveillance weight-class that you think matches your needs. If you haven't, not to worry. It's a puzzle, not a mystery, so let's take it step by step.
Step 1: Define the property and features you need cover
As a first question, it's tempting to ask "how many cameras do we need?" Keep the end goal in sight. What exactly are you trying to monitor? What are the deliverables you need your system to provide?
Come up with a list that contains the specific information you want to be able to view via your potential system. Consider both big picture and granular surveillance needs, like:
The ability to identify every person and every vehicle that enters and leaves the premises.
A 24/7 continuous view of the entire perimeter of the property
Security checkpoints for certain areas
Deterrents like motion-activated lights and sirens
Views of cash registers, safes, etc.
View 30-day video history
Ability to scale
Flesh out your wishlist. With perimeter surveillance, for example, you want to define the capabilities your cameras are going to need. How far do cameras need to see? Do they need to perform in low-light conditions or is the brightness of your property not an issue?
At this point, it's probably going to be helpful to have a scale drawing of the property, because you are going to want to have an idea of the distances in question.
Step 2: Fit potential systems to your specific needs
Once you have generated a well-defined video surveillance wishlist, it's time to see which system fits best. You will be looking at:
Cameras: How many cameras will it take to cover all of the needs you have identified? Remember, a single high resolution PTZ cam might carry the load of several static, lower-resolution models. Be sure to consider the specific features of the cameras and whether or not they will meet your requirements:

Field of view
Night vision or color night vision
Zoom
Resolution
Power source
Analog, IP, WiFi, or cellular

Video Storage: Where do you want your video stored: DVR, NVR, cloud, or hybrid? Also how long do you want to save recordings: one week, one month, or longer? Do you need continuous video recording stored, or are motion capture clips sufficient?
Video Management: All of the vendors on this list provide a mobile app that lets you view, share, and save your recordings. How much control do you need over alerts and notifications? How many hours of video will you need to sift through?
Businesses that need something in the realm of a dozen cameras will likely be able to use a DIY system like Wyze. If they need cameras with higher quality features, Arlo or Reolink will be able to meet their needs.
Arlo is a really great option so long as there is strong WiFi throughout the premises, whereas Reolink and Lorex have a greater number of wired options available.
For companies that need premium camera features and a robust video management platform, Pelco is the best choice. If you find yourself tending that direction, it might be better to look into the best business security systems, like ADT, that have full-featured video management solutions.
Step 3: Price out the long-term cost of each system
By this point, you will have pinned down several systems from different vendors that closely match your needs.
Get in touch with sales and confirm that the system will perform as expected. The more detail you can give them, the better. Be specific about the deliverables your new system requires.
Can you really go wireless? An Arlo 2 Cam, for example, needs to be plugged in for you to set up Activity Zones or capture continuous video recording. And continuous video monitoring is an additional monthly cost, as well.
This isn't only true of Arlo, so be sure to tease out the limits of all battery-powered cameras. Some of the wireless models are perfect for simple video surveillance, but you may need a mix of wired options as well.
In general, people are moving away from analog to IP cameras. Lorex and Pelco support analog systems, whereas the others do not. Additionally, both vendors offer cost-saving solutions to help you rewire your old system if you decide to transition.
Once you have priced out the equipment, you need to factor in the cost of video storage and management. The key elements of the price here will be:
The number of cameras
The video quality
The length of your video history you can review
24/7 continuous recording vs. motion capture clips only
Consider installation costs, even with supposedly DIY products. A plug-and-play camera is wonderful, but it may have to be mounted on the side of a building 30 feet off the ground. Who's climbing that ladder for free?
The last thing you need to budget for are maintenance costs. Who is charging the batteries, monitoring the feeds, and digging through surveillance footage? After all, the system is only as effective as the people using it.
With that, you have done everything you can to ensure that you are picking the best video surveillance option for you.