The 5 Best Training Software and How to Decide
When searching for online training software, you should choose a provider that offers a solution that is powerful yet easy to use. The best training software will be able to provide an end-to-end solution to help meet all of your business aspects in regards to online training.
Tech has given us the ability to increase the adoption of online training software. Most companies nowadays have adopted this practice because it is time-efficient. There are training software options on the market that provide excellent learning & development to meet both business and educational needs for teams.
Career advancement and efficiency are both significant to businesses today. As stated above, many organizations are turning to e-learning to save time, money, and energy. Online training software can provide cost-effectiveness, improvement in performance and productivity, flexibility and convenience, and timely feedback.
To help you during your search for an online training software, I have compiled a list of the best training software providers that are offered in 2020.
In this article, I will go in-depth on what these providers will offer in their training software solutions like features, benefits, pricing, and more. If you are interested in finding out which software is best for you, continue reading.
Docebo is one of the top training software options for training employees, customers, and partners. It is controlled and powered by AI, and will help train your organization to gain competitive advantages. Docebo is available in 30+ languages and provides a learner-centric experience.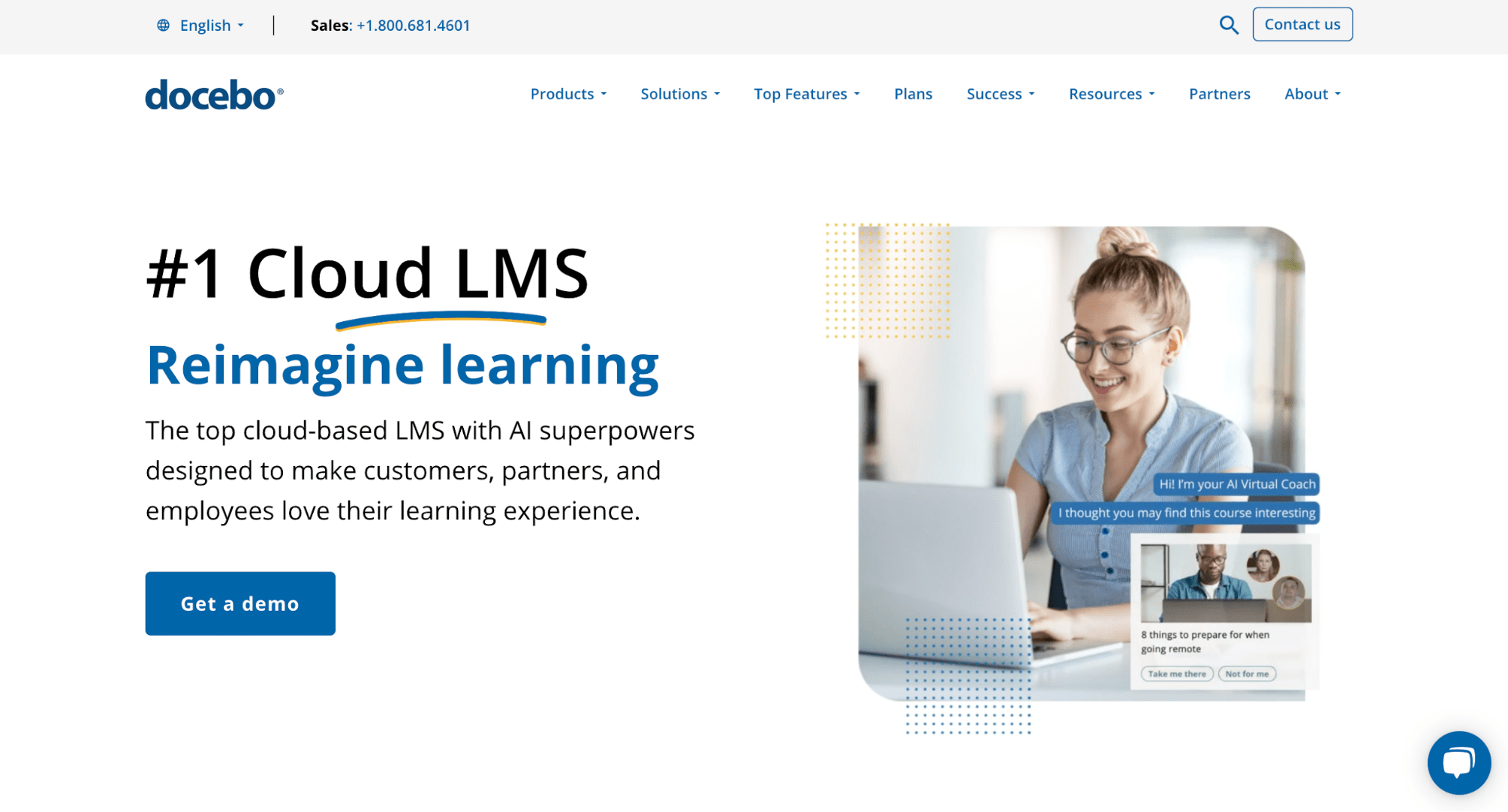 Businesses that are looking for mixed learning modules will enjoy using Docebo. They offer various learning methods like social learning, online courses, live classes, and more. Your employees do not have to be in the office to receive these learnings, Docebo offers easy file upload and sharing in multiple formats. This will come in handy for those remote workers.
Docebo also offers powerful integrations; they are known for integrating seamlessly with third-party applications, both free and paid.
To get a quick overview of the features, Docebo offers, see below.
Import & Create courses
Automated admin tasks
Coach and Share
Customer training
Partner training
Employee onboarding
Sales enablement
Employee development
Compliance training
Docebo does not show their prices online, to find out more information on their pricing plans you will have to go to their plans page. Their pricing will depend on the number of active users, features, and services required. They will customize the training software to your business and the features your team needs. They offer a free trial for 14 days to try out the training software.
Docebo is a highly flexible online training software that could help your business scale and provide efficient learning and training plans. Learn more about Docebo by chatting with a representative.
ProProfs is another popular online training software that provides a wide range of tutorials and options like training, discussions, live charm help desk, and much more. It is a great web-based solution that combines all of their learnings into one portal.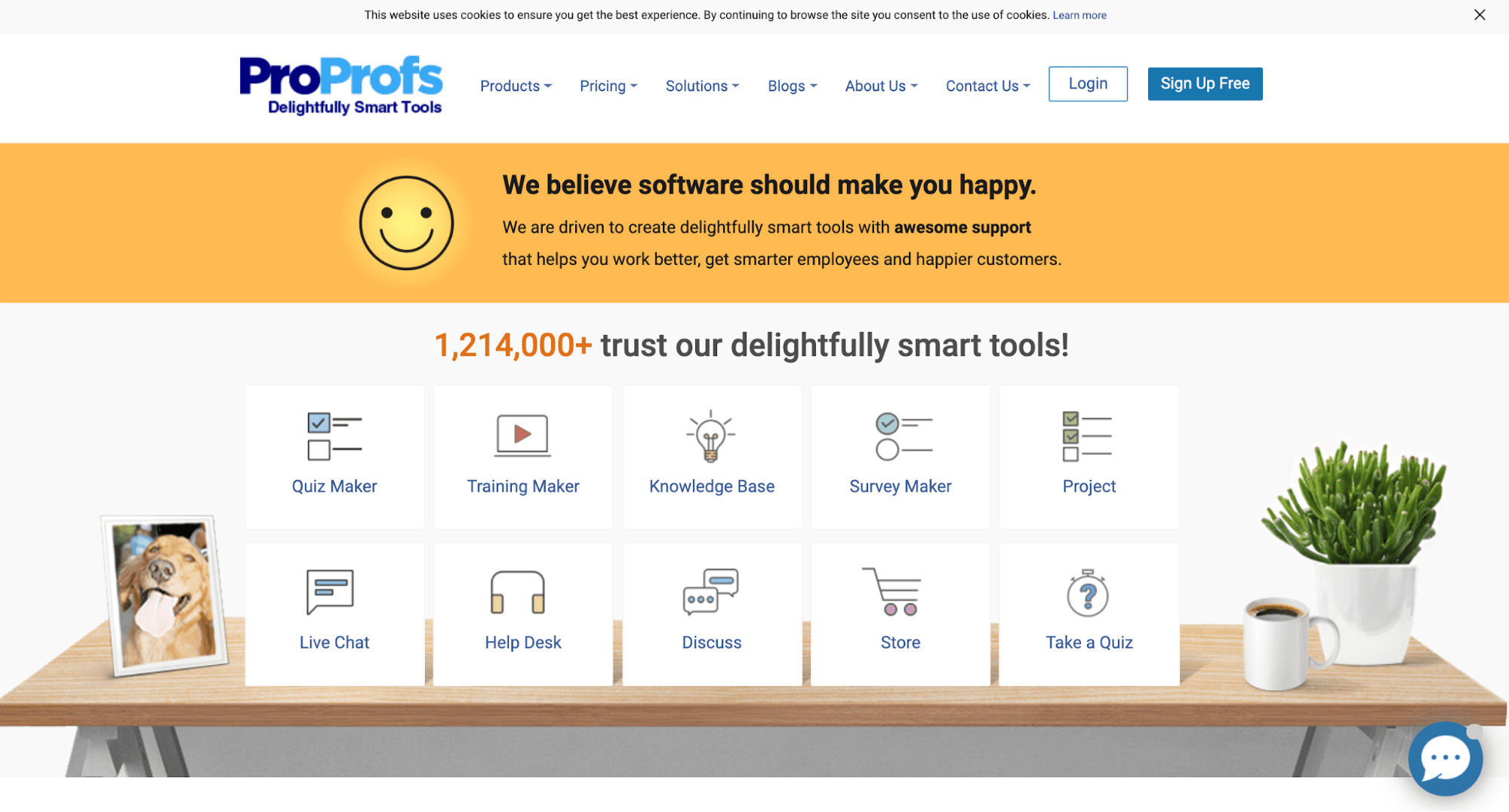 ProProfs offers user-friendly modules that provide great digital content, and the software application is straightforward to use. They made it so easy that you can get it up and running in minutes.
This software supports up to 70+ languages, which allows its users to create multilingual courses and train learners in the language they understand. ProProfs also offers a dashboard that will enable you to check a trainee's progress and support multiple platforms with full access.
Users can add articles, online exams, quizzes, documents, and save all data. Report analysis are generated based on performance and works smoothly across all devices from desktop to mobile.
See below for an overview of the features ProProfs offers.
Quiz maker
Training maker
Help desk
Knowledge base
Collaborate modules
Project
Live chat
Training software
Distance learning software
Like most online training software providers, ProProfs does not show their prices online. Their prices are customizable to your business needs, and the modules are priced separately. You can sign up and try any plan free for 15 days.
If you require a software that is easy to use and offers a wide array of different training modules for your employees and new hires, ProProfs is a good solution.
Absorb is an award-winning cloud-based learning management system created to inspire online learning backed by business productivity and efficiency. They do an excellent providing their users with software that is built to scale as your business grows and impress customers with superb customer service modules.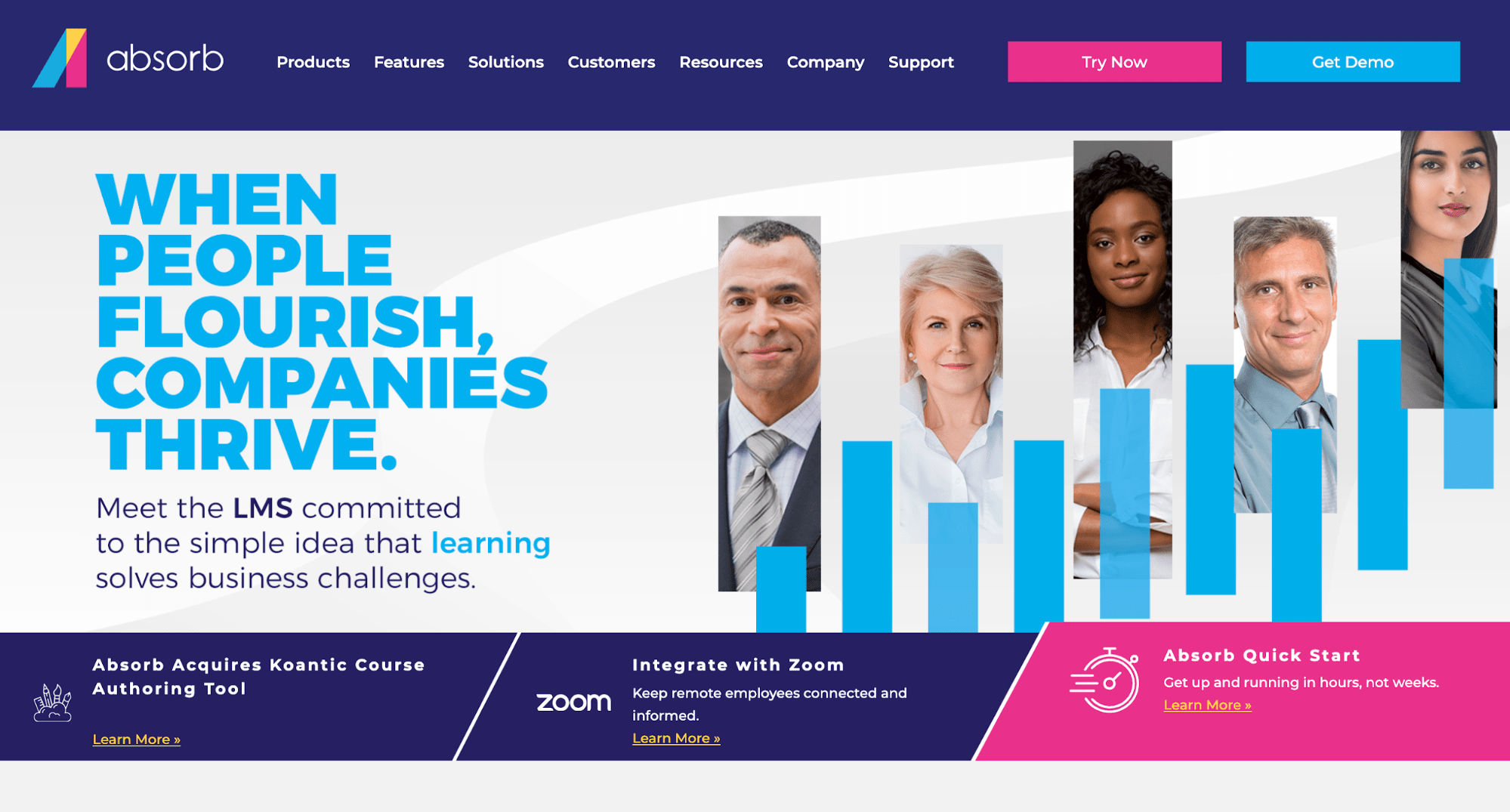 Absorb gives you the resources to train current employees, new hires, global channel partners, customers, and even selling your own training content. If you have a midsized to large business, this online training software is an excellent choice due to its offered features, attractive and functional software system.
They offer the best in class UI, with a smart approach to all filters on their online desktop. Their desktop service is user-friendly and attractive, but they have a standout mobile support team and functionality throughout Android and iOS.
As stated above, on the administration side of this software, Absorb stands out most when it comes to its UI design. They offer many user-friendly tabs on their dashboard, recent activity, reports, messages, learnings, and more. Along with the dashboard, you have access to top courses, charts, and graphs to visualize engagement. Absorb is a savvy course assembler; they offer many of their structured course materials through their Syllabus tab; this will take you to each collection of classes, curriculum, reports, etc.
Check out the list below of Absorb's vast array of features.
Smart administration
Learner engagement
eCommerce
Machine learning
Mobile app
Integrations
Content libraries
Reporting & Analytics
Observation checklists
A con of this Absorb can be, their plans are only viable for midsize and large offices. To learn more about their pricing plans, you will have to contact their team for a quote. With a little research, Absorb requires a licensing fee and setup fee for most users, which starts at $800 and goes up from there.
Absorb is an excellent option; it provides many effective features and tools for any midsized and larger businesses that are looking to scale ith their online training software.
iSpring is a robust eLearning with a wide array of features in each of its toolkits. It allows users to create responsive eLearning content in a time-efficient manner while using its user-friendly portal and dashboard.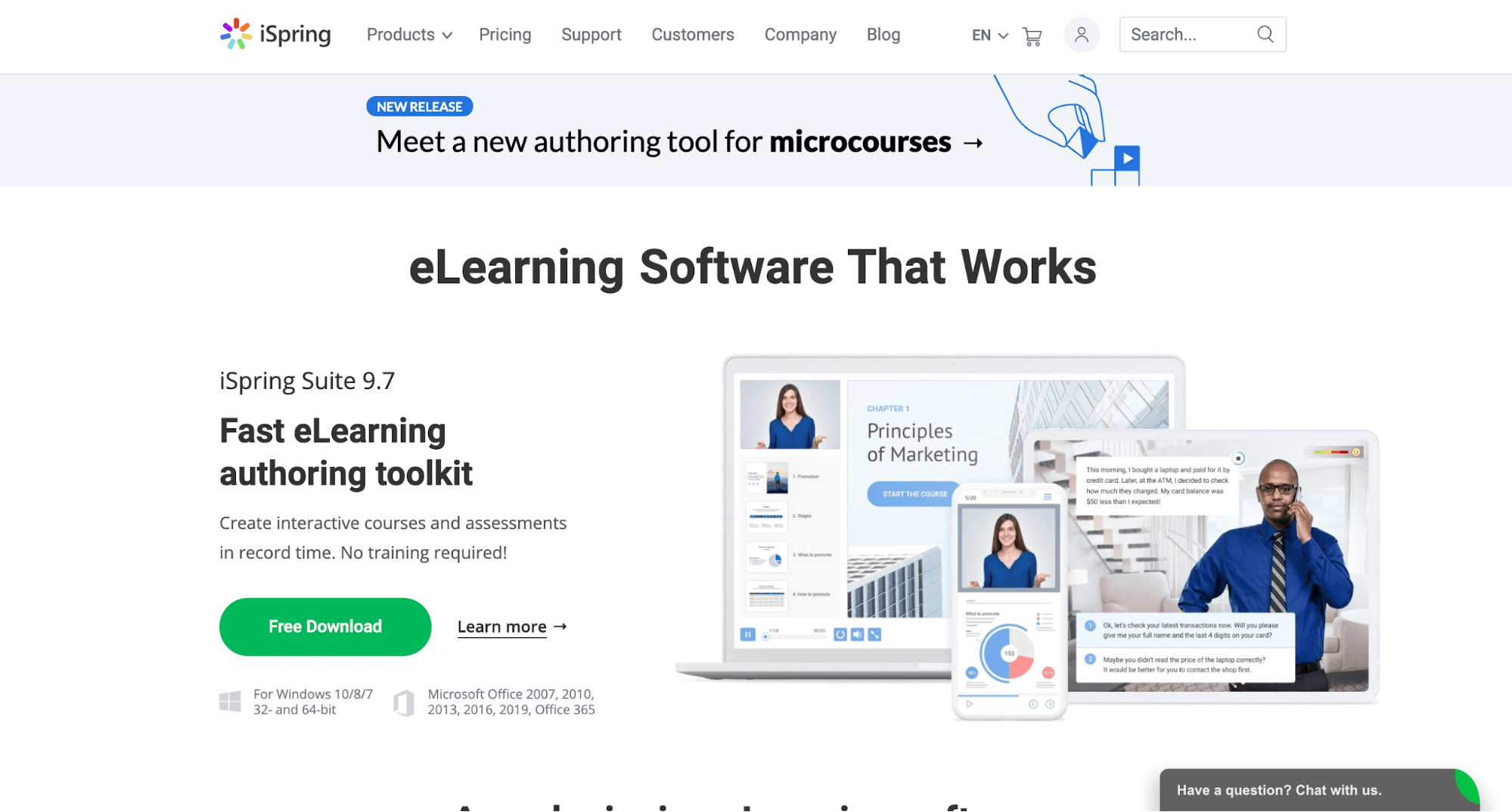 The platform allows you to download all study materials in your local device. All of the features and tools that iSpring offers are a unique learning management method for businesses' growth.
One thing to know about iSpring, it is not a stand-alone software tool. It is a Microsoft PowerPoint add-on. If you are a serious PowerPoint user who wants to add interactivity and branched learning to your presentations, this software will be great.
There is very little you cannot do with the combination of iSpring Suite and PowerPoint combination. With both tools at hand, you can provide your employees with training from ma variety of multimedia course experiences. The interface is clearly labeled and intuitive; they also do a great job of offering tutorials to first-time users directly within the software.
Be aware that if you do not have PowerPoint. this software choice may not be best for you. iSpring is reliant on this software for its features, tools, local files, and collaboration.
See below for the tools and collaboration features iSpring offers while connected to Microsoft PowerPoint.
Integration
Course templates
Authoring
Video and audio narrations
Assessments
Quizzes
Video lessons
Onboarding
Sales training
Compliance training
For pricing, iSpring has a few different plans. For their iSpring Suite, the full toolkit collaboration with Microsoft Powerpoint, the full price is $970 for a 1-year subscription. For that price you are paying for:
Content library of 55,000 templates and course creation
Cloud service
Priority support from iSpring
Power toolkits for features and learning resources
The other plan they offer is for their iSpring learning software. This LMS offers features like:
Onboarding
Product training
Sales training
Channel training
Certification
Compliance training
And here's the pricing:
100 Users – $3.66/monthly per user
300 Users – $3.00/monthly per user
500 Users – $2.82/monthly per user
Over 500 users – Custom plans available upon request
To learn more about the pricing and plans of iSpring, check out their solutions here.
If you can handle the caveat of this software being fully connected to Microsoft PowerPoint, this could be an excellent online training software for your business.
Mindflash is a robust web-based online training software that focuses on training teams and eliminating onsite training costs. It is a great learning management software for the modern workforce.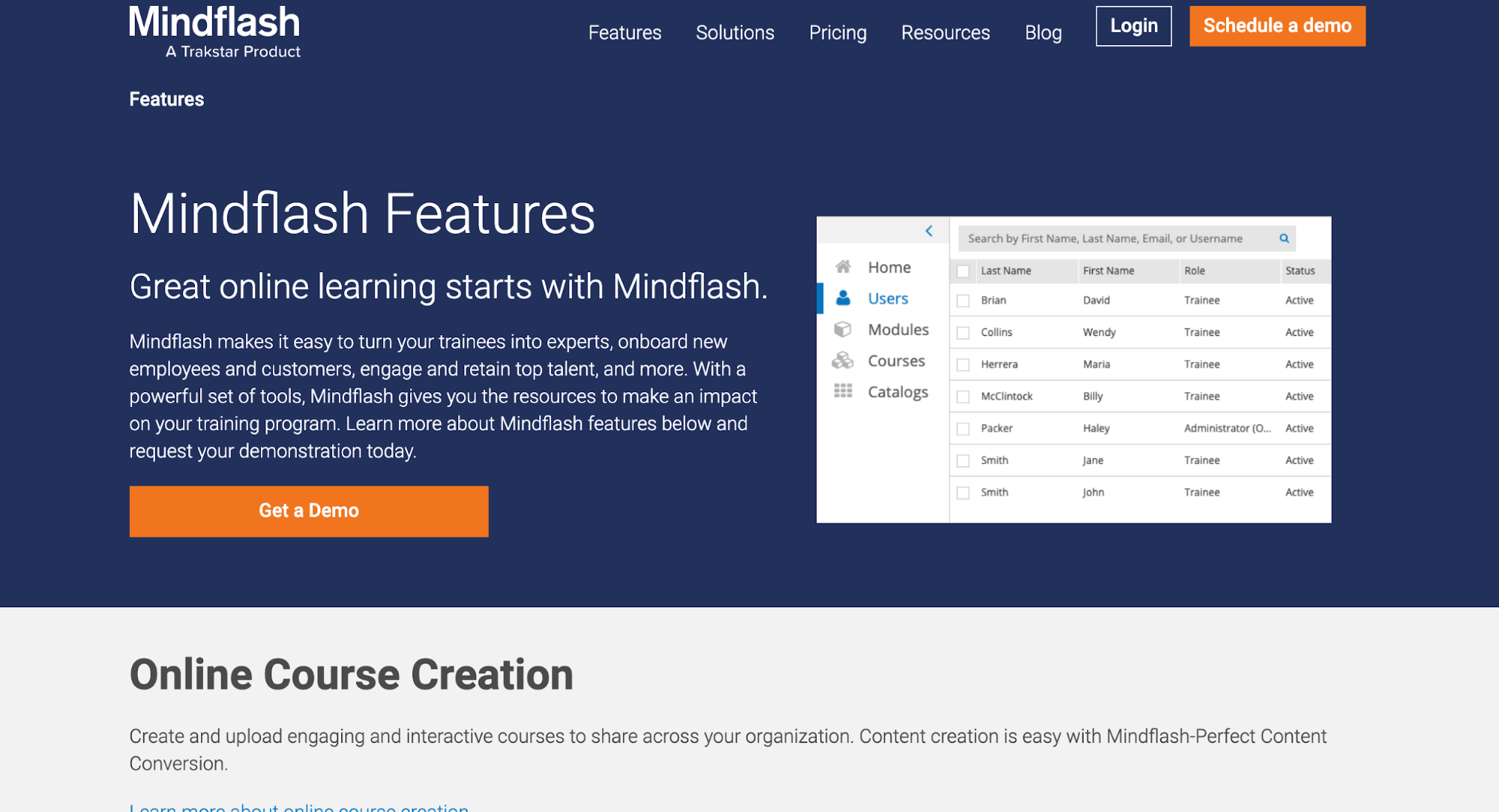 External training is made easy, fast, and useful. The software is specialized in content creation, business analytics, program management, and enterprise integration. It gives its customer the option to move into new markets and handle business challenges with online training for customers, contractors, employees, agents, and other partners.
Mindflash provides learning programs in series; it gives good support for video learnings, PowerPoint, pdf, and Word formats. Their dashboard is user friendly and allows customers to customize the training with their personal information and choice of features. The setup is simple and easy. No setup is required and can be good to go in minutes for your employees and other personnel to use.
This training software is best for midsize companies, MIndflash does a great job or regularly creating and updates course information for its users. The software is likely best utilized to help trainers and training companies quickly create, automate, and sell training sessions to a broad audience.
See below for a look at Mindflash's features and pricing.
Course creation
Online learning management
Quizzes
Reports and dashboards
SCORM and API
24 language options
Instructor-led live training
Unlike the other training software providers, Mindflash doesn't offer monthly plans, only two-year contracts, which start at $3,850 per month for 50 active users. They offer three pricing plans, none of which disclose pricing. If you are interested in seeing the prices of these plans, you will have to get in touch with their support team.
Standard Plan
For teams launching initial programs and core functionality to create, manage, and track training effortlessly.
Premium Plan
Advanced functionality for organizations with global, blending training and distinct content needs.
Enterprise Plan
Complete solution for large programs requiring automated management and a 100% branded experience.
Mindflash is an impressive online training software, although it is still finding its way in the market. If your online training goal is to drop content into a system, upload quizzes and questions, and certify your employees, Mindflas will have what you need. It's UI is streamlined, and has innovative audio and video recording features. This solution could be an excellent option if you are looking for training software to scale with your business.
How to choose an online training software
Software compatibility
One of the first things to consider is understanding what your business needs. The software you are looking for should be compatible with the current process and workflow you are currently using. This will help with the onboarding of this software and help your employees.
The software should integrate with your existing tools without significant complications. The software you choose should be thoroughly testing throughout your staff to see if they are comfortable using it on a regular basis, and it is cultivating the skills of your team.
Understand your team's needs
When considering your employees, learning preferences, background, and goals, choosing an online training software will become a bit easier. Is your staff willed with young and new employees or well-experienced professionals? Your employee's personality and professional experience will determine how they respond to the training software being onboarded.
Features
Depending on your goals and expectations, you will need your online training software to provide specific features and functions to improve your employee's learning process in your business. Creating a must-have list will be crucial, do you need video learning, quizzes, assessments? Or do you need simple features and automated learnings, doing your homework on your business needs and features could save you time and money during this process.