The 6 Best Time Tracking Tools and How to Decide
We all know time is valuable, and it's also an important aspect of any business venture, whether you're billing by the hour or attempting to ensure you are making the most of the time you spend on each project.
As with most things these days, an app greatly simplifies the task of tracking time, versus using a pencil and paper.
When using one of the best time tracking tools, you not only will make your time at work more efficient, but you will be able to make the process of tracking time spent on projects more efficient. Your ability to save time will come full circle.
We've put together a guide to the six best time tracking tools and how to decide among them.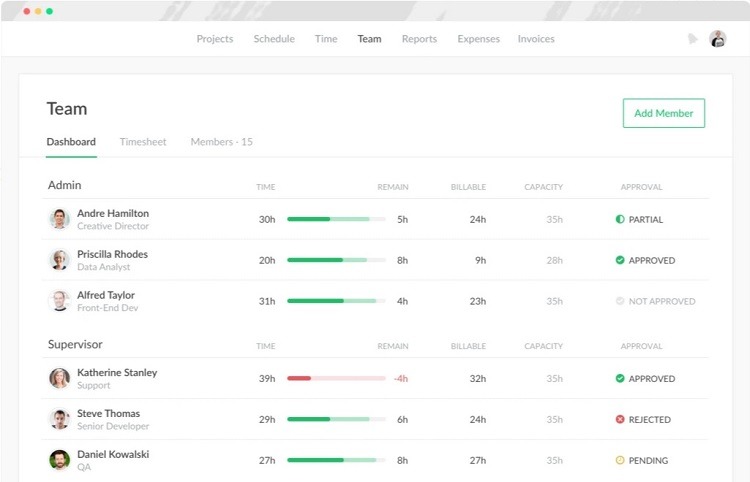 Everhour
>> Compare Quotes
Small teams and freelancers looking for an easy-to-use time tracking package will appreciate what they are able to do with Everhour. Just enter your billable hours into the software, and you'll be able to generate invoices for your clients. Everhour doesn't have quite as many invoicing or accounting features as some of the others on our list, but its overall ease of use is impressive.
If you already use some other productivity tools, such as Trello or Asana, Everhour can integrate with them, simplifying the process of tracking projects. For those who use the other productivity software to organize projects and work, adding Everhour to the mix will not disrupt the workflow.
We appreciate the pricing levels for Everhour, especially for those with a small team. There's a free version for solo users too, although the free version does have some limitations in how you can connect to other types of productivity apps.
Pros
Large collection of features for excellent versatility
Interface looks good, making the app easy to use
Works especially well for freelancers
Integrates nicely with multiple other productivity apps
Cons
Doesn't offer quite as many tools for invoicing as some others
No ability to track a flat fee project rate for your work
Pricing
Free: Up to 5 users
Basic: $5 to $7 per user per month (minimum 5 users)
Enterprise: Contact for custom pricing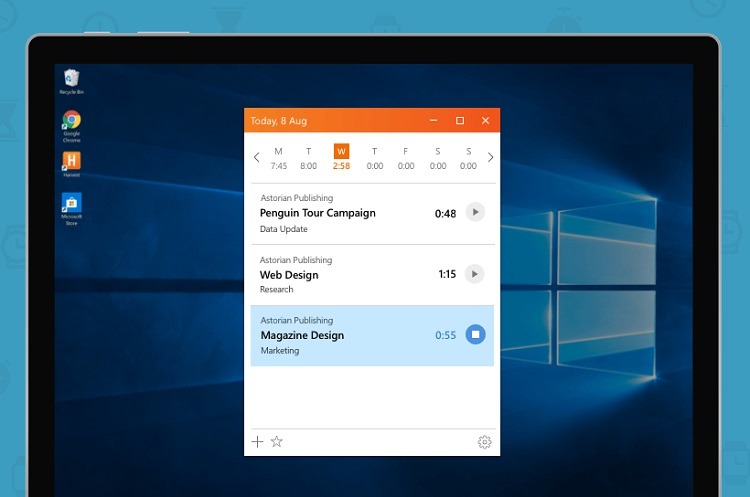 Harvest
>> Compare Quotes
For the freelancer who works alone or as part of a small team, tracking time is an easy process when employing the Harvest time tracking tool. Harvest makes it easy to make a connection with other productivity tools, including Slack, Trello, or Asana, so you will not have to disrupt your current workflow process to add Harvest's features.
Versus others, Harvest offers a multitude of time tracking capabilities, including the ability to set up a flat fee project inside the software, using the features to ensure you are able to complete the project quickly enough to justify the flat fee you're charging.
Another strength of Harvest is its ability to deliver reports that are easy to understand. You'll always have a strong grasp on where your projects stand.
Unfortunately, Harvest does not have a feature that allows for basic employee time tracking, similar to what you'd find with a time clock, so it may not work as well for bigger businesses.
Pros
Integrates with multiple other productivity tools
Good invoicing and expensing features
Free trial period allows you to try all aspects of the software
Mobile app available for both iPhone and Android devices
Cons
A little pricier than some others
Might not be the best option for bigger organizations
Pricing
Free trial: Up to 30 days
Free version: Limited to 1 user and 2 projects
Pro: $10.80 to $12 per user per month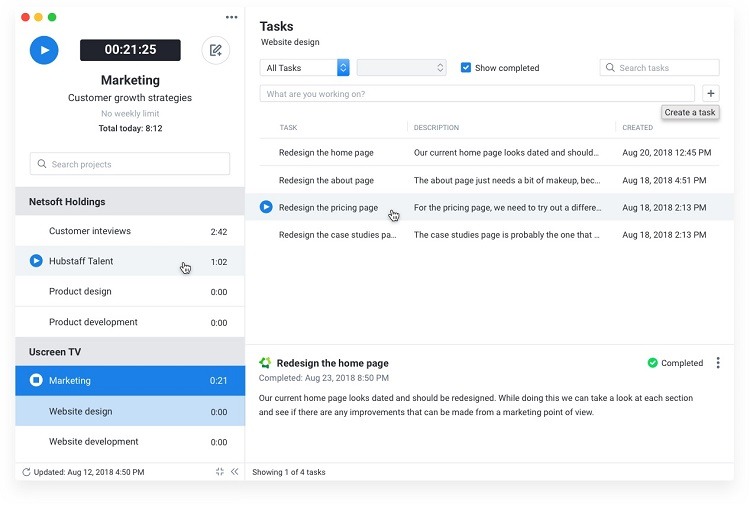 Hubstaff
>> Compare Quotes
If one of the biggest problems you're having in your enterprise is employee productivity, Hubstaff gives you the ability to monitor the way employees are working, ensuring they're spending time on their projects, rather than visiting entertainment websites or paying attention to social media.
For those who are less interested in spying on employees and more interested in tracking time, Hubstaff includes the ability to build manual time sheets or track time spent on a particular project.
For administrators who need to schedule shifts for employees, Hubstaff has some nice features in this area that are easy to use. You can add in lunch breaks and other breaks, ensuring all employees are working a particular amount of time. There are also multiple reporting features and graphical representation tools, so you can clearly see the allocation of employee time.
Pros
Works as a scheduler for setting up shifts for employees
Primary strength lies in monitoring employee time
Has a keystroke monitoring aspect to keep an eye on what employees are doing
Can record screenshots of employee workstations at any time
Cons
Doesn't give you project management features
Not really geared toward small teams or freelancers
Pricing
14-day free trial at every pricing level
Free: Limited to 1 user
Basic: $5.83 to $7 per user per month (minimum 2 users)
Premium: $8.33 to $10 per user per month (minimum 2 users)
Enterprise: $16.67 to $20 per user per month (minimum 2 users)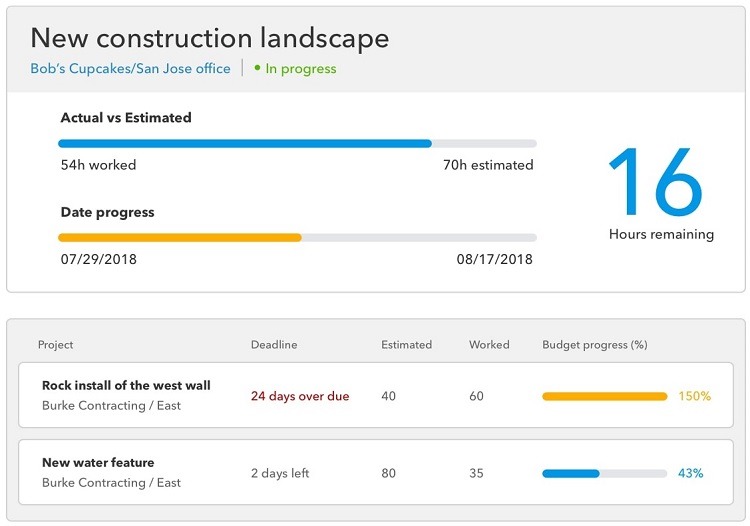 TSheets
>> Compare Quotes
TSheets is one of the strongest time tracking tools on the market, offering impressive features aimed at workforce scheduling and time management. Its interface is outstanding, making the software easy to use. You also can customize it to match your organization's particular needs.
TSheets will work equally well for solo freelancers, small teams, and bigger organizations. However, its pricing structure includes a flat monthly base fee along with a per user fee, which makes it a little expensive for small groups.
If you need to track the productivity of employees or keep an eye on the work they're doing, TSheets does not have those kinds of tracking features. But it does have a geofencing capability, which ensures the employee's mobile device is in the location you expect it to be. There's also a built-in GPS tracker to watch employee locations.
Pros
Allows you to monitor when employees log in and when they're working
Strong set of features, some of which are customizable
Intuit owns it, so it integrates nicely with QuickBooks
Nice looking interface makes it easy to use
Cons
Cost structure makes it better for larger organizations
Pricing
14-day free trial for both levels
Premium: $8 per user per month (plus $20 base fee per month)
Premium: $10 per user per month (plus $40 base fee per month)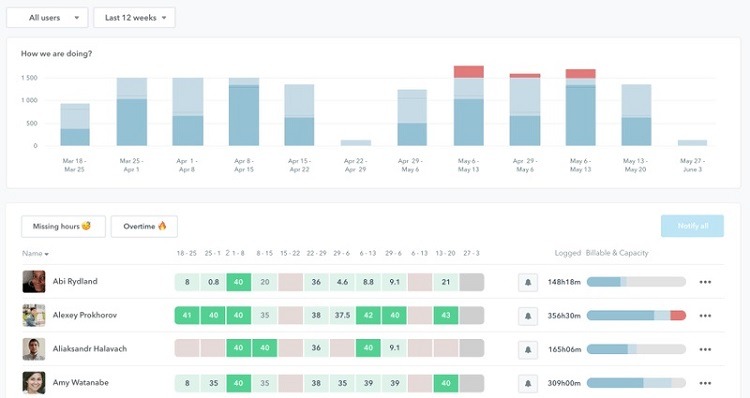 Timely
>> Compare Quotes
For those seeking a time tracking tool that provides a big picture overview of the organization's various projects and deadlines, Timely is a strong contender. This time tracking app offers a few different options for viewing the information, allowing you to match the interface to the method that makes the most sense to you.
You can block out time for projects in the future, or you can see which employees may have time to take on additional projects, all in an impressive graphical interface. The multiple color coding options further enhance the strongly visual nature of this software.
For small businesses or freelancers, one helpful feature is the ability to track time for items where you don't receive payment, such as invoice generation or accounting work. It may surprise you to find out how much of your time goes to these tasks.
Unfortunately, Timely's pricing structure is higher than average for small businesses or freelancers.
Pros
Offers the ability to color code various projects
Integrates time tracking in a calendar format
Easy to see which employees have free time available
Gives users many different report creation options
Cons
Can be difficult to drag and drop segments of the software accurately
Pricing is a little high for smaller organizations
Pricing
30-day free trial
Small: $39 to $49 for up to 2 users
Medium: $159 to $199 for up to 10 users
Large: $359 to $449 for up to 30 users
Enterprise: Contact for custom pricing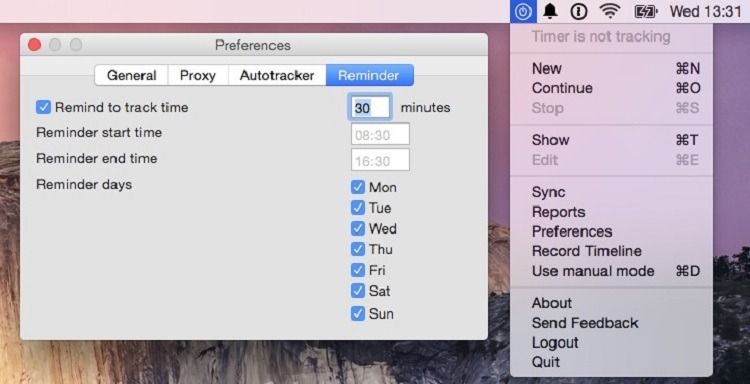 Toggl
>> Compare Quotes
When you want a time tracking app that's easy to use and that focuses on tracking time instead of other features, Toggl is the answer. This is one of the easiest time tracking tools to learn how to use. Its clean interface is impressive, allowing almost anyone to pick up how to use it immediately.
You can use Toggl with a variety of devices, thanks to its multiple desktop apps, browser extensions, and mobile apps. It keeps a running calculation of the time you've spent on each of your projects, so it's easy to see where you stand at all times. Additionally, you can choose to automatically round your time spent upward or downward if desired.
For those who have detailed project tracking needs, you can set up a primary project as well as subprojects within the main project, so you can precisely track the amount of time spent on each aspect of the work.
If you want features like invoice creation or the ability to track what employees are doing through keystroke tracking or a GPS locator, Toggl is not going to fit your needs. It's a little pricier than some others too.
Pros
Supports integration with quite a few productivity apps
Seems to run faster with fewer lags than some others
Focuses on time tracking, rather than on employee tracking
Extremely easy to learn to use
Cons
Premium pricing tier is a bit higher than others
Does not have invoicing features
Pricing
Free trial available
Starter: $9 to $10 per user per month
Premium: $18 to $20 per user per month
Enterprise: Contact for custom pricing
How to Pick Your Time Tracking Tool
When you're ready to pick a time tracking app, we've put together a list of steps you should follow for making a decision.
Step 1 – How Many Users Will You Have?
Some of these time tracking tools are better suited for a solo freelancer, while others work better for larger organizations. Start by thinking about how many people will be using the app.
Harvest is one of the best apps for those who only need to accommodate a couple of users or a solo freelancing business. For larger organizations, a tool like Timely has a pricing structure that is favorable for dozens of users.
Step 2 – What Do You Want to Accomplish With Time Tracking?
The next step is to think about what kinds of tasks you need to accomplish with this software.
Some people choose time tracking tools because they need to keep an eye on what employees are actually doing with their time. Hubstaff has keystroke tracking features that can help you ensure maximum productivity.
Toggl goes in another direction, giving you the ability to not only track time spent on primary projects, but also on various subprojects and subtasks that are part of the main project.
Step 3 – What Kind of Workflow Do You Use Now?
Think about how you track projects and handle your workflow now. Do you want a time tracking tool that integrates with your current productivity software, making it easier to be up and running quickly with minimal disruption? Or are you looking for a time tracker that takes over some of the tasks of productivity apps?
Everhour and Harvest do a nice job of integrating with multiple productivity apps. TSheets closely integrates with QuickBooks, which can be a helpful feature. Timely has the ability to color code your projects and show them in a calendar interface, mimicking some of the features of productivity software.
Step 4 – What Kinds of Extra Features Do You Need?
As a final step, think about the extra features you may need in your time tracking tool software. There are multiple options.
With a tool like TSheets, you can set up a geofencing ring, so the tool only works when the employee is in a certain location. Or consider Toggl, which simplifies the ability to round your time spent on a project to the nearest 5-minute mark or quarter hour.