The 5 Best Team Management Software and How to Decide
If you're looking for the best team management software to help you manage your team's workload, easily communicate with them, and get insights on your most productive resources, this article has all the answers for you.
We've handpicked some of the best team management tools that are easy to use and simplify communication and task management.
We've also listed the pros and cons of each option on our list, along with its pricing details, to make your decision easier.
Let's get started.
Monday.com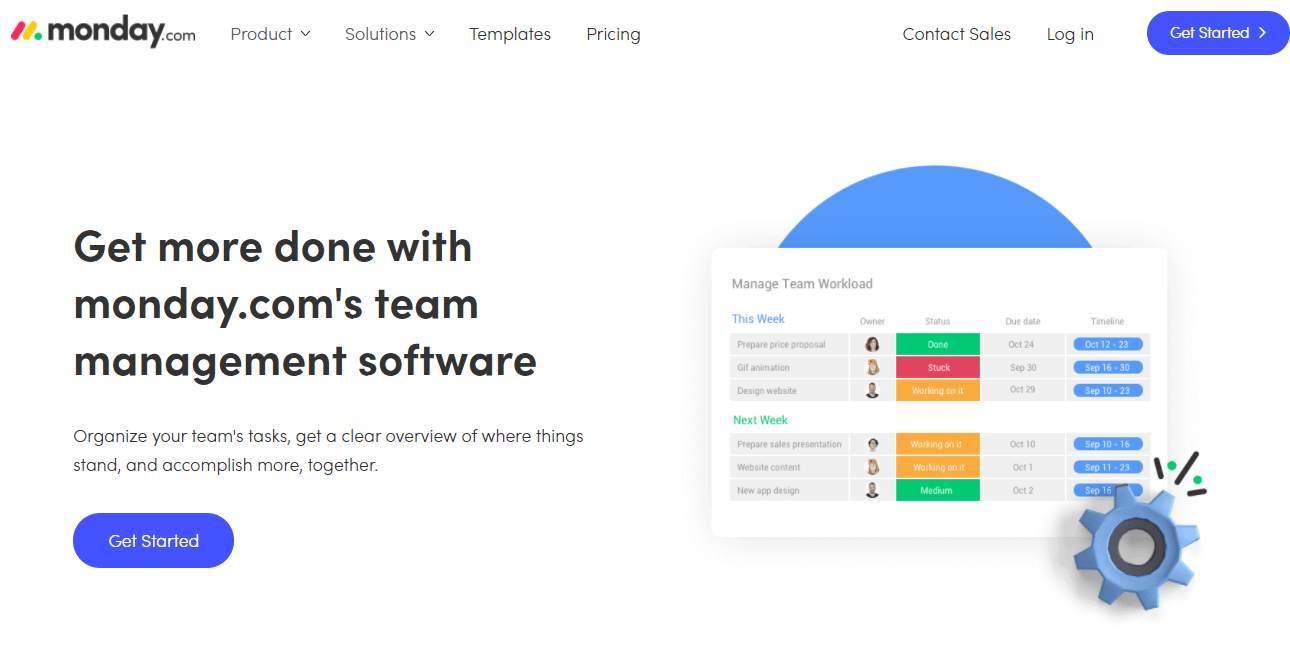 Monday.com is among the top team management software with robust collaboration, communication, and project management features. It allows you to efficiently manage your team's performance through dashboards, reports, and multiple project views.
Instead of individually tracking every team member's progress, you can use Monday's resource management platform to know precisely what each person in your team is working on.
It allows you to assign tasks, track deadlines, and communicate with your team from a single dashboard. In addition, you can use its Kanban view to create workflows from your team projects and track every task/project separately using cards.
You can assign each card to a different team member, add collaborators, and attach reference files. Moreover, you can start dedicated messaging threads in each card, mention the relevant team embers, and get timely project updates.
Monday also provides time tracking features for individual and team tasks. Plus, you get in-depth, customizable reports and dashboards in which you can switch views and analyze your team's performance from various angles.
In short, Monday is a powerful team management platform that gives you complete control over your team's tasks, projects, and workload management.
Monday.com Pros
Detailed reports and dashboards
Intuitive user interface designed for beginners and non-technical users.
Outstanding resource management features
Live activity tracking, status updates, and task approval mechanism.
Built-in time tracking for teams and individuals.
Monday.com Cons
Lacks task dependency features
Doesn't have robust native document co-editing features
Monday.com Pricing
Monday offers four different subscription plans.
Individual – Free
Basic – $8 per user per month
Standard – $10 per user per month
Pro – $16 per user per month
The free plan is ideal for individual projects and task management. But for robust team management features, you'll need to choose from one of its paid plans, each of which comes with a 14-day free trial.
Notion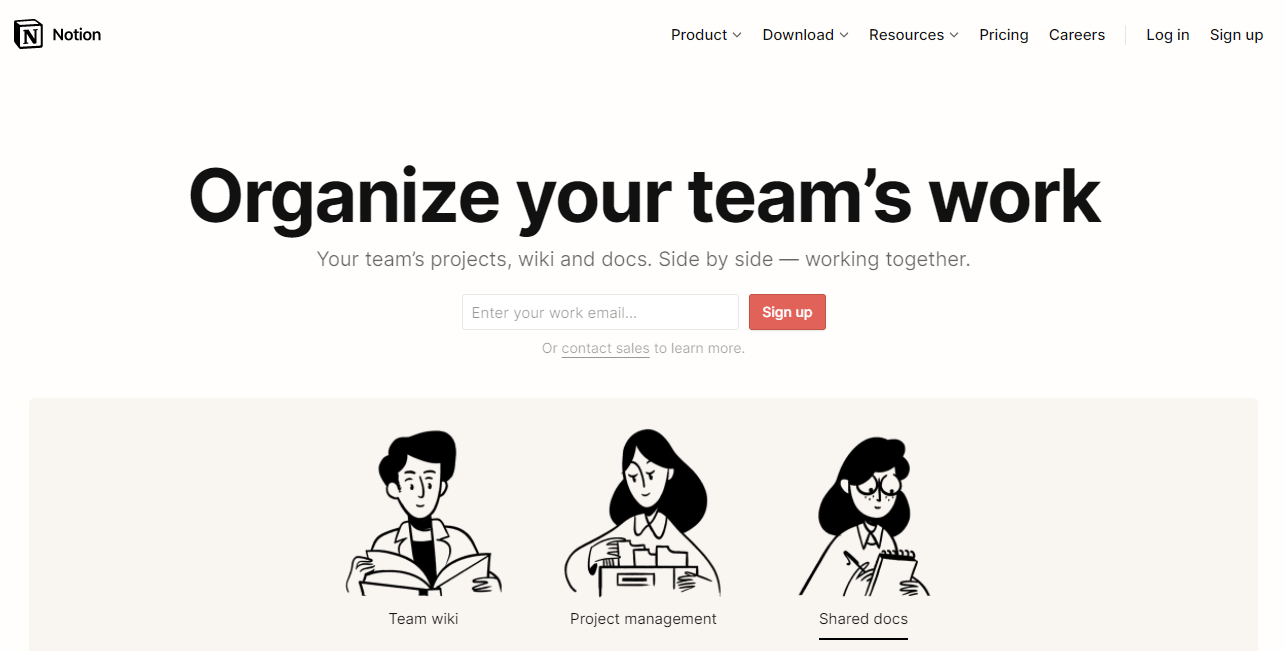 Notion is a fantastic team management application that doesn't overwhelm you with features like Asana or Monday.com. Instead, it gives you a combination of high-quality collaboration and team management features to streamline your work, improve communication, and get things done.
Notion allows you to create a team wiki to serve as the common knowledge base for your organization. You can create new pages, add your company vision, share standard policies, and publicly manage your team's milestones.
With Projects and Roadmaps, Notion provides you with Kanban boards where you can break down large team projects into executable milestones. In addition, it allows you to create custom workflows and collaborate with your team on specific cards so that everyone is on the same page.
Notion also comes with a robust document management application where you and your team can co-edit project plans, brainstorm ideas, and share important information. You can also use this feature for documenting meeting notes, creating checklists, and assigning new tasks.
Overall, Notion is an impressive team management software application that simplifies communication and helps you collaborate more efficiently.
Notion's Pros
Robust and intuitive product focused on team management and collaboration
Advanced user permissions
Excellent document management features
Notion's Cons
Lacks time tracking features for teams
No resource view for workload management
No recurring tasks
Notion Pricing
Notion offers four different subscription plans.
Personal – Free
Personal Pro – $4 per user per month
Team – $8 per user per month
Enterprise – Custom quote
The paid plans come with a free trial for up to 1000 blocks.
ClickUp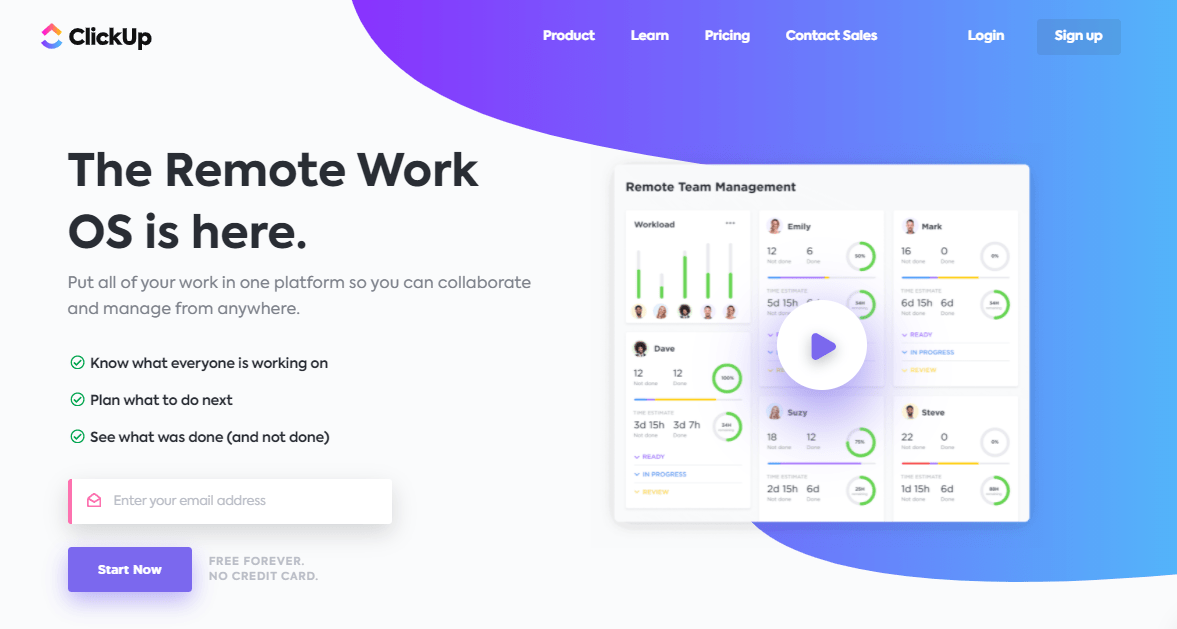 ClickUp is among the most feature-rich project management and workflow development applications in the world. It comes with a robust set of team management features using which you can easily manage small and large teams from a single dashboard.
ClickUp's strength is its versatility and flexibility. It provides you with a fully customizable platform you can tailor according to your business needs.
ClickUp offers so many different tools that you'll hardly ever need to go outside its ecosystem for your team management needs. For example, it provides a task management platform to list your project tasks, set deadlines, and assign them to your team members.
Similarly, it offers a robust document management platform that's comparable with Google Docs. You can use it for sharing documents with your team, co-editing different documents, sharing and editing meeting notes, seeking feedback on projects, etc.
ClickUp also allows you to define your organization's long-term goals and link them with projects and tasks. When you combine this feature with its team management interface, you can trace your team's contribution from a single task all through your company's core objectives.
Other features such as time-tracking and custom reports and dashboards make ClickUp an ideal task management platform you can use to develop to manage your resources transparently.
ClickUp's Pros
Numerous task management features
Intuitive product with a colorful user interface
Multiple project views to analyze your team's tasks
Team management workflow templates
ClickUp's Cons
Can overwhelm users with too many features
Users have reported frequent technical glitches in the software
ClickUp Pricing
ClickUp offers a generous free plan that's ideal for small teams looking for lightweight team management features.
Free Forever – $0
Unlimited – $5 per user per month
Business – $9 per user per month
Enterprise – Custom quote
Its Unlimited plan is sufficient for the team management needs of most startups and growing companies. However, for larger teams, the Business plan is a better option. For solopreneurs and small teams, the free plan provides unlimited users and tasks and up to 100 automations per month.
Trello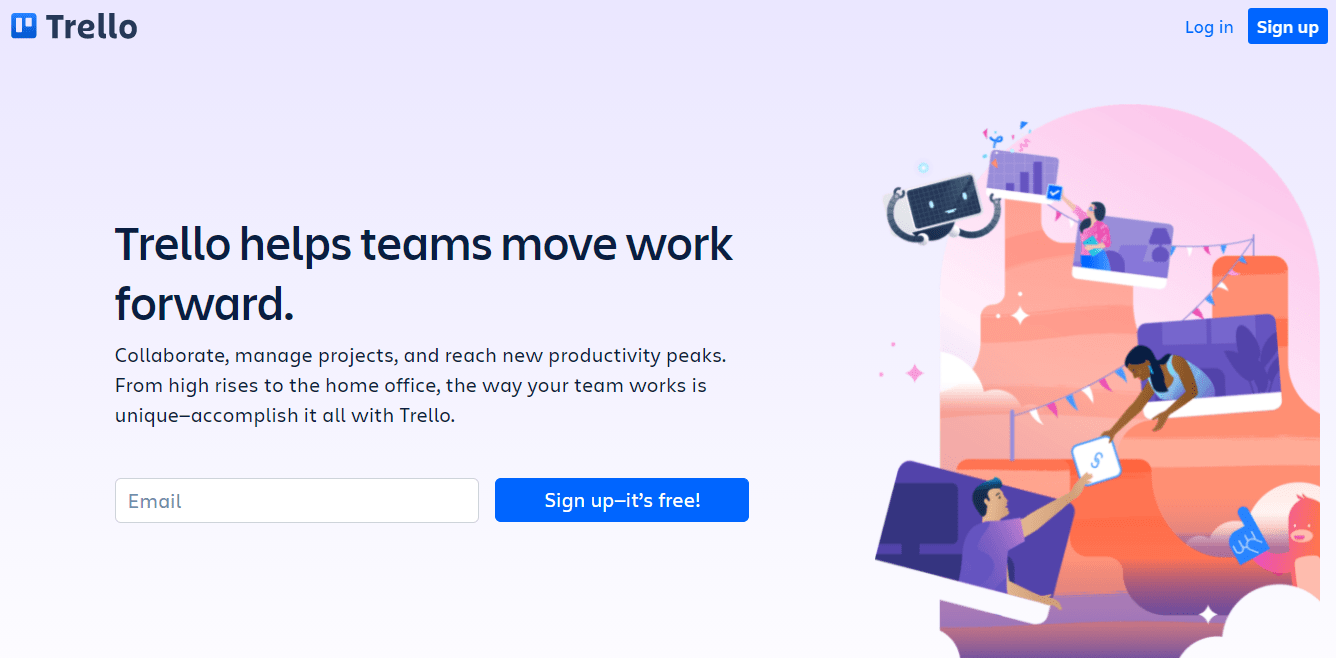 Trello is among the simplest but most popular project and team management applications in the world. It doesn't offer as many features as ClickUp but comes with a very straightforward and user-friendly interface.
And that's its main strength.
Trello offers Kanban boards, an activity feed, and a project calendar. It allows you to create multiple workspaces with unlimited boards, where each board can be used for a different organizational function with a unique workflow.
You can use dedicated project cards, assign them to specific team members, attach files, and manage complete communication threads.
Similarly, you can create tags for different teams or project types and use them for more transparent communication.
Trello communicates all the project updates to the relevant users through app notifications and emails. Plus, it integrates with numerous other project management, time tracking, and business applications to help you collaborate more efficiently.
Trello's Pros
Simple and easy-to-use interface
Drag-and-drop Kanban boards with tags, deadlines, and task assignment features
Calendar view and activity timeline
Trello's Cons
Doesn't offer workload management reports and features
Lacks many essential team management features for larger teams
Trello Pricing
Trello offers one of the best free plans for a team management application.
Free – $0
Business Class – $10/user per month
Enterprise – $17.5/user per month
The free plan is ideal for small teams looking for essential collaboration and team management features. But for advanced integrations, more views, and more robust project management features, you'll need to upgrade to a paid plan.
Basecamp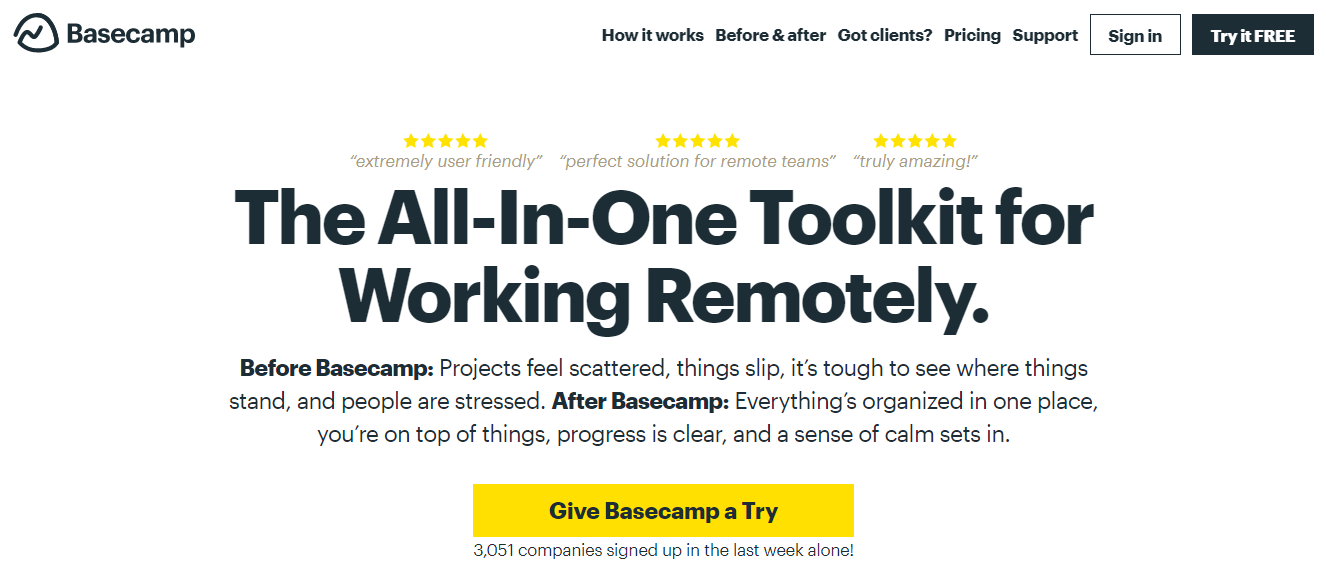 Basecamp is one of the finest team management software platforms, especially for large organizations. It is designed to bring transparency to your organization's communication and help you get things done with better collaboration across functions.
Basecamp provides you with various communication, collaboration, and team management features. For example, you can use its Message Boards for company-wide communication, project announcements, or team meetings. To ensure privacy, you get detailed user access features.
Similarly, you can use its to-do lists to make task lists, assign them to your team members, and track deadlines. It also offers a document management interface to upload relevant project files and docs and control user access.
Basecamp comes with a chat interface that allows you to initiate individual and group conversations to simplify collaboration.
Basecamp Pros
Gives you a complete view of all the essential team tasks in a single dashboard
Easy to use with detailed help content to guide users at every step
Perfect replacement for long email threads
Multiple report views to track your team's performance, activities, and pending projects/tasks
Basecamp Cons
To-do lists are pretty basic compared to other team management tools
Offers minimal customizations
Basecamp Pricing
Basecamp's pricing model is quite different from the other products on this list. Instead of offering multiple subscription plans, Basecamp has one flat-rate subscription plan with unlimited features.
Basecamp Business is $99 per month and comes with a 30-day free trial to test it before purchasing.
This pricing is ideal for large teams handling numerous projects at the same time. But for smaller teams and startups, it's pretty expensive compared to other team management software.
How to Pick Your Team Management Software
We've discussed some of the best team management software in this article. Now, let's review how to choose the most suitable option for your business.
Step 1: Evaluate Your Needs
Start by evaluating the type of team management features you need for your business. The size and location of a team are among the most important things to consider.
If you have a small in-house team, you'll need drastically different team management features than a company with a large, globally distributed team.
List down the critical features you want in a team management tool based on how you manage your team and the outcomes you want to achieve.
Step 2: Set A Budget
Your budget plays a decisive role in choosing a team management tool. Most project and team management products follow the per-user per-month pricing model, which is expensive for large teams. Alternately, a flat pricing model like Basecamp can be a costly option for smaller groups.
Therefore, you need to carefully evaluate the number of user accounts you'll need and see if your subscription plan allows guest users to collaborate on projects.
Once you set a budget, compare it to the features you require in a team management tool. You may find that you cannot get everything you want within the budget you set. If that is the case, you'll need to reconsider your needs versus wants or your budget.
Step 3: Sign Up For Free Trials To Test Software
Almost every team management software offers a free plan or a free trial. So don't be shy of signing up for the free trials of all your shortlisted products.
Many products offer limited features in their free trial period. Use the available features and check online user reviews on the premium features to make an informed decision. Read detailed online reviews of your target product, check SaaS user review sites, and search platforms like Reddit, Quora, and LinkedIn Groups for any specific user experiences with the product.
When you sign up for a free trial, use the product in actual work scenarios with your team so that you get an idea if it's suitable for your workflows.
Another thing to look for when testing the various tools is how it works with other platforms and tools your company already uses. For example, if you use Slack for all company communication, verify that the team management software can integrate with Slack. These integrations add functionality and streamline productivity.
Step 4: Gather Feedback From Your Team
You can't choose a team management tool without your team's feedback. If your team isn't comfortable using a product, you'll have a hard time getting them to use it effectively.
Ask your team for feedback on all the products you try. See if a product improves their productivity and streamlines collaboration or makes it more complicated.
Listen to the feedback if they're facing problems using any specific product features or if there's anything they'd like to add to the product to improve their performance.
Share their suggestions with the product team and see if they can add the suggested features or offer an alternative.
Step 5: Choose The Best Team Management Software
Once you and your team are satisfied with a product, connect with its sales team to discuss your specific business requirement. Ask them to recommend the most suitable subscription plan for your business. Based on their recommendation, and your analysis, choose the best team management software for your needs. Most team management tools offer discounts if you choose their annual billing plan when it comes to pricing. So if you're satisfied with a product and think you'll stick to it for at least a year, choose yearly pricing to take advantage of any available discounts.