The 5 Best Supply Chain Management Software
Whether your business is retail, ecommerce, manufacturing, or production, supply chain management is one of the most critical aspects of your company's success. Bringing together your various business silos and the related logistics are crucial to keeping products and supplies flowing.
Depending on your current business model, the supply chain and logistics could involve any number of the following:
Strategic planning
Sale and operations planning
Procurement
Inventory management and tracking
Supply and inventory forecasting
Demand forecasting
Pricing (products or services including promotions or seasonal considerations)
Logistics and transportation management (including rates, routes, and fleets)
Real-time warehousing oversight including stock management (or yard management)
Optimization of resources (or raw materials)
Labor management
Partner and vendor network communication or collaboration
Fulfillment optimization
Return processing
Cost analysis
Order management
Purchase order optimization
Automation across all levels of the supply chain and logistics
Packaging (including the need or demand for kitting)
Asset management
Customer relationship management (CRM)
Even if your organization only deals with less than a third of those items, the supply chain will evolve as your firm expands. It will become more complex, time-consuming, and far more challenging. And that is merely talking in generalities, without accounting for industry-specific needs and requirements.
Supply chain management software makes sense of it all. Gaining real-time insight and automating the bulk of your supply chain processes translates into having more time to focus on advancing your business. Let's review five of the best LMS platforms and pick the one that works for you.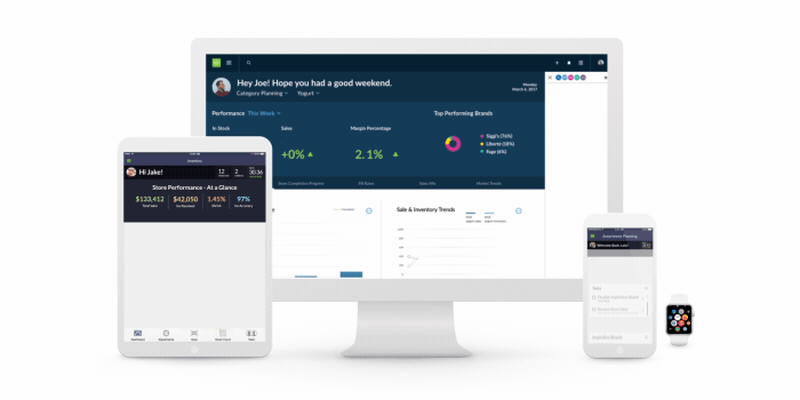 Infor features a robust yet straightforward supply chain solution. Their software includes two key components – supply chain planning and warehouse management. Infor's end-to-end solution covers supply and demand planning, production scheduling, optimization of inventory, and deep insight into sales and operations.
From a warehousing standpoint, Infor furnishes clear visibility into your distribution activities. It optimizes basic needs such as scheduling, multi-site fulfillment, returns, kitting, and cross-docking. Forward-looking tools such as 3D warehouse visualization and personalized service requirements help take your warehousing and logistics next level. The platform's AI-driven Nexus Control Center enables you to track it all, and with simplicity, whether yours is a regional business or global enterprise.
A full list of features includes:
Supply chain visibility and planning
Integrated business, sales and operations, and supply and demand planning
Production scheduling
Forecast and order collaboration
Work-in-progress tracking
Pack-and-ship and invoicing and payables automation
Predictive product availability
Logistics management features include warehouse, freight audit, transportation contract procurement
Real-time insight and visibility into logistics operations
Predictive intelligence
Multi-party collaboration
Data quality management
App development platform
Global partner onboarding and support
Support includes the Infor Concierge, which features phone, email, and chat, knowledgebase, education portal, and help guides.
Infor doesn't publish its specific subscription-based pricing plans, which are based on both company size and needs. They have a customizable enterprise solution for larger firms that require a more specific setup. You can contact an Infor representative to tailor a package specific to your organization.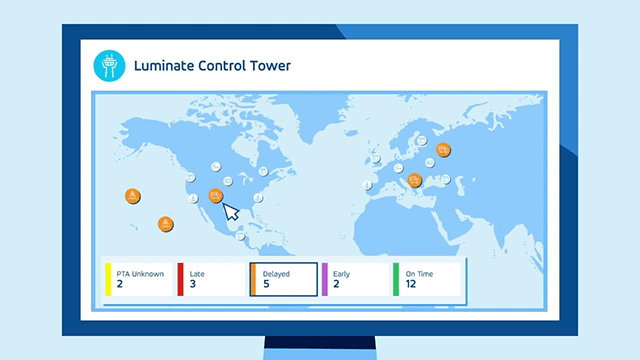 Blue Yonder, formerly JDA, leverages a sophisticated software platform to help power logistical networks for some of the world's biggest brands. 3M, Albertsons, Caterpillar, Coca-Cola, IKEA, and Starbuck's all utilize Blue Yonder's AI, machine learning software to optimize their global logistical networks. Blue Yonder can easily connect your company's manufacturing side with the consumer-facing retail end with its Luminate Planning, Commerce, and Logistics fulfillment platforms. The three integrated platforms center around Luminate's Control Tower, giving you end to end insight and collaboration across your entire supply chain.
The planning end coordinates your regional, national, or global manufacturing reach from raw materials to delivering goods in real-time. The software is especially helpful for retailer-centric brands – traditional hard- and softline retail, grocery and pharmacy, and restaurants. The commerce solution provides insight into the core of your retail business. It optimizes store setup and planning, smart inventory management, and even insight into your workforce. For logistics, you can't do much better than a platform that offers warehouse and labor management and a robotics hub to take your storage and transportation needs into the future. Even with such a broad scope, the software is incredibly user friendly. A full features list includes:
Production planning
Inventory optimization
Sales and operation planning and execution
Merchandise financial management
Supply planning and development
Demand planning
Assortment management
Pricing and promotion
Store execution
Inventory visibility
Space and floor planning
Workforce and labor management
Warehouse modeling, tasking, and management
Robotics hub
Transportation and logistics network
Support includes services tailored specifically to your brand's needs. General assistance is available through communities, a knowledgebase, training, implementation docs, and control center dashboards.
Like the other providers on this list, Blue Yonder pricing is available upon request via a live demo and consultation. Structured pricing and plans are based upon your organization's specific industry and revenue range.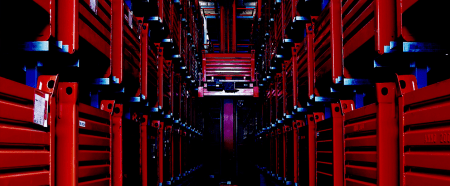 Manhattan Associates is a flexible supply chain management software that would serve many companies well but especially those in retail-based industries – hard- and softline, grocery and food distribution, and electronics. Manhattan's software consists of separate but cohesive solutions – warehousing, labor management, slotting optimization, and transportation management. The slotting optimization piece is of particular interest. It streamlines the slotting and picking process across warehouses (integrating with both the warehousing and labor software) to ensure greater efficiency in your fulfillment practices.
Manhattan's platform also offers flexibility to organizations on the rise and those who've already arrived. For midsize firms that need a supply chain solution now, Manhattan Scale provides a plug and play warehouse solution for today while providing a foundation for the future. And it's configurable, user-friendly, and capable of quick deployment. If already past the point of worrying about scalability, then Manhattan's Extended Enterprise is the viable solution. This is where you'll find the big management solutions of supplier, hub, yard, and event. It gives your enterprise visibility and control over the entire supply chain, including collaboration with suppliers and third-party partners.
Manhattan's full feature set includes:
Warehouse management
Execution integrated with warehouse management
Order streaming
Unified control
Labor management and employee engagement
Slotting optimization
Seamless scalability
Billing management
Transportation management
Transportation modeling, planning, and execution
Transportation procurement
Fleet and dispatch management
Freight audit, payment, and claims
Carrier management
Supplier enablement
Hub management
Appointment scheduling
Yard management
Event management
Visibility
Support includes 24/7 phone support, customer training, hardware services, webinars, and customized maintenance and upgrade programs.
Licensing is on a per-customer basis. Sales support is available via phone or email and includes demos and RFI or RFP fulfillment. For those seeking further, self-guided information, Manhattan makes available a trove of case studies, white papers, research reports, and videos and podcasts.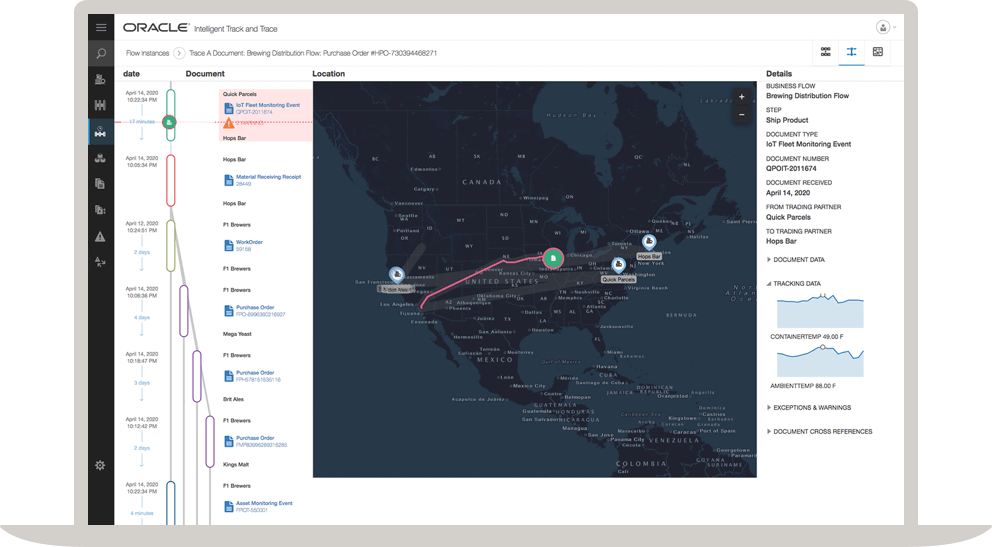 The first of our two major enterprise picks needs no introduction. Oracle is one of the biggest, most widely used SaaS and data service providers in the world. From supply chain to inventory management to logistics and product lifecycle, they provide one of the most comprehensive end-to-end cloud-based systems. Oracle positions its supply chain platform as a flexible solution for enterprises that demand visibility and control. You get insight into your manufacturing segment but also have unparalleled forecasting and prediction models to better respond to your customers.
Oracle's software includes leading-edge technology. The manufacturing silo employs chain (read: blockchain) integration, IoT, and AI to optimize your decision making. Oracle supports all of this with in-depth analytics that relies on AI and machine learning to provide comprehensive, forward-looking insight into your supply chain. It's not just about cost-analysis and efficiency. It provides data that helps you react to a changing landscape and improves collaboration and communication with your employees, partners, suppliers, and customers. The full list of features includes:
Supply chain planning
Supply chain collaboration and visibility
In-Memory cost management
Materials Management
Cost Management
Financial and Supply Chain Orchestration
Manufacturing execution system supports discrete, process, mixed-mode, project-driven, and contract manufacturing
Maintenance support solution includes asset management, maintenance work scheduling, and execution
Work order costing
Spare parts inventory and procurement
Smart machine integration
Preventive, predictive and project-driven maintenance
Order management
Warehouse, transportation, and global trade management
Product lifecycle features innovation, quality, and product development
Procurement
IoT and blockchain
Oracle analytics
Support includes phone and email, knowledgebase, multiple-community engagement, training sessions and guides, how-tos, self-guided documentation, and advanced customer service options.
Oracle's supply chain management software features individualized solutions. Pricing is available as part of a sales consultation with live demos and tours of the software available. There is also a cost analysis tool that provides a cursory overview of how Oracle's solution may benefit your team.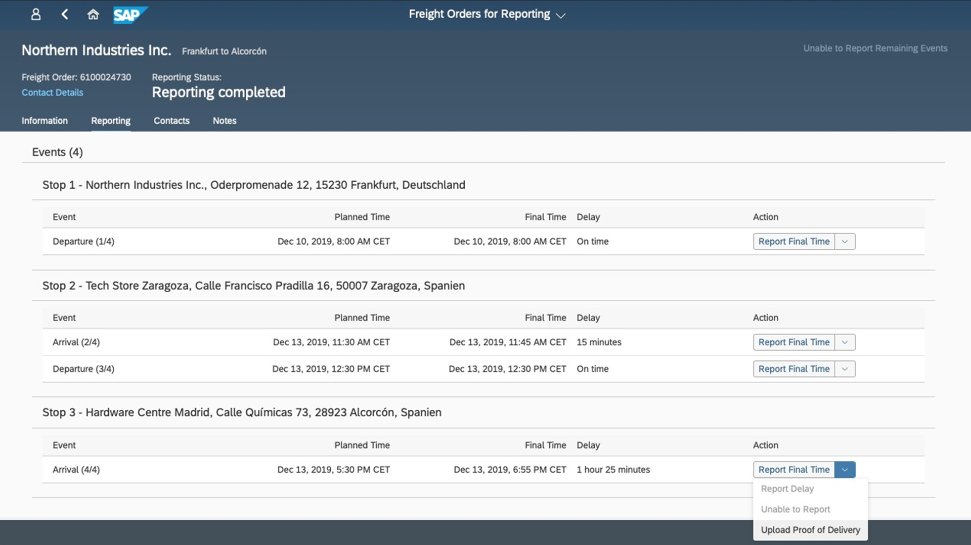 In supply chain management, there are few better (or bigger) providers than SAP. The software maker possesses an operating profit of near $9 billion. When evaluating their supply chain management platform, it's not hard to understand why. The industry-standard features a multitude of useful, interconnected tools that provide unprecedented visibility into your operations, including forecasting, demand-based replenishment, and sales and operations planning.
The warehousing piece to SAP's solution is one of its more impressive innovations. The software provides real-time visibility into your warehouses, fulfillment, transportation, and yard management. You can manage stock, address labor concerns, monitor equipment, optimize and monitor freight, manage cargo, and see incoming and outgoing shipments. Wherever your products might be – docking at the yard, on the truck, in the warehouse, or fulfillment, you have real-time insight with graphical rendering.
The full list of SAP supply chain features include:
Integrated business planning
Demand forecasting and management
Inventory optimization
Sales and operations and response and supply planning
Supply chain collaboration including partners and suppliers
Dashboards for status monitoring
Rapid onboarding functionality
Enhanced compliance
Inbound and outbound logistics management
Storage and operations
Strategic freight and order management
Transportation planning and execution
Freight logistics collaboration
Global track and trace
Real-time alerts and notifications
Order and appointment planning
Integration and monitoring
Support includes a comprehensive support network starting with the platform's 24/7/365 call, chat, or email customer interaction center. There's also a dedicated support portal and extensive support community.
A stout solution designed with enterprises in mind, companies such as Cargill, HP, and Merck utilize SAP's software. However, the supply chain software is accessible for all industries and company sizes, including small to midsize businesses. The supply chain software solutions can be tailored and scaled to fit your company's needs, including options for manufacturing, research, development and engineering, and asset management. Contact SAP directly for pricing.
How to Pick Your Supply Chain Management Software
Choosing the right supply chain management software is about measuring your prospects for growth. The best platforms offer a vast menu of options and features that any company would be happy to access, even if they weren't necessary when first adopting the software. For example, you may not need yard management insight in foreign ports of call, but it's nice to know it's available to plug in when your business scales up to require it.
That's particularly true for the five pieces of software represented above. They represent the best of the best in supply chain software. Each is rich with features, and possess the capabilities to handle the most complex supply chain and logistics challenges. Regardless of where you are now in your organization's growth, any one of these platforms will help meet your logistical needs.
So then how to decide between such capable options? While current positioning is important, supply chain software is less about looking at where you are, and more about where you need to go.
Is yours a small to midsize business close to expanding its footprint and requiring powerful but uncomplicated supply chain software to support your transition? Or do you need a solution more tailored to the specific intricacies of a manufacturing and retail operation? Or one that seamlessly blends manufacturing and retail? What if your enterprise firm demands an enterprise-level solution?
Wherever your company is heading, there is a platform to address the complexities of the supply chain that will greet you upon arrival. Here's a summary of where each of the above five supply chain management software platforms make the most sense.
Small to Midsize Businesses
Regardless if you're aiming for measured growth or rapid expansion, the worst thing a small or expanding business can do is complicate supply chain management. Infor fills that need to offer insightful supply chain and warehousing administration that fits where you are and where you're going with a simplified and easy to adapt platform. Manhattan and Blue Yonder are also good secondary options if you require a few more bells and whistles.
Businesses Specializing in Manufacturing and Retail
While any of the featured supply chain management platforms would fit well into the manufacturing and retail space, Manhattan's solution is specifically designed for it. With a uniquely integrated slotting system and a seamlessly scalable approach, its platform is retail-ready.
Businesses Wanting the Standout Team Player
There's a reason Blue Yonder is touted as one of the most widely used supply chain management software platforms available – it just works, and works well. No matter the size of your company, the industry in which you operate, or the complexities of your supply chain, Blue Yonder offers the best all-around solution.
Global Businesses Wanting Global Solutions
Finally, there's not much to add other than Oracle and SAP are global brands that provide comprehensive global solutions. Even if you've never heard of the other three providers on our list, you know these two. And you know they provide some of the best supply chain management software available for enterprises needing big-time global support.