As a real-time messaging app, Slack ranks as one of the most popular choices for businesses of all sizes. It allows team members to communicate effectively, working toward a successful conclusion to projects.
Although Slack works great on its own, you can make it even better when you add some of the best Slack integrations. These add-on apps work seamlessly with Slack to provide new features and an even higher level of collaboration.
Here are the seven best Slack integrations you should be using.
Absence.io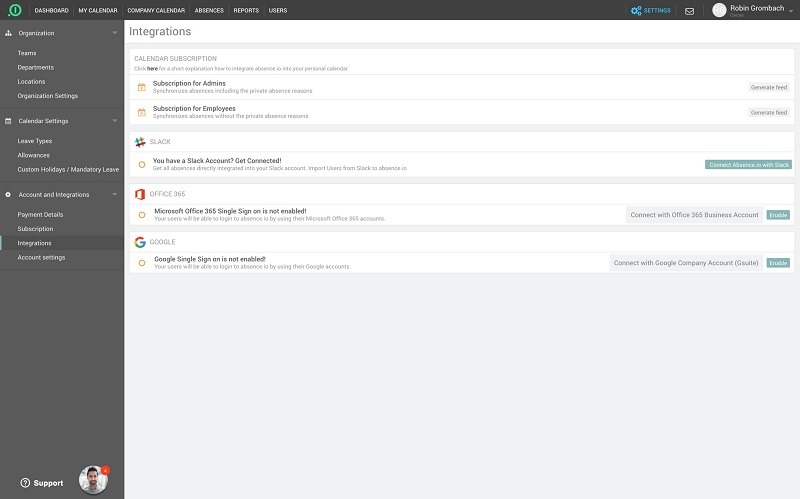 Absence.io is a tracking tool for managing employee absences, vacation days, and personal holidays. Within individual Slack channels, you can set up the Absence.io integration to provide automatic notifications about any absences for members of the channel at the start of each day.
Should one of the team members need to set up a meeting for a future date, the Absence.io integration will provide alerts to the future dates where team members have a planned absence. This simplifies the process of ensuring key team members are available for the upcoming meeting.
When you integrate Absence.io inside Slack, employees can make vacation requests, and the supervisor can choose to accept or deny those requests, all from within the Slack interface.
Pros
Allows for efficient management of absences
Popup message inside Slack notifies about absences
Team members always know who's working and who's off both now and on future dates
Cons
Price is a little high if you only need to track absences
For teams with a lot of members, the notifications may become overwhelming
Pricing
Basic: €1.50 per user per month (about $1.80)
Add-on Digital Personnel Files: €3 per user per month (about $3.60)
Add-on Time Tracking: €3 per user per month (about $3.60)
Add both add-ons: €4.50 per user per month (about $5.40)
Donut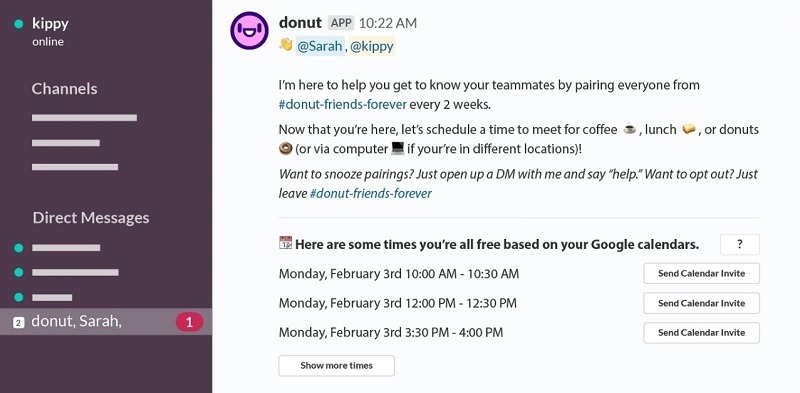 Donut is one of the best Slack integrations because it builds on the social connections that Slack already encourages. For far-flung team members who sometimes feel isolated, using Donut through a Slack integration helps those team members feel better connected and more familiar with each other, which hopefully helps them trust each other and become more productive.
Administrators can set up Donut to randomly pair team members for a coffee break or lunch. If an in-person coffee break meeting is not possible or practical, Donut allows for virtual video coffee breaks between team members.
Some administrators may consider Donut to be more of a waste of time than a helpful Slack integration. However, the ability to build stronger team relationships can have significant benefits when it's time to stop using Donut and go back to work.
Pros
Encourages team members to learn more about each other
Simplifies integrating new employees into the team
Creates fun activities team members can participate in through Slack
Cons
Doesn't encourage productivity
Not great for small teams who already may know each other well
Pricing
Free tier
Standard: $59 per month for up to 24 users; $119 per month for up to 49 users; $239 per month for up to 99 users
Premium: $119 per month for up to 24 users; $239 per month for up to 49 users; $479 per month for up to 99 users
Google Drive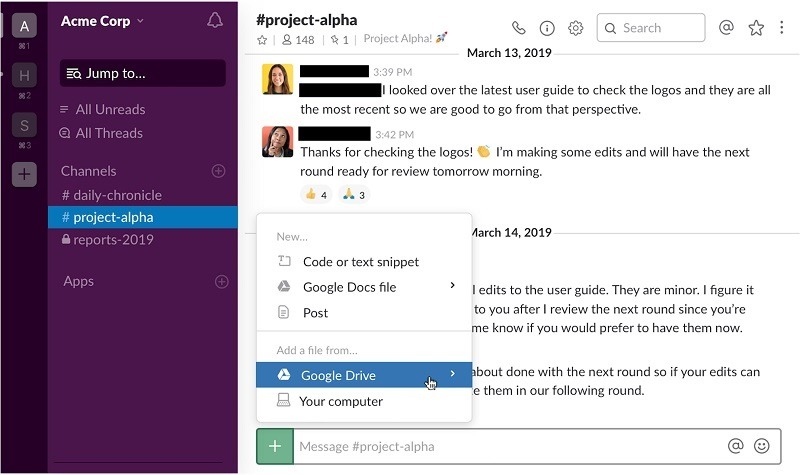 For those organizations already using Google Drive for cloud storage, adding this handy platform to Slack should be one of the first Slack integrations they choose to perform.
Using the Google Drive Slack integration is simple enough, as you just add a link for any file you're storing in Google Drive, and Slack will automatically make the file accessible in the channel to team members. The files remain stored in Google Drive, but Slack users will be able to access the files as if the files are part of Slack.
In fact, the first time you try to share a Google Drive file link inside Slack, the Slack app will walk you through the quick process of integrating Google Drive into Slack.
You can use Slack's search function to find any imported file from Google Drive. Slack does not limit the types of files you can add through the integration with Google Drive.
Pros
Extremely easy to use
Can use Slack to search for any linked Google Drive files
Easiest way to share files with other team members
Cons
Google Drive can be slow to respond with large files or documents with many users
Adds even more notifications to Slack's interface
Pricing
15 GB of storage: Free
100 GB of storage: $1.99 per month
200 GB of storage: $2.99 per month
2 TB of storage: $9.99 per month
Marker.io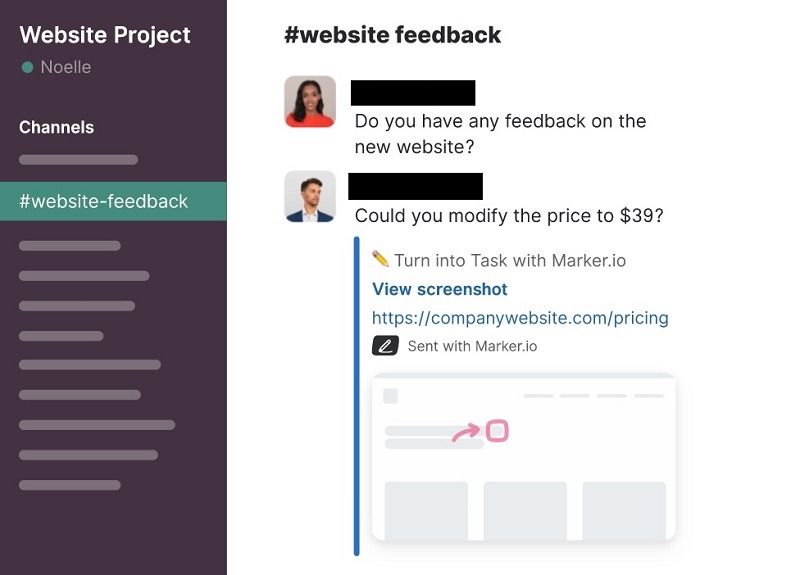 The Marker.io app Slack integration simplifies recording and marking up screenshots, dropping them directly into Slack. When discussing a project or a specific item that needs correcting, one team member can take a screenshot with Marker.io, mark it to show the exact fix that needs to be made, and post it to Slack for all team members to see.
Using screenshots to portray an idea should make it easier for your team to understand the issue, versus trying to explain it in a Slack message via text only. Markup options include arrows, circles, text, and emojis.
Marker.io is a great way to share articles or ideas from other websites as well. When you add the screenshot from a web page into the Slack channel, the Slack integration adds a link to the original page, so team members can grab additional information, if desired.
Pros
Simplifies the process of adding notes to screenshots
App automatically adds the URL of the original location of the screenshot, if applicable
Crop the screenshot easily to focus on a particular area of a web page
Cons
A little pricey versus some other options that do similar things without integrating into Slack
Annotating the screenshots with emojis may make the process feel cartoonish for some organizations
Pricing
Starter: $49 per month for the first 5 members and $15 per month for each additional 5 members
Team: $99 per month for the first 10 members and $20 per month for each additional 5 members
Company: $199 per month for the first 25 members and $25 per month for each additional 5 members
Simple Poll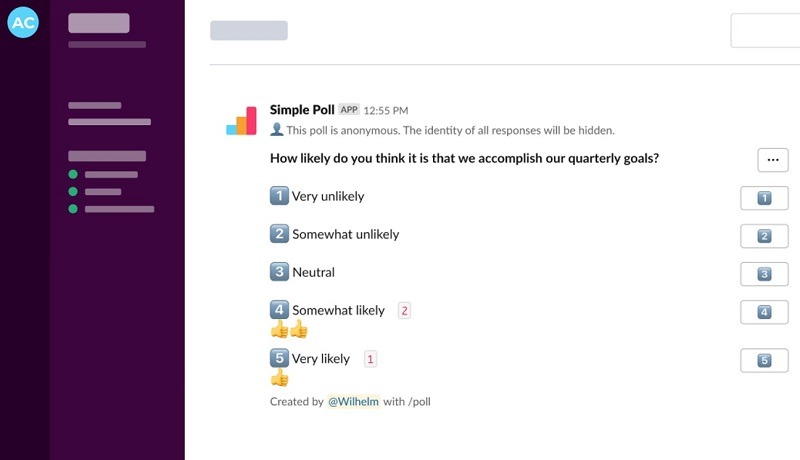 When you want to take a quick survey of team members in Slack, the Slack integration of Simple Poll allows you to do this directly within the appropriate Slack channel. This is a handy means of helping to make important decisions, like whether the team prefers one design idea versus another, or to make fun decisions, like which local restaurant should cater the Friday lunch meeting.
Versus just asking people to vote on items through Slack message responses, Simple Poll streamlines the process and provides advanced features. For example, the poll creator can allow for anonymous votes or can allow a certain number of responses per person. Simple Poll even allows people to vote on the poll through emojis.
With the Slack integration of Simple Poll, you can type the poll in a Slack message, using a simple command structure in the text line, and Simple Poll will create the poll for you and make it look great. Most people can create polls in less than a minute.
Pros
No limit on the number of polls you can create in pay versions
Works for both serious and fun polls
Can create a poll directly in Slack in only a minute or two
Cons
Runs a little pricey for those who won't use it regularly
Constantly creating polls in Slack may lead to too many distractions for some people
Pricing
Hobby: Free
Manager: $50 per month for up to 15 respondents and 10 questions per survey
Director: $100 per month for up to 100 respondents and 20 questions per survey
Analyst: $250 per month for up to 500 respondents and 45 questions per survey
Custom: Custom pricing for those who need more than 500 respondents per survey
Trello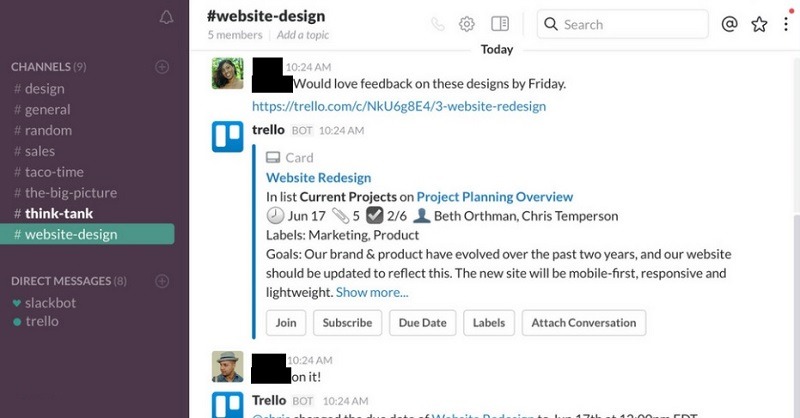 Trello is one of the most popular to-do list and project management apps, allowing users to track progress in a visually pleasing and easy-to-understand manner. With the Slack integration, users can share the Trello to-do lists directly in Slack with minimal work.
By integrating Trello inside Slack, teams can collaborate on projects without having to switch back and forth between the two apps. For teams that spend the majority of the day working in Slack, having the Trello Slack integration should make them more productive.
Once you link the two apps together, any changes that occur in Trello that affect a particular Slack channel will show up as a Slack message. You can even add a new Trello card or invite current Slack members to join a Trello board by typing a command string in Slack.
Pros
Trello and Slack work extremely well together, keeping everyone up to date
Invite current Slack members to join any Trello board
Easy to create new Trello cards from within Slack
Cons
Some redundancy between Slack messages and Trello card notifications
Pricing
Free tier
Business Class: $12.50 per month per user
Enterprise: Custom pricing
Zapier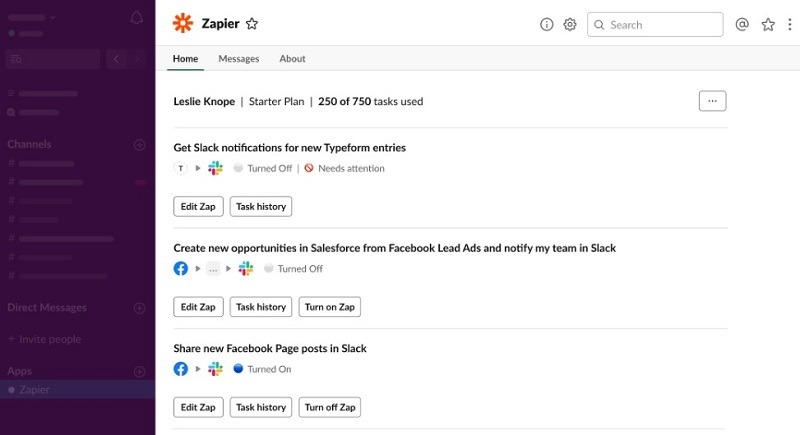 For teams that spend the majority of their time working in Slack, the Zapier Slack integration allows you to bring information from a variety of other apps directly into Slack. Zapier serves as a catch-all, making it easier to keep team members up to date with all of the latest information.
With the integration, Zapier constantly monitors other apps your team uses, looking for changes. It then alerts your team members to those changes through a new Slack message, sorting them by channel. Zapier also can go the other way, monitoring Slack for new messages that it should pass into other apps.
Additionally, Zapier contains a screen sharing feature and the ability to set up recurring reminders. With Zapier, many tasks you may now be doing manually become automated, which hopefully makes the entire team more efficient, saving more time for working on projects.
Pros
Automates a number of tasks for sharing information in Slack
Simplifies setting up recurring reminders in Slack
Works with many different apps
Cons
Passes so much information into Slack that it may become overwhelming
Zapier subscription is pricey
Pricing
Free: Up to 100 tasks per month
Starter: $29.99 per month for up to 750 tasks per month
Professional: $73.50 per month for up to 2,000 tasks per month
Team: $448.50 per month for up to 50,000 tasks per month
Company: $898.50 per month for up to 100,000 tasks per month
Note: You can add more tasks per month at any pay tier for an extra cost
How to Pick Your Slack Integrations
Here are the steps you can follow to pick the best Slack integration for your needs, based on the type of team you have.
Step 1 – Think About Where Your Team Struggles Inside Slack
One of the best reasons to use Slack is to allow a large team to work together more efficiently. Having one messaging system to discuss projects, ask questions, or simply check on the progress of a subproject is a great reason to use Slack.
However, your team may struggle in a few areas with making the most of Slack's features. Adding Slack integrations within your Slack channels further expands the usefulness of Slack.
This is especially important for larger teams. Larger teams that may work in remote locations and may have difficulty meeting in one place will appreciate Slack and many of the best Slack integrations.
Step 2 – Understand Your Budget Limitations
It's easy to think that you need all of the best Slack integrations on our list and more. However, you likely will have to remain within a certain budget for your team, and most of these Slack integrations will cost extra money each month.
Prioritize the needs of your team for Slack integrations to ensure you're spending your budget wisely. If you would love to be able to create polls within Slack, such as with Simple Poll, but you only will make a few polls a month, this integration probably isn't worth the cost.
One of the best Slack integrations where you don't have to worry about cost is with Google Drive. Its 15 GB free storage tier should work nicely for sharing files among Slack members, so you don't have to worry about adding costs.
Step 3 – Focus on the Makeup of Your Team
Before your team can be productive and collaborative, team members need to trust each other and feel comfortable with each other. If you often need to bring new members onto the team, look for Slack integrations that can help team members learn to know each other.
Adding Donut to Slack is a great way to introduce new team members and allow them to begin contributing quickly. Donut also has a number of fun functions that help existing team members get to know each other better, encouraging trust.
Step 4 – Do Team Members Need Help With Collaboration?
For teams that struggle to collaborate effectively with Slack alone, adding integration with other apps hopefully can help them learn to collaborate better.
The Marker.io integration makes it easier to share ideas using marked-up screenshots, allowing team members to work together to fix issues.
Simple Poll is another outstanding Slack integration that gives team members the ability to figure out the best way forward in a project. If you have team members who hesitate to speak up about their ideas, the anonymous nature of Simple Poll may help them feel comfortable introducing ideas.
Step 5 – Finding Help With Productivity
Slack can be a great productivity tool, but it becomes even better with the right Slack integrations.
For those teams already using Trello boards, adding Trello integration into Slack ensures all team members are constantly up to date with changes on Trello, enhancing their overall productivity.
Absence.io is another key productivity tool for Slack team members, as they always will know which people are on vacation or are not in the office, making the process of setting up in-person meetings or virtual meetings easier.
The Zapier Slack integration is probably the biggest potential aid to productivity. Zapier always ensures that the team members have the latest information showing up in Slack from all of the different apps they use. If team members can avoid becoming overwhelmed with the information they receive, Zapier should make them far more productive than with Slack alone.