Best Slack Chrome Extensions
Slack is among the world's top workplace instant-messaging and communication apps.
Google Chrome is the world's number one web browser.
When they combine, work becomes easier, communication becomes clearer, and productivity skyrockets.
In this article, I'll share some of the best Google Chrome extensions for Slack to help you reach your goals faster and more efficiently.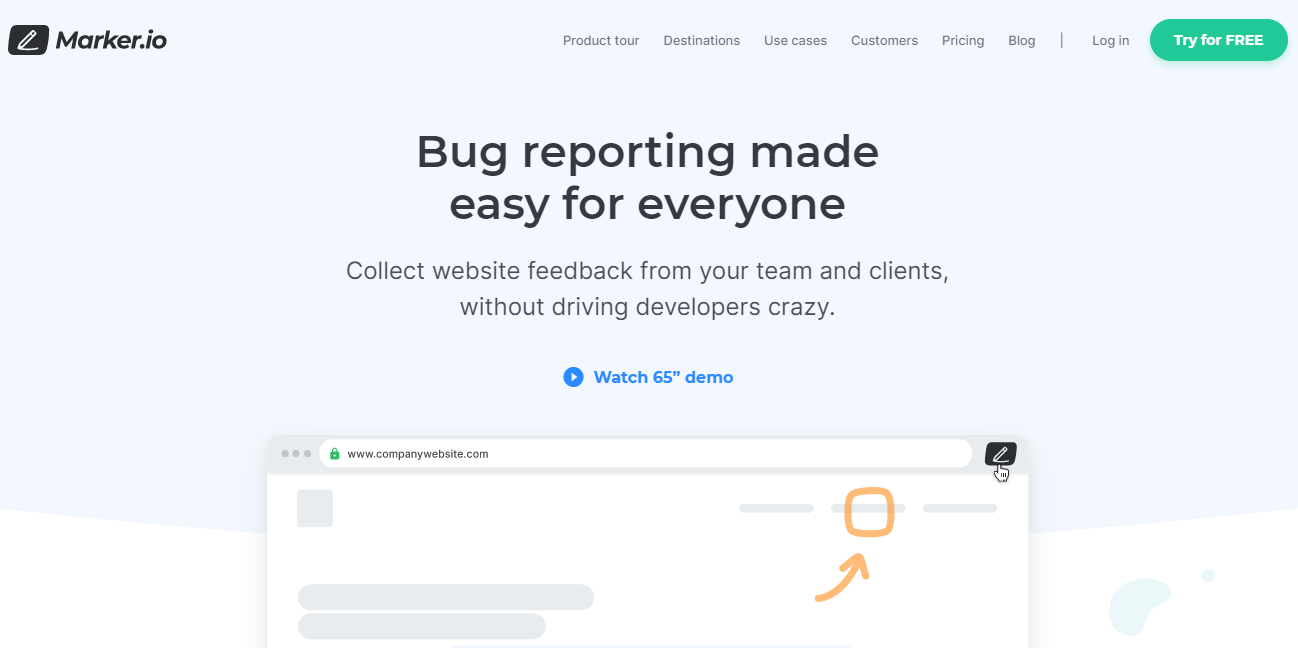 If you like using annotated screenshots to report bugs or identify any issues in your projects, Marker will quickly become one of your favorite Chrome extensions.
It's a handy tool that allows you to capture screenshots in your Chrome browser and share them directly with your team members in any Slack channel.
You don't need to leave the page you're browsing or save screenshots on your computer. Simply click Marker's Chrome icon, capture the entire screen or a specific area, and send it to the channel you want.
Marker also allows you to blur different sections of your screenshot to highlight the important parts only. Plus, you can use emojis and insert images to make your screenshots more useful.
To use Marker with Slack, you first need to sign up for an account, connect your Slack workspace, and choose the channel where you want to share screenshots.
If you want to share images to different channels in a workspace, you can add them to your integrated channels list.
You can also write a chat message for your team members when sending screenshots to Slack.
Marker comes with a 15-day free trial, and its paid plans start from $49/month for up to 5 team members.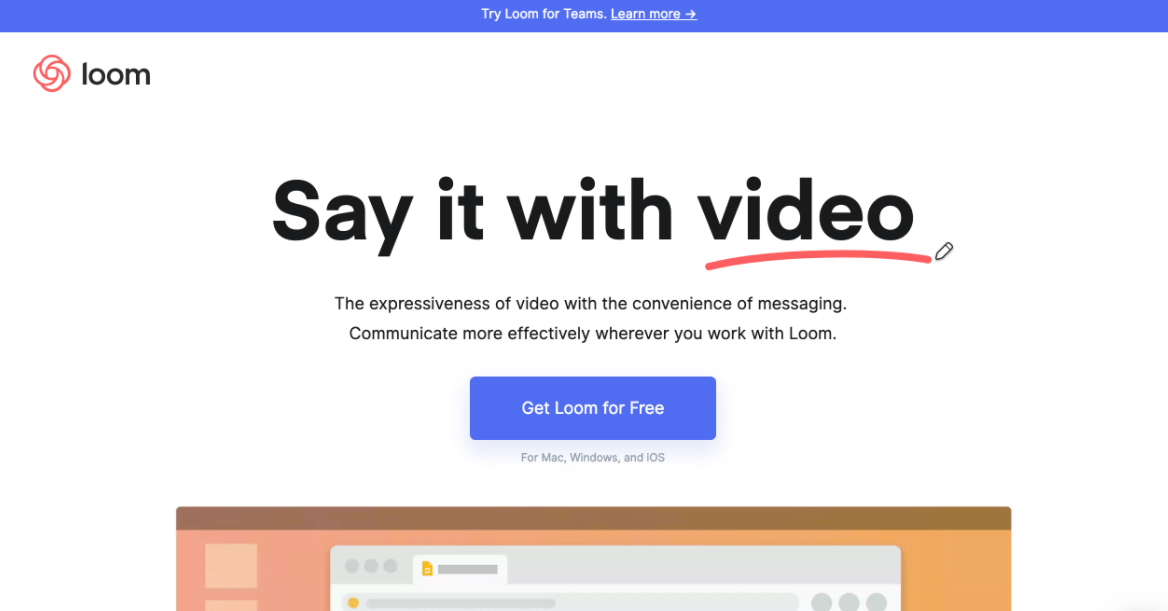 Loom offers you an easy way to create screen recordings with your voice in the background and your face in the corner of your video to make it more engaging.
It's one of my favorite Chrome extensions for Slack because it makes it easier to communicate ideas, highlight design changes, onboard employees, or give product overview using video.
You can sign up for Loom using your Slack account.
Once it's added to your Chrome browser, you can use it to record everything that happens in your browser, in a specific tab, or even outside Chrome.
What's more, you can add a call-to-action button at the end of your video, use emojis, trim specific parts of the recording, and add a static or animated thumbnail to your video.
Loom also gives you control over who sees your recordings. You can make your videos public, share them with specific people, or keep them private for your own use.
Simply copy/paste your video's public URL to share it with anyone you want.
Loom's free version allows up to 100 recordings and screenshots with a limit of 5 min per recording. But you can get unlimited recordings (with several other features) for just $8/month.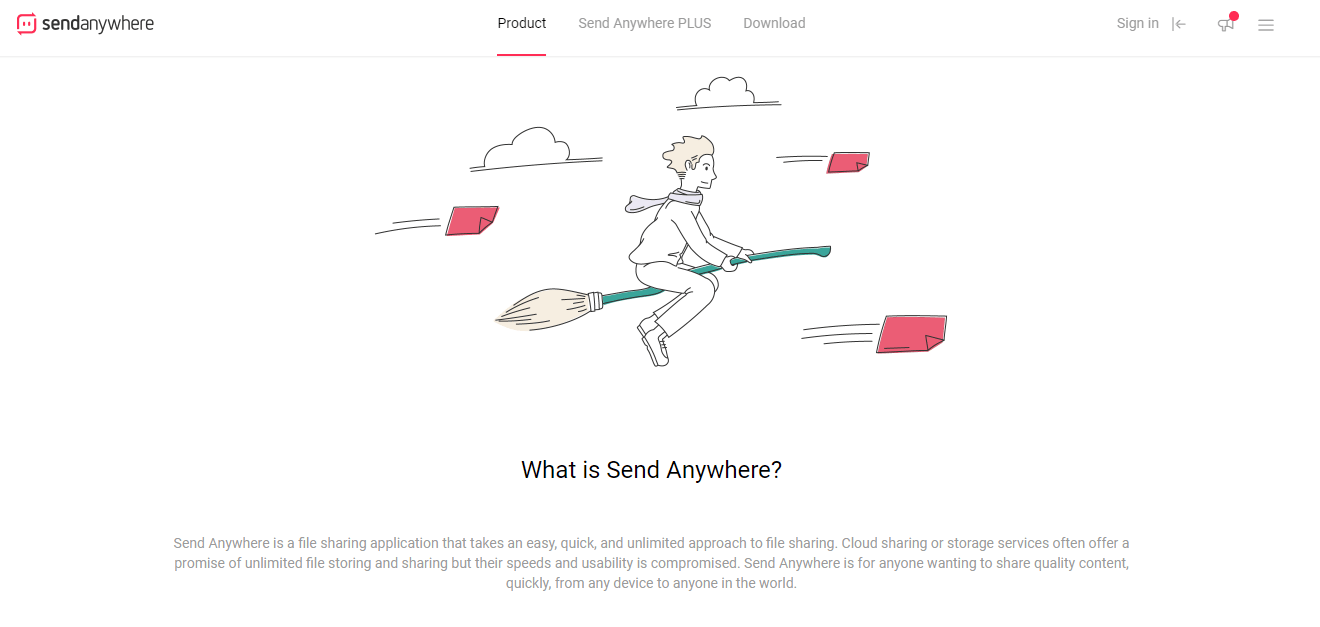 If you want to quickly share multiple large files with your Slack team members using a single link, start using Send Anywhere.
It's a nifty Chrome extension that allows you to share individual files up to 50GB in size. A single link can share files collectively up to 1 TB.
Here's how it works.
You first need to sign up for free using your email or Google account.
After that, you can start uploading the files you want to share with your team members in Slack. Send Anywhere will create a single shareable link for all the files you've uploaded.
Your link will stay valid for 48 hours, after which your files will be automatically deleted.
Now copy/paste this link to any Slack channel you want.
When a user clicks on your shareable link, they're redirected to your file list from where they can download any files they want.
To increase your links' validity, you can sign up for the paid version of Share Anywhere.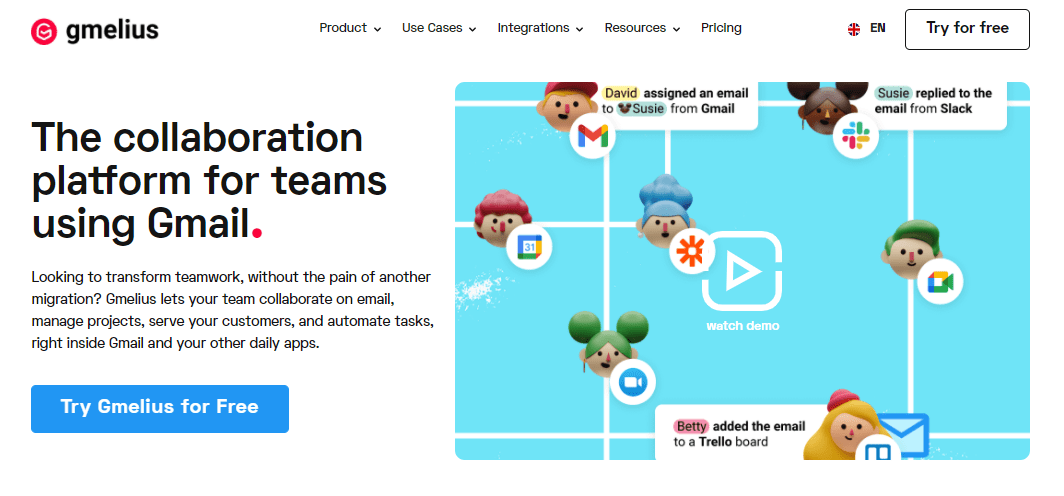 Gmelius will turn your Gmail account into a productivity powerhouse.
It's a collaboration platform that connects Gmail with Slack, Trello, Google Calendar, and many other project management apps.
It is one of the most popular productivity Chrome extensions with over 60,000 users and 8000+ paying customers.
As a Gemilius user, you don't need to migrate to another tool or waste time learning other apps because it allows you to manage everything from Gmail.
Here's how it works.
Once you install the Gmelius Chrome extension and connect it with your Slack account, you can send and receive Slack messages directly from Gmail. What's more, you can also respond to emails from your Slack chat window, tag other team members, or turn your email messages into notes and checklists.
You can also use it to automate your communication between Gmail and Slack. For example, you can automatically forward the emails with specific words in the subject line to a Slack channel or user.
Gmelius is free to use for individuals who need limited features. For teams that need more collaboration features, Gemilius' paid plans start from $9/month.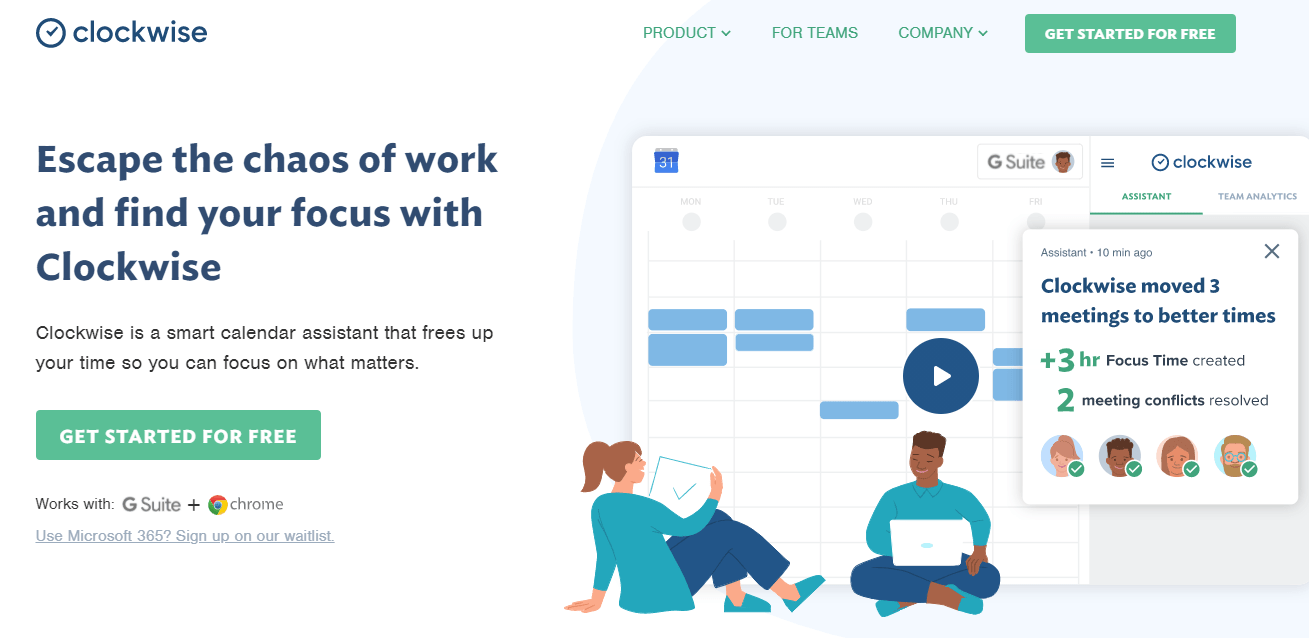 Slack makes communication easier and faster. But it can also be your biggest productivity killer if you keep getting messages, meeting requests, and assignments from all directions.
Thankfully, Clockwise is here to keep you sane while working in a fast-paced environment.
It analyzes your communication in Slack and other tools and optimizes your calendar to give you maximum uninterrupted work time every day.
You only need to indicate the frequency (one-time or recurring) and priority of your meetings and highlight the sessions where you can have a flexible schedule.
You can also block off time for any one-time or recurring professional or personal events in your schedule.
Based on your input, Clockwise will identify the best time slots for your meetings and help you focus on the most critical work.
It seamlessly integrates with Slack and allows you to quickly review your available time slots before committing to a meeting or project deadlines during a Slack conversation.
You can sign up and use Clockwise for free or go for its team plans starting from $75/month.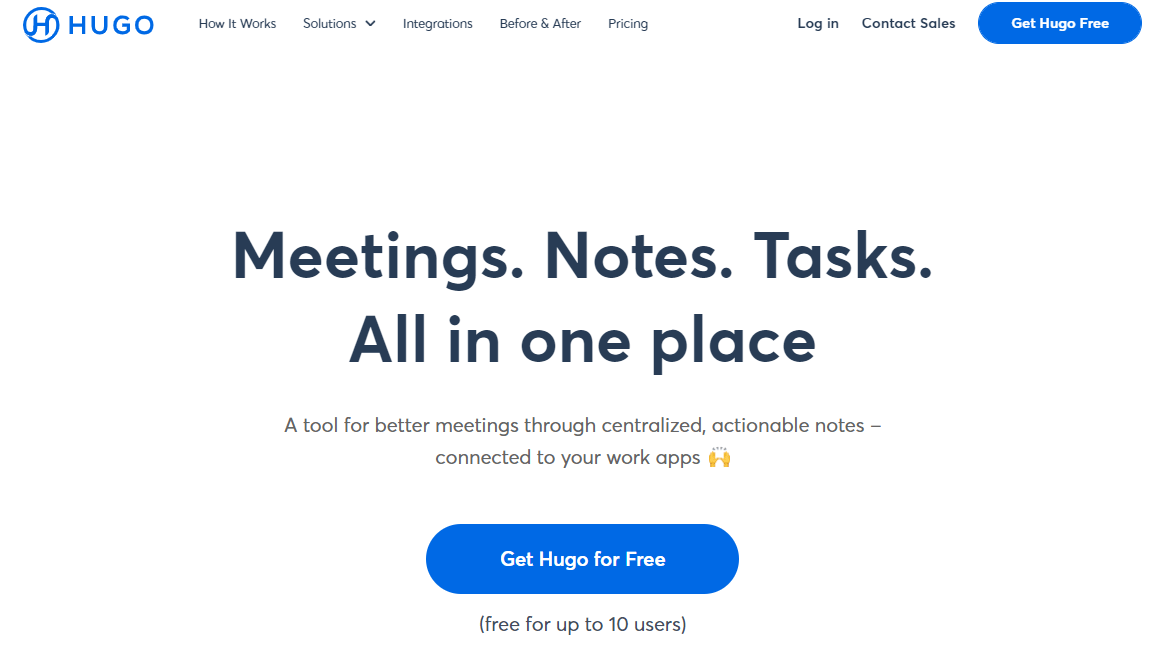 In the post-COVID work environment, distributed and remote teams have more online meetings than before.
If you don't make these meetings meaningful, they can hurt your company's productivity and cost you hundreds of thousands of dollars in the long run.
Hugo is one of the best Chrome extensions you can use to make meetings more focused and results-oriented.
It's a meeting and collaboration tool that connects all your communication apps like Slack, Gmail, Google Calendar, Trello, etc., and helps you hold centralized meetings.
Using Hugo, you can set clear meeting agendas, seek input from or assign tasks to different team members, and schedule meetings when everyone's available.
Once a meeting kicks off, you can use Hugo to take meeting notes in a centralized document shared with all the relevant stakeholders.
You can assign different tasks from your meeting notes to the relevant users and allow the participants to monitor the progress of various action items.
Hugo also allows you to instantly share meeting notes or assign tasks to users in a Slack channel or through director messaging.
The relevant Slack users can view the notes, add their input, or ask questions where required.
Overall, using Hugo puts an end to pointless team meetings and ensures that your Slack conversations and brainstorming sessions are adequately logged, and your ideas do not get lost in thin air.
For smaller teams of under 10 users, Hugo is free to use. For larger groups, the paid plans start from $6/month for each user.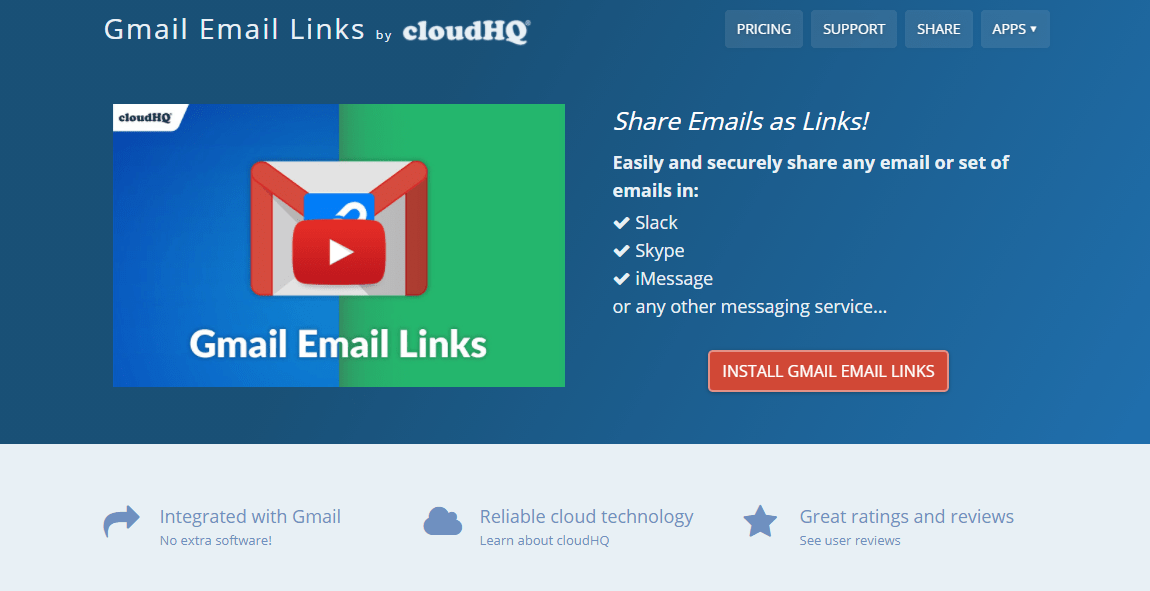 This Chrome extension does just one thing, but it does it really well.
As the name suggests, Share Emails via Secure URL generates a public URL for your Gmail emails that you can share with your Slack users.
Your teammates in Slack will be able to view the email without leaving their Slack chat windows.
This Chrome extension is a huge time-saver for project managers and professionals alike. We all get emails from clients or team members that we want to reference in our Slack conversations.
Instead of copy/pasting the emails, taking screenshots, or describing them in your own words, you can generate a public URL of your email and allow people to read it themselves.
When you install this Chrome extension, it adds a link icon on top of your email conversations.
Just open the email you want to share with your team on Slack and click on the link icon to generate a secure URL of your email.
You can now share it with anyone you want.
How to Pick Your Slack Chrome Extensions
Every Chrome extension I've shared in this article increases your productivity when using Slack.
But there are thousands of other Chrome extensions on the Chrome Web Store that also claim to work well with Slack.
How do you pick the right Slack Chrome extensions?
What's the process and the things that you need to consider while making your choice?
Let me quickly share some tips with you.
Step 1 – Make Sure You Need An Extension
Before installing a Chrome extension, make sure that you need it.
This is because installing too many Chrome extensions unnecessarily can slow down your browser and pose a security risk.
Slack is already a feature-rich application with many mainstream features. If you need a feature in Slack, check if Slack itself already has it or not.
Secondly, when looking for a Slack Chrome extension, try to find the ones with the most options and flexibility, so that you don't need to use multiple extensions to accomplish the same things you could do with just one.
Step 2 – Check Whether It's Secure To Use
The next thing to check before installing a Chrome extension is whether it's safe to use or not.
Why is this important?
Because your Chrome browser often has all your private information, passwords, payment details, etc. Hackers often use vulnerabilities in Chrome extensions to access browser data.
To ensure that an extension is safe to use, check the date of its last update in the Additional Information box.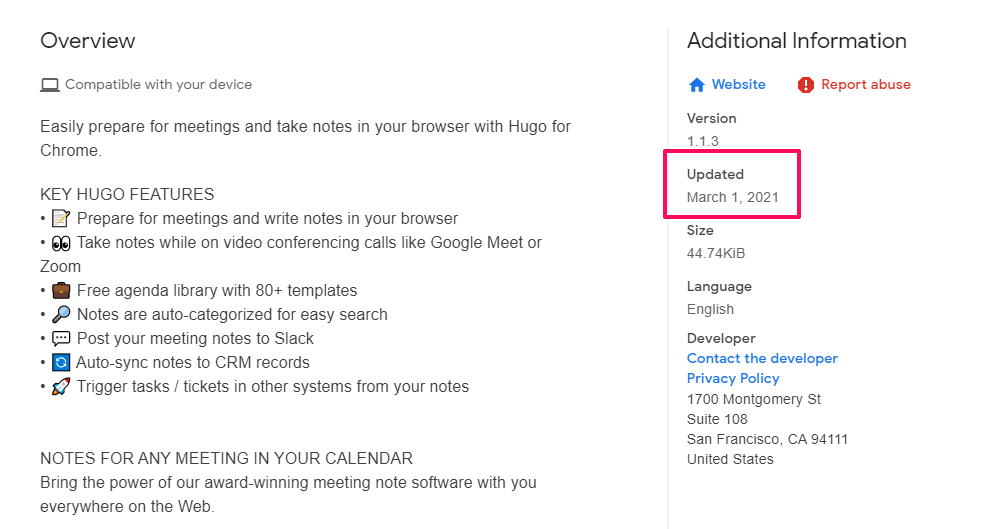 If an extension hasn't been updated for more than 12 months, avoid using it. Also, run a quick Google Search (Chrome extension name + security/scam/issues) to see if any issues have been reported about it in the past.
Step 3 – Read The Overview And View Screenshots
Fully understand what a Chrome extension offers before installing it. You can do that by reading its description in the overview section.
Legit companies and developers use this section to convert visitors into users. They list all the key features of their extension, the problems it solves, and how you can use it.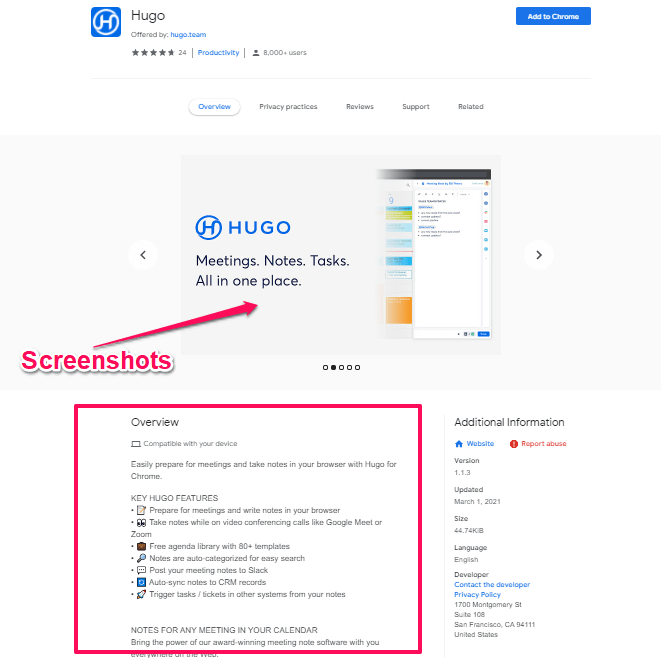 If the overview section of an extension is empty or not written properly, it's usually wise to avoid them.
The other important thing to see is product screenshots.
Reputable companies use screenshots and videos to demonstrate the utility of their Chrome extensions.
Screenshots also give you an idea of how an extension works and help you make more informed decisions.
Step 4 – Check Active User And Reviews Before Deciding
The last thing to check before choosing a Chrome extension for Slack is the number of active users and their reviews.
Be careful about using any extensions with less than a thousand users, especially if it has been around for more than a year.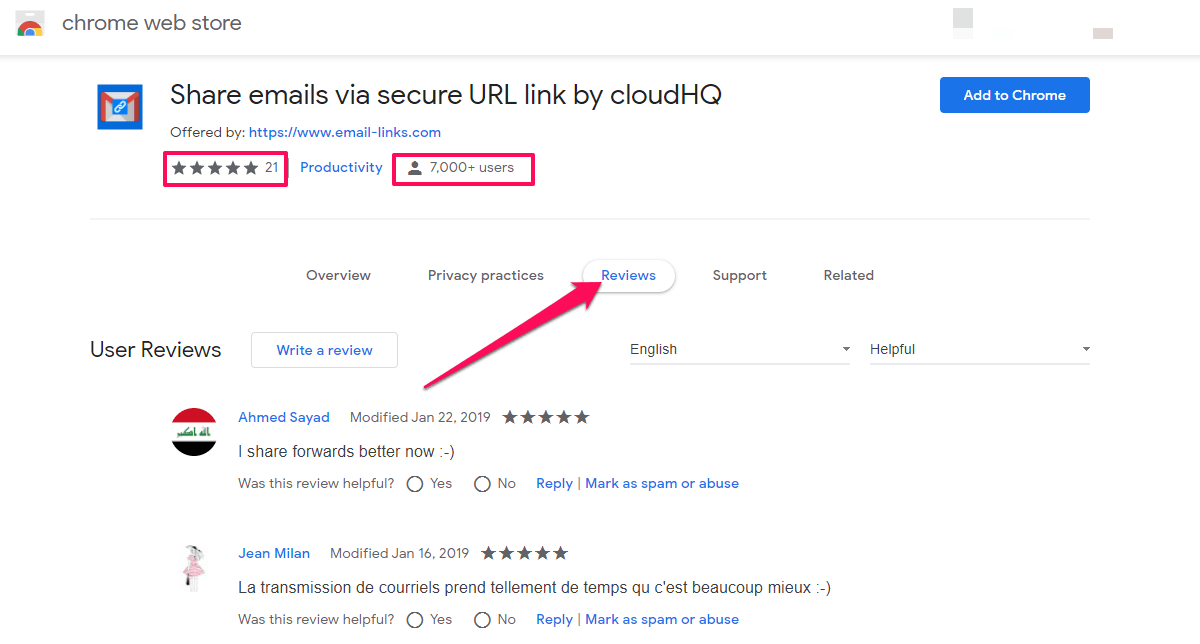 Low user count usually indicates poor quality (unless the extension offers a particular feature that people don't typically use.)
Also, head over to the reviews section to what the users are saying about a Chrome extension. Look for 2, 3, and 4-star reviews since they're usually the most balanced.
If a Chrome extension meets all of these conditions, feel free to use it with your Slack account.